April 15th, 2015

by Adam Armstrong
Synology Surveillance Station 7.0 Review
Synology has several great, free apps for DiskStation and RackStation owners. What's most talked about is that Synology devices offer ease of use, the ability to share and sync files across multiple platforms, and their reliability to protect your data. Synology also offers another comprehensive service that is incredibly powerful and equally valuable; Surveillance Station. Surveillance Station turns a Synology NAS into a robust surveillance system to help protect user's homes and offices. It allows users to watch live feeds, playback recordings, and batch manage cameras.
Surveillance Station 7.0 is a free application downloaded through Synology's Package Center and all Synology NAS owners have access to Surveillance Station. Surveillance Station comes with two free camera licenses per NAS, and users can purchase more through DiskStation Manager (DSM) as they need. Surveillance Station works with all the major browsers as well as iOS and Android, even allowing cross platform monitoring if you happen to have multiple different devices. User can live stream up to 64 channels at once in HD (720p). The program has live view analytics that monitor specific areas in real-time for suspicious events. Users set up pre-defined criteria and the camera automatically records if the criteria is met, something such as missing objects or motion detection. User can also take snapshots and edit them before saving them to their NAS or computer.
With viewing user recordings, Surveillance Station offers multiple ways of watching the videos recorded. The timeline panel allows users to go to a specific date and time to view a recording. Here users can take snapshots, make recordings and zoom in and out. There are sync and non-sync modes for looking at one recording from different cameras at the same time or at various times. Users can play back records frame-by-frame. For long videos, Surveillance Station allows user to "slice" the video into smaller segments for analysis, up to four on one screen at a time. Images can be enhanced on screen, adjusting aspects such as brightness, contrast, saturation, and sharpness. Surveillance Station enables users to effectively archive and search recordings that build up over time.
Surveillance Station supports a growing list of over 3,000 different IP cameras (Synology provides a list of all compatible cameras on their site). The software also supports specialized cameras such as fisheye or multi-lens. Synology supplies an easy-to-follow wizard for setting up any camera that is compatible. The latest version also supports recording at the edge, or having on-board storage devices (such as an SD card) in cameras so they continue to record in the event of network downtime. Version 7.0 also supports two-way audio for IP Cameras that support it. Also any given NAS has a limit as to how many IP Cameras it supports (the RS10610xs+ we use, for example, supports 90 cameras), administrators have a host server that has control of various other recording servers in different locations.
While it is nice to have a free, powerful surveillance system for your home or small business, Synology realizes that some businesses need huge surveillance or are nothing but surveillance. In the case of managing hundreds of cameras in multiple sites, Synology offers their Central Management System (CMS). CMS enables administrators the ability to efficiently manage cameras, have flexible deployment, and proactive control. If multiple cameras are of the same model they can be configured in one step. Camera performance can be optimized for their environment through advanced settings. Cameras can be organized into groups in order to be viewed together. All of the above features apply to the CMS just at a larger scale. And the administrator can authorize privileges, view locations of cameras on an e-map, and set up notifications through email, SMS, or push notifications on mobile devices. In order to scale out more camera licenses need to be purchased. Synology sells camera license packs through DSM.
Yet another new feature to version 7.0 is physical access controller. Users can pair Surveillance Station with Axis Network Door Controller solutions to monitor entryways and exists. In cases where magnetic locks were installed, users would be able to lock and unlock doors after verifying who was at the entrance through an IP camera or ID badge. And administrators can view logs of who was coming and going.
Synology Surveillance Station specifications:
Live view:

Up to 49 channels in 1080p on single live view display
Up to 64 channels in 720p on single live view display
Pan Tilt Zoom (PTZ) and digital zoom support with configurable PTZ speed
On-screen controls to activate audio/digital outputs of external devices
On-screen camera controls including camera zoom, focus, iris adjustment, auto pan, and auto object tracking
E-Map & Snapshot support
Snapshot editor support for instant editing after taking a snapshot
Video quality settings including bitrate control, image quality, resolution, and FPS
Camera patrol can be triggered by schedule, event detections, or I/O alarm
Intelligence video analysis including no-idle zone, motion detection, missing object, foreign object, camera occlusion, and focus lost
Web plugin for Internet Explorer, Chrome, Firefox on Windows, and Safari on Mac OS X
Desktop design allows for easier multitasking
Joystick support

Recording:

Recording modes include manual, continuous, motion detection, I/O alarm, and customized
The customized recording mode can be configured as a combination of conditional events, including motion detection, audio detection, tampering detection, and alarm input
Edge recording on the SD card of certain camera is supported
Export/mount recordings support
Configurable pre-recording & post-recording time
Recording formats: AVI, MP4
Playback Recordings:
Up to 64 channels synchronous and non-synchronous playback
Customizable layouts for playback in Timeline
Playback controls include pause, stop, previous recording, next recording, fast forward, slow motion, and digital zoom in/out
Frame by frame playback support
Snapshot support
Divide a recording into four equal-length sessions and playback them concurrently
Intelligence video analysis including no-idle zone, motion detection, missing object, foreign object, camera occlusion, and focus lost
Image enhancements including brightness, contrast, saturation, and sharpness
Embedded watermark for evidence integrity

Management:

Support up to 90 cameras on a single NVR
Create and manage admin/manager/spectator user privileges
Rotate recorded videos by archived days or storage size
Event notification supports SMS, E-mail, and mobile phones
Notifications can be filtered by camera, event type, and schedule
Notifications can be batch edited
Notifications can be triggered by external devices
Recordings can be backed up to an external storage or remote server
Action Rule correlates triggered events and actions to automate Surveillance Station
HTTPS secured connection
System log
Built-in NTP server
Tunnel supports MPEG-4, H264 via RTSP over TCP, UDP and HTTP
Support for 20 different languages

CMS (Central Management System):

Design for large-scale and high level enterprise surveillance projects up to 1000 cameras
View the live view/recordings from multiple Synology NVR on a single portal
Logs from recording servers are centralized on the CMS host
Camera licenses on all recording servers are centralized on the CMS host
Mobile Support:
Stream Live view and replay events recorded in MJPEG, H.264, MPEG4 formats (MxPEG is only supported for Live view)
Customize Live View layouts (up to 6 concurrent channels)
Control the camera with PTZ (pan, tilt, zoom)
Broadcast audio via camera speakers with 2-way audio
Activate preset positions and patrols
Take snapshots of Live View feeds (snapshots are saved on the DiskStation)
Search events by camera group, server, event type and time range (enabling CMS is required)
Delete and lock/unlock recordings
Delete and lock/unlock snapshots
Enable/disable individual cameras
Push notifications support
Available on iPhone, iPad and iPod touch running iOS 7.0+ for complete set of features
Available on devices running Android 4.0+, with touch-screen and Wi-Fi capabilities (includes Amazon Kindle Fire and Fire phone) for complete set of features

Cameras Support:

Video codec: MJPEG, MPEG-4, MxPEG, and H.264 (MxPEG is only supported on Surveillance Station through web browser)
Support Field of View (FOV) to adjust different field of view if the camera supports multiple types
Support constant and variable bitrate control to fine tune the camera's bitrate
Multiple streams are supported with different camera codec engine
Different TV standards are applicable if the camera supports NTSC or PAL standard
Audio codec: PCM, AAC, AMR, G.711, G.726
Supports camera dewarping via camera or Surveillance Station for certain fisheye cameras mounted via ceiling, wall, or floor
ONVIF 2.4, Profile S certified
Support over 75 brands

External Device Support: Axis Door Controller A1001
Minimum Recommended PC Client:

CPU: Core i5
RAM: 2GB
Operating System: Windows XP and onward, Mac OS X
Windows Browsers: Chrome, Firefox, IE 8.0
Mac Browsers: Safari 6.0
Recommended monitor resolution: 1280x800
Network interface: Gigabit x1
Management and performance
Surveillance Station 7.0 is managed either through a web browser or through a mobile app. The latest version comes with a newly redesigned UI. The new design is like most things Synology related, easy to use and intuitive. Opening up the Surveillance Station app, users will see the main screen, pictured above in the introduction. Along the left hand side runs the various apps for Surveillance Station, this is the default setup and can be changed as the user desires.
Live View is as it sounds, a live view of what the cameras are currently aimed at. Here users can double click on one particular camera for a larger look at what is happening as well as take snapshots, do an instant playback, drag and zoom over one spot, make a manual recording or setup live analytics.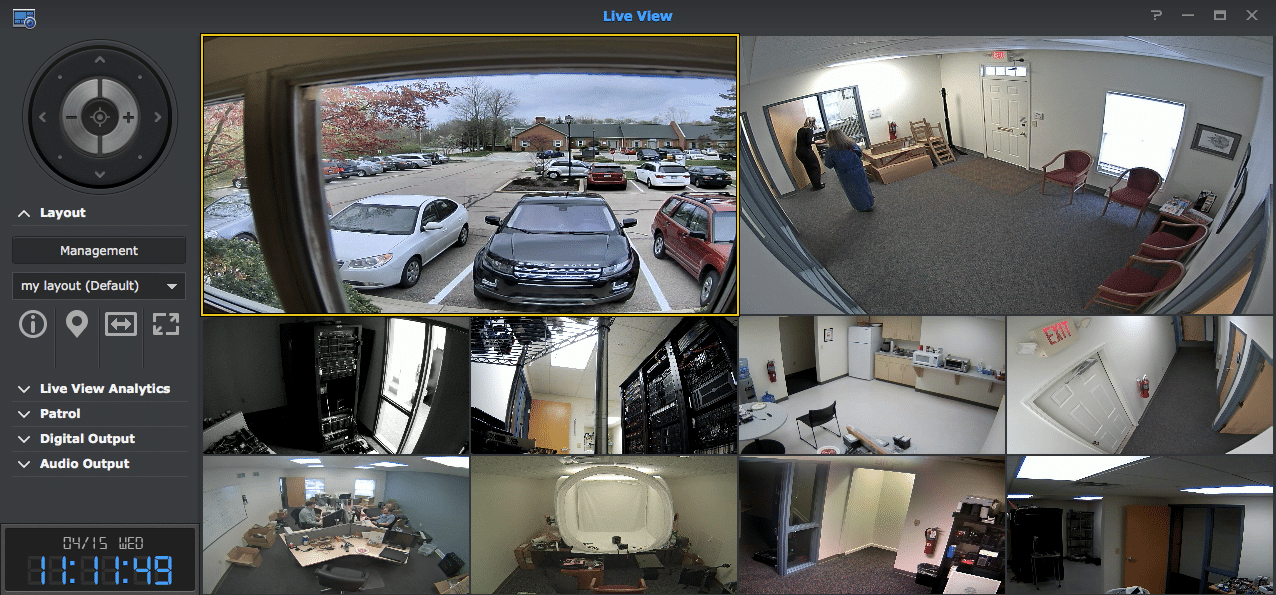 Through Timeline, users can access recordings over a set amount of days, in our case 16. Timeline shows recordings that were taken that hit a certain criteria, for instance movement. As you can see, the cameras that didn't meet the criteria didn't kick on. Users can double click on a particular camera and download the recording, take a snapshot, zoom in, or enhance the recording.
IP Camera shows users what cameras are active, allows the addition of more cameras, and allows administrators to configure the cameras.
The Recording app shows users all of the archived recordings. If an event happened on a particular day and needs reviewing this is where they would go. Simply select the date and the recordings are listed by the time they happened.
While going through a recording, users can use the time slicing to watch four clips at once two minutes apart. The recording does have to be long enough to break into four slices in order to utilize this particular tool.
Snapshots can be taken at various steps in different apps within Surveillance Station, in this case it was taken within timeline. At the bottom of the snapshot are basic editing tools (such as rotation, brightness, contrast) that can be done before saving the snapshot to the NAS or downloading it to a local computer.
For video management in our lab, we use the Synology RackStation RS10613xs+, Axis Security Cameras, and the Synology VS240HD. While RS10613xs+ is a top of the line product with high capacity and performance, Surveillance Station also works on the DS115j, a small single bay NAS that can be bought for about $100. The VS240HD allows us to easily pop in to live view if we hear something and want to check it out without leaving the location, such as going upstairs for a deliver that was for other tenants in the building. The VS240HD is also nice because it doesn't required a dedicated PC to be tied up, when it could be put to use elsewhere in our lab.
Though the surveillance is usually taken care of by the lab director, Kevin, I was able to easily navigate it without any prior training. Within a few minutes I was able to access all of the cameras for live view, take and edit snapshots, and zoom in. Using Timeline I was about to go through previous recordings, again take snapshots and edit both the snapshots and the recordings. And I could go through archived recordings and do the same. This feature-rich software is extremely simple to learn and use, not only saving businesses money due to it being free, but very little training would be required as they begin to use it.
Conclusion
Synology's Surveillance Station 7.0 has just about everything one would need to run a surveillance system from network attached storage for most businesses. Surveillance Station is compatible with over 3,000 different cameras (including specialized cameras) and it makes it easy to setup and efficient management regardless of the number of cameras. Surveillance Station offers several ways of viewing both live streams and recordings, with analytics built in. Users can also save, edit, archive, and enhance recordings as well as take snapshots of specific events. Recordings can be setup with action rules that tell them to begin due to certain events. And the latest version has physical access controller through AXIS A1001 Network Door Controller solutions that allow users to lock and unlock doors and view access logs of the person entering certain points.
We began using Synology Surveillance Station last year on an RS10613xs+ and VS240HD using AXIS Security Cameras. The VS240HD allows us to monitor the building during the day. If, for instance, a package is delivered and we are downstairs (or our lab director is testing out floor tile by repetitively hitting it with a hammer and we can't hear anyone knocking) we can easily check the cameras. The VS240HD is also nice because it doesn't require a dedicated PC to be tied up, when it could be put to use elsewhere in our lab. The DS Cam mobile app is also great for the times we aren't in office and the alarm is triggered. Using the mobile app we can quickly ascertain if it is a false alarm or reason to get the authorities involved. Overall we found that Synology Surveillance Station is easy to use and manage, and a great addition to our lab. The fact that is comes free with all Synology NAS is a nice bonus. The only downside is that currently it only supports AXIS A1001 Network Door Controller, however the A1001 has enough features to fit most business needs.
Pros
Free to all Synology NAS owners
Simple to install and use
Compatible with over 3,000 cameras and multiple camera types
Cons
Currently only compatible with Axis Door Controller
The Bottom Line
Synology Surveillance Station 7.0 is a complete surveillance system that can be utilized from one camera used as a nanny cam to thousands of cameras covering every angle of a large company. Best of all, it is free with any Synology NAS and allows users to connect 2 IP cameras for no extra cost.
Synology NAS at Amazon