Dell Technologies is delivering on its commitment to expand the Dell APEX portfolio, making PowerFlex available in AWS. The expanded Dell APEX portfolio was introduced earlier this year with enhanced APEX as-a-Service offerings that included an integrated console offering a single pane of glass to access all APEX services.
Dell Technologies is delivering on its commitment to expand the Dell APEX portfolio, making PowerFlex available in AWS. The expanded Dell APEX portfolio was introduced earlier this year with enhanced APEX as-a-Service offerings that included an integrated console offering a single pane of glass to access all APEX services.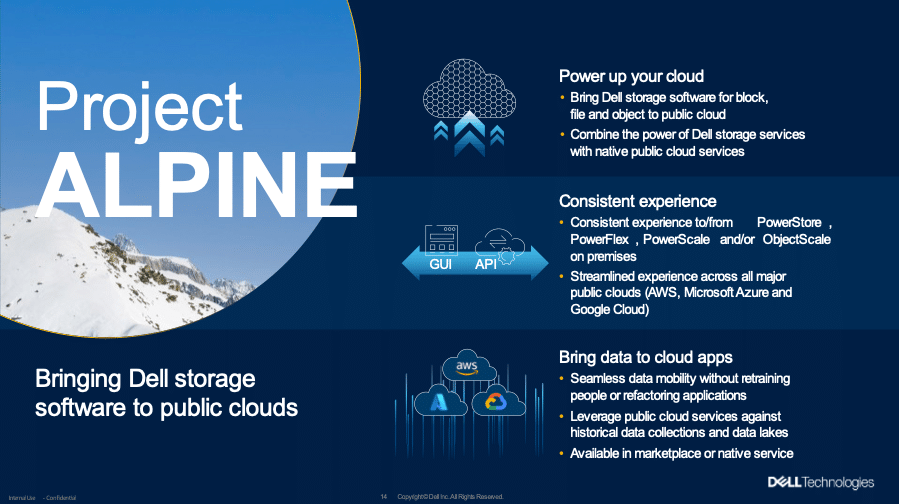 PowerFlex is all about performance, and offering this in AWS Marketplace delivers customers' mission-critical performance, scale, resilience, and management. Dell PowerFlex is the first of Dell's storage software offerings to be made available in the public cloud via Project Alpine and compliments its broad AWS data protection portfolio.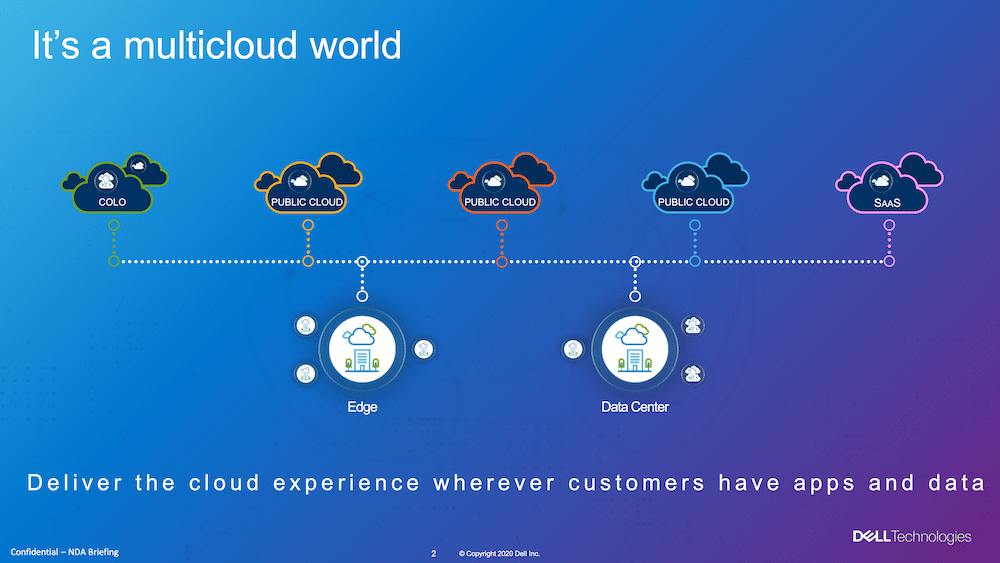 Most IT environments today include a mix of public and private clouds. APEX, Dell's portfolio of as-a-Service and cloud solutions, helps reduce multicloud complexity through simplified cloud experiences that provide control over customers' applications and data. This includes Dell's storage software offerings in public clouds delivering a consistent operational experience across environments.
Dell PowerFlex in AWS – Making Project Alpine Real
First announced in January, Project Alpine brought file, block, and object storage software to all major public clouds delivering data mobility and consistent operations across cloud and on-premises locations.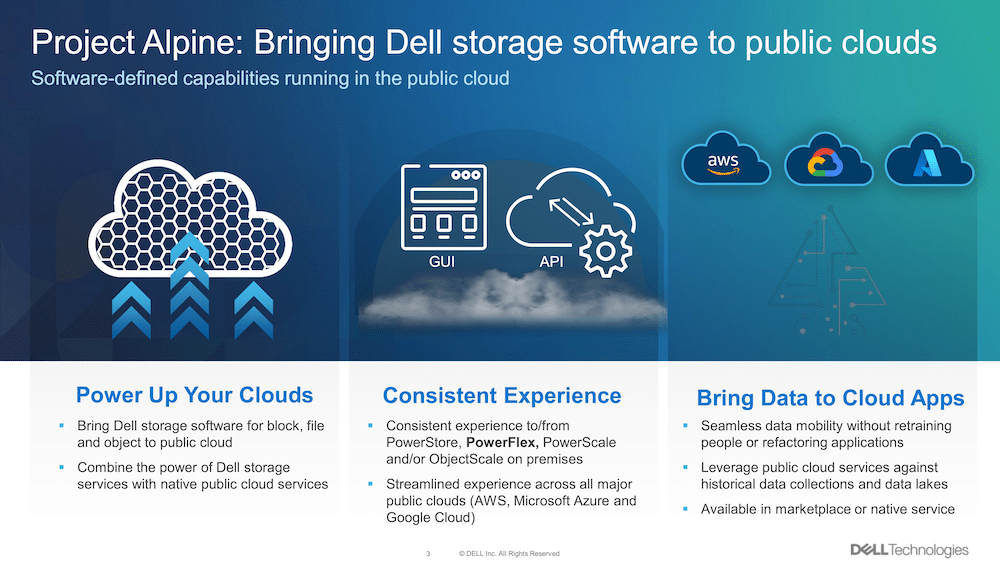 During Dell Technologies World in May, Dell demonstrated how customers could take advantage of new software innovations, advanced data services, and capabilities from its storage platforms in the public cloud, presenting use cases such as Cloud bursting, Disaster Recovery, Test and development, Data and container mobility, and cloud-based analytics.
Now, Dell has jumped out ahead of AWS re:Invent to announce the availability of Dell PowerFlex in the AWS Marketplace, providing customers with the mission-critical performance, scale, resilience, and management of PowerFlex in the public cloud with the ability to purchase with their existing cloud credits.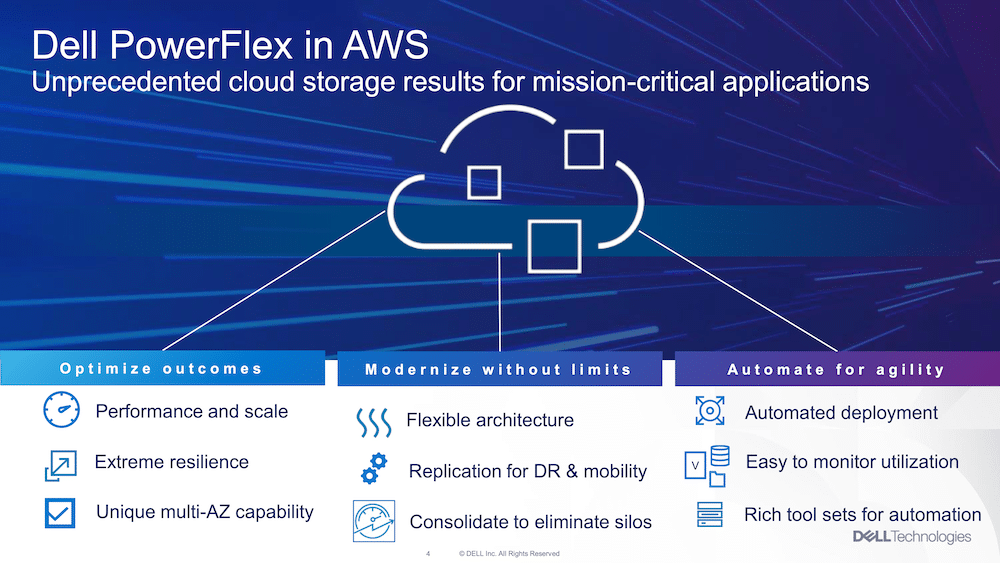 Dell PowerFlex in the AWS marketplace capabilities include:
Enterprise-grade block storage services: data mobility, volume migrations, and security.
Linear performance with massive scale: handle millions of IOPS with sub-ms latency and linear scaling out to 1000s of instances.
Multi-region, multi-zone resiliency: Ability to span AWS regions and availability zones to create a fault-tolerant block storage services layer.

Delivering Dell PowerFlex in AWS
PowerFlex in AWS gives customers the same high performance and scalability they have in their on-premises environment. PowerFlex in AWS use cases includes databases, applications, test/dev, backup, disaster recovery, and consolidation of workloads onto a single high-performance platform.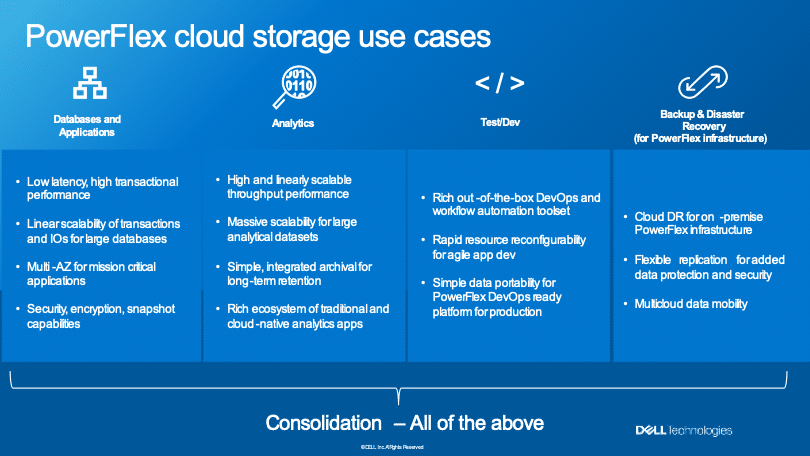 PowerFlex delivers in scale and durability when combined with AWS services, adding linear scale-out performance and capabilities and increased resilience with a multi-AZ (Availability Zone) implementation.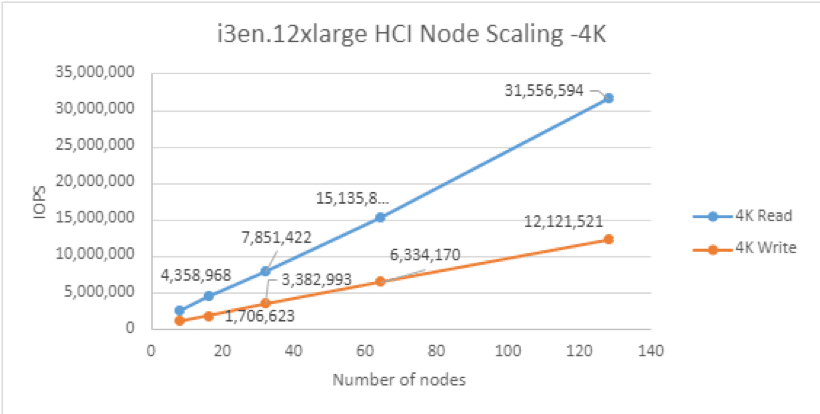 AWS Testing demonstrated PowerFlex's ability to deliver linear scale with sub-ms latency scaling from 4 to 128 instances but is scalable well beyond 128 instances.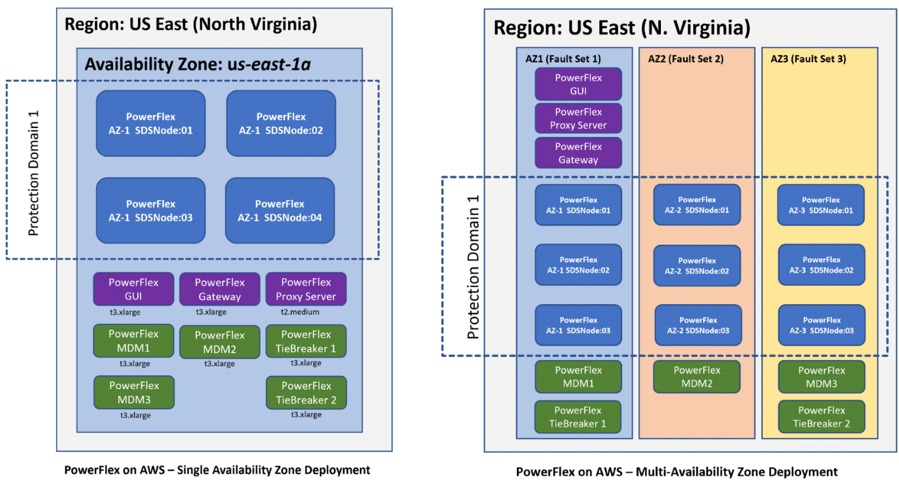 Dell PowerFlex in AWS is the only cloud block storage solution available today with support for multi-AZ durability. The ability to map PowerFlex fault sets across availability zones enables high resilience and resolves the maximum limit of 7 placement groups. Fault sets are used in the event of complete AZ failure, so in a multi-AZ deployment, there is no loss of stored data. There is a single fault set assigned per AZ. The AWS deployment wizard allows customers to spread the PowerFlex deployment across multiple AZs in a single Region.
The PowerFlex architecture also includes one or more controller nodes that run the Meta Data Manager (MDM) service. The placement of MDMs has also been spread around to minimize the chance of a complete management stack failure. The MDM functions as the PowerFlex monitoring and configuration agent that is used mainly for management. A multi-MDM environment consists of one Primary MDM, with other MDMs functioning as tie-breakers.
The Storage Data Server (SDS) is a service that runs on each server and is the broker for storage services. The absolute smallest number of SDS Instances in a multi-AZ deployment is 9. Any number over this will be in multiples of 3 to maintain equal numbers of SDS Instances in each Fault Set. This provides balanced capacity and performance between the SDSs as capacity is expanded. More information can be found on the PowerFlex Software Defined Storage page.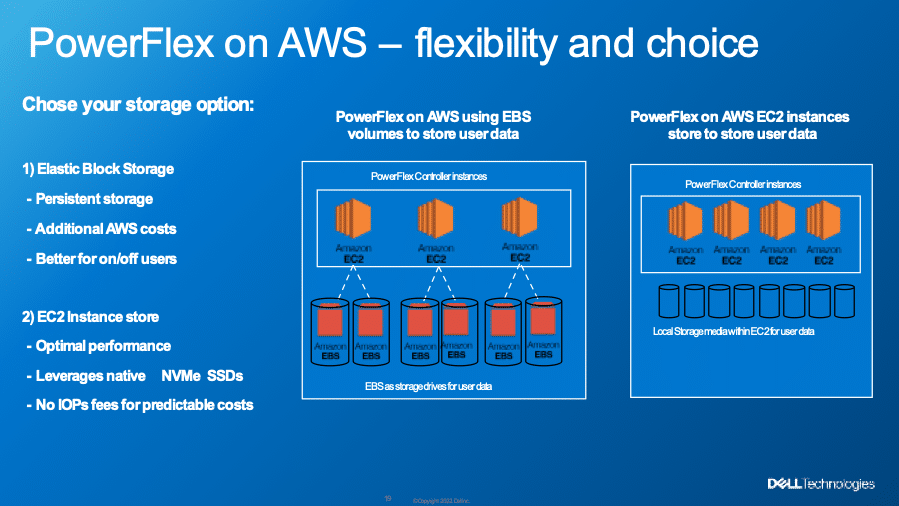 PowerFlex with EBS Volumes vs. EC2 Instance Store
Customers have a choice when it comes to storage as well including EBS and EC2 instances. AWS EBS volumes are persistent storage, so the data will remain when the instances are shut down as long as you pay for the service. EC2 Instance Store leverages NVMe SSD drives that are local to the Instance. Data Domain Virtual Edition is also available to ensure data is protected.
How it Works: Deployment of Dell PowerFlex in AWS
Dell provided details for deploying PowerFlex on AWS on their Blog. Before beginning the deployment process, be sure to meet all the prerequisites:
AWS Account Login

Access Key ID
Secret Access Key
Token (if required)

Permissions to provision AWS infrastructure (VPC, security groups, etc.)

After launching the deployment wizard, there are options for deploying PowerFlex on AWS and several post-deployment options to expand the cluster, manage the cluster and update AWS credentials.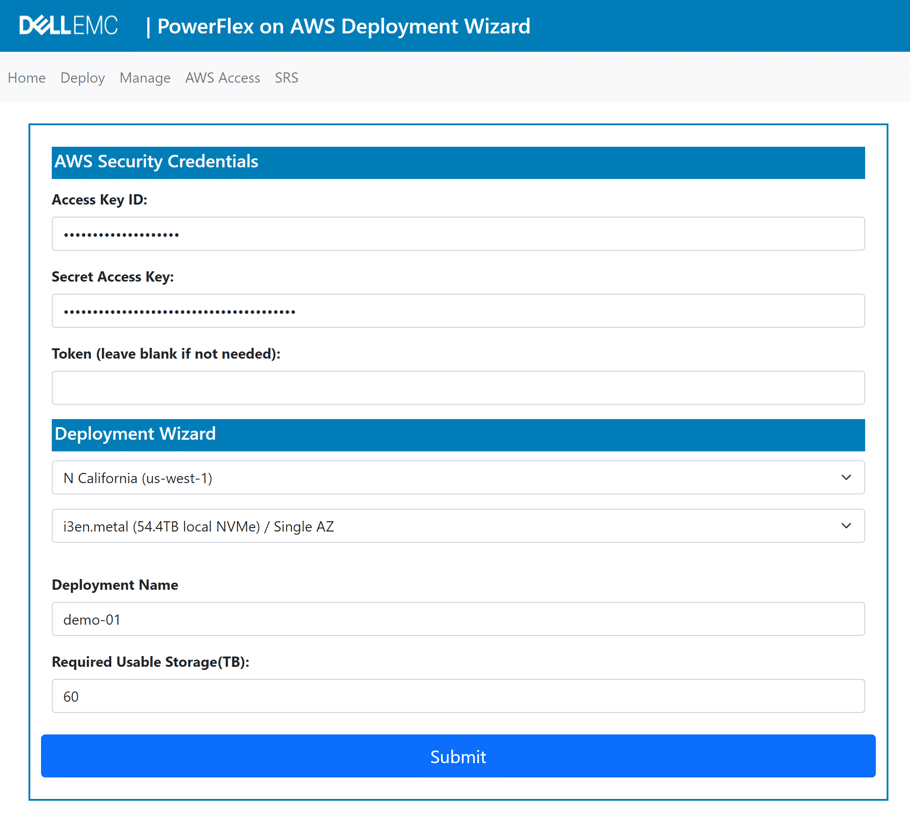 The initial screen will require all security credentials. Any errors on this screen will prevent access.
Once the Access ID and Secret Access Key credentials have been input and validated, only four additional fields are required to start the deployment of the PowerFlex on AWS.  Those inputs are:
Select the AWS region to deploy the PowerFlex.
Select from the drop-down list of deployment options that include the type of storage (EBS or EC2 Instance Store) and either single AZ or Multi-AZ.
The name for the deployment.
The amount of block-based storage capacity desired.
The regions currently available in the deployment wizard include the following:
Virginia (us-east-1)
Ohio (us-east-2)
California (us-west-1)
Oregon (us-west-2)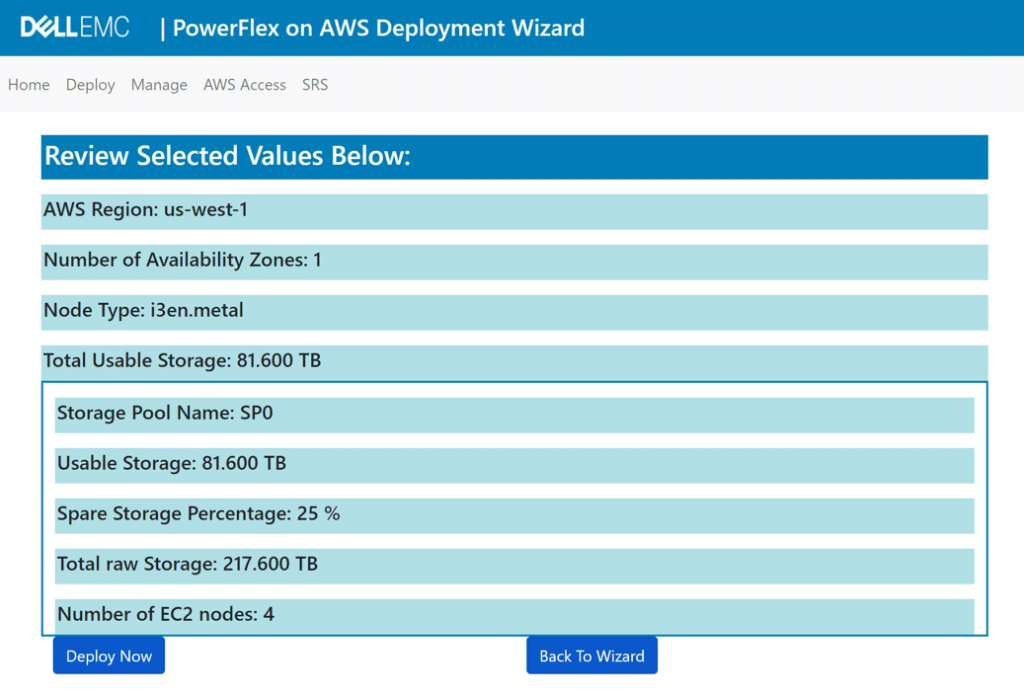 Next, the wizard displays the configuration to be deployed. If something doesn't look right, select Back To Wizard to correct any errors.
Clicking "Deploy Now" initiates work in AWS.
Usable storage includes:
User definable
Number of nodes based on Instance
Minimum node count = 3
Usable capacity calculated based on # of Instances + spare percentage

Once the deployment is completed, you will be presented with a list of everything configured and the deployment location. If this was a multi-AZ configuration, the location would be very important. This example shows a single location.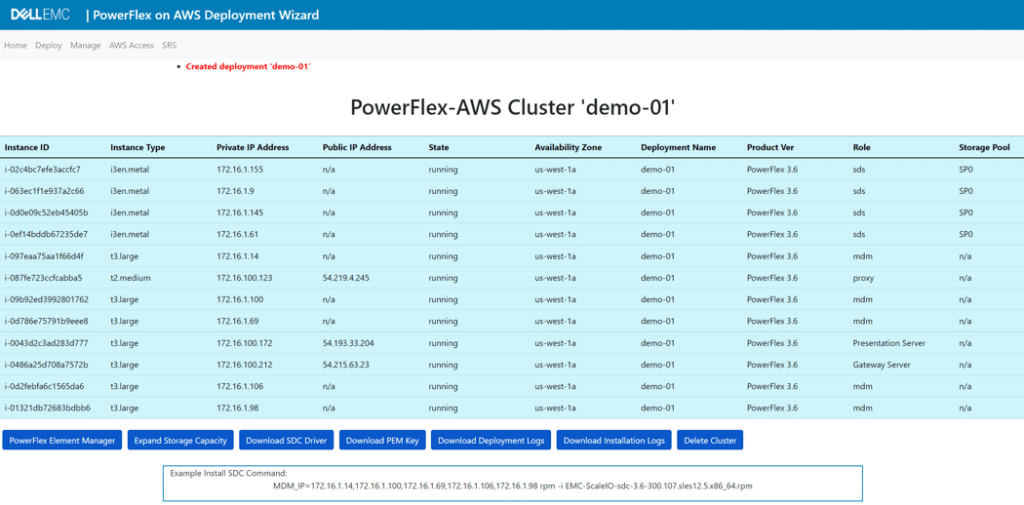 Comparing the list of deployed elements in the AWS console against the PowerFlex Element Manager with the simple names assigned to the elements is easy.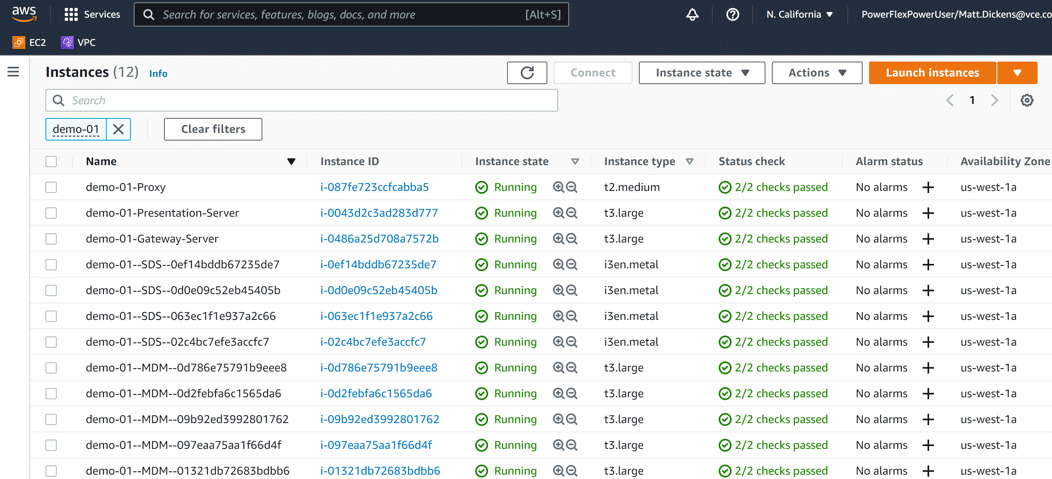 The final window in the deployment wizard is the SDS Configuration. Here you can check the SDS names with the AWS instance names listed in the AWS console window.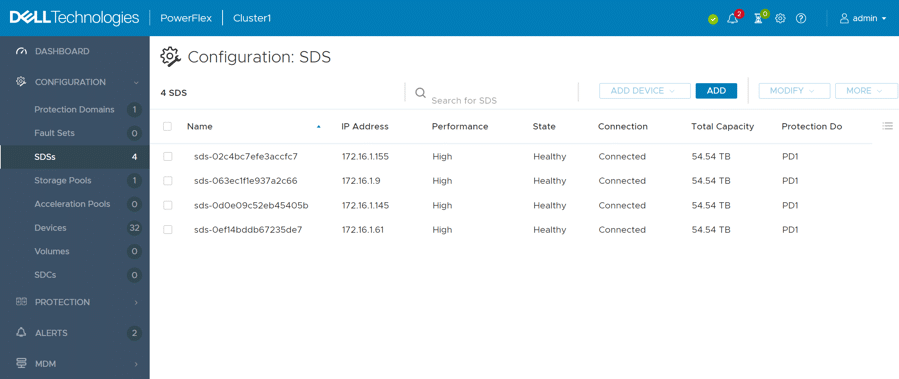 A simple process to get up and running with PowerFlex in AWS.
Dell has posted a step-by-step video on Youtube on how to set up a Multi-AZ Deployment using the PowerFlex on AWS Deployment Tool. This is worth viewing if you are planning to deploy PowerFlex on AWS.
Market Impact
Dell PowerFlex on AWS is an important step forward for both companies. For Dell, it takes the lowest-hanging Alpine fruit of PowerFlex, and gets it into the cloud. While PowerFlex was already software-defined and the AWS codebase is the same that Dell sells on PowerEdge servers, the integration with AWS can not be minimized. The way PowerFlex leverages the AWS resources to map AWS volumes as drives, and the multi-availability zone support are very impressive.
For AWS, this is also a big step forward. While they've offered ONTAP for files for quite some time, other major storage vendors have been slow to disaggregate their code from hardware appliances. With the PowerFlex effort, AWS customers now have another robust option for enterprise-ready cloud storage. Surely AWS customers will be eager to watch Dell invest in Alpine, bringing more SDS options to the marketplace.
Learn More at Re:Invent
For those attending the AWS Re:Invent conference in Las Vegas (Nov 28 – Dec 2nd), drop by the Dell Technologies Expo booth (#2745) located in The Venetian to learn more about how this new deployment option can deliver value to mission-critical workloads on AWS.
Engage with StorageReview
Newsletter | YouTube | Podcast iTunes/Spotify | Instagram | Twitter | TikTok | RSS Feed