Pure Storage has announced several data resilience updates, including introducing Pure Protect//DRaaS, //Evergreen energy efficiency guarantees, and AI-powered storage services to global enterprises via the Pure1 management platform.
Pure Storage has announced several data resilience updates, including introducing Pure Protect//DRaaS, //Evergreen energy efficiency guarantees, and AI-powered storage services to global enterprises via the Pure1 management platform.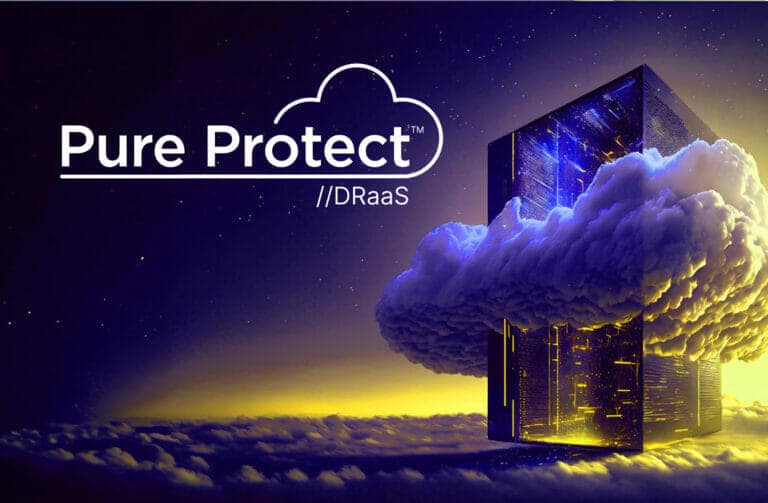 The Pure Storage updates are geared toward maximizing data protection with a comprehensive, multi-layered data resiliency strategy. Data protection has been built into the Evergreen architecture via ActiveDR, ActiveCluster, and Safemode snapshot capabilities. These expanded data resilience features include enhanced trusted operations capabilities and disaster recovery services.
Pure Protect//DRaaS: Transforming Disaster Recovery
Pure introduced the Pure Protect//DRaaS consumption-based Disaster Recovery-as-a-Service solution to reduce complexity, cost, recovery time, and business disruption due to cyber disruptions and disasters. Pure Protect//DRaaaS ensures data centers remain isolated, providing multiple restore points for recovering clean copies of on-premises vSphere data to AWS EC2 instances independent of the underlying storage infrastructure. Data centers remain isolated for investigation and remediation.
Providing just-in-time provisioning of recovery VMs can significantly reduce the cost and complexity associated with disaster recovery solutions. Using native AWS services for recovery offers a choice of availability zones and simplifies the recovery process. Keeping with Pure's philosophy of "Purely Simple," the new service delivers everything from deployment and configuration to testing and consumption.
Pure Protect//DRaaS leverages VMware's storage APIs for data protection (VADP) to give users peace of mind regardless of the underlying storage hardware. With this approach, setting up a VPC in AWS and replicating on-premise VMs to the cloud can be completed in under an hour.
Efficient and Cost-Effective DR
Using Pure's DRaaS solution, VMware VMs will failover to native AWS EC2 instances, removing data center expenses or paying for hybrid cloud clusters. Utilizing an existing AWS account, customers can use their AWS discounts without added markups. Unlike some other DRaaS solutions, Pure Protect//DRaaS allows customers to maintain transparency and custody of business data.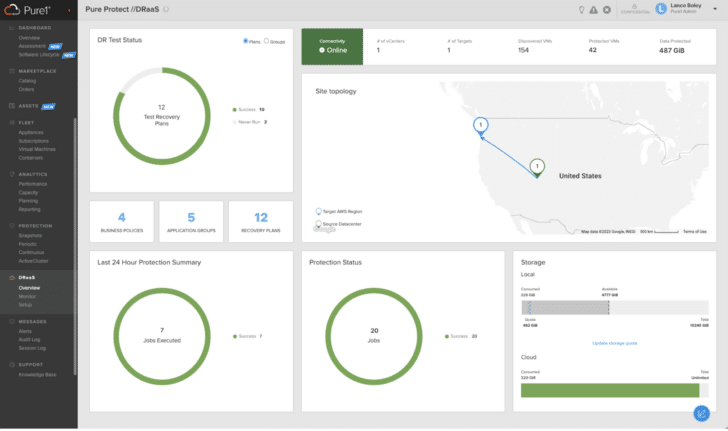 Although most organizations have a disaster recovery plan in place, disasters occur at the most inopportune time. With the integration of Pure Protect with the Pure1 SaaS platform, customers need only an internet connection to orchestrate their disaster recovery from anywhere.
What's In Your DR Strategy?
It is essential to have a solid disaster recovery (DR) strategy in place to ensure operational and business continuity in the event of disruptions. But even more critical is routinely testing and simulating disaster scenarios to validate the strategy. Avoiding downtime is paramount to keeping the reputation of a business intact. Pure Protect//DRaaS simplifies the whole recovery plan testing process with just a few clicks. It is even possible to scale down the VM configurations, making testing more cost-effective.
More Visibility From Pure
Pure has added a Data Resilience Score to Pure1 Data Protection Assessment, underscoring Pure's operations delivering better transparency in the adoption of Pure and data-protection and backup partner technologies with the ability to assess fleet configurations against leading practices.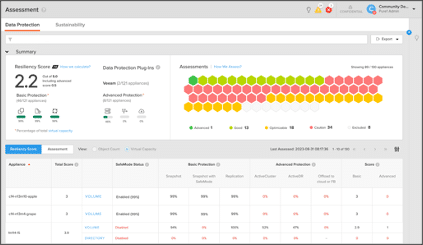 With Pure Storage AI-powered asset and lifecycle management services, customers can achieve operation excellence anywhere and on any scale.
To provide even more transparency, customers can inventory key subscription contract assets like contracts, licenses, and storage appliances while tracking maintenance and contract compliance. Customers can also track historical changes to subscription assets to gain insight into ramps, expansions, expirations, and renewals.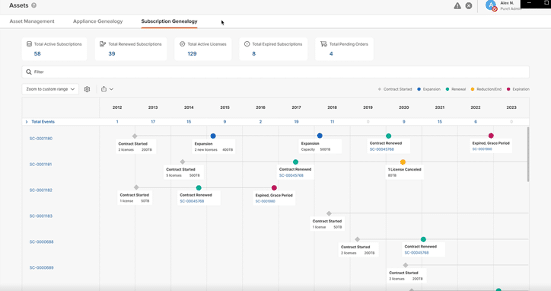 With the inclusion of subscription lifecycle management to the dashboard, customers get a subscription view that indicates when subscriptions require attention and renewal, predictive tracking for capacity utilization with actionable alerts, a new Pure1 Marketplace to make subscription shopping simple, improved transparency for subscription API integration, and new SLA indicators to monitor how well Pure Storage is meeting performance and efficiency agreements. Pure partners can also take advantage of these enhanced capabilities via APIs and early notifications to deliver AI-powered experiences.
Let Pure Storage Pay The Energy Bills
Lastly, Pure has implemented a one-of-a-kind Paid Power and Rack commitment for the enterprise Storage-as-a-Service market with unique energy, density, and upgrade guarantees. Pure Storage has committed to providing sustainable storage solutions to the market and is determined to make being green easier and more affordable.
Engage with StorageReview
Newsletter | YouTube | Podcast iTunes/Spotify | Instagram | Twitter | TikTok | RSS Feed