The Aberdeen AberNAS N31L is among Aberdeen's ultra-dense NAS storage arrays that are all designed to offer maximum capacity levels at more affordable prices than the upper echelon providers. The AberNAS is packed with features including capacity for up to 64TB of storage via 16 3.5″ bays. The 3U form factor NAS also features Intel Xeon E5 family processors, up to 512MB RAM, and exceptional connectivity via 10GBe LAN and six standard PCI Express 3.0 slots. The Aberdeen N31L also features LSI SAS 6G RAID and extra compatibility via full support for Aberdeen's SAS 6G 4U/45Bay and 3U/28Bay JBOD for users that need to expand their array's capacity.
The Aberdeen AberNAS N31L is among Aberdeen's ultra-dense NAS storage arrays that are all designed to offer maximum capacity levels at more affordable prices than the upper echelon providers. The AberNAS is packed with features including capacity for up to 64TB of storage via 16 3.5″ bays. The 3U form factor NAS also features Intel Xeon E5 family processors, up to 512MB RAM, and exceptional connectivity via 10GBe LAN and six standard PCI Express 3.0 slots. The Aberdeen N31L also features LSI SAS 6G RAID and extra compatibility via full support for Aberdeen's SAS 6G 4U/45Bay and 3U/28Bay JBOD for users that need to expand their array's capacity.

The AberNAS 31L series are full-featured servers that offer flexibility – in particular, the devices can handle block level storage as SAN with iSCSI and object storage as NAS with SMB. Users also have the ability to choose an OS; our tester AberNAS is the N31L, the Linux based version, while the N31W runs Windows. Adding to uniqueness within this class, the 31L series also provides six PCIe 3.0 slots to enable support for interface and storage cards, while most other units in the market offer only one.
Aberdeen has made the AberNAS N31L highly customizable for the SMB market it pings with their NAS. Users who require total access to customizing their device can have their N31L configured to their own specs as well. Starting with processors, users choose from the Intel Xeon E5's starting at the 2.0Ghz via the 2620 up to the 2.9Ghz with the 2690. RAM is offered in doubling intervals from 32GB to 512GB. SATA hard drives are HGST Ultrastars while the SAS hard drives are Seagate Constellation and 15K Cheetah models. Users can also select the kind of network and additional connectivity they want via the PCIe slots. Rounding out the options, users can choose an additional 920W Platinum Redundant spare power supply, a locking front bezel, and a cable management arm. Our test model employs the Intel Xeon E5-2630 2.3Ghz, 32GB 1600MHz ECC DDR3 RAM, 16 Hitachi 7K3000 3TB Ultrastar SATA 7,200 RPM drives, and an Emulex 10GbE card.
The Aberdeen AberNAS N31L provides users with a five year warranty and ranges in price from $7,400-$48,000.
Aberdeen AberNAS N31L Specifications
Protocol Support: XFS, SMB, CIFS, NFS, AFP 3.1, FTP, SFTP
OS Support: Enterprise-Class 64-bit Linux-based NAS (Supports up to 8EB per single volume)
Configurable Processor: Dual Intel Sandy Bridge-EP Xeon E5-2600 Eight/Six/Four Cores w/up to 8.0GT/s QuickPath Interconnect

8.0GT/s QPI CPU runs DDR3 at 1600/1333/1066MHz
7.2GT/s QPI CPU runs DDR3 at 1333/1066/800MHz
6.4GT/s QPI CPU runs DDR3 at 1066/800MHz

Configurable Memory: 16GB to 512GB ECC DDR3 (Quad Channel Operation)
(64-bit OS allows for maximum memory support)
Available Expansion Slots 6 x PCI-E 3.0 x8
RAID Environment

LSISAS2108 6Gb/s RAID-on-Chip – 800MHz PowerPC
PCIE 2.0 SAS 6G RAID Controller
RAID BBU
Rear SFF-8088 SAS Expansion Port

Included OS: 1 x Disc-On-Module (DOM)
Disk Drives: 16 x SAS 6G / SATA 6G / SATA 3G 4TB / 3TB / 2TB / 600GB 15Krpm or 7200rpm
24×7 Enterprise-Class
Ethernet

Intel® X540 Dual port 10GBase-T
Virtual Machine Device Queues reduce I/O overhead
Supports 10GBase-T, 100BASE-TX, and 1000BASE-T, RJ45 output

Ethernet Load Balancing: Load Balancing, Teaming and Failover
Power Supply: 920W Redundant High-efficiency, 80PLUS Platinum Level (94%+)
Tool-less rails included
Warranty: 5-Year Limited
Power Draw (W): Off: 22.8, Boot-Up: 586, Burn-In: 558, Idle: 364
Dimensions (HxWxD): 5.2″ (132mm), 17.2″ (437mm), 25.5″ (648mm)
Design and Build
The Aberdeen AberNAS N31L has a sleek design that blends well into any server configuration, yet also stands out a bit with its silver-accented bay doors that give it character. The rest of the unit is solid black metal, heavily ventilated to ensure that the unit stays cool. The AberNAS N31L has two handles to assist in maintenance, and the device's 16 Hot-swappable bays also provide users with easy access.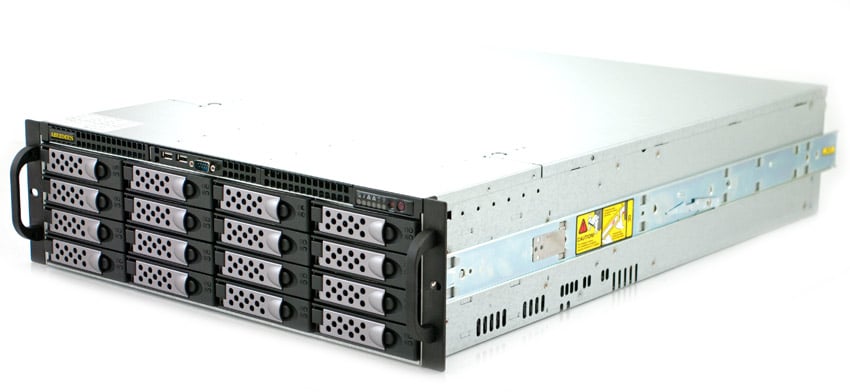 The front of the AberNAS N31L prominently features the 16 bays, each with their own activity lights. They have simple latch designs which flip open the silver door panels to give users access to their drives for maintenance and upgrades. Inside of our test unit there are 16 Hitachi 7K3000 3TB Ultrastar SATA 7,200 RPM hard drives, each with their own caddy. Back out to the front, the right side of the unit features the power and reset buttons as well as the LED activity lights. Moving across the top, there are two USB ports and one serial port for communicating with the N31L. The top left has Aberdeen branding.

Moving to the back right of the unit, users find the PCIe expansion slots which can be populated with a range of interface and storage cards – we optioned in a 10GbE port. The center of the unit features 2 large cooling fans, while two smaller fans that are part of the power supply for the AberNAS line the left side. The connectivity for the AberNAS sits under the large fans and includes 10GBase-t Ethernet ports, 4 USB 2.0 ports, and serial ports.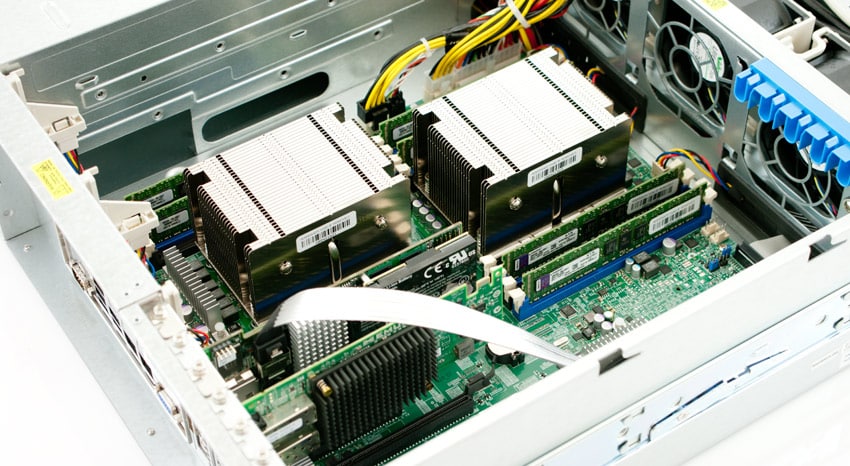 Management Software
The management software provided with the AberNAS for the Linux-based N31L gets the job done, but leaves a bit to be desired with its UI. It looks out-of-date compared to the kind of interfaces found on other solutions. While it enables users access to a wealth of information regarding the N31L, it is often difficult to parse that data to find critical information. For most users this won't be a big problem since it only took us a few minutes to get the N31L provisioned on our network, but depending on the amount of users or volumes you need to configure in your environment it might cause some frustration.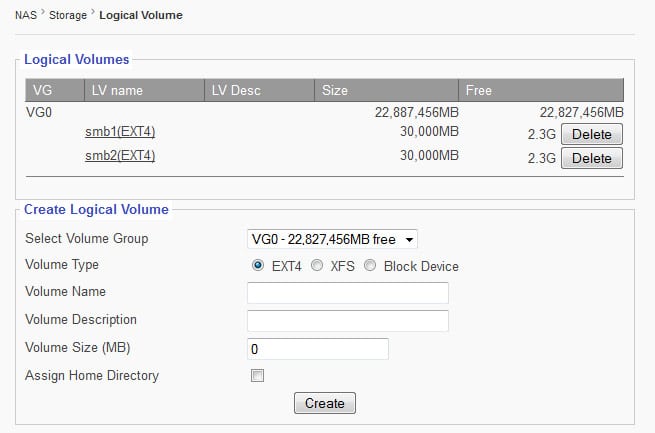 To manage the storage array, Aberdeen offers a KVM pass-through directly to the LSI MegaRAID Manager. This gives the benefit of having as much control as possible over the LSI RAID card and provides advanced features that might not be available through the standard Web GUI. In the windows shown below, the interface immediately worked after we dropped in the newer Flash-equipped LSI Nytro MegaRAID adapter.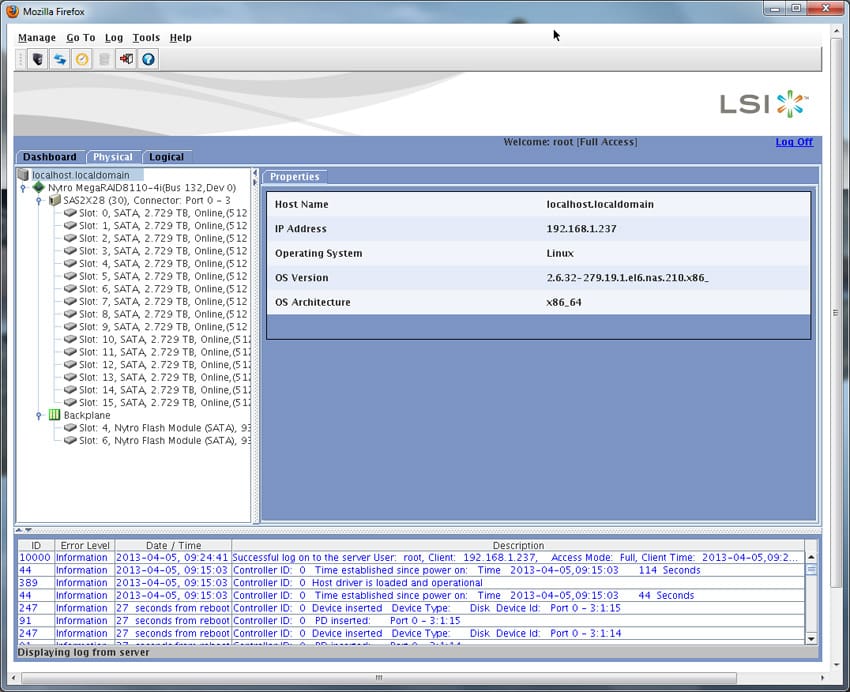 In terms of access to background information, Aberdeen AberNAS gives users access to nearly all system stats, which could be a good thing or bad thing depending on your level of technical background. With a quick scroll, you can find out what processes are running in the background, how much memory is free, and information such as CPU temp or fan speed.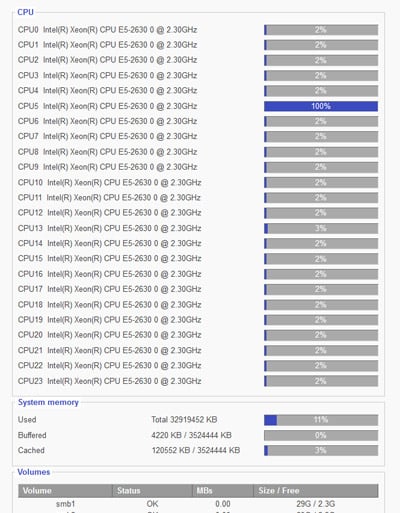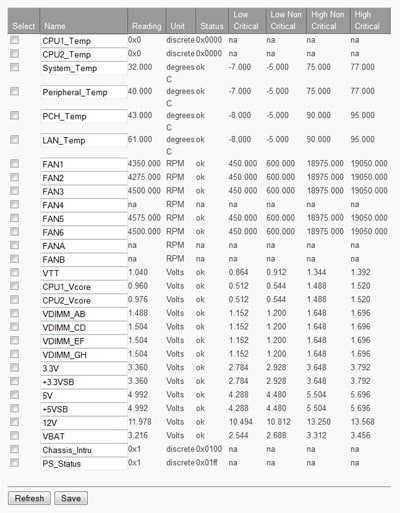 Testing Background and Comparables
When it comes to testing enterprise hardware, the environment is just as important as the testing processes used to evaluate it. At StorageReview we offer the same hardware and infrastructure found in many datacenters where the devices we test would ultimately be destined for. This includes enterprise servers as well as proper infrastructure equipment like networking, rack space, power conditioning/monitoring, and same-class comparable hardware to properly evaluate how a device performs. None of our reviews are paid for or controlled by the manufacturer of the equipment we are testing.
In our Aberdeen N31L we've elected to run two configurations, one utilizing the LSI MegaRAID 9280 and the other using the LSI Nytro MegaRAID 8110. The LSI 9280-4i4e is a low-profile RAID card with rates up to 6Gb/s and a total of eight ports, four internal and four external. LSI designed the 9280 to improve SSD performance. The LSI 9280 supports internal drive storage and external JBOD expansion. Also, for performance, security, and upgrades, the LSI 9280 also supports RAID 0, 1, 5, 6, 10, 50 and 60. The LSI 8110 is part of the Nytro MegaRAID series like the BLP4-400 Application Accelerator we recently reviewed, and it also supports rates up to 6Gb/s like the LSI 9280. However, the LSI 8110 also features 200GB of onboard eMLC NAND to migrate and cache hot data for accelerated performance. Further, the LSI 8110 is PCIe 3.0 compliant, whereas the 9280 is PCIe 2.0 compliant.
LSI MegaRAID and Nytro MegaRAID Specifications:
LSI MegaRAID 9280

One Mini-SAS SFF8087 internal connector
One Mini-SAS SFF8088 external connector
Data Transfer Rates Up to 6Gb/s per port
LSI SAS2108 RAID-on-Chip (ROC)
512MB 800MHz DDR II SDRAM

LSI Nytro MegaRAID 8110

Mini-SAS SFF8087 internal connector
Host Bus Type x8 lane PCI Express 3.0 compliant
Data Transfer Rates 6Gb/s per SAS lane
LSI SAS2208 Dual Core RAID-on-Chip
1GB 1333MHz DDRIII SDRAM
StorageReview Enterprise Test Lab
StorageReview 10GbE Windows Server 2008 Enterprise Testing Platform:

2 x Intel Xeon E5-2620 (6 core, 2.0 GHz, 15MB, 95W)
Windows Server 2008 R2 SP1 64-Bit
Intel C600 Chipset
Memory – 16GB (2 x 8GB) 1333Mhz DDR3 Registered RDIMMs
Mellanox SX1036 10/40Gb Ethernet Switch and Hardware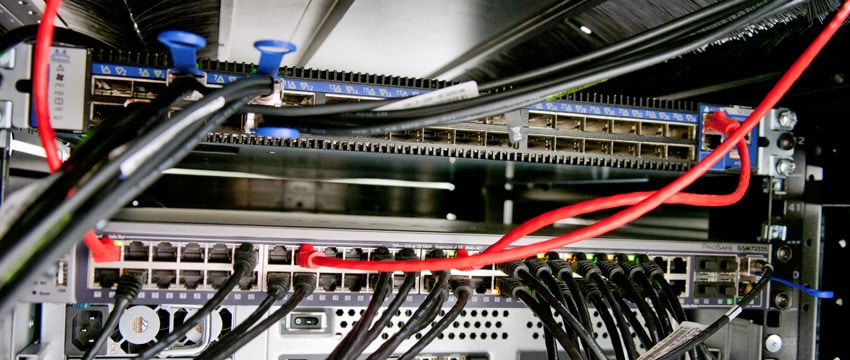 36 40GbE Ports (Up to 64 10GbE Ports)
QSFP splitter cables 40GbE to 4x10GbE
Mellanox ConnectX-3 EN PCIe 3.0 Twin 10G Ethernet Adapter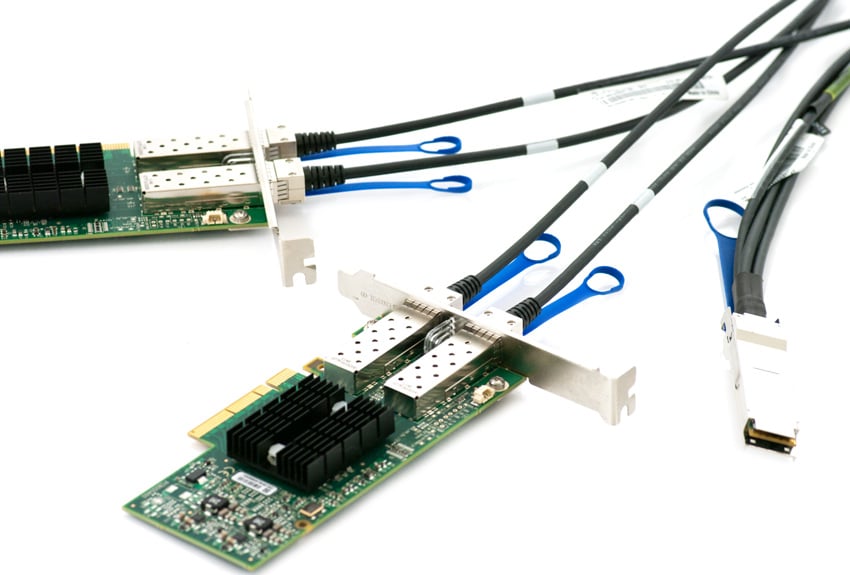 Our current Windows Server 2008 10/40Gb Ethernet SAN and NAS testing infrastructure consists of our Lenovo ThinkServer RD630 testing platform equipped with Mellanox ConnectX-3 PCIe adapters connected through Mellanox's 36-port 10/40GbE switch. This environment allows the storage device we are testing to be the I/O bottleneck, instead of the networking gear itself.
Enterprise Synthetic Workload Analysis
For storage array reviews we precondition with a heavy load of 16 threads with an outstanding queue of 16 per thread, and then test in set intervals in multiple thread/queue depth profiles to show performance under light and heavy usage. For tests with 100% read activity, preconditioning is with the same workload, although flipped to 100% write.
Primary Steady-State Tests:
Throughput (Read+Write IOPS Aggregate)
Average Latency (Read+Write Latency Averaged Together)
Max Latency (Peak Read or Write Latency)
Latency Standard Deviation (Read+Write Standard Deviation Averaged Together)
At this time Enterprise Synthetic Workload Analysis includes common sequential and random profiles, which can attempt to reflect real-world activity. These were picked to have some similarity with our past benchmarks, as well as a common ground for comparing against widely published values such as max 4K read and write speed, as well as 8K 70/30 commonly used for enterprise drives. We also included two legacy mixed workloads, including the traditional File Server and Webserver offering a wide mix of transfer sizes.
4K (Random)
8K (Sequential)
8K 70/30 (Random)
128K (Sequential)
File Server (Random)

80% Read, 20% Write
10% 512b, 5% 1k, 5% 2k, 60% 4k, 2% 8k, 4% 16k, 4% 32k, 10% 64k

Webserver (Random)

100% Read
22% 512b, 15% 1k, 8% 2k, 23% 4k, 15% 8k, 2% 16k, 6% 32k, 7% 64k, 1% 128k, 1% 512k
Our first test measures fully random 4K read and write performance. With two iSCSI targets configured, the Aberdeen N31L measured 3,682 IOPS read and 2,013 IOPS write. After switching to two SMB shares, read performance was higher with 4,468 IOPS read, although write performance slipped to 691 IOPS.

With a heavy load of 16T/16Q making an effective queue depth of 256, the Aberdeen measured 57ms read and 370ms write over SMB and 69ms read and 127ms write over iSCSI.

Over the course of our fully random 4k test, peak read latency measured 558ms over iSCSI and 633ms over SMB. During the same period, peak write latency measured 535ms over iSCSI and 1850ms over SMB.

Comparing latency consistency between each shared volume, iSCSI offered better read and write consistency than SMB, with a dramatic difference comparing write latency standard deviation.

Compared to the fixed 16 thread 16 queue max workload we performed in the 100% 4K write test, our mixed workload profiles scale the performance across a wide range of thread/queue combinations. In these tests we span workload intensity from 2 threads and 2 queue up to 16 threads and 16 queue. In the expanded 8K 70/30 test we included results from both the standard LSI MegaRAID as well as results from the Flash-Accelerated Nytro MegaRAID. In a standard shipping configuration, the Aberdeen AberNAS N31L offered up to 4,630 IOPS over SMB in our 8k 70/30 workload, while over iSCSI performance peaked at 2,882 IOPS. With the Nytro MegaRAID added to the storage array we saw strong performance over iSCSI, peaking at 17,949 IOPS, whereas SMB performance peaked at 15,307 IOPS.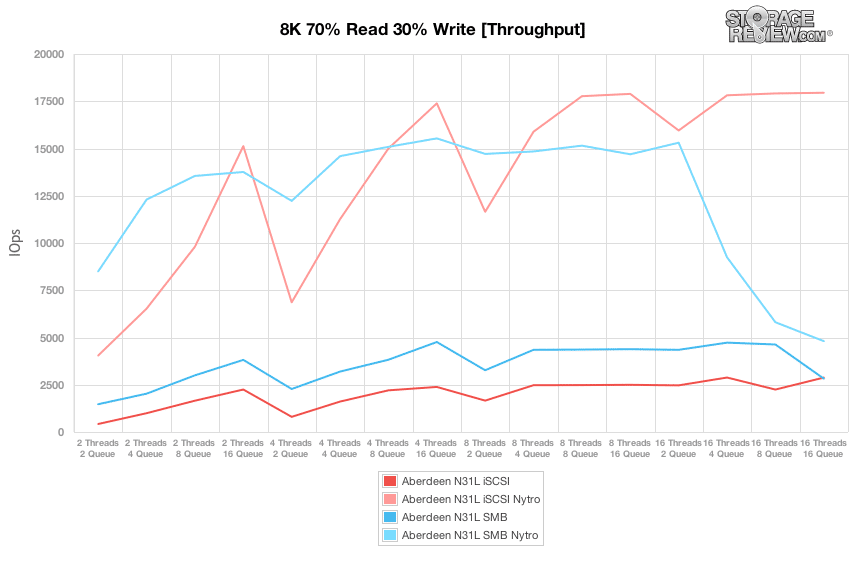 Looking at average latency, we found the HDD only configuration over iSCSI to range from 9.42ms at 2T/2Q to 88.86ms at 16T/16Q. SMB performance scaled better at the low-end, measuring just 2.71ms at 2T/2Q and peaking at 90.62ms at 16T/16Q. With some flash added into the mix latency plummeted, with iSCSI response times measuring 0.98ms at 2T/2Q and increasing to 14.25ms at 16T/16Q. SMB performance ranged from 0.46ms at 2T/2Q up to 53.24ms at 16T/16Q.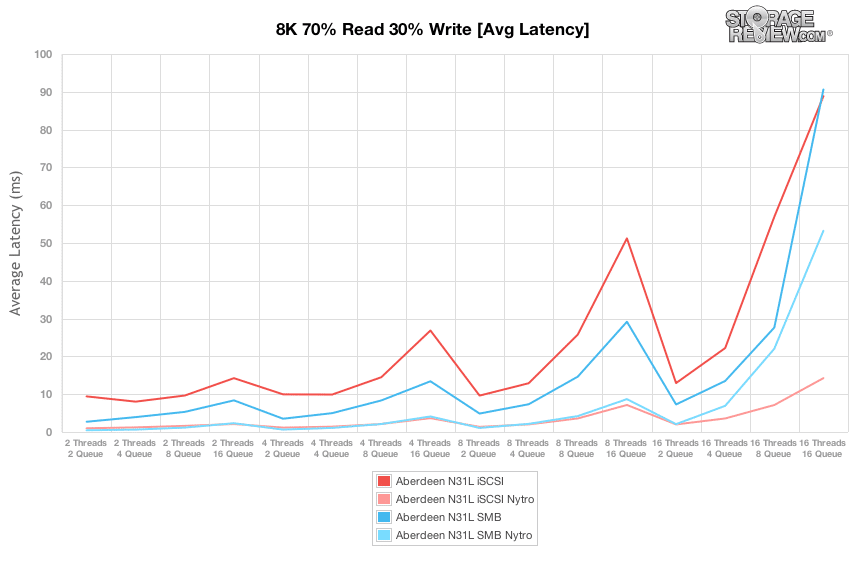 When we switched our focus to peak latency, in an all HDD setup peak latency ranged from 700 to 4,500ms for SMB, while iSCSI kept max response times lower in the range of 300 to 1,900ms. With Nytro MegaRAID flash added to the mix, max latency ranged much lower, between 50-1,000ms.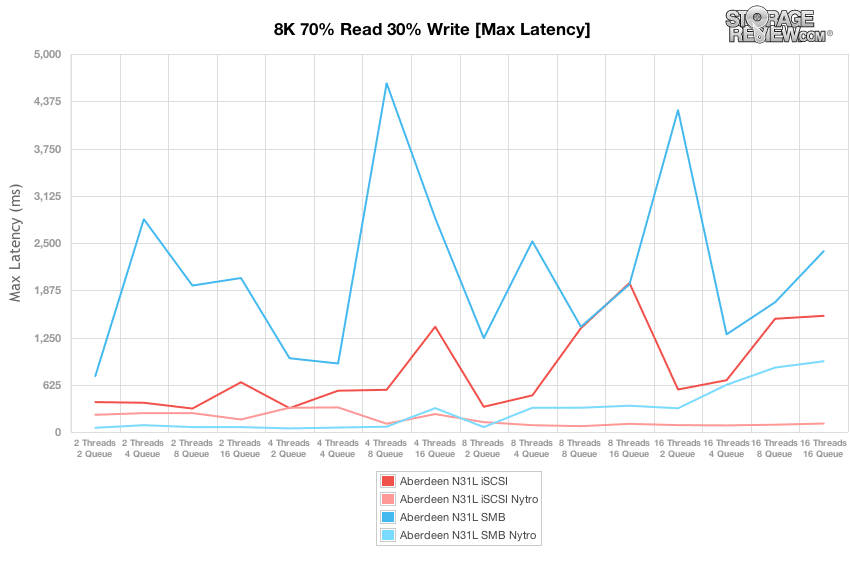 Comparing latency standard consistency between each configuration, we found iSCSI performance to have the edge in both standard and Nytro configurations, while SMB latency standard deviation scaled fairly high at higher effective queue depths.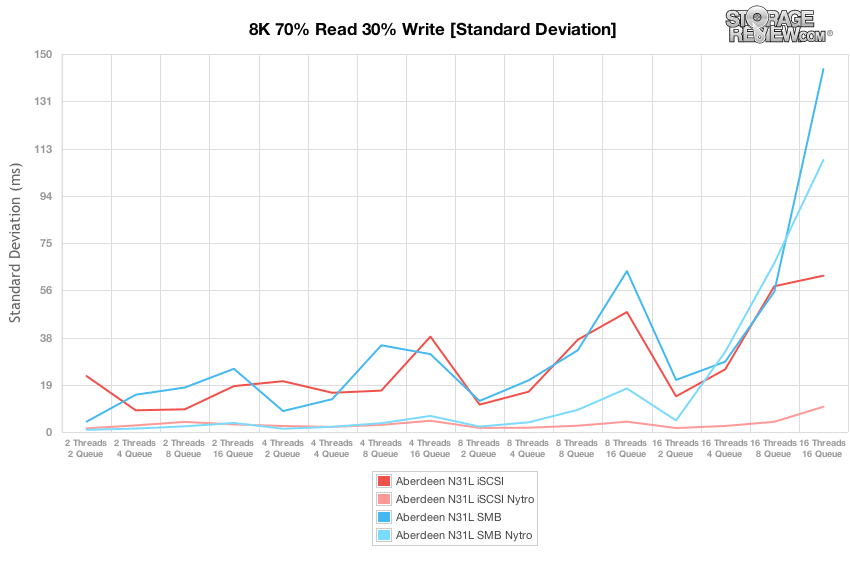 Our next workload looks at 8k sequential performance of the 16 7,200RPM HDDs configured in RAID10. Over iSCSI we measured 55,749 IOPS read and 58,150 IOPS write. SMB performance through samba wasn't as great, measuring just 29,943 IOPS read and 1,450 IOPS write.

Keeping the sequential transfer type, we increased the I/O size to 128k in our next test. SMB offered a slight lead in our N31L with a RAID10 configuration, measuring 1.06GB/s read, while iSCSI measured 991MB/s. Comparing write speeds, iSCSI took the lead with 1.53GB/s while SMB measured 569MB/s.

The next workload is our File Server profile, which covers a wide range of transfer sizes spanning from 512b to 512K. In this workload we saw a dramatic difference in performance between the iSCSI and SMB shares. SMB performance on the N31L was slightly greater at 2T/2Q, then was quickly surpassed by the iSCSI performance. Overall SMB throughput peaked at 1,206 IOPS, while the iSCSI shares topped at 2,901 IOPS.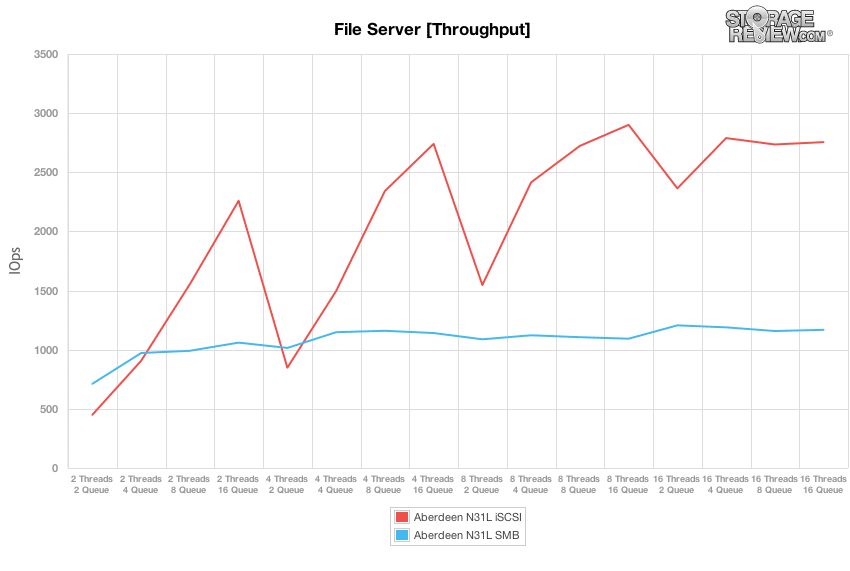 Comparing average latency between SMB and iSCSI volumes, we saw iSCSI latency range from 8.84ms at 2T/2Q to 92.87ms at 16T/16Q. This compared with SMB performance that increased from 5.6ms at 2T/2Q up to 218ms at 16T/16Q.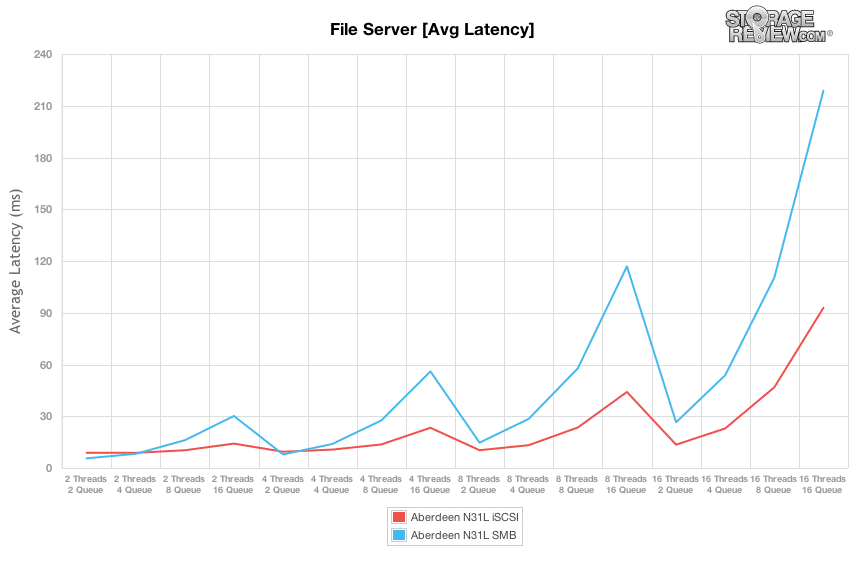 Shifting our focus from average to peak latency, iSCSI held a strong advantage over SMB, keeping peak response times below 1,000ms. The SMB volume though had substantial peaks as QD increased above 16.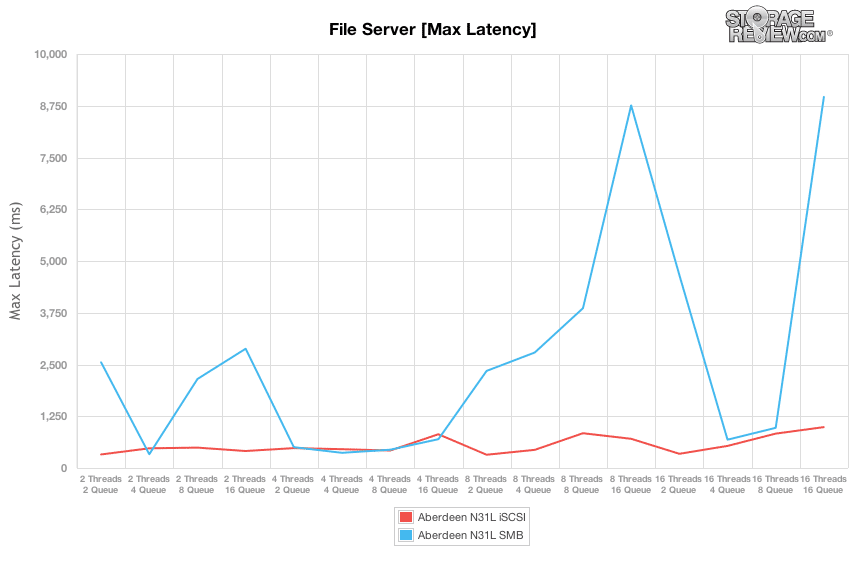 Similar to our view of peak response times, the iSCSI volume offered lower latency standard deviation than the SMB share, and kept latency consistency strong at QD32 and below.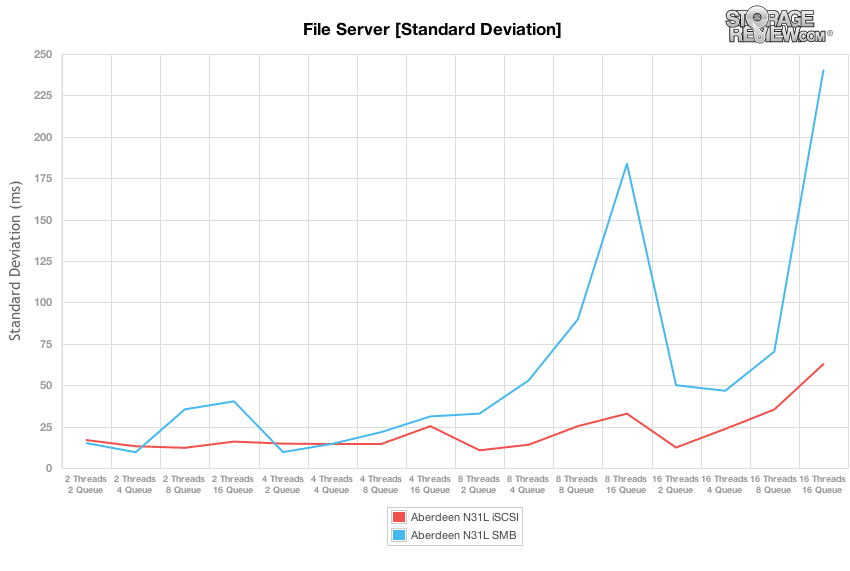 Our last workload looks at a 100% read Web Server profile, with transfer sizes ranging from 512b to 512k. Under strong read conditions, the SMB share offered better lowend I/O than the iSCSI volume up to QD32, where after that point iSCSI performance surpassed the SMB share. Overall iSCSI offered up to 3,486 IOPS, whereas SMB peaked at 2,745 IOPS.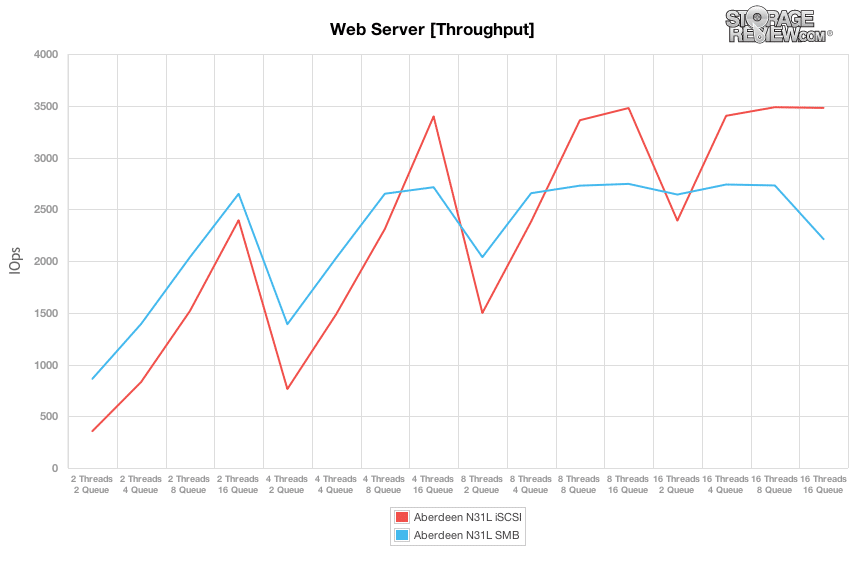 Looking at average latency in our Web Server profiles comparing iSCSI and SMB performance, iSCSI ranged from 11.22ms at 2T/2Q up to 73.56ms at 16T/16Q. SMB in the same area scaled from 4.63ms at 2T/2Q up to 115ms at 16T/16Q.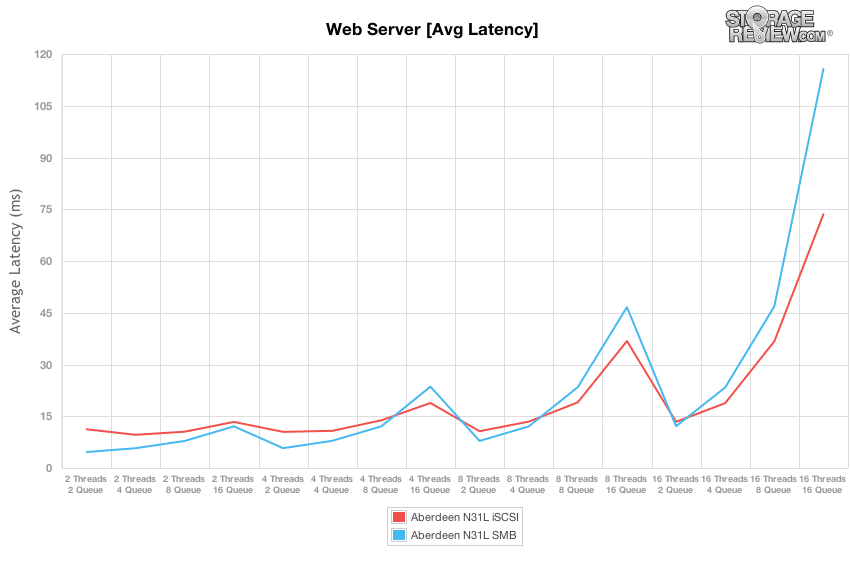 Comparing the band of peak latency from our iSCSI and SMB connections, we noted one spike of very high latency from our SMB shares at an effective queue depth of 256. Outside of that highest QD, max latency came in between 300-700ms for both iSCSI and SMB.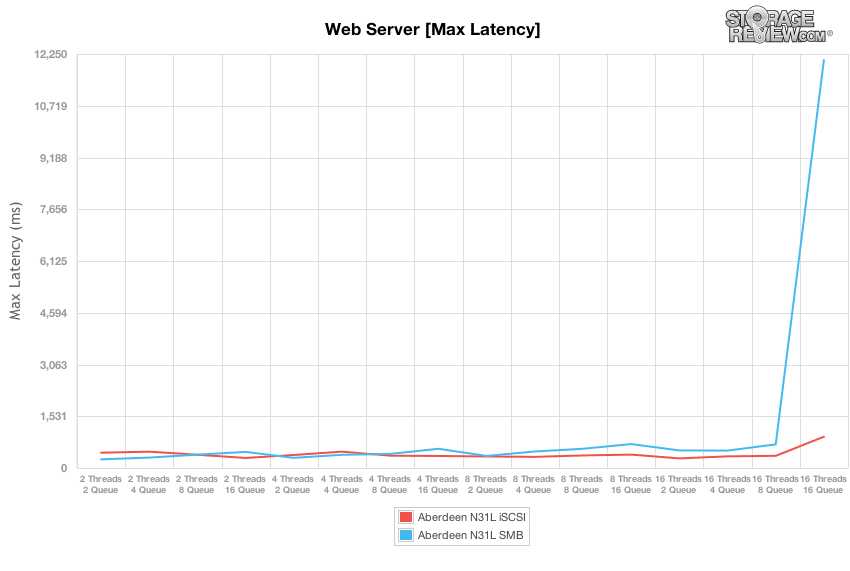 Comparing latency consistency in our read-only Web Server test, SMB and iSCSI traded places a few times at QD16 and below, although as effective QD increased after that point iSCSI had the advantage.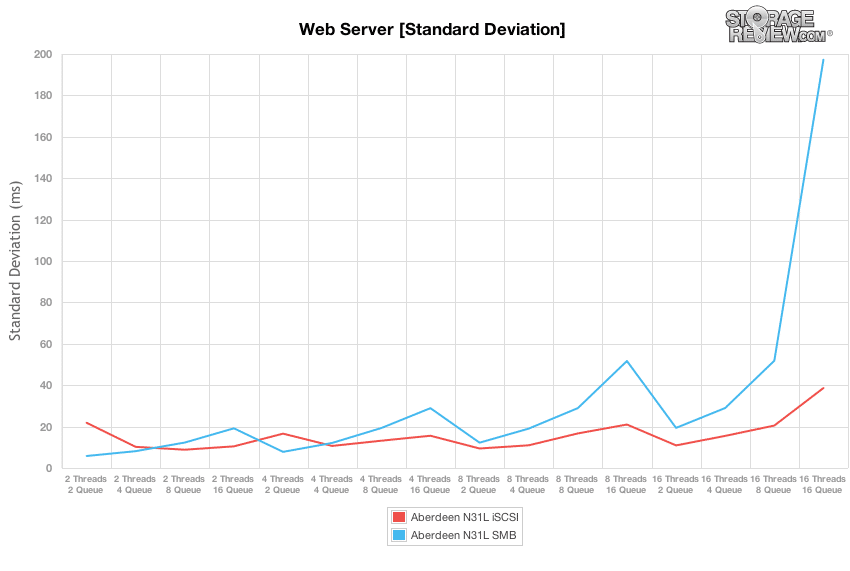 Conclusion
The Aberdeen AberNAS N31L is a 16-bay storage platform designed to be configured exactly to the end-customers requirements. Aberdeen prides themselves in the way they tailor each system to their customers' exact needs by offering a wide range of drive options, interconnect options up to 10GbE and 8Gb FC, entry to high-end Intel Xeon processors, and by supporting flash-accelerated RAID if the customer requires it. This level of customization enables Aberdeen to include the latest technology in their systems if the request comes in, instead of just sticking with a fixed bill of materials throughout the entire product cycle. In the case of our AberNAS N31L, it was no problem swapping the supplied LSI MegaRAID card for a flash-accelerated LSI Nytro MegaRAID to boost performance.
When it comes to management software, the AberNAS N31L trails behind some of the competing solutions we've tested in terms of ease of use and UI experience. The web-based interface got the job done, but for users new to the platform it wasn't as intuitive to create volumes and quickly setup permissions to get it provisioned on the network. In certain areas such as the system information page, there was a problem of too much information being presented to the user by not filtering out either repetitive information or less than useful items. While we were able to complete our tasks, the process could definitely be improved with a friendlier GUI.
Overall the Aberdeen AberNAS N31L has a lot to offer an enterprise buyer with configuration options that can easily be implemented outside the box. Performance scaled well in our configuration even with 7,200RPM SATA drives – drives that could be upgraded to 15K SAS depending on the intended workloads. The N31L also comes very well-equipped in the base configuration, including twin on-board 10Gbase-t NICs to easily support future bandwidth needs for businesses just starting to integrate that into their enterprise environment. Offering that as a standard option is unique in a market where most solutions still require an add-on card to move beyond 1GbE.
Pros
Flexible configuration options in a full server chassis
10Gbase-t included as standard on-board feature
Processor and RAM options to scale from entry to midrange enterprise needs
Cons
Web interface UI could be improved
Weaker SMB performance with Linux-based N31L model
Bottom Line
The Aberdeen AberNAS N31L provides users with a seemingly infinite array of configuration options to meet specific use cases needs. Performance scaled well with 7K SATA hard drives, and the N31L showed its flexibility when we added an LSI Nytro WarpDrive for caching.