The Barracuda Backup 890 is a backup appliance designed to meet the needs of SMBs and the midmarket by offering an easy to deploy backup solution for physical and virtual environments with automated cloud integration for offsite replication. The Barracuda Backup 890 offers automatic backup that is simple to set up and use. Compatible with all types of server software and most virtualized environments, this backup offers enormous security and storage for a competitive price.
The Barracuda Backup 890 is a backup appliance designed to meet the needs of SMBs and the midmarket by offering an easy to deploy backup solution for physical and virtual environments with automated cloud integration for offsite replication. The Barracuda Backup 890 offers automatic backup that is simple to set up and use. Compatible with all types of server software and most virtualized environments, this backup offers enormous security and storage for a competitive price.

Going beyond traditional local backups, for an annual fee, Barracuda offers Cloud Storage offsite replication services. The data is backed up locally and then transferred offsite to a second secure site for disaster protection. The chance of human error (the primary cause for data loss) is taken out of the equation. With a minor data loss (such as a file accidentally being deleted) the file can be restored as soon as it is located. With a moderate data loss (such as a server crash) once the hardware is replaced, all the data can be restored. With a major loss (natural disaster like a hurricane or an earthquake) while the hardware may remain damaged, the data would still be able to be accessed through a working computer and an Internet connection. Barracuda also offers a Cloud LiveBoot service where applications can be hosted in the Barracuda-hosted cloud to get mission-critical services online while your datacenter hardware is being built back up. Barracuda also offers an instant replacement service, which loads the last cloud backup, and appliance settings on a new appliance and ships it out next day.
Barracuda makes backup a breeze, where any schedule IT deems necessary can be set up, whether the interval is 15 minutes or daily. The automation frees IT from having to monitor server backups or switching and shipping tapes. Scheduled backups also offer version availability: if half a file is accidentally deleted, it is as simple as pulling up the Web interface, finding the correct version of the file, and restoring it. Before being transferred offsite, the data is systematically encrypted using AES256 bit encryption.
Barracuda Backup breaks down the data into small pieces tracking changes of the pieces over time ensuring the duplicate data is not being stored. Barracuda Backup uses three-stage, inline, deduplication to cut down on bandwidth usage, reduce backup time, and keep storage capacity free. With the Barracuda Backup 890 being a hardware appliance, it will offload the intense CPU and storage processing eliminating the burden on other devices.
The Barracuda Backup 890 has a street price around $19,000.00.
Barracuda Backup 890 Specifications:
Capacity:

Suggested Backup Volume 8TB
Internal Capacity 16TB
Installed Hard Drives: Hot-swappable 8 x 4TB

Form Factor: 2U
Dimensions (W x H x D): 17.4in x 3.5in x 25.5in)
Weight: 52lbs
Interface:

DB-9 x 1
PS/2 keyboard x 1
PS/2 mouse x1
VGA x 1
RJ-45 x2
USB
Optional 10GbE Fiber

Power:

50/60Hz
AC 120/230V
Hot-swappable
Design And Build
The Barracuda Backup 890 is a 2U rack mount data protection appliance. The front of the device features 8 hot-swappable enterprise HDD drives, with branding on the top-left and right. Simply press the sturdy blue tab and swap out the HDD for a different one in the event of a failure. Barracuda has a set of LED lights as indicators on the top right-hand side of the device, as well as on the face of each drive bay. Going from left to right there are two reserved lights, two network activity lights, a disk activity light, and a power indicator light. After the lights are the reset button and the power button.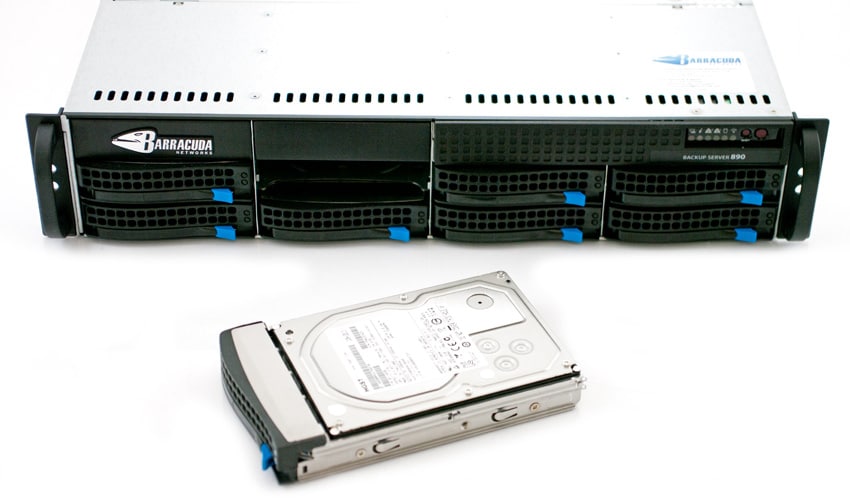 Barracuda includes standard sliding rails with the Backup 890, which makes servicing the unit a simple task. The rails can also be installed without screws, making the initial installation quick and painless.

The rear panel of the Barracuda Backup 890 contains all of the interfaces and power supplies. Going from left to right there are two hot-swappable power supplies (one redundant) and two fans followed by the PS/2 ports for keyboard and mouse, 2 x USB ports, a serial port, a VGA port, and 2x network ports. Our system also includes a 10GbE add-on card to leverage our higher-speed Ethernet network.

Deployment
Deploying the Barracuda Backup 890 is very easy, following the outlined steps:
Connect to the network
Configure the IP address and network settings (the IP address will be automatically acquired if DHCP is enabled)
Link Barracuda Backup account to server
Enter server name/location
Define display groups

If multiple Barracuda Backup Servers are being managed
Assign Barracuda Backup Servers to groups

Backups are configured through different means depending on the data types used; as an example, VMware host storage must be added as a data source through Barracuda Backup, but Microsoft Exchange Storage Group Backup is preconfigured.
To commence actual backup tasks:

ID desired backups
Choose type of data being backed up
The console ships with a very user-friendly easy-to-follow 9-step checklist that guides users through this entire process, making it easy for an IT generalist to deploy.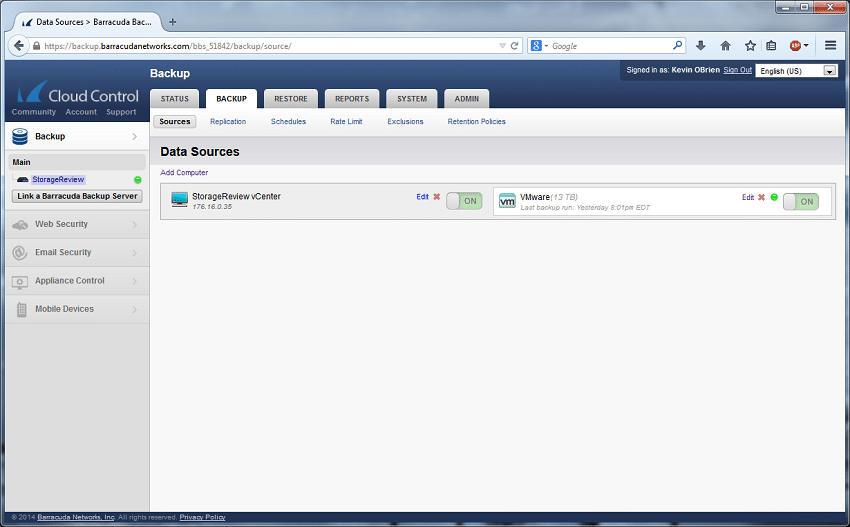 In our environment, we connected the Barracuda Backup 890 to our existing VMware infrastructure. By connecting through an online portal, IT administrators can setup the unit from anywhere once it is connected to the Internet. This makes changes to the environment very easy to manage remotely, or to check in on status without drilling into a VPN to log into the local network.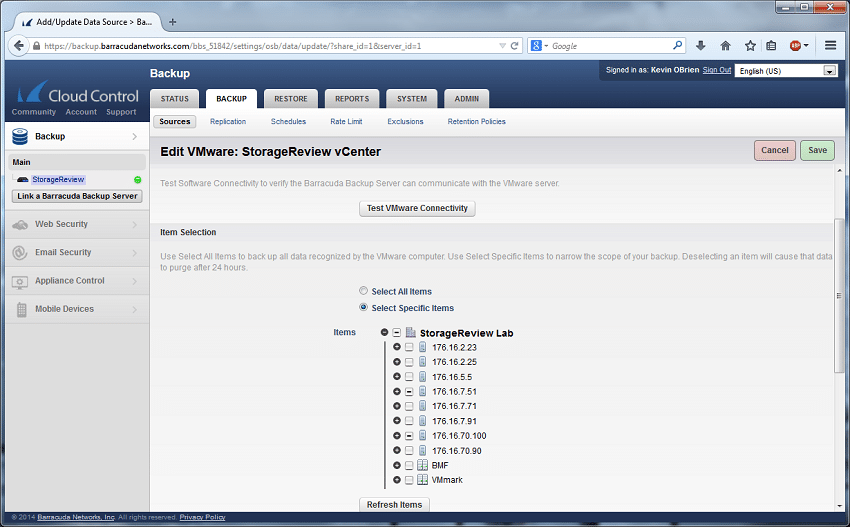 After associating the Backup 890 with vCenter, admins may select which servers to monitor for backing up certain VMs. You can also chose a "Select All Items" option to just backup everything with very little thought. This ease of setup leaves out any doubt that a certain VM might be left out of the backup process.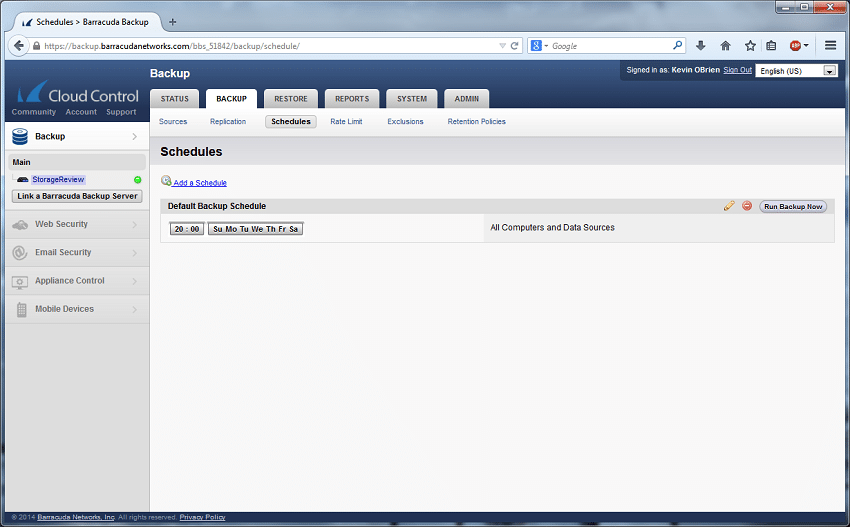 Once the backup source is setup, shift to the scheduling area to setup when and how often systems are backed up. The default in this area is to cover everything nightly, although that can be adjusted down to a very granular level. The user simply chooses each day that the backup is desired, and can even go as far as to backup the servers multiple times per day. Schedules can be continued until a specified date, and rate limits can be set to decrease the bandwidth usage.
Usability
Using Barracuda Cloud Control is a fairly easy process; upon logging in, their interface presents the user with backup items and data information, local and cloud storage usage, status of current transfers as well as easily navigable tabs. A backup can be performed at any time and a restoration can be executed by simply selecting the date of the desired backup.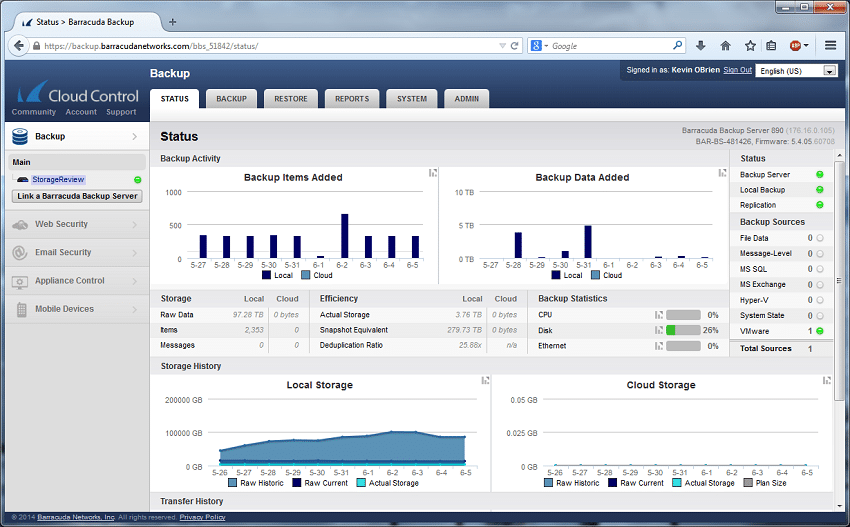 When logging in through Barracuda Cloud Control, the display presents the health of the system, including daily usage reports and capacity information. The key items being the amount of backup items added, the amount of raw capacity added (pre-dedupe or compression) and the actual storage used. In our system with full nightly backups coming in over a span of a couple of weeks, we have 97TB of raw data that compressed and deduped down to 3.76TB on the local Backup 890 storage. That worked out to a 25.9:1 dedupe ratio. Obviously results will vary dramatically between different environments. In our case, we have many similar VMs that have very little day-to-day changes, so they are excellent dedupe candidates.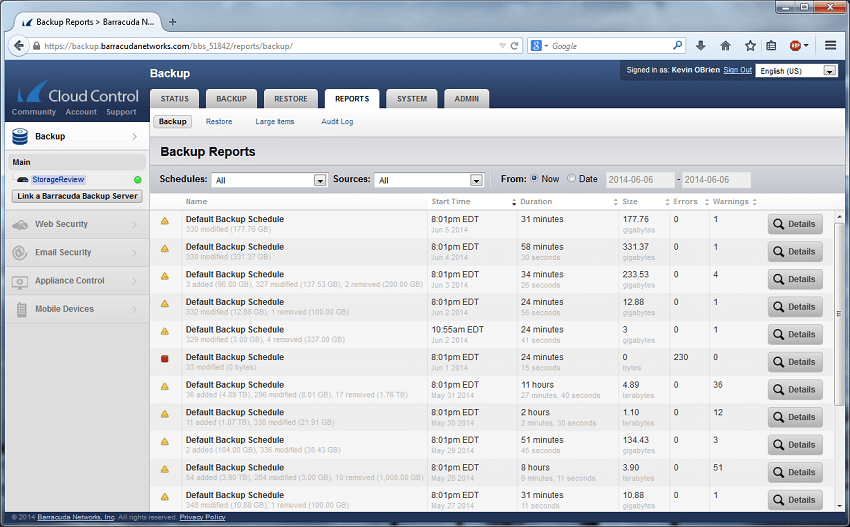 From a management perspective, backup and restoration history can be collectively viewed in the reports section, and accessibility can be adjusted through the admin tab. Backup file revisions can also be retained so that deleted files are accessible for a designated time and things like deleted emails can be kept in perpetuity should the administrator see fit.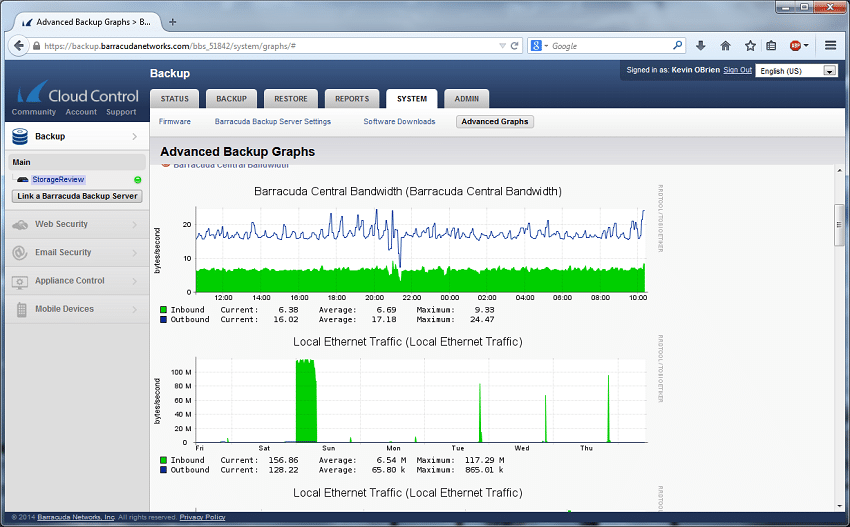 Administrators can also view advanced graphs to monitor system load and make sure the schedules are tuned best for their working environment. This can be handy to balance loads from different ESXi hosts to not over-saturate networking infrastructure, as well as minimizing backup window.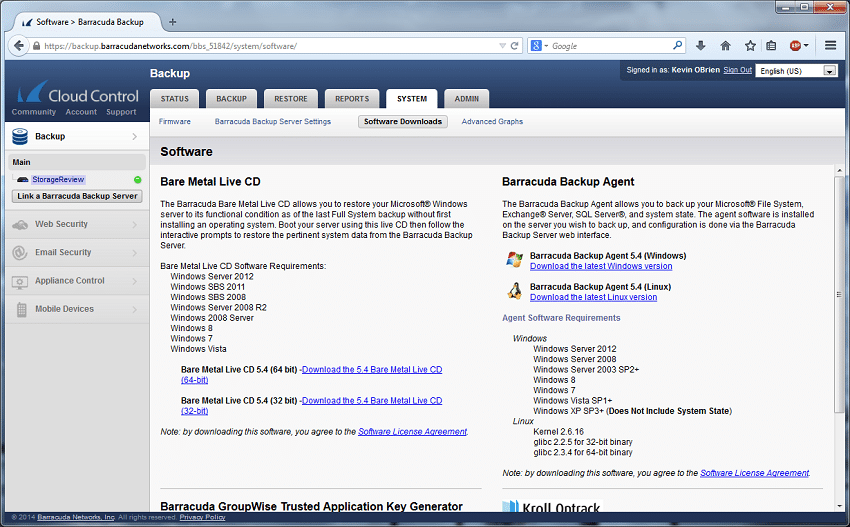 By integrating management with the Barracuda Backup support website, items such as the latest software downloads are at your fingertips. So instead of making sure have the newest items stored locally, you always see the current backup agents to download. With most backup appliances being a set it and forget it type of thing, this management style greatly helps smaller IT departments that don't have the time to constantly stay on top of everything.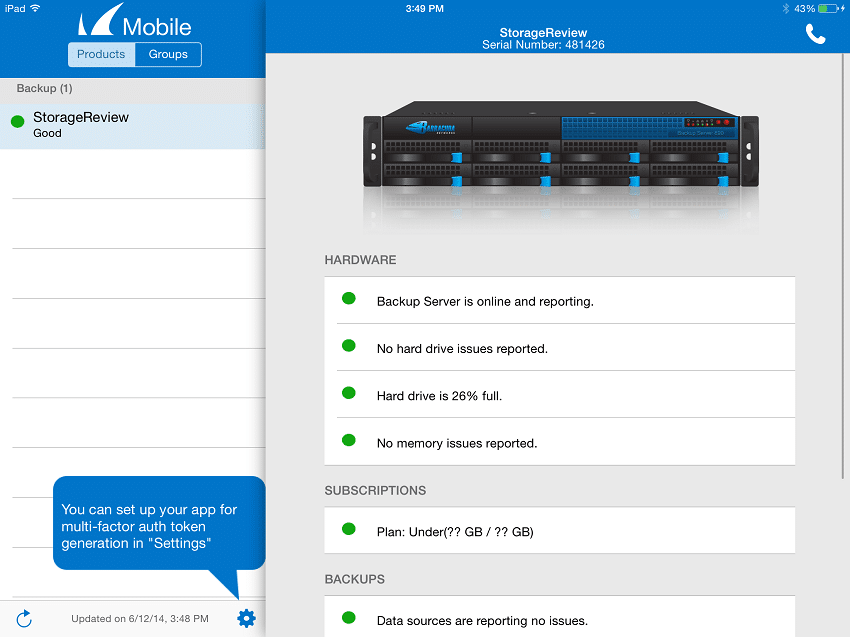 Barracuda also offers iOS applications with many, if not all, of their products. In this case we're able to monitor the general health of the Backup 890 from anywhere. The overview is a helpful snapshot of the device, status and most importantly, capacity utilization. If your organization has many Barracuda devices, the app gains more value as a quick glance of all of them at once.
The app has few configurable details, but it does allow for multi factor authorization for those who want additional security. The main screen also has a phone icon, which has quick contact info in the event support is required.
Recovery From Datacenter Failure
The true test of any backup solution is how well it performs when it's needed most; when part of a production environment goes offline. This can be caused by any number of conditions ranging from individual servers failing to a datacenter getting damaged from something as unexpected as an AC unit located above the ceiling flooding the room. In any of these situations IT administrator wants a current backup, and more importantly, a backup that restores successfully. To that end we tested out the restore capability from the Barracuda Backup 890 in our environment.
Browsing through the recent backups of assorted VMs on one of our servers we selected a Linux VM that is part of our VMmark testing suite. At this stage you can chose to do a full recovery, or view the VM itself to recover individual files. Depending on the recovery scenario, both of these options can be incredibly valuable.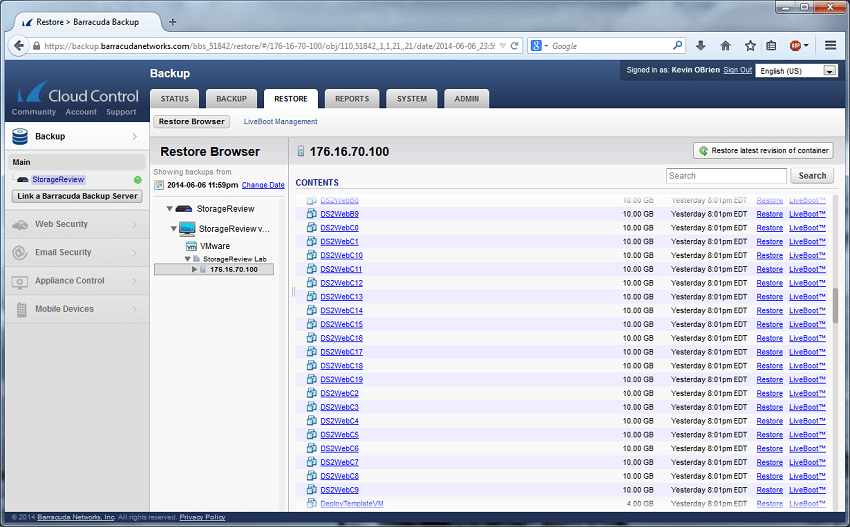 When choosing a full restore, the admin can select to bring it back on the original host, a new host, or even bringing it back online in Barracuda's Cloud. Depending on if this restore is for a disaster recovery scenario where part of the datacenter was destroyed, being able to restore mission-critical applications in another datacenter can be very useful.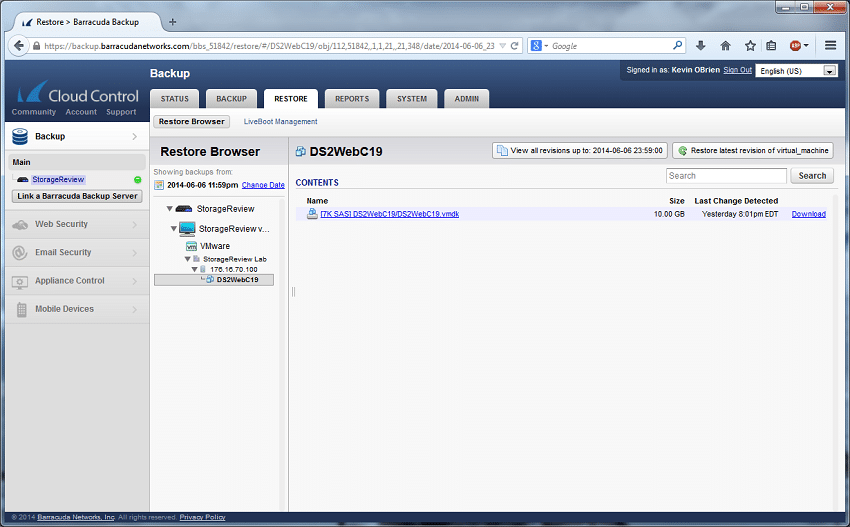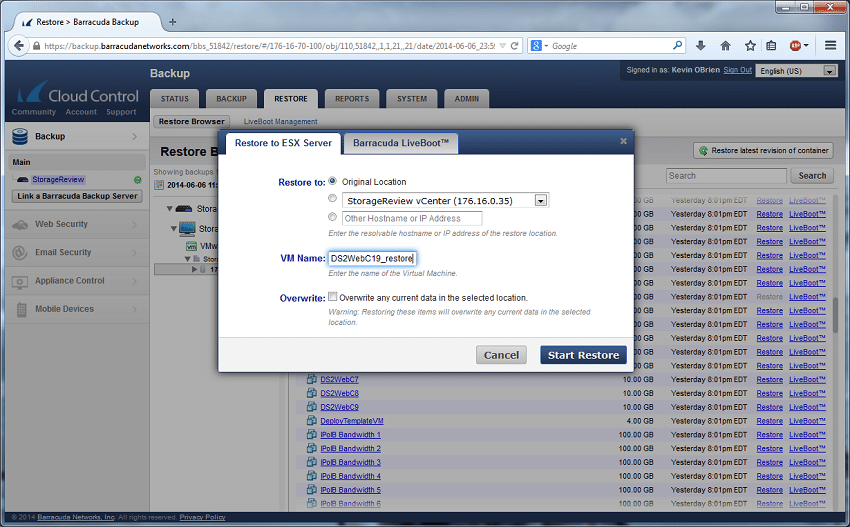 Once the restore process is kicked off, switching back to vCenter we can see that the restore process has begun with a duplicate VM being created in our environment. Once the VM "shell" is created, the backup appliance then populates it with its original contents. Viewing the restore reports, you can see what the backup size is, the elapsed time, as well as if any errors have been recorded. In our restore test, it took just a couple of minutes to bring this VM back online.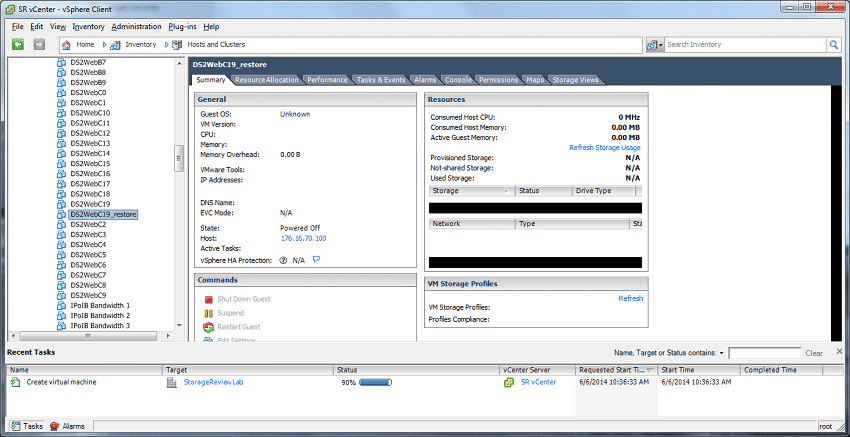 Conclusion
The Barracuda Backup 890 is a data protection appliance that offers a secure and reliable backup for businesses both locally and optionally via Barracuda's cloud. The device is extremely easy to deploy and use, ideal for an IT generalist who wears several hats within an organization. Barracuda backup appliances also feature a host of enterprise features highlighted by inline deduplication, support for Hyper-V and VMware (includes CBT), replication (cloud or to another Barracuda) and centralized management for all appliances in the infrastructure.
Those features are pretty much table stakes for the data protection market, but to be fair, not everything that targets small and midsize business includes them. Barracuda also helps businesses plan for the worst with additional layers of protection in the event of disaster. For VMware users who leverage Barracuda's Cloud Storage services, in the event of a disaster, VMs can be spun up live in the Barracuda cloud for immediate availability after a few IP changes. This of course isn't operationally ideal for long, but having a VM online in a few minutes so restoration or migration can take place is excellent. Barracuda can also offer what they call instant replacement, which loads your latest backup and configuration into a new unit, which is shipped next day. And for those worried about aging hardware or failures that might occur due to old componentry, Barracuda offers a free replacement service every 4 years so customers always have access to current technology.
The combined feature set is very impressive considering the class of product. That sounds kind of like a slight, but to be fair Barracuda has traditionally been shoehorned firmly into the SMB category. The Backup appliance family however tells a different story; that it's possible to combine ease of use with a more than capable feature set to deliver data protection without compromise and with less investment and complexity perhaps when compared to other comparable solutions. Of course with an integrated solution you get the simplicity but there's also a lack of flexibility. You can't for instance, use third party software that may already be in place with the Barracuda Backup as the target, so there is some rework for existing data protection schemes. The Barracuda data compression technologies will also do a good job as we've seen, but won't work to the same scale as appliances that offer in-box variable-length deduplication (Barracuda offers an agent that will do this), albeit with larger hardware requirements. Many of the larger enterprise-scale solutions also have a deep bench of application integration. That said, those solutions often require a backup specialist or integration services and aren't nearly as easy to go from box to backup. Barracuda has a well-defined target customer of those with under 50TB in a single location and brings a substantial feature set and optional services to bear in a market that has few complete data protection solutions.
Pros
Unlimited cloud storage with subscription
User-friendly configuration and simple deployment
LiveBoot recovery for VMware VMs in Barracuda Cloud Storage
Enterprise-grade feature set
Cons
Heavily leverages web-based management vs. functions managed locally
The Bottom Line
The Barracuda Backup 890 is ideal for businesses that want automated data protection storage that is absolutely secure, with loads of options like cloud replication and recovery, deep VMware support including live recovery in Barracuda's cloud; all in an easy to deploy and manage appliance.
Advertisement