The BLUETTI AC60 is a brand-new mid-sized portable power station with a 402Wh LiFePO4 battery and a 600W inverter. With charge options ranging from an onboard AC charger as well as car or solar DC charging, the AC60 fits right into smaller field deployment kits.
The BLUETTI AC60 is a brand-new mid-sized portable power station with a 402Wh LiFePO4 battery and a 600W inverter. With charge options ranging from an onboard AC charger as well as car or solar DC charging, the AC60 fits right into smaller field deployment kits.
One of the more interesting features though is the ability to expand battery capacity, which is unique to a unit this small. Whether you're deploying IT equipment in the field or trying to keep some IoT devices online, BLUETTI has some tricks up its sleeves with the new AC60.
The BLUETTI AC60 is designed to be fairly rugged and durable, with an IP65 rating that makes it dustproof, water-resistant, and weatherproof. Like other models in the BLUETTI portfolio, dust covers are offered on the ports to keep out dust, moisture, and debris. You can also add two B80 packs with AC60 for an extended trip, a boost from 403Wh to 2,015W. This ability to scale depending on the use case makes the AC60 useful for situations that might not always need the capacity and instead opt for less travel weight.
The AC60 offers fast charging capabilities through an onboard charger. With the included AC charging cable, you can recharge the AC60 from 0% to 80% in just 45 minutes, and top it up in just 1.2 hours. Alternatively, you can recharge it via solar panels or car input.
An onboard charger is convenient and turning into almost a requirement. With an onboard charger, there is no need to carry a separate charging adapter as the unit can be charged directly using a standard AC outlet. This not only reduces the amount of equipment that needs to be carried but also makes it easier to charge the unit on the go. Additionally, an onboard charger typically offers much faster charge speeds than an external charging adapter.
Another important component of the BLUETTI AC60 is the LiFePO4 battery, which is becoming standard on newer portable power stations. They are safer and also much longer lasting. This enables perks such as a 6-year warranty and a 10-year rated lifespan with 3000+ charge cycles.
BLUETTI AC60 Portable Power Station Specifications
| | |
| --- | --- |
| Battery Capacity | 403Wh (18Ah) |
| Battery Type | LiFePO4 (Lithium Iron Phosphate) |
| Life Cycles | 3,000+ cycles to 80% original capacity |
| Shelf-life | Recharge to 80% every 3-6 months |
| Management System | MPPT Controller, BMS, etc. |
| AC Outlet | 2 × 120V/5A, 600W in total |
| Inverter Type | Pure Sine Wave |
| Surge Power | 1,200W |
| USB-C Port | 1 × 100W Max. (Built-in eMark chip) |
| USB-A Port | 2 × 5V/3A |
| 12V DC Outlet | 1 × 12V/10A (Car outlet, regulated) |
| Wireless Charging Pad | 1 × 15W Max |
| AC Input | 600W Max. |
| Solar Input | 200W Max., VOC 12-28V, 8A |
| Car Input | 12/24V from Cigarette Lighter Port |
| Max Input | 600W |
| AC Charging Time | ≈ 1.2-1.7 Hours (600W Turbo Charging) |
| Solar Panel Charging Time | ≈ 2.5-3.0 Hours (200W Max.) |
| Pass-through Charging | Yes |
| Weight | 18.9 lbs / 8.6 kg |
| Dimensions (LxWxD) | 11.3" × 8.5" × 9.7" / 290mm × 205mm × 234mm |
| Operating Temperature | -4℉-104℉ / -20℃-40℃ |
| Storage Temperature | 32℉-104℉ / 0℃-40℃ |
| Certifications | UL, CEC, DOE, FCC, CA Prop 65 |
| Warranty | 6 Years |
BLUETTI AC60 Build and Design
When it comes to build and design, the unit has been designed in such a way that it appears feedback from prior models was taken into account. The rubberized handle provides a comfortable grip for easy and convenient transport. Rubber covers are also included on all of the ports, which offers an added layer of protection. What we enjoy most are physical buttons to turn on the unit and the AC and DC circuits without having the mess with a touchscreen only.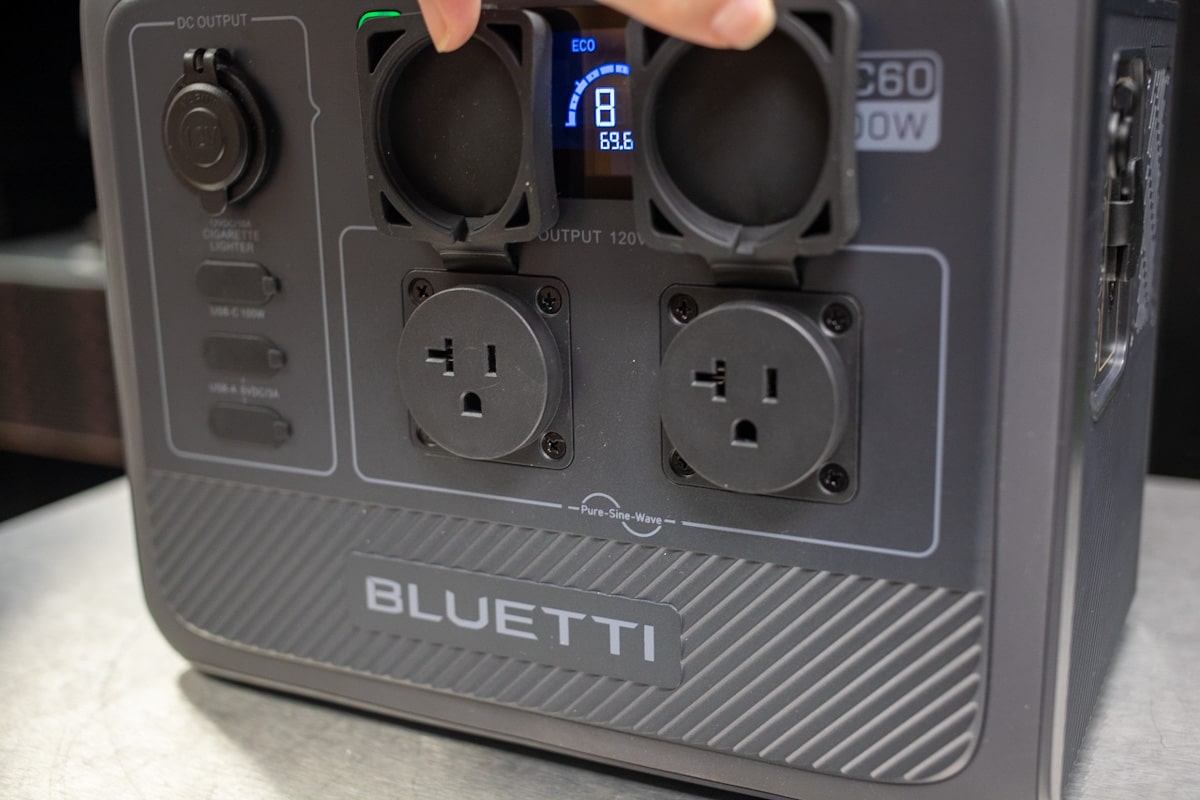 The layout includes the output ports on the front, including an assortment of USB-A and USB-C connections. Two 120V connections are on the front and an automotive 12V power connection. The screen is easily readable without a lot of distractions when operating.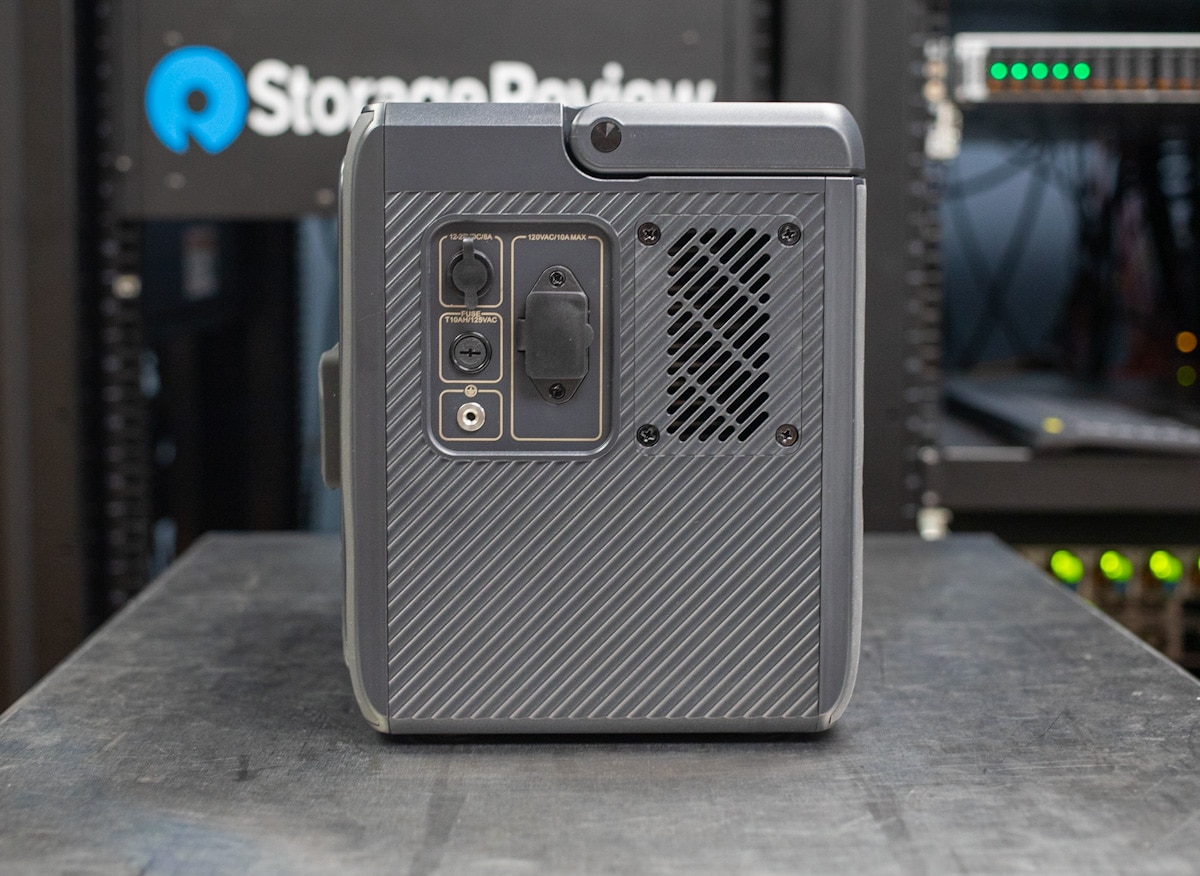 The right side offers the input connections including the AC charge port, fuse, and DC charge connection.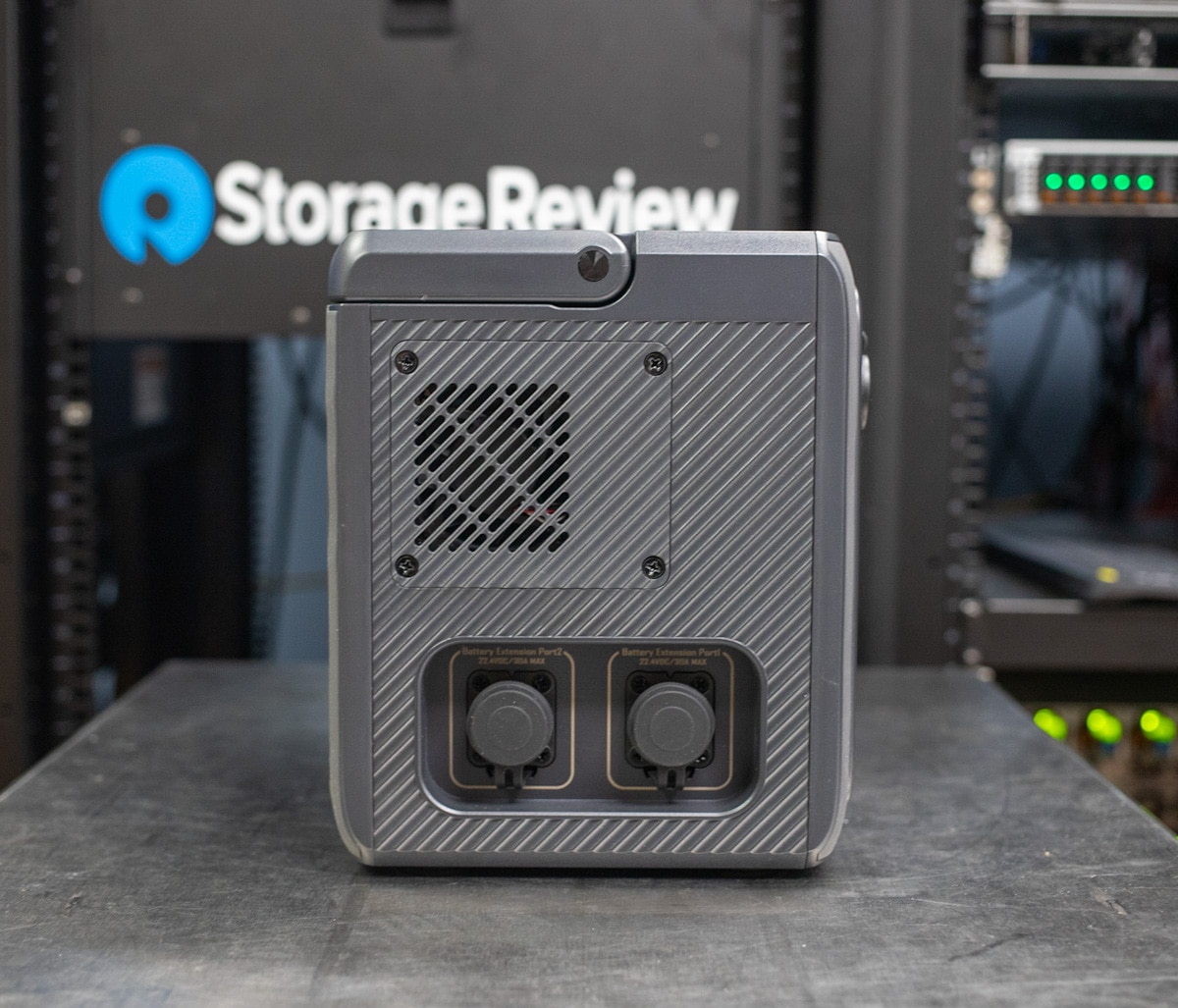 The left side is where you can attach add-on battery expansion units.
App Control
The BLUETTI AC60 offers wireless BT control with an available app. Semi-local access is still needed since it isn't WiFi but the app did work very well in testing. The benefits of app control include the ability to remotely make adjustments to charge rates, turn on connected devices without needing to be near the unit in person, and keep track of usage data. This can be especially convenient for those who may need to monitor the power usage of their devices or make changes while away from the unit.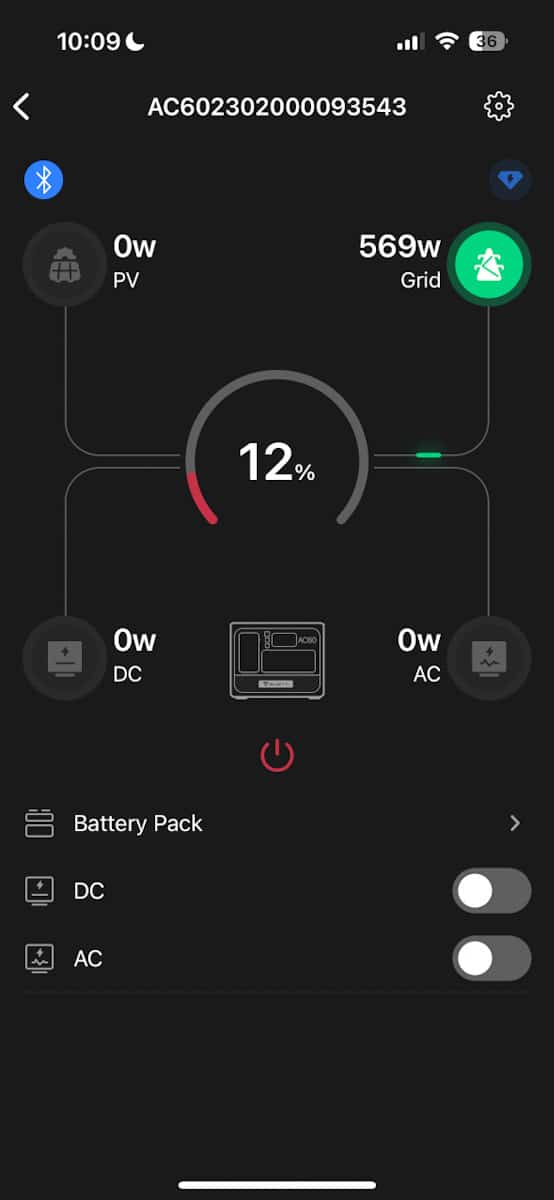 In our testing, we had no issue connecting to the unit from 20-30 feet away through multiple rooms or a floor below. Out in the open, you will see the best range, but even in a house expect to be able to connect to the unit without needing to be in the same room.
Charge and Discharge Performance
The AC60 offers three different charge modes, including turbo, standard, and silent, which allow users to adjust the charging speed based on their needs. The turbo mode delivers a maximum power output of 573 watts, while the standard and silent modes provide 243 watts and 149 watts, respectively. The adjustable charge rate is particularly useful in situations where the circuit used to charge the unit may be shared with other devices. By limiting the power draw of the AC60, users can ensure that they do not exceed the capacity of the circuit and potentially cause issues with other devices.
In terms of battery performance, the AC60 is rated to have a capacity of 403.2Wh. In our tests, we found that the actual capacity with efficiency factored in was 340Wh. This is a good result considering the power output of the unit and the demands that it is likely to face in real-world scenarios. To charge the unit, we measured a total power draw of 480Wh, which is in line with the expected performance of the unit.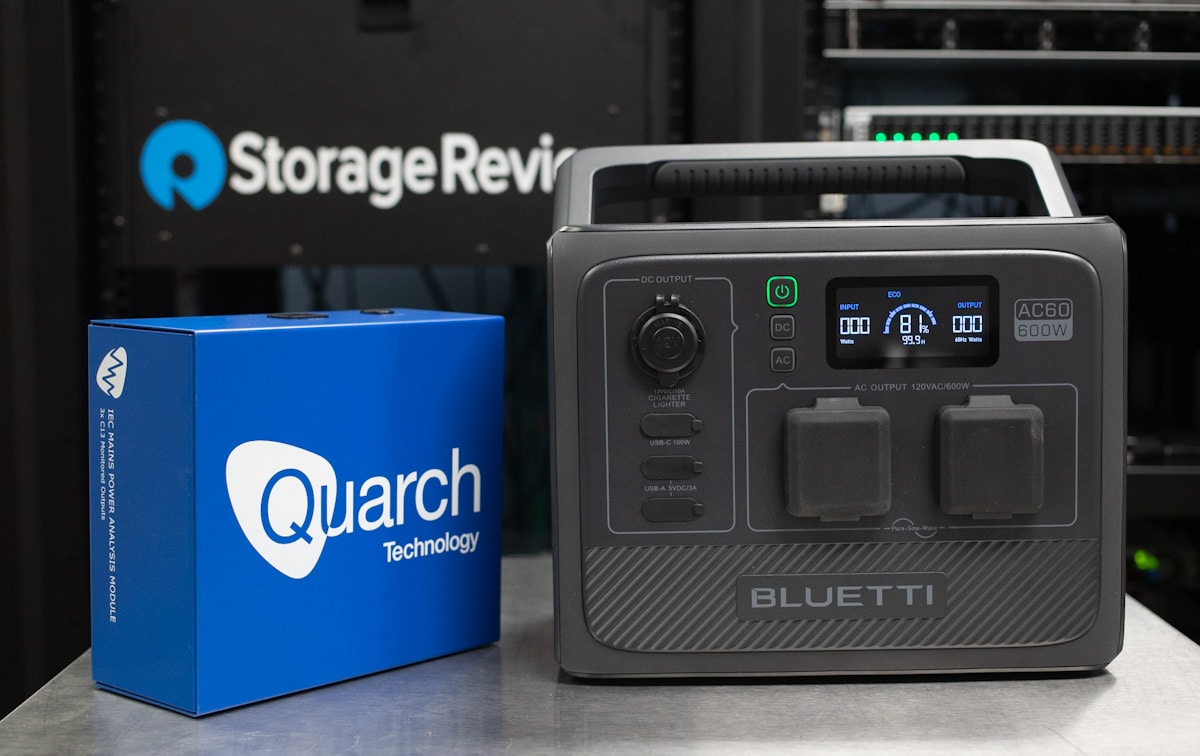 Using a Quarch Power Analyzer, we were also able to measure the output voltage of the unit during operation, the switchover time in UPS mode as well as verify the clean sine-wave output. When the AC60 operates in UPS mode and switches from line to battery power, we measured a transfer time of 14.875ms.
In terms of what that time means, modern computers with ATX power supplies are designed with a minimum holdup time of 17ms. Many fall into supporting 15-25ms of interruption to work with different UPS devices. So the AC60 should work with most computers. Obviously, not all systems are equal and you should test the operation before relying on it. While operating on battery power the since-wave output was textbook clean with a 120.161 RMS output voltage.
Conclusion
Overall, the BLUETTI AC60 Portable Power Station is a solid option for anyone who wants to stay powered up during remote IT deployments or outdoor adventures. With its compact size, long-life LiFePO4 battery, fast charging, rugged design, and expandable battery compatibility, it packs a big punch. The AC60 is really easy to operate and also hits on some areas for weather resistance, making it a bit more friendly when exposed to the elements.
In our testing we found the AC60 to supply 340Wh of power through the AC inverter. When operating in UPS mode the unit had a switchover time of 14.875ms and supplied a nice 120.161V output. This makes it quite useful for a number of devices, even those that demand a clean and stable supply of power.
Engage with StorageReview
Newsletter | YouTube | Podcast iTunes/Spotify | Instagram | Twitter | TikTok | RSS Feed