The Dell PowerEdge FX2 Architecture represents a significant evolution of Dell's converged infrastructure strategy by offering the PowerEdge FX blade-based architecture in the form of a 2U rackmounted modular compute and storage platform. The PowerEdge FX2 is planned for general availability in December, and in the meantime StorageReview has been working with a review unit in our Enterprise Test Lab in order to develop an analysis of a platform that has the potential to change the way we approach the PowerEdge family and Dell's converged infrastructure portfolio.
The Dell PowerEdge FX2 Architecture represents a significant evolution of Dell's converged infrastructure strategy by offering the PowerEdge FX blade-based architecture in the form of a 2U rackmounted modular compute and storage platform. The PowerEdge FX2 is planned for general availability in December, and in the meantime StorageReview has been working with a review unit in our Enterprise Test Lab in order to develop an analysis of a platform that has the potential to change the way we approach the PowerEdge family and Dell's converged infrastructure portfolio.

The FX2's 2U rackmount form factor opens up new possibilities for the FX architecture by drawing on the convenience and flexibility of rack deployments while maintaining the density and performance of blade servers. This combination makes the FX platform valuable for enterprises operating at a wide range of scales. At launch, the PowerEdge FX2 will be offered in two configurations supporting half-width compute/storage nodes, with FC630 units supporting PCIe switching and units with the FM120x4 without the PCIe switching.
The FX2 December 2014 launch also includes the FC630 and FM120x4 compute blocks (Dell's preferred name for the FX2's blade-style modular shelves). Also available at launch will be a selection of FX2 IO Aggregation modules. Additional server and storage blocks are planned for the first half of 2015 that include quarter and full-width server blocks.
The first half-width FX2 configurations are designed to house four half-width sleds, allowing up to four FC630 server blocks or four FM120x4 microserver blocks. The PowerEdge FX2 enclosure incorporates redundant, quad-port pass-through 1GbE or 10GbE network interfaces but can also be deployed with up to two PowerEdge FN IO Aggregator blocks that replace the standard network interfaces in order to add network functionality and streamline cabling and switching requirements.
Dell PowerEdge FX2 Specifications
Form factor: 2U chassis
Dimensions:

H: 8.68cm (3.4in)
W: 43.35cm (17.06in) without rack ears; 48.19cm (18.97in) with rack ears
D: 85.16cm (33.52in)

Server block options: Up to 4 half-width Dell PowerEdge FC630 servers or PowerEdge FM120x4
Power supplies: 1600W or 1100W AC hot plug in 1+1 redundant or 2+0 non-redundant configurations
Cooling: 8 hot-swappable fans provide cooling to the I/O components in the system
Communications: Up to 2 pass-through modules, 1Gb and 10Gb capable
I/O slots: Up to 8 x PCIe 3.0 expansion slots (low profile/half-length)
Systems management:

Chassis Management Controller (CMC) to manage all resources (server nodes and shared infrastructure) in a single web console
OpenManage portfolio for FX supports local and remote management consistent with other PowerEdge products
CMC and iDRAC are available with either Enterprise or Express licensing
Redundant CMC module is available
Server nodes each contain iDRAC8 with Lifecycle Controller for agent-free, automated systems management
Build and Design
The PowerEdge FX2 enclosure uses an industry standard 2U rackmount form factor. While not all configurations and server blocks will be available at the December 2014 launch, the FX2 chassis will eventually support four half-width, eight quarter-width sleds or two full width sleds. The front of the FX2 chassis provides on-site KVM access with a VGA port and USB connectivity. A KVM switch on the front allows users to toggle which sled is routed through the front-mount ports.

The FX2 features two 1100W or 1600W hot-plug power supplies that can be used in a redundant failover configuration or in tandem to handle greater power requirements. The PowerEdge FX2 also incorporates up to two pass-through Ethernet modules with 1GbE or 10GbE connectivity that can be replaced by the FN IO Aggregator block to reduce cable clutter, provide alternate fabric connectivity, and increase network communication performance between installed blocks. Some FX2 chassis configurations will feature eight low-profile/half-length PCIe 3 expansion slots that can be assigned and reassigned to installed server and storage blocks.
Hardware Options
Although the Dell PowerEdge FX2 will launch with support for half-width shelves, the FX2 will eventually be able to accommodate a broader range of resource blocks for servers and storage. Resource blocks slide into the chassis like a blade and connect to the shared infrastructure through a flexible IO fabric. The PowerEdge FX2 will first be available with two server node options, the FM120x4 and the FC630, as well as three variations of the PowerEdge FN IOA, a networking block that can take the place of standard 1GbE or 10GbE interfaces.
The FX2 will be offered with a chassis option with eight PCIe slots at the back of the enclosure as well as a less expensive version with Ethernet only. FM120x4 server blocks are not compatible with the PCIe-enabled chassis. In 2015, Dell plans to release quarter and full-width servers and a half-width FD332 storage block.
PowerEdge FM120x4 Server Block
The PowerEdge FM120x4 is an Atom-based microserver optimized for power consumption and footprint, allowing up to 16 servers (four FM120x4 nodes) per FX2 enclosure for a maximum total of 160 CPU cores and 48 memory DIMMs.
Form factor: Half-width sled (up to four per FX2 enclosure)
Intel Atom C2000 CPUs (SoC) with 2/4/8 core options
2 DIMMs of memory per microserver
2.5-inch HDD or 1.8-inch SSD
PowerEdge FC630 Server Block
The PowerEdge FC630 server is intended to serve as the compute foundation for private cloud solutions and converged data centers. A PowerEdge FX2 chassis with four PowerEdge FC630 servers can be scaled up to 144 cores and 96 DIMMs.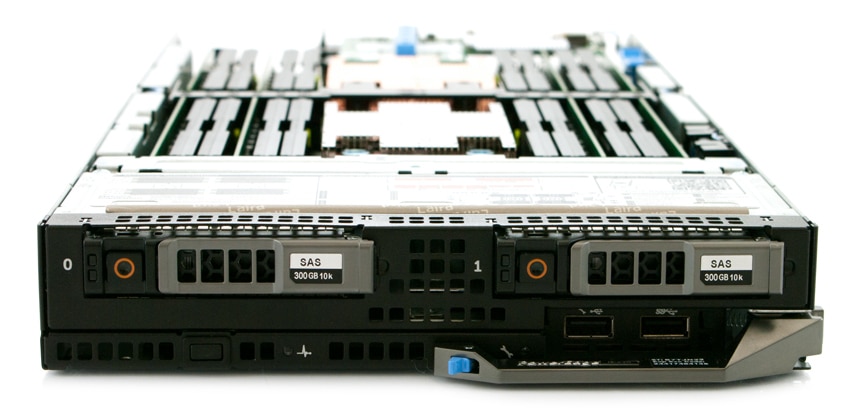 Form factor: Half-width sled (up to four per FX2 enclosure)
2 Intel Xeon E5-2600v3 CPUs (up to 18 cores per CPU)
Up to 24 DIMMs of memory
Up to 2 PCIe slots
Dual SD cards providing redundant storage for hypervisors
Up to 8x 1.8-inch drives or 2x 2.5-inch drives
PERC9/SAS HBA/Chipset SATA
4x 1GbE, 2x 10GbE, 4x 10GbE SNAs
Managed Persistent Storage Option: 2x Express Flash PCIe Flash SSDs (compatible with Dell Fluid Cache for SAN)
PowerEdge FN IO Aggregator Block
The FN IO Aggregator blocks provide layer two functions for the FX architecture and are designed to simplify cable management while offering other advantages for certain use cases such as optimized "east/west" server-to-server traffic within the FX2 chassis and LAN/SAN convergence. Three configurations of the PowerEdge FN IO Aggregator will be available for the FX2 at launch with varying connectivity options: the FN410s, FN410t, and the FN2210s. Each FX chassis can hold up to two aggregators.
3 SKU options:

4x 10GbE SFP+
4x 10GbE Base-T
2x 10GbE SFP+ and 2 x 2/4/8G Fibre Channel Combo

L2 only
Uplink LAG
Virtual Link Trunking (VLT)
CMC management
Automatic/Zero-touch mode
Customizations using CLI mode
DCB
FCoE Snooping Bridge (FSB)
NPIV Proxy Gateway (NPG)
iSCSI TLV
PowerEdge FC430 Server Block (Early 2015)
The FC430 will serve as a mid-tier dense compute option for applications such as webservers, virtualization, and dedicated hosting. One FX2 enclosure fully-loaded with FC430 blocks can leverage up to 224 CPU cores, up to 64 DIMMs of memory, and up to 16 1.8-inch SSDs.
Form-factor: Quarter-width sled (up to 8 per FX2 enclosure)
Intel Xeon E5-2600v3 CPUs (up to 14 cores per CPU)
Dual SD cards for redundant hypervisor
Up to 8 DIMMs memory
2x 1.8-inch direct attach SATA drives or 1x 1.8-inch SATA drive w/ front IB mezz
PERC9/SAS HBA/Chipset SATA
Access to 1 PCIe expansion slot
Dual-port 10GbE or 1GbE LOM
Managed Persistent Storage Options
PowerEdge FC830 Server Block (Early 2015)
The FC830 will be built with four high-performance processors and a large memory capacity in order to offer a solution for demanding workloads, providing up to 144 cores and 96 DIMMs per fully-loaded FX2 chassis. Final details not available at this point in development.
PowerEdge FD332 Storage Block (Early 2015)
The FD332 will provide direct attached storage for FX2 deployments with up to 16 SFF drives per block and up to three blocks per FX2 chassis, for a total of 48 drives.
Form factor: Half-width shelf (Up to 3 per FX2 enclosure)
12Gb/s SAS 3.0 and 6Gb/s SATA 3.0
Hot plug drives
PERC9 RAID, Pass-thru I/O, Single or Dual SAS controllers, mix and match for dual controllers – RAID/non-RAID
The PowerEdge FD332 storage blocks utilize the Dell PERC9 controllers, which have replaced the LSI CacheCade technology of the PERC8 controllers with the DAS Cache solution from SanDisk. DAS Cache uses "filter driver" for the operating system in order to accelerate performance by caching frequently used data on SSDs.
Management
A huge strength of the PowerEdge FX architecture is that it offers customers two management options. PowerEdge FX administrators can take advantage of Dell's OpenManage systems management portfolio including the company's agentless iDRAC with Lifecycle Controller, or they can leverage the embedded Chassis Management Controller (CMC).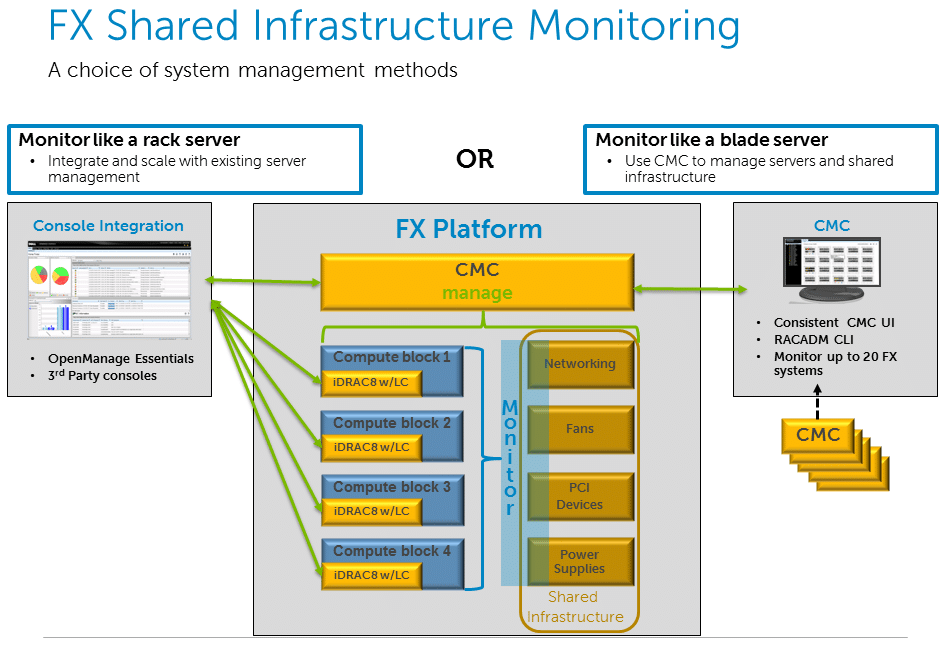 iDRAC8 provides administrators with a rackserver management paradigm that includes local and remote access, while the CMC offers the ability to manage the servers and chassis collectively in a one-to-many blade server management paradigm. CMC uses a browser-based GUI with a paralleled layout and design to iDRAC's management interface which helps simplify the learning curve.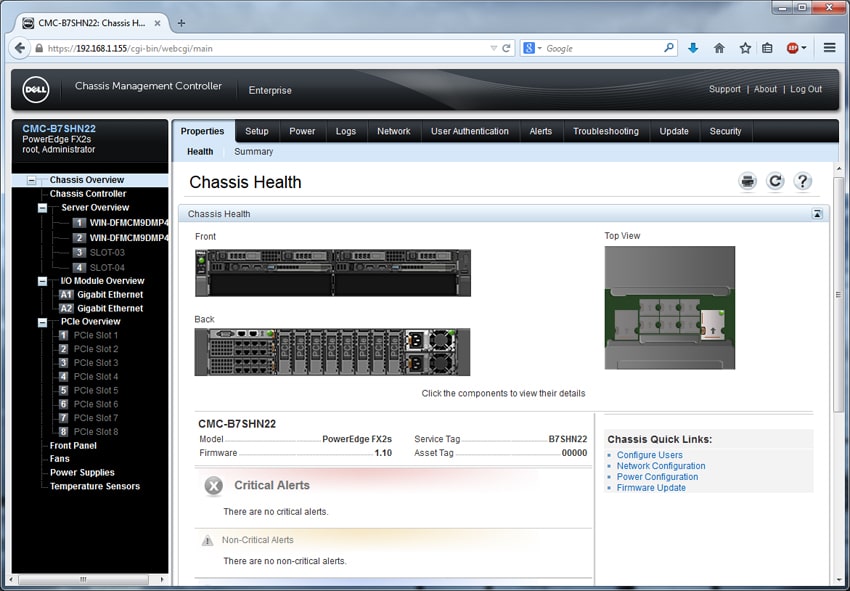 The new iDRAC Direct feature allows administrators to use a USB key to deploy hardware configurations to 13G PowerEdge servers, including BIOS, iDRAC, PERC, and NIC settings. iDRAC Direct also allows administrators to access the iDRAC management GUI via a laptop connected to the server via a USB cable. A new iDRAC Quick Sync capability allows administrators with Android-powered mobile devices to touch optional iDRAC Quick Sync hardware in the front bezel of a 13G PowerEdge server to view server status and logs.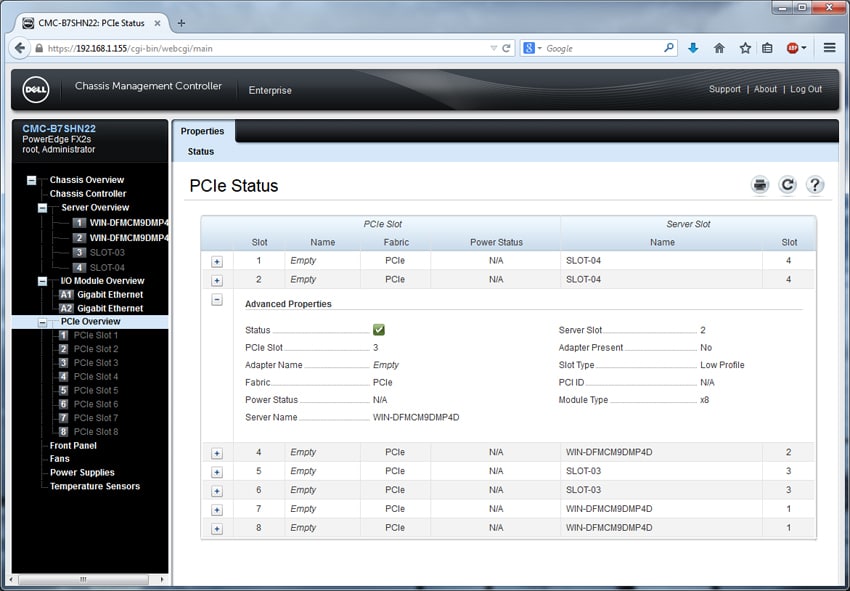 Through the CMC, users can drill down into the iDRAC8 interface for each server block. From a central management perspective it's incredibly nice to be able to chunk in a new compute node and assign its iDRAC settings through the FX2's CMC, instead of worrying about finding it on DHCP or a preset static IP from the factory.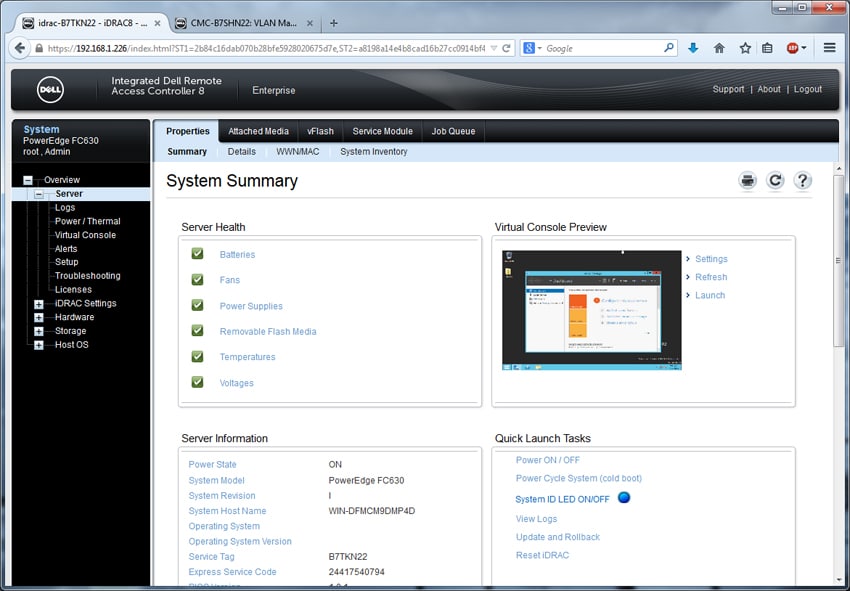 Conclusion
The PowerEdge FX2 is Dell's new next-gen converged infrastructure that consolidates the density and efficiency of blade-based architecture within a 2U rack form factor, maintaining the simplicity and cost benefits of a rack-based system. Dell is setting the stage for future growth and innovation within the IT market as it naturally moves towards wide-spread virtualization, although the FX2 maintains compatibility with current enterprise solutions. In the interest of appealing to the broadest possible range of customers, Dell has engineered an entire line of PowerEdge blocks to meet a wide array of enterprise needs.
The FM120x4 server block (half-width, up to four) provides 160x CPUs and 48x DIMMs total and is intended to serve less-demanding footprint-conscious use cases. The FC630 (half-width, up to four) is meant to provide the foundation for cloud environments and serves 144x CPUs and 96x DIMMs total. FC430 server blocks (quarter-width, up to eight), which are being released in 2015, cater to mid-level virtual workloads with up to 224x CPUs, 64x DIMMs, and 16x 1.8" SSDs total. More demanding workloads could be served by the forthcoming (2015) FC830 server blocks (full-width, up to two), which could provide up to 144x CPUs, 96x DIMMs, and 16x 2.5" drives (or 32x 1.8" drives). Finally, the FD332 storage block (half-width, up to three) is being released in 2015 to provide maximal capacity (up to 48x SFF drives). Dell will also offer FN IO Aggregators at the time of launch for improved cable management. There are two management options for the FX2 system (which have similar layouts); OpenManage (geared more towards local and remote access) and Chassis Management Controller (has the ability to manage many chassis centrally). Needless to say, multiple FX2 racks can be stacked to scale up to whatever needs an enterprise might have.
Pros
Incredibly flexible and customizable compute/storage/networking platform
Super-dense compute footprint
Easy to manage and support inside the Dell eco-system
Cons
Sleds not interchangeable with M1000e or VRTX chassis
The Bottom Line
The Dell PowerEdge FX2 platform brings a new level of scale, flexibility and ease of management to converged systems. Dell has also laid out a comprehensive roadmap of what to expect going forward, which brings additional support for a variety of blades, storage and networking options.