With 24 drive bays, dual redundant controllers, and options for both block and file storage, the Dell Storage SC4020 packs the punch of a much more expensive storage array into a 2U chassis and starts at only $25,000 for an all-flash array configuration. Dell recently provided the StorageReview Enterprise Test Lab with access to an SC4020 set up with its entry level all-flash configuration that incorporates six MLC SSDs on a foundation that draws from the Dell Compellent and EqualLogic product lines.
With 24 drive bays, dual redundant controllers, and options for both block and file storage, the Dell Storage SC4020 packs the punch of a much more expensive storage array into a 2U chassis and starts at only $25,000 for an all-flash array configuration. Dell recently provided the StorageReview Enterprise Test Lab with access to an SC4020 set up with its entry level all-flash configuration that incorporates six MLC SSDs on a foundation that draws from the Dell Compellent and EqualLogic product lines.

The SC4020's dual controllers are powered by Intel quad-core Ivy Bridge CPUs and 16GB of RAM per controller. Each controller is paired with a dedicated networking card with four 8Gb Fibre Channel ports (8 ports per chassis) or two 10Gb iSCSI ports (4 ports per chassis) for front-end connectivity. Four additional 10Gb Ethernet ports are available for management and replication. This arrangement provides block storage as part of the base configuration, with file storage functionality available as an option via Dell's FS8600 NAS appliance.
The Dell Storage SC4000 lineup was created in order to make Dell Storage technologies available to mid-tier enterprise customers. This kind of functionality was formerly only available from Dell at scales and price points accessible to larger deployments. The SC4020 embodies a new approach for Dell which de-emphasizes distinct Compellent and EqualLogic lines in favor of solutions that draw from both families. SC4000 arrays incorporate Compellent's data progression and placement, SLC and MLC optimization, and Compellent's data services. The most conspicuous appropriation from EqualLogic is the SC4000 iSCSI software stack.

The SC4020 can also serve as a replication partner for Compellent SC8000 arrays and can be scaled with Dell Storage SC200 or SC220 enclosures for up to 408TB of total capacity. The SC200 is a 2U 6Gb SAS shelf which supports up to 12 x 3.5-inch drives and the SC220 is a 2U 6Gb SAS shelf that supports up to 24 x 2.5-inch drives. The SC4000 series uses perpetual software licensing with licenses that remain valid across hardware upgrades; the base SC4020 license covers 48 drives, with additional licenses offered in 24-drive increments.
This particular $25,000 SC4020 configuration is unique for a few reasons, primarily though it's the lowest-priced all flash configuration from a top-tier enterprise storage vendor. Granted, it's not a high-capacity offering, though out of the gate it only uses six of the available 24 bays. The goal in this case is simple. Besides playing well in ROBO with existing Compellent storage at the enterprise, this SC4020 has the promise of offering some of the highest performance per dollar, which is an increasingly valuable metric. For those with low capacity needs, this configuration works well to satisfy latency-sensitive applications with a mature stack and robust support infrastructure. Of course the SC4020 can scale to higher capacity demands too, giving this $25k configuration plenty of headroom as requirements scale.
Dell Storage SC4020 Specifications
Internal Storage: 24 x 2.5" drive bays
Supported expansion enclosures:

Dell SC200: 12 x 3.5" drive bays
Dell SC220: 24 x 2.5" drive bays

Maximum drive count: 120 (24 internal, plus 96 external)
Total storage capacity: 408TB based on maximum number of drives (120) and current largest capacity supported drives
Supported drive types

HDD: 15K, 10K, 7.2K RPM
SDD: write-intensive (SLC or eMLC), read-intensive (MLC) (different drive types, transfer rates and rotational speeds can be mixed in the same system

Controllers: 2 controllers per SC4020 array
Processor: Intel Xeon Processor E3-1265L v2, 2.50GHz, 4 cores
Memory: 32GB per SC4020 array (16GB per controller)
Network/server connectivity (front-end): 8 x 8Gb FC ports per SC4020 array (4 per controller) or 4x10Gb iSCSI ports per SC4020 array
Internal drive connectivity (back-end): 4 x 6Gb SAS ports per SC4020 array (2 per controller)
NAS deployment connectivity (optional): Supports file-based storage via FS8600 NAS appliance
Product OS: Storage Center 6.5
Server OS: Microsoft Windows Server, Oracle Solaris, HP-UX, Oracle Linux, IBM AIX, Novell NetWare, SLES, Apple, HPTru64, VMware, Citrix XenServer, RedHat
RAID:
RAID 0, 1, 5, 6, RAID 10 and RAID 10 DM (dual mirror). Any combination of RAID levels can exist on a single Storage Center. Multiple RAID levels can exist on the same storage tier within an array.
Management: Enterprise Manager (included, server-installable), Storage Center Manager (included, on-board browser-based), Enterprise Manager Chargeback, Replay Manager, vCenter Operations Manager plug-in, command-line interface
Power:

Power/wattage: 2 hot-swappable 580W power supplies; 580W maximum power
Heat dissipation: 1,978 BTU/hr maximum
Voltage: 100-240 VAC
Frequency: 50/60 Hz
Amperage: 7.6-3.0 A

Chassis

Rack size: 2U
Height: 8.79 cm (3.46 inches)
Width: 48.2 cm (18.98 inches)
Depth: 54.68 cm (21.53 inches)
Weight at maximum configuration: 24 kg (53 lb)
Weight empty: 7 kg (15.4 lb)
Build and Design
The front of the Dell Storage SC4020 is pretty basic, with some chassis health indication lights as well the 24 2.5" drive bays. For some level of security the front faceplate can be locked into position to prevent accidental drive removal and prevent unauthorized access in general.
Our review unit is equipped with a base package featuring six MLC SSDs. Dell Storage went with a very high-performance SAS3 SSD offering in this unit, versus the older SAS2 SSDs that are still popping up in the EqualLogic line. The advantage this gives buyers is much greater I/O performance from a smaller disk group, meaning even with 6 SSDs the SC4020 punches well above its weight.

The rear of the SC4020 provides access to the dual redundant power supplies at the left and right. The center of the rear panel offers access to the controllers, along with their respective networking cards. Each controller can be configured with either four 8Gb FC ports or two 10Gb iSCSI ports.
Management
Dell's Compellent Data Progression technology works to optimize storage at the page level with three page sizes: 512KB, 2MB, and 4MB. Incoming writes and hot data are tiered to the fastest storage and subsequently aged to lower-performance storage if it is accessed less frequently. The Dell Fluid Storage Architecture allows files to be striped across drives for improved access times and to perform tiering optimizations in parallel.
Storage Center 6.5 uses a virtualized storage paradigm that consolidates all storage in a single pool by default — individual drives and volumes can support multiple RAID levels and do not require pre-allocation of RAID groups. This single pool is available to all RAID levels simultaneously, which allows individual RAID volumes to dynamically expand or contract as needed at a 512KB block level. For users accustomed to more legacy static RAID groups, it can be a bit strange to see a 5-disk RAID10 storage pool as a result.
Storage Center monitoring tools can provide details about wear on each SSD in the array as well as their latencies with sub-millisecond precision.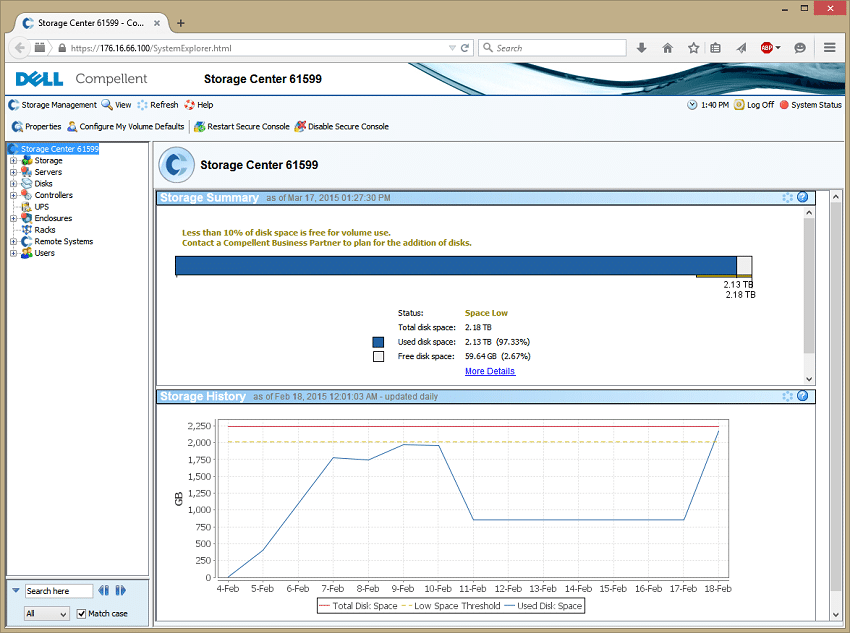 The Compellent FS8600 is a NAS solution that can be deployed in conjunction with a SC4020 array in order to offer a Fluid File NAS file storage environment via Dell's FludFS. FluidFS is a flexible architecture that enables users to scale out and scale up non-disruptively (FluidFS v4 will be available in the first half of 2015). Users can add capacity and performance without the need for forklift upgrades. Aside from offering Dell's FluidFS, the FS8600 lends NAS capabilities to the SC4020 and provides policy-based deduplication, compression, and other common enterprise NAS functionality. FS8600 scale-out architecture supports up to 3.2PB in a single namespace, supports file sizes up to 16TB, automatic tiering, asynchronous NAS replication along with snapshot archival capability, and thin provisioning.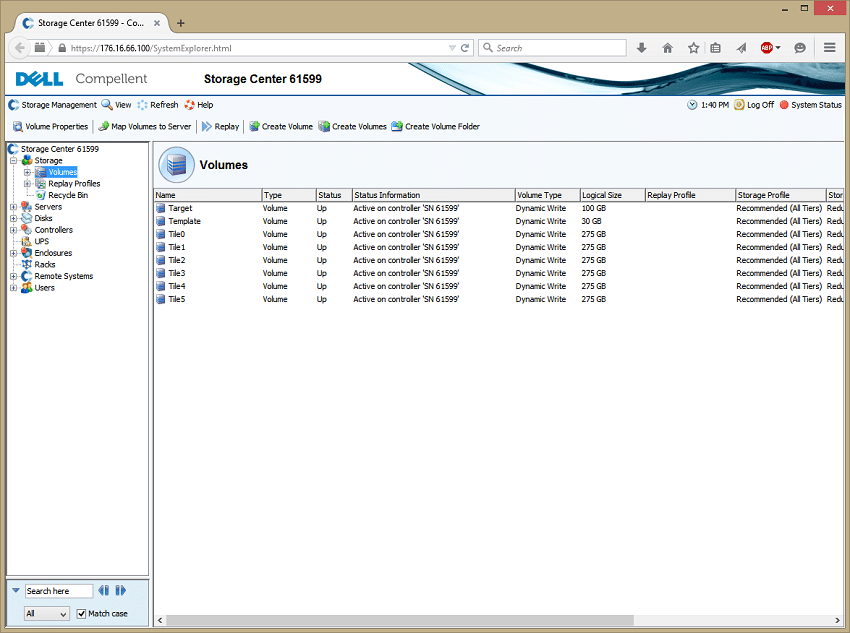 SC4020 administrators can also take advantage of the Dell Copilot service that has been one of the hallmarks of the Compellent series through its last several generations. With a 96% customer satisfaction rating for over five years, Copilot offers system analysis, strategic planning, and performance tuning. Copilot is more than just always available customer service, it also offers around the clock proactive monitoring, which can locate problems before they happen. Dell uses its worldwide reach to and network of technicians and parts distribution centers to quickly replace any parts that have failed. Not only can the Copilot support team give customers support with every issue in the Compellent series, they can also help address issues with third-party alliance partner products when possible.
Testing Background and Comparables
We publish an inventory of our lab environment, an overview of the lab's networking capabilities, and other details about our testing protocols so that administrators and those responsible for equipment acquisition can fairly gauge the conditions under which we have achieved the published results. To maintain our independence, none of our reviews are paid for or managed by the manufacturer of equipment we are testing.
This review will compare the performance of the Dell Storage SC4020 to benchmark results from the Fujitsu Eternus DX200F, Infortrend EonStor DS S16F-R2651, and Huawei Dorado2100 G2. While this group of all-flash storage arrays cost as much as 10x more than the Dell Storage SC4020, we felt it was useful to add them for comparison, since the SC4020 priced at $25,000 is able to hang with the pack quite well. In some cases such as the SC4020 (with 6 SSDs) versus the Huawei Dorado2100 G2 (with 75 SSDs) it was able to edge out in front of it.
With each platform we test, it is very important to understand how each vendor configures the unit for different workloads as well as the networking interface used for testing. The amount of flash used is just as important as the underlying caching or tiering process when it comes to how well it will perform in a given workload. The following list shows the amount of flash, how much is usable in our specific configuration and what networking interconnects were leveraged:
Dell Storage SC4020

List Price: $25,000
Flash: 2.88TB (6 x 480GB HGST SAS3 MLC SSDs)
Network Interconnect: 4x 10Gb Ethernet

Fujitsu Storage ETERNUS DX200F

List Price: $222,175
Flash: 9.6TB usable (24x 800GB Toshiba PX02SM SAS3 MLC SSDs, 12 x RAID1, Wide-Striped)
Network Interconnect: 4x 16Gb Fibre Channel

Infortrend EonStor DS S16F-R2651

Flash: 6.4TB (16 x 400GB SanDisk Optimus Eco SAS2 MLC SSDs)
Network Interconnect: 4x 16Gb Fibre Channel

Huawei Dorado2100 G2

List Price: $307,702
Flash: 15TB (75 x 200GB SLC, RAID5 and RAID10)
Network Interconnect: 8x 8Gb Fibre Channel
Application Performance Analysis
The StorageReview VMmark protocol utilizes an array of sub-tests based on common virtualization workloads and administrative tasks with results measured using a tile-based unit. Tiles measure the ability of the system to perform a variety of virtual workloads such as cloning and deploying of VMs, automatic VM load balancing across a datacenter, VM live migration (vMotion) and dynamic datastore relocation (storage vMotion).
During the VMmark benchmark, the Dell Storage SC4020 was able to hold its own against the Huawei Dorado2100 and Fujitsu Eternus DX200F for up to six tiles with results averaged across the various workloads. At six tiles, the SC4020 had an overall score of 7.8, compared to 8.4 for the Dorado2100 and 8.5 for the Eternus DX200F. Focusing on the VMmark application results, the SC4020 topped out at 9.3 for six tiles, compared to 9.9 for the Dorado2100 and 10.1 for the Eternus DX200F.
It should be stressed that VMmark measures both storage performance, but also has a huge weight on storage capacity. In our configuration with 2.18TB of usable storage, we ran out of storage capacity to add additional tiles before the array ran out of steam from the I/O load. Simply put, adding more SSDs to bump up the capacity will both improve the number of tiles that the SC4020 can run.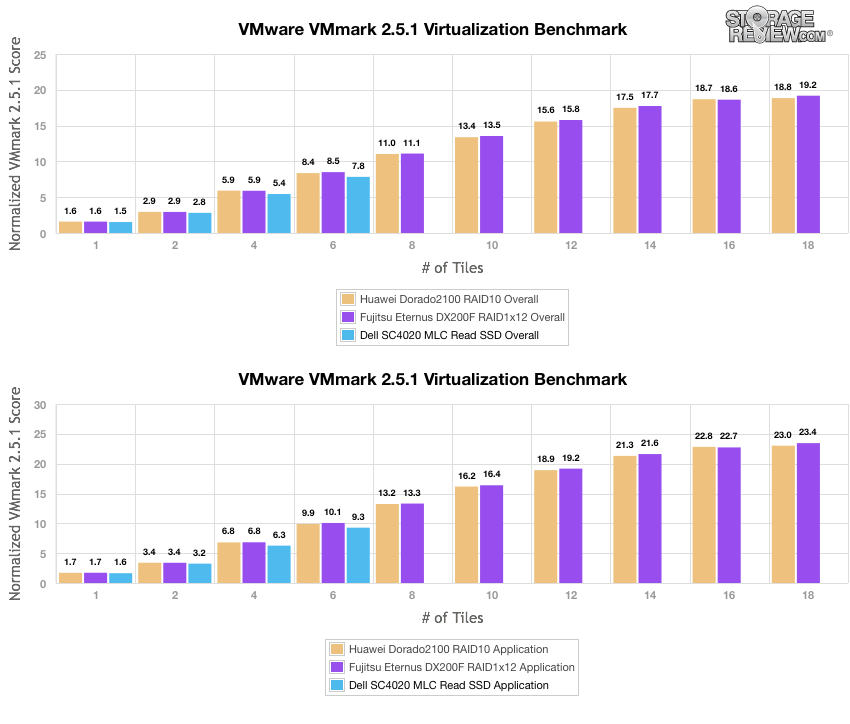 Our Microsoft SQL Server OLTP testing protocol employs the current draft of the Transaction Processing Performance Council's Benchmark C (TPC-C), an online transaction processing benchmark that simulates the activities found in complex application environments. The TPC-C benchmark comes closer than synthetic performance benchmarks to gauging the performance strengths and bottlenecks of storage infrastructure in database environments.
As with the other arrays compared in this benchmark, the SC4020 is able to reach nearly the maximum number of transactions per second possible in our protocol, with a score of 6,298.9TPS.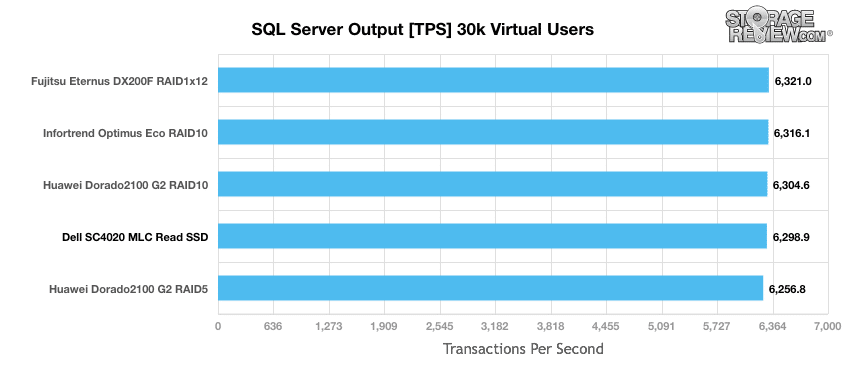 The average latency provides more context for the relative performance of the comparable arrays in this benchmark. The Dell Storage SC4020 maintained an average latency of 20ms during the SQL Server benchmark, placing it lower in the pack but not at a tremendous disadvantage to the other arrays.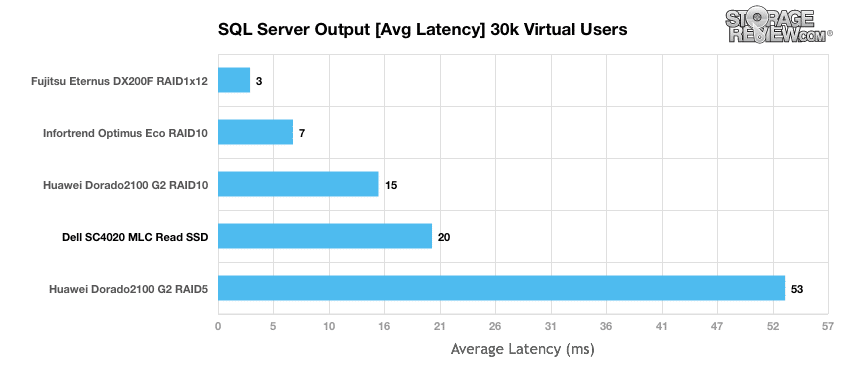 Enterprise Synthetic Workload Analysis
Prior to initiating each of the fio synthetic benchmarks, our lab preconditions the device into steady state under a heavy load of 16 threads with an outstanding queue of 16 per thread. Then the storage is tested in set intervals with multiple thread/queue depth profiles to show performance under light and heavy usage.
Preconditioning and Primary Steady-State Tests:
Throughput (Read+Write IOPS Aggregated)
Average Latency (Read+Write Latency Averaged Together)
Max Latency (Peak Read or Write Latency)
Latency Standard Deviation (Read+Write Standard Deviation Averaged Together)
This synthetic analysis incorporates four profiles which are widely used in manufacturer specifications and benchmarks:
4k random – 100% Read and 100% Write
8k sequential – 100% Read and 100% Write
8k random – 70% Read/30% Write
128k sequential – 100% Read and 100% Write
The SC4020 read performance during the 4k benchmark under a heavy load of 16T/16Q was 167,569 IOPS, while its write performance of 52,563 IOPS.

The average latency for 4K read operations on the SC4020 was 1.526ms and its average 4K write latency was 4.866ms.

The SC4020 experienced a latency spike during the 16T/16Q workload. On the other hand at 41.83ms, its greatest write latency, was much more consistent with comparable arrays. A contributing factor to this is the lower count of SSDs, where our base configuration included only 6.

The bottleneck affecting the SC4020's maximum 4K read latency is reflected in our plot of standard deviation, where the SC4020 scored 5.267ms.

The next benchmark looks at the performance of the SC4020 to a workload composed of sequential 8K transfers. The SC4020 achieved a read throughput of 117,705 IOPS and a write throughput of 79,166 IOPS.

With a workload that uses 8K transfers and a combination of 70% read operations and 30% write operations across a range of thread counts and queue depths, the SC4020 scaled from 8,755 IOPS at 2T/2Q up to 91,134 IOPS at 16T/16Q.

Average latency calculations for the SC4020 revealed no notable bottlenecks or stress points.

The Dell Storage SC4020 experiences relatively dramatic latency spikes throughout the 8K 70/30 benchmark, including a latency above 135ms early in the protocol with a thread count of 2 and a queue depth of 16. Similar to the 4K random test section, these spikes relate back to the low drive count inside the SC4020.

Standard deviation calculations for the 8K 70/30 results show that the SC4020 no large degree of latencies variations.

Conclusion
Dell's SC4020 is the opening move in a new mid-market strategy from the Dell Storage division. It builds on a legacy of hard-hitting enterprise storage arrays by incorporating best-of-breed technology from the Compellent and EqualLogic families at a price and scale that was previously unavailable from any major players in the marketplace.
The baseline MLC configuration we benchmarked for this review managed a remarkable performance level in application benchmarks against much more expensive all flash arrays. In VMmark while the SC4020 topped out at 6-tiles, it didn't run out of steam from I/O but instead just capacity since each tile has roughly a 275GB footprint. In our SQL Server database test, the SC4020 measured 20ms with its average response time, compared to 3-53ms from the other units we tested, which are almost 10X more expensive with higher drive counts. Switching to our synthetic tests the SC4020 measured 168k IOPS read and 53k IOPS write in our 4K random I/O benchmark. In our 8k 70/30 benchmark looking at mixed workload performance we saw speeds top at 91k IOPS. These results only hint at what the SC4020 platform would be capable of when outfitted with higher-performing drives as you step up the ladder of configurations Dell offers with the SC4020.
For storage administrators at larger organizations looking for a system that can integrate with their existing Dell Storage infrastructure, the SC4020 is easy to integrate into existing management workflows and would be ideal for remote office deployments with replication to the main office. Smaller enterprises with storage administered by IT generalists will find the SC4020 to be a strong and accessible entry point to the Dell Storage family, with Dell Compellent's robust data services and the Dell Copilot program adding considerable value for an array at this price point. This is really where the SC4020 is special; it offers a robust feature set that's not only affordable (albeit at low capacity) but very mature as well. Not only has Compellent code been around longer than most all-flash or hybrid startups have been in business, but the network of support that Dell has developed, highlighted by the aforementioned Copilot, are rivaled by few. For true enterprise-grade storage and support, the SC4020 bundles a long legacy of success into a true midmarket/ROBO form factor. For those who can live within the confines of even this $25k config, the results are very impressive and matched by no other vendor at this time.
Pros
Strong performance in our application workloads
Flexible all-flash and tiered internal storage configurations
Robust scale and integration with the SC8000 and other Dell Storage units
Unparalleled affordability and perpetual licensing model
Cons
Smaller working capacity limits its use to only a handful of applications
The Bottom Line
The SC4020 is an evolutionary step forward for Dell Storage. It draws on the best aspects of its Compellent and EqualLogic progenitors to create a $25,000 storage array that will strike fear in the purveyors of $200,000+ enterprise storage arrays with only modest performance advantages over the SC4020.