If we know anything about Drobo and the new B1200i, their mission statement is to keep storage simple. The 12-bay SAN has historically supported up to 48TB of storage via SATA and SAS hard drives via Drobo's BeyondRAID automatic and instantaneous drive management system. Now the B1200i has a new trick up its sleeve, automated data-aware tiering. Maintaining the simplicity mantra, the B1200i can support a trio of SSDs to deliver automatic data tiering, while preserving the other nine bays for large capacity storage, all with plug-and-play simplicity.
If we know anything about Drobo and the new B1200i, their mission statement is to keep storage simple. The 12-bay SAN has historically supported up to 48TB of storage via SATA and SAS hard drives via Drobo's BeyondRAID automatic and instantaneous drive management system. Now the B1200i has a new trick up its sleeve, automated data-aware tiering. Maintaining the simplicity mantra, the B1200i can support a trio of SSDs to deliver automatic data tiering, while preserving the other nine bays for large capacity storage, all with plug-and-play simplicity.
Once up and running, getting down to business provisioning the B1200i is pretty straightforward too. Through a series of GUI management screens, administrators can configure everything from thin provisioning volumes to gathering reports on drive usage and relevant performance metrics. Drobo makes a big push around thin provisioning, and thin reclamation as well, highlighting that new volumes can be created in seconds. The reason for this goes back to the way the Drobo unit works by its nature, everything is automatic. So instead of having to specify a location for a volume, Drobo creates Smart Volumes that lay across a series of drives, rather than a specific location. Capacity allocation to all volumes is done from a common pool of storage that auto-reclaims, making management a breeze.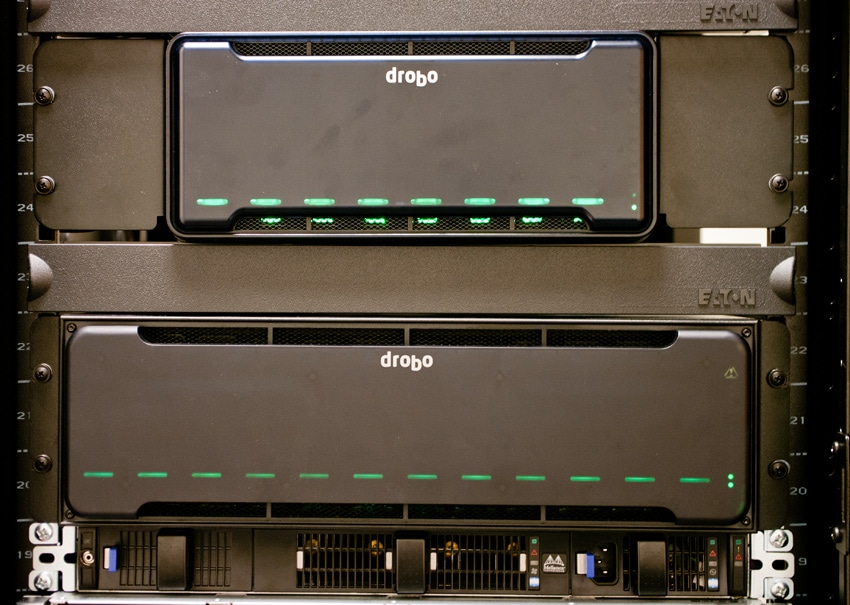 On the hardware front, the B1200i is built for business, with not only modular components, but high availability features like quad-NICs and dual redundant hot swappable power supplies. The design also features a removable controller card and hot-swappable cooling fan, meaning almost the entire unit can be field serviced by just about anyone. The platform is well suited then for virtualized environments and has been certified for VMware vSphere, Citrix XenServer, Symantec Backup Exec, Acronis and Veeam Backup environments.
In this review we'll be taking a look at the B1200i both loaded with hard drives and three OCZ Talos tiering SSDs installed. The OCZ drives are designed specifically for this use and are sold directly through Drobo (OCZTALOS.DROSAS). Drobo's SSD tiering works with a variety of SSDs however; the complete compatibility list can be found here. Drobo offers the B1200i in a variety of configurations and price points depending on the storage and performance requirements. Previous B1200i owners may upgrade with the SSD tiering pack purchased on its own.
Drobo B1200i Specifications
Connectivity

3 x 100 / 1000 Mbps Ethernet port for data (iSCSI)
1 x 100 / 1000 Mbps Ethernet port for management
Network Protocols: iSCSI/CHAP Authentication
Connection Failover
Jumbo frames (up to 9000 bytes MTU)

Capacity

12 drive bays for hard disk drives or solid state drives
3.5″ SAS-1/SAS-2 drives
3.5" SATA I / SATA II / SATA III drives

BeyondRAID Features

Thin Provisioning
Instant Expansion
Mixed Drive Size Utilization
Automatic Protection Levels
Dual Disk Redundancy
Virtual Hot Spare
Data Aware
Drive Re-ordering

Operating System Support

Mac OS X Server 10.5.8 or later (Intel Only)
Mac OS X Server 10.6.8 or later (Intel Only)
Windows Server 2003 R2 SP1 32 and 64 bit
Windows Server 2008 R2 SP1 64 bit
Windows Server 2008 R2 Hyper-V
Red Hat Enterprise Linux 6 (Intel only)
VMware vSphere 4.1.x (ESXi)
VMware vSphere 5.0.x (ESXi)
Citrix XenServer 5.6

File System Options

Mac OS X: HFS+
Windows: NTFS, FAT32
Linux: ext3
VMware vSphere: VMFS
Citrix XenServer: LVM

Power and Cooling

Dual, redundant, hot-swappable power supplies: AC Input – 100/240 VAC, 8/5 A, 50/60 Hz
Redundant, hot swappable cooling unit
Operating Temperature: 10°C – 35°C (50° – 95°F)

Carrier-less Drive Bays, field replaceable controller card, and power supplies
3U rack mount form factor (rack mount kit included)
Weight: 47 lb (without hard drives or packaging)
Warranty: One (1) year warranty in the US or outside the EU or two (2) year warranty in the EU (as provided by EU law)
Design
Drobo has a unique way of designing enterprise products to be as simple and intuitive as they can be, while still being packed full of features. The B1200i is a 12-bay SMB SAN, with front-mounted 3.5-inch carrier-less drive bays. This contrasts with many other similar products on the market that require hard drives or SSDs to be first mounted to drive-trays before they can be loaded into an available slot. On the Drobo platform, users simply slide a drive into the spring-loaded bay until the drive is seated and locked into place.

The Drobo interface extends to both the forward-facing hardware features, as well as the easy to use Drobo Dashboard. By looking at the front of the B1200i, it's easy to tell what percentage of available capacity is left or even what the status of each drive is (good/bad). Indication lights also notify the user to not remove drives if a rebuild is in progress, which can be handy if you don't have the Drobo Dashboard open to display that data.

While more of a minor complaint in the entire scheme of things, the overly simple rack-mount configuration on the B1200i is both a blessing and a curse. With the majority of heavy rack-mount equipment, rails are first installed in the server rack, which then support the device being installed. Drobo went with a rail-free design, instead opting for over-built mounting ears. While we have reassurances from Drobo that the design holds up over time and doesn't present any problems holding the fully loaded SAN, the B1200i does sag in the rear, into the 1U below. If the B1200i is sitting on other equipment you would probably never notice. In our case, we had a 1U switch installed underneath the Drobo that was nearly impossible to reinstall, or remove the two rails without removing the server in the space below it or the Drobo above it, due to the Drobo rear end sag. Needless to say, a full set of proper rails would be nice in future designs to support more traditional rack deployments.

The rear of the Drobo B1200i is where all of the connectivity, cooling, and power connections are located. Designed with high-availability and field-serviceability in mind, many of the system components can be replaced easily by the end-user. Without taking the B1200i offline, you can swap out a failed cooling unit or swap in a replacement power supply. In the event another component such as a system or connectivity board has failed, users can also swap those out easily; although the system must first be powered down to do so. All of these items come out without the need for tools, using easy to maneuver latches or thumbscrews.
On the software side Drobo offers their Dashboard software to configure and monitor their NAS and SAN models. For the B1200i, users can monitor every aspect of the model, from to the status of the hard drives or SSDs to fan speeds or thermal status. Diving into more of the feature-specific items, the Dashboard software also lets you monitor system performance in real-time, showing total throughput and IOPS.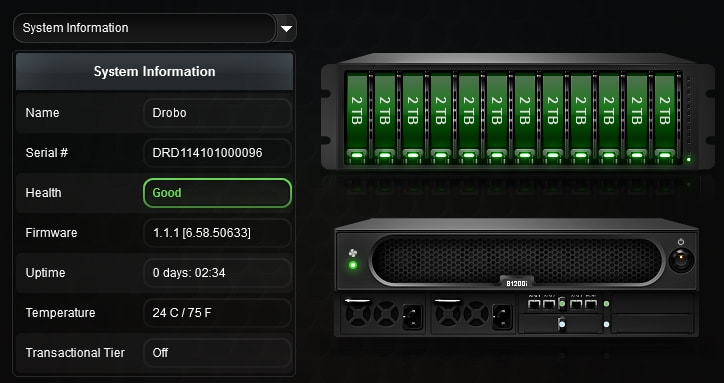 When it comes to provisioning the Drobo B1200i, the Dashboard makes it easy to see how much space is being utilized as well as creating volumes for additional users or systems. One really nice feature from a management perspective on the Drobo systems is how quickly the software recognizes data being added or removed from the array, updating the total unused space seconds after it changes.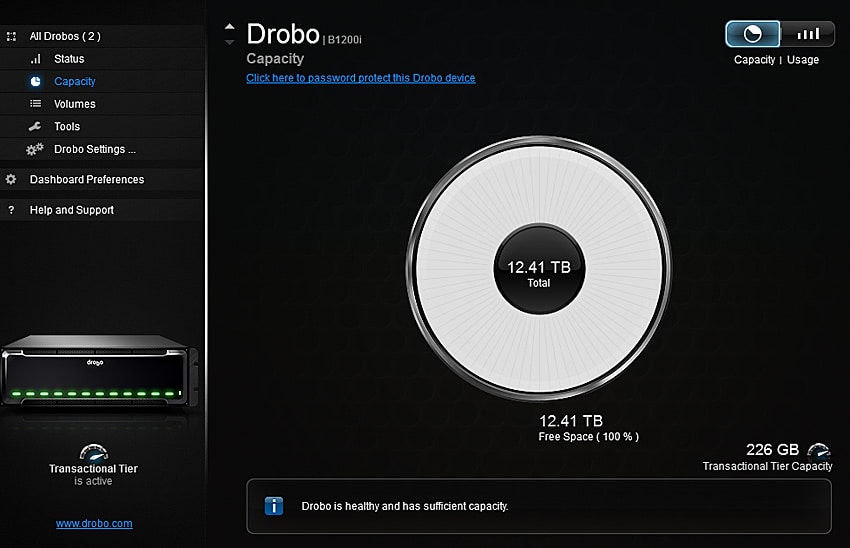 Enterprise Synthetic Workload Analysis (Stock Settings)
The way we look at network storage products dives deeper than just looking at traditional burst performance. When looking at averaged performance over a long period of time, you lose sight of the details behind how the device performs over that entire period. Since devices with flash tiering perform differently as time goes on, our new benchmarking process analyzes the performance in areas including total throughput, average latency over a long preconditioning phase of each device. With high-end enterprise products, latency is often more important than throughput. For this reason we go to great lengths to show the full performance characteristics of each device we put through our Enterprise Test Lab.
The hardware configuration of our Drobo B1200i consisted of the following drive configurations:
HDD Only: 12 x 2TB Western Digital RE4 7200RPM SATA
SSD Tiering: 9 x 2TB Western Digital RE4 7200RPM SATA + 3 x 230GB OCZ Talos C SAS (OCZTALOS.DROSAS)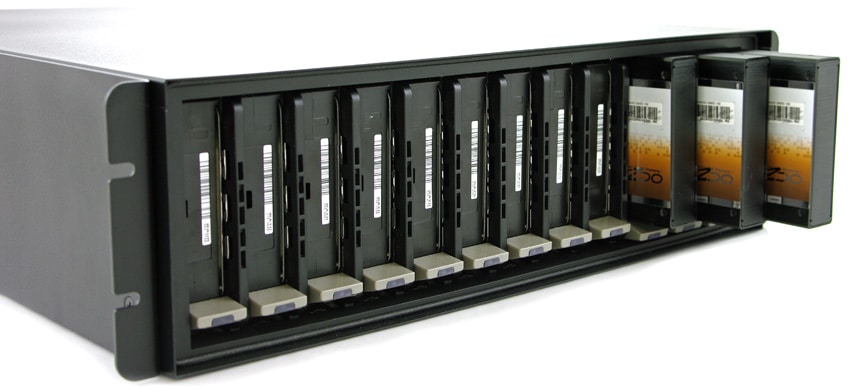 To show performance under realistic workgroup conditions for which the Drobo B1200i is designed for, we used the following layout to measure performance. Under this configuration, iSCSI multipathing was not enabled, instead opting to dedicate one workload per port.
Server 1 Workload (NIC Port 1 to Drobo Port 1)
Server 2 Workload (NIC Port 2 to Drobo Port 2)
Server 3 Workload (NIC Port 3 to Drobo Port 3)
Each workload was configured with a two thread, two queue depth load, with each server interacting with the Drobo at the same time over the duration of the test. All tests start and stop at the same time to keep the Drobo B1200i under load for the duration of the benchmark run. For tests with 100% read activity, preconditioning is with the same workload, although flipped to 100% write.
Preconditioning and Primary Tests:
Throughput (Read+Write IOPS Aggregate)

Individual Server Throughput
Aggregate Servers Throughput

Average Latency (Read+Write Latency Averaged Together)

Individual Server Average Latency
At this time Enterprise Synthetic Workload Analysis includes three common mixed profiles, which attempt to reflect real-world activity. These were picked to have some similarity with our past benchmarks, as well as a common ground for comparing against widely published values such as 8K 70/30 commonly used for enterprise testing. We also included two legacy mixed workloads, including the traditional File Server and Webserver offering a wide mix of transfer sizes. These last two will be phased out with application benchmarks in those categories as those are introduced on our site, and replaced with new synthetic workloads.
8K 70/30

70% Read, 30% Write
100% 8K

File Server

80% Read, 20% Write
10% 512b, 5% 1k, 5% 2k, 60% 4k, 2% 8k, 4% 16k, 4% 32k, 10% 64k

Webserver

100% Read
22% 512b, 15% 1k, 8% 2k, 23% 4k, 15% 8k, 2% 16k, 6% 32k, 7% 64k, 1% 128k, 1% 512k
To measure the performance difference between the Drobo B1200i with just hard drives or with SSD tiering added, we first applied an 8K workload with a 70% read and 30% write workload. Off the bat, both configurations showed similar total throughput, while the workload stayed primarily in cache. After about 20 minutes as more data was written to the array, the hard drive performance started to taper off, while the SSDs maintained a performance level about 1000 IOPS.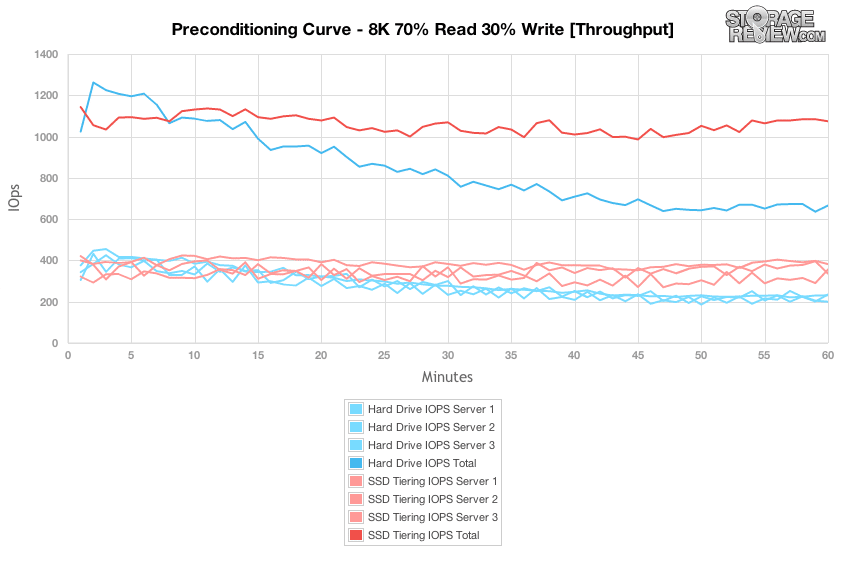 Average latency of the three servers accessing the Drobo B1200i is probably one of the most important aspects besides throughput, since higher latency will cause applications to bog down as wait times increase. The hard drive configuration slowly increased from 5-6ms to 8-10ms over the duration of the preconditioning process, while the SSD tiering config stayed between 5-6ms.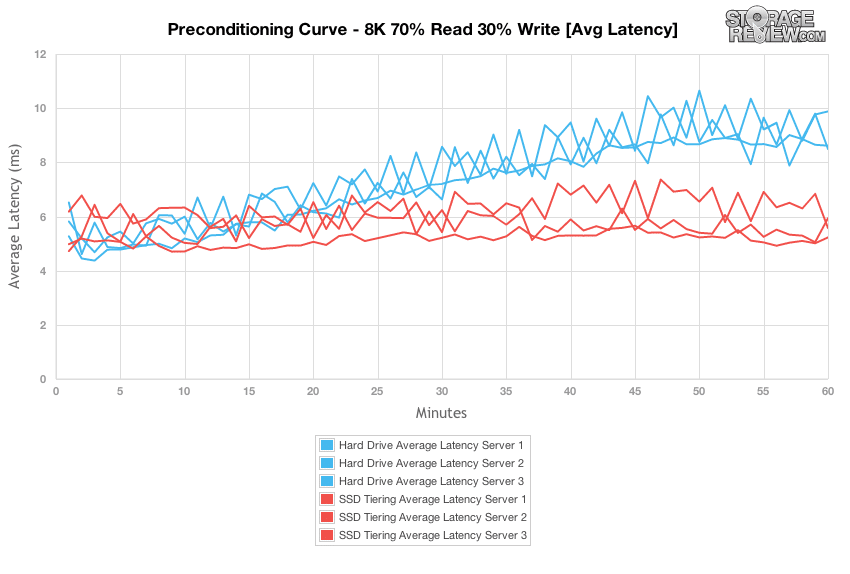 Once the preconditioning process had finished on both Drobo B1200i configurations, the hard drive configuration maintained a performance level of 186-204 IOPS per server, or 588 IOPS total. The B1200i with SSD tiering offered performance of 313-402 IOPS per server, with an aggregate of 1110 IOPS total. This amounted to an increase in throughput of 189%.

Latency improved dramatically on a server-by-server basis, with the hard drive configuration having an average response time between 9.76ms to 10.68ms. This contrasted with the SSD tiering setup that had speeds between 4.95ms to 6.36ms. Averaging both totals, the SSD tiering offered a boost in response time of 46.4%.

Transitioning to the File Server workload, with a very large spread of transfer request sizes, the difference between SSD tiering or without became even more pronounced. Total throughput from the B1200i loaded just with hard drives measured below 400 IOPS, whereas the SSD tiering configuration maintained performance above 1,000 IOPS.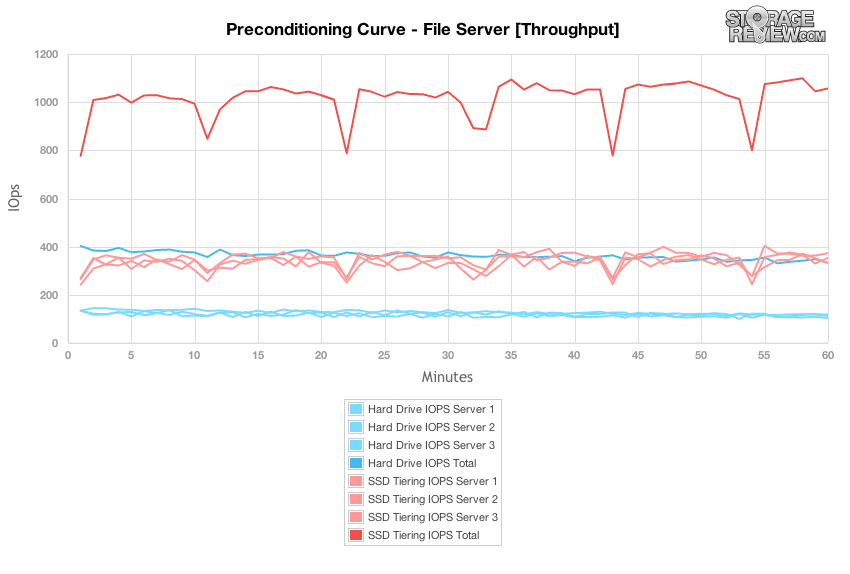 Latency on a server-by-server basis with the File Server workload measured 16-18ms with the HDD-only B1200i configuration, whereas with SSD tiering, the B1200i measured below 6ms per server.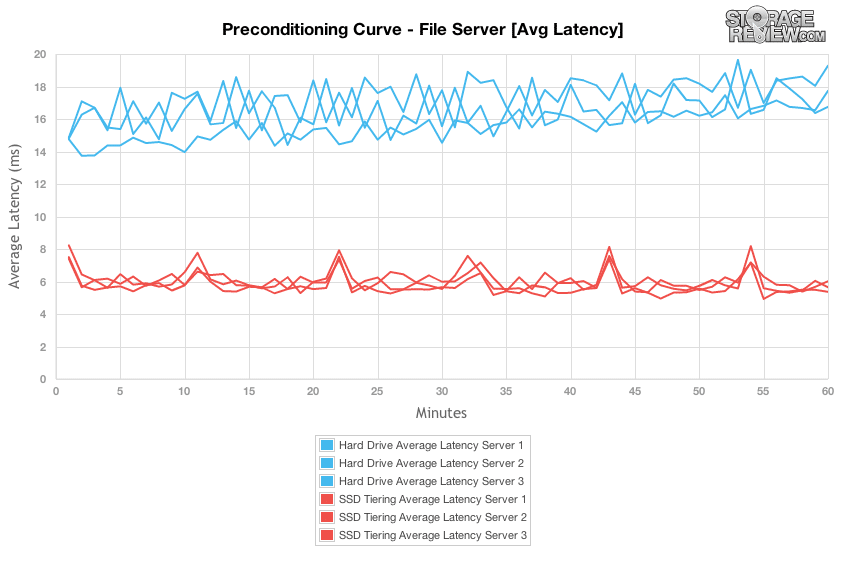 After the B1200i was fully preconditioned and files were moved outside cache, the HDD-only configuration averaged 101-118 IOPS per server or 332 IOPS total, while the SSD tiering B1200i maintained speeds of 327-355 IOPS per server or 1022 IOPS in total. the benefits of including an SSD tier worked out to a 308% increased in throughput.

Measuring average latency with our File Server workload, the HDD-only B1200i measured between 17.42ms to 21.17ms per server, whereas the SSD tiering configuration dropped response times to 5.63ms to 6.10ms, or a 69.8% drop by adding the SSD Tier.

The last workload consists of a Web Server profile with a wide range of transfer sizes, but 100% read. To properly precondition this workload on the Drobo B1200i with SSD tiering, we flipped the activity to be 100% write. Under these conditions the Drobo B1200i with only hard drives had throughput measuring 60-70 IOPS, or just over 200 IOPS. With SSD tiering, the B1200 was able to offer throughput of almost 150 IOPS per server, or over 400 IOPS in aggregate.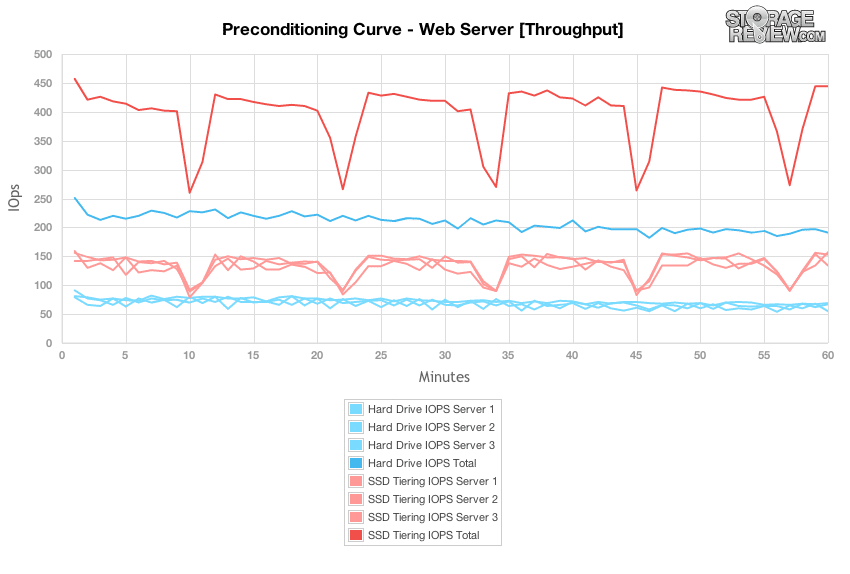 Measuring average latency, the hard drive only configuration had response times measuring 30-35ms per server, while the SSD tiering setup stayed below 15ms.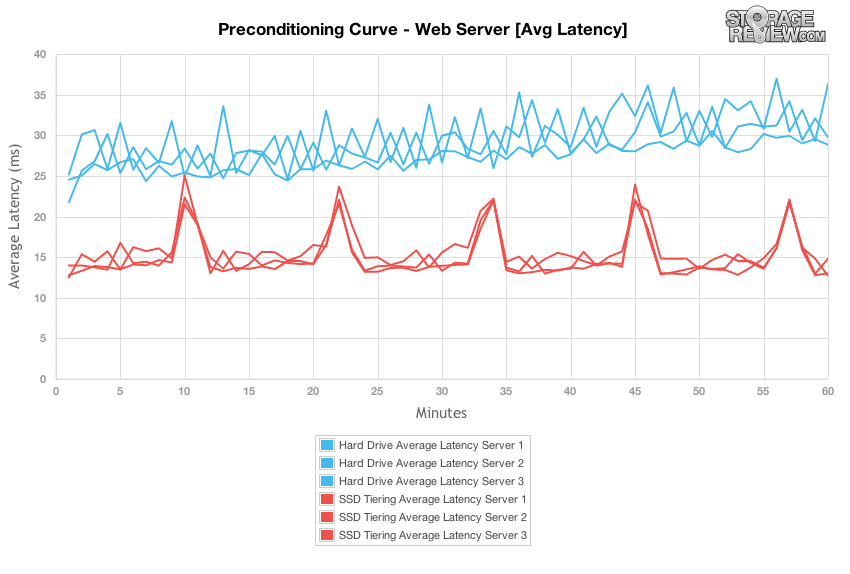 After the Drobo B1200i was preconditioned for 100% read Web Server activity, the performance difference between the hard drive only and SSD tiering configurations was the biggest out of all the workload profiles. With HDD-only, each individual server measured 65-76 IOPS, with a total of 214 IOPS. The SSD tiering throughput was 402-473 IOPS per server, or 1,291 IOPS total… a 603% increase.

Response times with the SSDs added into the equation were vastly improved, dropping from 26-30ms per server down to just 4-5ms. This works out to a decrease of 83.3% in latency, even with the lower thread and queue depths we were testing with.

Power Consumption
While the first thing that may come to mind when thinking about SSD tiering might be increased performance, another benefit is reduced power consumption. With the Drobo B1200i full-loaded with twelve hard 7200RPM hard drives, we measured an average idle usage of 237 watts, which increased to 255 watts with a mixed read/write File Server workload with three server loads accessing it. Swapping in the three SSDs, idle usage dropped to 225 watts (5.1% decrease) and when loaded with the same File Server workload, power usage dropped to 233 watts (8.6% decrease). Not only will SSD tiering dramatically improve performance, but it will save in the power department as well.

Another aspect of power consumption that we measure on enterprise equipment with our Eaton Advanced Monitored ePDU is power efficiency. In the case of the Drobo B1200i, we measured an average efficiency of 94.45% from both power supplies in an idle and active state.
Conclusion
Drobo is the master of simple storage, even in the SMB and enterprise space where proprietary management screens and arcane interfaces are often the norm. With IT being constrained all around, generalists and specialists alike prefer an easy to use system when given the choice, for rapid provisioning and SAN management. The knock on Drobo though has always been that while easy to use, there's a modest performance hit that comes along too. While willing to concede that point historically, Drobo has addressed overall system performance to a large extent with the latest update that includes support for data aware tiering via three SSDs.
When looking at system performance the benefit of the SSDs is profound, especially when you factor in that these are modified OCZ Talos 1 SSDs, which are far from the latest and greatest enterprise SSD technology. Drobo's B1200i with auto tiering and SSDs benefited everywhere, but really stretched its legs when we looked at high-read tests, like the web server workload, where hard drives only delivered 214 IOPS and the SSD tiering throughput came in at 1,291 IOPS, a remarkable boost. In other tests the auto tiering benefit was abundant as well, delivering big gains in both IOPS and latency across the board. The SSDs also add power savings too, ranging from 5-9% depending on workload.
When looking at the B1200i in this review, it's easy to spend most of the focus on the new SSD auto tiering. Of course it's important to remember that Drobo is about more than this single feature. The platform itself, regardless if used with SSDs or HDDs, is inherently easy to use and understand and the device is easily serviced in most cases with modular parts. It's also worth pointing out that Drobo offered this software upgrade without requiring new hardware, something that isn't always the case in the storage array business…often major new features are accompanied by new hardware requirements.
Pros
Simple to manage, deploy and service
Auto tiering with three SSDs drives performance gains across the board
SSDs drop the array's overall power consumption
Cons
Rack mounting kit could be more supportive
SSDs offer speed but at the expense of total array capacity
Lacks performance-driven interconnects like 10GbE
Bottom Line
The Drobo B1200i is the easiest to manage and deploy SAN we've tested, and the ease of use doesn't mean Drobo skimps on features. The B1200i's modular design means it can be field serviced by just about anyone and their GUI management screens and device-level visual notifications remove any questions about what's going on within the unit. Couple this simple usage model with the new auto tiering update and up to 6X throughput gains with SSDs and the B1200i's value proposition keeps getting better.