The EcoFlow DELTA mini is a 1400W Portable Power Station that has the ability to fast-charge with rates up to 900W, as well as charge and supply power at the same time. Paired with up to 300W of solar panels, it can operate demanding loads off grid, or top off quickly from AC power no matter the situation. With an 882Wh battery, the DELTA mini is anything but, putting it into a market segment few can compete against it.
The EcoFlow DELTA mini is a 1400W Portable Power Station that has the ability to fast-charge with rates up to 900W, as well as charge and supply power at the same time. Paired with up to 300W of solar panels, it can operate demanding loads off grid, or top off quickly from AC power no matter the situation. With an 882Wh battery, the DELTA mini is anything but, putting it into a market segment few can compete against it.
The Portable Power Station market has seen plenty of entries over the past few years, each looking to cover different segments of the market. These use cases generally include off-grid, emergency backup or camping, all areas where a power outlet is needed but a source may not be available. Beyond a large inverter or a big internal battery, many of these units try to set themselves apart from the pack through cost or features. Charging capabilities are a huge differentiator, where AC input is most common, followed by car power and solar.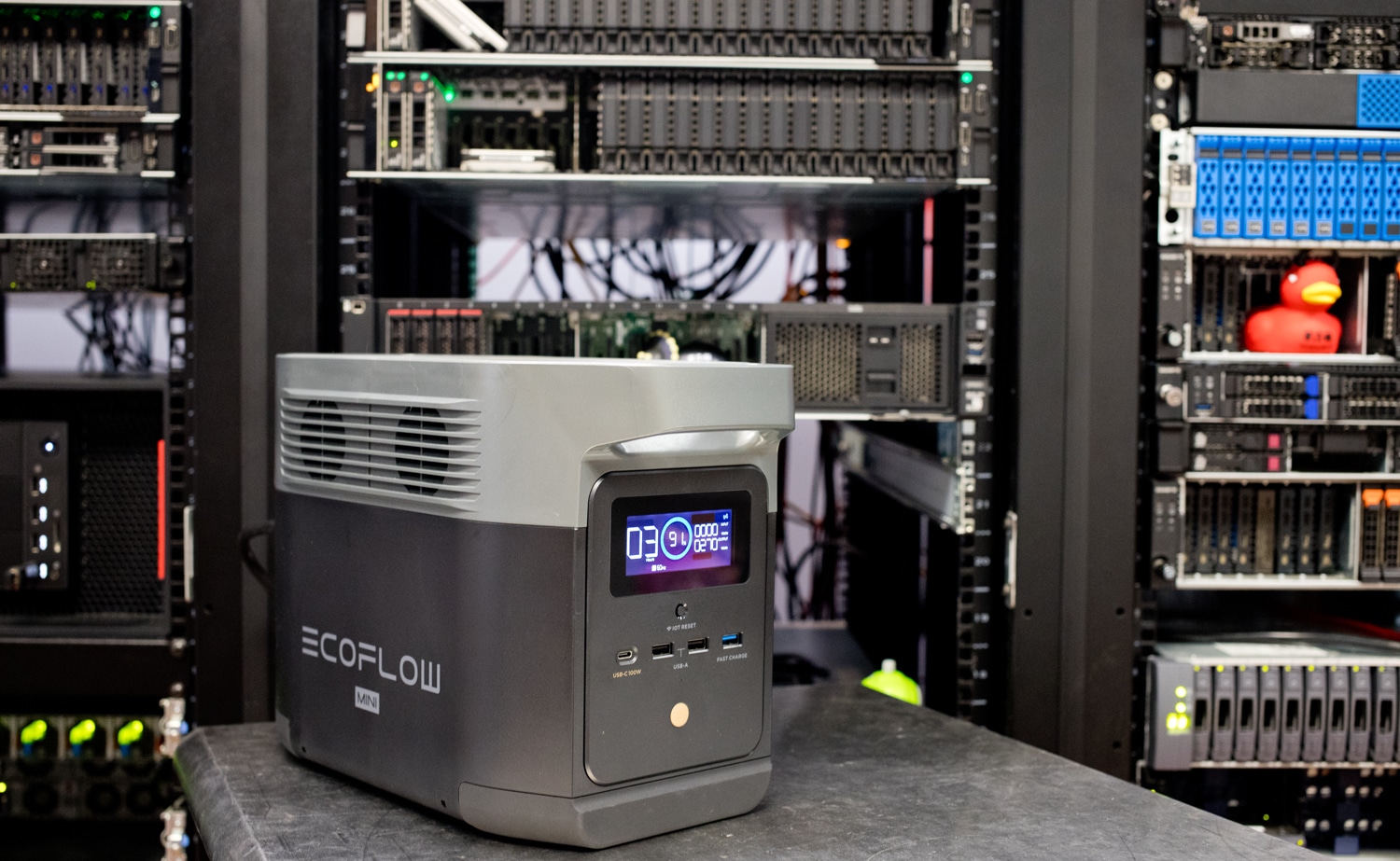 EcoFlow DELTA mini
The EcoFlow DELTA mini is a 1400W Portable Power Station with a battery capacity of 882Wh. It supports peak power draws up to 2100W, and also has an X-boost mode for certain power-hungry devices that are less sensitive to power quality that increases the 1400W capabilities up to 1800W. This puts its power capabilities closer to that of a gas generator than most rechargeable systems on the market.
Another key aspect of the DELTA mini is its ability to charge at up to 900 watts when connected to AC power, which allows it to fully charge in under 2 hours. This might not seem like much, but some models can take most of a day to charge with much smaller external power supplies. The DELTA mini can also support power while operating, giving it UPS capabilities or keeping devices running while your car or solar panels are adding juice back into the battery. If you are running equipment and low on power, you don't need to turn things off to charge the battery.
Out of the box, the EcoFlow DELTA mini comes out as a very slick and fully integrated power solution. It has a very well-made case with a study feel. Minimal plastic creaking when you move it around and it also has integrated rubber pads on the bottom of the case to give it a solid footing. Design can go a long way and EcoFlow really went all out, building the DELTA mini with a premium look and feel.
The front of the DELTA mini has a bright and easy-to-read display, giving you a concentrated view of the inner workings of the Power Station. Left to right with a quick glance you can view runtime remaining, charge percentage of the battery, incoming and outgoing power usage as well as some other indicators showing you which ports or features are active.
The continuously updated runtime indicator is very useful, giving you real-time feedback on how loads are affecting the battery. Battery capacity gives you the vital stat of how charged the system is, and then incoming and ongoing power let you track usable and charging capabilities.
There are only two buttons on the front of the case, a big yellow on/off button as well as an IoT reset button. On and off is pretty obvious, while the IoT button allows you to configure remote access. The DELTA mini has a feature-rich app that really makes it stand out from other models on the market, which we will get into shortly. Finally, the front includes a USB-C port, two USB A ports and a fast-charge USB-A port.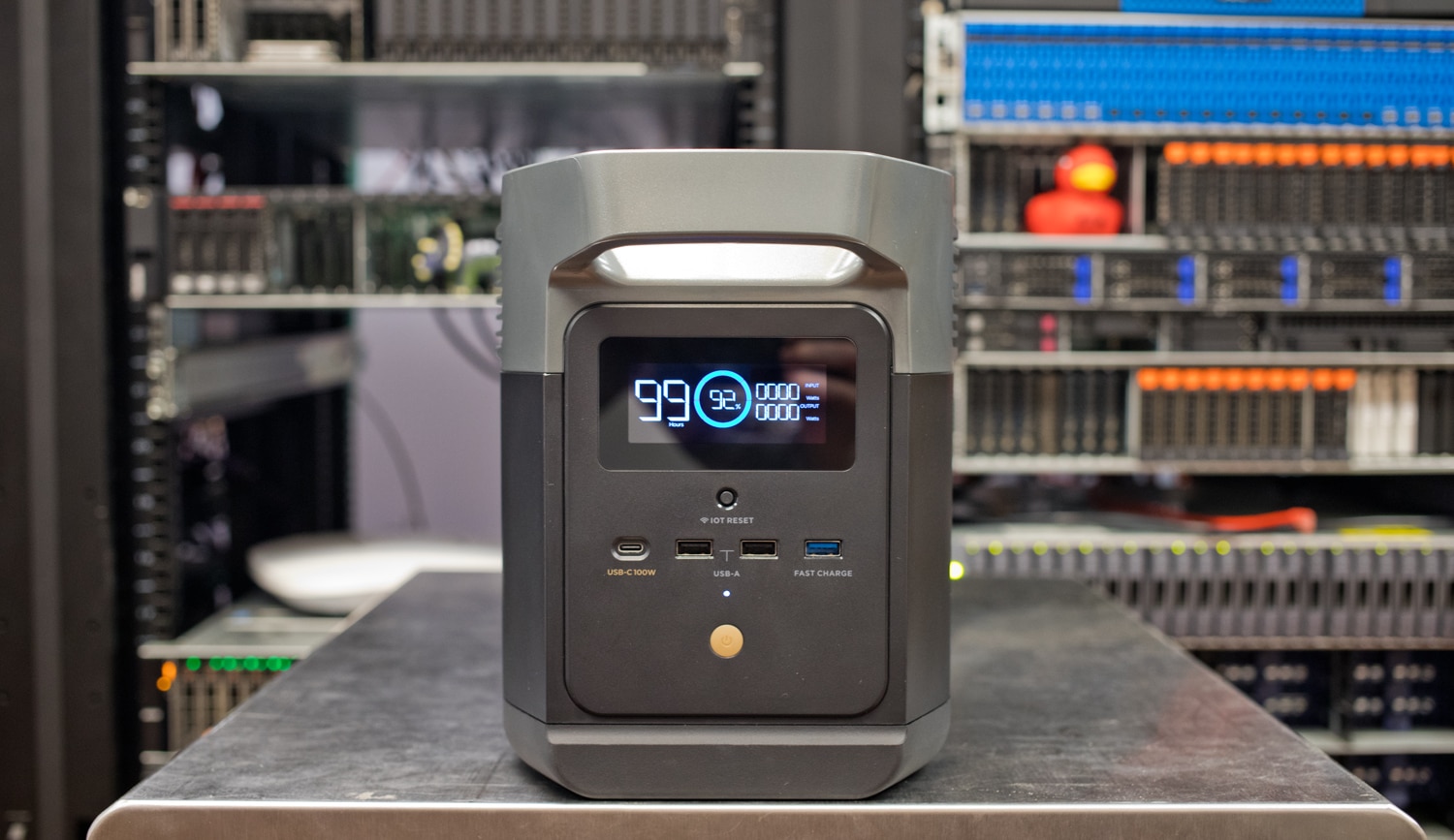 On the back of the sides of the DELTA mini are fan vents, which are used for the Power Stations' thermal management. These kick on dynamically during heavier power draws, as well as during the fast charging modes. They quickly spin down as demands decrease, so there are many times when the fans are perfectly silent.
On the back are the main charging inputs as well as the higher-watt DC outputs. On the top, there is a little pop-up cover to hide the inputs during deployments. Under the cover is a DC jack for car or solar charging, a charge-rate selection switch, an AC input plug and a circuit breaker. With most Power Stations on the market including an external power adapter, the fully integrated power supply is a really nice touch. It makes sense though as many of these power adapters get very warm during charging. The 900W charge mode leverages the internal fans to keep both the battery and that integrated power cool.
From a port layout, EcoFlow gives the DELTA mini 5 120V AC outlets, four of which have a cutout to allow three-prong devices to operate ungrounded.  It also has a covered car power jack and two DC ports. Both AC and DC output segments can be switched on or off separately, while the USB ports on the front are always on.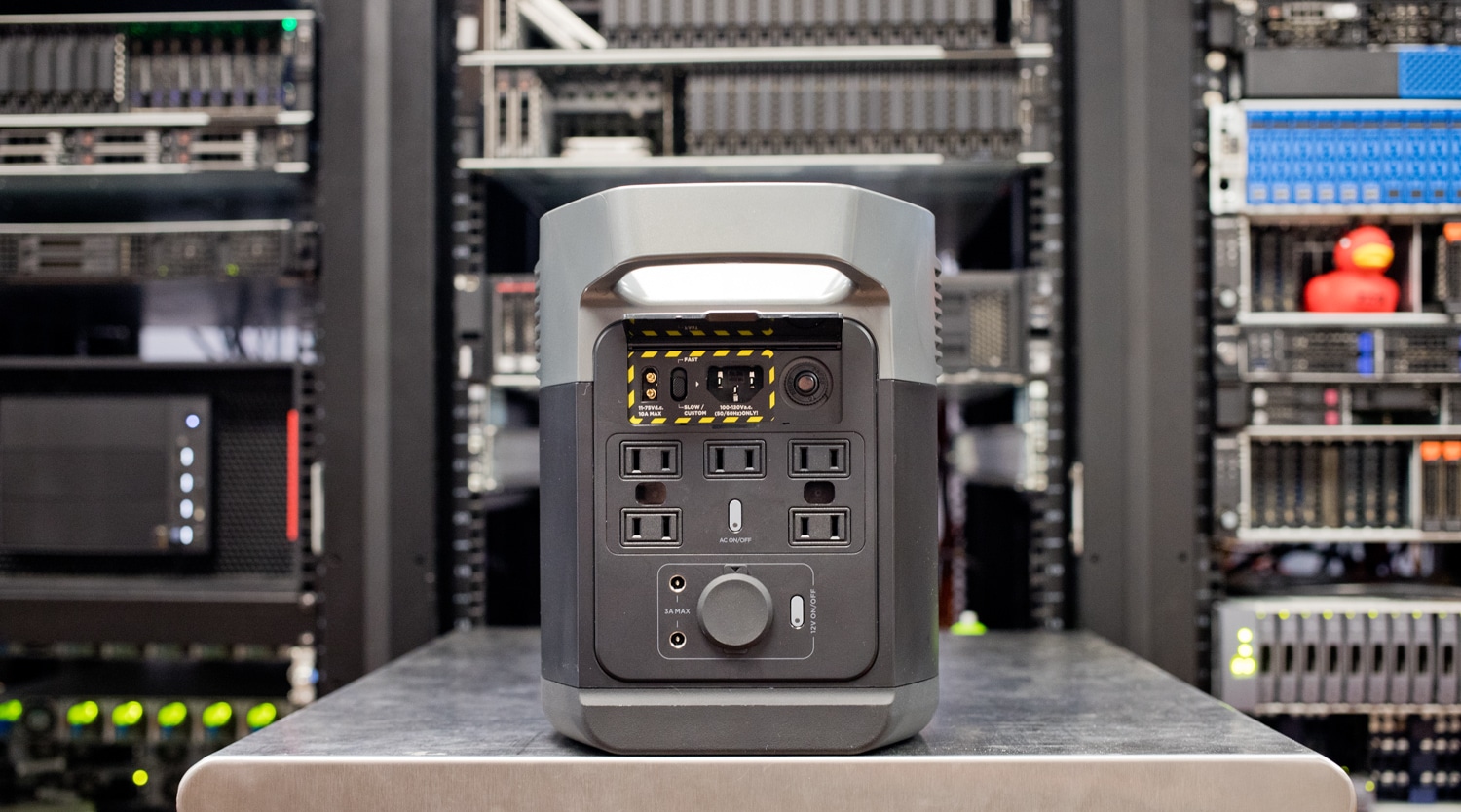 EcoFlow DELTA mini App Remote Management
EcoFlow offers extensive remote management capabilities for their compatible devices, spanning from RIVER and DELTA series Power Stations to Smart Home Panels and Smart Generators. The app provides a centralized way to monitor and control your device, no matter if you are 5 feet from it or miles away. It does that through its own Wi-Fi hotspot or connecting to a known wireless network in range. From that, it interfaces locally or remotely through EcoFlow's cloud platform.
The EcoFlow app is pretty straightforward, with both iOS and Android versions. Once you register an account with EcoFlow you hit a screen allowing you to add in different EcoFlow models you have. Clicking the "+" symbol brings you to a screen to add in different models in their portfolio, with instructions then given on how to connect them. For the DELTA mini, you press the IoT reset button on the front of the device and then connect to the EcoFlow Wi-Fi network it stands up. Once connected, you can then interface with the Power Station.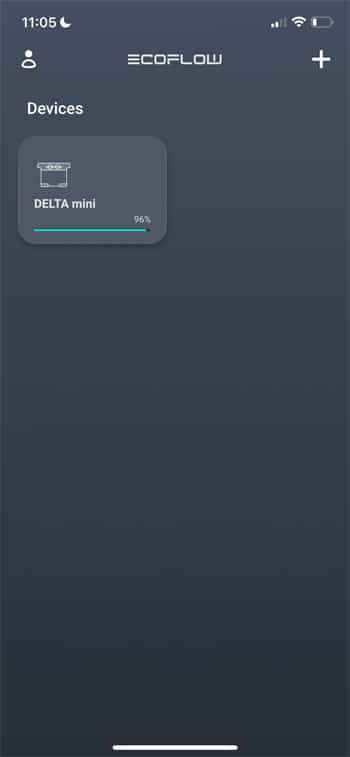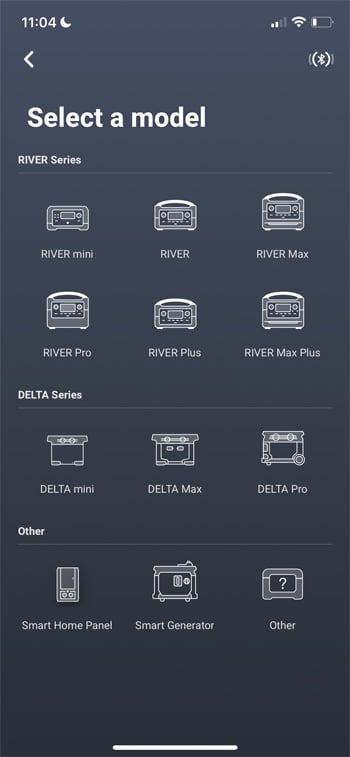 The remote interface shown for the DELTA mini is very intuitive and continues the trend where EcoFlow put a lot of thought into each design element. The landing page shows the main vitals of the Power Station, with an overlay on top of the model's rendering showing you the current capacity.
At the top, you see the operating temperature of the device, estimated runtime and current battery capacity. The next section splits into two parts covering input and output. Output is the default view, showing you a real-time view of the watts consumed across the AC, 12V DC and USB ports on the mini. Both the AC and DC parts can be remotely switched through the app, allowing you to disconnect loads even if you aren't standing next to it. You can also manually enable X-Boost mode for higher AC loads (although not as compatible with all devices).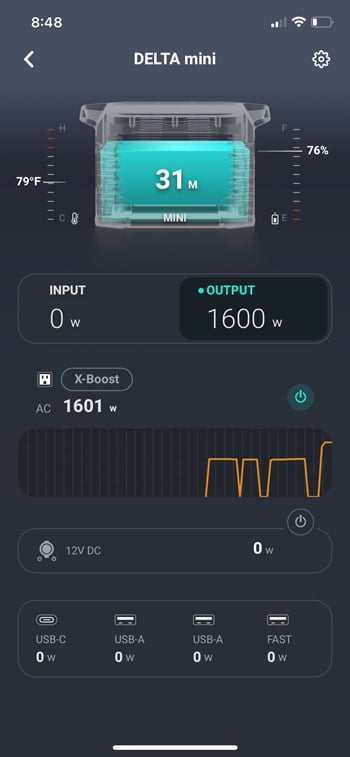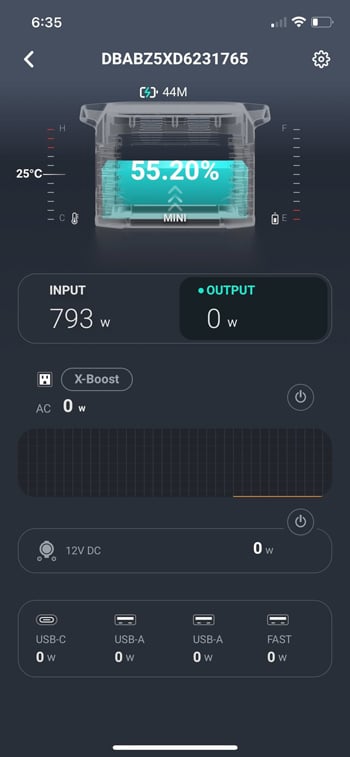 The input side is more basic but focuses on the power supplied by either DC sources (Solar and automotive) or AC. They also give a real-time moving chart of the current incoming or outgoing load, although it starts from scratch if you switch views or exit and re-enter the app view. A historical view would be nice, although honestly, it's still impressive to have this much monitoring presented from the system regardless.
The settings area is equally impressive, opening more functionality that will be appreciated by those using the DELTA mini on a more regular basis. For increasing longevity, or just not wanting to deplete the unit out in the field, EcoFlow lets you set the discharge and charge percentage levels. By default, this is 0 to 100%, but you can tighten that up to narrow the charge cycles for increased battery longevity. Bumping up the discharge from 0% also lets you set a built-in reserve.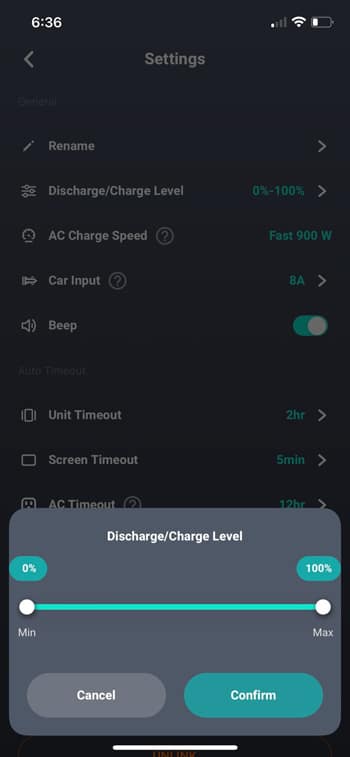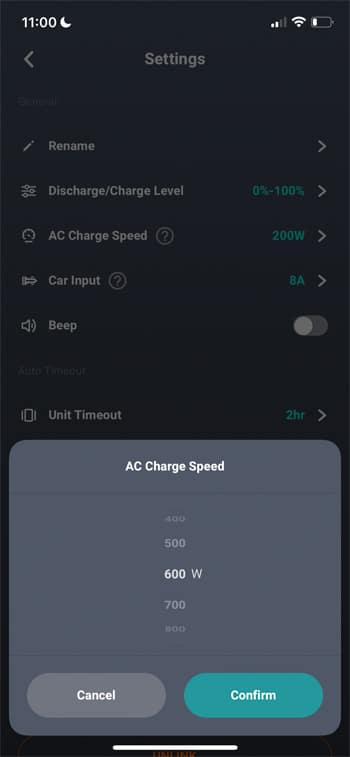 Next are the AC and DC charge settings. While the physical switch on the back of the unit lets you change between the default 200W and 900W fast charge modes, if you keep the switch set to the 200W mode, you can adjust the peak charge rate to a custom level inside the app. You can adjust it from 200 to 900W in 100W increments, which is useful if you want to balance loads from the Power Station versus other devices on the circuit. An example might be fast charging multiple DELTA mini's on the same circuit, without worrying about tripping the breaker. You are also given a similar setting for the car input, which is adjustable from 4A to 8A also in 1A increments.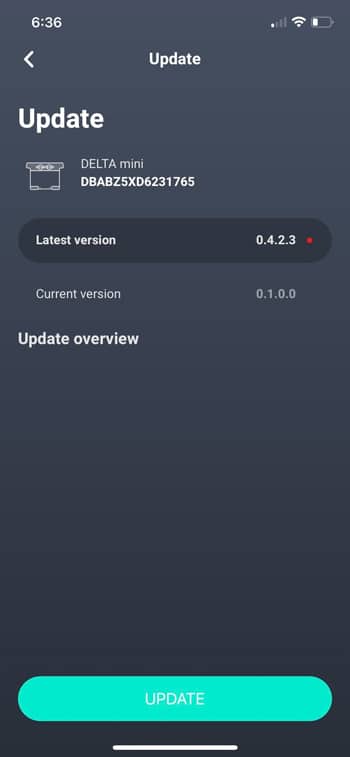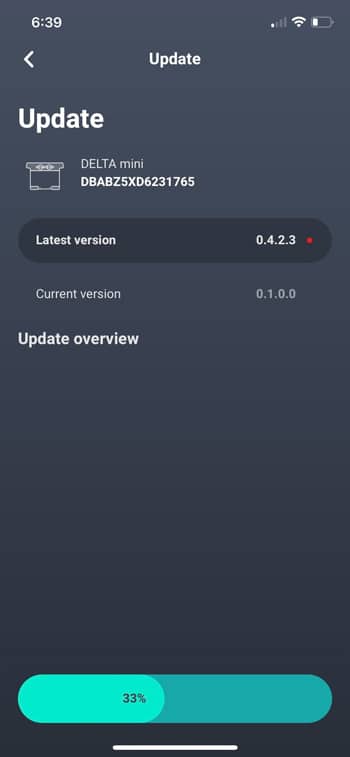 The app also gives you traditional customization options like disabling the beeps during mode switching, unit and screen timeout, as well as AC plug timeout. For a remote excursion, you might not want the AC ports staying on if you accidentally forget to switch them off. For a home office UPS use case though you would want to leave the AC ports on always. You can also view and update firmware through the app, which is handy to keep things current in terms of lifecycle management.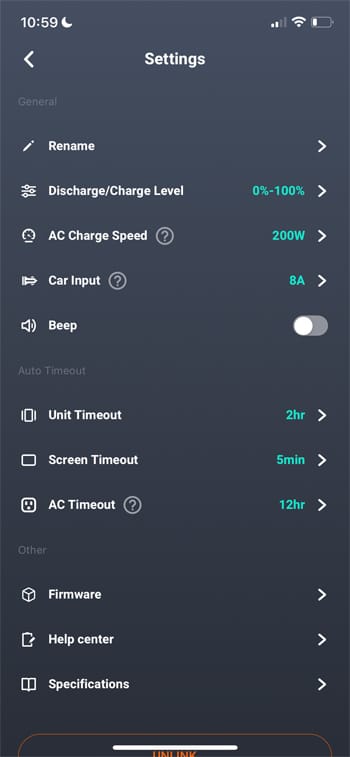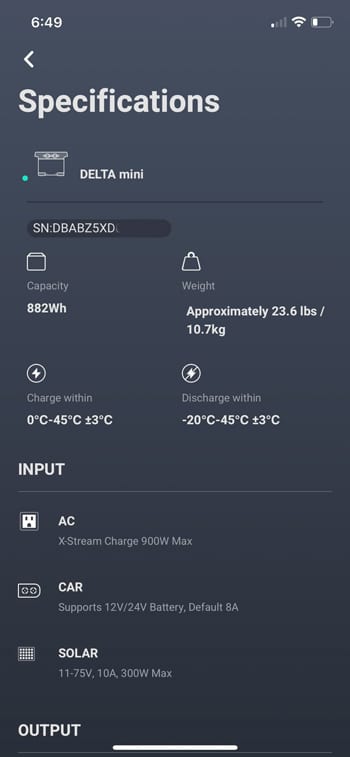 Finally, EcoFlow gives you a Specifications view, which is quite useful. Not everyone memorizes the capabilities of their electrical equipment, so having a reference guide can come in handy. Here you can find all the details for the DELTA mini, and probably similar views for other models in their portfolio. Highlights include the serial number for support, rated capacity, device weight, storage and operating temperature ranges, and all of the input/output ratings. Being able to cross-reference the output capabilities without needing to break out the instruction manual in the field could be invaluable to some.
EcoFlow DETLA mini Specifications
Capacity
Output

Pure Sine Wave AC Output( ×5): 1400W total (Surge 2100W)
Max Device(s) Power Supported by X-Boost: 1800W
USB-A Output( ×2): 5V, 2.4A, 12W Max
USB-A Fast Charge(×1):5V, 2.4A / 9V, 2A / 12V, 1.5A, 18W Max
USB-C Output(×1): 5/9/12/15/20V, 5A, 100W Max
Car Power Output(×1): 12.6V, 10A, 126W Max
DC5521(×2):  12.6V, 3A

Input

AC Charging: 900W
Solar Charging: 300W Max, 11-75Vdc, 10A
Car Charging: Supports 12V/24V Battery, Default 8A

Battery

Battery Chemistry: NCM Li-ion
Cycle Life: 800 cycles to 80%+ capacity
Shelf Life: 1 year

Connectivity
Wi-Fi supported
Dimension
14.9 × 7.2 x 9.4in /
37.8 × 18.4 x 24cm
Weight
23.6lbs / 10.7kg
Charge Times

AC Wall Outlet: 1.6 hrs (900W)
Car Charger: 9.5hrs (96W)
110W Solar

1 Set: 10-20 hrs
2 Sets: 5-10 hrs
3 Sets: 3.3-6.6 hrs

160W Solar

1 Set: 7.5-15 hrs
2 Sets: 3.7-7.4 hrs

400W Solar

Testing and Certifications
EcoFlow 220W Bifacial Solar Panel
EcoFlow also supplied their new 220W Bifacial solar panel with the DELTA mini, which has an interesting element to help drive more flexibility for a Portable Power Station. As the name implies, the design is Bifacial, which in simple terms means it can absorb light from both sides.
The front side offers 100% of its 220W rating, the rear is rated for 155W. Now, this doesn't mean you add both sides together for something greater than 220W, instead, the front absorbs the bulk of the power, and the rear when propped up captures some of what is reflected off the ground, a bit of a solar bonus.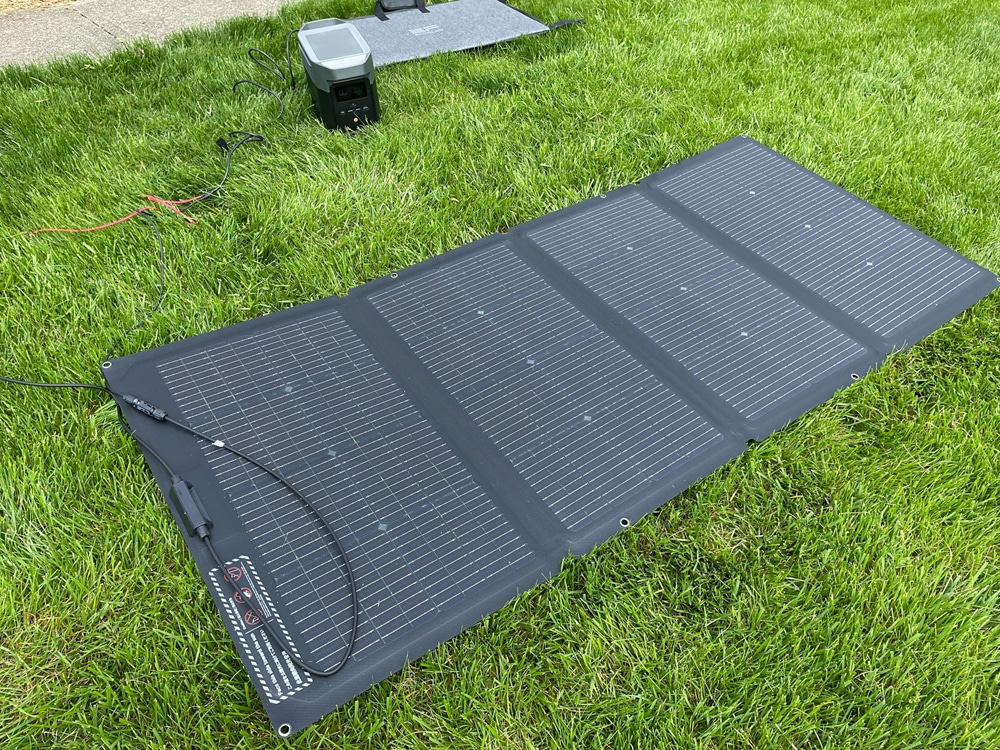 EcoFlow gives some examples of reflectivity of different surfaces and even claims if you set up mirrors behind the panel you can get up to 80% more power than you'd otherwise be able to capture. For real-world conditions most probably won't be setting up mirrors, but it does go beyond what you'd normally find from a traditional solar panel.
The manual also states that if the sun is overhead, you will still get the most power from laying the panel flat on the ground. The rear-side absorption is really from different parts of the day where the sun is coming in from steeper angles where you are trying to get every last watt of power into the battery.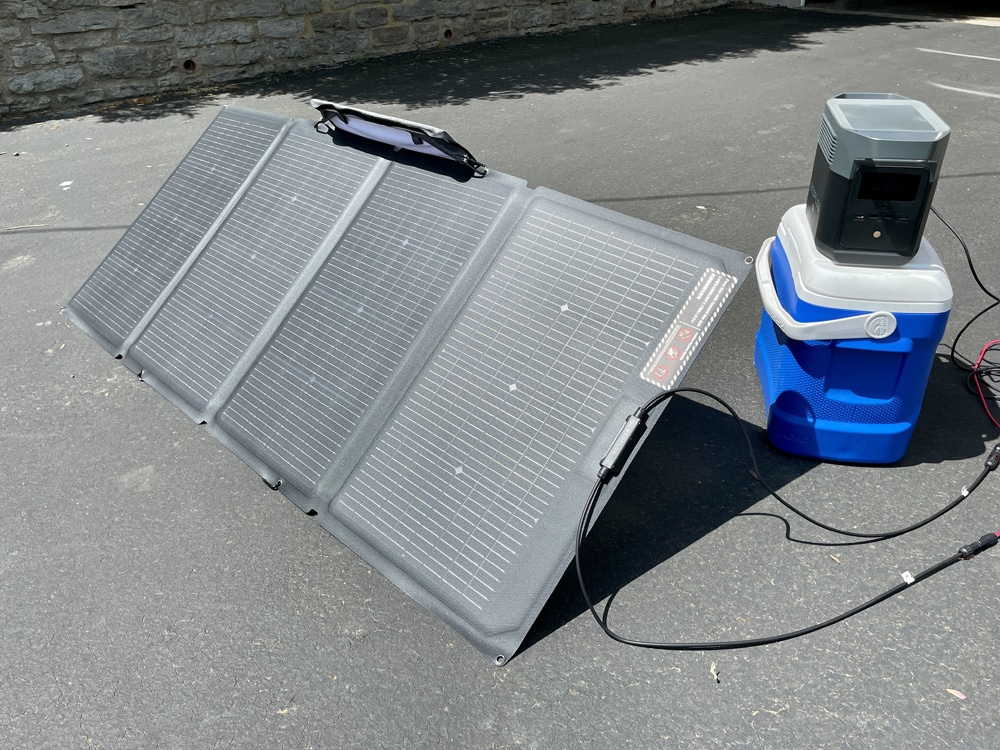 For reference, here's the energy reflected off common surfaces:
Grass: 7.21%
Cement: 9.54%
Sandy Land: 9.84%
Snow: 14.83%
Mirror: 24.85%
Both the EcoFlow Solar panel and DELTA mini are compatible with a wide range of other devices, there's no platform lock-in here. You can connect the DELTA mini to most solar panels with MC4 outputs that fall within the supported voltage ranges and the solar panel has those same universal MC4 connectors that make it work with 3rd party Power Stations.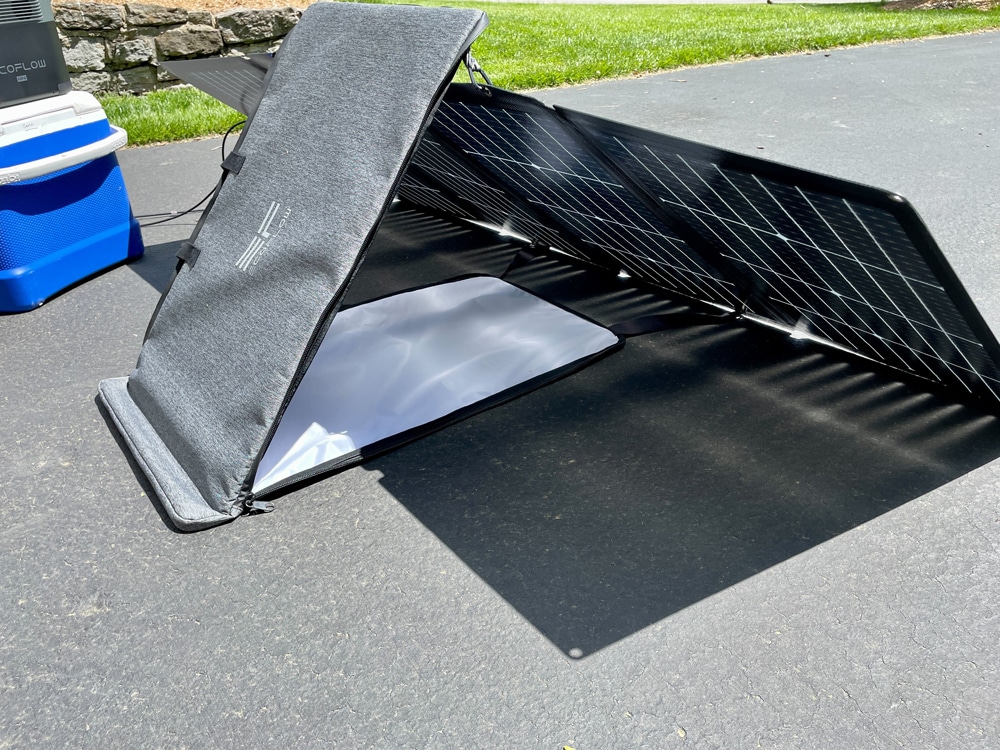 During our use with the 220W Bifacial Solar Panel, we saw strong performance even during partly cloudy conditions. With a slightly overcast sky, we saw between 70 and 160W as clouds partially blocked the sun. On a bright day without overhead clouds, those rates jumped to 170-180W. The interesting element was tilting forward the solar panel off the ground though, increasing the power output by 10-20W.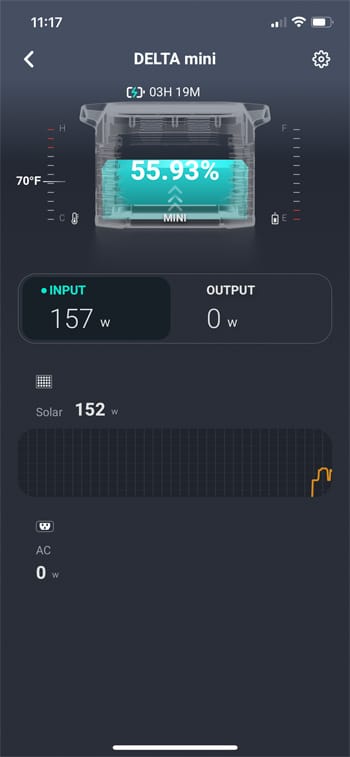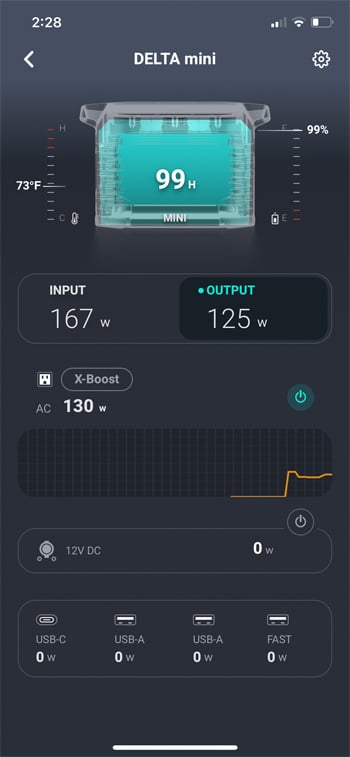 The strength of the DELTA mini paired with a high-performing solar panel is that you can charge the battery while also supplying power at the same time. During our testing, we leveraged this capability to keep the DELTA mini topped off while also providing power to a smaller 125W load over the AC inverter. The unit operated on a net-positive charge rate, where we were supplying our power and adding to the charge at the same time. Solar is a field with many variables, so actual results can differ. But it's incredibly useful to keep operations going while charging the portable power station at the same time.
EcoFlow 220W Bifacial Solar Panel Specifications
Rated Power

220W Front Side/155W Rear Side

Efficiency
Cell Type
Dimensions

82 x 183 x 2.5cm
32.3 x 72.0 x 1.0 in

Connector Type
Open Circuit Voltage
Short Circuit Current

13A (Imp 12.0A) Front Side/ 8.8A (Imp8.4A) Rear Side

Weight (Solar Panel)
EcoFlow DELTA mini Field Use
Having power on tap in any situation is a valuable asset, which is why this Portable Power Station market is growing as fast as it is. The DELTA mini offers 1400W of power (2100W peak) under normal usage giving you a lot of power without compromises. To put this in comparison, most household devices are designed around a 1400-1500W peak limit to fit the 15A breaker size found in most homes and businesses. This puts the DELTA mini in the sweet spot of covering most items that can connect into a common plug, and many bigger draw items that don't care about power quality when running in X-Boost 1800W mode.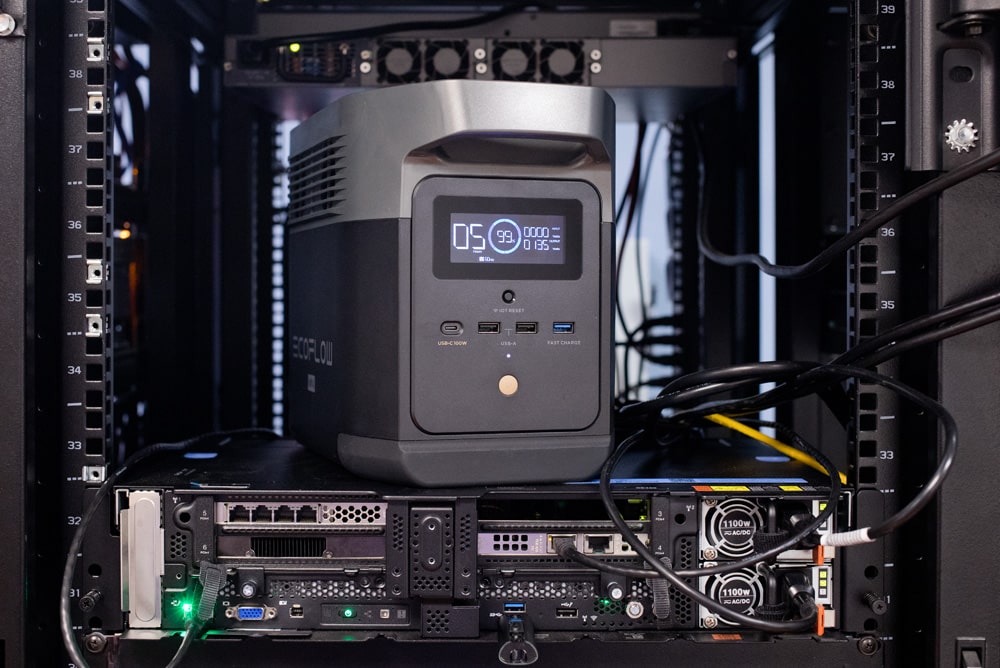 In an IT setting, having power on hand even for mobile devices is an important role. Many workstation-class notebooks draw power at a fast pace and running off its battery can have limits on CPU and GPU performance. Connecting to a power source for short to intermediate usage can help get the job done faster or keep systems going that would otherwise drain rapidly on internal batteries. Then pile on non-battery-powered accessory devices like networking switches, shared storage devices for collaboration, or even external monitors where an external AC power source becomes a requirement to keep things running.
One example of the slightly larger DELTA being used in the field is from our resident Digital Imaging Technician, Vince Carnevale. He uses it to get workstations and monitor carts up and running while filming on-location before the electric department can provide generator power. Used in connection with a UPS, the DELTA provides a few hours of runtime, giving DITs and the cinematographer the ability to get to work right away.
The UPS is still leveraged in this situation since the equipment they are operating has power-loss tolerances less than 30ms, which is the switchover time the DELTA series can react with. The UPS gives the sensitive equipment its needed buffer, while the EcoFlow DELTA offers the bulk power source for the cart. With the fast charge time, once power becomes available the DELTA is able to quickly recover its charge capacity to get ready for the next occurrence.
In edge IT deployments standing up equipment for initial configuration may mean supplying your own power for a while. Here the DELTA mini can be leveraged to get servers operational for a period of time before you get them wired into their final production environment. We tested the DELTA mini with the 3-node Supermicro Edge IoT server, which had no problem standing it up in our lab.
In the field you might need to power it up say inside your truck, and confirm settings are correct before finalizing your deployment. The mini wouldn't be the permanent power source, but instead, one that gives you 30-60 minutes of runtime to perform specific tasks before the final installation.
Final Thoughts
In the Portable Power Station market, EcoFlow has shown some serious strength with the DELTA mini and their broader portfolio. It hits all the right buttons, covering a large capacity, powerful inverter, onboard fast charger, and an impressive remote management platform.
While the mini is the smallest unit in the DELTA series, EcoFlow scales up to a huge ecosystem covering large power stations, solar panels, and associated equipment. For the smaller shop looking to stand up hardware in the field or the media professional getting ready for a shoot, EcoFlow has carved out a niche for themselves with the DELTA series.
EcoFlow DELTA mini Portable Power Station
Engage with StorageReview
Newsletter | YouTube | Podcast iTunes/Spotify | Instagram | Twitter | Facebook | TikTok | RSS Feed