SandForce's SF-1200 controller has more or less taken the Solid State Drive world by storm, and with good reason. SandForce-based drives provide performance that's consistently near the top of the heap, and benefits from not requiring DRAM for caching. It's an appealing piece of hardware to build an SSD around so it's no small surprise that so many manufacturers have opted to do exactly that. In this case, we're looking at the G.Skill Phoenix Pro SSD family.
SandForce's SF-1200 controller has more or less taken the Solid State Drive world by storm, and with good reason. SandForce-based drives provide performance that's consistently near the top of the heap, and benefits from not requiring DRAM for caching. It's an appealing piece of hardware to build an SSD around so it's no small surprise that so many manufacturers have opted to do exactly that. In this case, we're looking at the G.Skill Phoenix Pro SSD family.
G.Skill has a complete line of capacities in the Phoenix Pro series, in addition to our 40GB (FM-25S2S-40GBP2) review unit, they offer just about every other option up to 240GB. And if you're starting to get a little underwhelmed – yet another SandForce SSD review – don't be. Our testing has shown that while the controller itself is fairly powerful, different manufacturers have tuned their drives in different ways, producing a playing field that's seemingly level but populated with an alarming number of devils in the details.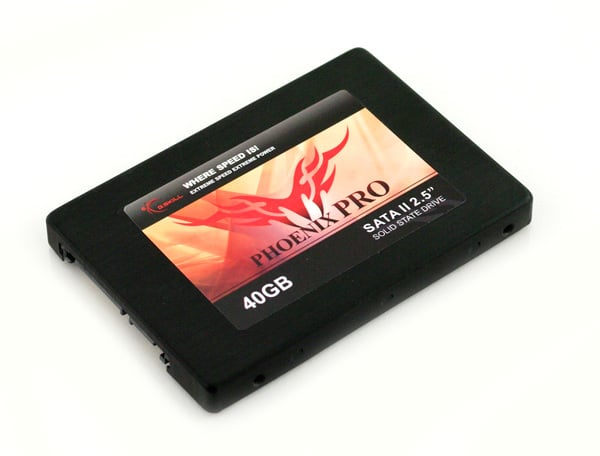 G.Skill Phoenix Pro Specifications:
FM-25S2S-40GBP2
 – 40GB unformatted capacity
Controller SandForce SF-1200

Form Factor 2.5″ (3.5″ adapter included)
SATA 3Gb/s
Read Rate 280MB/sec maximum
Write Rate 270MB/sec maximum
IOPS Up to 50000 (disk aligned ; 4KB random write)
Operating Temp. 0oC ~ +70oC
MTBF +2,000,000 Hours
Data Reliability Built-in EDC/ECC function
Certifications RoHS FCC and CE Compliant
Warranty 3 years
Aesthetics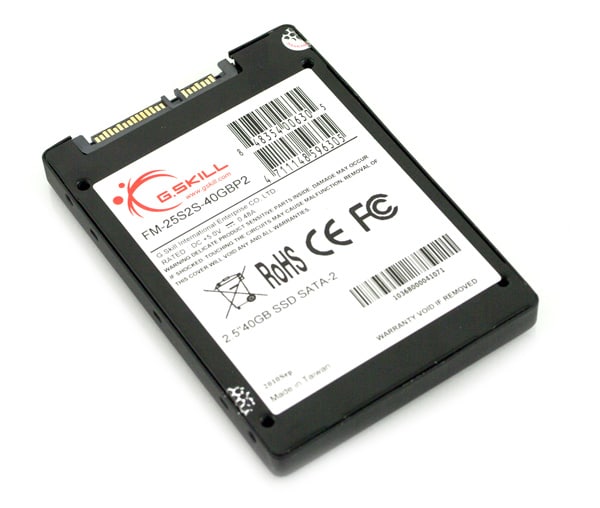 The G.Skill Phoenix Pro features an attractive if understated black shell with the traditional specification label on the bottom and brand label on the top surface. The unique aspect of this drive that we go further into in the disassembly section is that it has no screws holding it together. It is completely secured by metal tabs on the long sides of the top and bottom cover.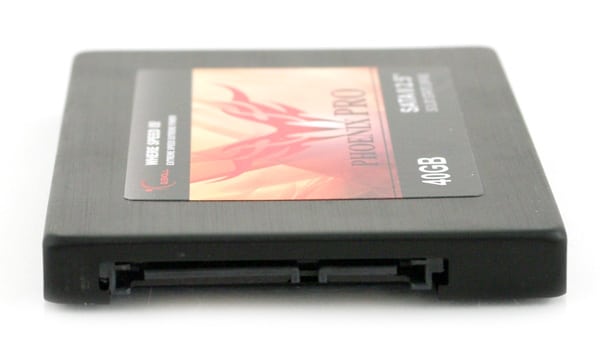 On the front is the standard SATA data and power connection, with no test-pins located near the connector. We have actually seen very few newer SSDs with debug-style pins, with most updating the firmware without having to go into any special mode.
G.Skill also includes a metal plate that will let the drive fit into a 3.5″ desktop bay. Fewer than half the retail SSD kits come with this sort of thing included, making it worth noting.
Disassembly
The drive is pretty standard, but don't expect to actually get inside it without a high degree of risk. While we like to disassemble our review units to get a good look at their internals and how things are laid out, the Phoenix Pro has no Torx screws or any other way to actually dismantle it. This is one of the few SSDs we've seen that's bound by clips instead of screws. The two metal covers tightly snap together with small indentation clips. As the top cover slides over the bottom, the notches line up and produce a very strong grip.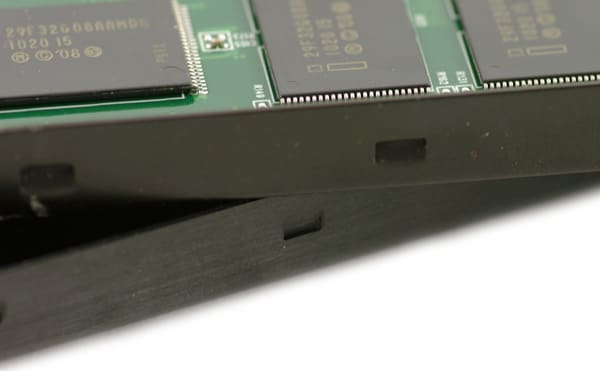 We did prevail though to get our readers high-quality photos of the PCB. An old credit card and a little good luck proved to be good enough to get the job done. Considering the lack of ease and the fact you void the warranty when just trying to open it, we don't suggest you do this.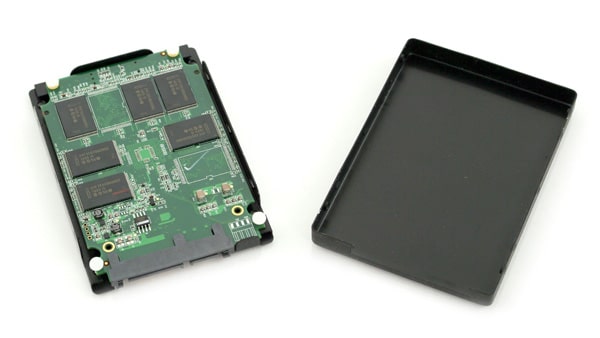 Inside, the G Skill Phoenix Pro 40GB SSD is powered by the SandForce SF-1200 controller, with 12 4GB Intel 29f32g08aamdb modules (six top and bottom).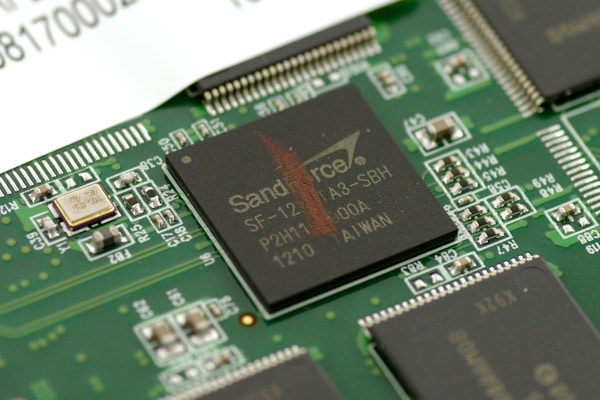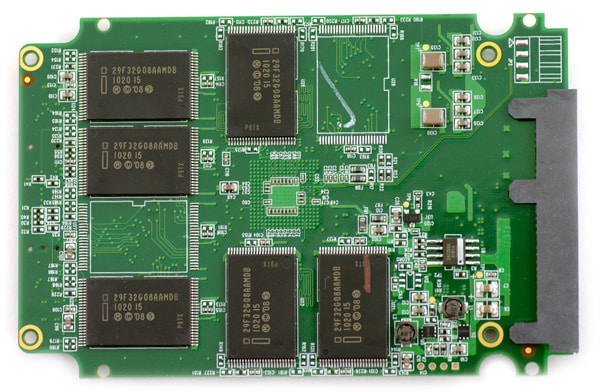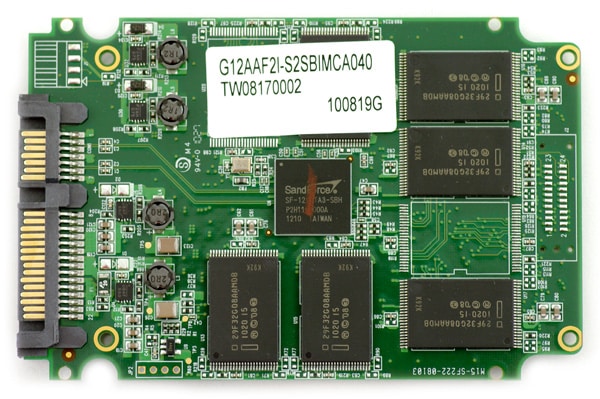 Synthetic Benchmarks
Just like our tests with the Corsair F40 and the Patriot Inferno, the bulk of our comparison units here against the G.Skill Phoenix Pro are other SF-1200 based drives. The two outliers are Intel's X25-M and X25-V (40GB) SSDs. Our test bench is a Dell XPS 9000 with drives benchmarked through the 3.0Gbps Intel ICH10R SATA controller, running in AHCI mode with TRIM enabled. We use Microsoft Windows 7 Home Premium 64-bit.
Our synthetic benchmarks are done using IOMeter and CrystalDiskMark to get a general feel for performance before launching into real world testing. For testing SSDs, we use the standard 512-byte test alongside a 4K test.
We start out with IOMeter's 2MB sequential transfer test; this test is helpful in seeing how well the drives can hit their advertised transfer speeds.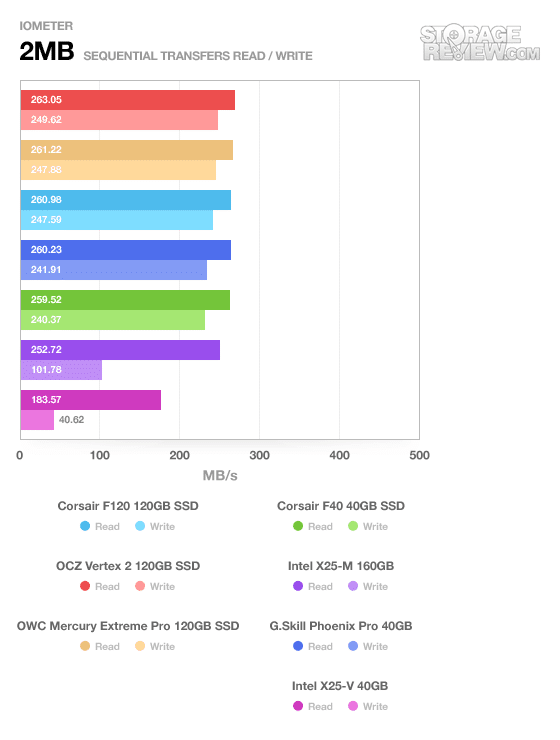 Our SF-1200 drives all cluster up pretty well here; they easily outpace the Intel drives but none of them stand out. The G Skill Phoenix Pro managed 261MB/s read and 241MB/s write.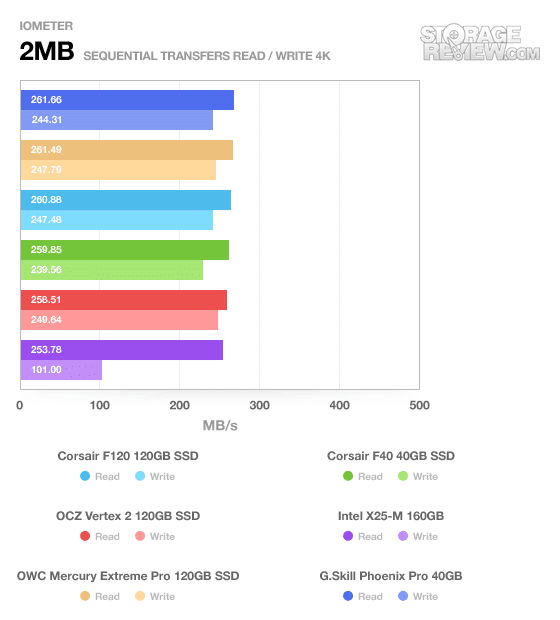 Switching it up to a 4K load doesn't produce any appreciable differences between the drives outside of the Corsair F40's comparatively low write performance. The Phoenix Pro neither excels nor disappoints, merely keeping pace.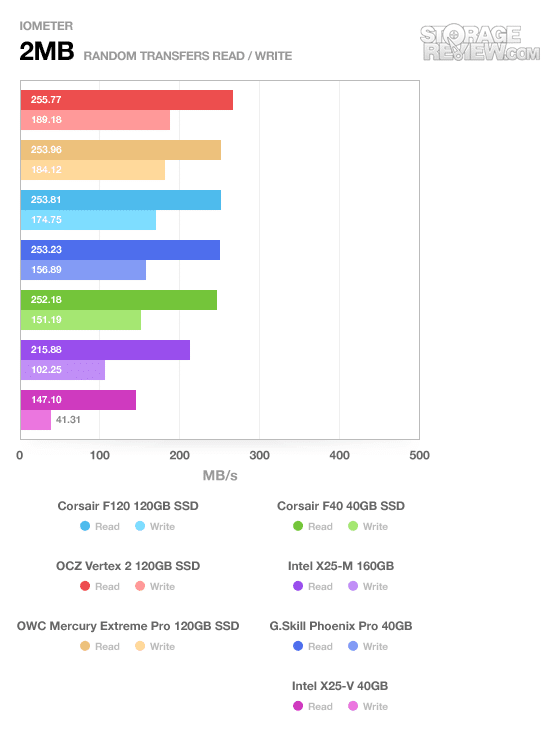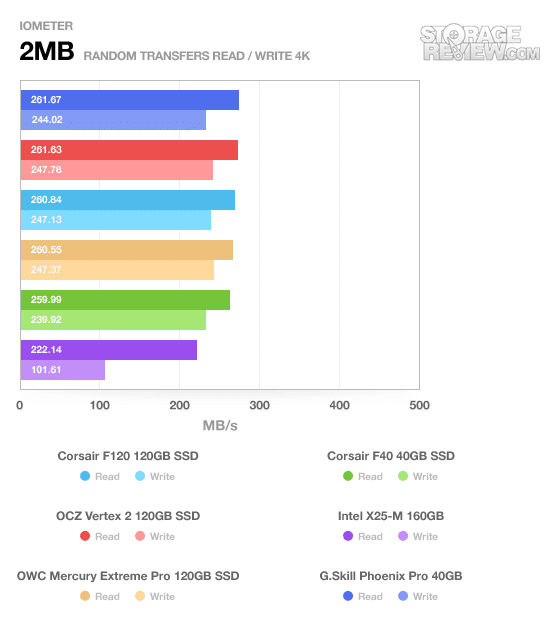 The random transfer tests start to separate the men from the boys, but it's here that the Phoenix Pro has a hard time keeping up random write pace against the larger drives. Compared to the Corsair F40, it had a 4-5MB/s lead in write speeds in both tests. Switch to the 4K load, though, and suddenly everything plateaus. It's still not hitting quite as high as some of the other entrants, but the performance difference isn't really noteworthy either.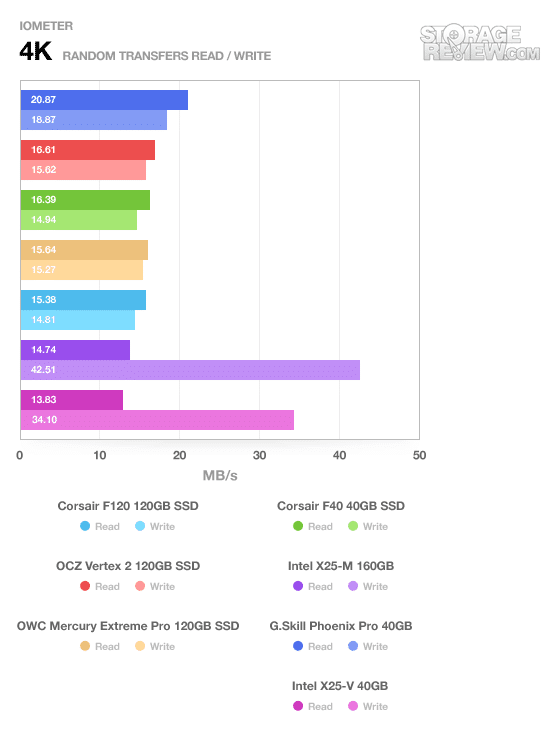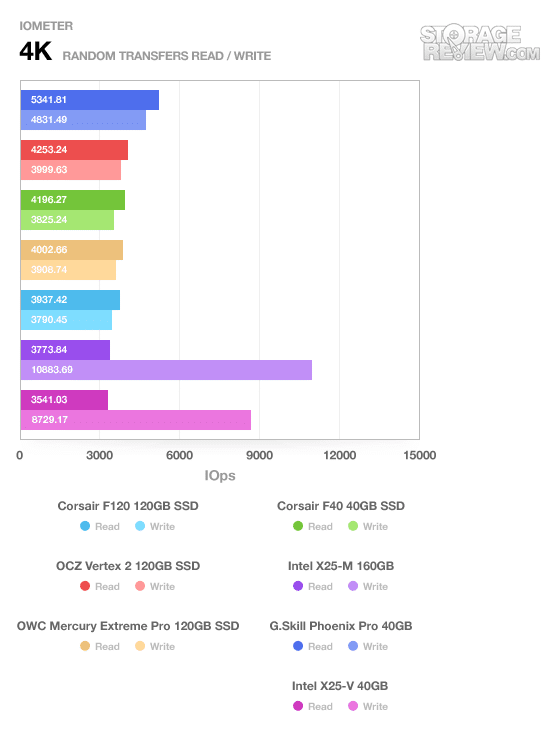 Now those are interesting results. When we start measuring random 4K transfers, the Phoenix Pro takes a substantial lead over the other SF-1200 drives. G.Skill's drive is able to produce much higher numbers of read operations than the competition and this translates into a decent lead in actual data transfer speeds.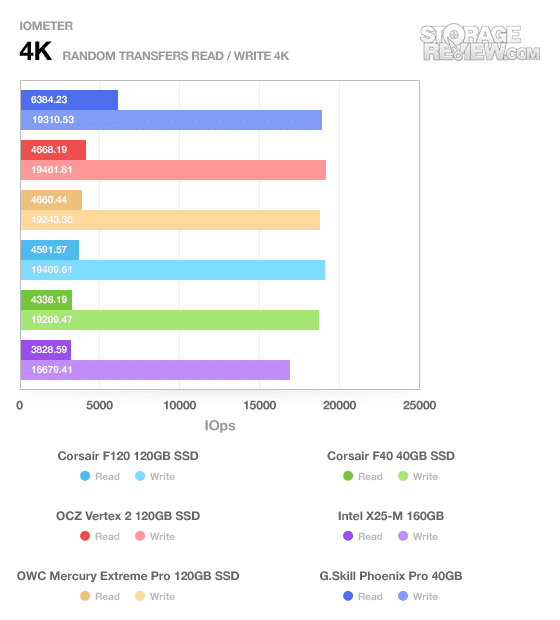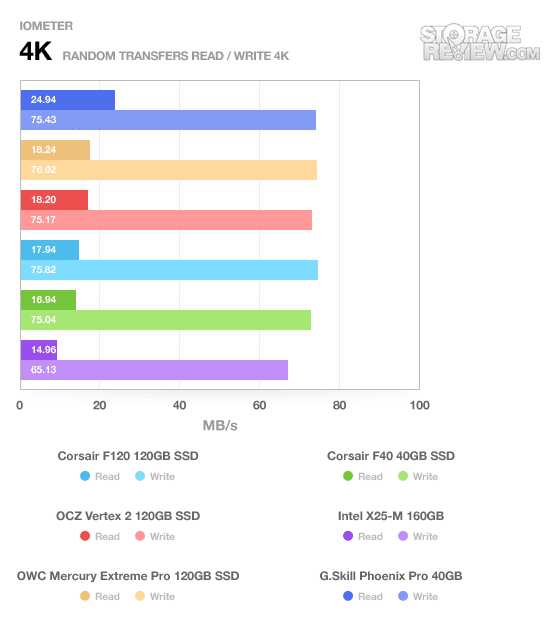 Switch it up to the 4K-alignment and the hits keep coming. G.Skill's Phoenix Pro continues to lead the other SandForce drives.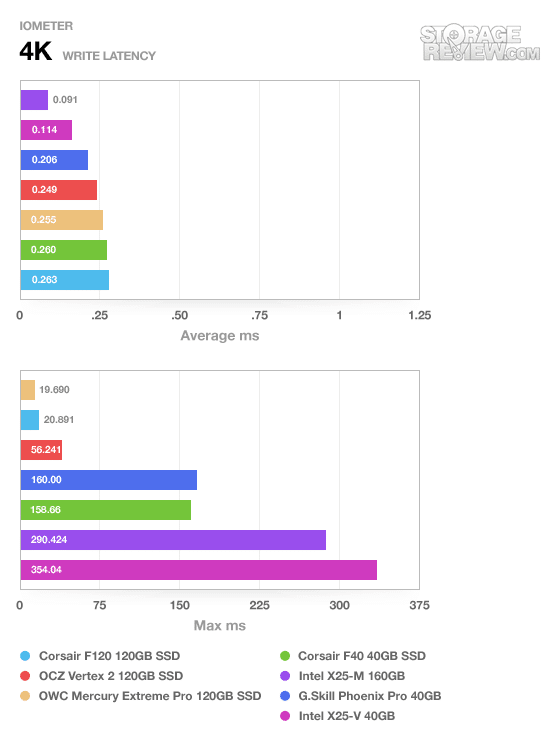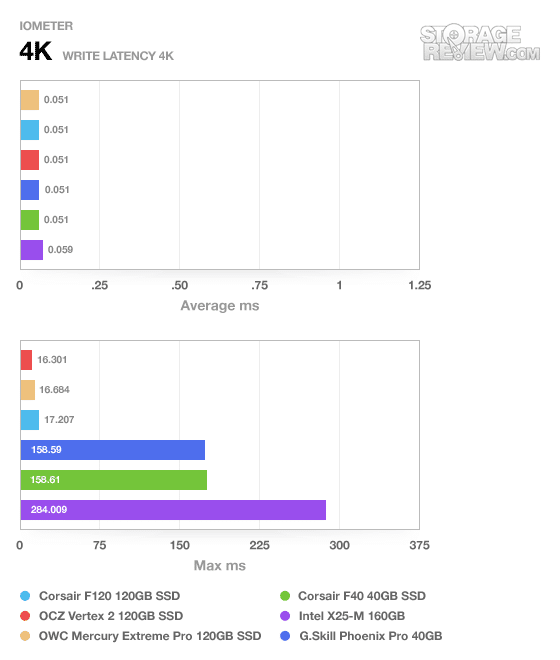 Unfortunately once we get to latency we see the Phoenix Pro producing among the worst peak numbers in the lot. Only the Corsair F40 has similar problems; the other SandForce drives leave them in the dust.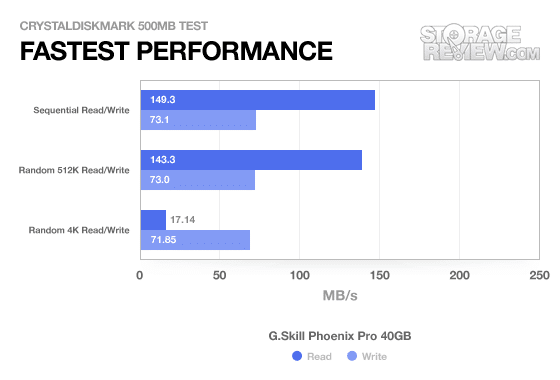 CrystalDiskMark is nowhere near as kind to the Phoenix Pro as IOMeter is; read speeds are half what they are in IOMeter, and write speeds plunge to a third.
We'll go back to IOMeter, though, and see how G.Skill's drive fares in simulated workloads.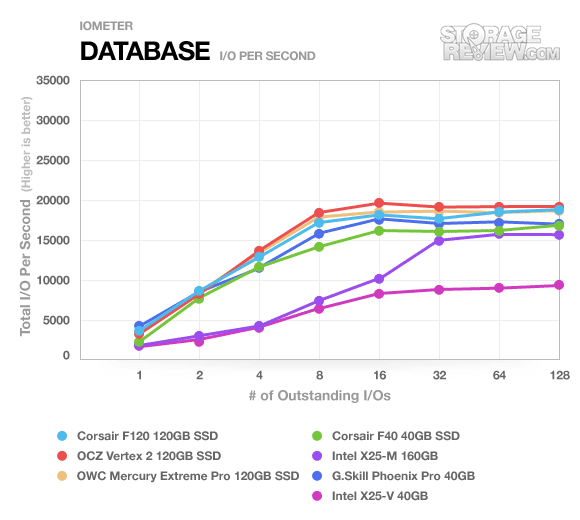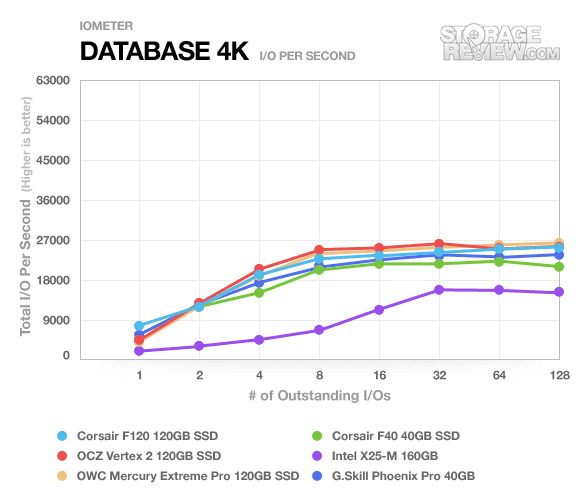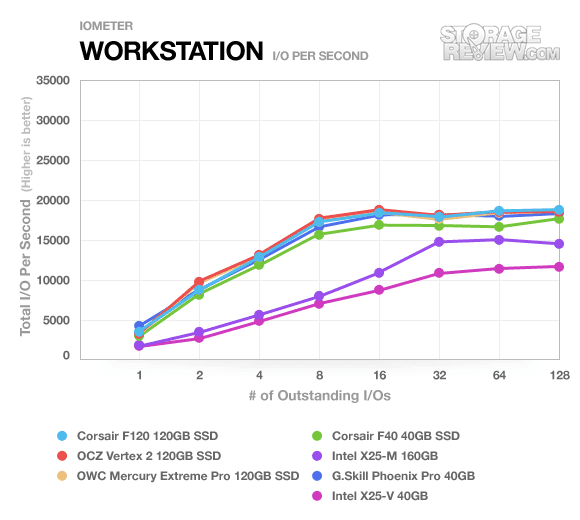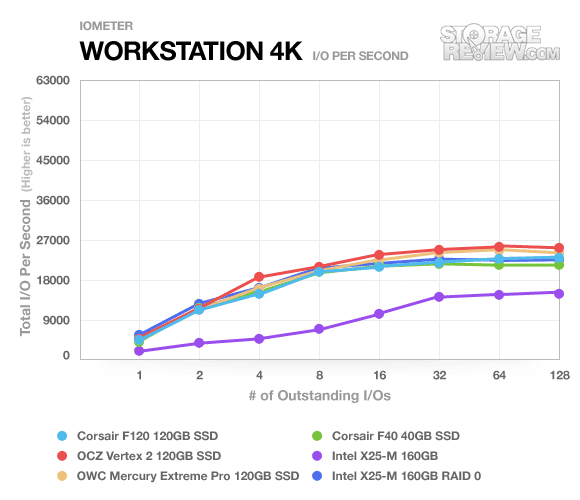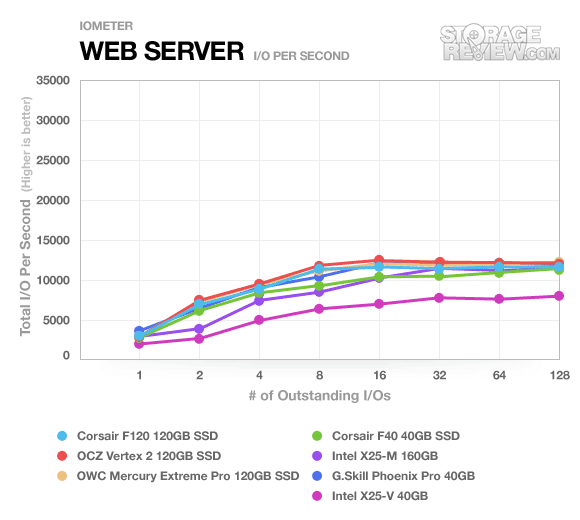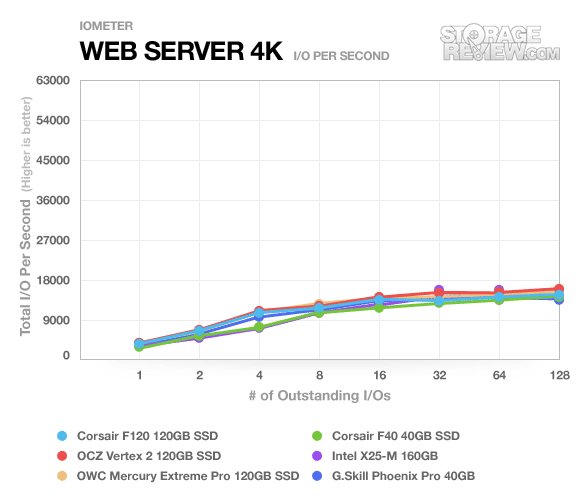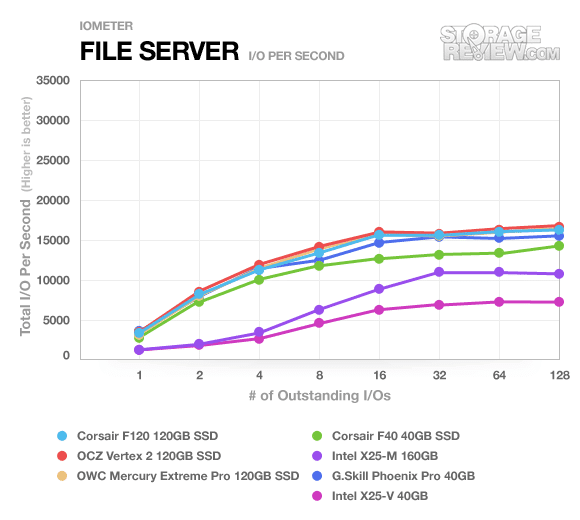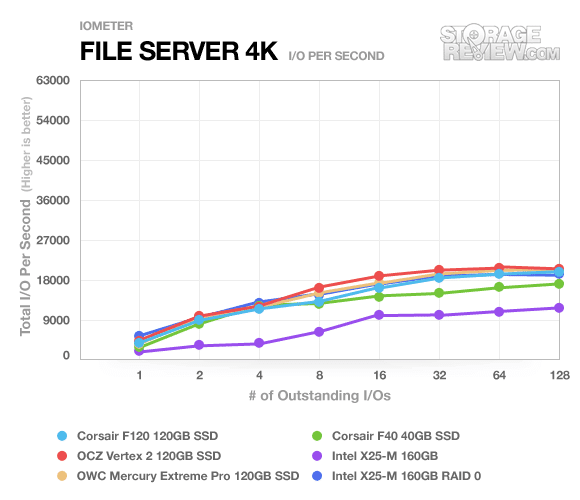 G.Skill's Phoenix Pro falls into the middle of the pack with the other SandForce drives, although Corsair's F40 doesn't seem to fare as well as the others.
Real-World Benchmarks
With the synthetics out of the way, we have a healthy understanding of how we can expect the G.Skill Phoenix Pro to perform in real life workloads. The expectation is that it'll more or less fall in line with the others, although the odd peaks we've seen with random accesses may surface.
For all of our real-world benchmarks we use custom StorageMark 2010 traces and try to work the drives the way a regular user might in varying scenarios.
The first trace is the "HTPC" test, which includes playing one 720p HD movie in Media Player Classic, playing one 480p SD movie in VLC, downloading three movies simultaneously through iTunes, and recording one 1080i HDTV stream through Windows Media Center over a fifteen minute period.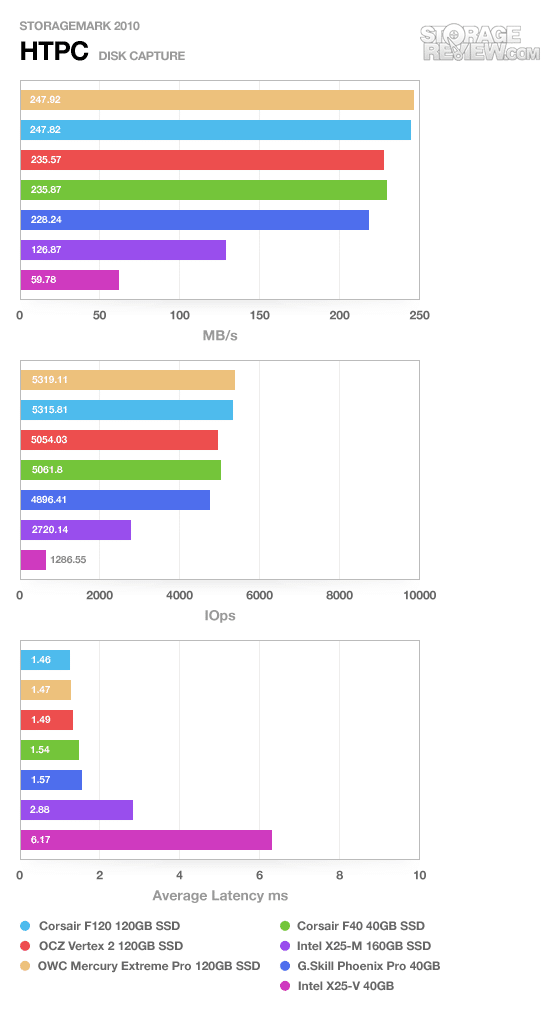 While there isn't a massive performance gulf between the best and worst SandForce drives, it's nonetheless disappointing to see the Phoenix Pro sit consistently at the back of the pack. It's faster than the Intel drives, but it's having trouble keeping up with its kin.
The second trace is the "Productivity" test, which consists of: a three hour period operating with 32-bit Vista running Outlook 2007 and connected to an Exchange server, browsing the internet with both Google Chrome and Internet Explorer 8, editing files in Office 2007, viewing PDFs in Adobe Reader, an hour of local music playback, and then two additional hours of streaming online music from Pandora.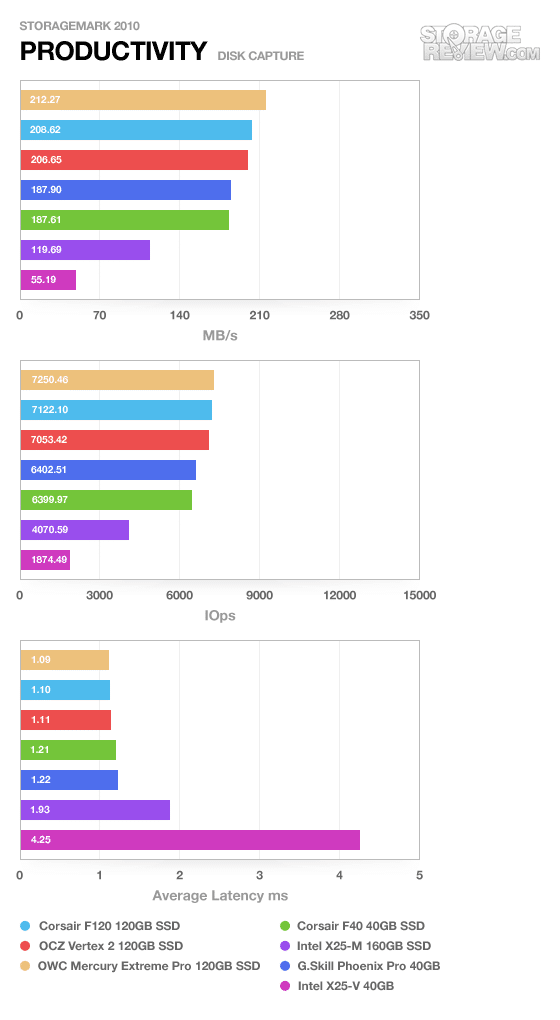 Again the Phoenix Pro places near the back of the pack, due to the slight limitations the 40GB SF-1200 SSDs see. It's not a crushing loss, but it seems to be bosom buddies, as we'd expect, with the Corsair F40 again while the other drives – particularly the OWC Mercury Extreme Pro – remain at the top of their game.
The third and final trace is the "Gaming" test; this test is almost entirely read-based, and consists of Windows 7 Ultimate 64-bit configured with Steam, and traces performance loading and running Grand Theft Auto 4, Left 4 Dead 2, and Mass Effect 2.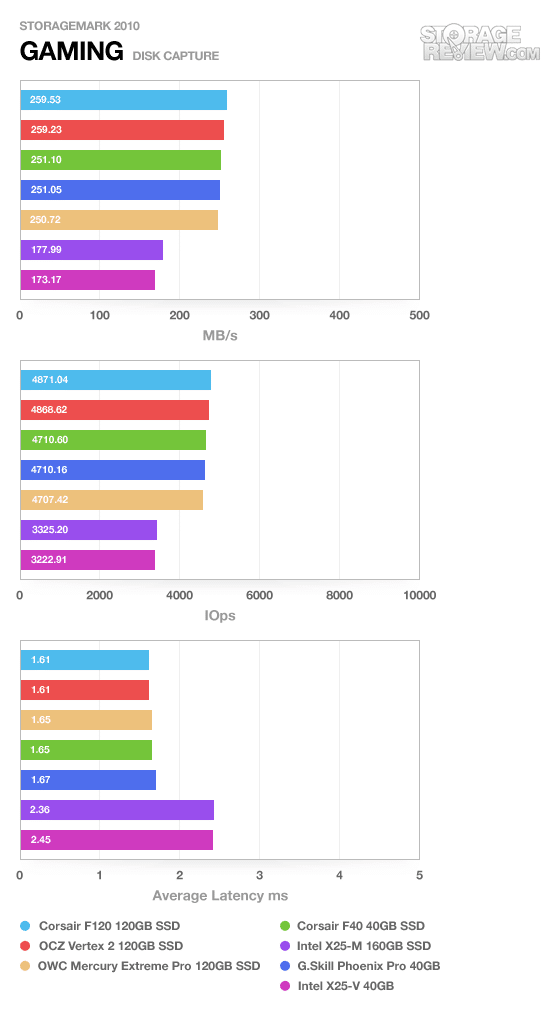 Here the Phoenix Pro fares roughly the same, in the range we'd expect for a 40GB drive in this class.
Power Consumption
None of the SandForce-based drives we've tested yet have had particularly high power consumption, and we don't expect that trend to change with the Phoenix Pro.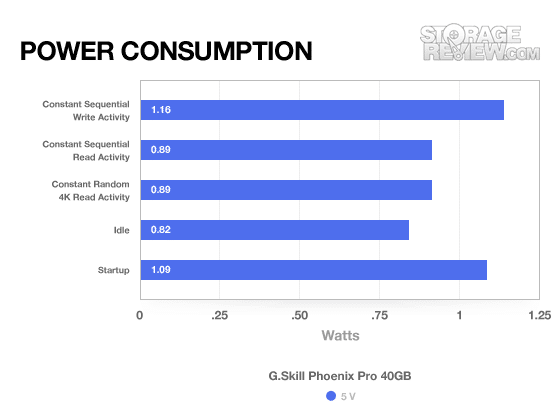 And indeed it doesn't. That said, it's slightly higher than the other drives we've tested, second only to the Patriot Inferno in terms of draw. Still, it's hard to complain about a peak draw of 1.16 watts, which is still well below any mechanical drive.
Warranty
G.Skill covers the Phoenix Pro with the industry-standard three year warranty; no surprises here, this is the same warranty nearly every other competing drive sports.
Conclusion
At the end of the day, G.Skill's drive is going to have to compete the same way most SandForce-based drives have to: on price. Overall the Phoenix Pro is neither the fastest nor slowest drive in our lineup, but as a result it doesn't draw any attention to itself either, falling pretty much in line with the 40GB Corsair offering we reviewed. Markedly high peak latency results in synthetic tests raise flags that don't quite bear themselves out in real-world testing, and what we're left with is "well, it's a SandForce drive." There's nothing wrong or spectacular with the Phoenix Pro, it's another "Steady Eddie" performance and definitely worth buying if the price is competitive with the market and you're looking for a small capacity boot drive.
Pros
Performance falls in line with other SF-1200 drives
Impressive random transfer performance
Cons
Doesn't acquit itself particularly well in any real-world disciplines
High peak latency
Bottom Line
The G.Skill Phoenix Pro is another SandForce drive, bringing all the benefits that come with it but struggling to carve out a niche for itself. That's not a bad thing though because the SF-1200 niche is a good one to be in. The reliable performance makes the Phoenix Pro a great option for those seeking a low capacity SSD.