The HP mt45 client is geared towards mobile virtual desktop infrastructure (VDI) users that need a very powerful laptop form factor VDI client. To give a brief overview of its specifications, the HP mt45 is a laptop format, thin client that has a 14" screen, with multiple ports, is powered by an AMD Ryzen CPU with integrated Radeon GPU that runs HP ThinPro or Windows 10 IoT enterprise operating system. It supports all major VDI environments as well as a HP RGS. It has a few features that we have not seen on other VID clients such as an outward facing third microphone, loud speakers and collaboration keys.
The HP mt45 client is geared towards mobile virtual desktop infrastructure (VDI) users that need a very powerful laptop form factor VDI client. To give a brief overview of its specifications, the HP mt45 is a laptop format, thin client that has a 14" screen, with multiple ports, is powered by an AMD Ryzen CPU with integrated Radeon GPU that runs HP ThinPro or Windows 10 IoT enterprise operating system. It supports all major VDI environments as well as a HP RGS. It has a few features that we have not seen on other VID clients such as an outward facing third microphone, loud speakers and collaboration keys.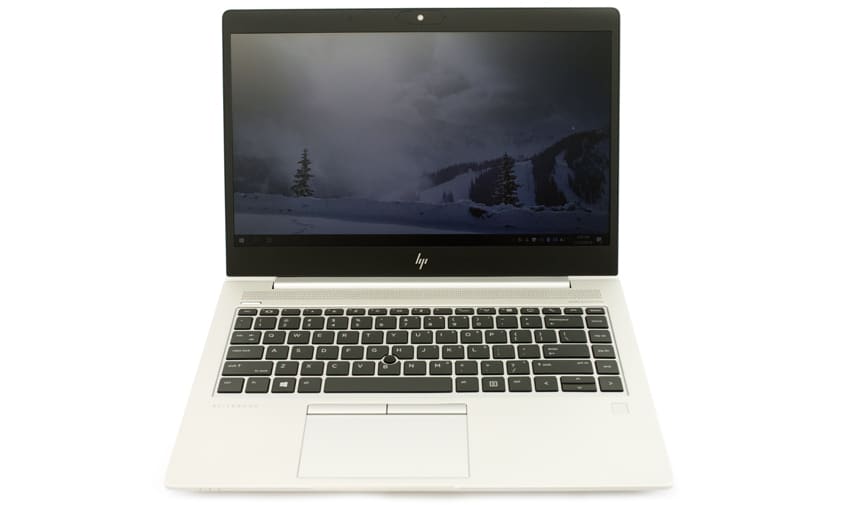 In this article, we will give an in-depth overview of the HP mt45 VDI client's specifications, design and build quality, and a summary of the testing that we carried out on it over two weeks. We will then lay out the key findings from those tests and provide our thoughts about the device and briefly discuss who would benefit from this product.
HP mt45 Specifications
Manufacturer
HP
Model
HP mt45
Part No.
7FP74AA#ABA
MSRP
$679 USD
Client type
mobile thin client
Form factor
14" laptop
OS
HP ThinPro or Windows 10 IoT
Supported remote display protocols
Microsoft RDP
HP RGS
VMware Horizon RDP/PCoIP, Blast Extreme
​Citrix ICA/HDX (not all OS support all protocols)
CPU
AMD Ryzen 3 PRO 3300U APU with Radeon Vega 6 Graphics
Memory
8GB
Storage
128GB SATA-3 SSD
Display
Built-in 14″ diagonal FHD IPS anti-glare WLED-backlit touch screen (1920 x 1080)
One additional monitor at 3840 x 2160@60Hz
Battery capacity
HP Long Life 3-cell, 50 Wh Li-ion
Power
19V, 65W, 3.33A external power adapter
Ports
1 x USB Type-C (Alt Mode)
1 x USB 3.1 Gen 1 (Charging)
1 x HDMI 2.032
1 x RJ-45 / Ethernet
1 x Docking connector
1 x Headphone/microphone Combo
1 x AC power
1 x SIM card slot16
1 x Smartcard reader16
Multimedia
Audio by Bang & Olufsen
Integrated 3 Multi-Array Microphone
2 x Integrated Stereo Speakers
3.5 mm audio out/in jack
Network connectivity
RJ45 – 10/100/1000Mb
Intel Dual Band Wireless-AC 9260 802.11a/b/g/n/ac (2×2) Wi-Fi
Bluetooth 5 Combo
Intel XMM 7360 LTE-Advanced Cat 9 (optional)
NXP NPC300 Near Field Communication Module (optional)
Native Miracast Support
Keyboard
Full keyboard with numeric key (spill resistant)
Touch Pad
HP Clickpad with multi-touch gestures enabled
Webcam
720p HD camera (with privacy shutter)
720p HD+IR camera (optional)
Physical size
12.8 x 9.2 x 0.7 in (32.6 x 23.4 x 1.8 cm)
Physical weight
3.5 lbs (1.5 kg)
Color
Silver
Compliant standards
UL, CSA, FCC, Energy Star, EPEAT 2019, and many others
Warranty
1 & 3-year parts and labor warranty available
Design and Build
The cardboard packaging box that the device came in was heavy and well designed, the device itself was nestled between two black foam blocks and wrapped in a plastic bag, and it had a piece of black material between the screen and the keyboard. The box also contained the power supply, and a warranty and setup guide.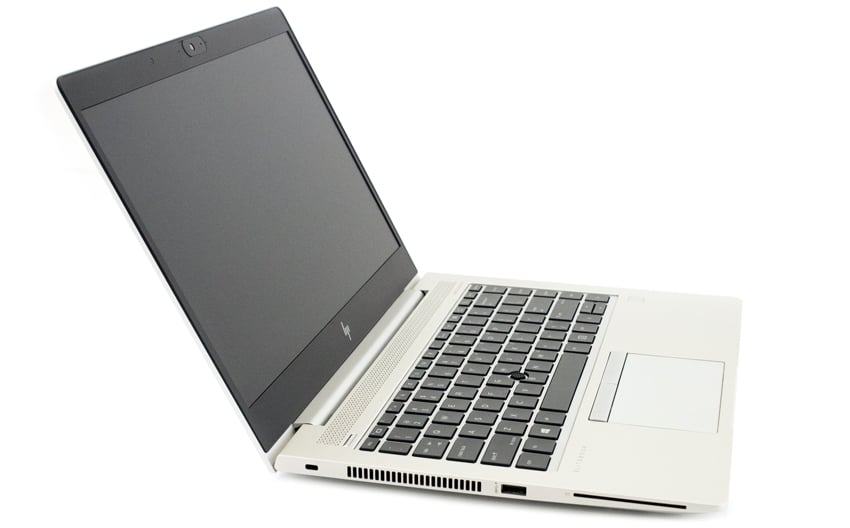 The front of the device has indicator lights for; sleep mode, disk activity, and Wi-Fi. The right side of the device has a power connector, USB Type-C, Docking Connector, RJ 45, HDMI, USB 3.1, and audio combo port. The left side of the device has a Kensington Lock Slot, USB3.1 (charging), Smartcard Reader (optional), and air vents.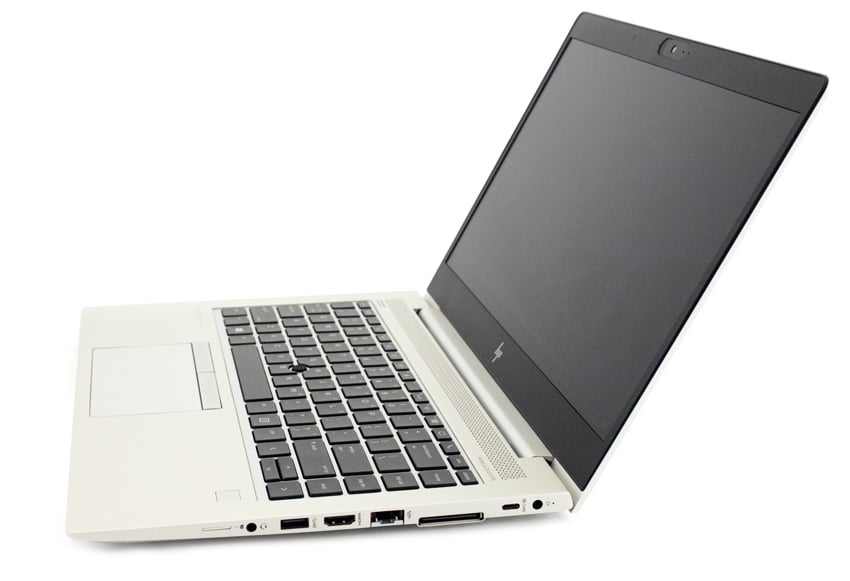 The entire case, except the rear, is made of aluminum with ventilation holes on the left sides and the bottom. Opening the lid to device exposes a 14" LED screen that has a built-in web cam at the top of it. The web cam has a privacy shutter. On either side of the camera are the stereo microphones. The monitor is framed with a thin 7mm black plastic boarder. The device has a full-sized keyboard, it does not have a number pad but it does have dedicated keys to answer and hang up on phone calls. The 110mm x 58mm touchpad has two buttons at the top of it. The power button is at the left corner of the keyboard. Overall, the case on this device is on par with what you would expect on a high-end laptop.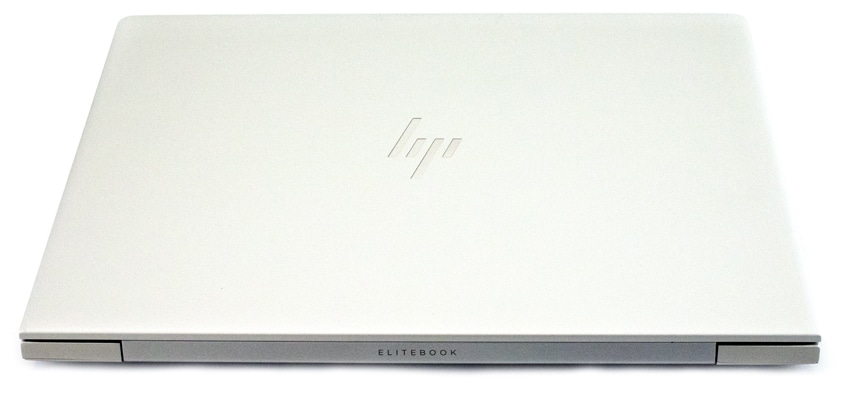 The case is held together with 6 Phillips-head screws on the bottom of the device. After removing these screws, we couldn't pry the bottom off the device to inspect the motherboard of the device to inspect the build quality of the motherboard.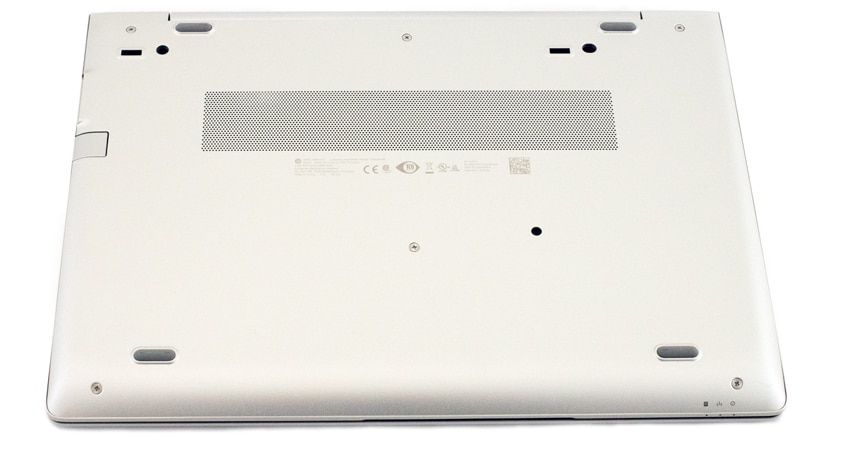 This is the first VDI client that we have had in that uses the AMD Ryzen 3 PRO 3300U APU with Radeon Vega 6 Graphics. This CPU is a 4 core, 4 thread, 6 GPU core chip that has a base frequency of 2.1GHz and a boost frequency of 3.5 GHz. It has comparable performance to an Intel Core i5-3550S.
Documentation
The startup guide had a URL to the VDI client's documentation. The documentation had a Maintenance and Service Guide, User Guide, and Regulatory, Safety and Environmental Notices User Guide for the device. The User Guide was written in English, 68 pages in length and explained how to set up the device but it does not explain how and configure it to work with VDI environments. To see how to configure it for use the major VDI environments you need to see the documentation on operating system that you have running on the system; HP ThinPro or Windows 10 IoT Enterprise. Our mt45 had Windows 10 IoT pre-installed on it.
Usability
The real test of a VDI client is its usability; to test the usability of the mt45, we used the client for two weeks in our Pacific Northwest lab with various configurations. Below are the key results we noted during our time using the client.
To test the m45, we connected it to our network via a Cat 6 cable through the device's RJ45 port which was connected to our network via a 1Gb network through a switch that was connected to either a server or a WAN router. The server was hosting our local VMware Horizon virtual desktop while the WAN router was used to connect to cloud based virtual desktops provided to us by Leostream. In order to create a controlled environment, the network was monitored during testing to ensure that no other traffic was present on the network.
Microsoft Windows 10 IoT
This is the first device that we have tested that used Microsoft Windows 10 IoT operating system. IoT is an acronym for the Internet of Things. IoT is the concept behind connecting just about all things in the world to the internet. The most visible IoT devices are Nest smart thermostats such as Nest and Ring smart doorbells, however any "thing" that can be communicated with via the internet can be IoT enabled. For example, state transportation agencies use IoT devices to measure the flow of traffic, and adjust speed signs accordingly. Manufacturing, industrial, healthcare and other verticals use it, or have plans to use it.
Microsoft sees IoT as a huge opportunity and offers Microsoft Windows 10 IoT in two editions; Core and Enterprise. Windows 10 IoT Core only allows a single UWP application to run in the foreground and supports x86, x64 and ARM platforms. Microsoft sees possible use case for its Core edition as Digital Signage, Smart Building, IoT Gateway, HMI, Smart Home and Wearables.
Windows 10 IoT Enterprise is a full version of Windows 10 that support all Windows applications (UWP, WinForms, etc.) and supports x86 and x64 but not ARM platforms. Both editions of Windows IoT can be managed and monitored using the same tools that you use to manage and monitor other Windows 10 systems. Microsoft sees possible use case for Enterprise as Industry Tablets, Retail Point of Service, Kiosk, Digital Signage, ATM, Medical Devices, Manufacturing Devices and of course VDI Thin Clients.
Initial Configuration
We powered on the device and it took the device 36 seconds to boot, obtain an IP address from our DNS server, log us in as a preconfigured user named User and present us with the Window IoT screen. The screen looked like any other Windows 10 system; the start menu had icons for the Citrix Receiver, VMware Horizon Client as well as other common Windows tools. Many of the common tools such as the command prompt were locked down and could only be run by the preconfigured Admin account.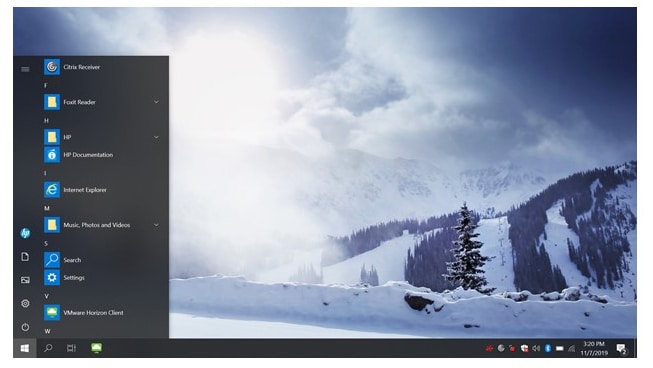 The mt45 is designed with a security in mind and as such HP Write Manager which protects the contents of and decreases wear on the flash drive of a thin client by redirecting and caching writes to a virtual storage space in RAM. When the system restart, the cache is cleared, and any changes made since the last system startup are lost permanently. This protects the device from malicious code and unsecure configurations. As this was a test system, we disabled the HP Write Manager during our testing b using the HP Write Manager Configuration tool which is accessed from the Control Panel.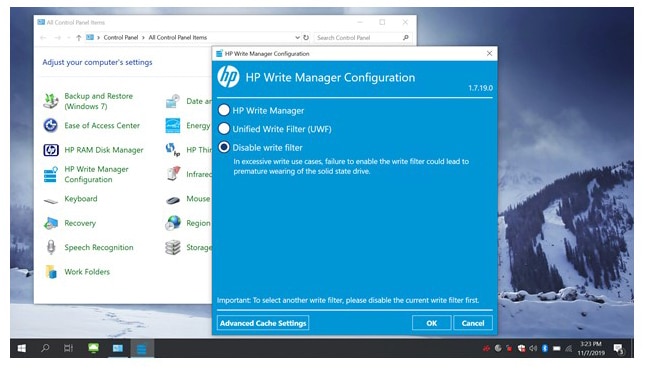 Configuring the device was the same as another Windows 10 system. User accounts, networking, application installation, etc. use the common Windows 10 methodology so we will not cover them in this article.
The device has two local drives; C and D. The C drive (which is protected by the HP write filter) is an SSD drive where the OS and apps are installed. The Z drive is a virtual RAM. drive The D drive behaves like a physical drive, but it is created at system startup and destroyed at system shutdown.
Leostream HP RGS Protocol
Leostream offered to set us up with a desktop that we could connect to using the RGS seeing how we haven't had the opportunity to use HP's RGS protocol before so we gladly accepted their offer.
We have been following Leostream for some time now. The company interests us because, out of all of the virtual desktop infrastructure (VDI) companies, we find it to be the most agnostic with regard to the protocol and source of the virtual desktop. Leostream only provides a Connection Broker and gateway for VDI users and their desktops. Leostream can provision and broker virtual desktops from VMware vSphere, Amazon Web Services (AWS), Microsoft Azure and OpenStack. Leostream is equally as agnostic towards the protocol that you use to connect to your desktops and supports various niche protocols including HP RGS.
HP RGS is a client-server remote desktop protocol developed by HP 2003 that uses a propriety algorithm for the compression transmission of data. RGS supports screen sharing between multiple users, remote USB connectivity and audio output. RGS is used by graphics-intensive industries such as CAD, oil and gas exploration, animation, architecture engineering and construction and product design.
The desktop and connection broker that Leostream provided to us was hosted in an AWS datacenter. To connect to the desktop, we first downloaded and installed the RGS receiver software from HP. RGS receiver is free but did require us to create an HP account. We then used the web browser on the mt45 to connect to the Leostream connection broker. After entering our user name and password in the connection broker sign in screen we were presented with a dialog that allowed us to select the virtual desktop that we wanted to connect to.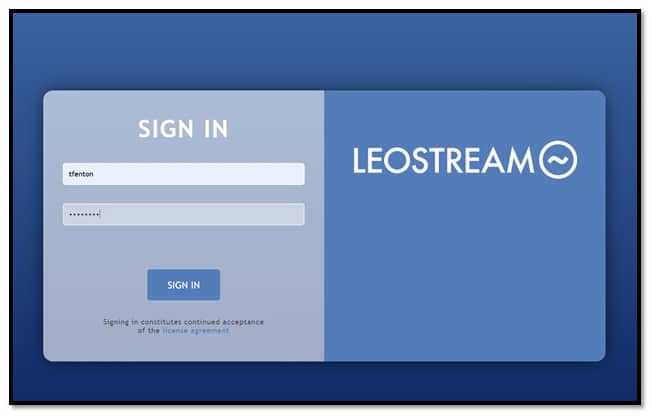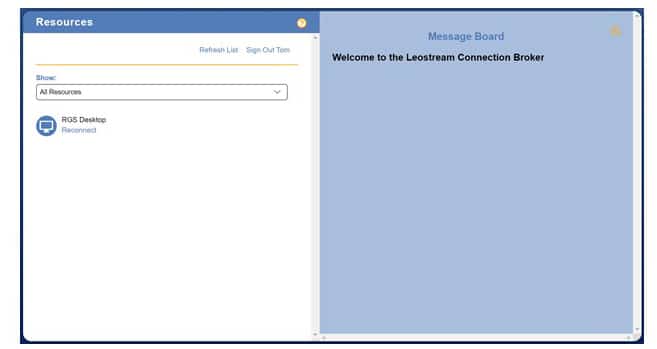 We selected the RGS desktop which launched RGS receiver. The RGS receiver has a very comprehensive and attractive settings dialog; we used the RGS receivers default settings. After accepting the default settings, we connected to the cloud hosted virtual desktop.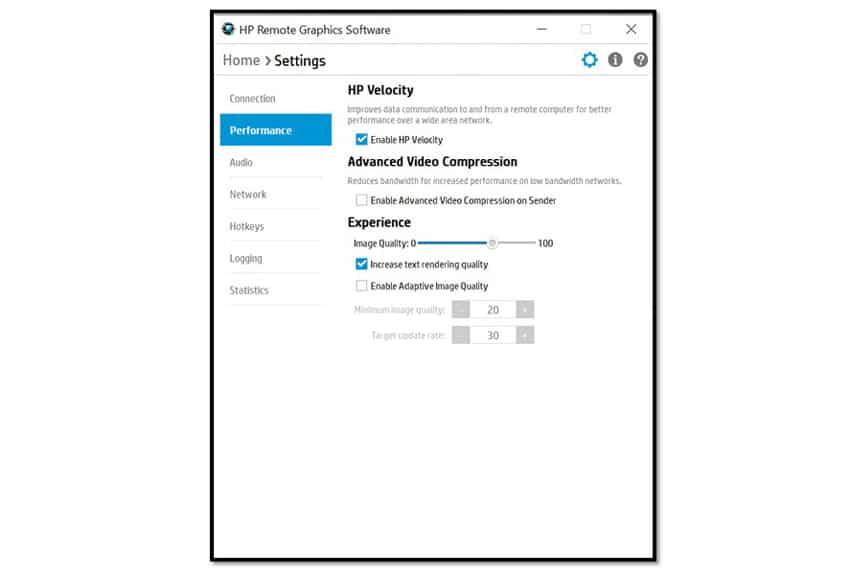 We used the Chrome web browser to browse the internet and LibreOffice on the Leostream virtual desktop to edit documents with virtually the same experience as using a local desktop.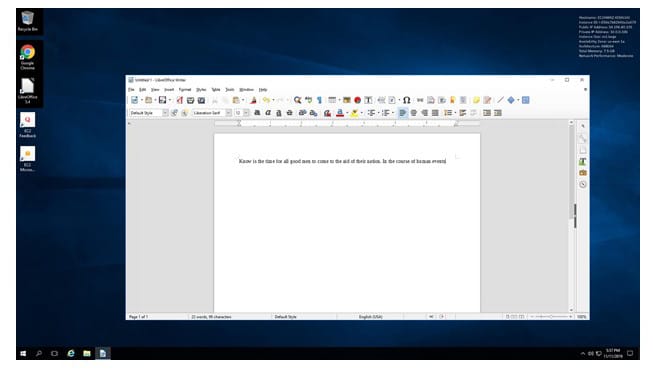 We could play YouTube video in quarter-scale and in full screen mode without any video frames dropping and the picture looked very vibrant. The audio was clear and stable throughout the video playback.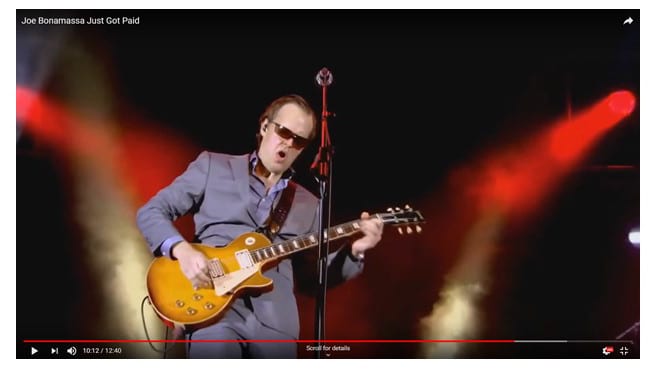 After disconnecting from the virtual desktop, we pinged the IP address of the connection broker and found that the round-trip time (RTT) was 98ms. Given the fact that the Leostream connection broker and virtual desktop were in an AWS datacenter located on the East Coast, and the client was running in our Pacific Northwest lab, we were pleasantly surprised to find that a virtual desktop with this much latency performed just as well as a virtual desktop that was hosted on-premise.
Overall, we were impressed with the performance of RGS.
Local Horizon Desktop
For the remainder of the two weeks that we used the device, we used a local Horizon virtual desktop to do our daily tasks. We brought up the Horizon client and configured it to connect to our local Horizon desktop. Once we were connected to our Horizon desktop, we noticed that the resolution of the Horizon desktop was set to the native 1920 x 1080 resolution of the mt45. The virtual desktop that we used ran Windows 10 (1607), had 2 vCPUs, 8 GB of memory, and 50 GB of NVMe-based storage.
The first test we conducted was to use VLC to play a video (1280 x 720 @ 712kbs) that was stored on the virtual desktop. First, we played the video using a quarter of the display, and then once again in full-screen mode. In quarter-scale the video played without any frames dropping and in full-screen mode the video played with just a slight amount of jitter. The audio played flawlessly through the devices built-in speaker when the video was displayed in both quarter-scale and full screen modes. The speakers were they loudest that we have heard on a VDI client and could easily be heard by anyone in our office.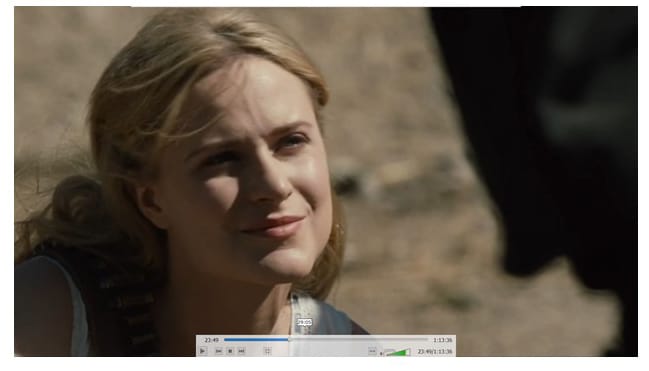 To further test the device, we connected a Jabra voice 150 headset to a USB connection; the Jabra headset was discovered by the virtual desktop and worked without any issues.
We used the client for daily activities for two weeks without any problems. This included using Microsoft Office applications, Chrome web browser, playing internet-streaming music, etc. During this time the device performed flawlessly.
Using Other Protocols
HP advertises the device as working with PCoIP, VMware Horizon Blast, and Citrix HDX, and HP RGS. We were able to test it with Blast and PCoIP on our local Horizon virtual desktop and RGS using a Leostream cloud-based desktop without any issues. We did not test it using HDX. We found that we could install other remote display protocols such as SSH and RDP on the Windows 10 IoT system and use them to connect to other systems but we did not factor the use of these protocols our final verdict of the device.
Other Configurations
As this is a basic review of the device, we only tested it using three VDI client protocols (PCoIP, Blast and RGS); we did not test the device in the following circumstances: adverse network conditions, using communication software such as Skype, or using any of the advanced features of the device such as accessing local storage on the device from the virtual desktop. However, we did test it with a secondary monitor and wireless keyboard and mouse.
We connected the mt45 to a Dell UltraSharp 32" flat 4K Monitor (U3219Q) through the devices DisplayPort's. The Dell monitor has a keyboard, mouse, and video (KVM) switch built into it. The monitors built-in KVM switch was extremely useful during our testing as it allowed us to switch between the VDI client and our laptop with the push of a button. We plugged the keyboard/mouse's dongle into the monitors upstream USB port.
After we connected the device to the monitor, it did not recognize the external monitor and we needed to reboot the mt45 in order for it to recognize the external monitor. We used the Horizon client to connect to our local Horizon desktop and the virtual desktop was extended to both monitors and we could use both the mt45 display and the secondary monitor without any issues.
Device Management
The device can be used with HP Device Manager (HPDM) for centralized, server-based administration of HP thin clients. Using HPDM is beyond the scope of this review.
Microsoft claims that Windows 10 IoT can be used with the same management and configuration tools that you use with Windows 10 but testing this claim is beyond the scope of this review.
Conclusion
We were a little leery of using a device with Windows 10 IoT as the operating system but after using it we can see no issues using it, and it should ease the administration as it uses the same configuration workflows and management tools as a standard Windows 10 system.
HP did a great job bringing an executive quality VDI mobile client to market. Aesthetically it compares favorably with a MacBook Air, Dell XPS, HP Spectra and other upper-line laptops. The mt45 can connect to a remote desktop not only using Wi-Fi but also supports wireless wide area network (WWAN). WWAN uses mobile network operators install base stations (similar to cell phone towers) throughout large geographic areas, effectively providing coverage across entire states, regions, or even countries.
The mt45 supports all of the major VDI protocols as well as HP RGS. It includes advanced features such as keyboard keys to prevent side-angle viewing, quick access to your Skype for Business calendar, turn on and off Skypes screen sharing, answer or end Skype calls. For security the device supports a SIM card, Windows Hello to sign in by swiping your finger or looking at the camera. For presentations the device supports Miracast-compatible wireless displays, loud speakers tuned by Bang & Olufsen. We feel that the AMD 3300U CPU processor in the device could handle the most demanding loads.
This device shows that VDI has gone mainstream and even high-profile users such as C-level executives and account executives are seeing the value in and are demanding a VDI clients, such as the mt45, that is worthy of their position in the company.
Sign up for the StorageReview newsletter