The HP ProLiant MicroServer Gen8 is an extension of their popular MicroServer platform that's been available since 2010. The MicroServer idea is pretty simple, bring enterprise-style server features to SMBs that either don't want or don't need a larger more traditional rack-based infrastructure. There's also a large market of first time server buyers that operate retail outlets, small medical practices and professional offices that need a server to coordinate their operations, but don't have an IT staff or need to scale up to a more complex infrastructure. The ProLiant MicroServer Gen8 brings these use cases a simple to deploy, cost effective solution that can scale with the business as needs change in a convenient "front-of-office" form factor.
The HP ProLiant MicroServer Gen8 is an extension of their popular MicroServer platform that's been available since 2010. The MicroServer idea is pretty simple, bring enterprise-style server features to SMBs that either don't want or don't need a larger more traditional rack-based infrastructure. There's also a large market of first time server buyers that operate retail outlets, small medical practices and professional offices that need a server to coordinate their operations, but don't have an IT staff or need to scale up to a more complex infrastructure. The ProLiant MicroServer Gen8 brings these use cases a simple to deploy, cost effective solution that can scale with the business as needs change in a convenient "front-of-office" form factor.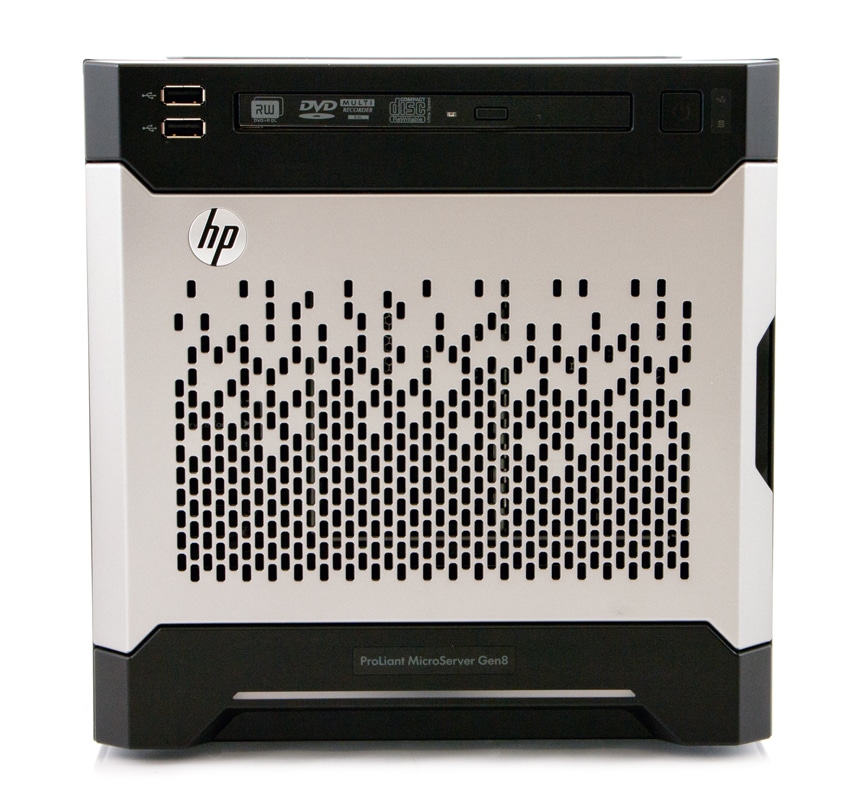 The HP MicroServer Gen8 is targeted for organizations with ten or less employees, as it is specced with slower processors and less RAM compared to other traditional server options. HP's attention lays on a much more refined approach from a hardware and software management perspective in addition to lower starting price tag. That all being said, HP MicroServer Gen8 is a viable choice for those looking for the feature-rich and diverse HP management environment in remote areas and for those looking for a solution that can fit in with the gear they already have deployed and manage.
Businesses will find that its super quiet operation, as well as its size is very useful (which is approximately half of what most competitive entry-level servers are usually sized at), as it allows the MicroServer Gen8 to be placed on the floor or desk without taking up too much space. In addition, businesses will have remote access to embedded data and applications housed on the server from virtually any web-connected device via Microsoft Windows Server 2012 Essentials, which can help to improve efficiency and collaboration.
The HP MicroServer Gen8 takes advantage of several HP ProLiant Gen8 server features as well as the HP ProActive Insight architecture, which are embedded and preloaded in each server for simplified deployment and management. For example, businesses will be able to simplify their system installation, setup, and maintenance using the HP iLO Management Engine (iLO4) and HP Intelligent Provisioning. Users can also manage the server remotely at any time and from anywhere with HP Integrated Lights-Out Essentials as well as continuously monitor the server's performance via HP Active Health.
The HP ProLiant MicroServer Gen8 is available worldwide immediately for a starting price of $449. Our review unit is configured with 8GB of RAM, Intel Pentium G2020T dual-core processor, twin 500GB 7K hard drives and optical drive installed.
HP MicroServer Gen8 Specifications
Processor:

Intel Celeron G1610T (2.3Hz/2-core/2MB/35W) Processor
Intel Pentium G2020T (2.5GHz/2-core/3MB/35W) Processor
Intel Xeon® E3-1220Lv2 (2.3GHz/2-core/3MB/17W) Processor

Cache Memory

3MB (1 x 3MB) L3 Cache: (Dual-core Pentium and Xeon processors.)
2MB (1 x 2MB) L3 Cache (For Dual-core Celeron processor.)
NOTE: All processor models above list the L3 Cache associated with that particular processor.

Chipset: Intel C204 Chipset
On System Management Processor: HP iLO (Firmware: HP iLO 4)
Memory Protection: ECC
Memory Type: HP SmartMemory DDR3 Unbuffered (UDIMM)
DIMM Slots Available: 2
Standard: 2GB (1 x 2GB) PC3-12800E DDR3 UDIMM
Maximum: 16GB (2 x 8GB) PC3-12800E DDR3 UDIMM
Network Controller: HP Ethernet 1Gb 2-port 332i Adapter
Expansion Slots

Technology Bus: PCIe 2.0
Bus Width: x16
Connector Width: x16

Form Factor: Low Profile
Storage Controller:

HP Dynamic Smart Array B120i Controller
NOTE: HDD bays 1 and 2 support 6.0Gb/s SATA. HDD bays 3 and 4 support 3.0Gb/s SATA.
NOTE: Supports RAID0/1/10 only. No FBWC support. For FBWC, a standup Smart Array Controller card must be configured.

Internal Storage Devices:

Optical Drive Optional: SATA DVD-RW drive
Hard Drives: None ship standard
Maximum Internal Storage: Non-Hot Plug SATA 12TB (4 x 3TB) 3.5" SATA

Interfaces:

Video: 1 Rear standard video

HP iLO Remote Management Network Port: 1Gb Dedicated (default iLO4 configuration)
Micro SD slot: 1 Internal
USB 2.0 Ports: 5 total (2 front, 2 rear, 1 internal)
USB 3.0 Ports: 2 total (2 rear)
Power Supply:
One (1) 150W Non-Hot Plug, Non redundant Power Supply (AMS, APJ and PRC models)
One (1) 200W Non-Hot Plug, Non redundant Power Supply (EMEA models)
System Fans: One (1) – Non-redundant system fan shipped standard
Graphics :

Integrated Matrox G200 video standard

1280 x 1024 (32 bpp)
1920 x 1200 (16 bpp)

HP iLO 4 On System Management Memory

16MB Flash
256MB DDR 3 with ECC (112 MB after ECC and video)

Form Factor: Ultra Micro Tower
On System Management: HP iLO Management Engine
HP Insight Management: HP Service Pack for ProLiant (SPP)
Design and Build
The HP MicroServer Gen8 uses a small footprint like its predecessors while sporting a new slick looking design. Though its form factor only allows for four storage bays and limited upgradability, its small, quiet, and energy efficient design enables the MicroServer Gen8 to be placed virtually anywhere in the office. HP has also given users the ability to personalize their MicroServer by using the new Front Bezel Faceplate Kit.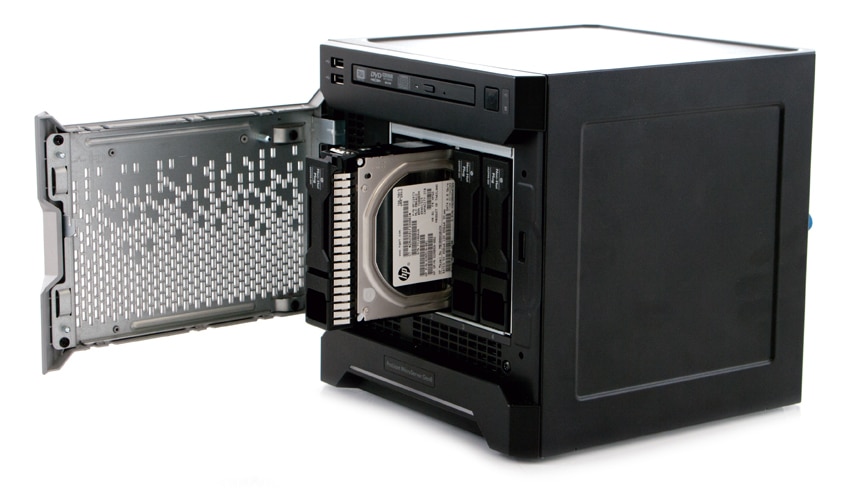 The front panel has a relatively minimalist look but has everything a small server needs. Just below the front bezel is a blue LED light bar for at-a-glance system health status of the system. When the line is solid blue, everything is normal; while a flashing amber light indicates that the MicroServer is degraded in some way. When the bar is flashing red (1 Hz/cycle per sec), the system is in critical while System critical and if the LED is flashing red, this time at 4Hz/cycle sec, there is a power fault.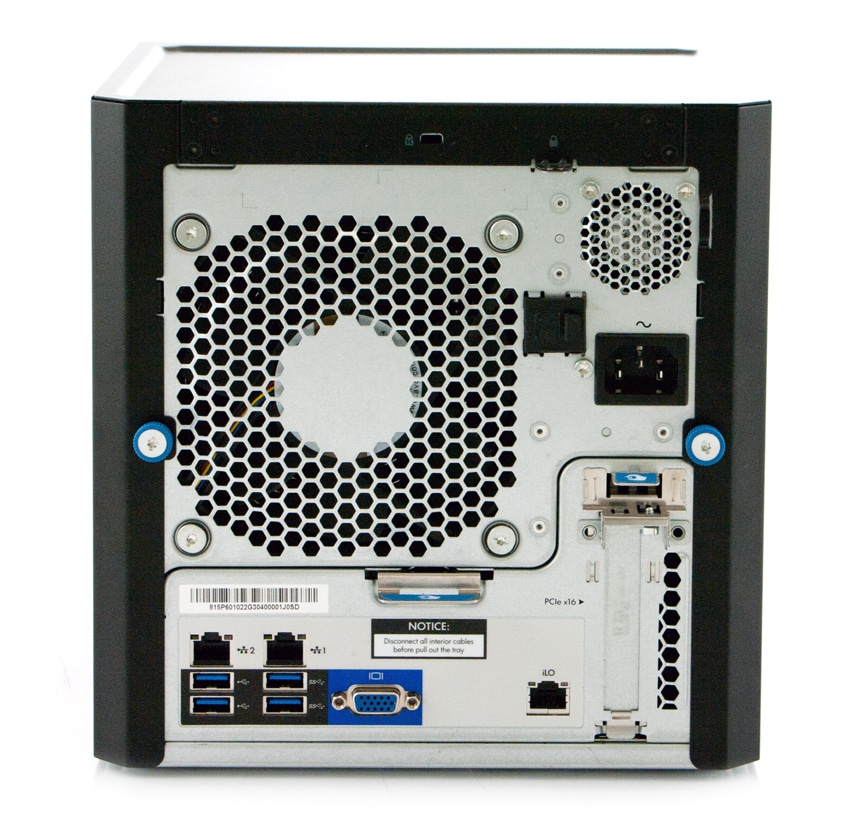 Also located on the front panel are two USB 2.0 connectors and an optional optical drive as well as a power button and NIC/drive status LEDs.
The bezel is easily opened (slide the release tab upward to unlock) to gain access to four drive bays. Once opened, you will see that HP has included a T-10/T-15 Torx screwdriver on the interior front panel to loosen screws during hardware configuration procedures. Unfortunately, there is no way to lock the front bezel, which might be an issue for some SMBs. You will also see the 4 bays, which are easily accessible. The HP MicroServer Gen8 supports four LFF non-hot-plug SATA drives.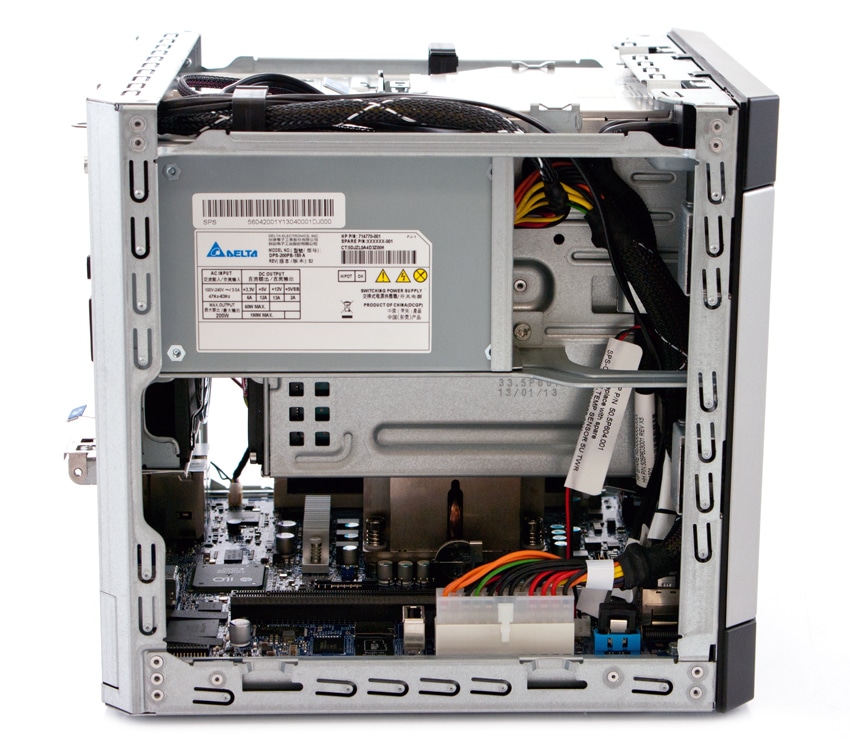 The back panel offers access to a dedicated iLO 4, video, USB 3.0/2.0, two NIC, and power cord connecters. The system fan takes up the majority of space with a Kensington security slot located just above.
User Interface
The MicroServer Gen8 comes with HP Integrated Lights-Out (iLO), which offers businesses complete remote server control through a web browser or the iLO Mobile App. It worked right out-of-the-box without additional software installation, giving us access to features including: rapid discovery and remote access; server health, power, and thermal usage; remote management; and diagnosis and alerting.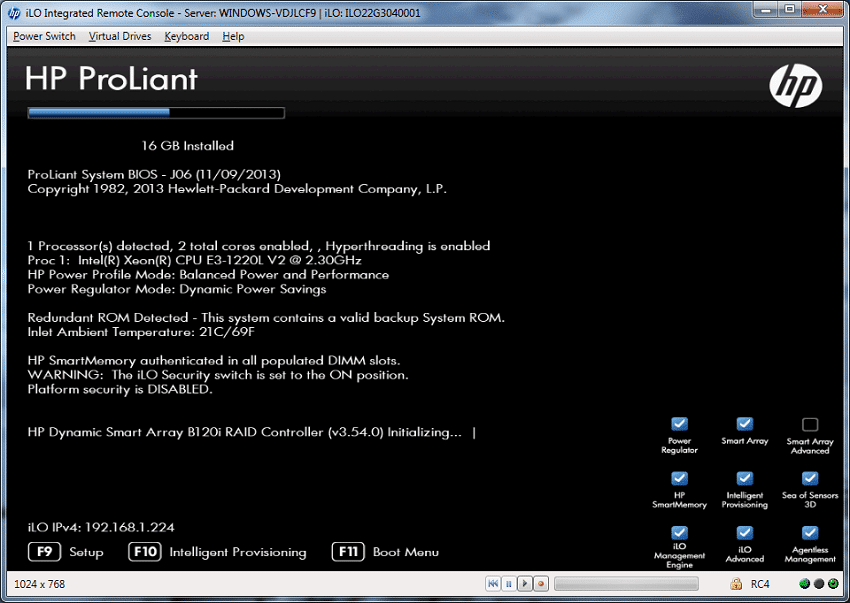 Some of the iLO features include Agentless Management, Active Health System and Embedded Remote support. ProLiant Gen8 servers now feature iLO Federation, which discovers and manages a number of servers. A 1GB Embedded User Partition is also accessible to users for additional utilization of storage from the 4GB of iLO NAND installed in the server.
HP Agentless Management offers IT admin core management functions for internal system components (without having to install drivers or agents), such as health monitoring and notification alerts directly from iLO. This functionality is pretty easy to configure and will work on virtually any OS. It supports the following subsystems: CPUs, memory, temperature sensors, fans, power supplies, SmartArray controllers (including cache modules) and both Logical and Physical Drives (internal to the server) that are connected to the SmartArray controller. All users need to do is simply just plug in the iLO network cable and power cord and the server will be inherently manageable using iLO, which enables health monitoring of the server (e.g. with SNMP alerts).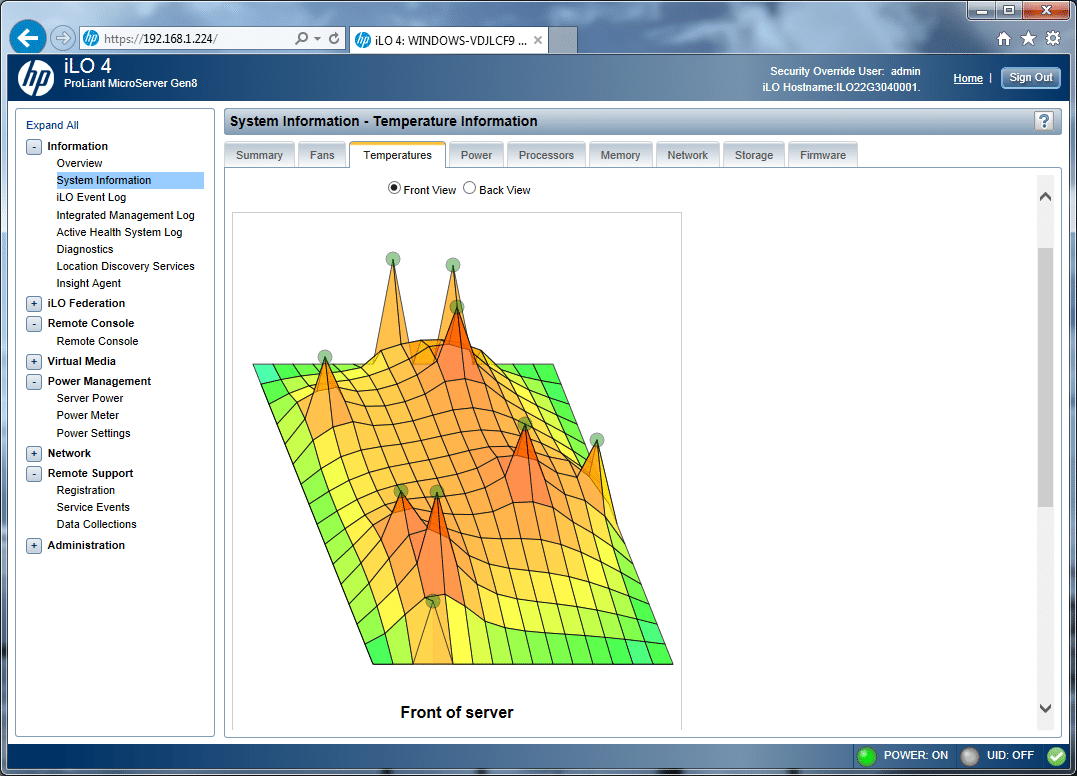 The HP Active Health System (AHS) is an integrated, self-diagnostics component of HP iLO Management that monitors server activities and logs health, configuration, and real-time telemetry from iLO 4, system ROM, complex programmable logic devices (CPLDs), smart arrays, the Agentless Management Service, and network interface cards. It offers admins a synchronized monitoring and logging tool across all systems and solutions. In addition, all information that is gathered by Active Health is logged securely, isolated from the operating system, and separate from any customer data. Users can automatically export the Active Health file to an HP Support professional within minutes, to help resolve issues efficiently and quickly.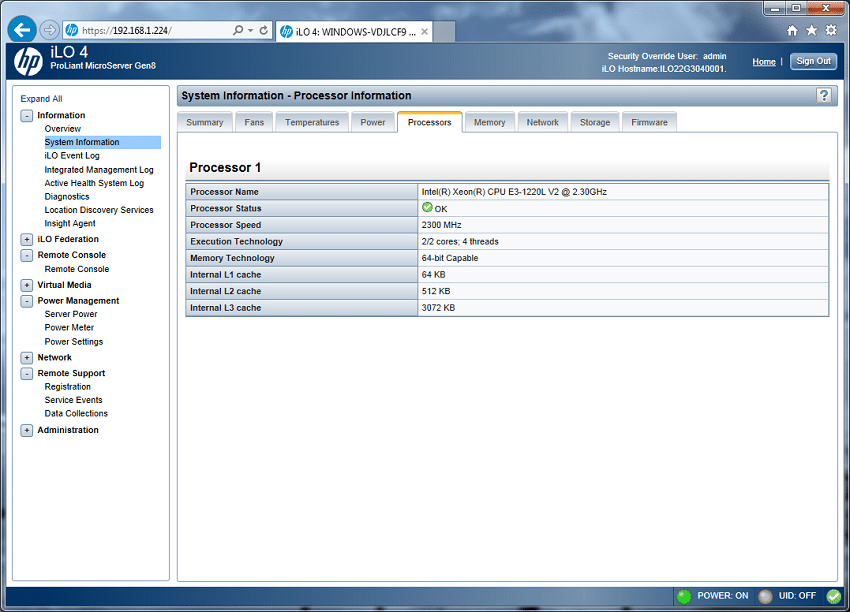 Several other tools are also included that focus on infrastructure management including HP Insight Control, which provides users with more advanced management functionality for their HP ProLiant MicroServer's infrastructure. HP Insight Online with HP remote support offers users 24 hours, 7 days a week remote monitoring as well as personalized access to your IT and support status any time and anywhere. In addition, HP Smart Update Manager (or HP SUM) allows for the easy discovery and update of all supported devices, including the HP ProLiant MicroServer. HP SUM also offers users a browser-based GUI, command-line scripting, and interactive command-line scripting user modes for more flexibility in the update process.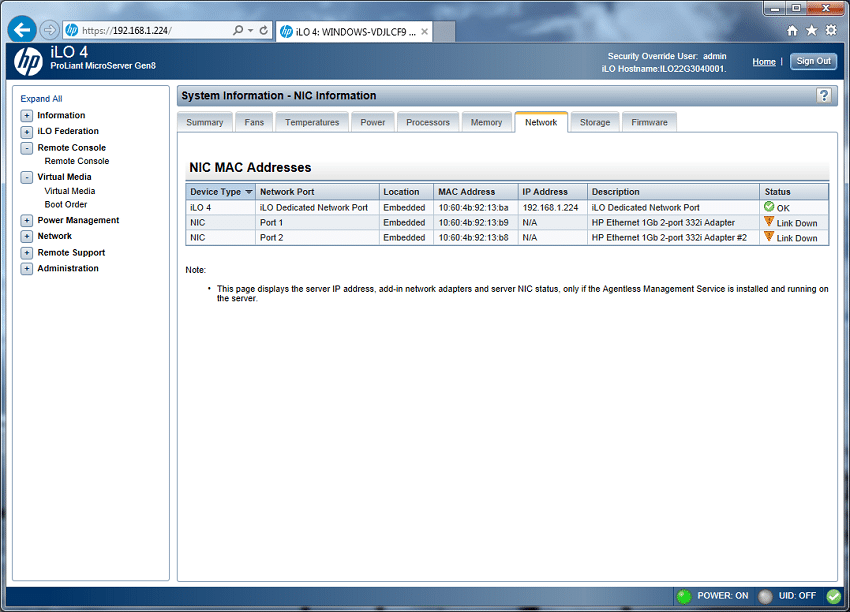 HP iLO also comes with a mobile app, which provides users with access to the remote console of ProLiant MicroServer from any iOS or Android device. With it, users can directly interact with the iLO processor on any HP ProLiant server as well as troubleshoot problems and perform software deployments when IT admins don't have access to a computer or while they are on the go.
More specifically, the HP iLO mobile app allows gives users the ability to do various server tasks, including operating the server power switch, accessing the Remote Console to interact with the operating system, mounting an ISO CD/DVD image from an image file hosted on a web server, launching HP iLO scripts and monitoring their status, and accessing the HP iLO web interface.
It should be noted that users must have network access to the iLOs they want to access manage. In addition, connecting to your server via cellular data, usually involves setting up a VPN or re-configuring firewalls.
Testing Background and Comparables
We publish an inventory of our lab environment, an overview of the lab's networking capabilities, and other details about our testing protocols so that administrators and those responsible for equipment acquisition can fairly gauge the conditions under which we have achieved the published results. None of our reviews are paid for or overseen by the manufacturer of equipment we are testing.
While not exactly sold as a performance system, the ProLiant MicroServer Gen8 still has quite a bit to offer. To put the system to work in a more demanding situation, we replaced the included 500GB hard drives with four HGST 4TB Ultrastar hard drives and loaded a 32GB Samsung microSDHC card in the motherboard slot. The MicroServer market has few options, the WD Sentinel DS6100, being one such choice. WD's approach to market is different from HP's though, the Sentinel is more of a storage solution than a server. The 6100 has an Intel Xeon E3-1265LV2 2.5 GHz Quad Core processor, 16GB RAM and 4x4TB HDDs. The WD unit does not support a physical RAID card option.
Enterprise Synthetic Workload Analysis
Prior to initiating each of the fio synthetic benchmarks, our lab preconditions the device into steady-state under a heavy load of 16 threads with an outstanding queue of 16 per thread. Then the storage is tested in set intervals with multiple thread/queue depth profiles to show performance under light and heavy usage.
Preconditioning and Primary Steady-State Tests:
Throughput (Read+Write IOPS Aggregated)
Average Latency (Read+Write Latency Averaged Together)
Max Latency (Peak Read or Write Latency)
Latency Standard Deviation (Read+Write Standard Deviation Averaged Together)
The synthetic analysis incorporates four profiles, including 4k and 8k 70/30 benchmarks which are widely used in manufacturer specifications and benchmarks.
4k
8k

100% Read and 100% Write
70% Read/30% Write

128k
Our first benchmark measures the performance of random 4k transfers comprised of 100% write and 100% read activity. In this test, the HP MicroServer SMB posted the best overall results when configured with mirrored drives at 574IOPS write and 1,570IOPS read. The Sentinel DS6100 Mirror SMB performed the best of all the WD configurations.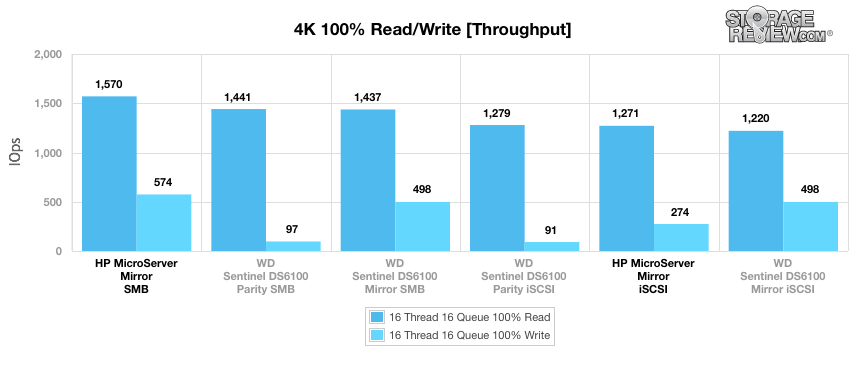 Our average latency 4k benchmark told a similar story, with the HP MicroServer in Mirror SMB configuration showed the best results once again at 445.18ms write and 162.95ms. The Sentinel DS6100, in the same configuration, was also WD's best; that being said, all read latency scores were very similar.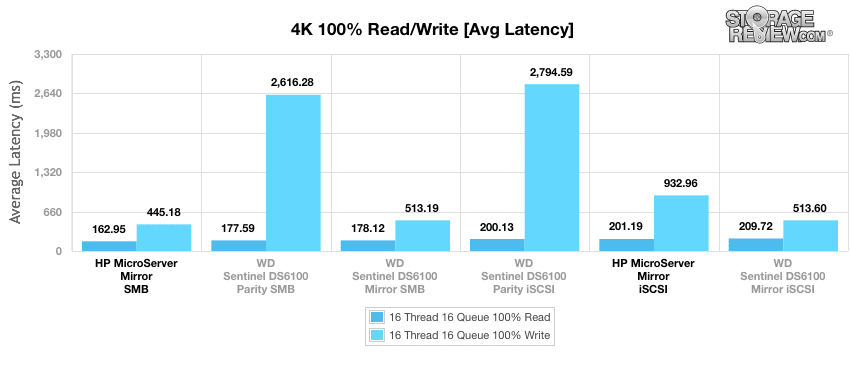 A parity configured WD Sentinel DS6100 with iSCSI connectivity showed the lowest maximum read latency (though it did show a very peak high write latency) measured during the 4k benchmark with 519ms while the WD Sentinel DS6100 iSCSI in Mirror configuration showed the lowest write latency. The HP MicroServer configurations ranked in the middle of the pack.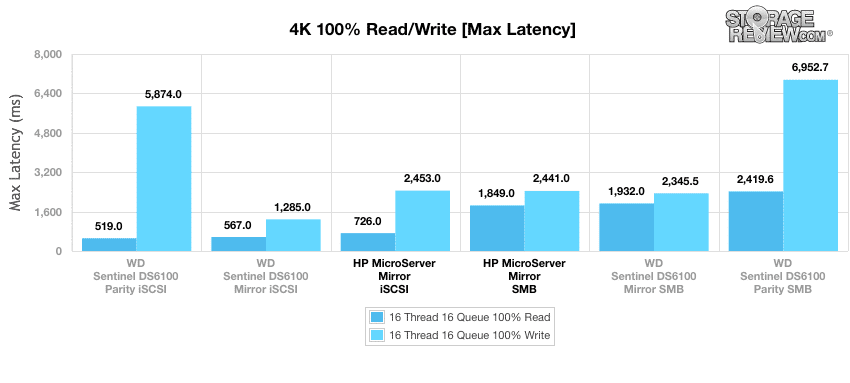 The standard deviations show our consistent the latencies were for each configuration. In this category, Mirrored drives with iSCSI connectivity posted the best results for both WD and HP devices.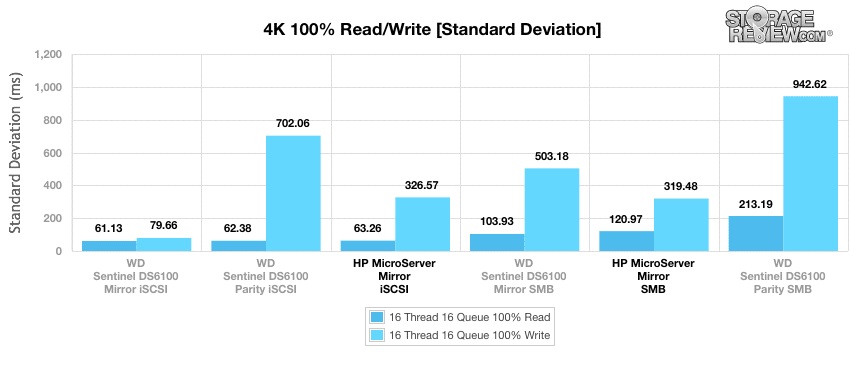 Our next test measures peak sequential I/O speed with 8K transfers with a 16T/16Q load. In this benchmark, the WD Sentinel DS6100 Mirror with iSCSI connectivity was the clear winner for write throughput by a significant margin at 26,479IOPS, while the WD's Parity configuration (in iSCSI) took first in reads with 28,651IOPS. The HP MicroServer's configurations showed weak write performance, but kept pace with the comparables in the read column.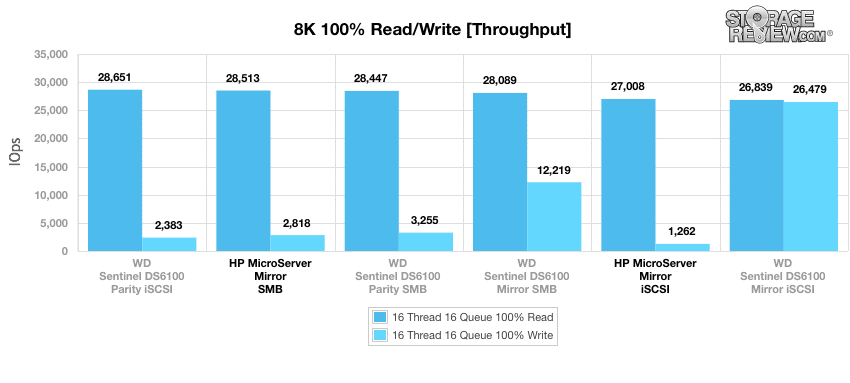 Moving on to our 70% read 30% write random workload, the WD Sentinel DS6100 in Mirror mode with SMB had the highest IOPS by 16T/16Q (1,022IOPS) and throughout. The MicroServer Mirror configuration (iSCSI) boasted the best for HP with 710IOPS, which was good enough for 3rd spot by the end.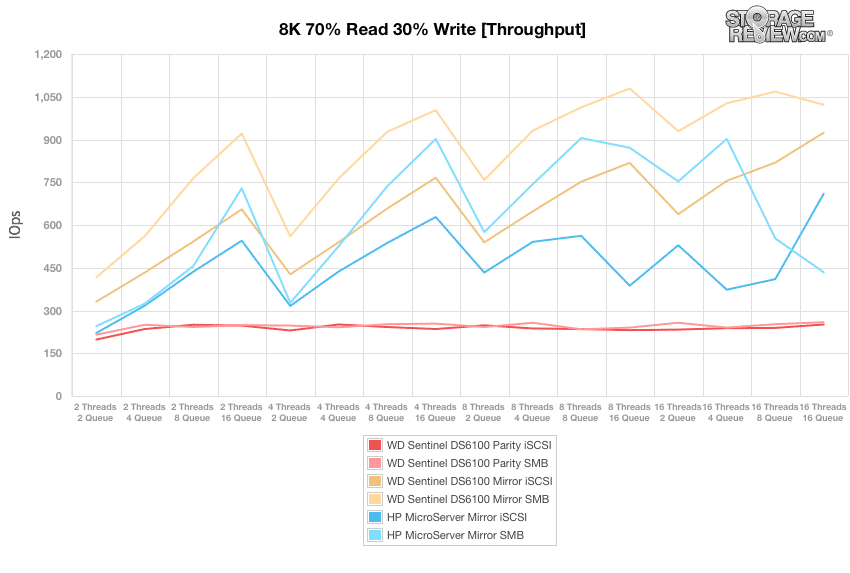 In our average latency test, the MicroServer in Mirror mode using iSCSI connectivity posted 359.9ms by 16T/16Q, while the Mirror configuration in SMB posted 587.5ms by 16T/16Q; both showed a few high spikes along the way.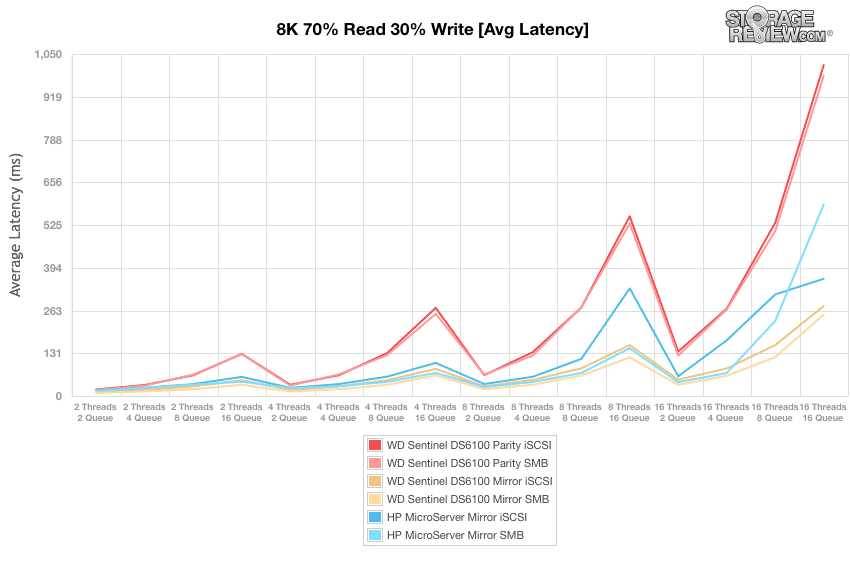 In our max latency tests, the MicroServer in Mirror mode using iSCSI connectivity was HP's best configuration with 1,545.7ms by 16T/16Q, though it had a rather large spike at 16T/2Q.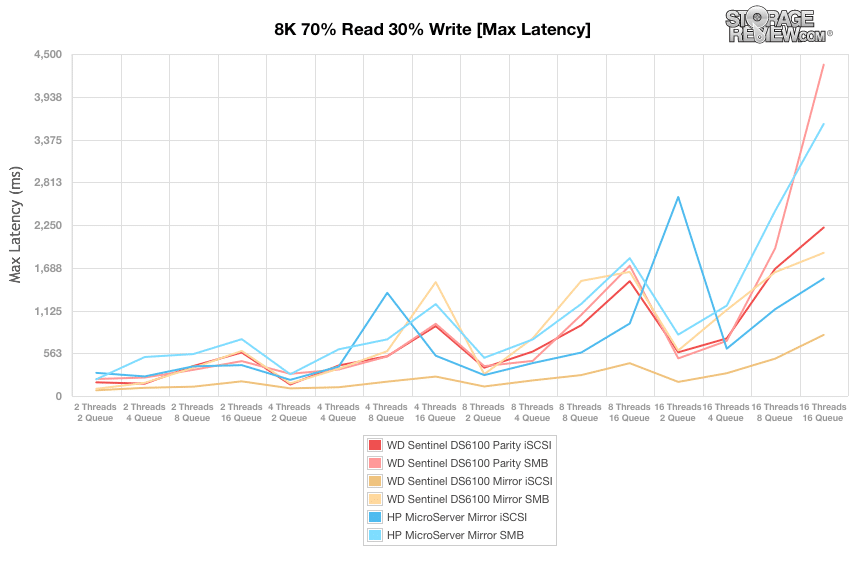 The standard deviation benchmark showed a fairly close race between the MicroServer (Mirror, iSCSI) and the Sentinel DS6100 (Mirror, iSCSI), with the WD configuration edging out the WD at the end with an impressive latency of 93ms.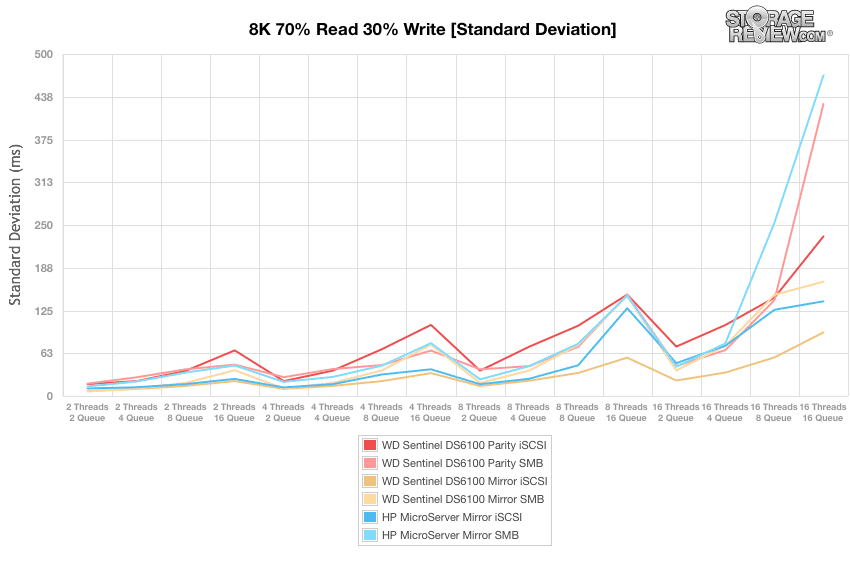 The final synthetic benchmark uses a significantly larger 128k transfer sizes with 100% read and 100% write operations. Read performance for all of the comparables remained very consistent throughout the protocol, which all configurations hovering 230,000IOPS for all Windows Storage Spaces redundancy schemes and network protocols. That being said, in the write column, WD Sentinel DS6100's mirrored drive configuration boasted the best performance by a significant margin (SMB and iSCSI). The HP MicroServer was well behind in this column.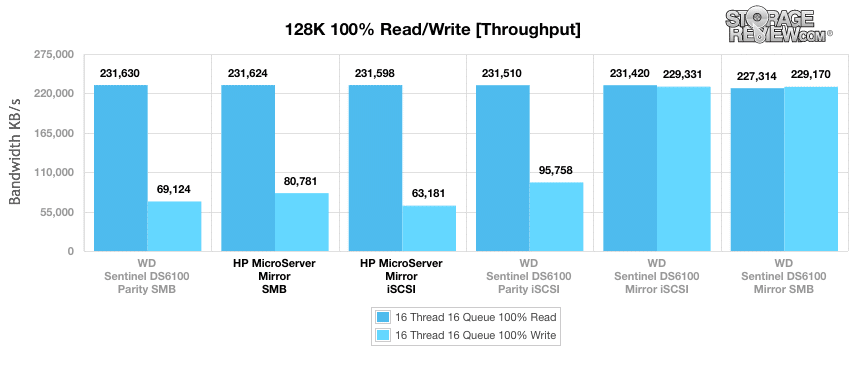 Conclusion
HP ProLiant MicroServer Gen8 is an ideal solution for small organizations looking to build their first IT server environment. It comes equipped with very useful functionality like HP iLO4 to allow for innovations such as Intelligent Provisioning for a seamless out-of-the-box installation and setup as well as complete server control from any location. These features work especially well with the ProLiant MicroServer in environments where a centralized IT department is managing from afar. The small footprint form-factor is incredibly easy to maintain and looks nice in situations where it's out in the open. HP even offers a networking switch kit that seamlessly sits on top, one of the few cases where aesthetics matter in server designs.
Even though the ProLiant MicroServer Gen8 doesn't have massive storage capabilities or top-in-class CPU/RAM specs, it still has a lot to offer for businesses. The MicroServer Gen8 provides a variety of useful and diverse HP management tools in remote areas and allows for easy integration into existing setups and equipment that businesses may already have. While devices like the WD Sentinel DS6100 focuses more on power and storage capacity, the ProLiant MicroServer is a miniaturized Gen8 server that is much more diverse and useful from a hardware and software management standpoint. In addition, though both servers are designed for similar use cases–front of office server for small businesses–there is some nuance. The WD Sentinel is more of a storage device with server features on top, whereas the HP is a pure hardened server offering that's just been miniaturized.
Our benchmarks tested the performance of the HP MicroServer Gen8 configured in Mirror mode (e.g. RAID10) with both iSCSI and SMB connectivity. In synthetic enterprise benchmarks, the ProLiant MicroServer in mirrored drive configuration outperformed the WD Sentinel during our random 4k transfers throughput/average latency tests (which are comprised of 100% write and 100% read activity) using SMB connectivity. The WD Sentinel offered superior performance in our 8K and 128K benchmarks by a noticeable margin. Though SMB/CIFS and iSCSI connectivity each have their own merits, the MicroServer's SMB connection showed the best results overall with the exception of max latency and standard deviation results. In most small office situations the system performance is less of an issue than ease of deployment and use. This is where the HP MicroServer really stands out, especially when features like remote management are needed to let a centralized IT department or VAR manage a fleet of these units from an offsite location.
Pros
Great compact design for front of office
HP management tools ensure ease of deployment and management
Miniature server doesn't neglect enterprise features
Cons
Storage flexibility somewhat limited
Bottom Line
The HP MicroServer Gen8's small footprint and plethora of server tools make it an ideal fit for small/remote offices with modest compute needs and larger emphasis on ease of use and management.
HP MicroServer Gen8 Product Page