The market for VDI clients that support multiple 2K monitors is large and growing as many companies have now adopted a work-at-home policy. There are many VDI clients that compete in this segment and to be competitive it must be performant, manageable and cost competitive; the IGEL UD2 Thin Client is such a product.
The market for VDI clients that support multiple 2K monitors is large and growing as many companies have now adopted a work-at-home policy. There are many VDI clients that compete in this segment and to be competitive it must be performant, manageable and cost competitive; the IGEL UD2 Thin Client is such a product.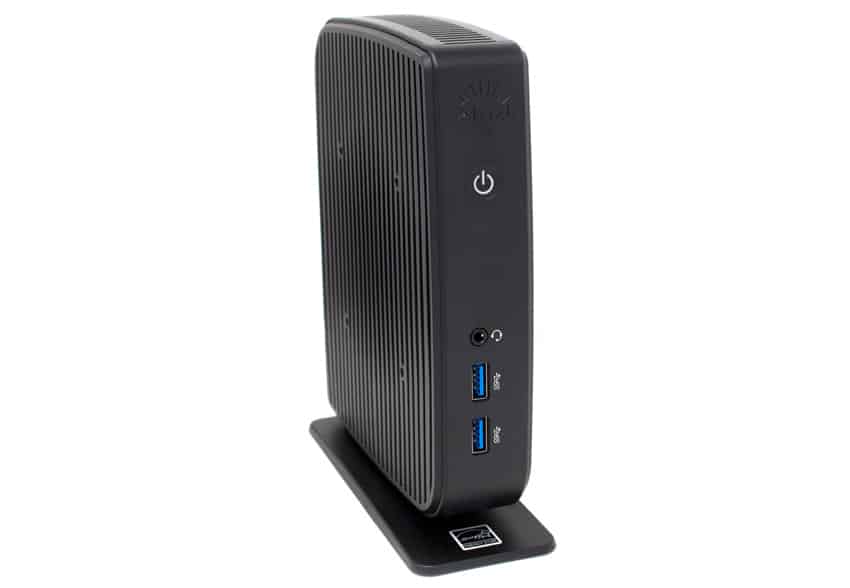 To give a brief overview of its specifications, the IGEL UD2 is a desktop thin client that has multiple USB and video ports, is powered by a quad-core Intel Atom processor. The device runs IGEL OS 11 operating system and supports all major VDI environments.
In this review, we will give an in-depth overview of the UD2 specifications, design and build quality, and a summary of the testing that we carried out on over a few weeks. We will then lay out the key findings from those tests and provide our thoughts about the device and briefly discuss who would benefit from using this thin client.
IGEL UD2 Thin Client Specifications
Model: UD2 LX11
Part Num: IGEL-M250C
MSRP: $360 USD – street price $279 USD
Client type: Desktop thin client
Form factor: Mini desktop
OS: IGEL OS 11
Supported remote display protocols: Microsoft RDP; VMware Horizon RDP/PCoIP, Blast Extreme; Citrix ICA/HDX and others
CPU: Intel Atom x5-E8000 Quad-Core 1.04 GHz (2.0 GHz Turbo Boost), System on a chip (SoC)
GPU: Intel HD Graphics
Memory: 2 GB DDR3L-
Storage: 4 GB onboard eMMC
Speaker: Internal amplified speaker system for basic audio playback.
Display: two displays at up to 2K (2560 x 1600 @ 60 Hz) resolution
Power: 12V, 3A external power adapter
Ports:

2 x USB-A 3.2 Gen 1
3 x USB-A 2.0
1 x RJ45
2 x full size DisplayPort 1.1 a
1 x 3.5 mm headphone/microphone Combo
1 x AC power

Network connectivity:
Physical size: 155 x 57 x 183 mm with foot stand, 147 x 37 x 176 mm without foot stand
Physical weight: 0.71 kg with foot stand, 0.68 kg without foot stand, 1.04 kg with foot stand and external adapter
Color: black
Keyboard: None provided
Mouse: None provided
Compliant standards: CE, TÜV-GS, cULus, ICES-003, FCC Class B, RCM, VCCI, Energy Star. BSMI and CCC, Citrix Ready in progress and others.
Package Contents: UD2, Power Adapter, foot stand
2 years standard warranty. Extend to 5 years with customer registration
Country of Design: Germany
Country of manufacture: Taiwan
IGEL UD2 Design and Build
The thin client came in a cardboard packaging box, the device itself was nestled between two cardboard blocks and wrapped in a plastic bag. The box also contained the power supply, and the base stand.
The front of the device has the power on button, a 3.5 mm headphone/microphone combo, and two SuperSpeed USB 3.2 Gen 1 ports. The back of the device has three USB 2.0, two DisplayPort 1.1 a ports, a RJ45 and the power port. There is a pull-out card that has the device's bar code and its certifications.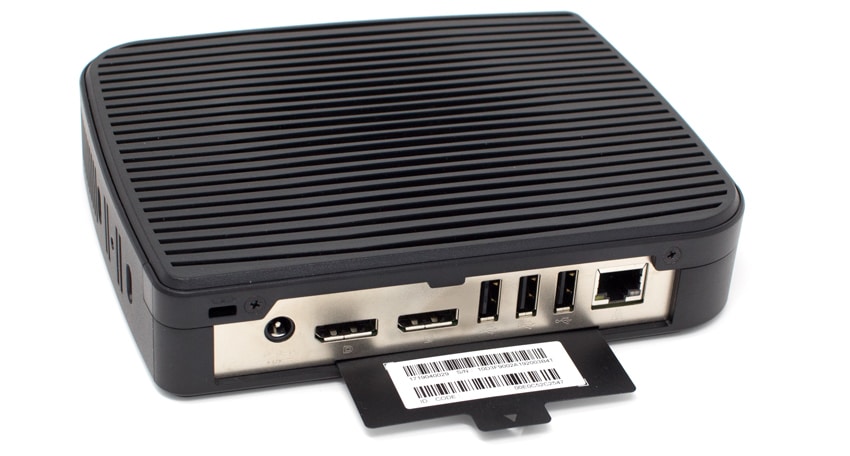 On the bottom of the device are two indents and a threaded hole for the foot stand. The right side of the device can be removed to expose the devices motherboard and GPU. The motherboard is high quality and has a minimum number of chips on it, a large heat sink and two slots for RAM. The UD2 does not have a fan.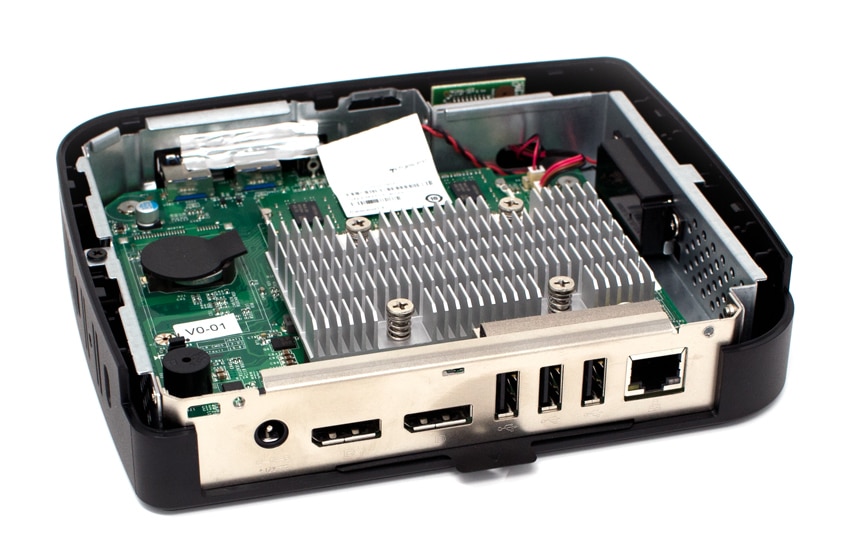 The entire case is made of black plastic with ventilation slots on the top, bottom, and both sides
This is the first VDI client that we have that uses the Intel Atom x5-E8000 Quad-Core processor. This is a 4 core, 4 thread processor with Intel HD Graphics. The CPU has a base frequency of 1.04GHz and a GPU has a frequency of 320 MHz. This processor was initially designed for laptop, tablets, and other portable devices.
Documentation
The thin client did not come with a startup guide but IGEL has extensive documentation about the device on its website. We downloaded the First Steps with IGEL document. This guide was written in English, 40 pages in length and explained how to set up the device.
IGEL OS 11
The IGEL OS 11 is based on Linux that has been optimized for virtual desktops and uses various mechanisms in place to ensure that the OS is highly resistant to being hacked or compromised.
IGEL UD2 Thin Client Usability and Device Setup
The real test of a virtual desktop client is its usability; to test the usability of the UD2, we used the client for two weeks in our Pacific Northwest lab with various configurations. Below are the key results we noted during our time using the client.
For our initial testing we attached a Dell U3219Q monitor to the DisplayPort on the device marked DP1. We like using the Dell U3219Q as the monitors built-in KVM switch is extremely useful during our testing as it allows us to switch between the VDI client and our laptop with the push of a button. For our testing we connected the monitor at 2560×1600 @ 60Hz.
We tested the UD2 with a local VMware Horizon Windows 10 desktop that had 2 vCPUs, 8GB of memory, and 128GB of NVMe-based storage.
The device accessed the virtual desktop via a Cat 6 cable through a 1Gb switch to the ESXi host where the virtual desktop resided. The network was monitored during testing to ensure that no other traffic was present on it.
We powered on the device by pressing the soft touch power button on the front of the device. We were presented with a wizard that allowed us to configure the Language, keyboard, etc. During the configuration process we were given the option on how we would like to license the device. We chose to get a 90-day demo license and were presented with a form that wanted are name, company, etc., and then were told "your license has been fetched" and was then informed us that the device needed to be restarted.

After the system rebooted, we clicked the IGEL Setup icon (wrench) on the left side of the task bar, clicked Horizon Client> Horizon Client Sessions, and clicked the +. This allowed us to setup a connection to our Horizon connection broker. Horizon can use RDP, Blast or PCoIP for the connection protocol. The Horizon client that the device was running was 4.10.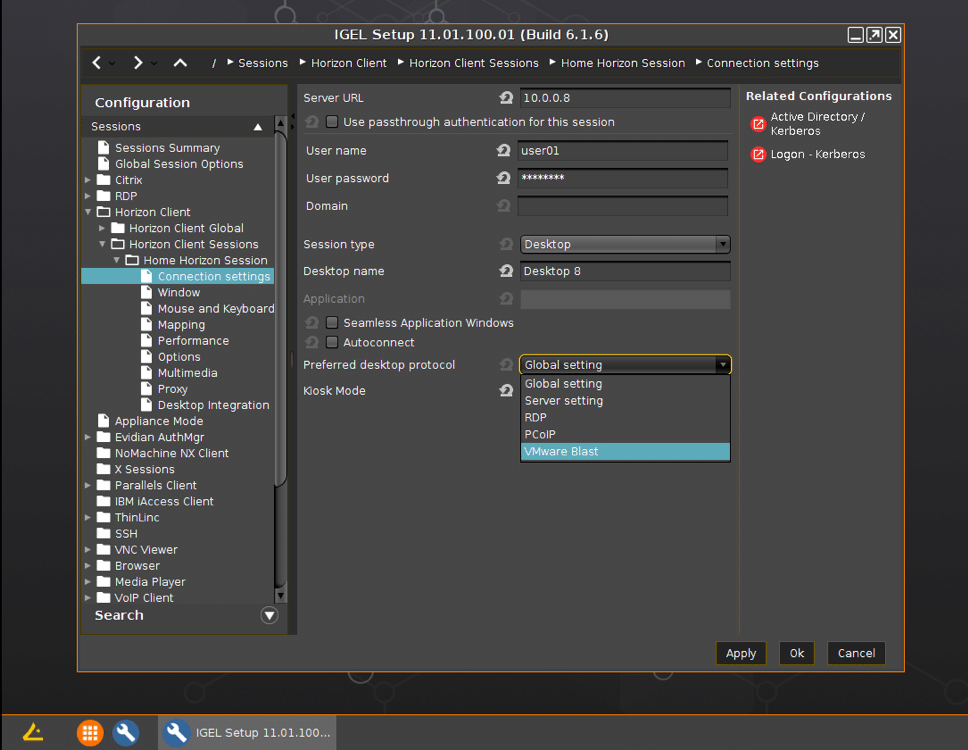 After we configured the Horizon connection it placed an icon on the desktop and in the start menu. We started a Horizon session by double clicking the icon on the desktop.
IGEL UD2 Thin Client Usability
We used the client for two weeks as a personal desktop to test its usability. Below are the key results we noted during this time.
The first test we conducted was to use VLC to play a 640×360 30fps video that was stored on the virtual desktop. We played the video in quarter scale resolution, and then once again in full screen mode. In quarter scale the video was slightly jerky. In full screen mode the video was jerkier. The audio played flawlessly through the devices built-in speaker when the video was displayed in both quarter-scale and full screen modes. The device's built in speaker was barely loud enough for us to hear the audio. In an office environment you would need to have to use a headset or external speakers.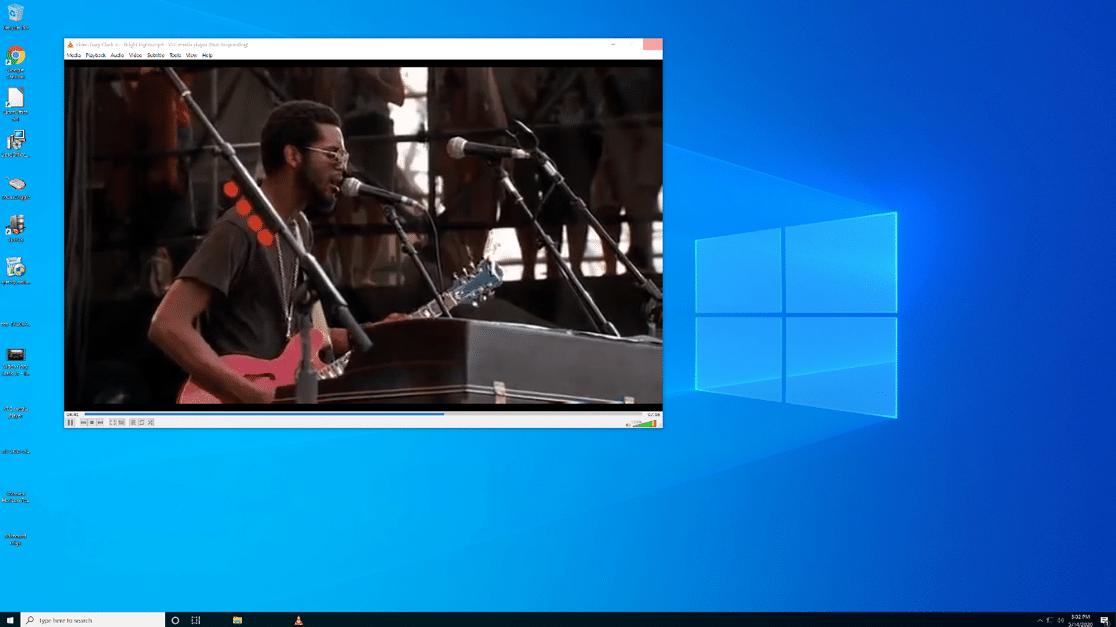 The top command on the IGEL device showed that the CPU usage was between 8-10% when the videos were playing and that the load was spread out evenly over all the CPU cores.
We then used the ControlUp to monitor the virtual desktop when the video was playing and found that CPU usage was ~ 95% and the network was ~8Mbps.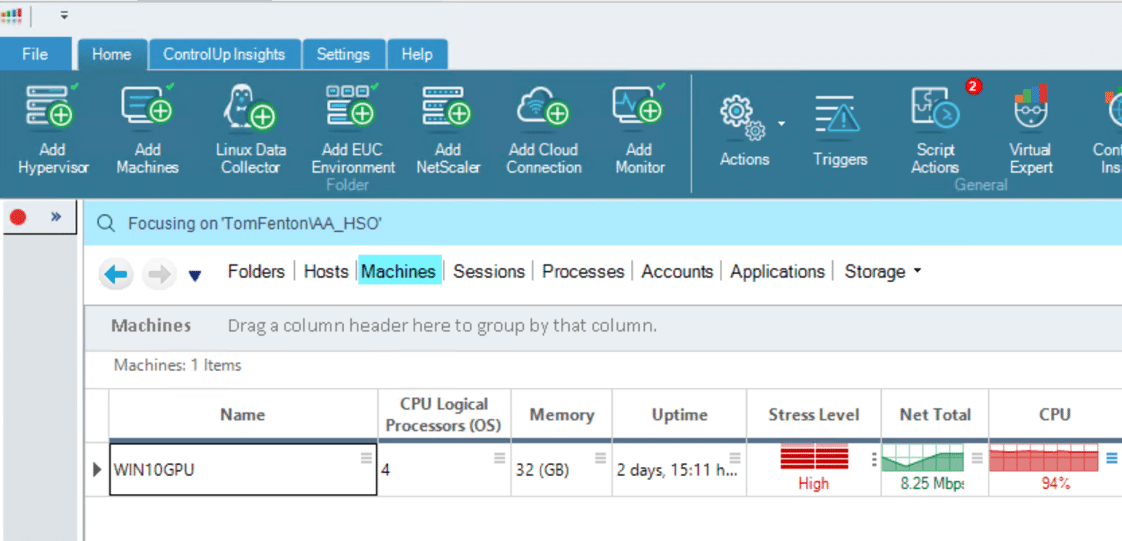 To further test the device, we connected a Jabra Voice 150 headset IGEL UD2 Thin Client to a USB connection on the device. The Jabra headset was discovered by the virtual desktop and worked without any issues.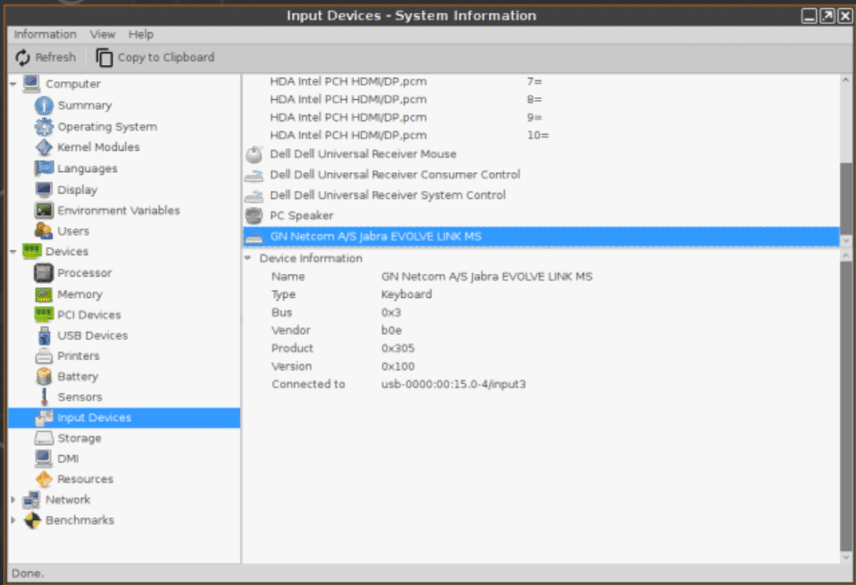 During the time that we worked with the device, we used it for our various daily activities: using Microsoft Office, Chrome web browser, playing internet-streaming music, and other common tasks. During this time, the device performed without any issues.
IGEL OS 11 allows screen shadowing via VNC. We used this feature to capture many of the screenshots we used for this review. To avoid adversely affecting the client's performance we did not use screen shadowing while monitoring the responsiveness of the device.
We enabled screen shadowing by selecting IGEL Setup> System > Remote Access > Shadow >.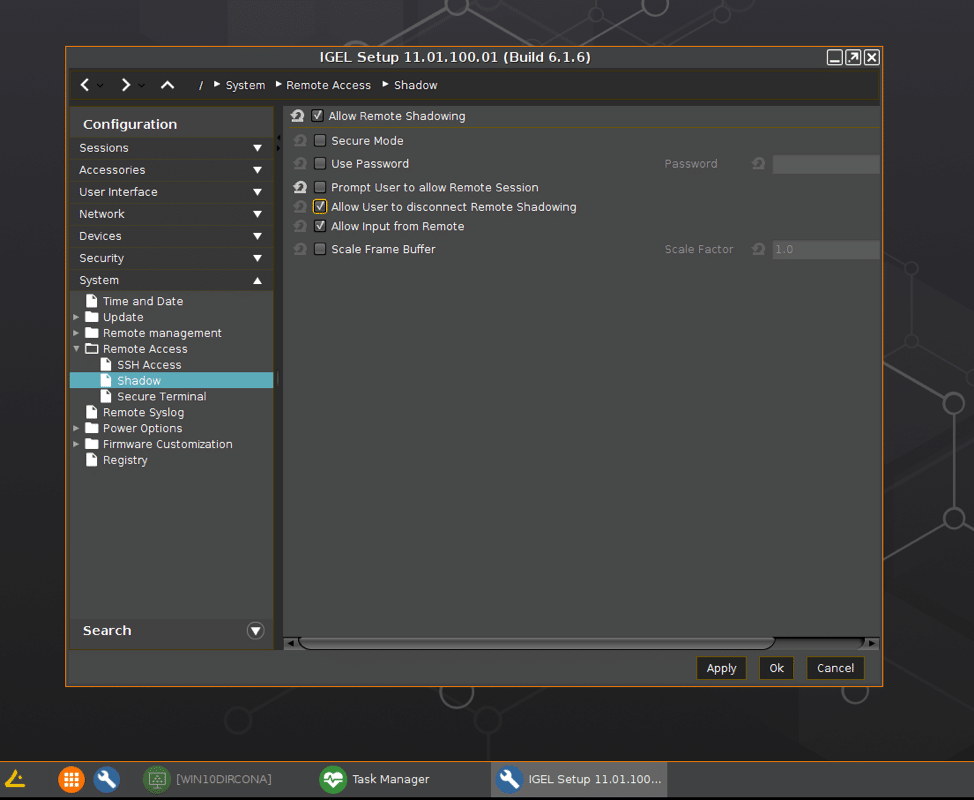 Device Management
The Thin Client can be used with IGEL's Universal Management Suite (UMS), a tool that is used to manage multiple VDI clients from a single portal. Using UMS is beyond the scope of this review.
Using Other Protocols
IGEL advertises the device as working with VMware Horizon Blast, CITRIX HDX, PCoIP, and RDP but we found that when adding a connection, you have the option of using a wide variety of other protocols.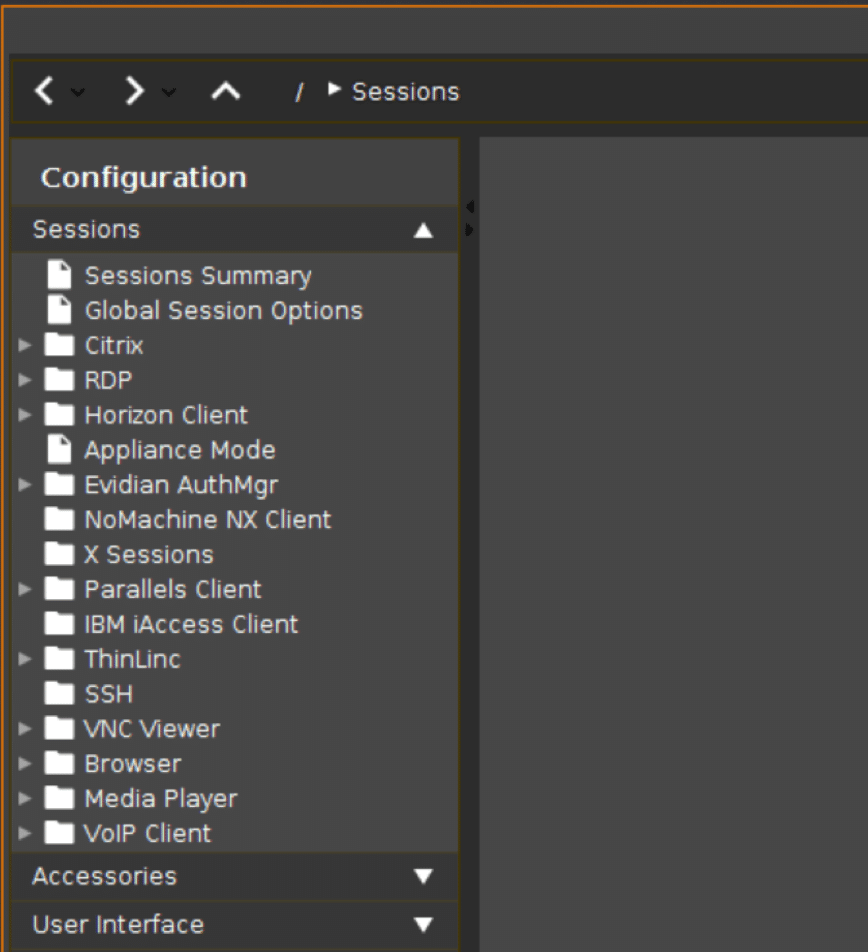 We were able to connect to Linux and ESXi systems using SSH, and to XP and Windows 10 systems using RDP.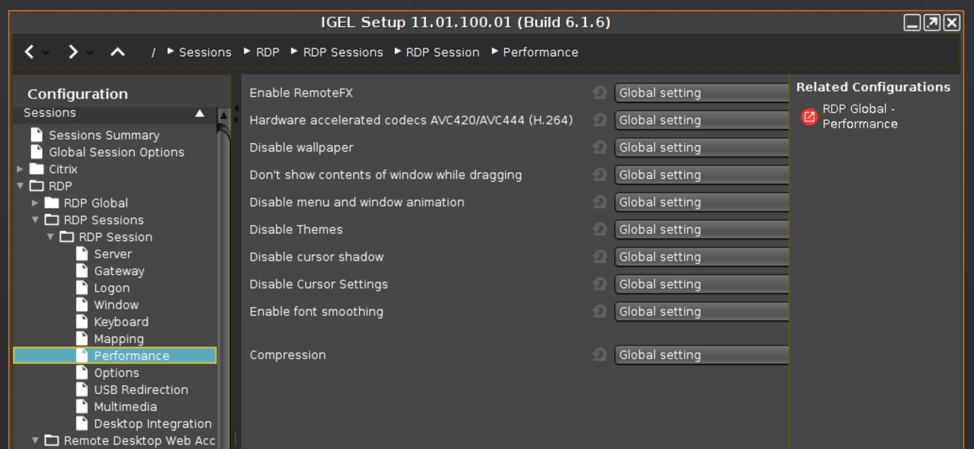 Other Configurations
As this is a basic review of the device, we only tested it using a Horizon desktop; we did not test the device in the following circumstances: adverse network conditions, using communication software such as Skype, or using any of the advanced features of the device such as accessing local USB devices, using it as a print server, etc.
IGEL UD2 Thin Client Configuration
To access the devices settings, we clicked the settings (wrench) icon in the lower left-hand corner of the toolbar. Settings had many different drop-down menus; Sessions (to configure VDI connections), Accessories, User Interface, Network, Devices, Security and System.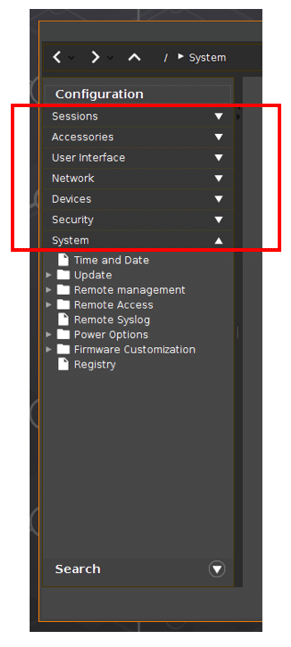 One of the more interesting features that we found in IGEL 11 was under Setup > Accessories > System Information> Benchmarking as this had benchmarking tools such as CPU blowfish and FPU FFT that can be run against the client.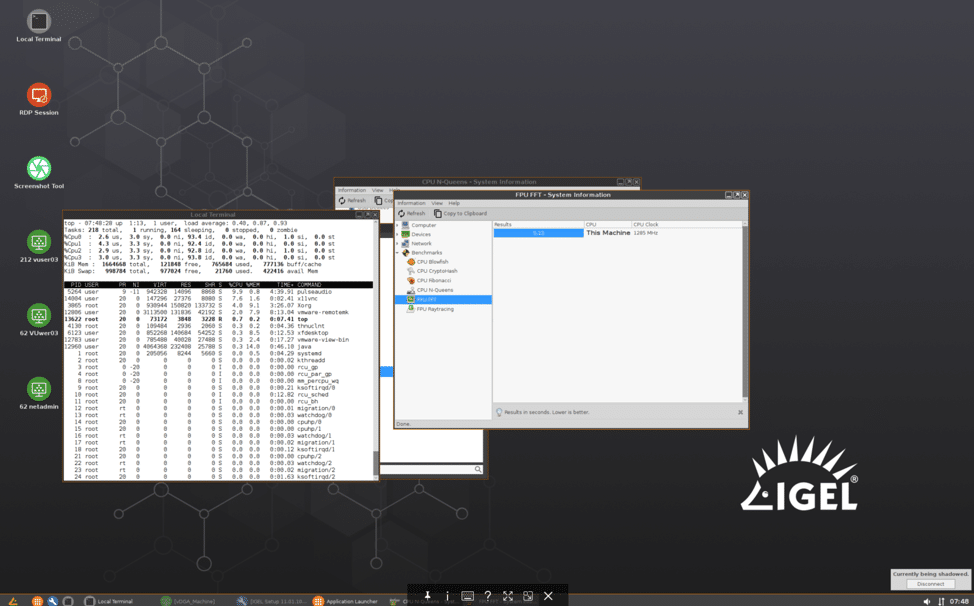 Conclusion
We were pleased with the polish and performance of the IGEL UD2 VDI client and IGEL OS 11. This device should make the shortlist for someone that is looking for a reasonable priced VDI client that supports multiple 2K monitors and needs to work with common applications on a daily basis.
Discuss on Reddit
Engage with StorageReview
Newsletter | YouTube | Podcast iTunes/Spotify | Instagram | Twitter | Facebook | RSS Feed