The Infortrend EonNAS 3510 is a 12 3.5″ bay unified storage offering that's designed to bring easy to manage and cost-effective storage to the SMB and branch/remote office. The EonNAS 3000 family runs on ZFS, which brings a wide range of enterprise features to the platform, without additional licensing fees and expense overhead. ZFS allows Infortrend to deliver features like snapshots, deduplication, thin provisioning, and replication via sync and data integrity throughout the systems. The EonNAS 3510 can also be configured with a variety of interconnect options like 1GbE, 10GbE and Fiber Channel, helping it slot into just about any environment.
The Infortrend EonNAS 3510 is a 12 3.5″ bay unified storage offering that's designed to bring easy to manage and cost-effective storage to the SMB and branch/remote office. The EonNAS 3000 family runs on ZFS, which brings a wide range of enterprise features to the platform, without additional licensing fees and expense overhead. ZFS allows Infortrend to deliver features like snapshots, deduplication, thin provisioning, and replication via sync and data integrity throughout the systems. The EonNAS 3510 can also be configured with a variety of interconnect options like 1GbE, 10GbE and Fiber Channel, helping it slot into just about any environment.
The chassis is a 2U 19″ rackmount unit, with two redundant power supplies and modular design to allow easy servicing of fans and other components. The system is powered by a single storage controller driven by Intel Xeon Quad core processors and 8GB of RAM, upgradable to 16GB. The default configuration is quad 1GbE for interconnect, though Infortrend does offer 10GbE and 8Gb/s FC options. The 3510 supports a variety of SATA and SAS 7,200 RPM hard drives as well as 15K HDDs and can scale to 120 drives via EonStor DS S12S-J2000-G JBOD expanders. For those who need a little more throughput for their data, the EonNAS 3510 also supports up to four SSDs per storage pool (max six pools) for read/write caching.
The EonNAS 3510 has been in the market for a little while and in keeping up with ongoing developments and improvements Infortrend has recently released a subsequent platform, the EonNAS 3012T, which we'll look at in an upcoming review. The 3012T can be upgraded to dual controllers and uses i3 Quad Core processors. Otherwise the systems are very similar with 8GB RAM included and quad-GbE by default.
Each EonNAS 3510 system comes with a 3-year limited hardware warranty with several premium upgrades and extensions available. Our 3510 for review is configured with 7,200 RPM SATA HDDs only.
Our Infortrend EonNAS 3510 Specifications
Single controller
Intel Xeon Quad Core Processor
16GB RAM (upgradeable to 16GB)
Form Factor: 2U 19″
Connectivity

EonNAS 3510: 4x1GbE
EonNAS 3510-1: 8x1GbE
EonNAS 3510-2: 4x1Gbe, 2x10GbE
EonNAS 3510-3: 4x1GbE, 2x8Gb/s FC

12 3.5″ Drive Bays
6Gb/s SAS Interface
SSD Cache Supported – 4 SSDs per Pool
Expandable via JBOD to 120 Drives
File System: ZFS
Virtualization support: VMware, XenServer, Hyper-V
Power Supply: 2x600W
Warranty: 3 year limted hardware
Design and Build
The EonNAS 3510 looks like many other standard 2U rackmount NAS systems, with 12 3.5″ drive bays across the front. The EonNAS also features built-in mounting tabs that pop open to expose screw holes to secure it in a rack environment. The left side's cover includes some warning and indication lights which tells users at a glance what the health of the storage array is. On this particular unit, the powerswitch is located on the rear of the unit, with only an alarm mute button on the front.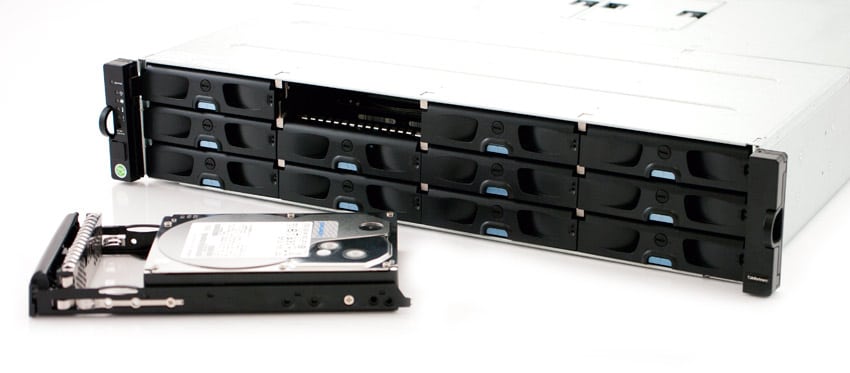 The drive trays are highlighted by sky blue ejection tabs which can be locked to prevent accidental ejection with a flathead screwdriver. To remove a drive users simply press the blue tab which flips up the cover, and pull the tray out. Our particular unit came with trays equipped to handle 3.5″ HDDs only, although Infortrend does sell trays designed for 2.5″ HDDs and SSDs.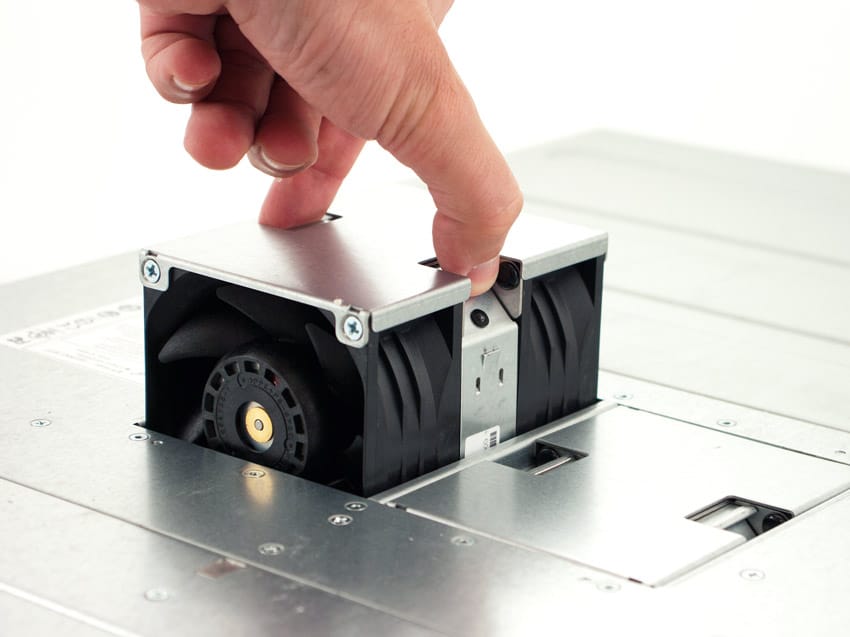 The EonNAS 3510 is designed to be easily serviced, with modular and quick-release components. Users note this right away with service modules on the top of the chassis which hold both of the storage array's primary cooling fans. By squeezing the release clips and lifting the module out, you can replace the system fan in a matter of seconds.

Moving to the rear of the EonNAS 3510 we find the primary connectivity, including network, storage expansion, power and console access. USB ports are also included to connect to items such as external hard drives or a local power backup. For out of band access Infortrend provides a dedicated 1GbE network connection for management functions. For the 3510's main network needs four 1GbE ports are included, labeled Ch0-Ch3.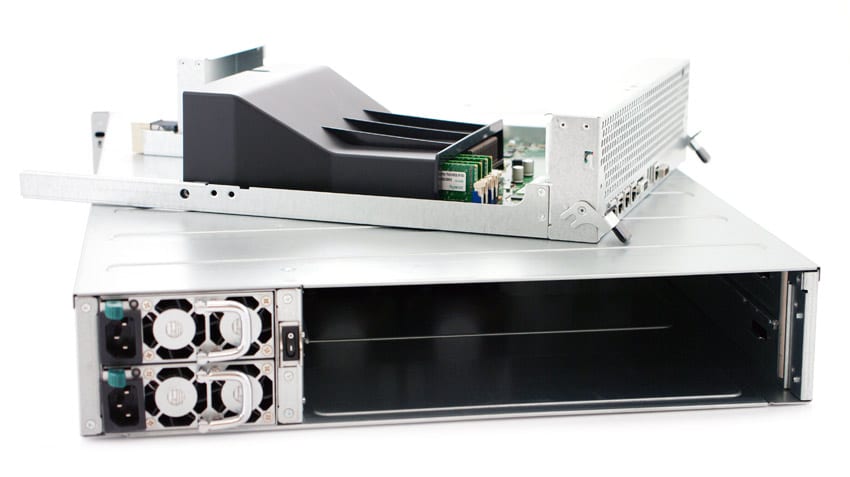 Similar to the easy to service chassis fans, the Infortrend EonNAS 3510 is designed to allow users to slide out the controller assembly in the event of a component failure or a planned upgrade. To remove the assembly, users remove locking screws on both release tabs, then after tilting each tab down slide the tray out.
Management and Operating System
The Infortrend web management is very intuitive and allows users to get their intended task done quickly with very little confusion. Logging into the management screen, users are presented with system stats, including total capacity and usage, CPU and memory stats, and current system activity. From that landing page you can quickly add new users, make new shared folders, or drill into a menu tree option to setup a more advanced system feature.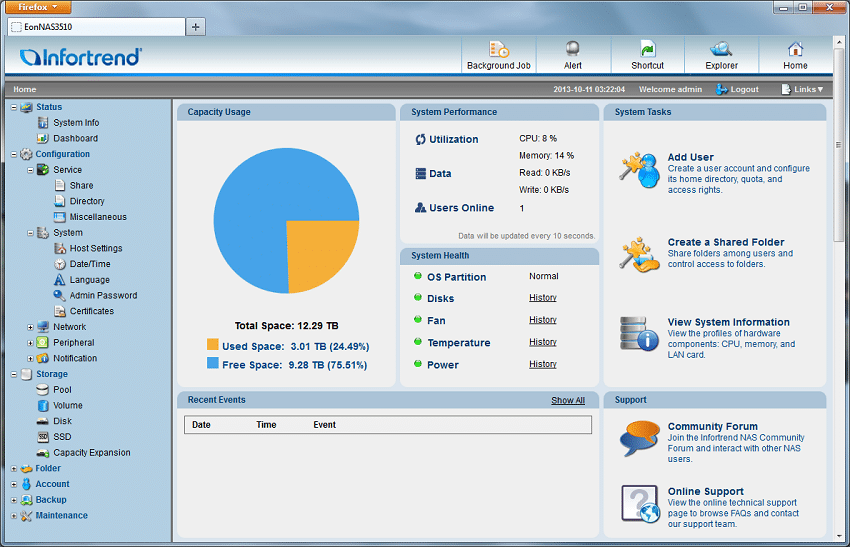 In our review of the EonNAS 3510, we migrated over an eight 7,200RPM HDD RAID5 pool from an existing EonNAS 1310. As shown below, you can create multiple storage pools on the system, which come into play more if you have additional spindles on hand from a storage expansion shelf.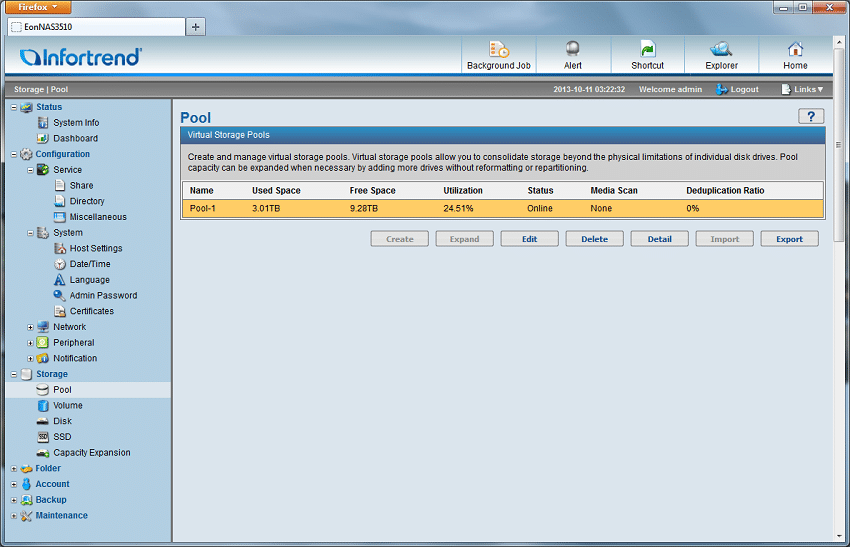 While creating the iSCSI LUNs for our benchmarking environment, you can see some of the advanced features that users gain through the ZFS filesystem. These include standard thin provisioning, deduplication and compression which are all geared towards creating a very dense storage footprint, leaving normally open or untapped storage still available for other tasks.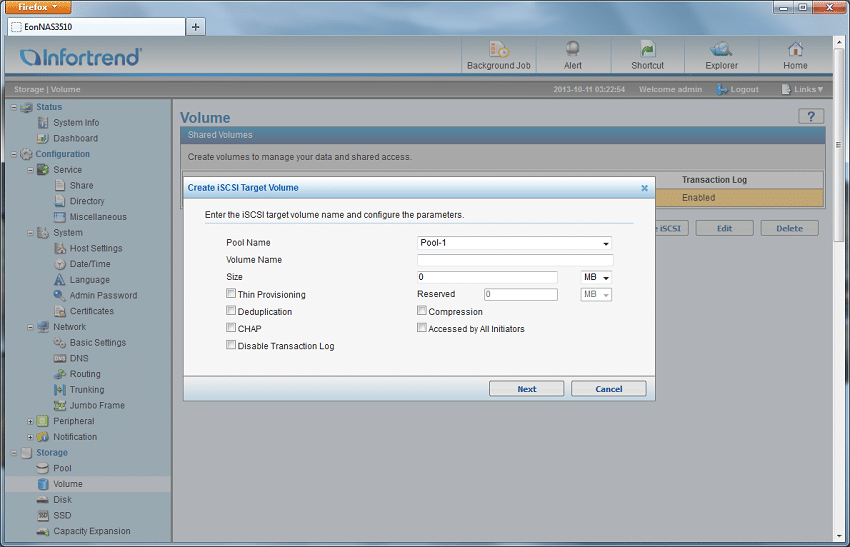 The EonNAS 3510 also supports differential snapshots, which can be easily managed through the web management interface.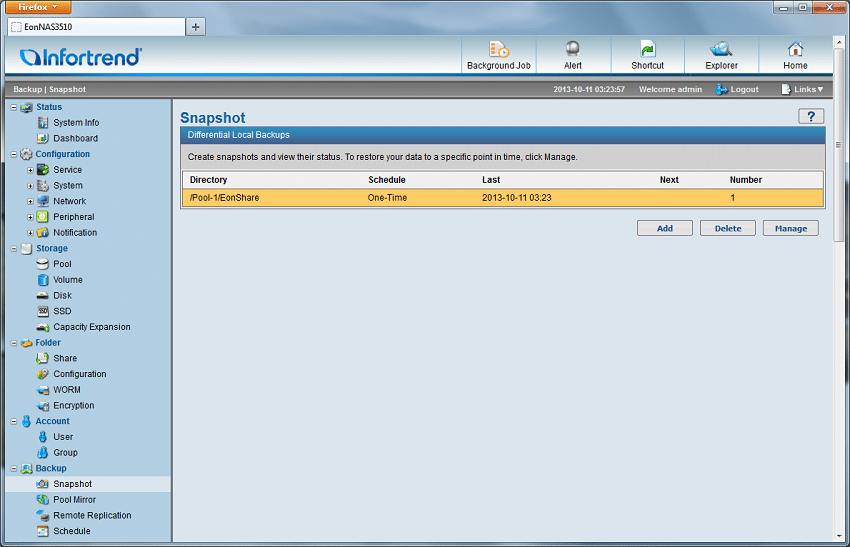 Testing Background
The StorageReview Enterprise Test Lab allows us to provide relevant and unbiased benchmarks of enterprise storage devices by establishing a testing environment comparable to what IT administrators encounter in real datacenter and field deployments. The Enterprise Test Lab incorporates a variety of servers, networking, power conditioning, and other infrastructure to design real-world configurations that accurately reflect the performance of storage devices during reviews.
We incorporate details about our lab environment and testing protocols into the review so that administrators and those responsible for equipment acquisition can fairly gauge the conditions under which we have achieved these published results. None of our reviews are paid for or controlled by the manufacturer of equipment we are testing. Additional details about the StorageReview Enterprise Test Lab and an overview of its networking capabilities are available on those respective pages.
In order to fairly evaluate the performance of the Infortrend EonNAS 3510, we need an environment that ensures that the 3510 is the I/O bottleneck rather than the network. Therefore this review employs a Lenovo ThinkServer RD240 running multiple Windows Server 2012 VMs in an ESXi 5.1 environment connected via a quad-port Intel i350-T4 NIC through a Netgear ProSafe GS752TXS switch.
2 x Intel Xeon X5650 (2.66GHz, 12MB Cache)
Windows Server 2008 Standard Edition R2 SP1 64-Bit running on VMware ESXi 5.1
Intel 5500+ ICH10R Chipset
Memory – 32GB (4 x 8GB) 1333Mhz DDR3 Registered RDIMMs
Netgear ProSafe GS752TXS Smart 52-port Switch
48 1GbE Ports, 4 10GbE SFP+ Uplink Ports
176Gbps Aggregate Bandwidth
Enterprise Synthetic Workload Analysis
The StorageReview Enterprise Synthetic Workload Analysis includes common sequential and random profiles intended to reflect real-world activity. These profiles are based on similarity with historical benchmark protocols as well as to help compare against widely-published values such as 4K read and write speed and the 8K 70/30 benchmark which is often used to evaluate enterprise drives. To show how the upgraded system components of the EonNAS 3510 affect storage performance, we pit the array head to head against the older EonNAS 1310 using the same hard drives and storage pool configuration. This included eight 2TB Hitachi 7,200RPM SATA HDDs in a RAID5 configuration.
4K (Random)
8K (Sequential)
8K 70/30 (Random)
128K (Sequential)
In the first of our enterprise workloads interfacing over 1GbE, we measured a long sample of random 4k performance with 100% write and 100% read activity to get our main results. The EonNAS 3510 provided a nice boost in performance over the previous-generation 1310 on the same hard drives in both iSCSI and SMB, measuring 365 IOPS read and 232 IOPS write and 316 IOPS read and 156 IOPS write respectively. While the boost in performance between generations was great, it also shows how much of an impact ZFS has on random I/O performance. Non-ZFS based NAS's from vendors such as Synology (granted they don't offer deduplication or compression or enhanced error correction) provide double or triple the random I/O performance from fewer and even slower spindles.

In our main average latency segment with a load of 16T/16Q, we measured an average read response time of 700ms and 1,100ms in iSCSI, while SMB measured 808ms read and 1,637ms write.

With a high effective queue depth of 256 the EonNAS had a peak response time of 1,734ms read and 16,913ms write over iSCSI, while SMB peaks measured 3,244ms read and 4,631ms write.

Comparing latency consistency between the EonNAS 3510 and 1310, we saw slightly better standard deviation from the 1310 in both iSCSI and SMB tests over the 3510.

Compared to the fixed 16 thread, 16 queue max workload we performed in the 100% 4k write test, our mixed workload profiles scale the performance across a wide range of thread/queue combinations. In these tests, we span workload intensity from 2 threads and 2 queue up to 16 threads and 16 queue. In the expanded 8k 70/30 test, the EonNAS 3510 offered iSCSI performance that scaled from 149 IOPS at 2T/2Q to 232 IOPS at 16T/16Q and SMB performance that ranged from 109 IOPS at 2T/2Q to 212 IOPS at 16T/16Q.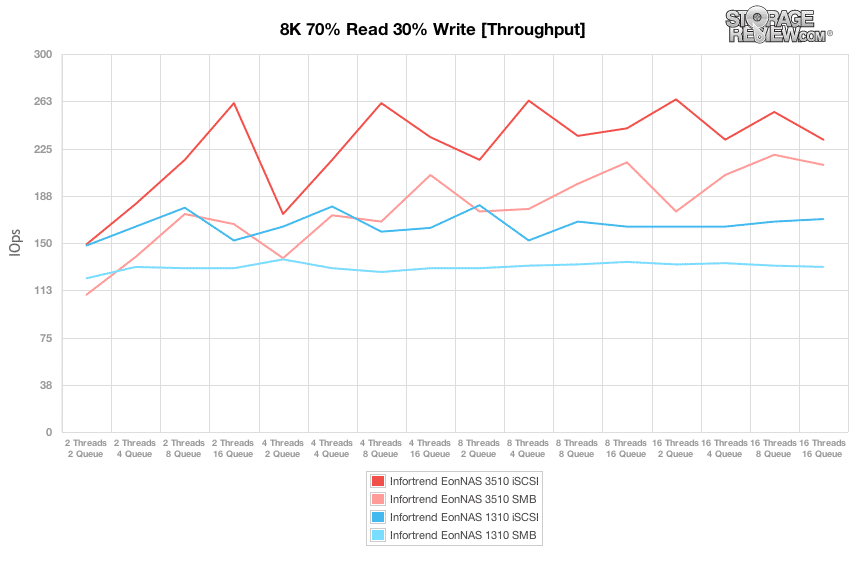 Looking over the 8k 70/30 average response times, the EonNAS 3510 scaled its average response times from 26.6ms at 2T/2Q to 1096ms at 16T/16Q in our iSCSI workload. In our SMB workload, we measured an average response time measuring from 36.3ms at 2T/2Q up to 1196ms at 16T/16Q.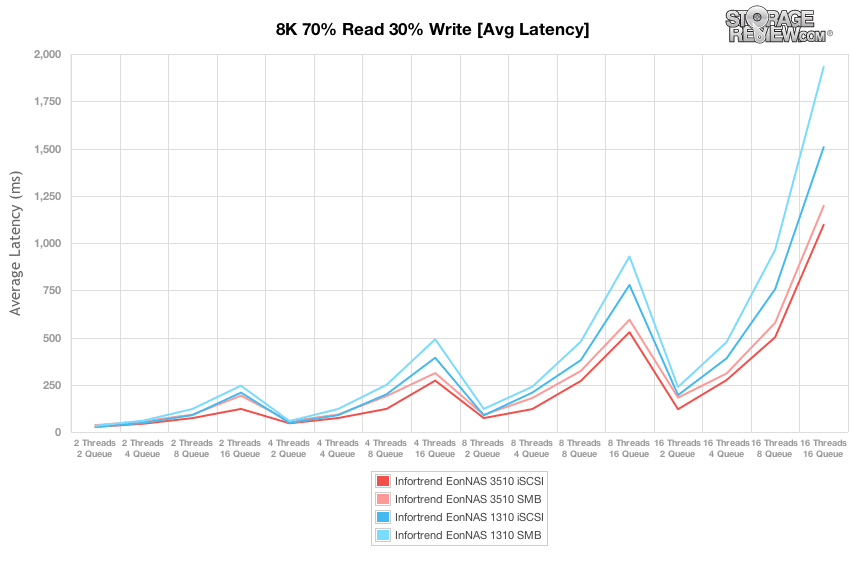 Over the duration of our primary tests at varying thread and queue depth levels in our random 8k 70/30 test, the EonNAS 3510 was able to suppress peak response times better than the EonNAS 1310. With both products, iSCSI and SMB latency trades places throughout the test for lower latency peaks.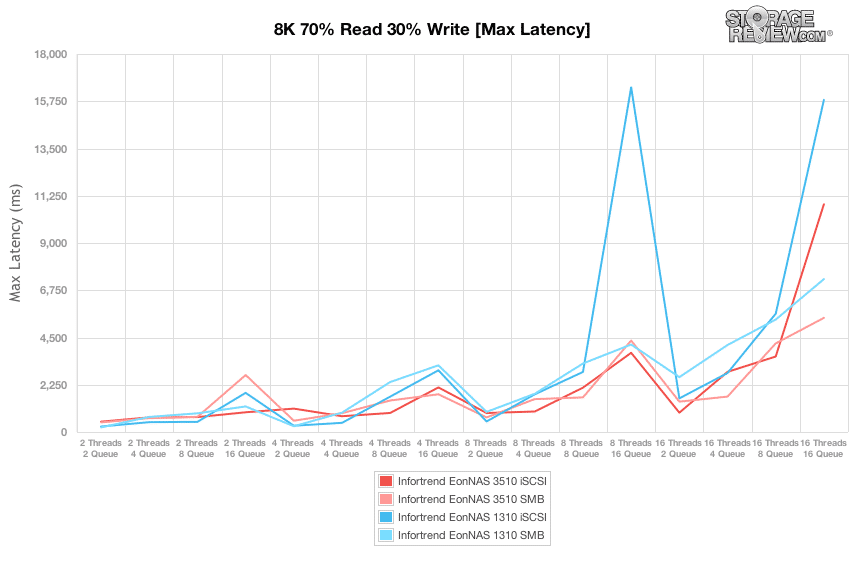 Drilling down into latency consistency in our 8K 70/30 test with the EonNAS 3510 and 1310, we saw better standard deviation from the 3510 overall, with iSCSI having the edge over the duration of the test.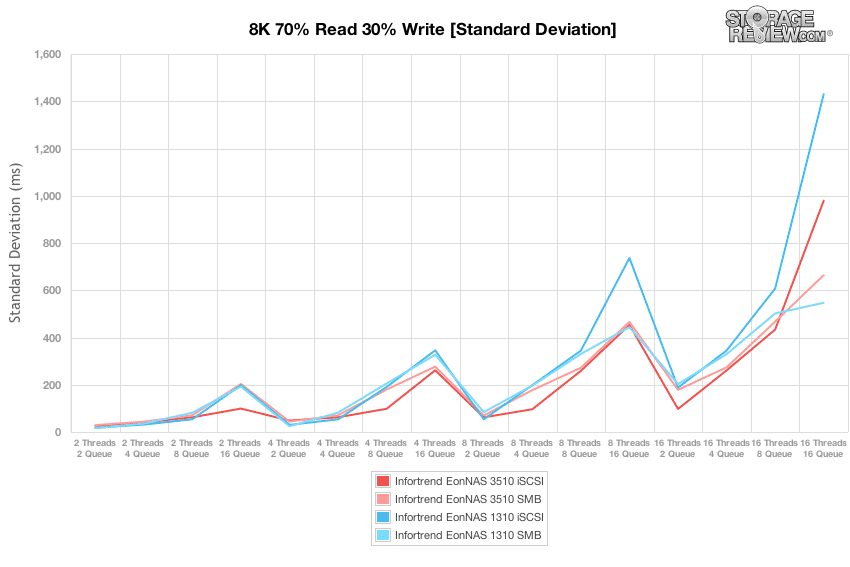 In our 8k sequential 100% read and 100% write workload, the EonNAS 3510 stepped up its throughput significantly in part that ZFS can handle sequential workloads much better than random of the same transfer size. Over a quad-1GbE iSCSI setup the EonNAS 3510 offered 53,700 IOPS read and 47,170 IOPS write, with SMB performance coming in significantly lower at 16,422 IOPS read and 17,606 IOPS write.

Our last test looks at large-block sequential transfer speeds, with a 100% read and 100% write 128k transfer size. In this test the EonNAS 3510 continued to saturate its 1GbE connections with 462MB/s read and 399MB/s write over iSCSI and 352MB/s read and 233MB/s write over SMB.

Conclusion
The Infortrend EonNAS 3510 is 12, 3.5″ bay 2U NAS that comes with plenty of interconnect flexibility including 1GbE, 10GbE and 8Gb/s FC. The chassis itself is well-made and includes the features you'd expect in a NAS in this class, like modular fans, power supplies and cable-free easy-access to the controller board which makes service or upgrades easy to administer. On the software side the EonNAS 3510 has plenty to offer, leveraging the ZFS file system for advanced features like snapshots, thin-provisioning, compression and deduplication. The EonNAS also supports SSD cache for accelerating both read and write activity.
Our 3510 came with 7,200 RPM HDDs, which we also used a prior generation 1310 8-bay 2U NAS to show the difference between the two systems. The newer 3510 with a quad-core CPU was routinely well out in front of the 1310 with an older dual-core CPU, posting better iSCSI and SMB performance throughout. That's to be expected though, the key learning is that Infortrend continues to scale their offerings, thanks in part to their ODM partners.
While performance improved over generations, we did note weaker random I/O performance from the EonNAS platform running ZFS compared to traditional EXT3/EXT4-based Linux NAS systems. The trade-off though is without ZFS many of the advanced features in a system of this class wouldn't be available. Sequential performance easily saturated the networking interfaces of both systems, where ZFS had no trouble keeping up. Overall the Infortrend EonNAS 3510 was a breeze to get operational and offered plenty of options to make it a valued part of an SMB network ecosystem.
Pros
Huge license-free feature set thanks to ZFS
Quality hardware build
Excellent sequential transfer speeds
Cons
Slow random I/O performance from high ZFS overhead
Bottom Line
The Infortrend EonNAS 3510 operates in a crowded NAS space that's full of players. The 3510 is relatively easy to work with and offers SMBs a full-featured NAS solution that's free from expensive licensing requirements.