Intel's success with the X25-M has been quite remarkable. Not only has the drive sold more than any other SSD on the market, it's had a solid track record for reliability and compatibility as well. It's with great anticipation that we've been waiting for Intel's next generation SSD – now it's here, the Intel SSD 510. Intel continues to build on their new naming scheme, the SSD 310 is their little mSATA SSD and now the SSD 510, a mainstream SSD leveraging a SATA 6Gb/s interface and 34nm NAND to yield speeds of up to 500MB/s sequential reads and 315MB/s writes for the 250GB capacity. Intel also offers a 120GB capacity that posts speeds of 450MB/s and 210MB/s.
Intel's success with the X25-M has been quite remarkable. Not only has the drive sold more than any other SSD on the market, it's had a solid track record for reliability and compatibility as well. It's with great anticipation that we've been waiting for Intel's next generation SSD – now it's here, the Intel SSD 510. Intel continues to build on their new naming scheme, the SSD 310 is their little mSATA SSD and now the SSD 510, a mainstream SSD leveraging a SATA 6Gb/s interface and 34nm NAND to yield speeds of up to 500MB/s sequential reads and 315MB/s writes for the 250GB capacity. Intel also offers a 120GB capacity that posts speeds of 450MB/s and 210MB/s.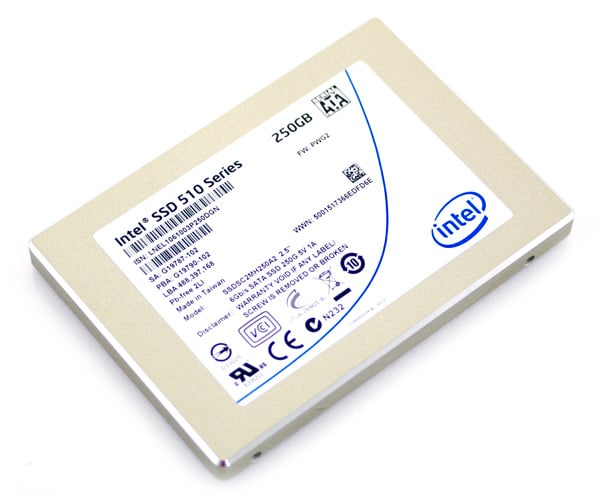 While the quoted numbers for the SSD 510 aren't quite as scorchng hot as the Vertex 3 for instance, Intel isn't trying to claim the top spot for enthusiasts. The SSD 510 is all about leveraging the updated SATA interface to deliver a huge boost in performance over the prior generation, while still maintaining the reliability and compatibility message Intel has been talking about for a long time. This helps frame certain design decisions Intel has made, while also questioning some others. Let's dive into the key points now.
First off is the NAND decision, Intel is sticking with their own 34nm NAND, which we know to be more expensive than the up and coming 25nm NAND. But it's also a known entity, realiable and despite what some would say, still quite available in the marketplace. Second, and perhaps more importantly, Intel has decided to use the Marvell 88SS9174-BKK2 controller, instead of their own. This limits some of their value proposition, largely because anyone can buy that controller and use it, in fact some already are, like Plextor, Crucial and Corsair. If nothing else, the controller decision may point to the fact that Intel felt pressured to get a new SSD to market and felt they needed to use existing parts to do so. It remains to be seen however, what happens going forward as Intel develops their newly branded SSD X10 lineup.
While we do find the processor decision to be curious, we're not ready to hold up, what is by now an "experienced" Marvell processor, as a negative. In the end, SSD success still comes down to three core pillars — Performance, Reliability and Compatibility. As we've said, if anyone deserves some degree of a pass on the latter two, it's Intel. As we have few ways to test those two issues, their brand and SSD history have earned credit there. Setting those issues aside though, let's dive into performance and see what this new Intel SSD 510 is all about.
Intel SSD 510 Specs
250GB and 120GB capacities
250GB formatted capacity – 232.37GB
SATA 6Gb/s interface
250GB speeds – 500MB/s read, 315MB/s write
120GB speeds – 450MB/s read, 210MB/s write
34nm Intel NAND
2.5″ form factor with mounting kit included
9.5mm drive height
1.2 million hours MTBF
Power consumption – 380mW active, 100 mW idle
3-year warranty
Compatible with Intel toolbox
Aesthetics

Intel has changed design from the older X25-family for the new 250GB SSD 510. The previous design made all models 7mm in size, with a shim to bring the total height to 9.5mm. The new 510 SSD is 9.5mm tall, with sleek metal alloy case making up both halves of the body. The finish is ash gold with a nice matte texture to limit fingerprints and other smudges from showing when out on display inside your desktop case (or hidden away inside your notebook).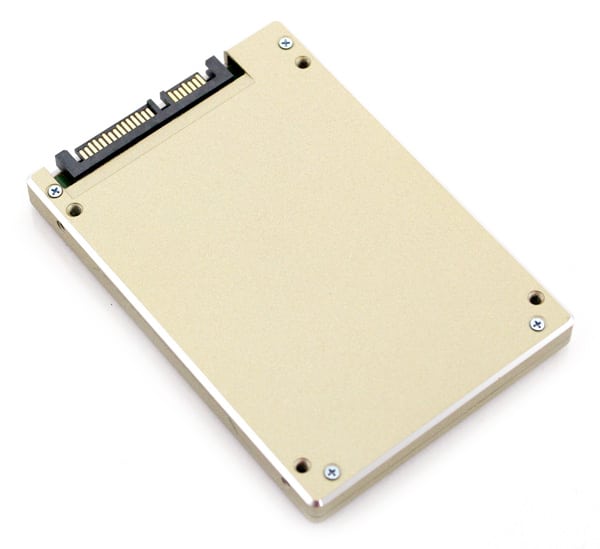 The bottom of the Intel 510 SSD is bare, without any labels or even a "warranty void if removed" sticker. The only feature to take note in is the four Phillips head screws for easy disassembly.

The front of the case has a standard SATA/power interface without any debug mode pins visible. From the front and side profiles you can see the nice 45-degree cut edge around the perimeter of the case, adding a touch of style to a pretty basic design.

Disassembly
The Intel 510 SSD is easy to disassemble by removing four Phillips head screws on the bottom of the drive. No warranty stickers were visible on our review model, but being early production or pre-production means it still could be on the final consumer shipping version. There is no need to take your SSD apart under normal use.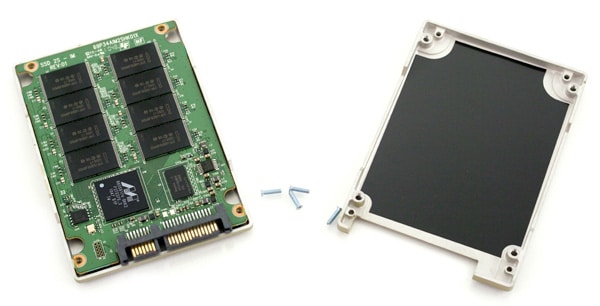 We were kind of shocked to say the least when we first cracked open the new Intel 510 SSD. In our briefings, Intel never mentioned they were switching to a non-Intel controller. As noted earlier, I suppose it may make sense from an ease of use and reliability standpoint to use the Marvell 88SS9174 controller. It is a known quantity and already supports the faster SATA 6.0Gb/s speeds.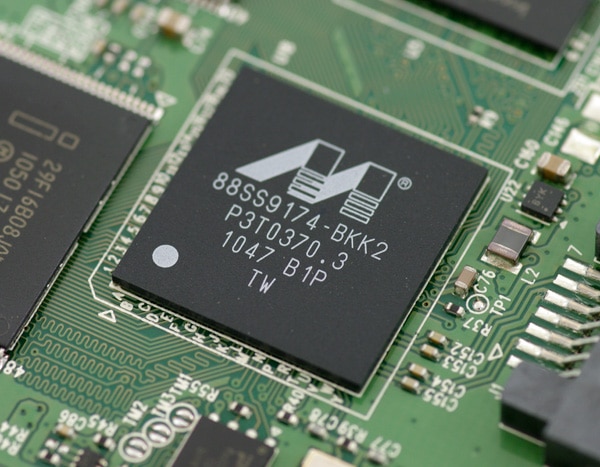 As with other SSDs using the Marvell 88SS9174 controller, the Intel 510 SSD also pairs it up with 128MB of DDR3 DRAM for cache.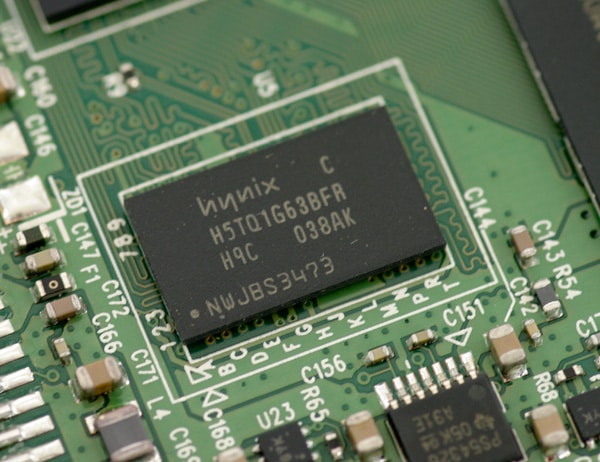 The flash memory in the Intel 510 SSD is 34nm Intel-made NAND, which was expected from the start. Even as other manufacturers start transitioning to 25nm flash, Intel has decided to stick with the older 34nm NAND for a while. The 250GB Intel 510 includes 16 29F16B08JAMDD 34nm Intel MLC ICs, which gives it a formatted capacity of a bit over 232GB.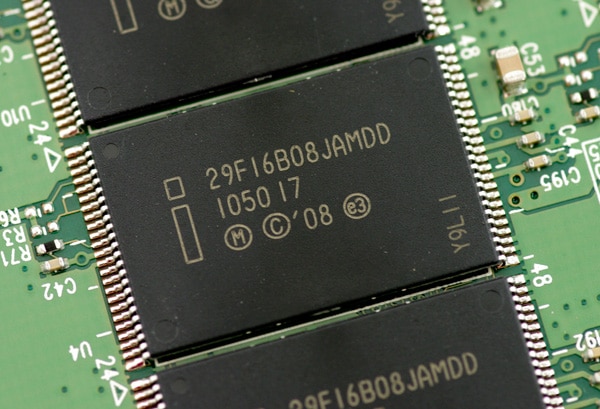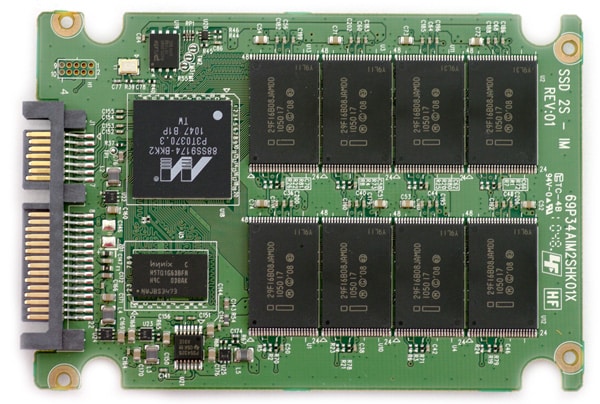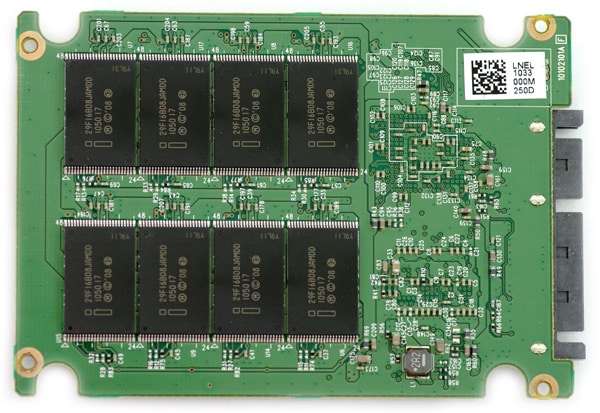 Synthetic Benchmarks
If you haven't noticed already, the latest next-generation SSDs are made with SATA 6.0Gbps in mind. While they don't exactly tank in performance without the latest motherboard or RAID card, you still lose out on a lot of untapped potential. To clearly illustrate this point we tested the Intel SSD 510 through our Dell XPS 9000 with its ICH10R SATA 3.0Gbps chipset and our SATA 6.0Gbps LSI 9260-8i RAID card. Users installing this inside notebooks will most likely see a small decline from our results tested in a desktop environment.
The Intel SSD 510 is aimed squarely at the market of individuals looking for a fast, reliable, and affordably priced SSD. This means Intel didn't set out to break speed records; instead focused mainly on users who rate reliability at least equal to performance. With that said though, the SSD 510 is no slouch on the test bench as you will see.
Intel rates the SSD 510 with an average sustained read speed of 500MB/s and a sustained write speed of 315MB/s for the 250GB model. To test these claims we start with IOMeter set to measure the average speed of 2MB sequential transfer requests.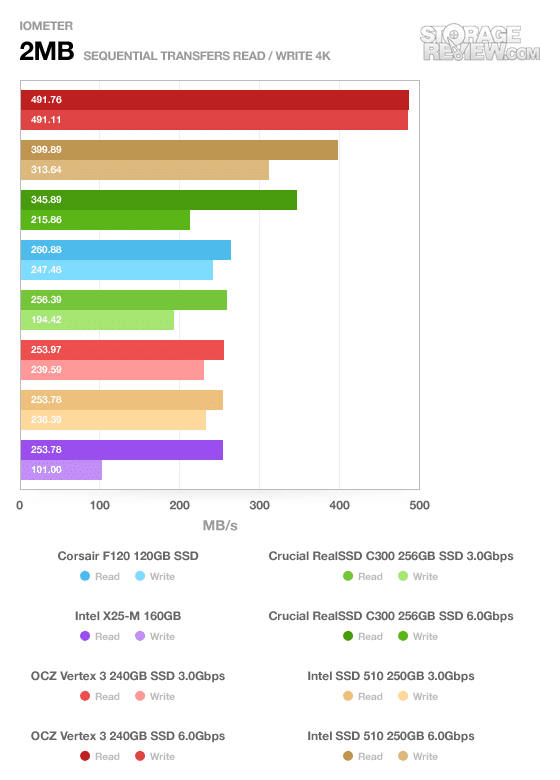 Through our LSI 9260 RAID card we measured an average read speed of 399MB/s and a write speed of 313MB/s. The read speed is about 100MB/s slower than claimed, although results might change going through a non-RAID card. Through the Intel ICH10R AHCI connection we measured 253MB/s and 236MB/s for read and write speeds respectively.
With most transfers not being sequential in the real world—unless you transfer data to and from an external drive a lot—you generally deal with random transfers. For this area we switch to a 2MB random transfer with IOMeter.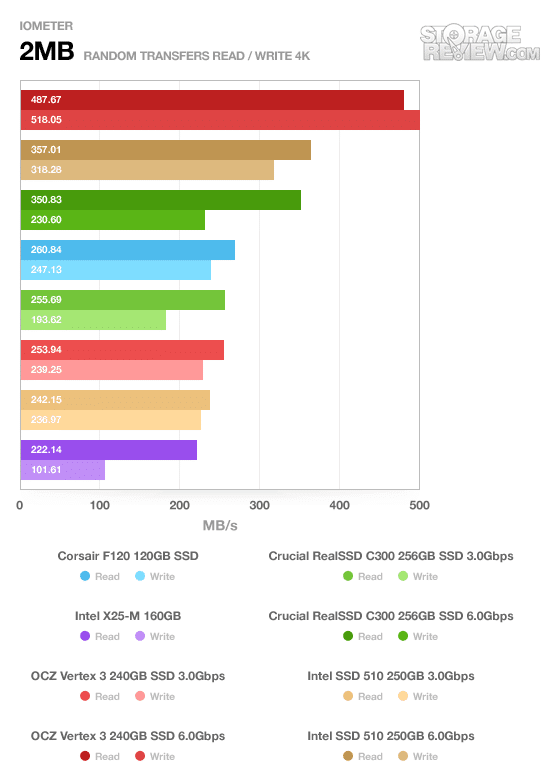 In the random transfer test the Intel SSD 510 measured 357MB/s read and 318MB/s write. Still solid numbers, but not anywhere near the speed of the OCZ Vertex 3. On the slower Intel 3.0Gbps interface we measured 242MB/s read and 237MB/s write.
The next section looks at the pure random performance and the widely advertised 4K random write speed that most SSD manufacturers like to list on their spec sheets. In this section we cover IOMeter 4K read and write speeds with 4K-alignment, 4K write latency, as well as 4K write performance between as queue depths increase.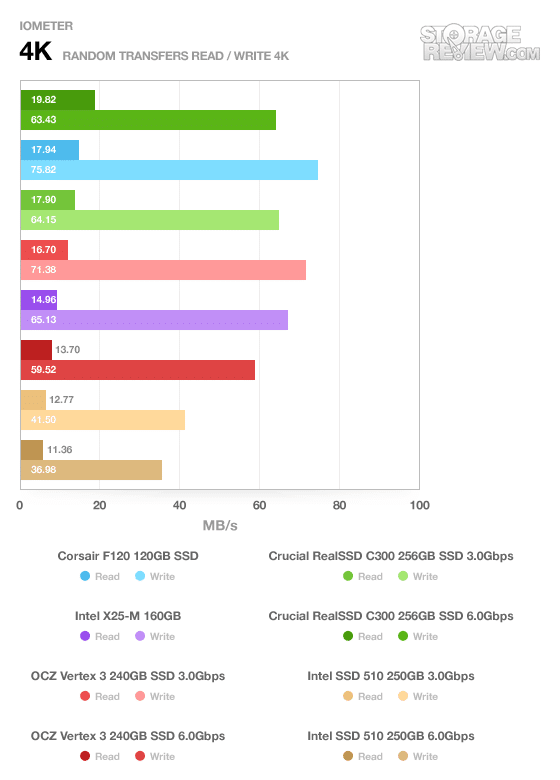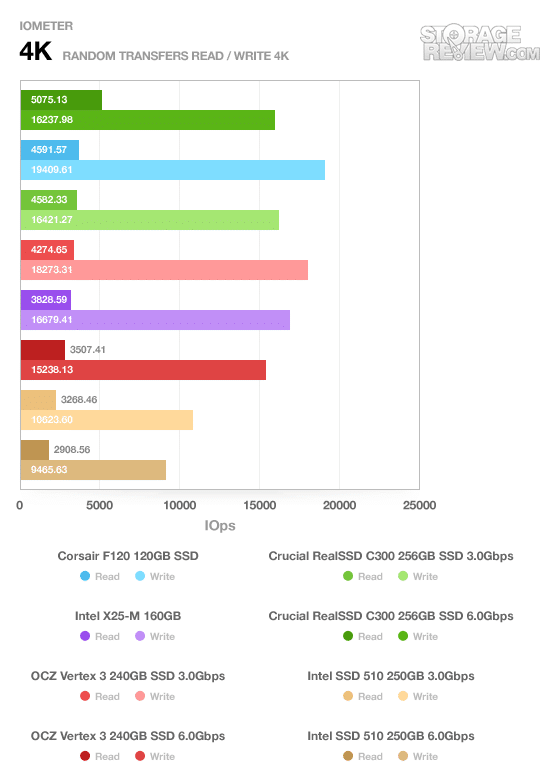 With a queue depth of one we see that the new Intel SSD 510 actually falls behind the previous 160GB Intel X25-M in both read and write speed on both SATA 6.0Gbps and SATA 3.0Gbps interfaces.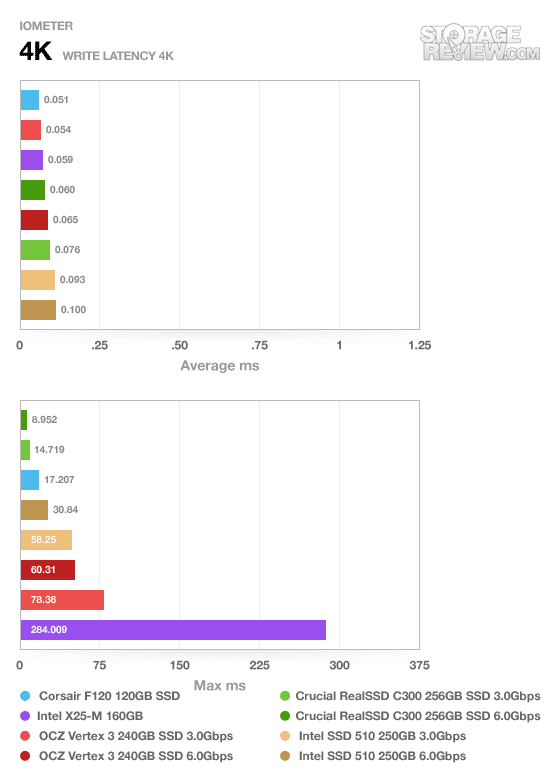 The write latency and peak response times of the new SSD 510 were still quite respectable, although they still don't stack up to the previous generation drives.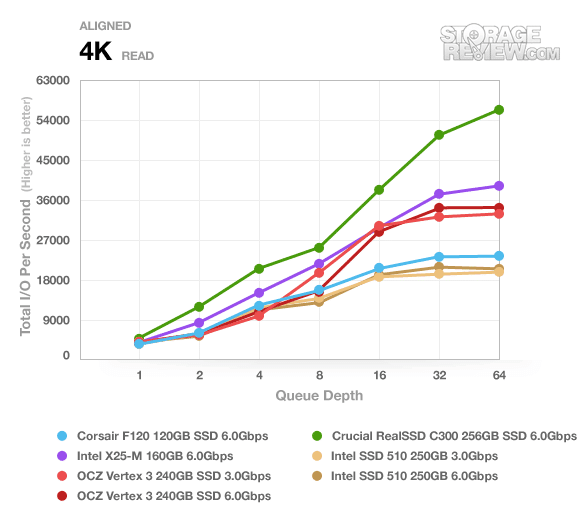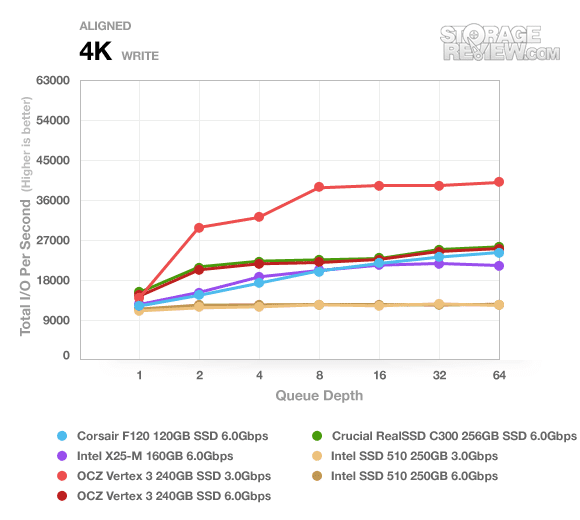 Looking at the performance of the Intel SSD 510 in a multithreaded setting with ramping I/O traffic, it's surprising to see there is no scaling in 4K write speeds as the queue depth increases. Each competing drive, including the C300 with a similar controller, gains speed as the load is ramped up.
The Intel SSD 510's performance in CrystalDiskMark shows higher peak speeds which are probably more indicative of the burst speeds of the drive versus sustained transfers. With a peak of 537MB/s write and 326MB/s read, it is much closer to the advertised speed of the drive.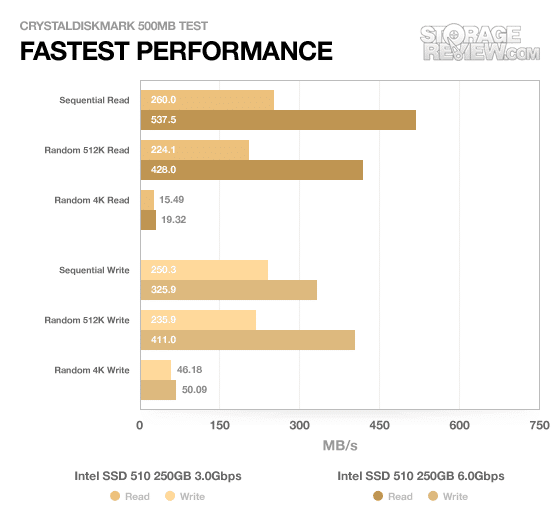 In the following section we compare the Intel SSD 510 to other competing models in standardized server profile tests. These tests look at the drives performance under a multiuser environment and look at performance levels under multiple concurrent requests. As you can see below, even with its lacking 4K random write speeds, it still manages to hang towards the back of the pack in all tests.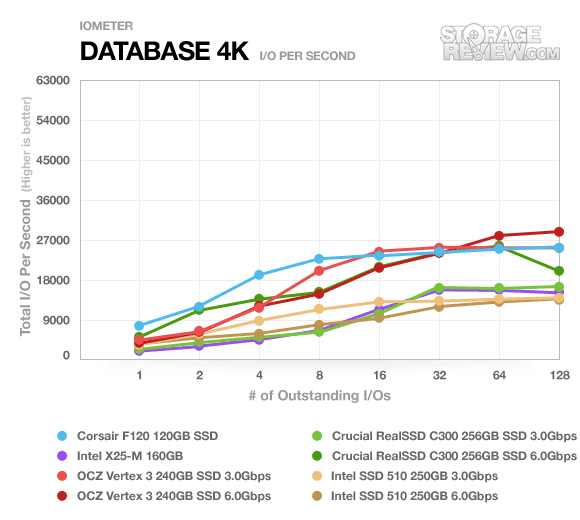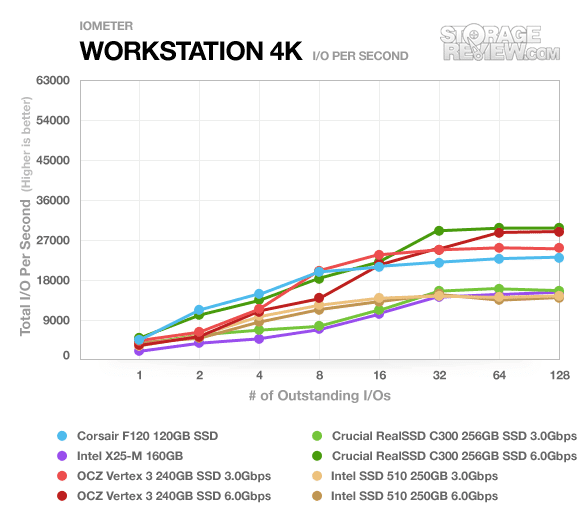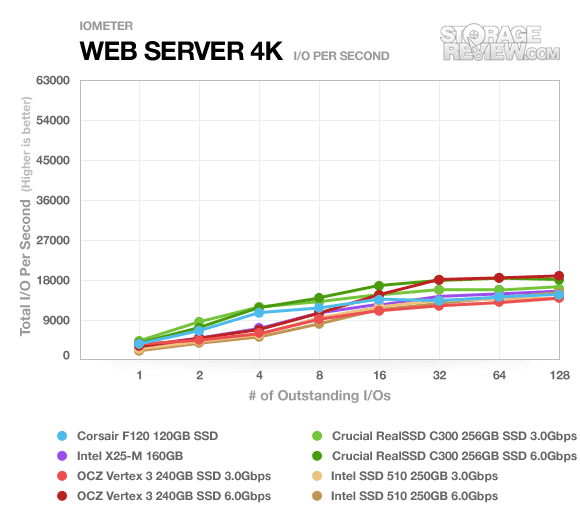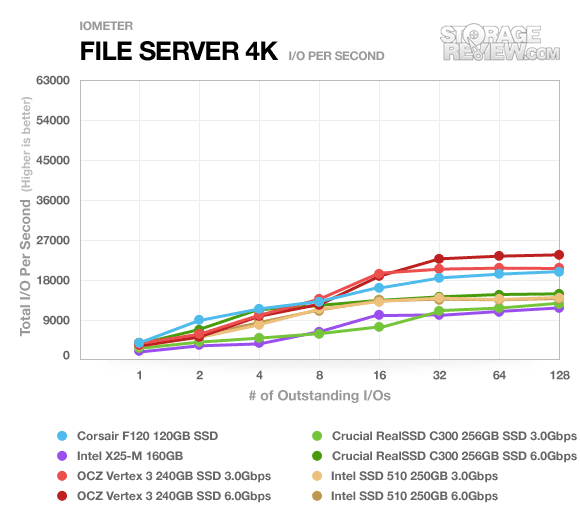 Real-World Benchmarks
If you just tuned in to see how the Intel SSD 510 performs in pure synthetic benchmarks, you might be put off by its performance compared to past generation models. If that's the case, you might want to keep reading as this drive is no slowpoke in our real-world benchmarks.
If you are new to StorageReview, one thing we try to focus on is how any given drive might perform under real-world conditions. For the average user, trying to translate random 4K write speeds into an everyday situation is pretty difficult. It helps when comparing drives in every setting possible, but it doesn't exactly work out into faster everyday usage or better game loading times. For this reason we turned to our StorageMark 2010 traces, which include HTPC, Productivity, and Gaming benchmarks to help readers find out how a drive might perform under their conditions.
In this set of real-world traces we put the Intel SSD 510 in SATA 3.0 and 6.0Gbps modes up against the Crucial RealSSD C300, OCZ Vertex 3 and Corsair Force F120.
The first real-life test is our HTPC scenario. In this test we include: playing one 720P HD movie in Media Player Classic, one 480P SD movie playing in VLC, three movies downloading simultaneously through iTunes, and one 1080i HDTV stream being recorded through Windows Media Center over a 15 minute period. Higher IOps and MB/s rates with lower latency times are preferred. In this trace we recorded 2,986MB being written to the drive and 1,924MB being read.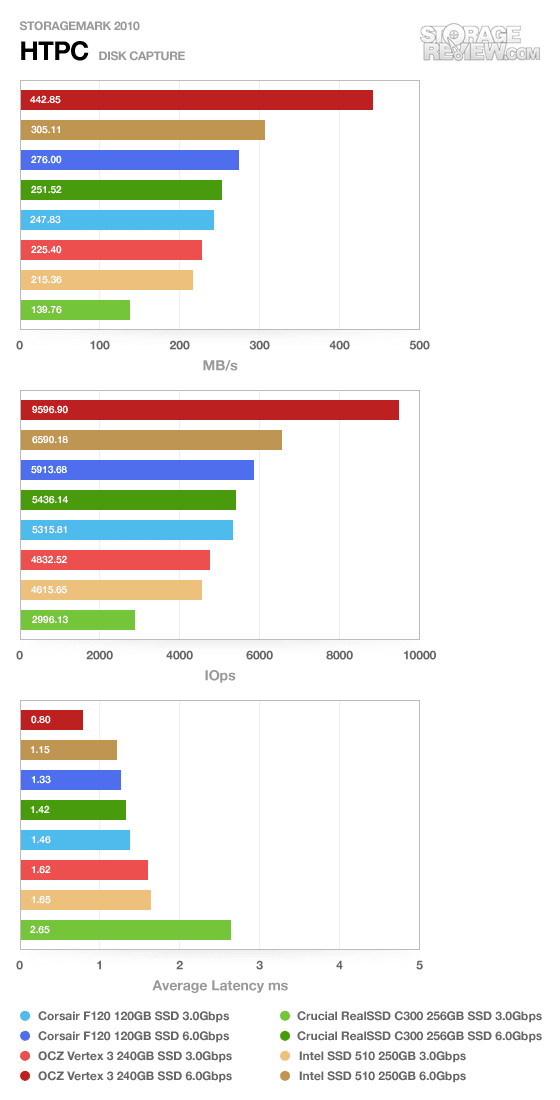 Depending on how you have the Intel SSD 510 connected, it either rates pretty quick or really fast. In its native SATA 6.0Gbps connection, it comes in second place to the OCZ Vertex 3. Second doesn't tell the whole story though, with about a 140MB/s difference in speeds.
Our second real-life test covers disk activity in a productivity scenario. For all intents and purposes this test shows drive performance under normal daily activity for most users. This test includes: a three hour period operating in an office productivity environment with 32-bit Vista running Outlook 2007 connected to an Exchange server, web browsing using Chrome and IE8, editing files within Office 2007, viewing PDFs in Adobe Reader, and an hour of local music playback with two hours of additional online music via Pandora. In this trace we recorded 4,830MB being written to the drive and 2,758MB being read.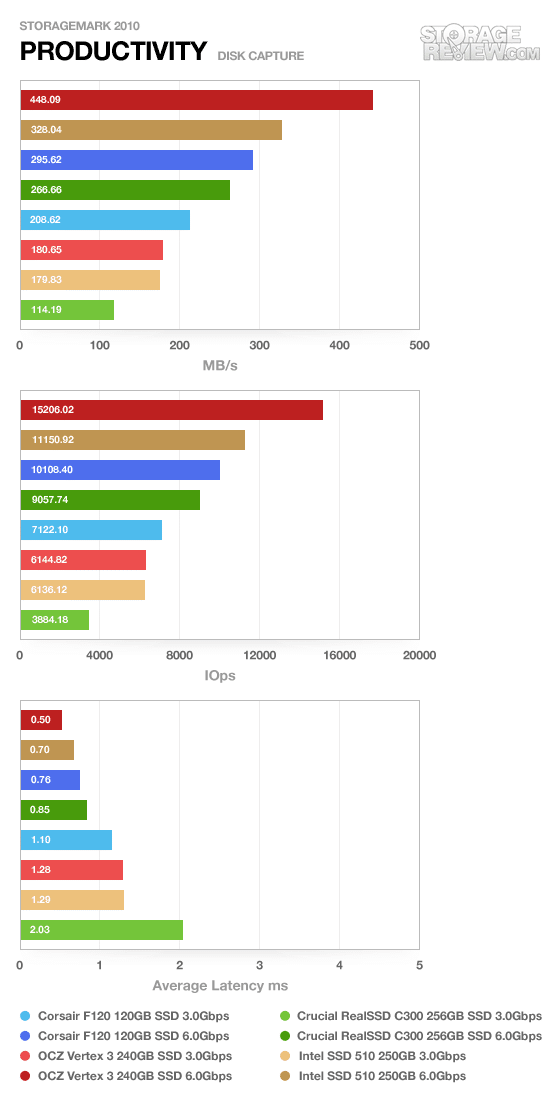 In the Productivity trace the SSD 510 comes in second place over its native SATA 6.0Gbps connection, or comes in on par with the Vertex 3 over SATA 3.0Gbps. It is pretty impressive though how much of a change firmware and a controller revision can make, with the C300 and SSD 510 sharing a lot of parts, yet yielding quite different results.
Our third real-life test covers disk activity in a gaming environment. Unlike the HTPC or Productivity trace, this one relies heavily on the read performance of a drive. To give a simple breakdown of read/write percentages, the HTPC test is 64% write, 36% read, the Productivity test is 59% write and 41% read, while the gaming trace is 6% write and 94% read. The test consists of a Windows 7 Ultimate 64-bit system pre-configured with Steam, with Grand Theft Auto 4, Left 4 Dead 2, and Mass Effect 2 already downloaded and installed. The trace captures the heavy read activity of each game loading from the start, as well as textures as the game progresses. In this trace we recorded 426MB being written to the drive and 7,235MB being read.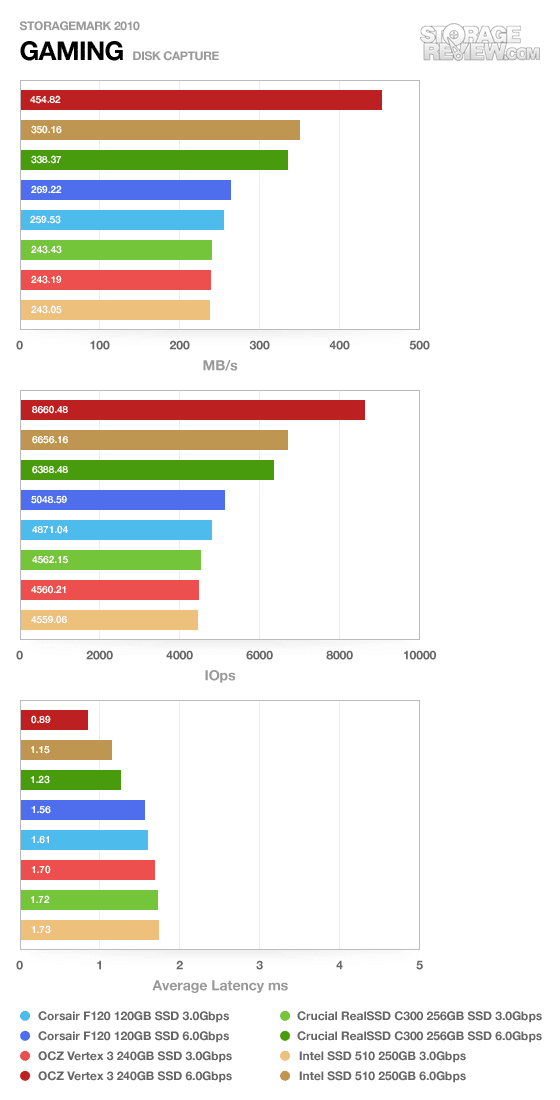 In the Gaming trace the Intel SSD 510 still holds on to the #2 spot, but just barely edges out the RealSSD C300. Just as with the other two traces, you won't see much difference in speed between all of these drives if you are limiting them to a legacy SATA 3.0Gbps interface.
Power Consumption
One area SSDs continue to excel in compared to the HDDs they replace is power consumption. This is no different for the Intel SSD 510, which has been able to stay on par or decrease in power use compared to the 160GB X25-M.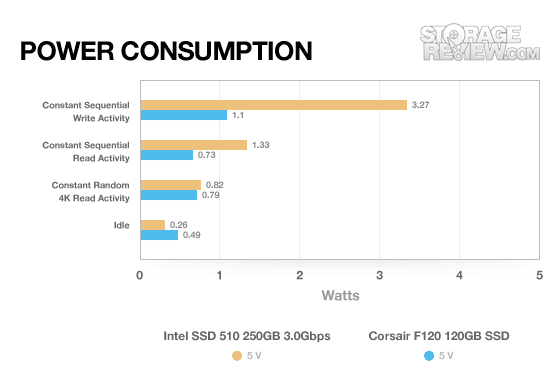 We measured an idle power rate of 0.26W… the lowest we have seen on a performance-oriented SSD. This is less than half of what the current X25-M used during the same test. Write levels increased slightly, from about 3W to 3.3W running our 2MB IOMeter transfer tests. 2MB sequential read levels dropped, going from 1.84 to 1.33W, while 4K random reads went up slightly from 0.77 to 0.82W.
While the Intel 510 SSD doesn't sip power like the SF-1200 series SSDs, it stacks up pretty well against the Crucial RealSSD C300 and OCZ Vertex 3.
Warranty
The Intel SSD 510 comes with a three year warranty and posts a MTBF for the drive of 1.2 million hours. The three year mark puts the SSD 510 in the same warranty range as other popular client-based SSDs. And while it's not exactly a warranty item, the 510 is compatible with the Intel SSD Toolbox, which provides a whole suite of tools to make it easy to manage the drive. These include tools like secure erase, SSD optimizer and system tuner for proper SSD implementation. We've said it before and will say it again here, the Intel Toolbox is fantastic and it's frankly shocking that more drive manufacturers don't offer something similar.

Conclusion
The 250GB Intel SSD 510 is a solid top-tier drive, although not as high performing as the newly released OCZ Vertex 3. In the consumer space Intel has been satisfied marketing themselves as the solid choice for those buyers who are interested in very good performance, but still place a lot of weight on endurance and reliability.
Overall we came into this review knowing this drive wouldn't displace the latest SandForce SSD, but also expected it to benchmark near the top of our charts. In that regard we didn't come away unimpressed, although we do have to admit we kind of expected slightly more. Some areas like random 4K write speeds came up short to the model this SSD is replacing, as well as the Crucial RealSSD C300 that shares the same (but older revision) controller. Bottom line though is if you want a solid performing next-generation drive with a track record of reliability, the Intel SSD 510 is still a very good choice — just not the fastest of the bunch.
Pros:
Retains 34nm flash with higher write-cycles
Tried and true controller, but not from Intel
Very good performance over legacy and SATA 6.0Gbps connections
Cons:
Slower in some areas than X25-M
Still a huge gap in speed compared to latest SandForce models
Bottom Line
We love Intel for a few things; compatibility, reliability and a great software solution that works with all of their SSDs. They didn't let us down on any of those fronts, while still delivering with the SSD 510, a reasonable performer. It won't blow the doors off, but we liken the SSD 510 to a comfortable pair of shoes – perhaps not the flashiest, but always there for you.
Update – Intel SSD 510 RAID Review Posted