Today, Intel launched the SSD 730, a new enthusiast-grade SSD designed with the most intensive client workloads possible in mind. The 730 is highlighted by its specially qualified 3rd generation Intel controller, 20nm NAND, and optimized firmware. Intel has also stepped up its game with their new SSD by factory overclocking these components, pushing the limits of performance by increasing its controller speed by 50% as well as offering a 20% boost in NAND bus speed.
Today, Intel launched the SSD 730, a new enthusiast-grade SSD designed with the most intensive client workloads possible in mind. The 730 is highlighted by its specially qualified 3rd generation Intel controller, 20nm NAND, and optimized firmware. Intel has also stepped up its game with their new SSD by factory overclocking these components, pushing the limits of performance by increasing its controller speed by 50% as well as offering a 20% boost in NAND bus speed.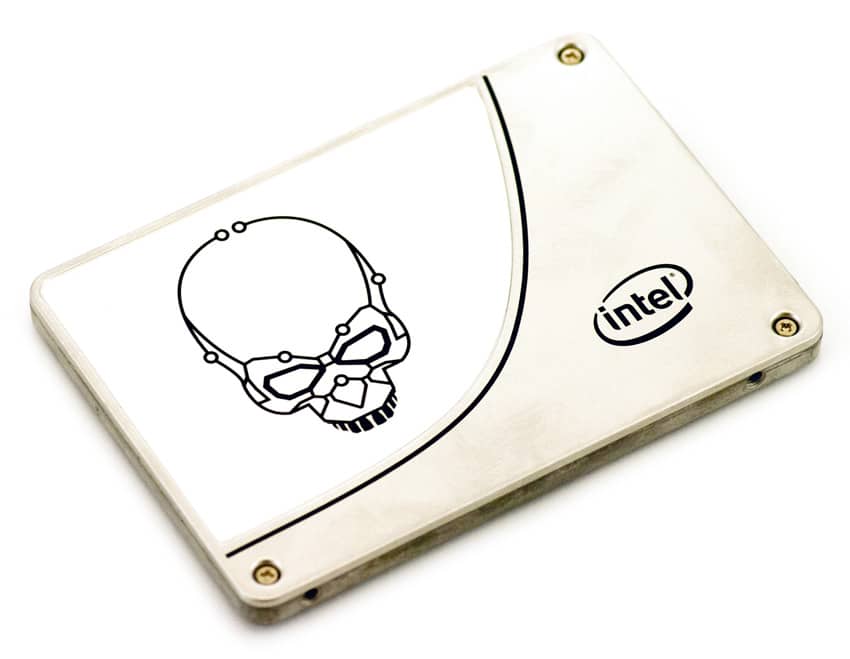 The Intel SSD 730 Series is designed for the most resource-heavy of tasks and is ideal for digital content creation, video capture/editing, hardcore gaming and other applications where storage performance is vital for improving the user's overall experience. Intel states that these applications will be able to take full advantage of the new Intel SSD's 50µs read latency, 89,000 IOPs, 550MB/s sequential reads, and up to 450MB/s when writing, using SATA 6Gb/s standard. The story gets compelling for those who need even more performance when the drives are in RAID0. Systems virtually double the performance throughput numbers, exceeding 1000MB/s when combined with Intel Rapid Storage Technology. For even more edge of the seat speed, Intel claims that four 730 Series drives in a RAID0 array will boast transfer speeds over 1500MB/s. Of course not all workloads are capable of withstanding the inherent risks of RAID0 that grow as more drives are introduced to the RAID group, but for short term workloads like scratch disk space for intensive creative applications, the numbers are impressive.
The Intel SSD 730 line will ship in capacities of 240GB at approximately $249, and 480GB for $489; both capacities will be available in OEM and retail versions backed by a 5 year warranty. We will be looking at the 480GB unit for this review.
Specifications
Capacities: 240GB, 480GB
Components:

Intel 20nm NAND Flash Memory (29F32B08MCMF2)
Controller: PC29AS21CA0
Multi-Level Cell (MLC)

Form Factors: 2.5 inch
Thickness: 7mm
Weight: Up to 78 grams
SATA 6Gb/s Bandwidth Performance (Iometer Queue Depth 32, 128KB3IO)

Sustained Seq Write: Up to 470MB/s
Sustained Seq Read: Up to 550MB/s

SATA 6Gb/s Read and Write IOPS (Iometer Queue Depth 32)

Random 4KB4
Reads: Up to 89,000 IOPS
Writes: Up to 74,000 IOPS

Latency (average sequential)

Read: 50 µs (TYP)
Write: 60 µs (TYP)

Power Management

2.5 inch: 5V or 12V SATA Supply Rail

Power (5V / 12V)5

Active: 5.0W / 5.5W
Idle: 1.3W / 1.5W

Temperature

Operating: 0° C to 70° C
Non-Operating: -55° C to 95° C

Reliability

Uncorrectable Bit Error Rate (UBER):  < 1 sector/ 1017 bits reads
Mean Time Between Failure (MTBF):  2 Million Hours
Shock (operating and non-operating): 1,000 G/0.5 msec
Endurance: Up to 70GB of writes a day

 Vibration

Operating: 2.17 GRMS (5-700 Hz)
Non-operating: 3.13 GRMS (5-800 Hz)

Certifications and Declarations:

UL*, CE*, C-Tick*, BSMI*, KCC*,
Microsoft* WHCK, VCCI*, SATA-IO*

Product Ecological Compliance
RoHS*
Design and build
The Intel SSD 730 series definitely has a very unique look and feel to it. Its enclosure consists of a unfinished metallic build with the black Intel logo in the bottom corner. A sticker of stylized skull takes up the majority of the left side, which is an interesting choice by Intel. That said, the look really works.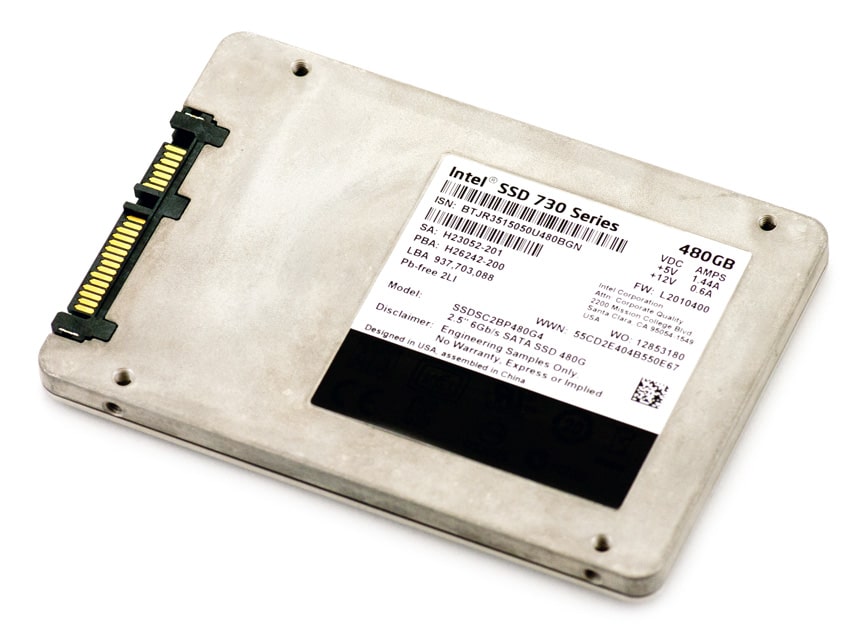 Looking rear side, we see the standard power and Serial ATA connectors. The Intel drive is SATA3 (6G) and is also backwards compatible with SATA2; however, if users decide to use SATA2, the bandwidth limitation would be capped though still much faster than HDDs. The back cover displays all of the product information including capacity, model and form factor. The sides of the SSD are equipped with four screw holes, which allow the SSD drive to be mounted easily.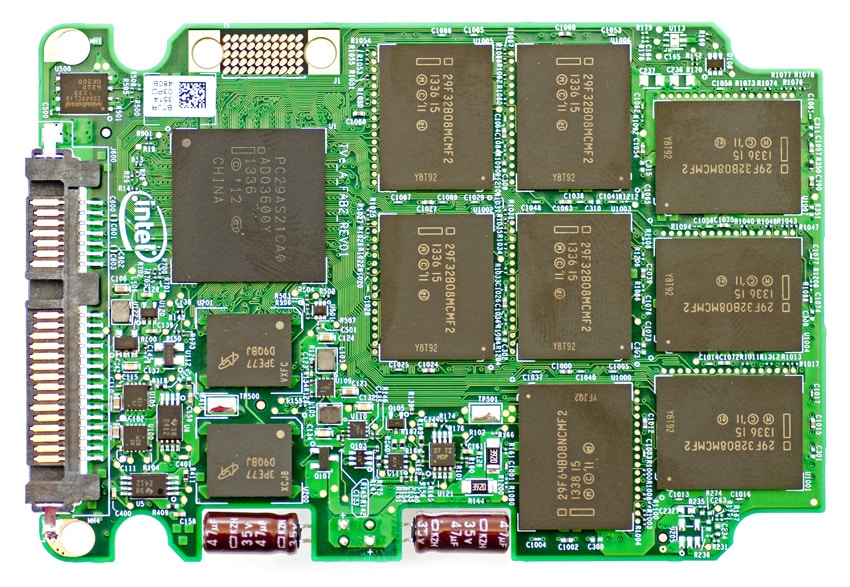 The top can be opened up by taking removing the four screws. Once the cover has been removed, users will see a single circuit board fitted to the metal case with some plastic shims. Under the hood, the Intel 730 makes use of 20nm NAND Flash Memory MLC written NAND as well as a specially qualified 3rd generation Intel controller.
Intel has also made use of power-fail capacitors on one edge of the board to protect in-flight data if a power failure occurs.
Consumer Synthetic Benchmarks 
All consumer SSD benchmarks are conducted with the mid-range StorageReview Consumer Testing Platform. The comparables used for the review below include:
All IOMeter figures are represented as binary figures for MB/s speeds.
In our first test measuring 2MB sequential performance, the Intel 730 SSD measured read and write speeds of 465.8MB/s and 465.5MB/s write respectively. Its brethren, the Intel SSD 530, fare better in the read column. It measured 498.8MB/s read and 459.5MB/s write repeating, while the random benchmark measured 492.9MB/s read and 315.3MB/s write.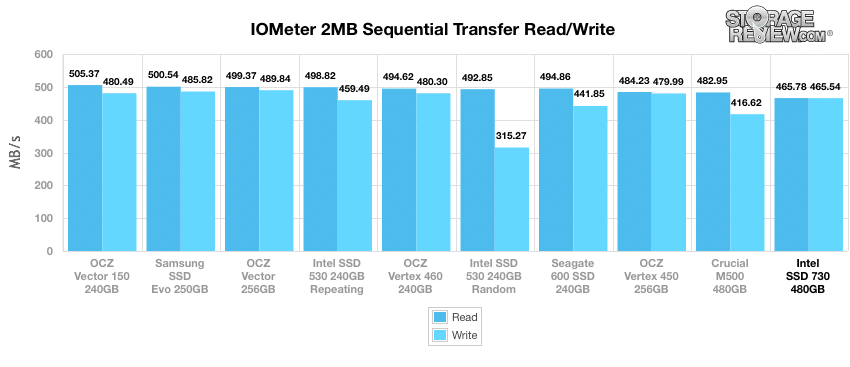 In our next test looking at 2MB random transfer performance, the Intel SSD 730 performed well, measuring 476.8MB/s read and 448.9MB/s write.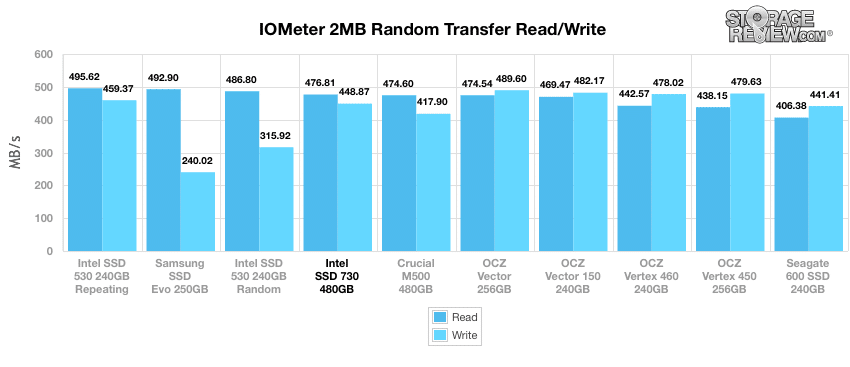 Switching to smaller 4K random transfers, the Intel SSD 730 continued to remain at the top of the pack boasting 8,682 IOPS read activity and 19,905 IOPS write activity. Its SSD 530 brethren was right behind it, with speeds of 7,876 IOPS read and 18,934 IOPS write activity in the repeating column and 7,421 IOPS read and 19,116 IOPS in the random column.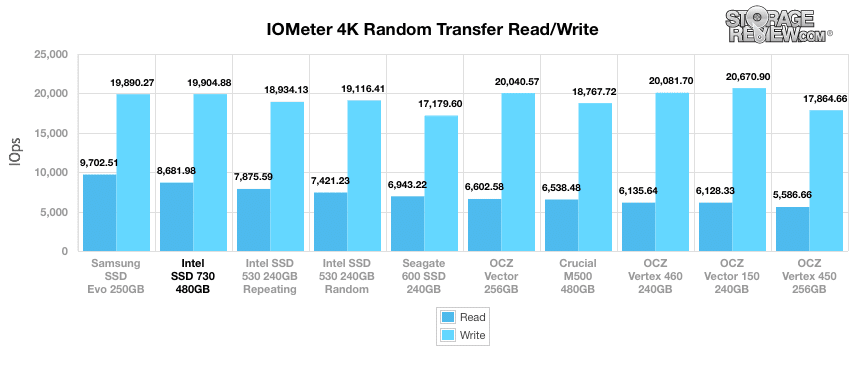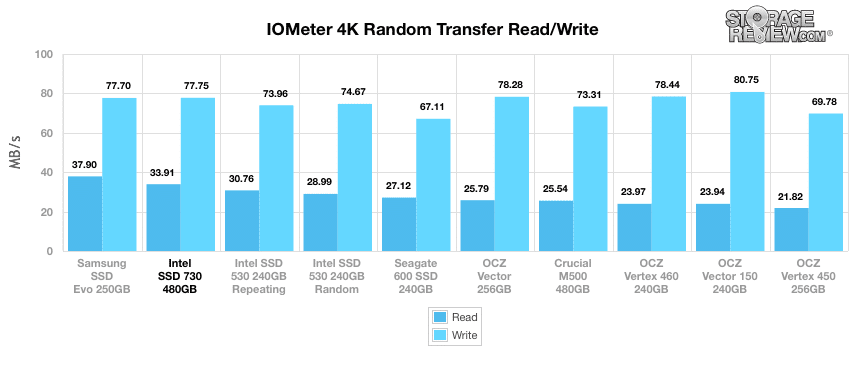 In our next test, we shift to a smaller 4k random workload with 100% read activity that scales from 1QD to 64QD. In the aligned read setting, the Intel SSD 730 scaled from 19,308 IOPS up to 76229 IOPS.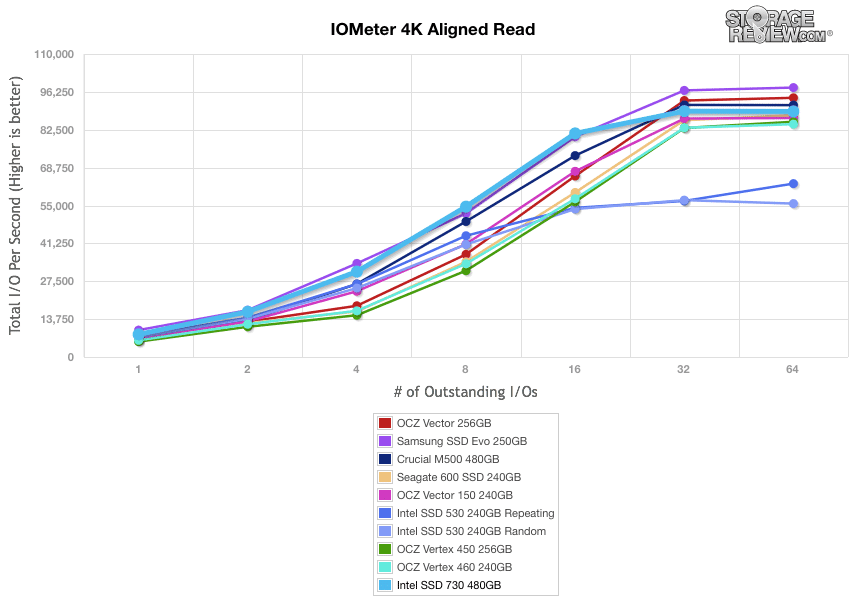 Shifting to write activity, the Intel 730 SSD couldn't maintain its pace with the other top contenders despite a strong start, measuring 8,210 IOPS at QD1 and peaking at just over 89,144 IOPS at QD64.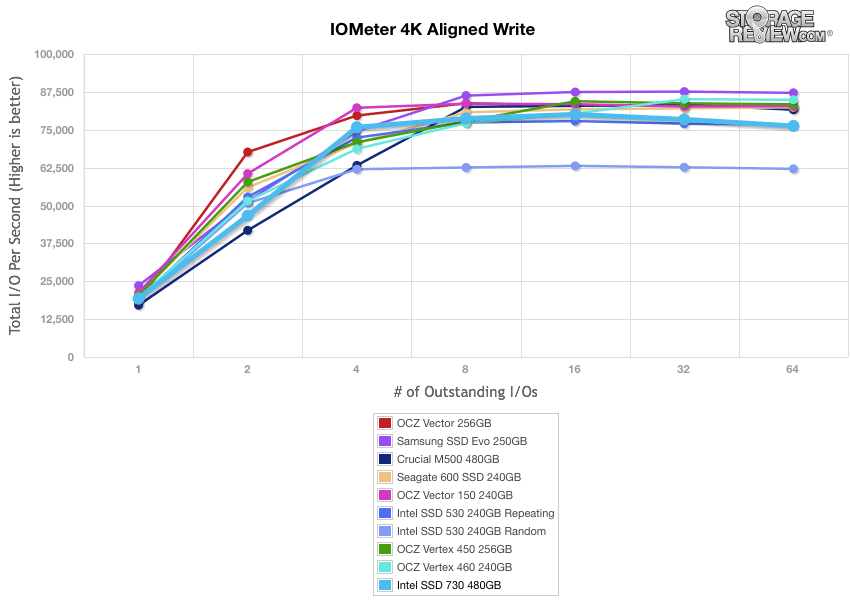 Comparing average write latency between each mainstream consumer SSD, the Intel SSS 730 ranked near the top of the pack with an average latency of 0.0497ms and a peak latency of just 1.69ms.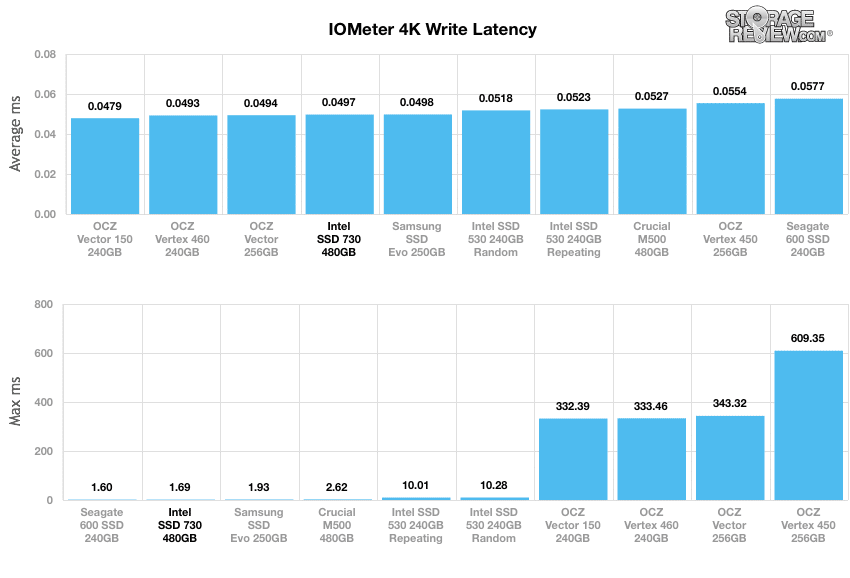 Our last series of synthetic benchmarks compare the hard drives in a series of server mixed-workloads with a queue depth of ranging from 1 to 128. Each of our server profile tests has a strong preference towards read activity, ranging from 67% read with our database profile to 100% read in our web server profile. In all of our mixed workloads, the Intel SSD 530 ranked near the middle of the pack.
The first is our database profile; with a 67% read and 33% write workload mix primarily centered on 8K transfer sizes. In the test, the Intel SSD 730 boasted results right at the top of the pack by Q128 with 47,815 IOPS.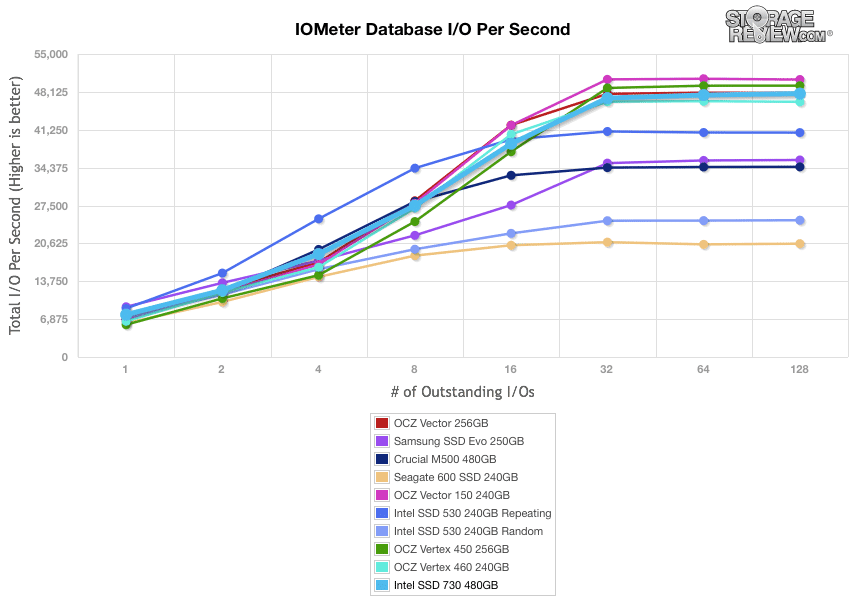 The next profile looks at a file server, with 80% read and 20% write workload spread out over multiple transfer sizes ranging from 512-byte to 64KB. The Intel SSD 730 delivered QD1 repeating throughput at the top of the pack but moved towards the middle by Q128.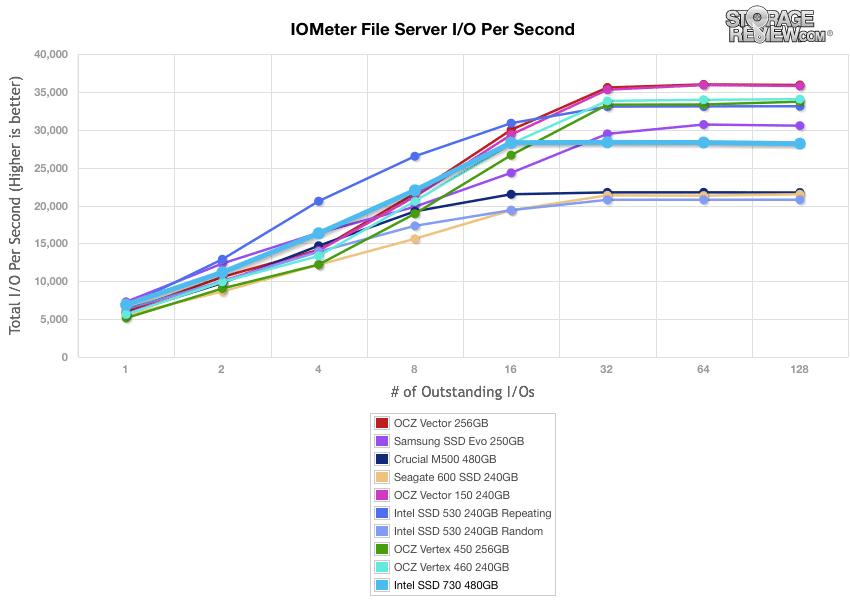 Our web server profile is read-only with a spread of transfer sizes from 512-byte to 512KB. The Intel SSD 730 drive boasted performance in upper part of the pack with a 128Q IOPS of 27,286.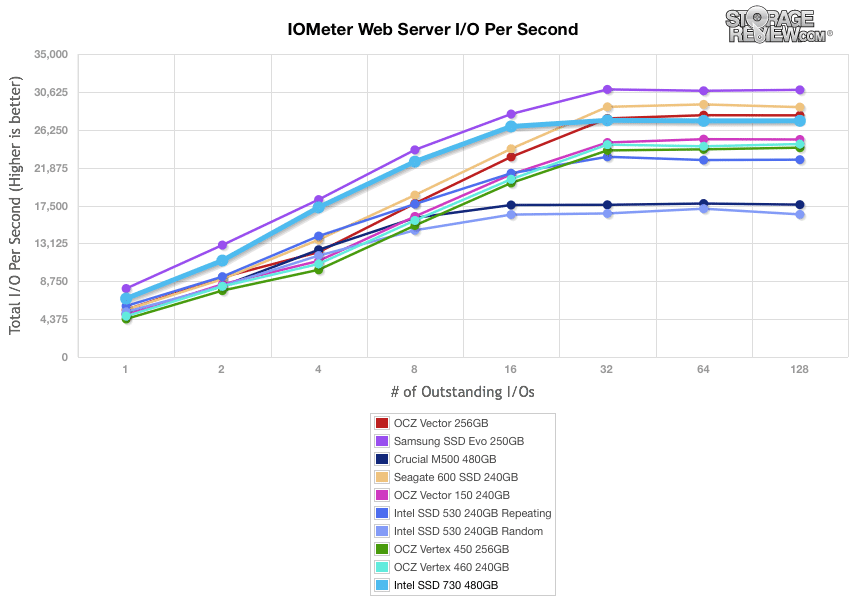 The last profile looks at workstation activity, with a 20% write and 80% read mixture using 8K transfers. In QD1, the Intel SSD 730 got off to a good start with 7,600 IOPS and remained that way by Q128.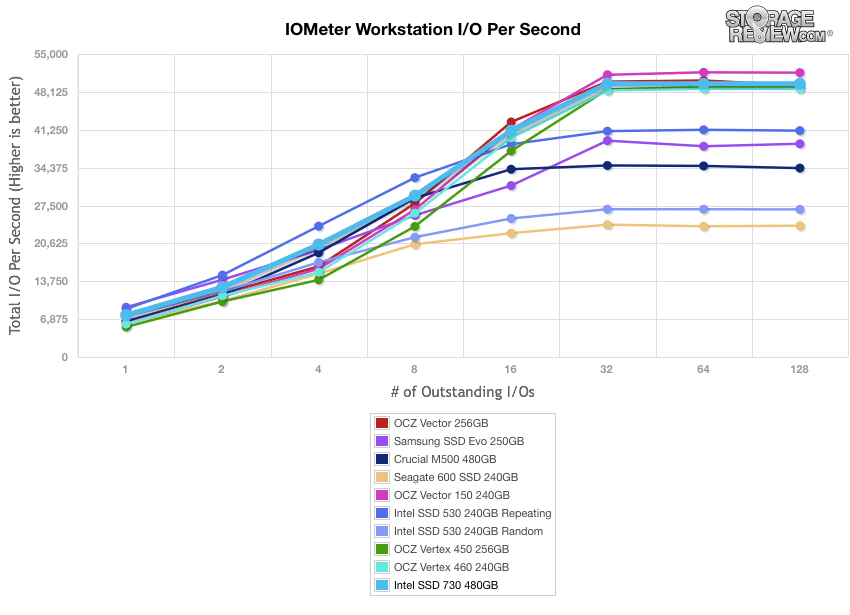 Consumer Real-World Benchmarks
For the average consumer, trying to translate random 4K write speeds into an everyday situation is pretty difficult. It helps when comparing drives in every setting possible, but it doesn't exactly work out into faster everyday usage or better game loading times. For this reason we turned to our StorageMark 2010 traces, which include HTPC, Productivity, and Gaming traces to help readers find out how a drive might rank under these conditions.
The first real-life test is our HTPC scenario. In this test we include: playing one 720P HD movie in Media Player Classic, one 480P SD movie playing in VLC, three movies downloading simultaneously through iTunes, and one 1080i HDTV stream being recorded through Windows Media Center over a 15 minute period. Higher IOps and MB/s rates with lower latency times are preferred.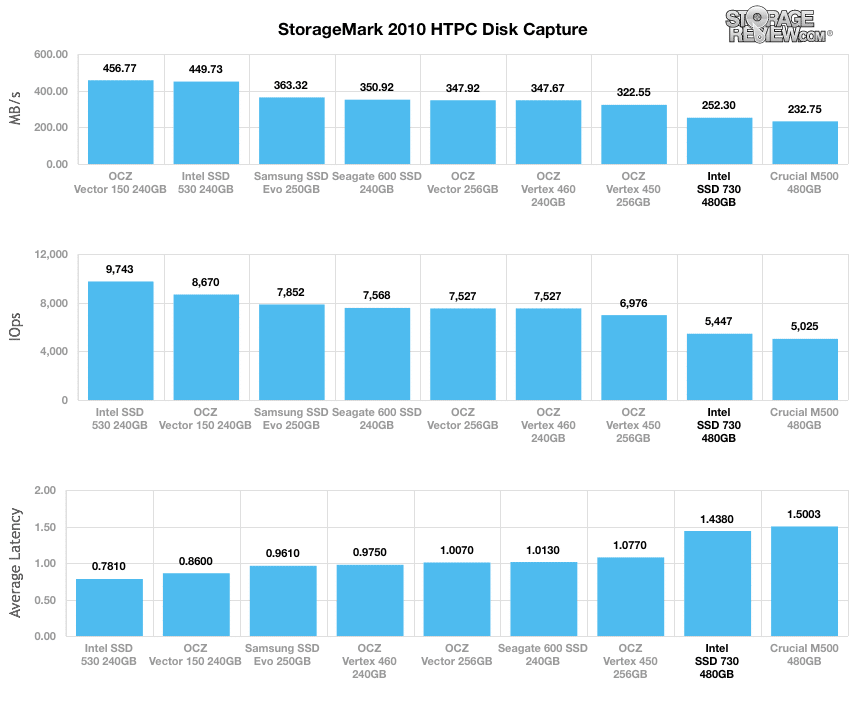 n our HTPC profile, the Intel SSD 730, unfortunately, was right at the bottom of pack in all of our tests with an IOPS of 5,447. Additionally, new Intel drive scored just 252.3MB/s with an average latency of 1.438ms.
Our second real-life test covers disk activity in a productivity scenario. For all intents and purposes this test shows drive performance under normal daily activity for most users. This test includes: a three hour period operating in an office productivity environment with 32-bit Vista running Outlook 2007 connected to an Exchange server, web browsing using Chrome and IE8, editing files within Office 2007, viewing PDFs in Adobe Reader, and an hour of local music playback with two hours of additional online music via Pandora.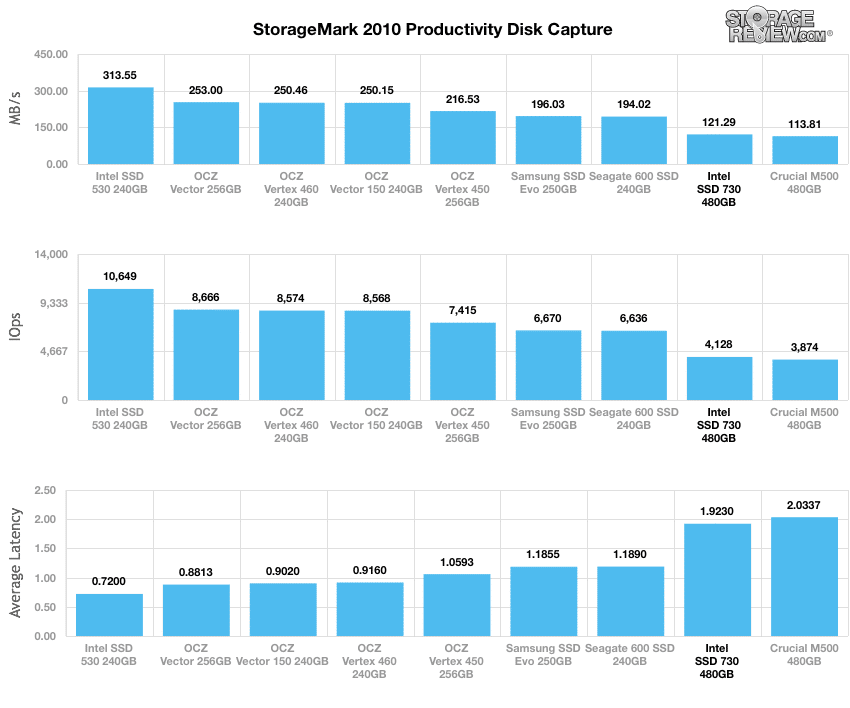 In our Productivity trace, the Intel SSD 730 continued to fare poorly against its competition, registering 4,128 IOPS, 121.3MB/s, and an average latency of 1.923ms.
Our third real-life test covers disk activity in a gaming environment. Unlike the HTPC or Productivity trace, this one relies heavily on the read performance of a drive. To give a simple breakdown of read/write percentages, the HTPC test is 64% write, 36% read, the Productivity test is 59% write and 41% read, while the gaming trace is 6% write and 94% read. The test consists of a Windows 7 Ultimate 64-bit system pre-configured with Steam, with Grand Theft Auto 4, Left 4 Dead 2, and Mass Effect 2 already downloaded and installed. The trace captures the heavy read activity of each game loading from the start, as well as textures as the game progresses.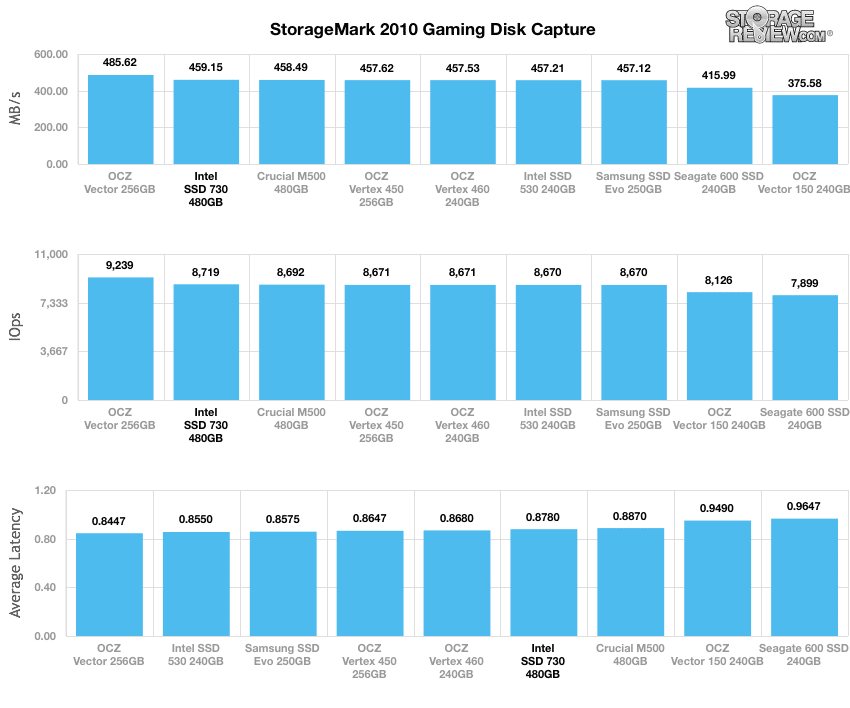 The Intel SSD 730 improved significantly in our read-intensive Gaming trace, produced a respectable 459.2MB/s and an IOPS of 8,719 right at the top of the pack with the OCZ Vector.
Power Consumption
Because SSDs spend much of their life-time in an idle state, low idle power consumption is very important when it comes to overall SSD power management.

In our tests, we measure idle power consumption from the Intel SSD 730 at 1.18W in 5v mode while hitting 1.44 in 12v mode. During sequential write and read activity it scored 4.76W 5v (5.00 12v) and 2.46W (2.76W 12v) respectively.
It should be noted that when the Intel SSD 730 drive sees both 5V and 12V rails active on the connector, it defaults to the 12V rail going back to its enterprise roots. Additionally, as the above results show, these drives are not designed for systems where low power or long battery life is a priority; it is specifically intended for use in high performance systems. This can be seen as a negative aspect though compared to other high-performance SSD options which also integrate very well into power-friendly environments. For example the Intel SSD 730 draws 4.5 times the power at idle than the same capacity Samsung SSD 840 Pro. It also draws more power at idle than a 2.5″ 7,200RPM 1TB hard drive.
Conclusion
The Intel SSD 730 line is designed as an enthusiast-class SSD to take on intensive workloads and applications. The drive interfaces over SATA 6Gb/s, utilizes 20nm NAND, duty-optimized firmware and ships both 2.5″ slim form factors at a 7mm height. Additionally, the 730 features a 3rd generation Intel PC29AS21CA0 controller, which is the same controller that drove Intel's S3700 enterprise SSD to a top-in-class level. Unfortunately, the 730 line only comes in two smaller capacities: 240GB and 480GB. That said, consumers will find that Intel's five-year warranty for the SSDs to be roughly at the top of the market for client SSDs.
As far as performance goes, the Intel SSD 730 ranked middle of the pack in many of our tested categories. In our real-world workloads, however, it generally performed well below par, though it is highlighted by its strong performance in our read-intensive Gaming benchmark, which is one of the drive's key workload targets. Measuring single workloads, the Intel SSD 730 was an upper performer in 2MB sequential speeds and remained in that echelon in our 4K tests. During our mixed workload performance benchmarks, the new Intel SSD continued to perform near the top of the pack throughout the server profiles, but it never found top spots in any of them.
Overall, the Intel SSD 730 is a curious drive. It's targeted to very specific enthusiast use cases, but fails to be a dominating force. The drive comes complete with angry skull sticker and the ability to "overclock" for performance, but the substance behind the drive is lacking when considering price point (240GB – $249, 480GB – $489). The 730 is one of the most expensive client SSDs on the market from any mainstream vendor. While Intel may derive DNA from their enterprise controllers and SSD engineering knowledge, the 730 comes to market at roughly the same price as the S3500 for instance, from where much of that DNA comes. The 730 is also well above normal when it comes to power consumption, meaning notebook users should stay away. We're left then with a very tiny slice of the market available where the 730 could even make much sense, and even there users rendering 4K video or loading game levels would be hard pressed to notice a different between Intel's own drives, including the 530 which is half the cost, forgetting about the bevvy of competitive drives from other vendors that are also much less expensive. Intel should be commended for engineering a quality drive with components and DNA from the enterprise, but the 730 at this price point should be viewed pretty much as a proof of concept, not a marketable product.
Pros
Does well in gaming workloads
Excellent engineering of the drive
Five-year warranty, 2 million hour MTBF
Cons
Performance doesn't live up to price premium
Only offered in two capacities
Heavy power consumption
Bottom Line
The Intel SSD 730 line brings enterprise-grade engineering to an enthusiast SSD targeted to the most demanding use cases. Unfortunately the 730 doesn't deliver like we'd expect and the price premium puts the 730 well outside of reason considering the S3500 enterprise drive can be had for the same price.
Intel SSD 730 at Amazon