LaCie and beautiful design intuitively go together, thanks to years of LaCie regularly pumping out great looking storage devices. The LaCie 5big Network 2 is no different, sporting the classic aluminum body around a 5-bay NAS that comes pre-configured in 5TB, 10TB and 15TB capacities. This NAS isn't just all looks though, it's a performer as well with transfers up to 70 MB/s and a brand new firmware dubbed NAS OS 2.0, makes NAS management easy.
LaCie and beautiful design intuitively go together, thanks to years of LaCie regularly pumping out great looking storage devices. The LaCie 5big Network 2 is no different, sporting the classic aluminum body around a 5-bay NAS that comes pre-configured in 5TB, 10TB and 15TB capacities. This NAS isn't just all looks though, it's a performer as well with transfers up to 70 MB/s and a brand new firmware dubbed NAS OS 2.0, makes NAS management easy.
Out of the box the 5big Network 2 comes configured in RAID 5, but the unit supports RAID 0/1/5+Spare/6 to give the end user several options. LaCie ships the units with five disks of either 1TB, 2TB or 3TB; there's not an option for diskless model. Beyond the networked storage capabilities, the 5big supports a slew of backup and media serving features including Time Machine, Genie Backup Manager Pro for Windows, along with iTunes server, Torrent client and DLNA compatibility.
For the IT managers, interface may be less of an issue, but the new NAS OS 2.0 is even easier to use than before. Tools allow for the management of users, groups, shares and quotas (complete with alerts) and also ties in with Active Directory. The unit also supports wake on LAN, redundancy via second Ethernet port and expansion or direct connection with two eSATA and two USB 2.0 ports.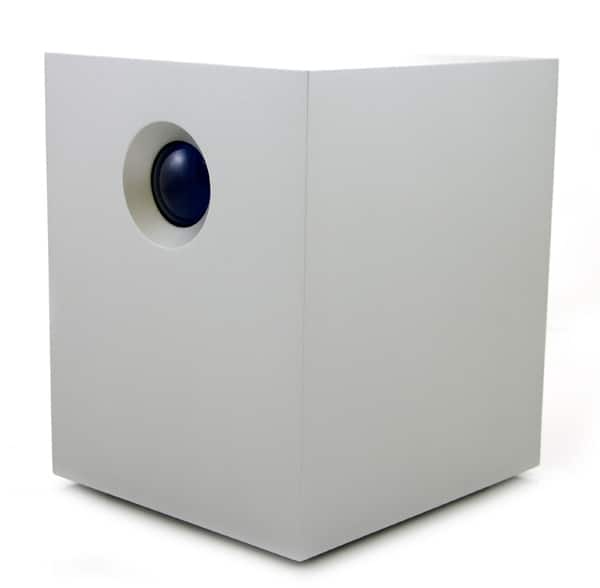 LaCie 5big Network 2 Specs
Capacity – 5TB, 10TB, 15TB
Interface – 2 x Gigabit Ethernet 10/100/1000
Network Protocols – File Server: SMB, AFP, FTP, HTTP, HTTPS, Others: Apple Bonjour, BitTorrent™, NTP, 802.3ad, iSCSI, DHCP, Apipa
Remote Access – Via FTP or HTTP. Dynamic DNS services optional.
Expansion Ports – 2 x eSATA, 2 x USB 2.0 (type A)
Burst Transfer Rate – (Over Ethernet) OS with 64KB I/O – Read: 60MB/s; Write: 35MB/s, OS with 1MB I/O – Read: 70MB/s; Write: 40MB/s
RAID Modes – RAID 0/1/5/5+Spare/6 (hot-swappable)
Backup Solutions – PC to NAS: encrypted, compressed, scheduled, remote (FTP)
Data restore and data disaster recovery available
iSCSI target
2 x LAN – load balancing and failover
Quota management
Time Machine compatible
Print server
Torrent client
Customizable "widget-based" interface
Wake-on-LAN – Turn the device on/off from the network
Security Access – Users, groups, and shares management.
Active Directory support
Multimedia – UPnP A/V and DLNA Media Adapter compatible
Remote photo thumbnails; MP3 file streaming
iTunes (DAAP) server
Dimensions (WxHxD) – 173 x 196 x 220 mm / 6.8 x 7.7 x 8.6 in.
Weight – 7.62 kg / 16.8 lbs.
Warranty – 3-Year Limited Warranty
Build and Design
LaCie devices are renowned for their design by Neil Poulton. The 5big Network 2 at first gets noticed for it's sleek aluminum exterior (that's recyclable one day if you like) and the noticeable blue LED button on its face. The light turns on to show disk activity, although it can be disabled by the user. The button by default doesn't do anything but can be configured to put the NAS to sleep or to wake it from sleep as part of LaCie's power management functions. The button also at times may turn red, which means something bad has happened like power failure, disk failure and the like.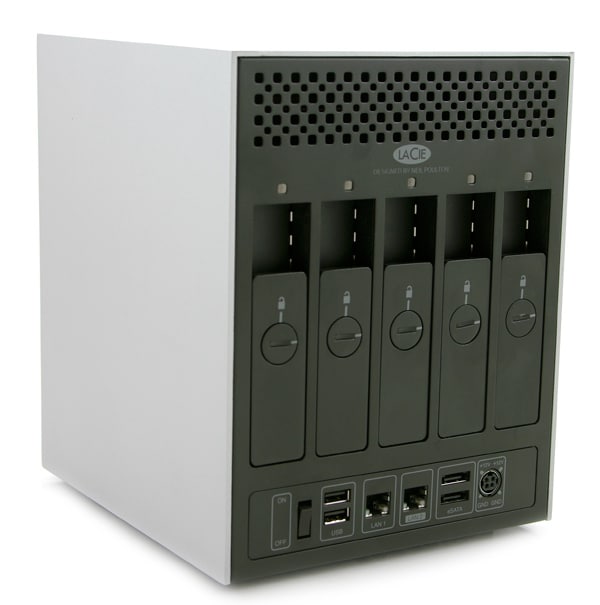 The back of the unit is where all the action is, but even then it's in a clean, understated way. All of the ports and switches are clearly labeled, with the power switch, two USB 2.0 ports, dual LAN ports, two eSATA ports and the power plug working left to right across the bottom of the unit.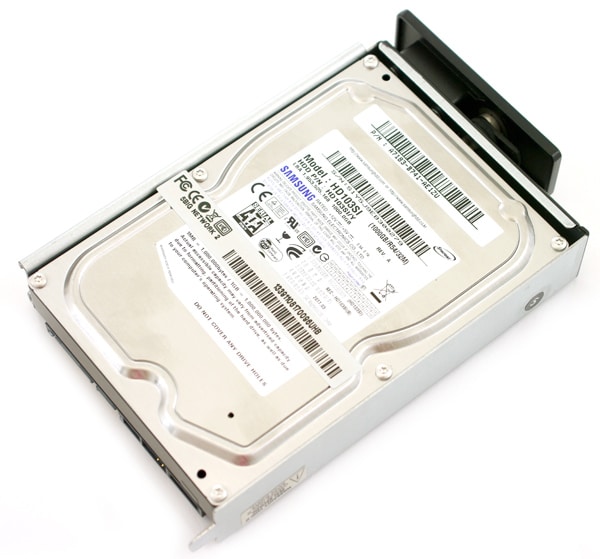 The top of the unit has venting holes and the five drive trays that lock into place. The lock can be rotated into place with something like a quarter, key, or a trusty flathead screwdriver.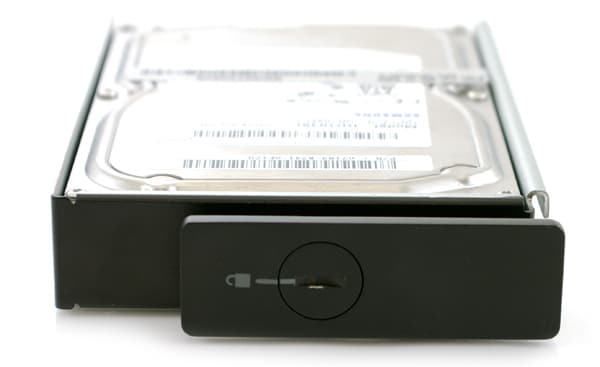 The trays themselves are all metal, including the pull-tab and locking mechanism. The way each tray is designed, the lock acts as the one and only latching segment, meaning that the pull-tab is fixed and one un-locked the tray pulls out without a spring-loaded latch usually found in most storage systems.
Users who want to upgrade the 5big may be disappointed to see that each drive has a sticker over one screw holding it to the tray which when broken voids the warranty of the entire system.
Setup and Usability
The LaCie 5big Network 2  is easy to set up once the system is online on your internal network. Once the NAS is found on your network using either the supplied software, or knowing the IP address of the NAS before hand, you can log in through the web interface. The first time you log in you will be prompted to set a password, which from that point on will be used as the administrator login. The main interface screen gives you access each component of the NAS, from tech support and automated updates to quick-glance vitals like volume usage, users and groups.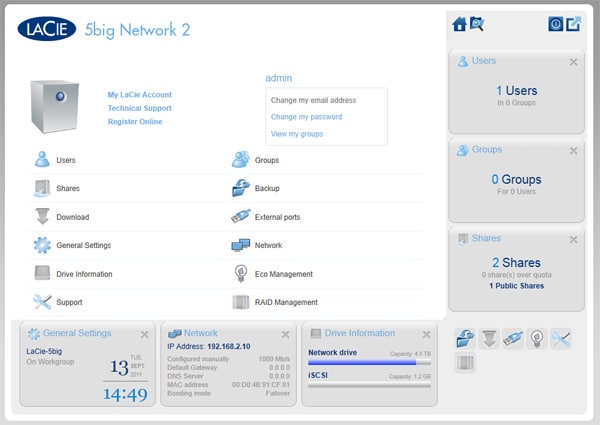 The NAS OS 2.0 interface is very clean and easy to follow without instruction for intermediate to advanced users. Beginners might have to brush up on some terminology, but after getting some of the basics down, they should have no problem either. Most screens are very easy to understand, like the one below giving the status of the RAID0 array we setup on our model.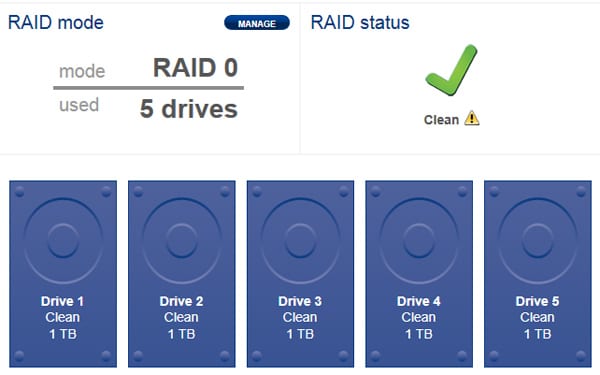 One feature that stood out immediately upon plugging the unit in for testing was the auto-update feature. Most NAS units need prompting or some user interaction to be updated during the initial setup. The LaCie 5big 2 Network loaded a pop-up window once it had an active network connection with internet access letting us know that newer software existed and that it would automatically download it. Once downloaded we initiated the install which took place over a few minutes with one reboot to get the system up and running again.
The time to get started and configured with the 5big Network 2 is surprisingly fast and very easy. For anyone intimidated by technology, LaCie has done a fantastic job of distilling the large array of features into intuitive chunks, usually with graphics or charts for the visually inclined.

We tested both Samba and iSCSI transfer performance with our test rig, which provided very similar results. Using CrystalDiskMark we measured a peak sequential transfer speed of 55MB/s read and 50MB/s write with iSCSI. Samba performance gave us the same read speed, but a lower write speed measuring 39MB/s.
Power
Given the always-on nature of a network appliance, power consumption can be a big deal when you factor in costs over the lifetime of the product. For this reason we measure actual power stats at the wall from NAS models under common usage scenarios. We measured a usage rate of 5 watts when the system was powered down, 49 peak during startup as the drives were spinning up, and 38 idle when all startup tasks were compared. During each of our active transfer tests, including read, write, and random read the system consumed 41 watts. All of these tests were performed with all five drives installed and operating as intended.
LaCie also offers an array of power management options including configuration of sleep, automatic power on/off schedule and wake-on-LAN for remote initialization. You can even configure the giant blue button on the front to handle sleep/wake functions.
Conclusion
The LaCie 5big Network 2 is easily the best looking NAS we have reviewed. While it might have a bit of a HAL theme going on with the front, it is one of the slickest cases we have seen in a while. The metal chassis is extremely durable and overbuilt, showing that you can make something that looks extremely good and still have it designed to survive tough conditions.
Besides the case, LaCie put a lot of development time into the new look of the NAS OS 2.0 software. The software layout puts customizable widgets on each screen, so users always have important information at their fingertips. The interface is also very intuitive to use, which means anyone from beginners to advanced users can handle everything from setup to management.
If we're going to complain a little bit, the 5big Network 2 is expensive, starting at $799 for the 5TB model. It's not upgrade friendly either, meaning you'll need to work with LaCie on new or larger disks, or risk voiding your warranty. It really comes down to what you need though, the great design, intuitive interface and slew of backup and media serving options make this a clear winner for the right audience.
Pros
Super durable case
Great looking design
Intuitive NAS OS 2.0 user interface
Robust set of backup and media serving features
Cons
Not user-upgrade friendly
Bottom Line
The LaCie 5big Network 2 is a fantastic looking NAS, easily the sexiest one (if you can say that about storage) that we've ever seen. It's also very easy to use and offers support for automatic backup for Macs and PCs and includes features for both IT managers and media streaming needs like Active Directory integration and iTunes server and DLNA support. The 5big Network 2 comes with a bit of a price premium, but even so, it's easy to recommend for anyone who needs an easy-to-configure NAS that happens to be quite the looker.
Update – LaCie has since released LaCie NAS OS 2 for this product