Certain notebooks gain a reputation over the years, be it good or bad. The Lenovo ThinkPad-series has been one of those families that has grown for almost 20 years, while still retaining the namesake of being one of the best business notebooks money can buy. Today we look at the new Lenovo ThinkPad T520, which is a 15.6-inch mid-range business notebook that can be equipped with NVIDIA Optimus graphics and a wide range of unique storage options.
Certain notebooks gain a reputation over the years, be it good or bad. The Lenovo ThinkPad-series has been one of those families that has grown for almost 20 years, while still retaining the namesake of being one of the best business notebooks money can buy. Today we look at the new Lenovo ThinkPad T520, which is a 15.6-inch mid-range business notebook that can be equipped with NVIDIA Optimus graphics and a wide range of unique storage options.
For those not familiar with the ThinkPad brand, the three most popular versions include the X, T, and W-series. The X-series is an 11 and 12-inch ultra-portable model, also available in a tablet configuration. The T-series is the bread and butter model, including 14 and 15-inch versions equipped from integrated-graphics only up to mid-range NVIDIA dedicated graphics. The W-series is the workstation-class line, including 15 and 17-inch sizes that offer the highest configurations offered by Lenovo. No matter what type of system you are looking for, there is something for everyone in the ThinkPad family.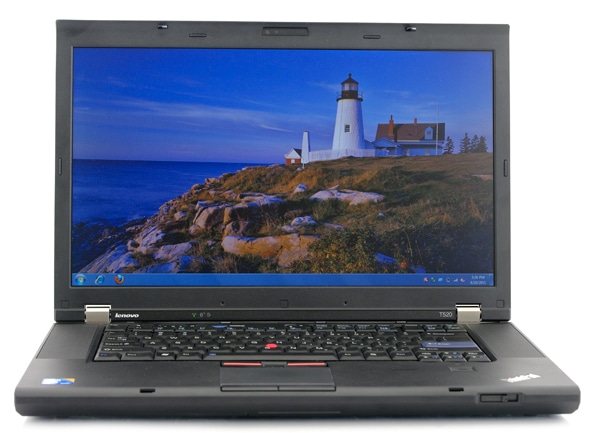 The model we are looking at today is the ThinkPad T520, which is based off a rather budget-friendly configuration. It includes Intel GMA HD 3000 integrated graphics, a base 1366×768 LED-backlit display, a second-generation Core i5-2540M processor, 8GB of DDR3 memory, and an Intel mSATA 80GB SSD. The battery is also the base option, which is a six-cell flush-mount model. A larger nine-cell battery is also offered, as is an even larger nine-cell secondary "slice" battery that clips to the bottom of the notebook.
Our Lenovo ThinkPad T520 Specifications:
15.6-inch 1366×768 WXGA LED-Backlit Display (Matte finish)
Intel Core i5-2540M Processor (3M Cache, 2.66 GHz)
Intel GMA HD 3000 Graphics
Windows 7 Professional SP1 64-Bit
8.0GB DDR3 System Memory (2 x 4GB)
80GB Intel mSATA SSD
Intel 82579LM Gigabit LAN, Intel Centrino 6205 802.11AGN
6-cell 57Wh Standard Battery
Aesthetics
At first glance it doesn't look like much has changed in terms of the design of the ThinkPad T520. Lenovo has the same black rubbery paint covering the boxy shell of a body, with large stainless steel hinges displayed on both sides. The only thing displayed on the screen cover is the ThinkPad brand logo and the Lenovo name, keeping the rest matte black.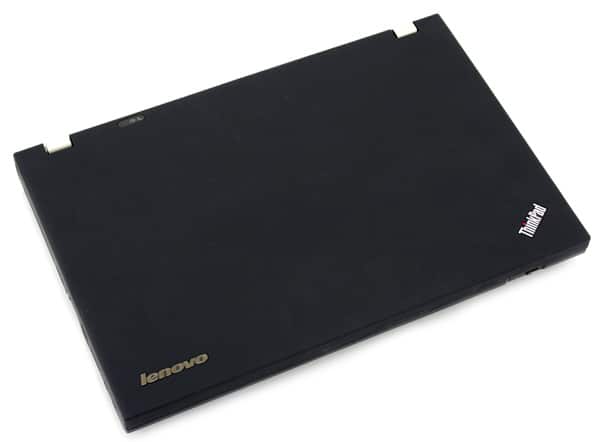 The screen cover is painted with a rubbery black paint that holds up to abrasion very well and resists scratches. My personal ThinkPad T60 has only minor scuffs and some worn edges after 5 years of abuse. The main kryptonite of the rubbery finish are fingerprints, which can collect easily if you have even a small bit of oil on your hands. Thankfully it is pretty easy to clean off, so its not a huge concern for most people.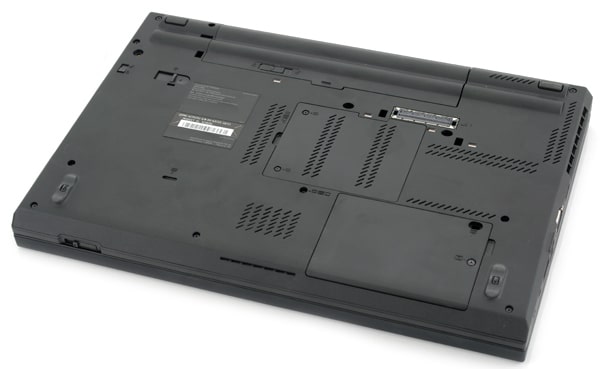 The bottom of the notebook does have one significant aesthetic change. The bottom shell has changed from a CFRP to a GFRP material (carbon-fiber to a glass-reinforced plastic) which has a different feel than the older T510 and a rougher texture. It doesn't feel as though this change has impacted the structural rigidity of the body, since it is still as rigid as ever, although it has a more "hollowy" sound as you drag a fingernail over it. Underneath the plastic is still a tried-and-true alloy frame, giving the ThinkPad T520 its strength and durability.
Display

Lenovo offers three different display options for the 15.6-inch T520. These include a 1366×768 HD panel, a 1600×900 HD+ mid-range offering, and a 1920×1080 95% gamut top-tier option. All screens include LED-backlighting and a matte-finish screen texture to reduce glare.
Our ThinkPad T520 included the base 1366×768 panel, which proved to be a good performer for basic duties. Color saturation appeared weaker than other panels, mostly in part to the matte texture versus glossy on consumer notebooks, but it got the job done. Backlight levels were more than adequate for viewing the screen indoors under bright lighting. Outdoor viewing would only be possible in a spot of shade, with the sun overpowering the screen. Contrast levels were adequate, with black levels appearing slightly washed out, especially outside of the sweet-spot. Viewing angles spanned 15 to 20 degrees with the screen tilted forward or back before colors started to invert.
User Interfaces
If you are a newcomer to the Lenovo business-series, the main attraction for most diehard ThinkPad fans is the keyboard. Seeing few changes over the years, the ThinkPad keyboard offers a subperb typing surface, with very little flex under strong pressure. With a very firm press, we only noticed mild flex centered near the "D" key, although it was not noticed during normal typing.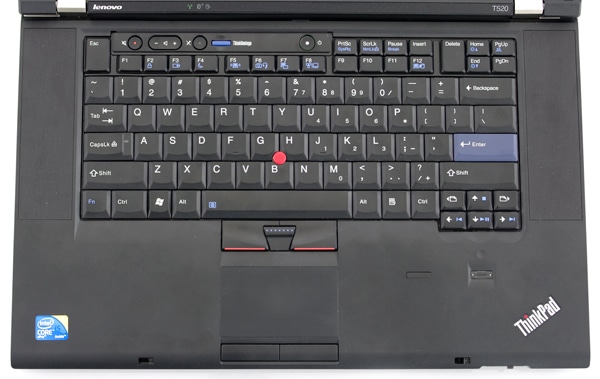 Each key has a very soft matte finish, which gives a small amount of traction and reduces fingerprints compared to more glossy designs. The lettering was easy to read in most lighting conditions, with a keyboard light being standard to assist in poor visibility.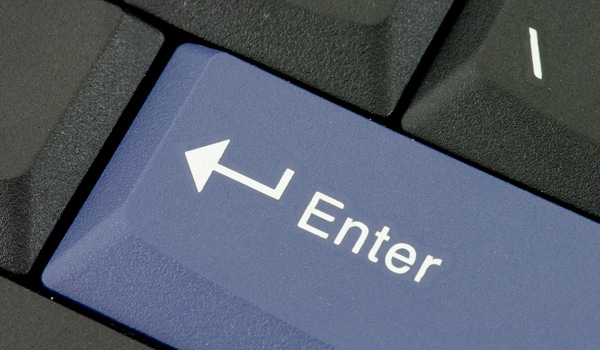 The ThinkPad T520 has two forms of cursor movement, including a spacious multi-touch touchpad and a touchpoint interface. The touchpad measures 3 inches wide by 1.8 inches tall, located slightly left of center. The Synaptics-made touchpad features a textured surface which was easily to glide a finger across. Unlike completely glossy touchpads, the mild finish helps reduce friction even if your finger is oily or moist. As you can see below, the texture is small raised bumps spaced about 1mm apart in all directions.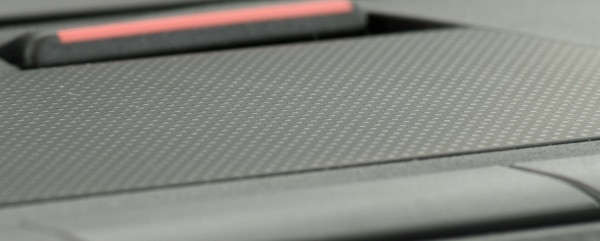 The touchpad movement is very responsive, with no bias in acceleration towards any particular direction. Sensitivity was great, with only a light touch needed for the touchpad to track your finger as it moved around. The stock sensitivity settings worked well for a light but consistent touch, with a little boost in sensitivity still available if desired. If you prefer a touchpoint interface though, Lenovo still has you covered.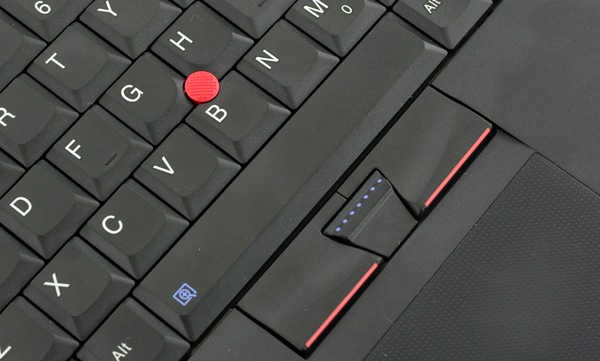 Generally only offered on business models these days, the touchpoint interface can offer a more precise movement compared to a touchpad. I lean towards the touchpad on my ThinkPad T60, but still use the touchpoint middle-button for tabs control when web browsing. In use I found responsiveness was great and "wandering" (where the cursor moves on its own) was very rare.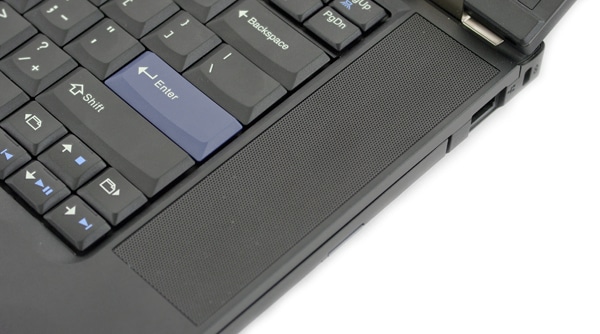 The on-board stereo speakers were fine for listening to streaming music or watching YouTube clips, but lacked in bass and lower mid-range. Peak volume levels were good for filling a small room, although headphones are still preferred for higher quality audio.
Expansion and Connections
The Lenovo ThinkPad T520 offers a good selection of ports and expansion features, albeit slightly condensed from what is given on the smaller T420. The T420 gains an eSATA connection, while the workstation-class W520 gets eSATA and two USB 3.0 ports.

The front of the notebook includes the latch to release the screen cover.

The rear of the ThinkPad T520 includes an always-on USB 2.0 port for charging devices, a 56k modem connection, the battery opening, the DC-input for the power supply, as well as the rear outlet for the heatsink.

The left side of the notebook includes the bulk of the ports available on the T520. It includes three USB 2.0 ports, DisplayPort and VGA-out, FireWire 400, a Smart Card reader, and even a wireless on/off switch.

The right side includes an ExpressCard/34 slot, an SDHC card reader, the UltraBay for an optical drive or secondary hard drive, headset jack, and a gigabit Ethernet port. A security port for tethering the notebook to a desk is also present near the right screen hinge.
Disassembly and Upgrades
The Lenovo ThinkPad T520 was built with IT departments in mind, meaning that most components are accessible without much work. On the ThinkPad T520 user-components are split up into three areas of the notebook, including the primary hard drive bay, the lower memory cover, and the section underneath the keyboard which houses the processor, additional RAM slots, Wi-Fi card, and mSATA/WWAN slot.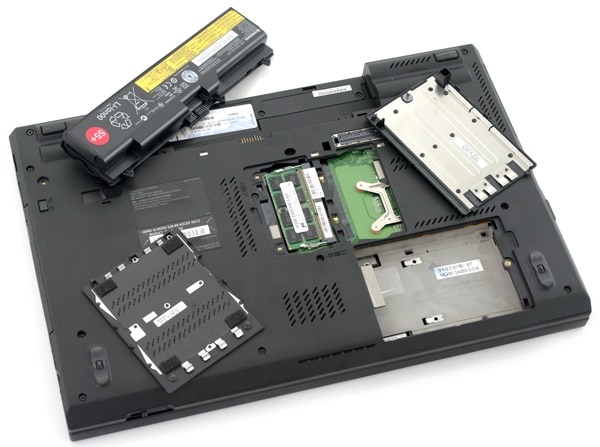 The primary storage bay is easily opened by removing a single Phillips head screw. Once the cover is take off, the hard drive can be lifted and slid out of position. The hard drive follows the standard "ThinkPad" mounting configuration which includes thin rubber rails that slip over the sides of the drive and a metal caddy that the drive screws into. Upgrading to a new drive is as simple as removing four screws and swapping the pieces to the replacement.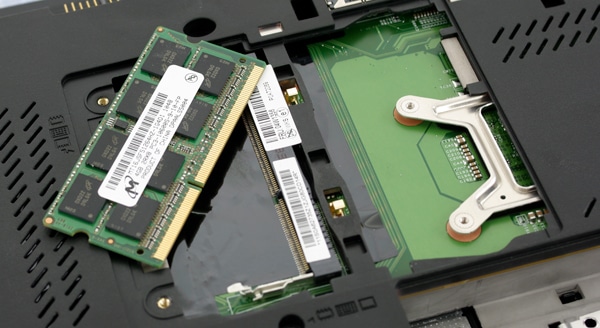 The lower RAM compartment houses a single memory slot on the T520, whereas the workstation-class W520 has two slots on the bottom. The compartment also gives you access to one of the screws which holds the keyboard in place (which you need to remove if you want to get at the rest of the components up above).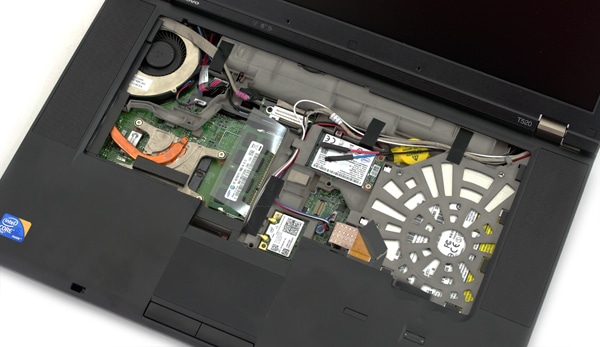 The third location for user-accessible components is underneath the keyboard. To get into this area, you need to remove the two screws on the bottom of the notebook that retain the keyboard. Once those are out you simply slide the keyboard towards the display roughly 2 or 3mm, and tilt it up trackpoint buttons first. After the keyboard is lifted up, you need to carefully unclip the ribbon cable from the motherboard so it doesn't get damaged or strained.
System Performance
At first glance our Lenovo ThinkPad  T520's configuration might not look all that powerful with integrated graphics, but Intel has been making huge strides in this area recently. The new Sandy Bridge platform has been able to double or triple 3D performance from the previous generation integrated graphics chipsets. As we will show you in this section, not only is the GMA HD 3000 integrated graphics more than capable, but it beats out the dedicated graphics option in the ThinkPad T410 we reviewed earlier this year.
Moving past the improvements with graphics, the main draw for many users to the Sandy Bridge platform is the faster SATA connection speeds. The ThinkPad T520 supports the latest SATA III 6.0Gbps connection speeds, which are needed to truly take advantage of the current-generation SSDs. In many cases, performance doubles, with drive speeds previously topping out at 250MB/s, now reach as high as 500MB/s. For the enthusiast user, SATA 6.0Gbps speeds are undoubtedly a must.
In our first look there was some initial confusion on of the Lenovo ThinkPad T520 supported SATA 6.0Gbps speeds. During our prep where we clone the stock drive to the hard drives and SSDs we review with the system, we had also upgraded the Intel RST drivers to the latest version. In our hast we didn't reboot the system before our quick CrystalDiskMark benchmark, and saw the drive (an Intel SSD 510) running in a 3.0Gbps mode. We are glad to say this problem as not been repeatable and for the duration of the full-review everything as been running at the speeds it should be.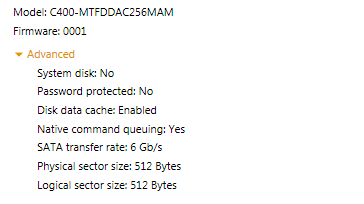 The benchmarking of the Lenovo ThinkPad T520 is split up in two sections; stock configuration and upgrade configurations. In the first part we review the system as shipped to us by the manufacturer, whereas in the later part we re-benchmark the notebook using a selection of set drives.
To prep the notebook for testing, we remove or disable most of the pre-installed manufacturer applications. Some of these might deal with backups, others might prompt to update software, while some could even just ask you to register the system. We look at the software running on each notebook being reviewed, and get rid of the additional bulk that might skew results benchmarking one system against another from a different manufacturer.
To stress and benchmark the system we use a number of synthetic benchmarks to measure how this notebook ranks against other models we have reviewed. These benchmarks include FutureMark's PCMark Vantage, 3DMark06, and 3DMark Vantage. We also included wPrime 2.04 which is a cpu-specific test. Our findings are charted below: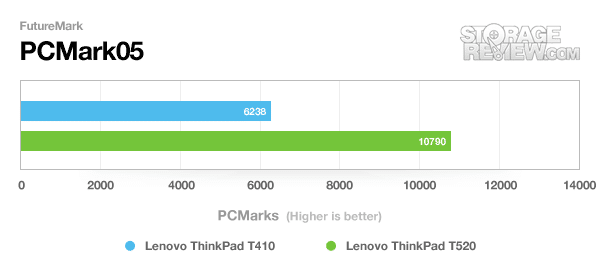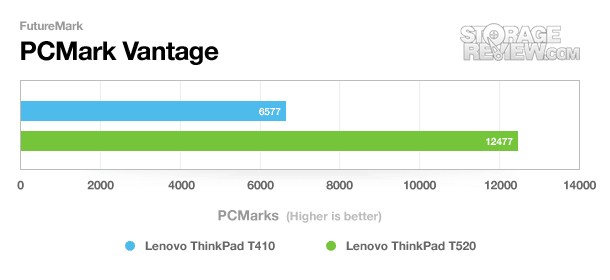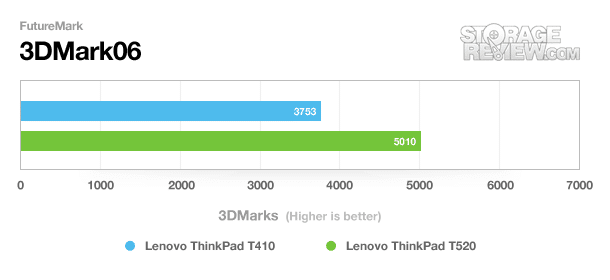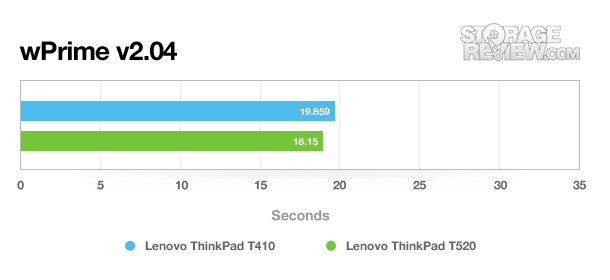 In the second half of our benchmarking section, we take a closer look at how the system we are reviewing performs under a controlled series of tests. While the first part of the performance section tests the system in its stock form, the second half we used a controlled set of drives where each are cloned off the original one that came with the notebook. We have made some drive changes since the test-case ThinkPad T410 review, although this new group will be staying with us throughout the rest of this year. These drives include the following:
256GB Micron m4 SSD SATA 6.0Gbps
We use some of the same benchmarks in the stock-configuration part of our review, but expand our PCMark Vantage scores to include the HDD tests as well. All scores are averages of three consecutive runs to maintain accuracy.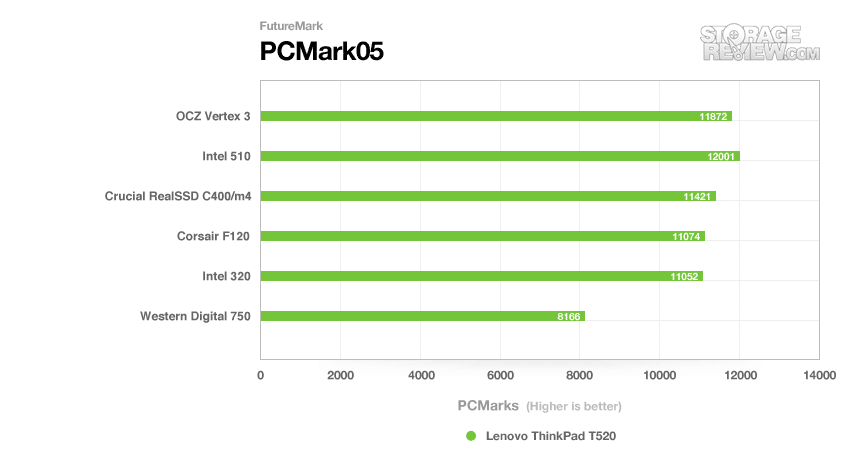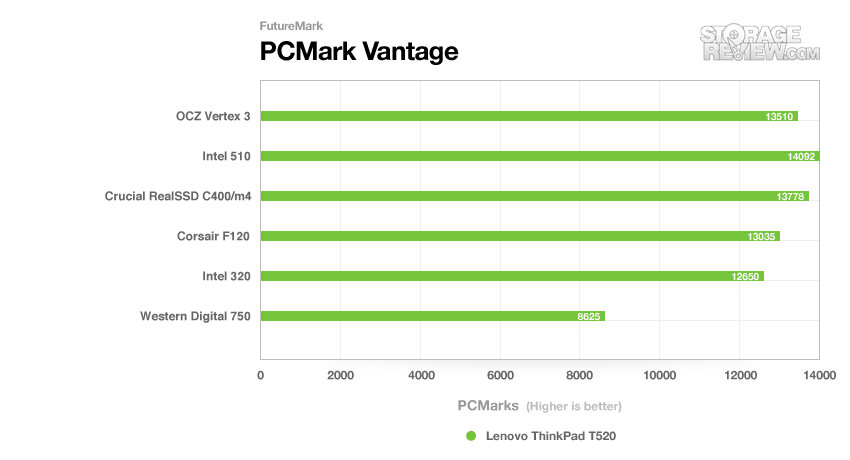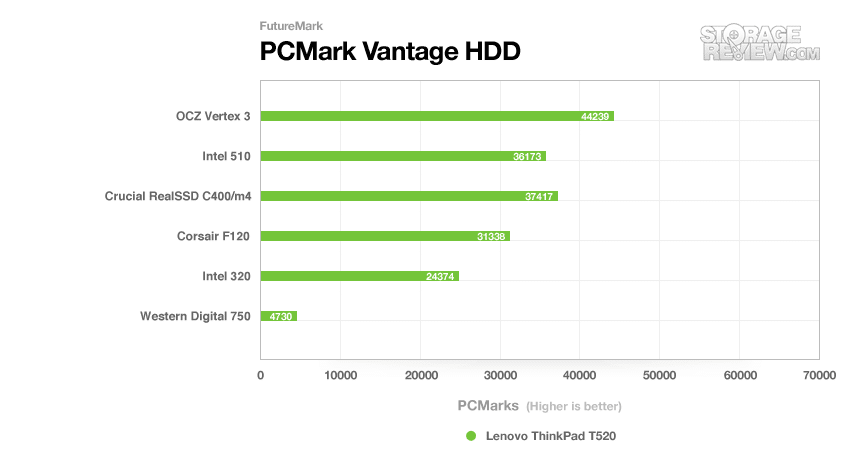 Storage Upgrades
I think its safe to say the mSATA standard is probably one of the best things that's happened to notebooks since the lithium-ion battery. With some additional circuitry, mobile platforms can now have up to 80GB of solid-state storage included on a card slightly larger than a house key. What this means for consumers is now systems can be built smaller and still retain a user-replaceable storage drive, or on large systems the legacy 2.5-inch bay can be used for high-capacity media storage. In the past you might have to make the compromise between large storage capacity or high performance of an SSD. Now you can stick a large platter drive in the primary bay and still have a fast SSD as the boot drive.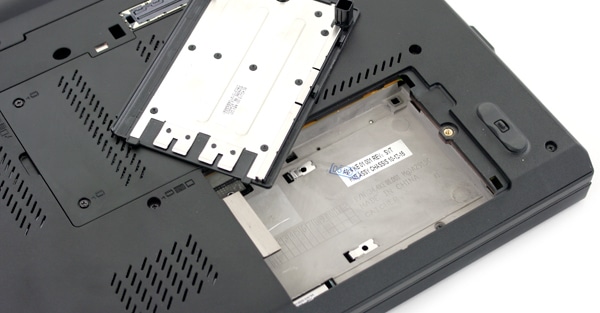 As we  mentioned in our ThinkPad T410 review earlier this year, the ThinkPad-series offers some very cool storage options. The UltraBay which generally houses an optical drive on most models can be configured as an additional storage bay. This means that when traveling you can store tons of extra data internally without having to mess around with external enclosures or additional cables. On the T-series no RAID configuration is available through the BIOS, although the ThinkPad W520 supports it as one of the main defining features between the two models.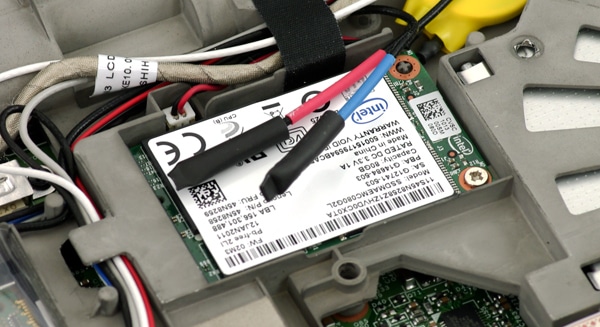 By far the coolest feature of the ThinkPad T520 is the mSATA/WWAN slot located underneath the keyboard. Our review unit came equipped with the 80GB Intel SSD 310 working as the boot drive, keeping the primary 2.5-inch storage bay open for additional storage or scratch space. Lenovo included a low-profile 320GB Seagate Momentus Thin to fill the empty bay, although we didn't include it in our tests as it wasn't used for the OS or any applications on our configuration.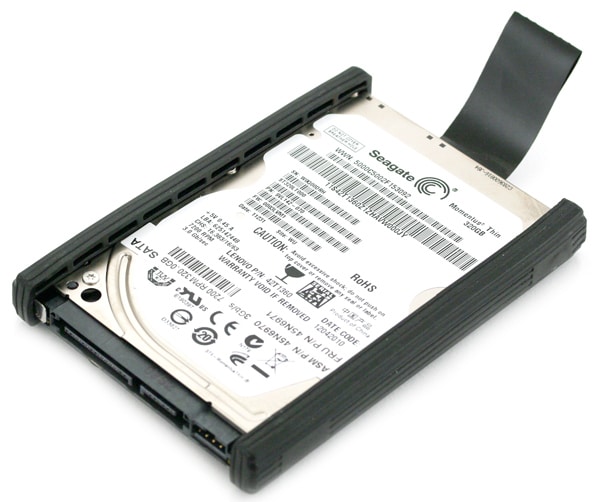 The primary storage bay is listed to work with 7 and 9.5mm drives, with the not-so-common 12.5mm being mostly unsupported. To see if it were even possible, we did try installing a 1TB Western Digital Scorpio Blue in the primary storage bay but it was an extremely tight fit. It was able to mount in place, leaving absolutely no space between the top of bottom cover and the chassis pressing up against it. Removing it was even more difficult. We would highly recommend just sticking with standard 9.5mm hard drives or SSDs with this notebook.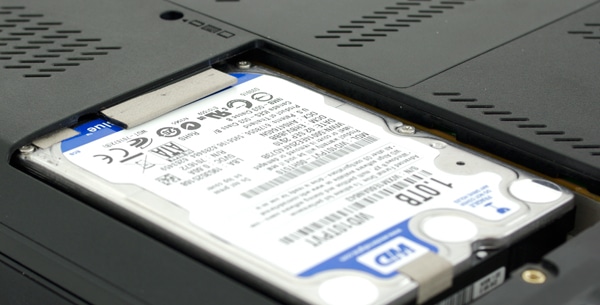 Battery and Power Consumption
Our Lenovo ThinkPad T520 included the standard six-cell battery option, offering a 57Wh capacity. A larger nine-cell battery with a capacity of 94Wh is also offered, which would add about 60% onto your overall battery life. The biggest difference between each of these batteries is their respective sizes, with the smaller six-cell mounting flush to the back of the notebook, and the larger nine-cell battery sticking under an inch.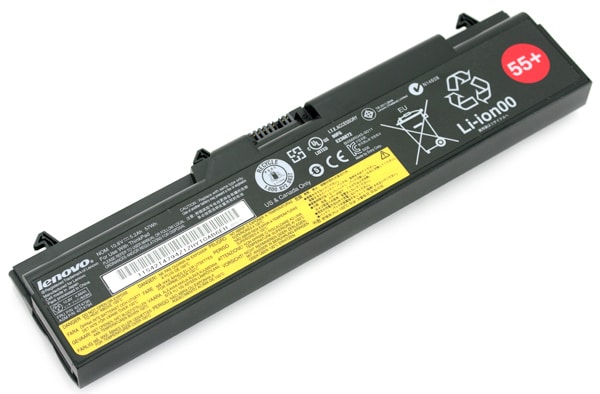 An optional "slice" battery is also offered as an option for the ThinkPad T520, which when combined with a 9-cell battery boasts an impressive 24-hours of runtime. Sadly, we were unable to get a slice-battery with our review unit, so we are unable to provide measured runtimes of that configuration.
To test the battery life we used the Windows 7 Power Saver profile, with the display backlight reduced to about 50% (9/15 brightness), Bluetooth disabled, Wi-Fi on and refreshing a webpage without animated or Flash-based ads, and the system set to hibernate at 5% power remaining. Our goal with this test setup is to try and mimic the road-warrior situation, where you are trying to squeeze as much time as possible in-between charges.
Using the above conditions, the ThinkPad T520 stayed on for 6 hours and 59 minutes, with an average power consumption of 6.2-7 watts. Compared to our original estimate of over 11 hours, it appears the battery gauge wasn't as accurate as a stopwatch.
Warranty
Lenovo offers a wide range of warranty options for the ThinkPad-series of notebooks, with the base warranty including 1-year of depot (mail-in) parts and labor support. The warranty can be upgraded to include onsite and accidental damage protection, with a max coverage length of 4-years. They also offer priority level support option, claiming access to advanced level technicians on the first call.
Conclusion
The Lenovo ThinkPad T520 proved itself to be worthy notebook for business-users and enthusiasts alike. Featuring the latest Sandy Bridge components, the T-series offered excellent battery life while still knocking our socks off in system performance. Integrated graphics performance has substantially improved over previous generations, now reaching over 5,000 in 3DMark06. If that isn't enough for you, the NVIDIA NVS 4200M dedicated graphics is also an option. Depending on your budget, Lenovo offers a wide selection of second-generation Intel Core-series processors in the T520, ranging from the 2.1GHz Core i3-2310M up to the quad-core 2.3GHz Core i7-2820QM.
Being a storage-focused website, it's hard for us not to say that the mSATA SSD and SATA 6.0Gbps speeds are the highlight of this review. When equipped with either the 40 or 80GB Intel SSD 310, users are left with an open 2.5-inch bay to install a drive of their choosing without having to compromise speed or storage. The SATA III connection offered on this notebook also paved the way for breakneck speeds with compatible drives.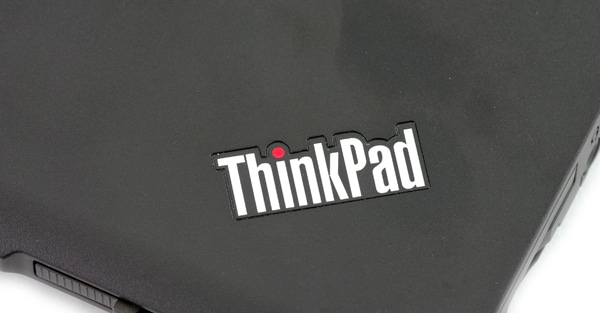 Overall the ThinkPad T520 has plenty to offer, with a configuration matching any budget. Our only big complaint is the less than appealing port selection offered on the T520. No high-speed data connections are included on this model, with eSATA only being offered on the T420 or W520. The other alternative is USB 3.0, which is only present on the W520. If you can get past that downside, the T520 is a very solid performer.
Pros
mSATA SSD Compatible and SATA 6.0Gbps speeds
Comfortable keyboard and excellent touchpad
Very good battery life
Cons
No eSATA or USB 3.0 connections (eSATA included on T520 with discrete graphics)
Bottom Line
The Lenovo ThinkPad T520 has plenty to offer for a wide range buyers. If shopping on a tight budget, a base configuration with integrated graphics and a WXGA resolution screen starts at only $819. For enthusiast buyers with performance in mind, NVIDIA NVS 4200M dedicated graphics, a quad-core CPU, and a Full-HD 95% gamut LED-backlit display options are ready and waiting. No matter what path you take, you get a solidly built notebook with a great keyboard… although just one color; black.
Lenovo ThinkPad T520 Upgrade Guide
We expect to hang onto the Lenovo ThinkPad T520 for a few additional weeks. If during this time you have any special requests (i.e., benchmark another drive or perform additional tests) we are more than willing to help in our discussion forum.