When OCZ bought Indilinx in March this year they not only gained control of some key intellectual property, but they also got one step closer to being able to provide their own in-house SSDs from end to end. OCZ was already using the Indilinx processors in many of their enterprise SSDs so for the bargain price of $32 million, the deal made sense. Now that the Indilinx Everest platform is finding its way to market via integration by OEMs like LG and into client SSDs like the Octane, Indilinx has the potential to give OCZ a huge point of differentiation from nearly everyone else in the market. With the OCZ Octane SSD, the Everest platform promises to deliver read speeds of up to 560 MB/s and writes up to 400 MB/s, depending on capacity.
When OCZ bought Indilinx in March this year they not only gained control of some key intellectual property, but they also got one step closer to being able to provide their own in-house SSDs from end to end. OCZ was already using the Indilinx processors in many of their enterprise SSDs so for the bargain price of $32 million, the deal made sense. Now that the Indilinx Everest platform is finding its way to market via integration by OEMs like LG and into client SSDs like the Octane, Indilinx has the potential to give OCZ a huge point of differentiation from nearly everyone else in the market. With the OCZ Octane SSD, the Everest platform promises to deliver read speeds of up to 560 MB/s and writes up to 400 MB/s, depending on capacity.
Speed is great, but the Octane has one more big trick up its sleeve…capacity. The Octane is the first 2.5″ SSD to hit the 1TB capacity point, alternatives based on the SandForce processor for instance are capped at 512GB. Part of the Everest platform also includes several software features to help users get the most out of their SSD. Indilinx nDurance increases NAND life two times longer than the 3,000-5,000 PE write cycles currently seen for 2Xnm NAND, pushing the lifespan back into the range seen at the 3xnm die size. "Fast Boot" technology delivers 50% speedier boot times and there are no data compression limitations as seen in SandForce-equipped SSDs. The drives also take advantage of background garbage collection.
As if the promise of blazing straight line speed, huge capacity options and enhanced endurance aren't enough, the Octane boasts read latency of .06ms and write latency of .09ms, claimed to be the fastest in the industry.
OCZ will be releasing the Octane with SATA 6Gb/s interface in 128GB. 256GB 512GB and 1TB capacities, though the 1TB capacity isn't slated to ship for another few weeks. The Octane will also come in a SATA 3Gb/s flavor, in 64GB, 128GB, 256GB and 512GB capacities.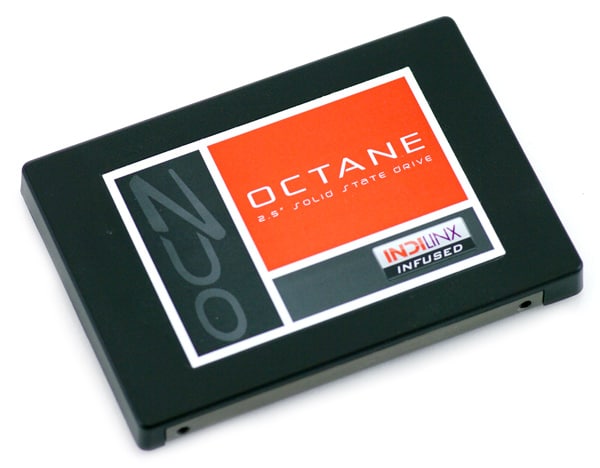 OCZ Octane Specs
Up to 1TB in capacity

128GB (OCT1-25SAT3-128G) $199.99 ($1.56/GB)
256GB (OCT1-25SAT3-256G) $369.99 ($1.45/GB)
512GB (OCT1-25SAT3-512G) $879.99 ($1.72/GB)
1TB (OCT1-25SAT3-1TG)

512GB Formatted Capacity: 476.94GB
Indilinx Everest platform

Up to 560MB/s Read (1TB Capacity)
Up to 400MB/s Write (512GB and 1TB Capacity)

512MB Onboard Cache
25nm Intel Synchronous NAND
TRIM Support
SATA 6Gb/s interface
NCQ Support up to 32 Queue Depth
9.5mm, 2.5″ form factor
Dynamic & Static Wear-Leveling, and Background Garbage Collection
8 channels with up to 16-way Interleaving
Power Consumption: 1.98W active, 1.15W standby
Firmware Reviewed: E0688537
Three year warranty
Aesthetics
The Octane uses the newer versatile SSD case design that OCZ adopted earlier this year. This body makes use of a plastic cover and metal plate, where the older model had a metal body with a flat metal plate screwed into place.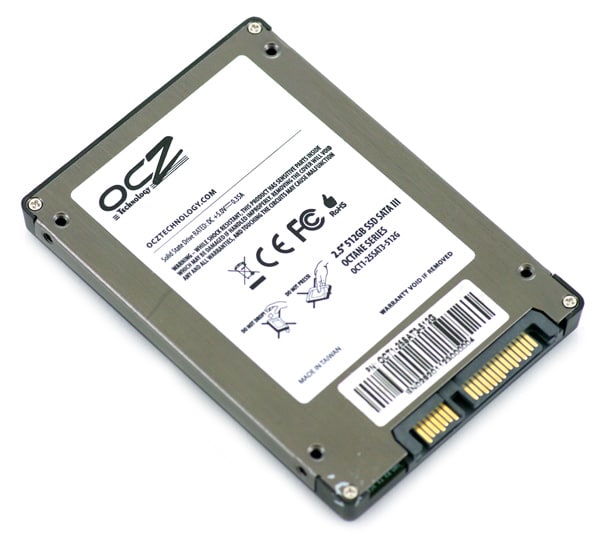 Besides the case itself changing, nothing else from the outside seems to indicate these drives are any different than the past models. The stickers and branding are identical as well as the information stickers on the back.

Comparing the Octane to other OCZ SSDs, users will note the different color schemes used on each model. Whereas the Octane makes use of orange and black, the others go with red, silver and black, and green so signify which product family they are from.

The front of the drive features a standard SATA power and data connection, with no debug pins next to the connector.
Disassembly
As a warning for those thinking about tearing into their new OCZ Octane, know that you will void your warranty in the process. Besides trying to get a physical confirmation on what the internals are, there really is no reason to open one of these up, especially when we take the risk for you.

The OCZ Octane is very easy to take apart with a Phillips-head screwdriver. After removing four screws around the perimeter and breaking through the warranty sticker, the top cover comes loose exposing the PCB inside. The circuit board is held in place with four additional screws; the primary guts including the controller are on the other side of the PCB.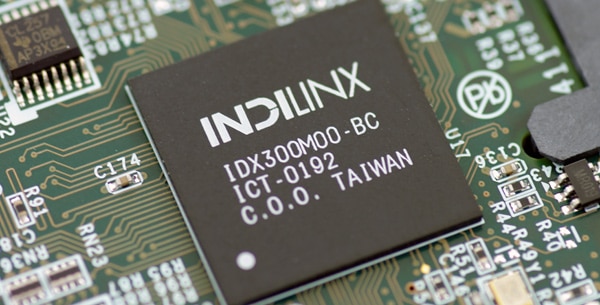 At the heart of the OCZ Octane SSD is the all new Indilinx IDX300M00-BC controller. Paired with this controller is 512MB of Micron DDR3 memory split up between two 256MB pieces top and bottom.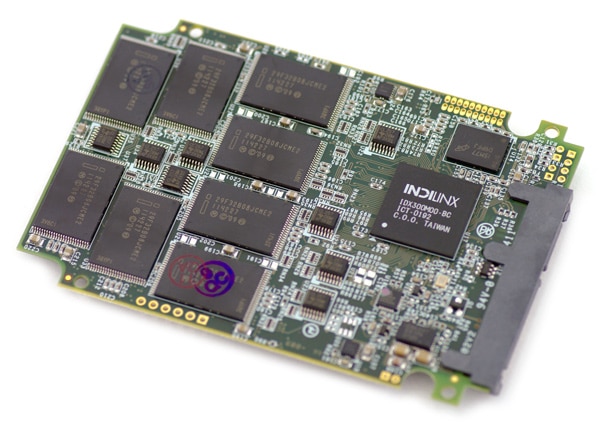 The 512GB Octane makes use of sixteen Intel 29F32B08JCME2 32GB 25nm synchronous NAND pieces. Eight are soldered onto each side with one 256MB RAM piece as well.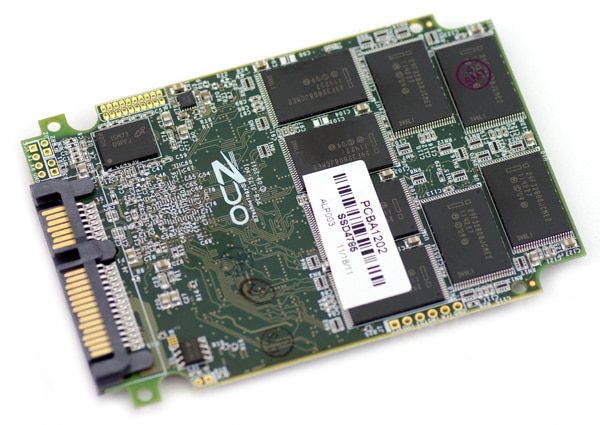 Benchmarks
With advertised transfer speeds listed at 560MB/s read and 400MB/s write, we were very anxious to see how well this drive performed in our tests. With only a handful of SATA 6.0 controllers on the market, few SSDs are able to contend at the top, with big players such as Marvell and SandForce leading the way. In comes OCZ with their in-house Indilinix processor to see how they stand up to not only the big licensed players, but others with internal solutions like Samsung as well.
For the 512GB capacity, OCZ lists sequential transfer speeds of 535MB/s read and 400MB/s write on the Octane. Only the 1TB model is listed with faster transfer speeds, measuring 560MB/s read, although having the same 400MB/s write speed. To put these claims to the test, we used our 2MB sequential transfer test in IOMeter.
The OCZ Octane measured 492MB/s read and 374MB/s write, above the SandForce working with incompressible data and just below the Samsung SSD 830.
Our next test looks at large random transfers, and is also performed using IOMeter.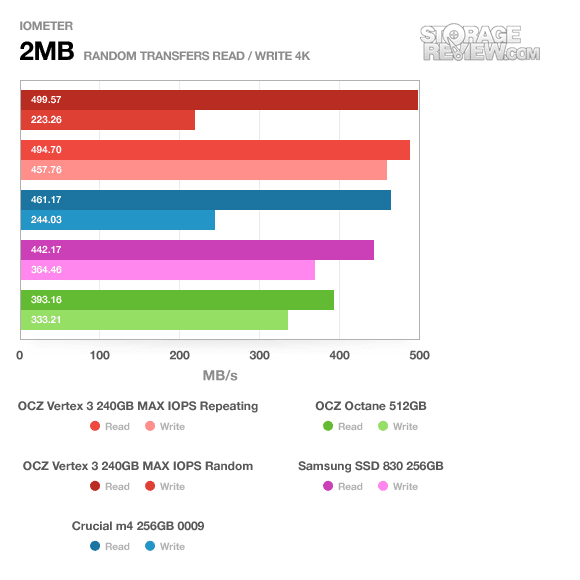 The Indilinx-powered Octane slowed down slightly in its read speeds, measuring 393MB/s. Write speeds also dropped, although they appear in line with other SSDs.
One of the main selling points of the OCZ Octane is its strong 4K transfer speeds. To see how it stacked up against the other drives in this group, we used IOMeter to measure the fully random 4K read and write performance at a queue depth of one.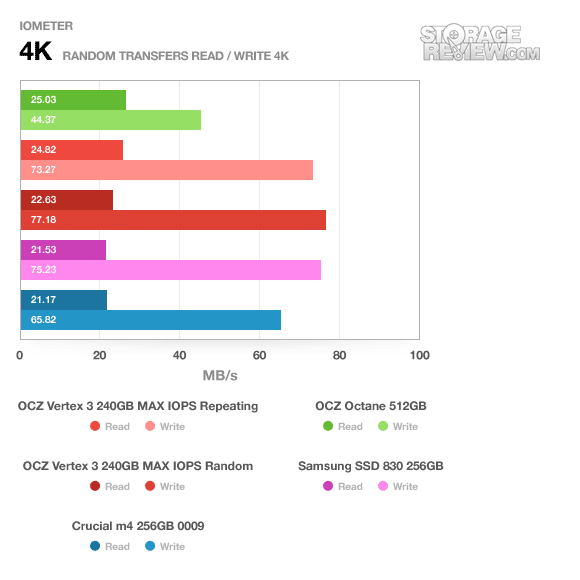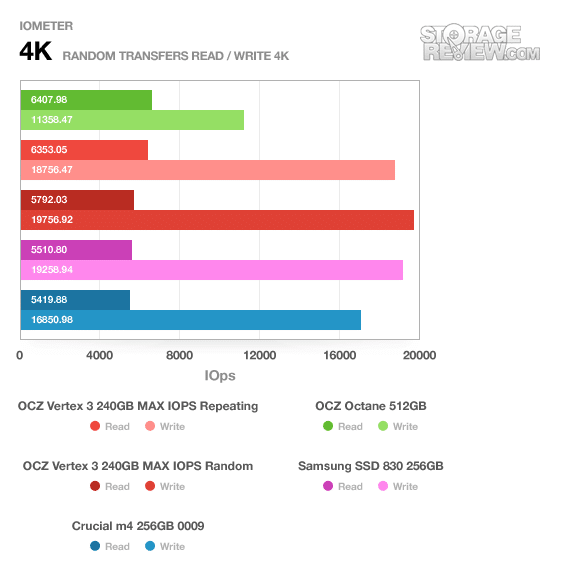 The Octane stayed with the middle of the pack, with random 4K read speeds ranking above the Samsung SSD 830 and Crucial RealSSD m4. Write speeds came up towards the bottom of the pack though, coming in 40% slower than the Vertex 3 MAX IOPS.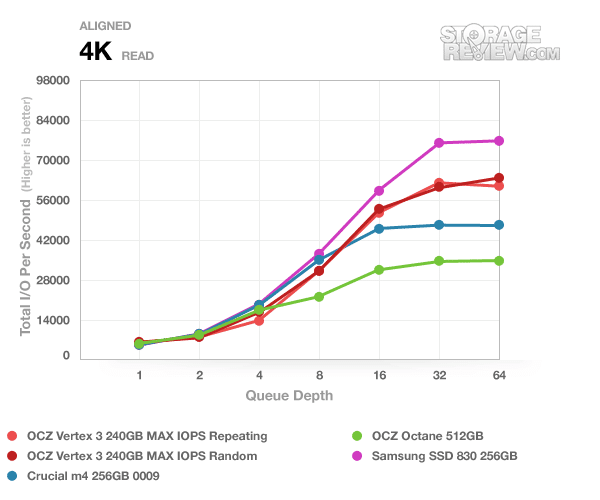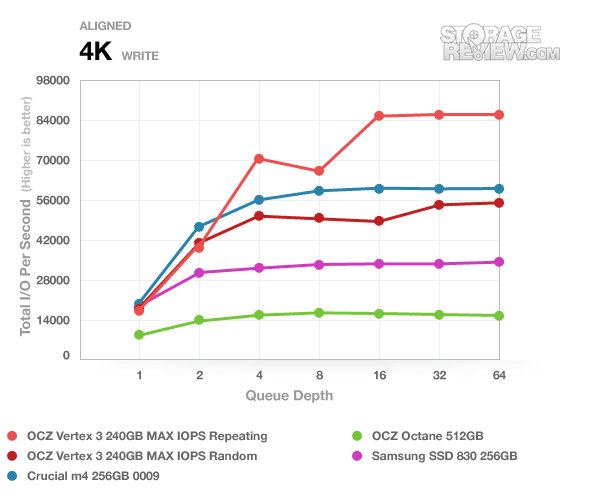 Expanding the test out to a maximum queue depth of 64, we see that the Octane topped out its 4K random write capacity at speeds still shy of what our comparables produced at the start off the test. Read speeds were slightly better, but still came up short of other drives in our group.
Going from our 4K random write test at a queue depth of one, we measured the average and peak transfer times on each drive.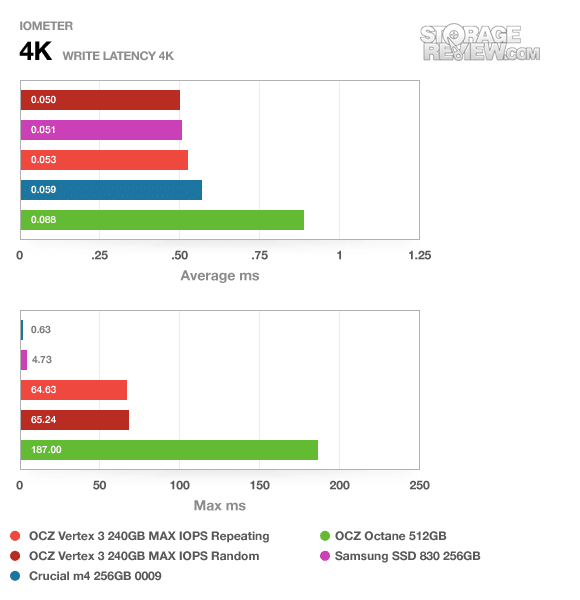 With its weaker 4K write speeds, the OCZ Octane had an average response time of 0.087ms. Its peak latency measured 187ms, roughly three times higher than the Vertex 3.
CrystalDiskMark with its fully random drive benchmark showed the Octane's incompressible data strength over the SandForce models, similarly to our IOMeter tests above. For moving compressed video or other non-repeating data files around, the Octane is hard to beat.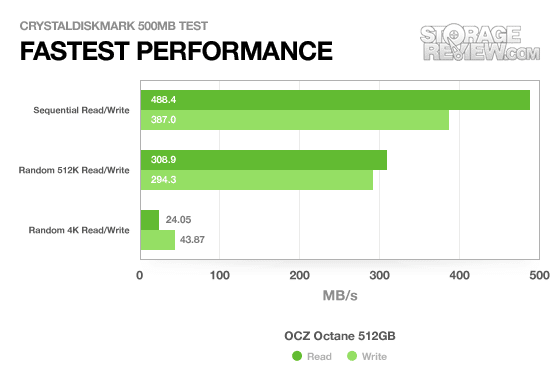 Our last section of synthetic benchmarks looks at the performance of each drive in enterprise profiles, including database, webserver, file server, and workstation. One of the main benefits of this test over other synthetic benchmarks is the mixed workload with both read and write transfers as well as varied transfer sizes at the same time. These are also scaled from a queue depth of 1 to 128 to fully stress the drive in a demanding environment. As you can see below the OCZ Octane stayed close to the group in the lower queue depths, but couldn't scale up as high under a multi-threaded workload; although it did manage to stay above the Crucial m4 in all but the webserver test.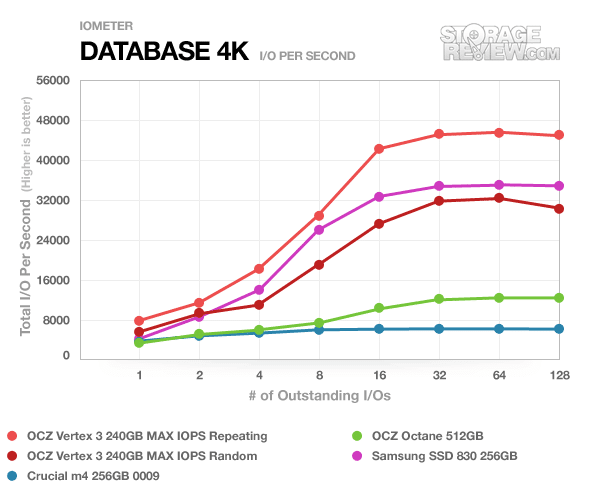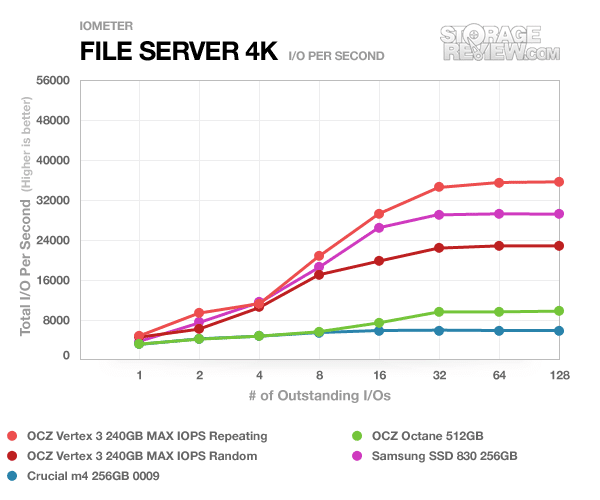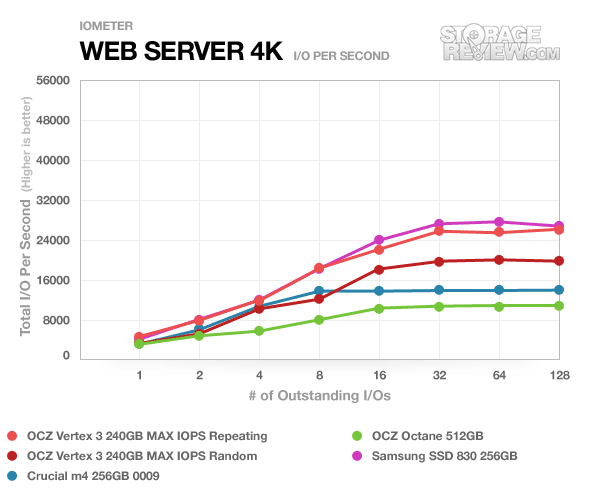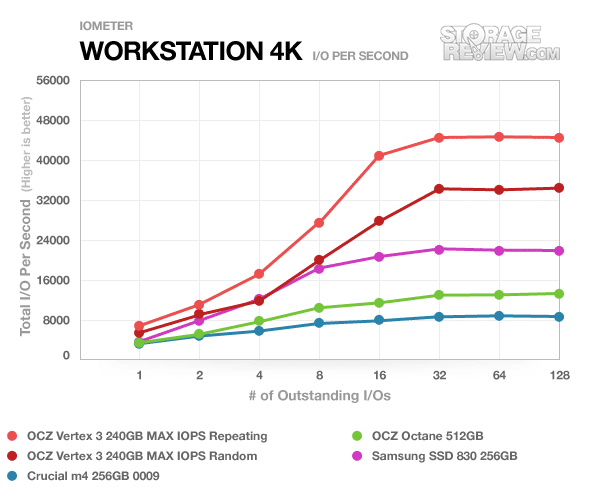 Steady-State Benchmark
While we normally don't include steady-state benchmarks in our consumer reviews, we felt it could offer some value to our readers to see how this drive might perform in an 24/7 continuous-write setting. Generally speaking only heavily-over provisioned drives can compete in this space, as well as models with heavy garbage collection algorithms that run at all times in the background to move around data as the drive fills up. Given this is our first look at this new platform and controller, we wanted to see how it stacked up in this space. The assortment of drives also compared includes the Micron C300 and P300 as well as the Plextor PX-M2P. The Micron P300 is the heavy-weight SLC-based enterprise drive in this test.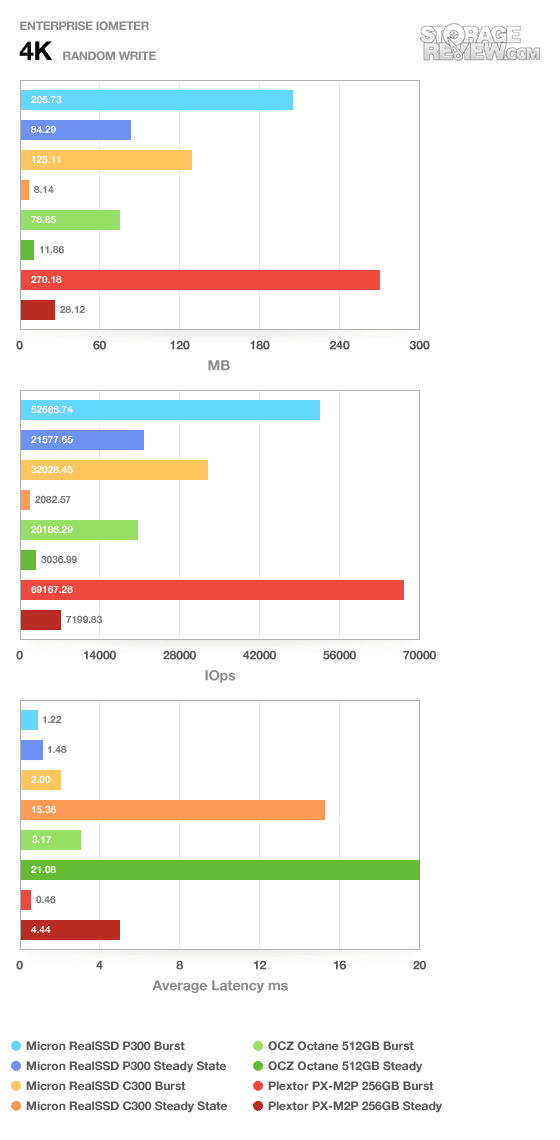 It's a given that any drive put through the steady-state benchmark will have a significant performance drop between before and after. Comparing the consumer-targeted C300 to the enterprise-targeted P300, we notice a 60% drop on the P300 and 94.5% drop on the C300. Clearly the P300 held up better in a 24/7 write environment. The Plextor PX-M2P saw a performance drop of 89.6%, which fared better than the C300… not to mention had a faster peak speed to drop from. The OCZ Octane based around the Indilinx Everest platform saw a drop of 84.9%, with a starting speed of 78.85MB/s and an ending speed of 11.86MB/s.
Real-World Benchmarks
If you are new to StorageReview, one thing we try to focus on is how any given drive might perform under real-world conditions. For the average user, trying to translate random 4K write speeds into an everyday situation is pretty difficult. It helps when comparing drives in every setting possible, but it doesn't exactly work out into faster everyday usage or better game loading times. For this reason we turned to our StorageMark 2010 traces, which include HTPC, Productivity, and Gaming traces to help readers find out how a drive might rank under their conditions.
The first real-life test is our HTPC scenario. In this test we include: playing one 720P HD movie in Media Player Classic, one 480P SD movie playing in VLC, three movies downloading simultaneously through iTunes, and one 1080i HDTV stream being recorded through Windows Media Center over a 15 minute period. Higher IOps and MB/s rates with lower latency times are preferred. In this trace we recorded 2,986MB being written to the drive and 1,924MB being read.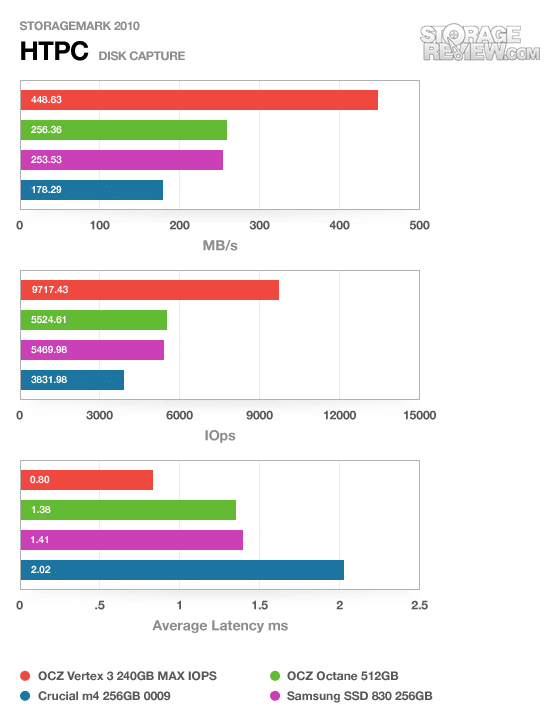 The OCZ Octane came in second in our HTPC trace, beating out the Marvell-controlled Crucial m4 and the Samsung-controlled Samsung SSD 830. The OCZ Vertex 3 MAX IOPS still had a strong lead over the group though, with a speed of 448MB/s.
Our second real-life test covers disk activity in a productivity scenario. For all intents and purposes this test shows drive performance under normal daily activity for most users. This test includes: a three hour period operating in an office productivity environment with 32-bit Vista running Outlook 2007 connected to an Exchange server, web browsing using Chrome and IE8, editing files within Office 2007, viewing PDFs in Adobe Reader, and an hour of local music playback with two hours of additional online music via Pandora. In this trace we recorded 4,830MB being written to the drive and 2,758MB being read.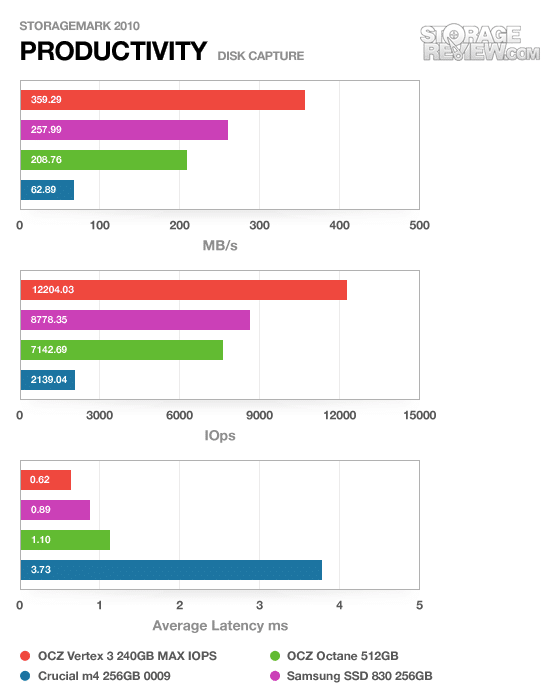 In a productivity setting the OCZ Octane performed very well, staying towards the bottom of the pack with the Vertex 3 and Samsung SSD 830 above it. It was still able to beat out the Crucial m4 again though, which lagged behind.
Our third real-life test covers disk activity in a gaming environment. Unlike the HTPC or Productivity trace, this one relies heavily on the read performance of a drive. To give a simple breakdown of read/write percentages, the HTPC test is 64% write, 36% read, the Productivity test is 59% write and 41% read, while the gaming trace is 6% write and 94% read. The test consists of a Windows 7 Ultimate 64-bit system pre-configured with Steam, with Grand Theft Auto 4, Left 4 Dead 2, and Mass Effect 2 already downloaded and installed. The trace captures the heavy read activity of each game loading from the start, as well as textures as the game progresses. In this trace we recorded 426MB being written to the drive and 7,235MB being read.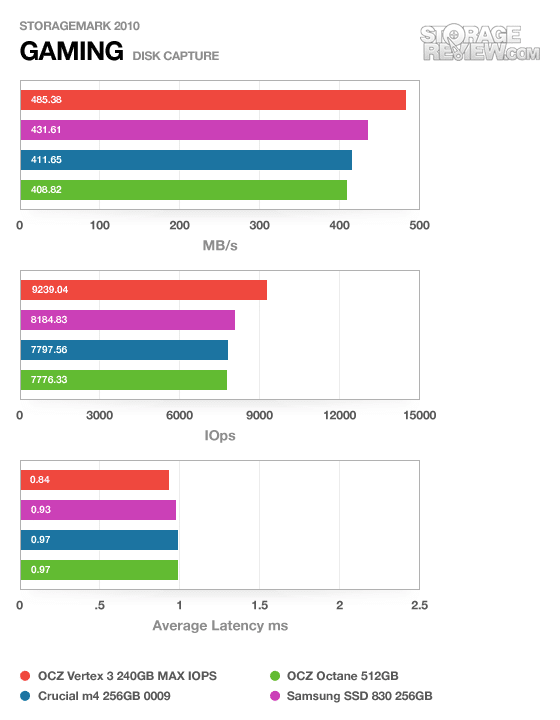 In our read-heavy gaming trace the Octane came in fourth, but it was still a relatively close race compared to the two prior benchmarks. In this trace the Octane trailed the pack with a speed of 408MB/s.
Power Consumption
As a completely new platform, we had no idea how the Octane would perform in our power test. Looking past the controller differences, this 512GB as well as the others in its family all come equipped with 512MB of cache (some goes unused on smaller capacities) which can add to the power consumption of the drive. By comparison the SandForce SSDs go without add-on RAM cache and the Crucial m4 and Samsung SSD 830 use 256MB.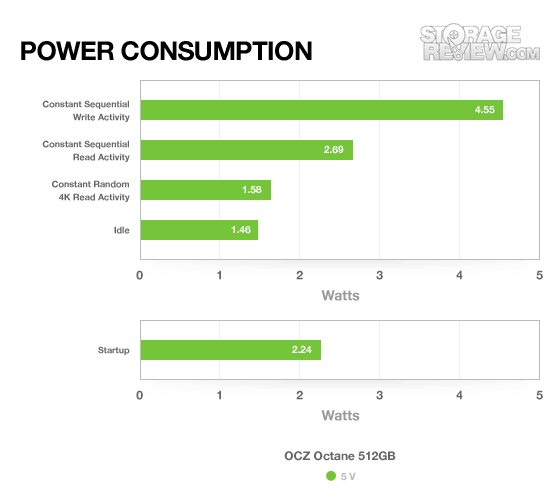 OCZ listed an active power rate of 1.98W and an idle or standby rate of 1.15W. We came close to the idle power rate with a measurement of 1.46 watts, although our active tests ranged from 1.58 watts up to 4.55 watts with a constant 2MB sequential transfer. Idle power is higher than what we see from most current-generation SSDs, although being an introduction of a new chipset there may be firmware improvements down the line to help make it more efficient.
Warranty
OCZ provides a three year warranty for the Octane, which is in-line with other SSDs in this class, though a handful of drives do offer a five-year warranty.
Conclusion
The OCZ Octane is the first of a new breed of SSDs that uses an updated Indilinx controller, which OCZ owns. Owning the controller gives OCZ a lot of options, from tuning the firmware just the way they want, to being able to support the drives more quickly with firmware updates, to being one step closer to an SSD solution that's made entirely in-house. It also gives buyers more options, who OCZ is happy to oblige by offering the most robust line of client SSDs on the market.
When we pull back the curtain on the Octane and look at performance, it's a bit of a mixed bag, though there are more highlights than bloopers. Random 4K read performance was the highest in the group, but overshadowed by the weaker 4K write speed, which didn't top out as high as other competing models. When it came to writing incompressible data, the Octane shined over the SandForce-driven Vertex 3 which finds its strength working with compressible data. If you find yourself working with a lot of media files, drives like the Octane and Samsung SSD 830 would win out moving them around.  Power consumption was another area that raised some eyebrows during testing, measuring over 4.5 watts with full write activity, caused most likely by the 512MB of cache.
The main selling point of the OCZ Octane right now is its price per GB, which undercuts many of the same-capacity SSDs on the market. Another selling strength is the spread of sizes offered, ranging from 128GB to 1TB. In the budget space which is filled with Toshiba and JMicron-controlled SSDs, the new Indilinix Everest platform does offer some strengths usually only found in performance SSDs.
Pros
Very fast random 4K read speeds
Hard to beat $/GB pricing
No incompressible data slowdowns
Cons
Slightly power hungry
Weaker performance at higher queue depths
Bottom Line
The OCZ Octane comes out swinging with very good performance at a $/GB pricing scheme that will be tempting to many shoppers working on a tight budget. With speeds topping almost 500MB/s read and 375MB/s write, the Octane has no trouble saturating the SATA 6Gb/s interface in most situations, something that the majority of budget SSDs can't say themselves.
Update – OCZ Octane SSD 128GB/512GB Review (Firmware v1.13)