Samsung is a brand that might not immediately come to mind for most users when they think of hard drives, but those in the know have likely been using them for a while. In this review, we're looking at Samsung's updated green hard drive, the Spinpoint F4EG (EG for EcoGreen). Building on the success of the F3EG, Samsung historically has a good history of producing a quality hard drive with a very competitive price.
Samsung is a brand that might not immediately come to mind for most users when they think of hard drives, but those in the know have likely been using them for a while. In this review, we're looking at Samsung's updated green hard drive, the Spinpoint F4EG (EG for EcoGreen). Building on the success of the F3EG, Samsung historically has a good history of producing a quality hard drive with a very competitive price.
So what does the F4EG bring to the table? The big gain is a reduction in the number of platters. While its predecessor, the F3EG, ran with four platters, the F4EG is able to get away with just three. That's three platters with a stunning density of 667GB each, ratcheting the overall capacity of the F4EG to 2TB. The increased platter density means less platters are needed to hit the 2TB target, giving the motor a reprieve and reducing power consumption and noise in the process.
Competing with the F4EG in our testing is its predecessor, the F3EG, along with drives from Western Digital and Seagate. Like the F3EG, Western Digital's Caviar Green is a four-platter drive (though transitioning to 3-platter), placing it at something of a disadvantage against Samsung's drive and the three-platter Seagate Barracuda Green. Additionally, the F4EG only sports 32MB of cache and a standard SATA II interface, while Seagate and Western Digital's drives bump cache up to 64GB, and Seagate's Barracuda runs on the newer SATA III.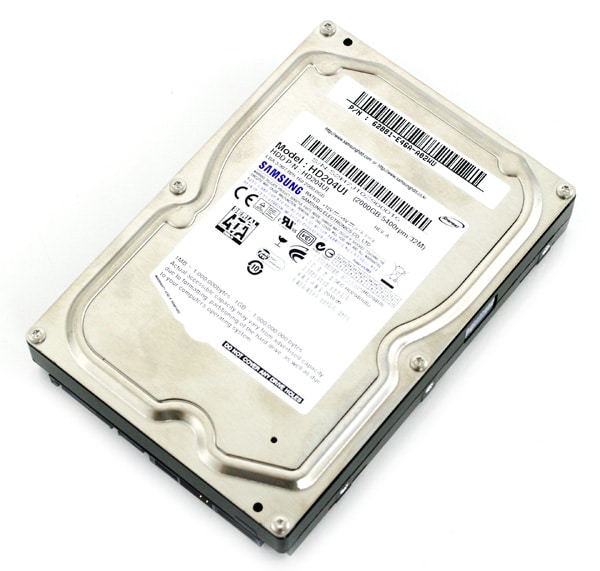 Samsung Spinpoint F4EG (HD204UI) Specs
2TB unformatted capacity
SATA 3Gb/s interface
32MB cache
5400RPM spin speed
Average Seek time – 8.9 ms
Data Transfer Rate / Media to/from Buffer(Max.) – 250MB/sec
Data Transfer Rate / Buffer to/from Host(Max.) – 300MB/sec
Average Latency – 5.52 ms
Drive Ready Time(typical) – 13 sec
Non-recoverable Read Error 1 sector in 1015 bits
Acoustics – Idle 2.5/2.6 Bel, Performance Seek 2.8/2.9 Bel
Temperature / Operating 0 ~ 60 °C
Temperature / Non-operating -40 ~ 70 °C
Seek (typical) 5.7W
Read/Write (typical) 6.3W
Idle (typical) 5.1W
Standby (typical) 1W
Sleep (typical) 1W
Weight (avg.) 650g
Aesthetics
The Samsung Spinpoint F4EG looks pretty much identical compared to the F3EG before it. The top cover design still makes use of a vibration dampening plate that covers the entire top, with a nicely contoured edge tracing the outline of the platter and head assembly inside. Samsung uses the same label design, which actually makes identification difficult if you are just picking a drive out by looks and not paying attention to the model number.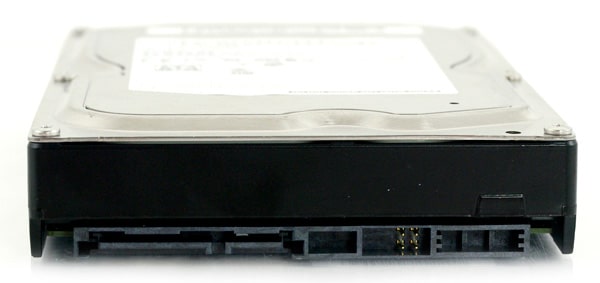 The front of the drive has the industry standard SATA power and data connection, with four pins for various service modes. Looking in the Samsung F4EG installation manual it doesn't look like those pins activate any particular modes, although they may be used for servicing the drive.
Disassembly
The Samsung F4 EcoGreen is designed with the components soldered to the circuit board facing up, with most designs from Seagate and Western Digital doing the opposite. In some ways I kind of prefer the hidden look, as it can allow components to shed heat into the drive body instead of needing airflow across components to keep parts cool. In newer designs with very power efficient parts this might not be a huge deal anymore.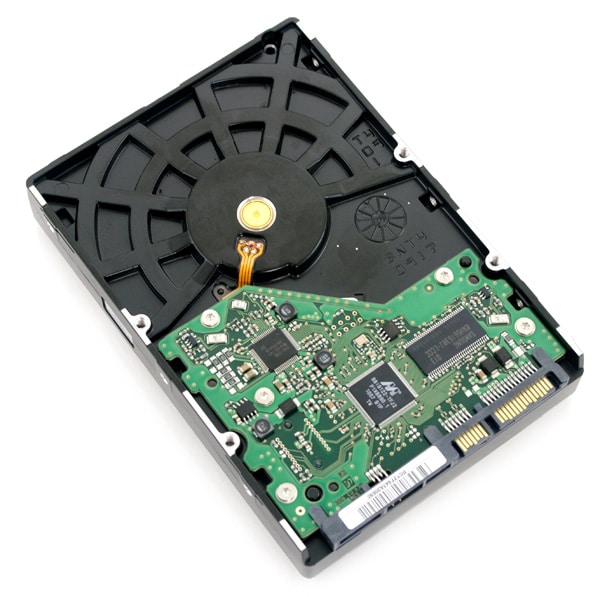 The EcoGreen F4 is very easy to take apart after removing five Torx screws that hold the circuit board in place. After lifting away the PCB a thin insulating piece is exposed which probably keeps some of the electronics from shorting on the metal body and acts as a vibration isolation pad.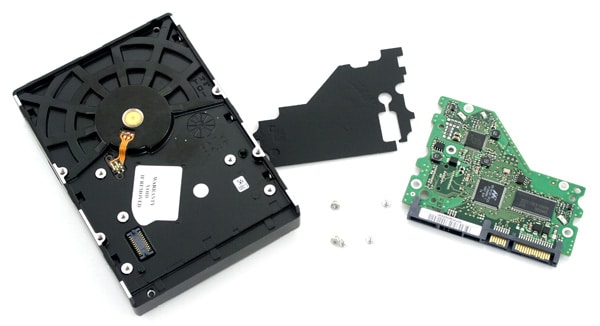 Looking closer at the circuit board we see a Marvell 88i9122 controller, a 32MB Samsung DDR memory chip, and a Texas Instruments motor driver.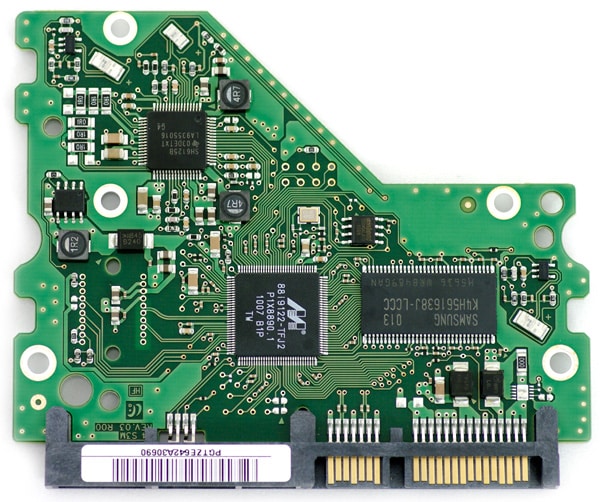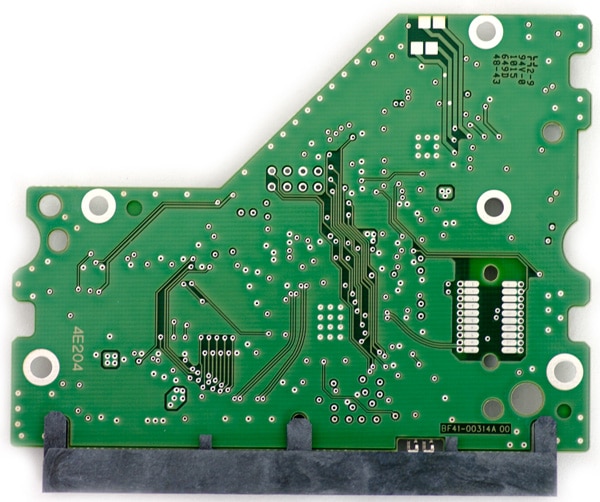 Synthetic Benchmarks
For our synthetic tests we'll be using IOMeter and CrystalDiskMark to see how well the Spinpoint F4EG and its three-platter design fare in terms of raw data crunching compared to the four-platter F3EG and Caviar Green, as well as the more handsomely spec'ed Seagate Barracuda Green.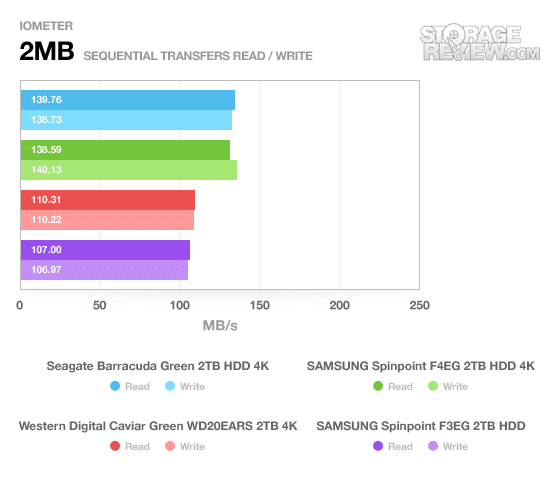 Right away, the F4EG trades blows with Seagate's drive and shows a healthy improvement over the preceding generation. The increased platter density is already paying off here.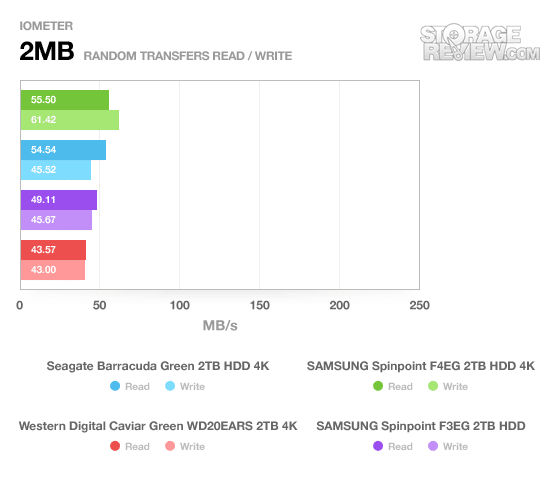 When we get to random transfers the situation only improves. Samsung's drive posts a minor lead with read speed, but write speed is nearly 25% faster than the next fastest drive.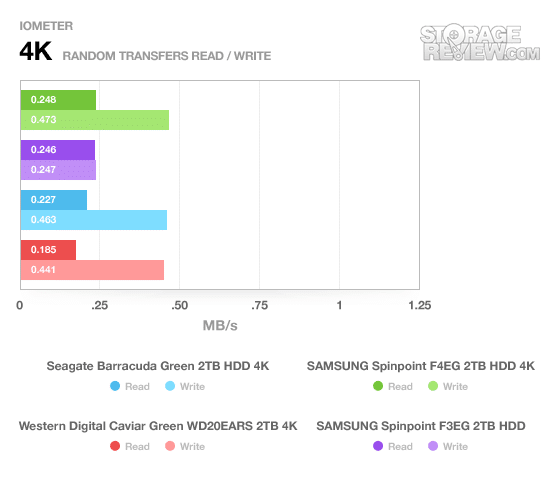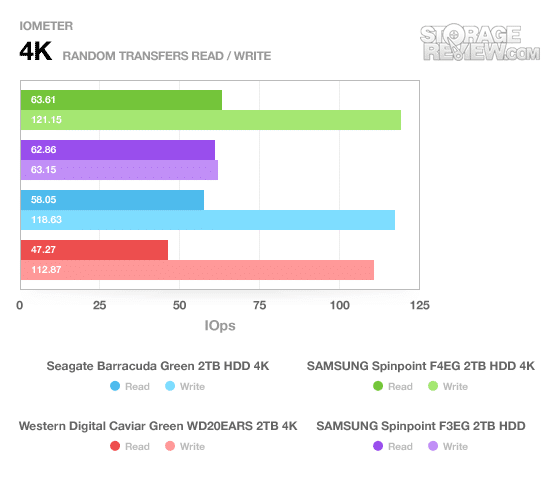 Samsung's F4EG is able to maintain its strong performance in our 4K random transfer testing, again placing at or near the top of the charts and posting a healthy improvement upon its predecessor.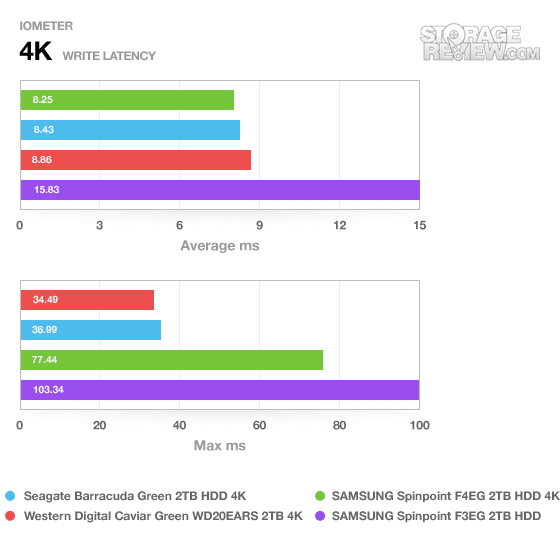 Our first stumble is in write latency, where the F4EG is only able to best the F3EG at maximum latency despite posting another victory in overall average time.
So far in our IOMeter testing, Samsung's drive is constantly at the top of the heap. We'll check in with CrystalDiskMark and see if those results remain consistent there.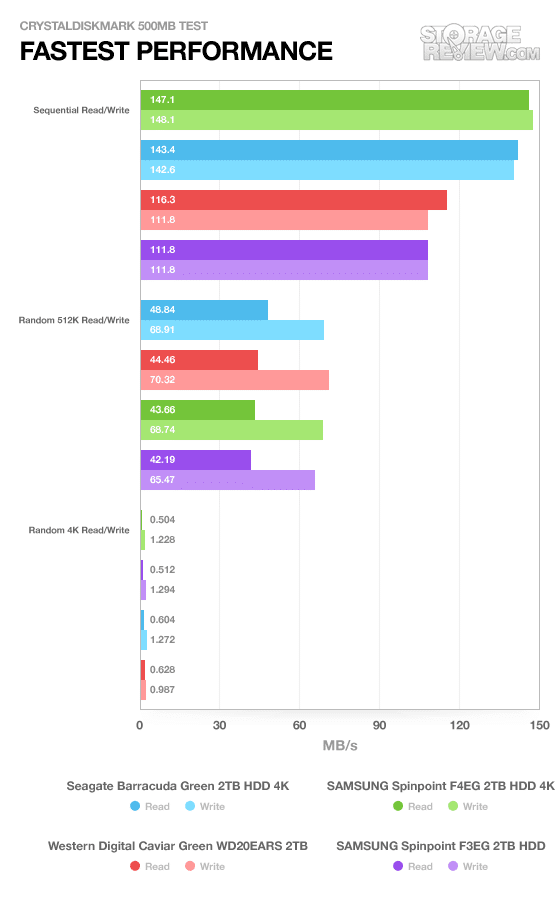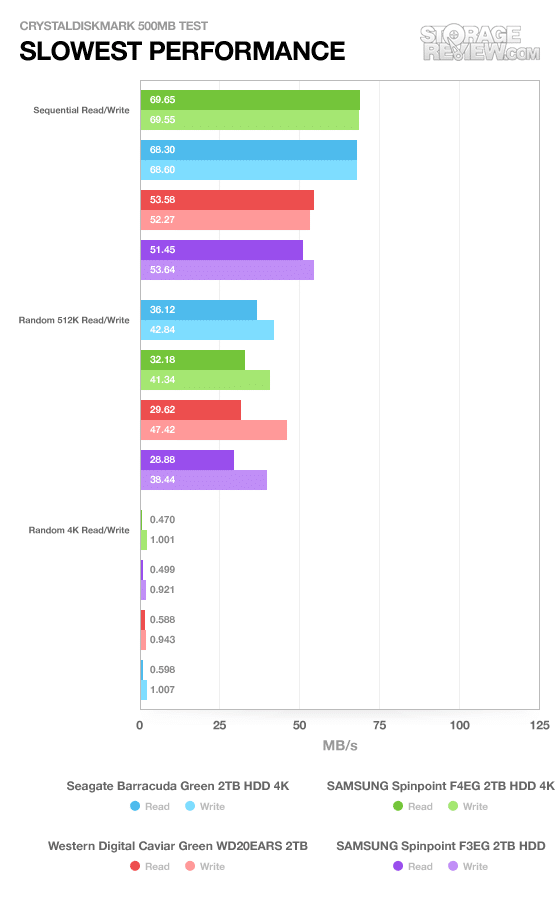 Sequential speeds are again the best, and apart from a negligible stumble in random speeds the F4EG continues to post respectable numbers.
From these basic tests we've gathered that Samsung's new EcoGreen drive is at least theoretically able to produce class-leading performance, but what happens when it's faced with server-style workloads? That's what we aim to find out when we move back to IOMeter and run the drive through a gauntlet of server-style simulations.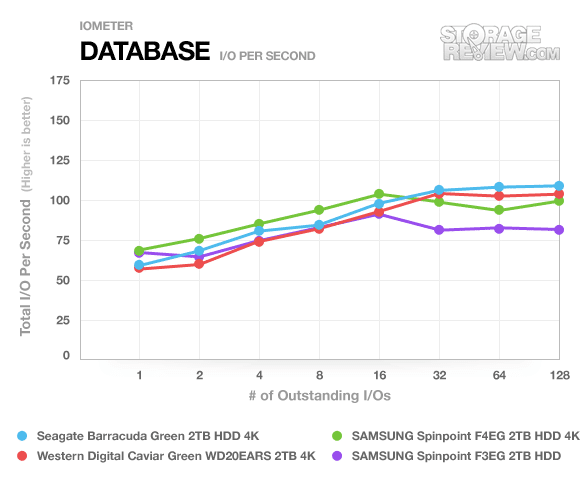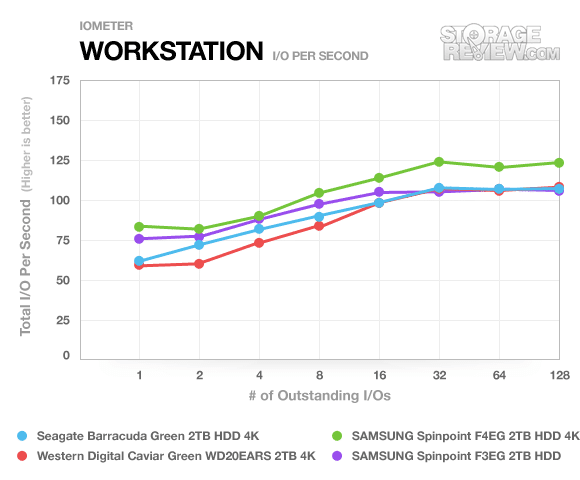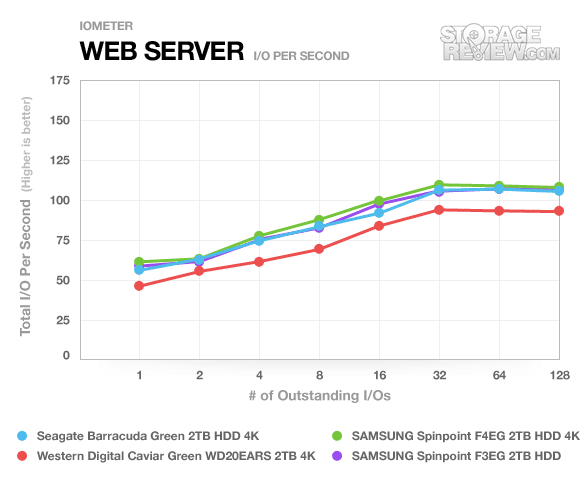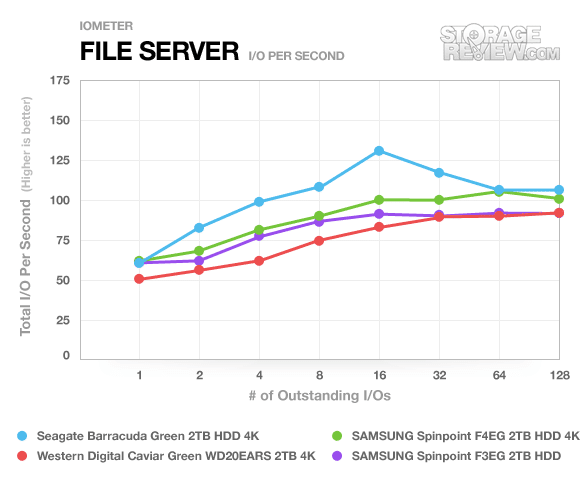 In most cases the F4EG is only really bested by Seagate's Barracuda Green, a drive that has the benefit of both twice the amount of disk cache and an apparently underused SATA III interface.
Real-World Benchmarks
We've taken our synthetic tests and thrown just about everything we can at Samsung's Spinpoint F4EG and thus far the drive has shown virtually no weaknesses, continually meeting and often besting Seagate's Barracuda Green. The improved platter density has enabled it to completely leapfrog the preceding F3EG as well as soundly beat Western Digital's Caviar Green. Synthetic testing doesn't tell the whole story though, and for that we use custom traces in StorageMark 2010 to get a feel for how the drive fares under actual stress and workloads more typical of a desktop user.
The first real-life test is our HTPC scenario. In this test we include: playing one 720P HD movie in Media Player Classic, one 480P SD movie playing in VLC, three movies downloading simultaneously through iTunes, and one 1080i HDTV stream being recorded through Windows Media Center over a 15 minute period. Higher IOps and MB/s rates with lower latency times are preferred. In this trace we recorded 2,986MB being written to the drive and 1,924MB being read.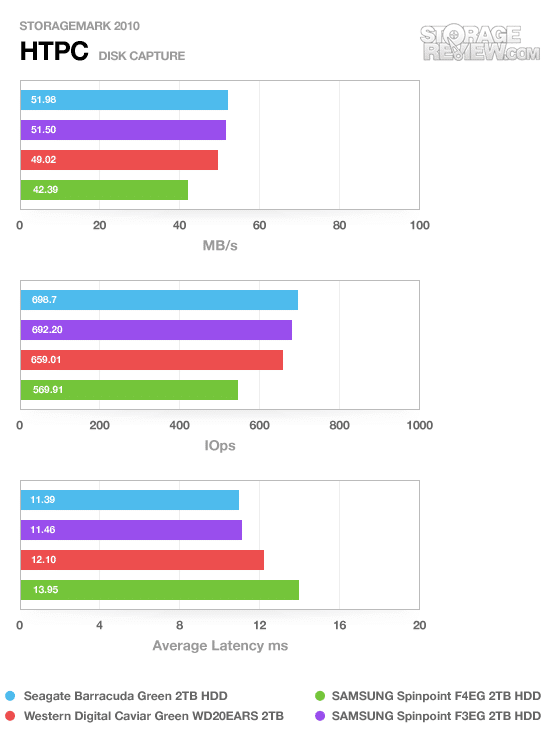 With our first run out the gate, the F4EG fallen behind compared to the F3EG, in this case posting lower performance than its predecessor and hanging out in the back of the class.
Our next real-life test covers disk activity in a gaming environment. Unlike the HTPC trace, this one relies heavily on the read performance of a drive. To give a simple breakdown of read/write percentages, the HTPC test is 64% write, 36% read, the Productivity test is 59% write and 41% read, while the gaming trace is 6% write and 94% read. The test consists of a Windows 7 Ultimate 64-bit system pre-configured with Steam, with Grand Theft Auto 4, Left 4 Dead 2, and Mass Effect 2 already downloaded and installed. The trace captures the heavy read activity of each game loading from the start, as well as textures as the game progresses. In this trace we recorded 426MB being written to the drive and 7,235MB being read.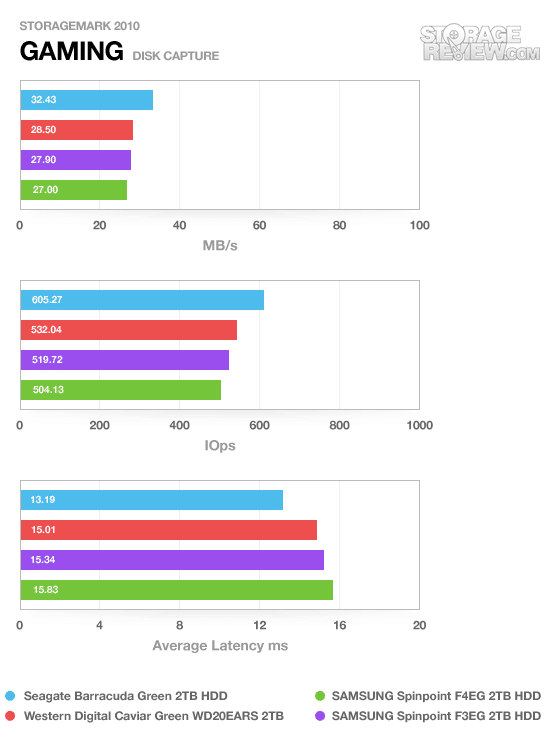 While the F4EG is able to post stellar numbers in our synthetic testing, when we get to real-world usage it again lagging slightly behind the F3EG, falling behind the pack of low-power 2TB models.
Power Consumption
If anything, Samsung's Spinpoint F4EG should put in a strong showing with our power consumption testing. The F3EG and Western Digital's Caviar Green all have to work harder to spin their four platters while the F4EG and Barracuda Green are able to trim some fat and get away with just three.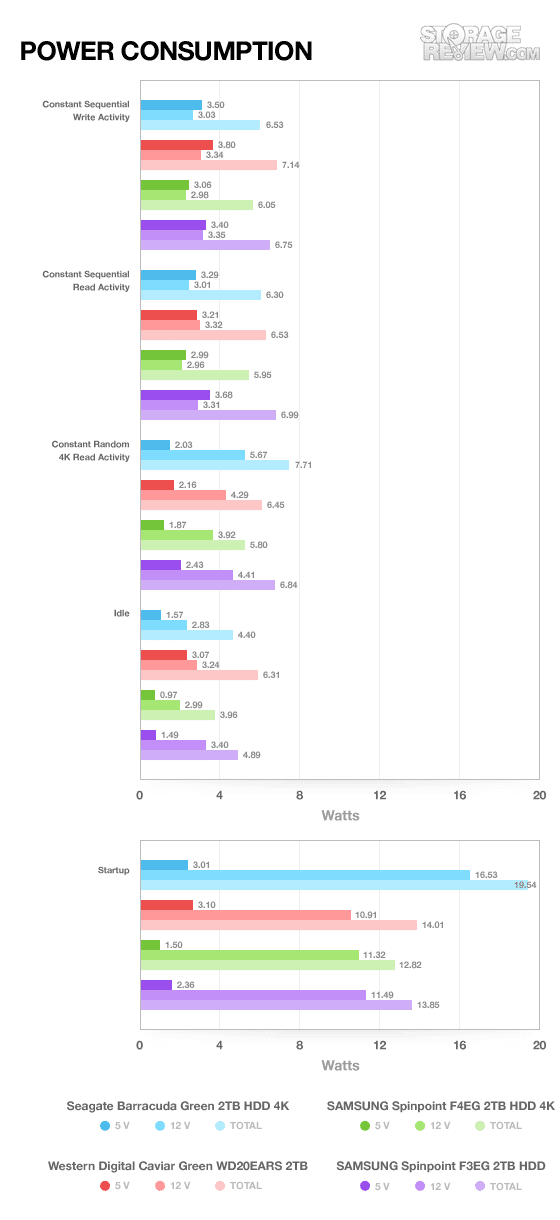 Once again, Samsung's drive walks away with the gold in a big way. The Barracuda Green may tie it in synthetic testing and run roughshod over it in our real-world tests, but it's going to need a lot more power to do it. Particularly alarming is the Seagate drive's startup power consumption, which pulls seven watts more than the F4EG. Meanwhile the F4EG is able to produce major gains over Samsung's last generation EcoGreen. Users interested in large home server or small business storage arrays will probably notice a larger wallet each month after paying their power bills.
Warranty
As is common with low-power mass storage drives, Samsung backs the Spinpoint F4EG with an industry standard three year warranty. Only Western Digital is willing to top this in the consumer space, and only on their performance-tuned Caviar Black series.
Conclusion
When being run through synthetic testing, Samsung's Spinpoint F4EG put in a strong showing if not the strongest. At that point we're really looking at two classes of drives: the older four-platter drives (the Western Digital Caviar Green and the Spinpoint F3EG) and the newer three-platter drives (the Seagate Barracuda Green and the Spinpoint F4EG). There are simply advantages that are going to be imparted by virtue of being able to ditch one of the platters and still keep capacity up. While Seagate has strapped all the newest trimmings to their drive in the form of a 64MB cache and SATA III interface, Samsung elected to stick with the tried and true, opting to keep the cache at 32MB and stick with the old (and not liable to be saturated by a mechanical drive) SATA II interface.
The problem is that while the F4EG was fun to talk to backstage, when we finally pulled up the curtain and asked her to dance she tripped over her own two feet. Synthetic testing showed a strong drive, but people don't run IOMeter for kicks, and when real-world workloads were applied the F4EG slowed compared to its predecessor.
Of course, performance isn't absolutely everything and Samsung still has two strongholds: price and power consumption. Seagate's 2TB Barracuda Green may be faster, but it's also $30 more expensive. Power consumption also weighs heavily in the F4EG's favor, and simulated server loads seem to suggest a good niche for it.
Pros:
Least expensive drive in this class
Strong synthetic and server load performance
Remarkably low power consumption, especially in idle
Cons:
Slower than previous generation in real-world testing
Bottom Line
While the Samsung Spinpoint F4EG did well with synthetic tests, it stumbled behind the prior generation drive in our battery of real world tests. But the green drives aren't about performance; here power is king, along with price. If those two variables are key in your purchase decision, then in the 2TB capacity there isn't a better choice than the F4EG.