In mid-August Samsung announced their SSD 830, the updated follow-up to the 470 SSD. Samsung's 470 and now 830 SSDs are becoming a bit of a rarity; both SSDs are built entirely in house with Samsung components. The Samsung 830 features a 3-core MCX controller, 2x nm Toggle MLC NAND, 256MB SDRAM cache and firmware, all made by Samsung. Heck, at this point we wouldn't be surprised if Samsung owned a bauxite mine in Australia to harvest the raw materials needed for the aluminum case. Whatever the case, the new SATA 6Gb/s drive delivers sequential reads of 520 MB/s, writes of 400 MB/s and 4K random read IOPS of 80,000.
In mid-August Samsung announced their SSD 830, the updated follow-up to the 470 SSD. Samsung's 470 and now 830 SSDs are becoming a bit of a rarity; both SSDs are built entirely in house with Samsung components. The Samsung 830 features a 3-core MCX controller, 2x nm Toggle MLC NAND, 256MB SDRAM cache and firmware, all made by Samsung. Heck, at this point we wouldn't be surprised if Samsung owned a bauxite mine in Australia to harvest the raw materials needed for the aluminum case. Whatever the case, the new SATA 6Gb/s drive delivers sequential reads of 520 MB/s, writes of 400 MB/s and 4K random read IOPS of 80,000.
The fact that Samsung controls all of the components within the SSD 830 is a point that can't be overstated. In practical terms, this means that since Samsung designs and produces all of the components and software, the drives should carry some of the best reliability and compatibility in the industry. In the event there's a problem, Samsung can respond by creating a revised firmware with only internal resources, rather than having to interface with a handful of component suppliers.
All the proprietary Samsung goodies are hidden away in what's easily the best looking SSD on the market. While you may only see the 830 for a few minutes before installing it, the drive is just plain sexy. The black aluminum body evokes thoughts of a high-end sports car, a comparison Samsung is surely happy to accept.
Samsung sells the 830 in 64GB, 128GB, 256GB and 512GB capacities. Each is available in a basic kit, in a notebook kit with 2.5mm spacer and SATA to USB cable, or in a desktop kit with 3.5″ mounting bracket and SATA data and power cables. All of the kits include a full version Norton Ghost 15 for cloning an old drive and/or setting up backup routines for the SSD 830, and Samsung Magician a suite of tools to manage the SSD.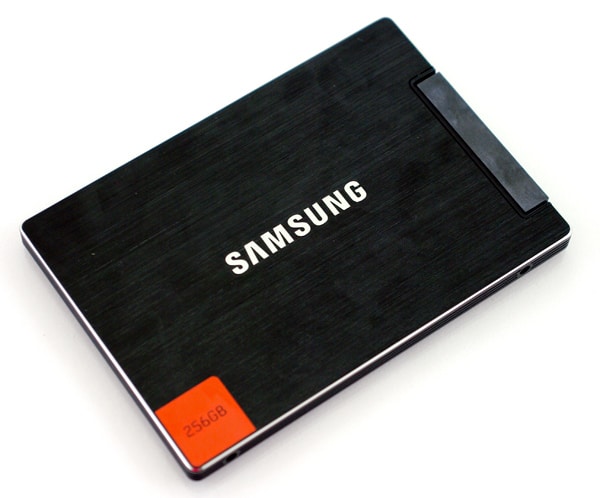 Samsung SSD 830 Specs
Capacities

64GB (MZ-7PC064B)
128GB (MZ-7PC128B)
256GB (MZ-7PC256B)
512GB (MZ-7PC512B)

Samsung 3-core MCX controller
Samsung 2x nm Toggle DDR NAND Flash memory
Samsung 256MB DDR2 SDRAM cache memory
SATA 6Gb/s interface
520MB/s read speeds, 400 MB/s writes
Magician software for SSD management
Black-tone, brushed metal design
2.5″ 7mm form factor
Design and Build
Samsung doesn't skimp when it comes to designing products, even if it is an SSD that will be hidden for most of its life. The SSD 830 has a very attractive black brushed metal top with the Samsung logo presented front and center. Even the orange 256GB capacity ID is shown off better than some companies display their logo.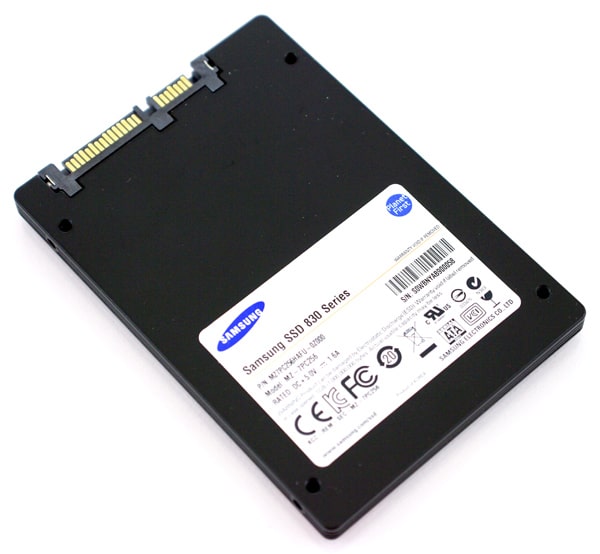 The bottom half of the drive is an alloy design, with grooves in the side, for looks more than cooling in this case. The bottom itself contains the drive sticker showing important information such as drive model number and serial number.
One thing that people might not notice right off the bat is the slim 7mm drive height of the Samsung SSD 830, which is more for compatibility these days now that many notebooks are switching to the slimmer drive bay. With hard drives even making this switch, it isn't hard to see why SSD manufacturers might want to drop some height and weight too, since inside most drive cases is a lot of empty space.

The front of the Samsung SSD sports an industry standard SATA and power interface, with no visible service pins or other features.

Samsung offers both desktop and notebook installation kits for the SSD 830, with the desktop version including a 2.5-inch to 3.5-inch adapter tray and requisite cables. The notebook kit offers a SATA to USB adapter cable to work with data migration software as well as a 2.5mm height mounting spacer for notebooks that require a 9.5mm drive height.
Disassembly
The Samsung SSD 830 isn't designed to be taken apart easily or without likely causing damage. The slim profile and design don't allow for normal securing features such as screws, making Samsung opt for internal clip attachments protruding from the top cover of the SSD. After being fully assembled, all bets are off as to opening the case without damaging these plastic clips. Since there are no serviceable parts inside, consider it  "warranty void if opened" to avoid causing possible damage to your stylish SSD.

With some fingernail finesse and help of an old credit card, we were able to carefully open the SSD 830 to take a peak inside. The internal design is very simple, with a single thermal pad on the bottom metal cover used to draw heat away from components mounted to the top of the circuit board. Unlike the previous SSD 470, the circuit board in the 830 isn't designed to be dual-purpose, fitting both 1.8 and 2.5-inch bodies. This time around the circuit board takes up the surface area inside the 2.5-inch case.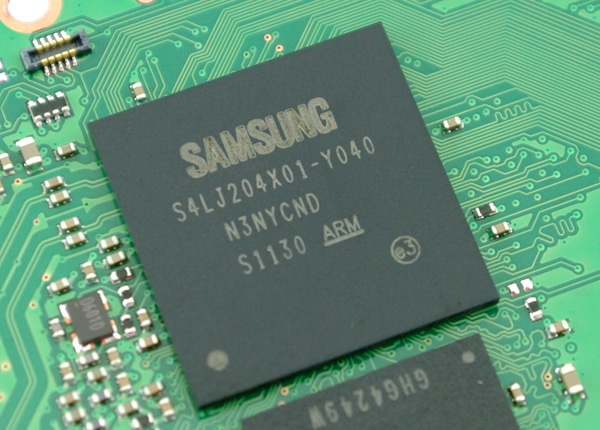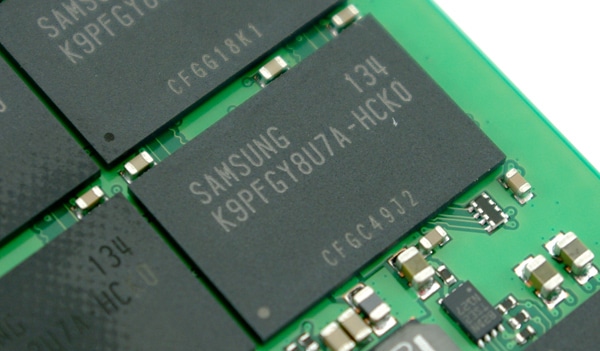 The Samsung SSD 830 has all primary components made in-house. Powering the SSD is a Samsung S4LJ204X01-Y040 controller, with 256MB of on-board cache provided by a Samsung K4T2G314QF-MCF7 chip, and 265GB of NAND storage from eight 32GB Samsung 25nm K9PFGY8U7A-HCK0 pieces.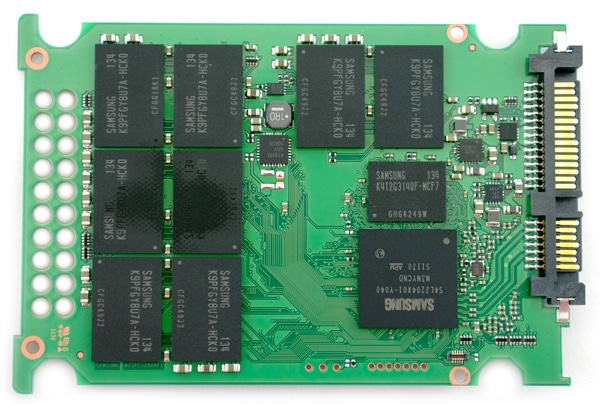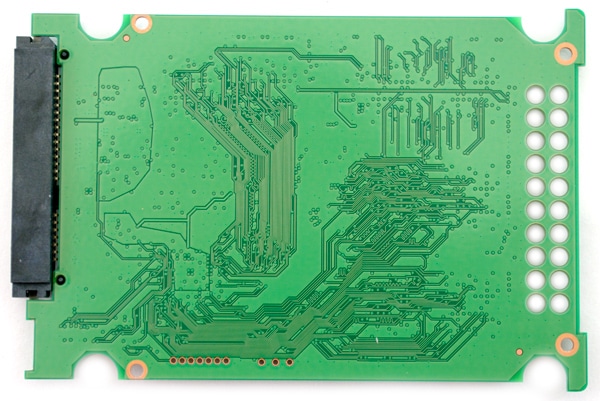 Synthetic Benchmarks
Samsung is using an updated controller in the SSD 830, supporting SATA 6.0Gb/s speeds versus the slower SATA 3.0Gb/s interface found in the older SSD 470. Samsung doesn't put any of this faster connection to waste on SSD 830.
Samsung quotes peak sequential read speed of 520MB/s and a write speed of 400MB/s. To put these claims to the test we measured its straight-line performance with our 2MB sequential IOMeter benchmark.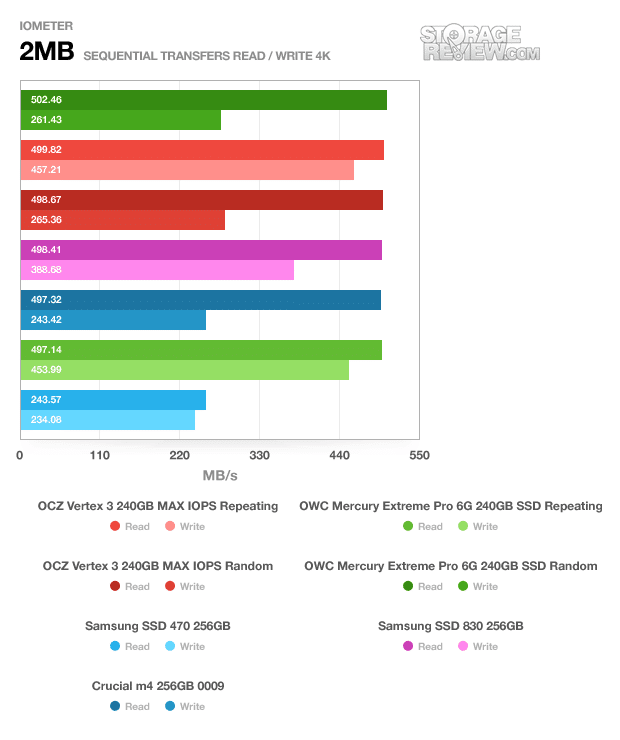 We measured an average read speed of 498MB/s and a write speed of 388MB/s, putting it below the faster SandForce SF-2200 models but above the Crucial m4.
Next we looked at its large random transfer performance with our 2MB random IOMeter test.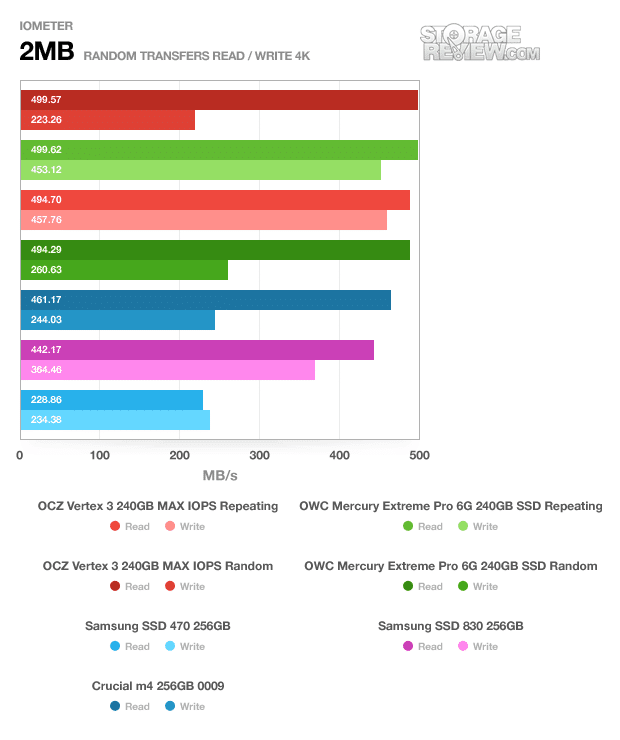 We measured an average read speed of 442MB/s and a write speed of 364MB/s, dropping the SSD 830 below the read speed of the m4, albeit still above in write speed.
Our next group of tests switches to smaller 4K transfers, which are the bread and butter of flash storage. With no moving parts to slow them down, SSDs are able to blow hard drives out of the water in random access speeds.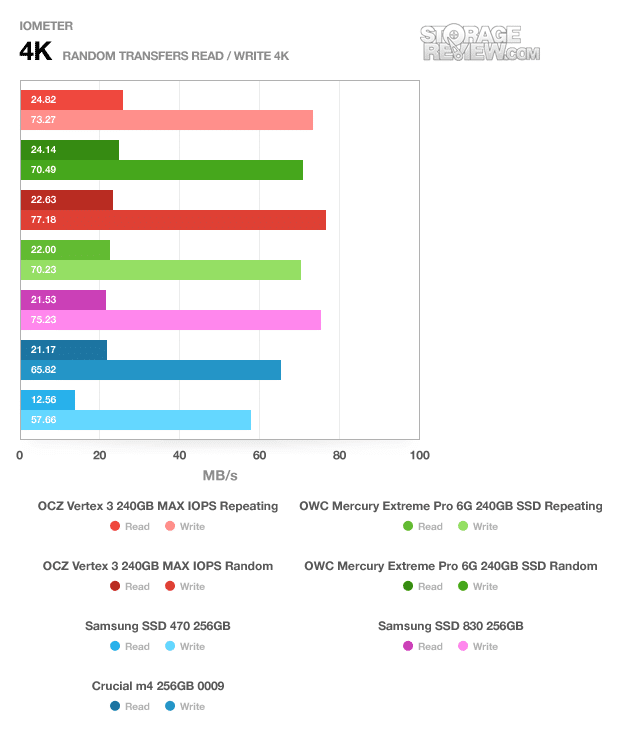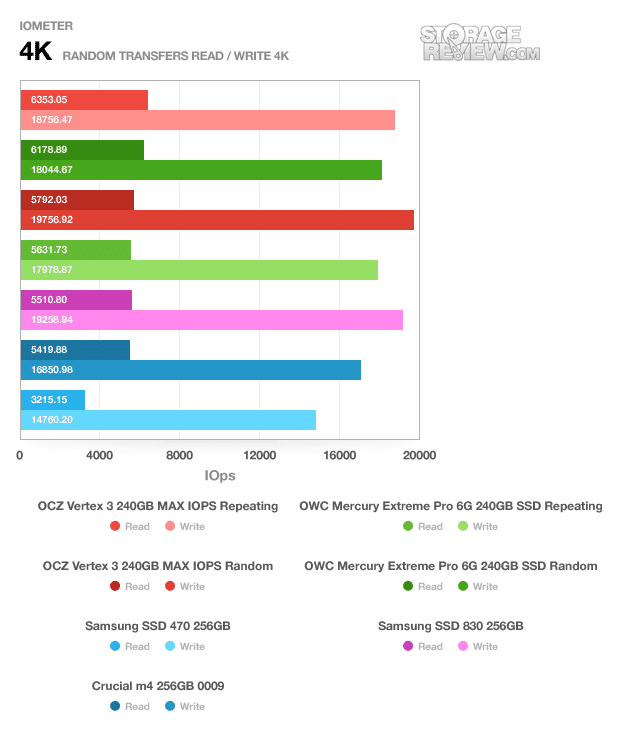 At a queue depth of 1, the Samsung SSD 830 came in middle of the pack in read speed, but gave very strong 4K write speeds coming in just below the Vertex 3 MAX IOPS with an average speed of 19,200 IOPS.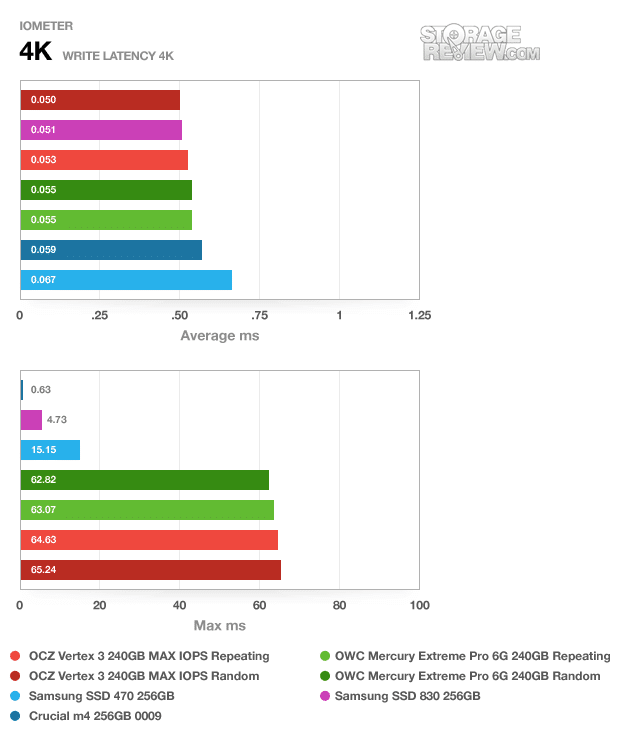 Its strong 4K random write performance at lower queue depths also helped it out in the latency department, coming in second place in average access times, and second only to the Crucial m4 in peak latency.
Expanding the random 4K read and write test to a queue depth of 64 provided very interesting results with the Samsung SSD 830. In the first test looking at read speed, it topped the chart with an impressive 77,400 IOPS at its peak, a full 10,000 IOPS above the OCZ Vertex 3 MAX IOPS.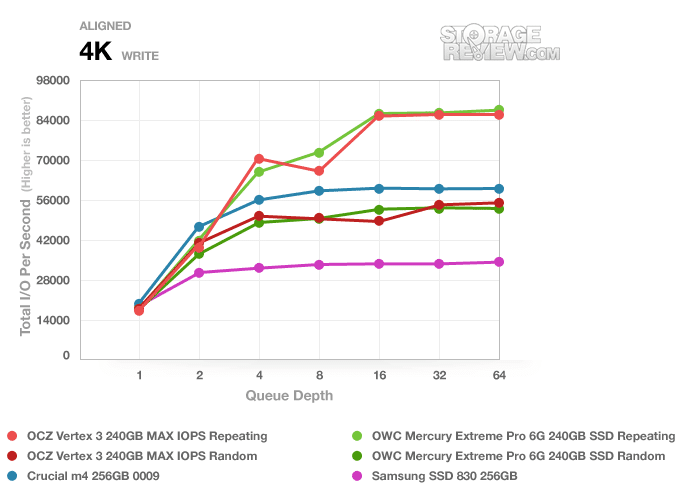 After seeing its chart-topping random 4K read performance, it was a bit of a shock to see less than stellar random 4K write performance. The drive peaked at 34,800 IOPS, far short of the 85k+ measured on the SF-2200 powered models.
The Samsung SSD 830 wasn't slowed down by incompressible data, shown in our CrystalDiskMark test. It still measured an impressive 497MB/s read and 409MB/s write in sequential transfer speeds.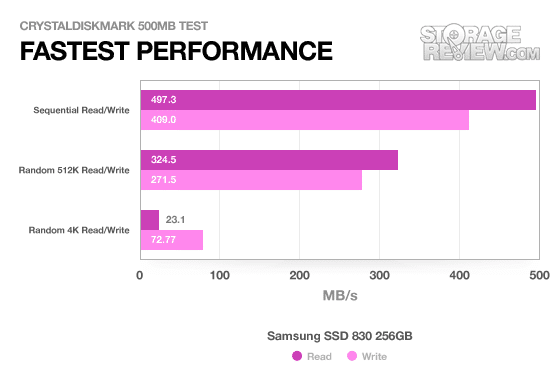 In our IOMeter server benchmark profiles, the Samsung SSD 830 gave us fairly predictable results. Given the slightly weaker random 4K write performance at higher queue depths, it wasn't surprising to see it slightly slump in tests with a higher write percentage. In the webserver test though, it topped the charts thanks to its strong random read performance at higher queue depths.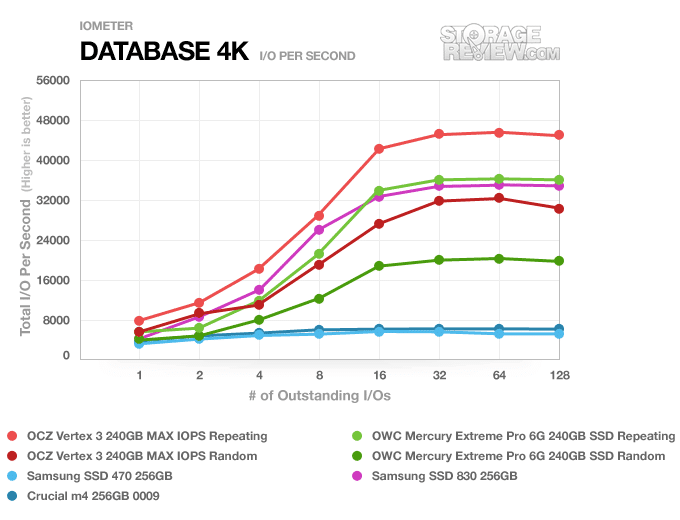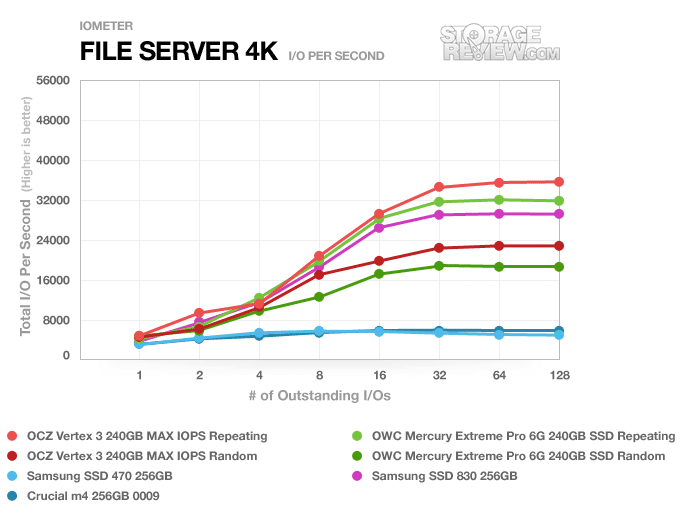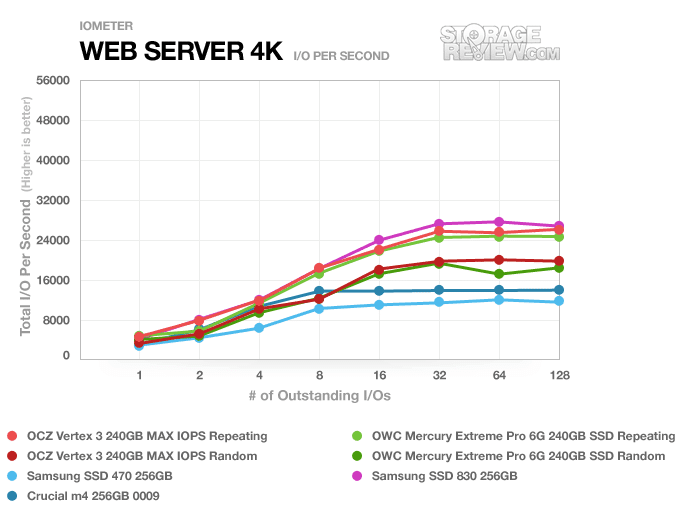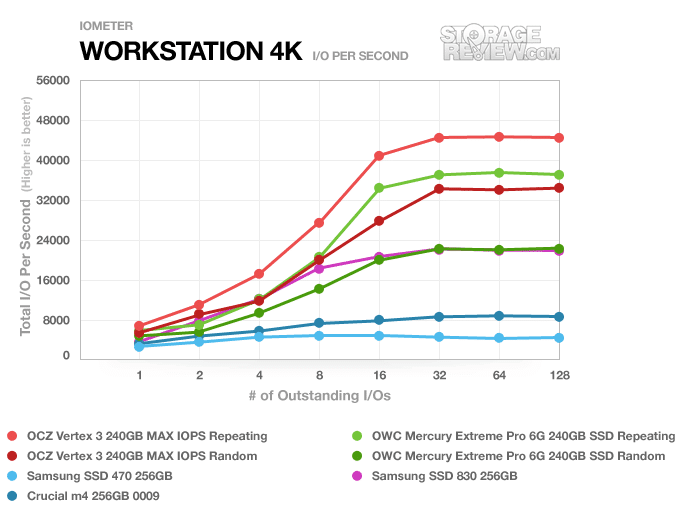 Real-World Benchmarks
If you are new to StorageReview, one thing we try to focus on is how any given drive might perform under real-world conditions. For the average user, trying to translate high random 4K write speeds into an everyday situation is pretty difficult. It also doesn't make sense to assume that a drive with very high sequential speeds is going to perform great in the real-world if it can't cope with mixed random activity. To really see how drives perform under normal work-loads you need to record the exact traffic being passed to and from the device, and then use that to compare drives against one another. For this reason we turned to our StorageMark 2010 traces, which include HTPC, Productivity, and Gaming scenarios to help our readers find out how well a drive might perform under their conditions.
We kept the Samsung SSD 830 in the same grouping for real-world tests as with our synthetic benchmarks. These drives include the OWC Mercury Extreme Pro 6G, OCZ Vertex 3 MAX IOPS, Crucial m4, as well as the older 3.0Gb/s Samsung SSD 470 for comparison.
The first real-life test is our HTPC scenario. In this test we include: playing one 720P HD movie in Media Player Classic, one 480P SD movie playing in VLC, three movies downloading simultaneously through iTunes, and one 1080i HDTV stream being recorded through Windows Media Center over a 15 minute period. Higher IOps and MB/s rates with lower latency times are preferred. In this trace we recorded 2,986MB being written to the drive and 1,924MB being read.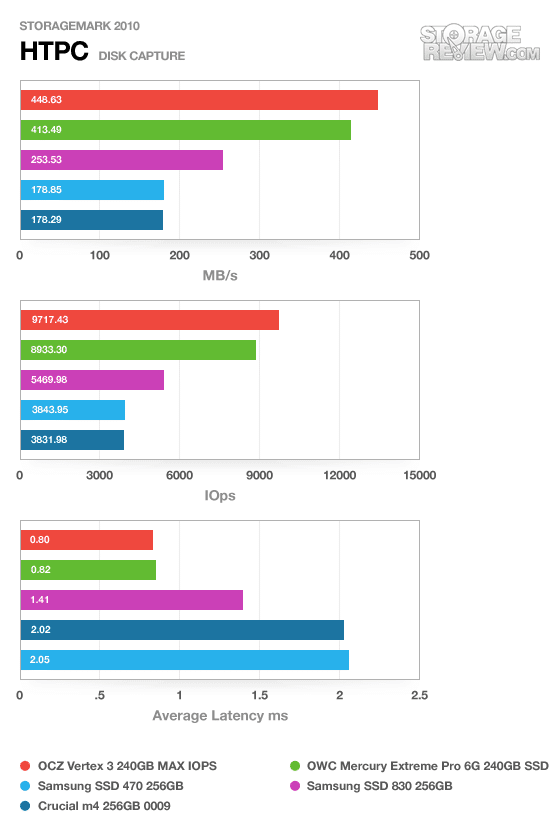 The Samsung SSD 830 measured 253MB/s average throughout the HTPC trace, ranking third in our tests but almost half of the lead drive; the OCZ Vertex 3 MAX IOPS.
Our second real-life test covers disk activity in a productivity scenario. For all intents and purposes this test shows drive performance under normal daily activity for most users. This test includes: a three hour period operating in an office productivity environment with 32-bit Vista running Outlook 2007 connected to an Exchange server, web browsing using Chrome and IE8, editing files within Office 2007, viewing PDFs in Adobe Reader, and an hour of local music playback with two hours of additional online music via Pandora. In this trace we recorded 4,830MB being written to the drive and 2,758MB being read.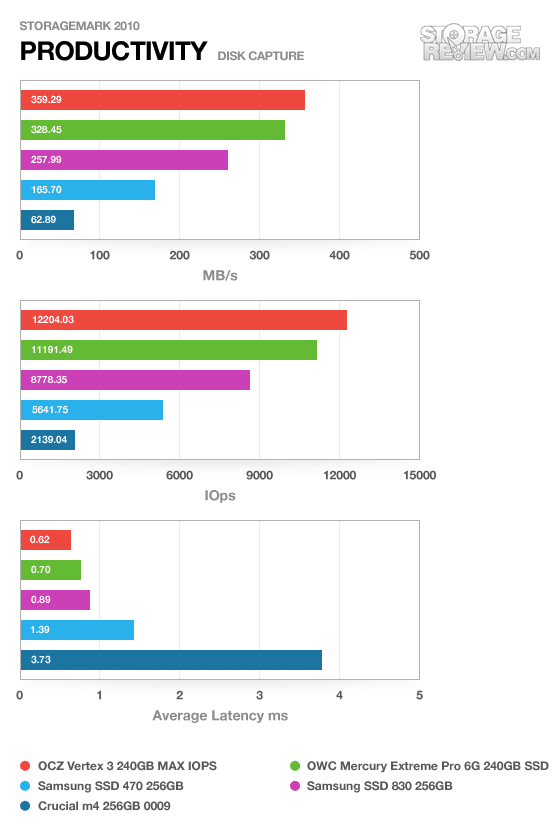 The ranking of the SSD 830 stayed the same in our productivity trace, although this time around the gap between it and the lead drive narrowed considerably.
Our third real-life test covers disk activity in a gaming environment. Unlike the HTPC or Productivity trace, this one relies heavily on the read performance of a drive. To give a simple breakdown of read/write percentages, the HTPC test is 64% write, 36% read, the Productivity test is 59% write and 41% read, while the gaming trace is 6% write and 94% read. The test consists of a Windows 7 Ultimate 64-bit system pre-configured with Steam, with Grand Theft Auto 4, Left 4 Dead 2, and Mass Effect 2 already downloaded and installed. The trace captures the heavy read activity of each game loading from the start, as well as textures as the game progresses. In this trace we recorded 426MB being written to the drive and 7,235MB being read.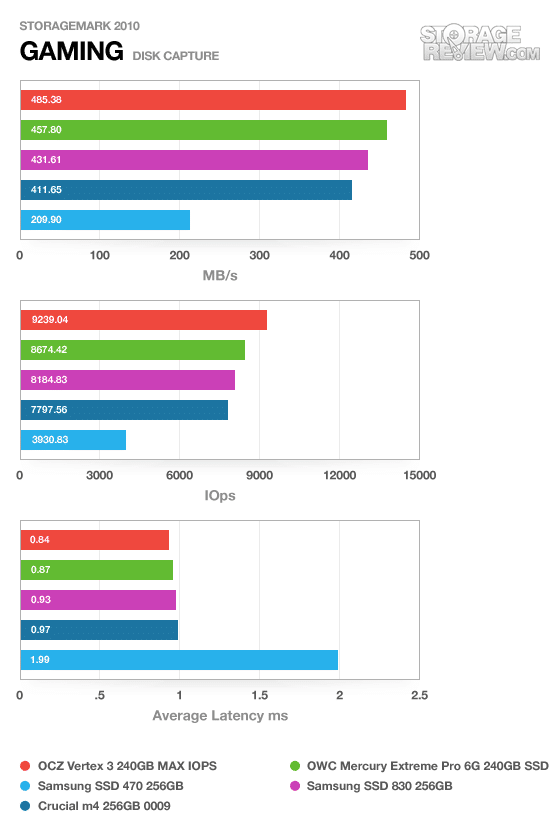 In the final consumer real-world trace, the Samsung SSD 830 still maintained its third place ranking, measuring an average speed of 431MB/s compared to 485MB/s of the OCZ Vertex 3 MAX IOPS in the lead.
Power
Samsung was able to handle power management very well on the new SSD 830 following right in the footsteps of the SSD 470 before it that gave us some of the lowest idle power figures. With SSDs spending most of their time at idle, since they are able to finish tasks quicker, low idle power rates are key for long battery life.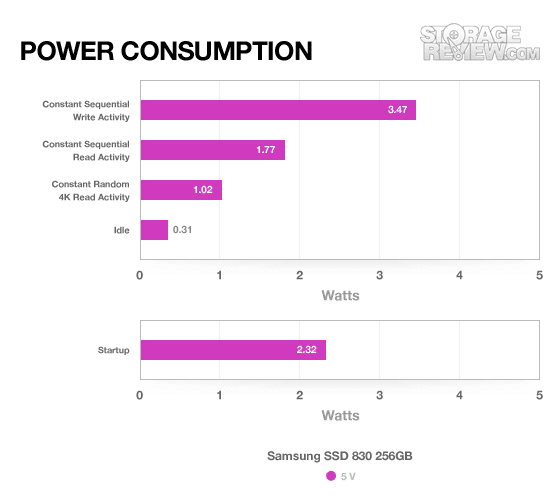 We measured a super low 0.31 watts at idle on the SSD 830, compared to 0.28 watts on the SSD 470. Peak power rates we measured in our sequential write test, coming in at 3.47w, with the startup coming in after that with 2.32w. Sequential read and random read were also very reasonable measuring 1.77w and 1.02w respectively.
Software
Samsung is one of the few SSD manufacturers who includes a robust set of tools ot help users manage the drive. First, Samsung includes the Magician software suite with the SSD, showing vital stats on the SSD's health as well as helping with firmware updates and other tasks over the life of the product. To help with data migration for users looking to purchase this SSD as an upgrade from another drive, Samsung will also include a full version of Norton Ghost 15.0. Instead of a limited copy usually found with most installation kits, the full version will also help with data backup and recovery over the life of the drive.
Conclusion
There's a lot to like about the Samsung SSD 830. It's one of the few drives to be made entirely in-house, including all the NAND, SSD processor, RAM and firmware, which is a huge plus when it comes to host system compatibility and servicing any user complaints that may arise. The 830 is a nice performer as well, actually posting the highest QD=64 4K reads of any client drive we've tested, by 10,000 IOPS – solid. The 830 also delivers excellent write latency and max latency scores and boasts very low idle power consumption.
The drive isn't perfect though 4K writes were near the bottom of competing drives at 30,000 IOPS, something that hopefully can be rectified with a firmware update in the future. Real-world performance, while good, still couldn't out-pace the SandForce SF-2200 models in any area.
Overall the Samsung SSD 830 should provide a strong value depending on what the average selling price turns out to be. It offers very modest power consumption rates and given the reliability of the Samsung brand in the past, they have a huge selling point for reliability in a market where it seems as if firmware updates are a way of life.
Pros
Fantastic design
All home grown, a rarity in today's SSD space
Scorching 4K reads, market leader
Excellent idle power consumption numbers
Cons
Poor 4K writes
Average real-world performance
Bottom Line
The Samsung SSD 830 is one of few viable alternatives to SandForce-powered SSDs. Its slim body looks great, but more importantly, the entirely home grown solution generally performs great too, with the highest 4K reads we've seen from any consumer SSD to date. It's not all roses, the drive sputters a bit when it comes to 4K writes, but that's not enough to keep us from recommending the SSD 830 as a great alternative for the enthusiast SSD buyer.
Update – Samsung SSD 830 RAID Review Posted