The Seagate 1200 stakes a claim for the high-end enterprise SSD business as Seagate is part of the first wave of storage vendors to ship 12Gb/s SAS enterprise SSDs. The Seagate 1200 comes in 1.8-inch and 2.5-inch form factors, a 7mm z-height, and capacities up to 800GB. The 1200 series is a performance-oriented SSD the growing number of host platforms and applications which can take advantage of its 12Gb/s interface. According to Seagate, the 800GB and 400GB models can attain peak sequential 128k throughputs of 750MB/s for read operations and 500MB/s for write operations.
The Seagate 1200 stakes a claim for the high-end enterprise SSD business as Seagate is part of the first wave of storage vendors to ship 12Gb/s SAS enterprise SSDs. The Seagate 1200 comes in 1.8-inch and 2.5-inch form factors, a 7mm z-height, and capacities up to 800GB. The 1200 series is a performance-oriented SSD the growing number of host platforms and applications which can take advantage of its 12Gb/s interface. According to Seagate, the 800GB and 400GB models can attain peak sequential 128k throughputs of 750MB/s for read operations and 500MB/s for write operations.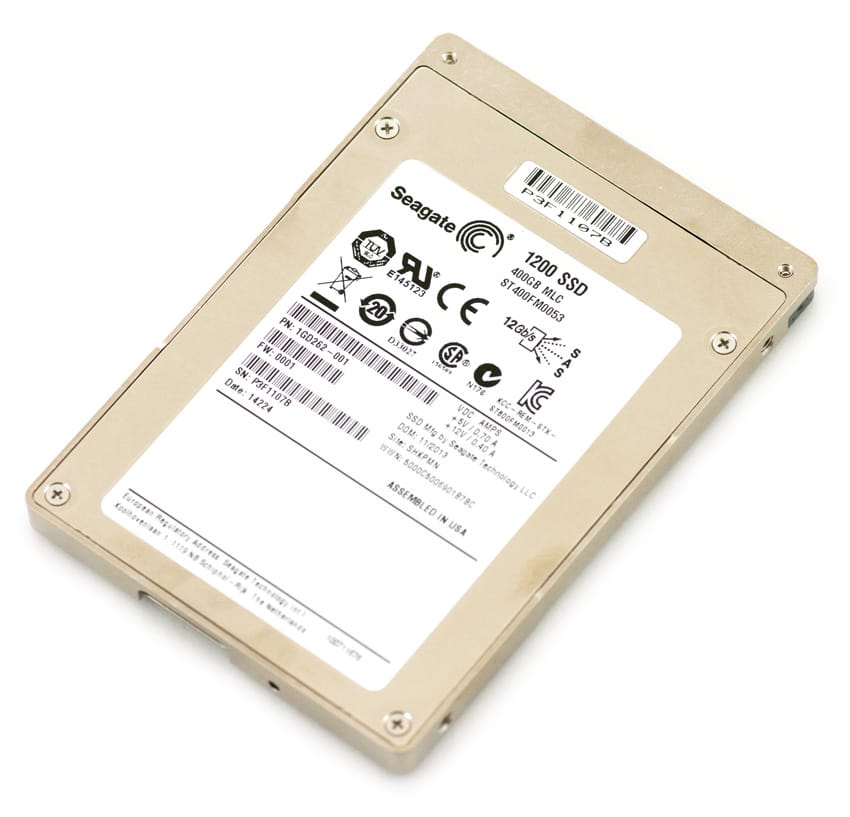 The 1200 series was announced last summer when Seagate came to the table with an entirely revamped lineup of flash products ranging from client applications to high-end enterprise storage. Almost three years after the rollout of the Pulsar.2 enterprise SSD and five years after its in-house NAND engineering division was established, Seagate has begun a push to re-energize their play in the flash storage market. Seagate's NAND engineering resources are starting to show very positive returns, their Enterprise Turbo SSHD was very successful in our recent review and the  Seagate 600 Pro posted impressive write performance and latency control for its category. The 1200 then seeks to extend Seagate's range upward to the most intensive enterprise workloads.
The 1200 is available in Self-Encrypting Drive (SED) and FIPS SED models and in high endurance models (25 drive writes per day instead of 10). On models where it is incorporated, Seagate's Lifetime Endurance Management technology can monitor write workloads and respond to high wear levels by dynamically adding delays to write commands, reducing performance but ensuring that the drive does not require replacement due to write wear before its planned end of service.
Our Seagate 1200 review is of four 400GB drives.
Seagate 1200 Specifications
Capacities: 800GB, 400GB, 200GB
Interface Options: 12Gb/s SAS
NAND Flash Type: 21nmMLC
Performance

Sustained Data Transfer Rate, Max (MB/s): 750
I/O Data Transfer Rate, Max (MB/s) : 1200
I/Os per Second per Watt (IOPS/W) : 27,160 (800GB), 29,650 (400GB), 27,990  (200GB)
Sequential Read/Write Command Rate (MB/s) Peak, 128KB: 750/500 (800GB and 400GB), 750/400 (200GB)
Random Read/Write Command Rate (IOPS) Peak, 4KB : 110,000/40,000 (800GB and 400GB) , 110,000/25,000 (200GB)

Configuration/Reliability

Nonrecoverable Read Errors per Bits Read, Max: 1 per 10E16
Annualized Failure Rate (AFR): 0.44%
Total Terabytes Written Over Warranty Period: 14,600 TBW (800GB), 7300 TBW (400GB), 3650 TBW (200GB)
Limited Warranty With Media Usage: 5 years

Power Management

+5/+12V Max Start Current (A): 0.7/0.4
Average Sleep Power (W): 2.5
Average Idle Power (W): 3.0 (800GB), 2.72 (400GB), 2.89 (200GB)
Average Operating Power (W): 4.05 (800GB), 3.71 (400GB), 3.93 (200GB)

Environmental

Internal Operating Temperature (°C): 0 to 60
Nonoperating Temperature (°C): −40 to 75
Temperature Change Rate/Hr, Max (°C): 20
Relative Humidity, Noncondensing (%): 5 to 95
Shock, 0.5ms (Gs): 1000
Vibration, 20Hz to 2000Hz (Grms): 11.08
Height (mm/in): 7.0/0.276
Width (mm/in): 70.10/2.76
Depth (mm/in): 100.45/3.955
Weight (g/lb): 100/0.220

Self-Encrypting Features

Automatic data encryption/decryption
Controlled access
Random number generator
Drive locking
Up to 16 independent data bands
Cryptographic erase
Authenticated firmware download
SANITIZE command support
Design and Build
The Seagate 1200 features a metal chassis with a service port and an LED that indicates drive status and activity, in addition to its 12Gb/s SAS interface. The 1200 also fits an ever-growing part of the enterprise SSD market that is designed around the slim 7mm z-height for maximum compatibility in different environments. This makes it easy to fit into legacy platforms designed to use 15mm HDDs as well as new space-limited blade servers.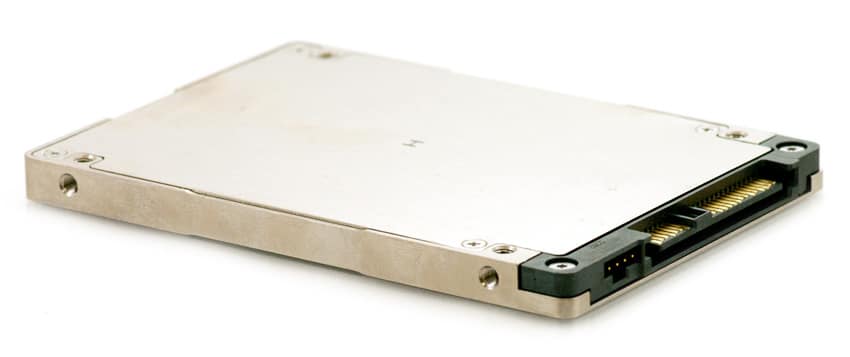 After opening up the Seagate 1200 Enterprise SSD we find a Marvell controller paired up with 21nm Samsung eMLC NAND. The NAND layout in our 400GB sample includes four NAND packages on the top of the circuit board, and four on the bottom.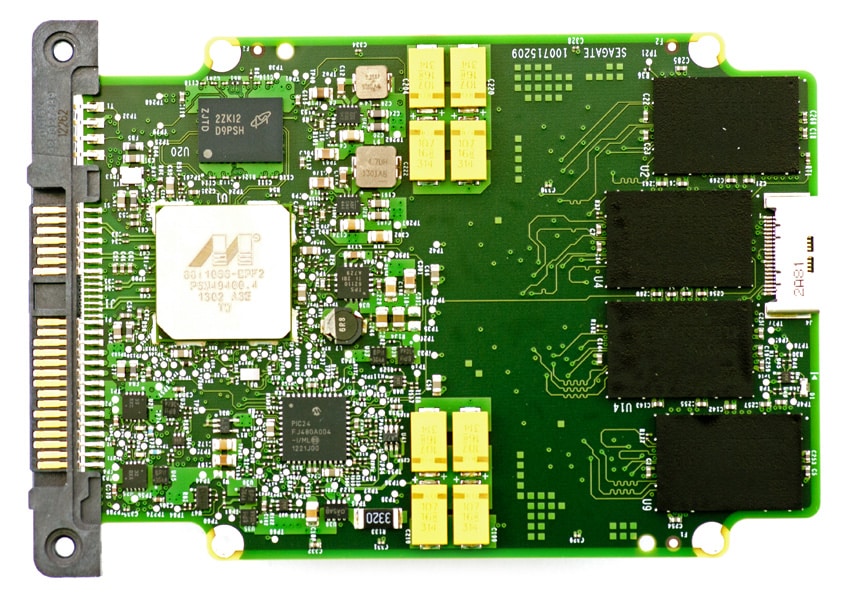 On the bottom of the circuit board the remaining four NAND packages are visible, as well as additional capacitors to protect in-flight data in the event of a power failure.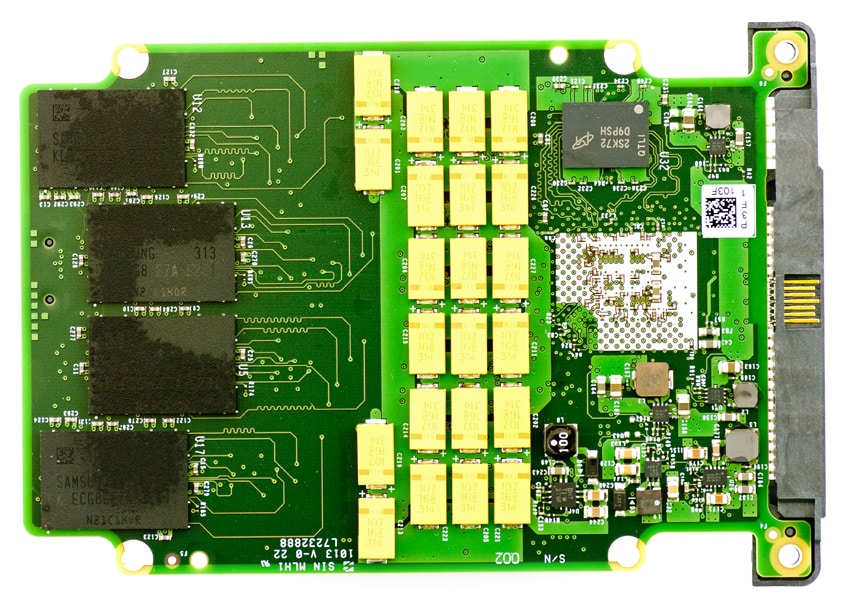 Testing Background and Comparables
The Seagate 1200 SSD uses a Marvell controller and Samsung 21nm eMLC NAND with an interface that supports SAS 12Gb/s. The StorageReview Enterprise Test Lab uses a Supermicro SuperStorage Server 2027R-AR24NV as our SAS3 testbed, featuring:
2 x Intel Xeon E5-2687 v2 (3.4GHz, 25MB Cache, 8-cores)
Intel C602 Chipset
Memory – 256GB (16 x 16GB) 1333Mhz Micron DDR3 Registered RDIMMs
Windows Server 2012 Standard – 100GB Micron RealSSD P400e Boot SSD
3 x Supermicro SAS3 HBAs (LSI SAS 3008 Controllers)

100GB Micron P400e Linux CentOS 6.3 boot
200GB Micron P400m Windows Server 2012 boot
100GB Micron P400e Linux CentOS 6.3 boot (Sysbench) w/ Micron M500 960GB for Database storage

Mellanox ConnectX-3 Dual-Port VPI PCIe 3.0 Adapter
We will compare the Seagate 1200 to other eMLC SSDs currently available with a 12Gb/s SAS interface:
Application Performance Analysis
In order to understand the performance characteristics of enterprise storage devices, it is essential to model the infrastructure and the application workloads found in live production environments. Our first three benchmarks of the Seagate 1200 SSD are therefore the MarkLogic NoSQL Database Storage Benchmark, MySQL OLTP performance via SysBench and Microsoft SQL Server OLTP performance with a simulated TCP-C workload.
Our MarkLogic NoSQL Database environment requires groups of four SSDs with a usable capacity of at least 200GB, since the NoSQL database requires roughly 650GB of space for its four database nodes. Our protocol uses an SCST host and presents each SSD in JBOD, with one allocated per database node. The test repeats itself over 24 intervals, requiring between 30-36 hours total for the SSDs in this class. MarkLogic records total average latency as well as interval latency for each SSD.

The HGST SSD800MM maintained a decisive lead over the comparables, with only occasional spikes during merge read and merge write operations.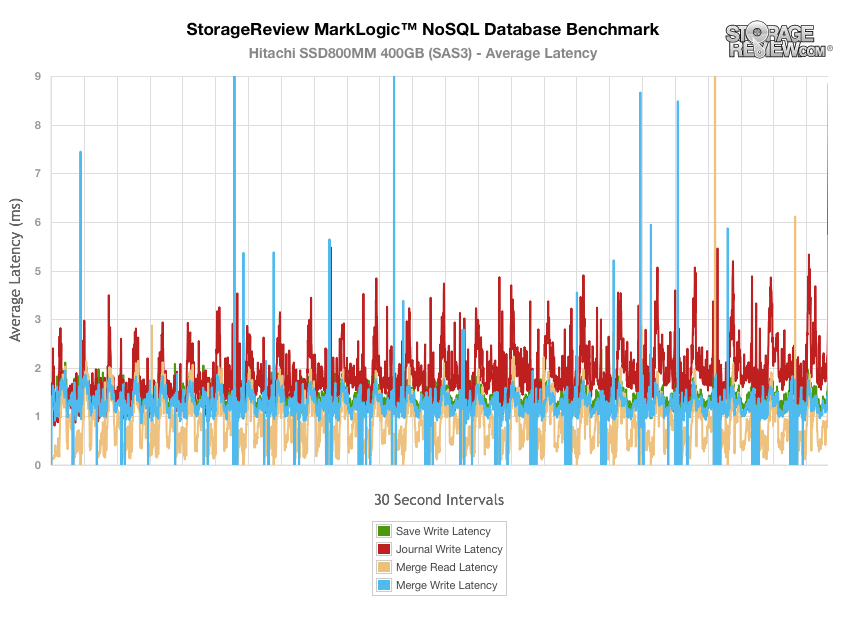 The PX02SS improved substantially over what we previously recorded on the PX02SM SAS3 SSD. Much of its latency remained below 10ms over the duration of the test.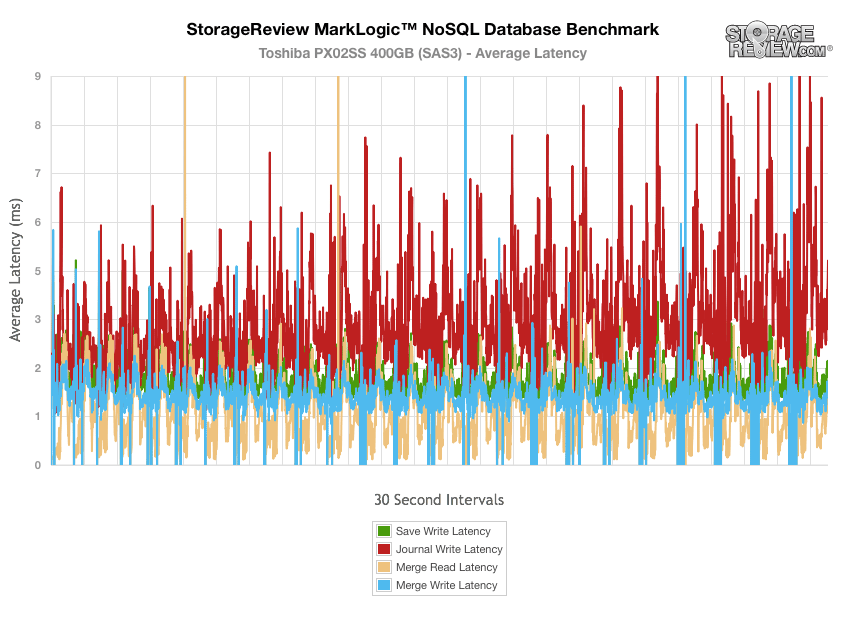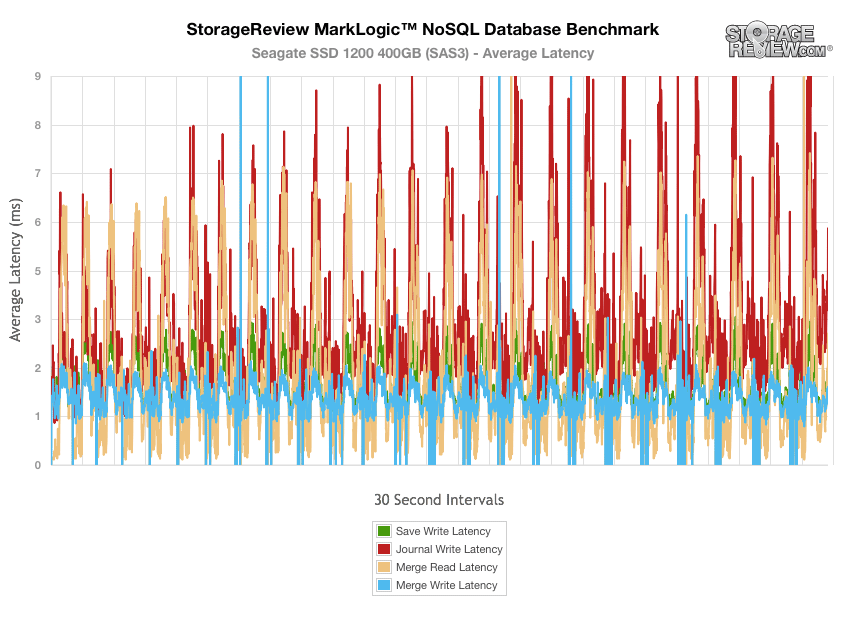 The PX02SM architecture is not optimized for the access patterns of our NoSQL workload, triggering latencies that spiked at or above the normalized maximum value of 9ms throughout the protocol.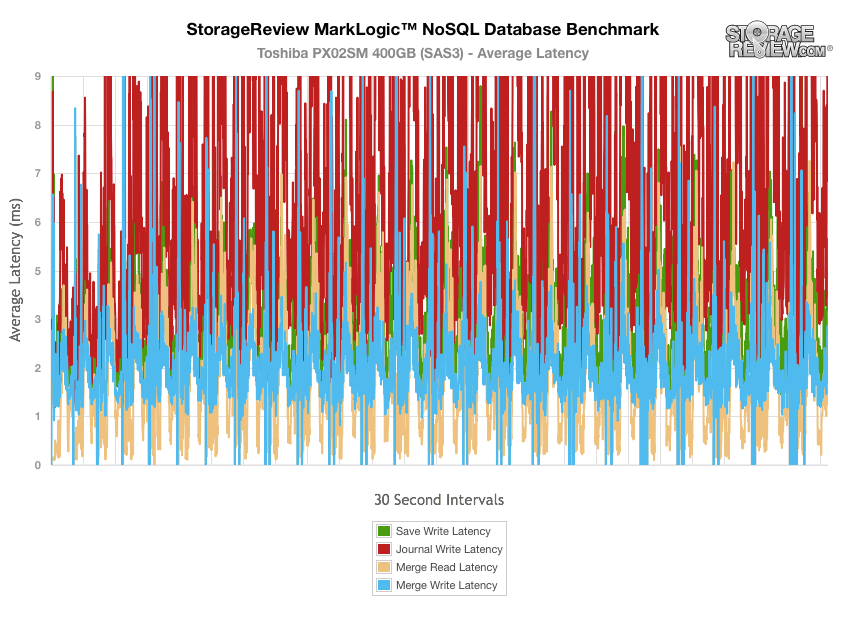 The first application benchmark consists of a Percona MySQL OLTP database measured via SysBench. In this configuration, we use a group of Lenovo ThinkServer RD630s as database clients and the database environment stored on a single drive. This test measures average TPS (Transactions Per Second), average latency, as well as average 99th percentile latency over a range of 2 to 32 threads. Percona and MariaDB are using the Fusion-io flash-aware application APIs in the most recent releases of their databases, although for the purposes of this comparison we test each device in their "legacy" block-storage modes.
In terms of overall MySQL performance, the Seagate 1200 falls at the bottom of the comparable drives, although its performance at the high end of our workload was not unlike that of the Toshiba PX02SM comparables.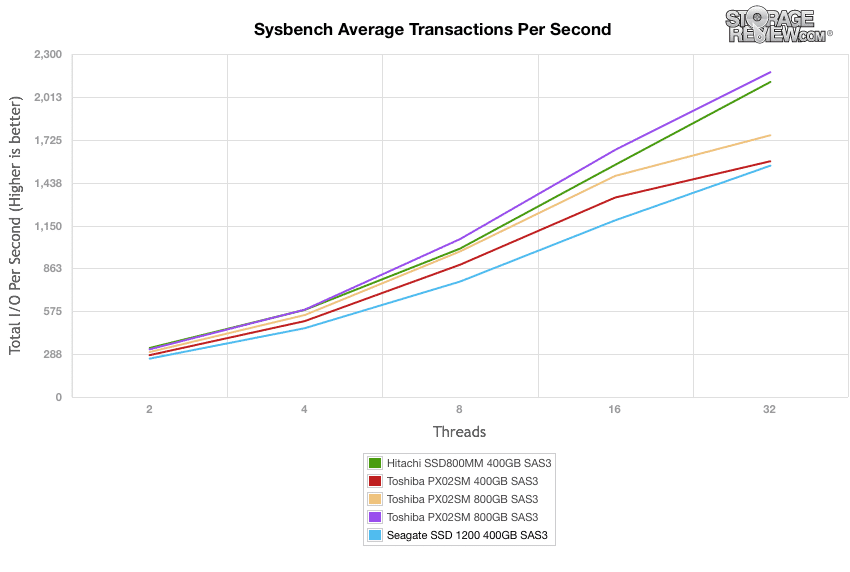 Average latency results for the Seagate 1200 mirror the results of the throughput results; the Seagate 1200 has the highest average latencies, although both the Seagate 1200 and the Toshiba PX02SM 400GB both experienced latencies near 20ms at the top end of the MySQL workload.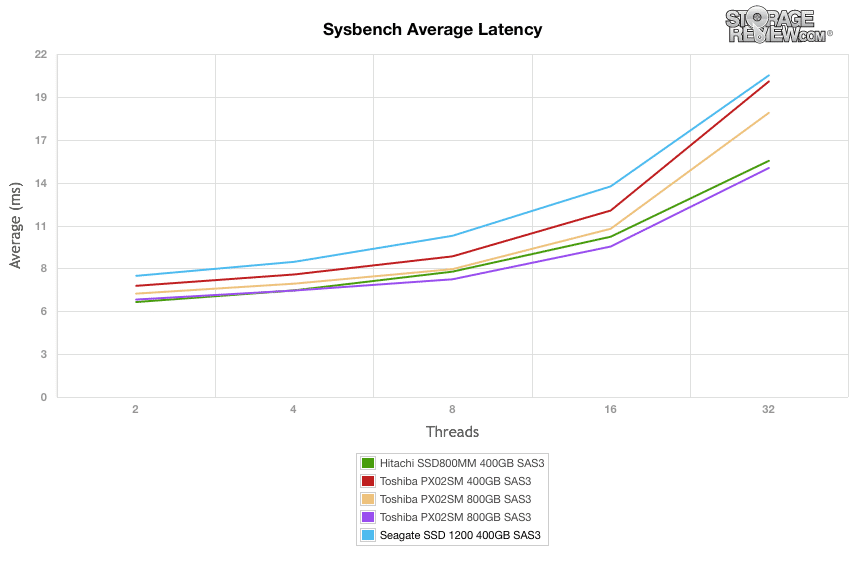 The Seagate 1200 outperformed all of the Toshiba comparables in our measurements of worst-case latency during the MySQL benchmark.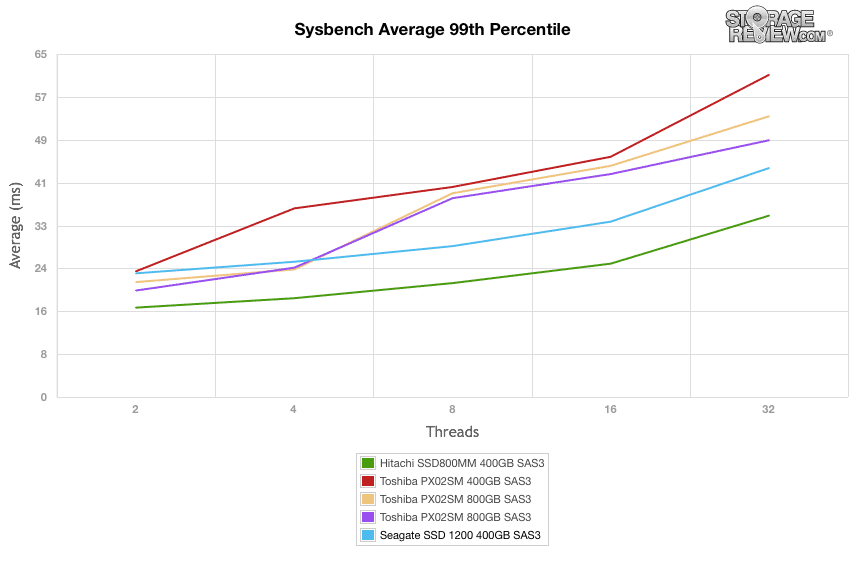 StorageReview's Microsoft SQL Server OLTP testing protocol employs the current draft of the Transaction Processing Performance Council's Benchmark C (TPC-C), an online transaction processing benchmark that simulates the activities found in complex application environments. The TPC-C benchmark comes closer than synthetic performance benchmarks to gauging the performance strengths and bottlenecks of storage infrastructure in database environments. Our SQL Server protocol uses a 685GB (3,000 scale) SQL Server database and measures the transactional performance and latency under a load of 30,000 virtual users.
For this review we will compare the drives with each configured as a mirrored storage space by Windows Server. The Seagate 1200 achieves a second-place performance to the HGST SSD800MM, with 6,303.3 TPS.

The Seagate 1200 also achieved second-place average latency results among all of the 12Gb/s SAS eMLC SSDs we have benchmarked to date.

Enterprise Synthetic Workload Analysis
Flash performance varies as the drive becomes conditioned to its workload, meaning that flash storage must be preconditioned before each of the fio synthetic benchmarks in order to ensure that the benchmarks are accurate. Each of the comparable drives are secure erased using the vendor's tools and preconditioned into steady-state with a heavy load of 16 threads and an outstanding queue of 16 per thread.
Preconditioning and Primary Steady-State Tests:
Throughput (Read+Write IOPS Aggregate)
Average Latency (Read+Write Latency Averaged Together)
Max Latency (Peak Read or Write Latency)
Latency Standard Deviation (Read+Write Standard Deviation Averaged Together)
Once preconditioning is complete, each device is then tested in intervals across multiple thread/queue depth profiles to show performance under light and heavy usage. Our synthetic workload analysis for the Toshiba PX02SS uses two profiles which are widely used in manufacturer specifications and benchmarks.
During preconditioning for the 4k synthetic benchmark, the Seagate 1200's throughput performance began with a burst higher than any comparable before setting into a curve very similar to the Toshiba PX02SS, neck-and-neck for second place behind the HGST SSD800MM.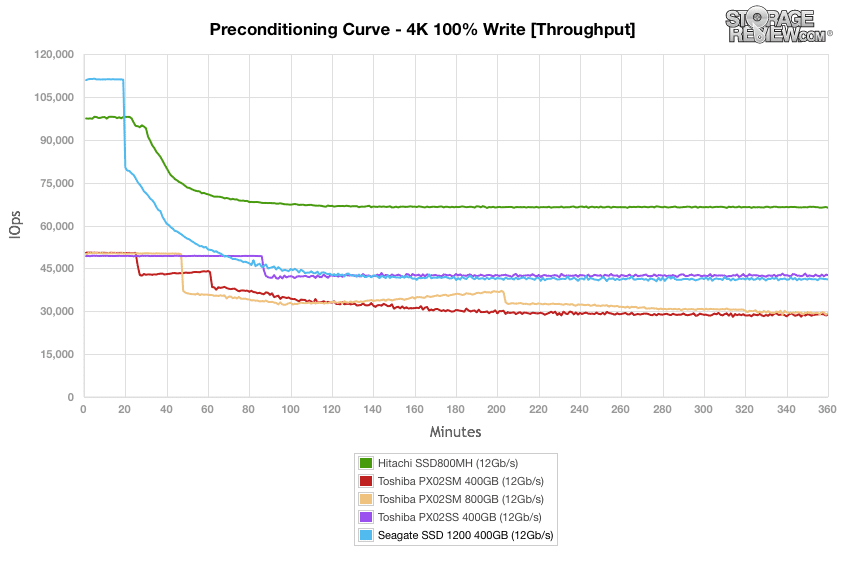 After a burst of best-in-class average latencies lasting almost 20 minutes, the Seagate 1200 maintains an average latency just above the PX02SS, third lowest among the comparables.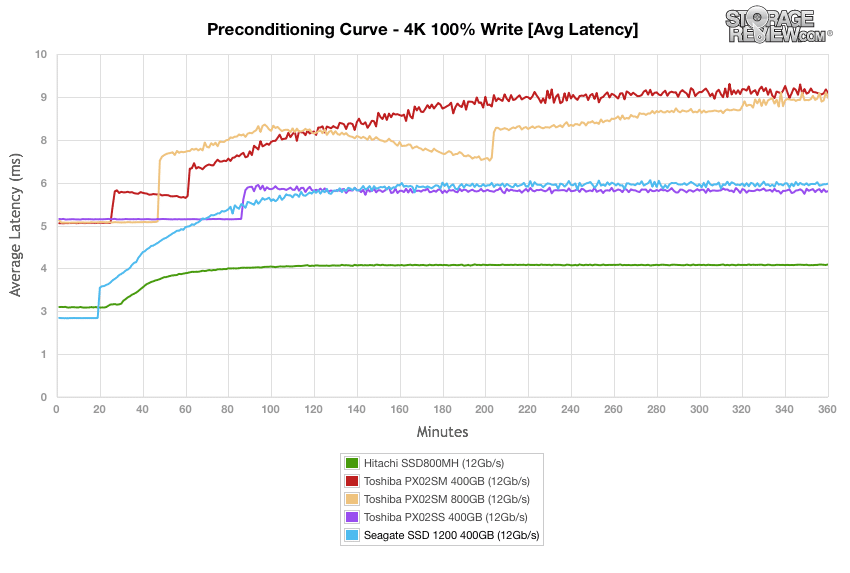 In terms of maximum latencies, the Seagate 1200 outperformed the Toshiba comparables during the 4k preconditioning process but was not able to achieve the consistency of the HGST SSD800MM.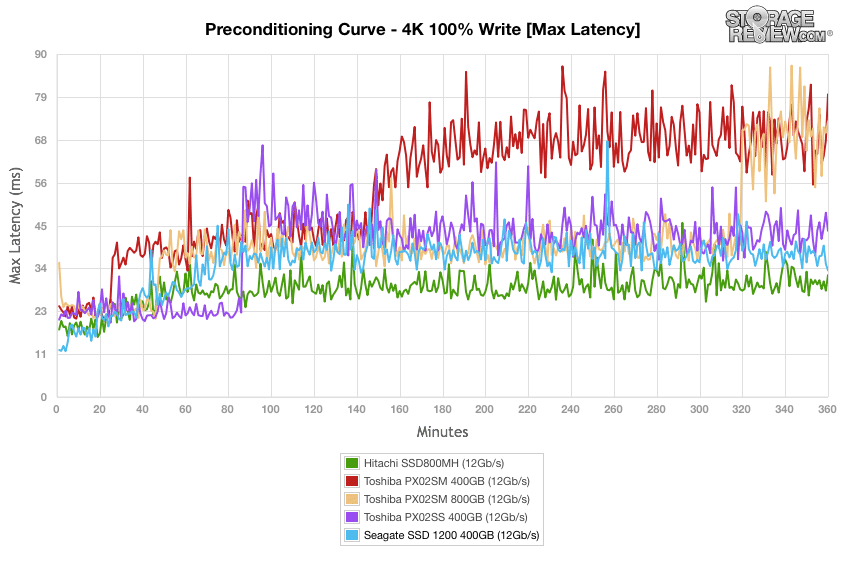 Standard deviation calculations during 4k preconditioning do not reveal any surprises for the Seagate 1200, continuing its second-place performance after burst.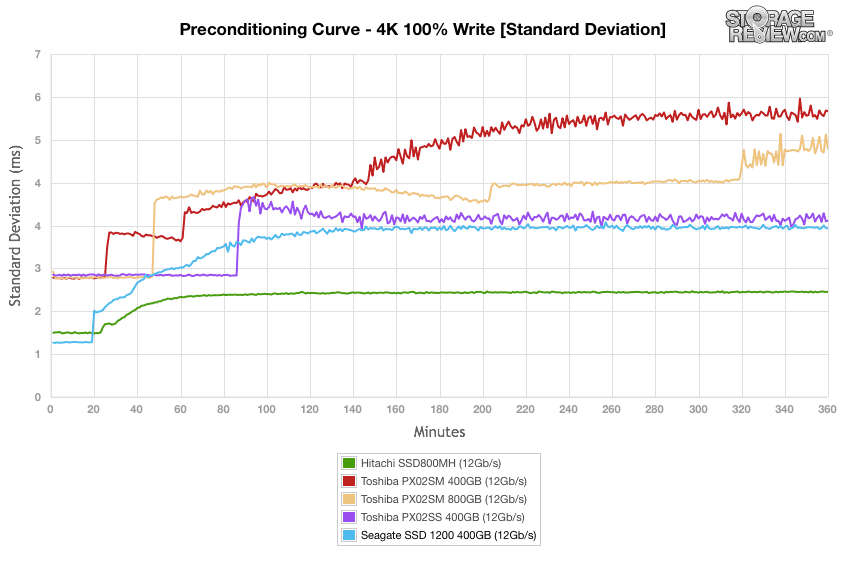 The final results for the 4k benchmark place the Seagate 1200 at the bottom of the pack for read performance with 105,329 IOPS and a close third-place result of 41,284 IOPS in write performance.

While the Seagate 1200 had a relatively poor average latency of 2.43ms for 4k read operations, it was again in a close third place with its write latency of 6.20ms.

The maximum latency measured during our 4k synthetic benchmark of the Seagate 1200 was second-highest, behind a peak of 18.5ms measured during our test of the HGST SSD800MM. In write operations, the results were reversed, with the Seagate 1200 with second-lowest behind the HGST comparable.

By calculating the standard deviation of latencies measured during our 4k benchmark we confirm that the Seagate 1200 suffered from the greatest variation in read latencies among its class at 1.26ms, but did much better during write operations, with a 3.47ms standard deviation second only to the HGST SSD800MM.

Our next workload uses 8k transfers with a ratio of 70% read operations and 30% write operations. After beginning with the worst performance among the comparables, the Seagate 1200 builds to a burst during the first hour of the preconditioning curve. By the end of preconditioning, the Seagate 1200 reaches stead state with just below 37,500 IOPS.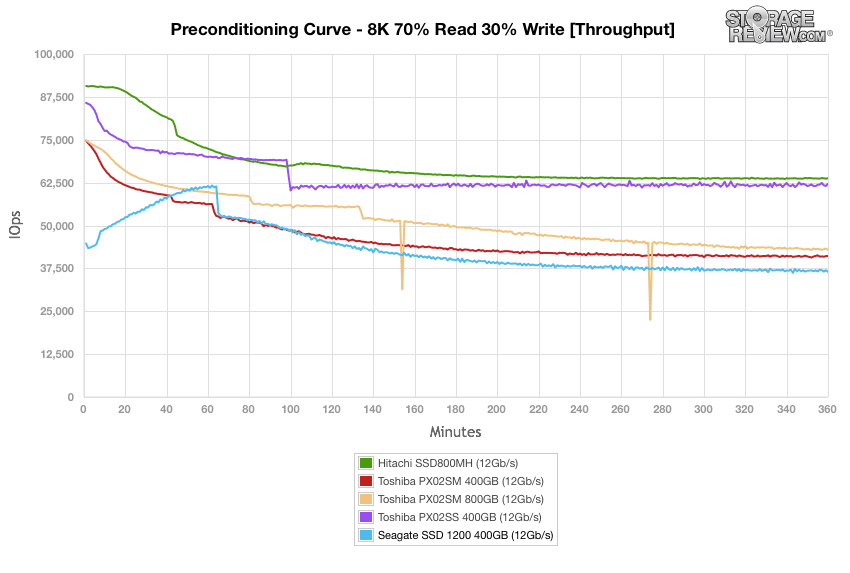 The Seagate 1200 also performs with the highest latencies after the burst period.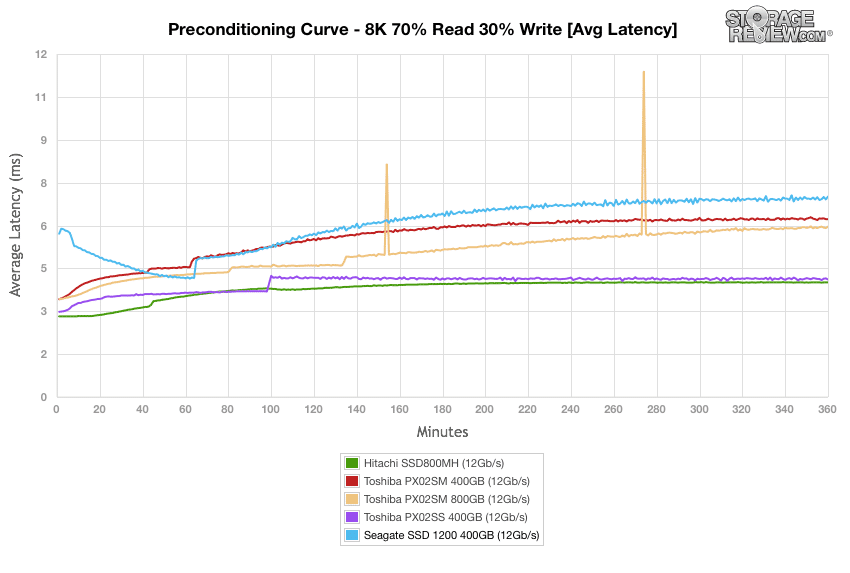 Along with the Toshiba PX02SM 800GB, the Seagate 1200 experiences the most dramatic maximum latencies during 8k 70/30 preconditioning.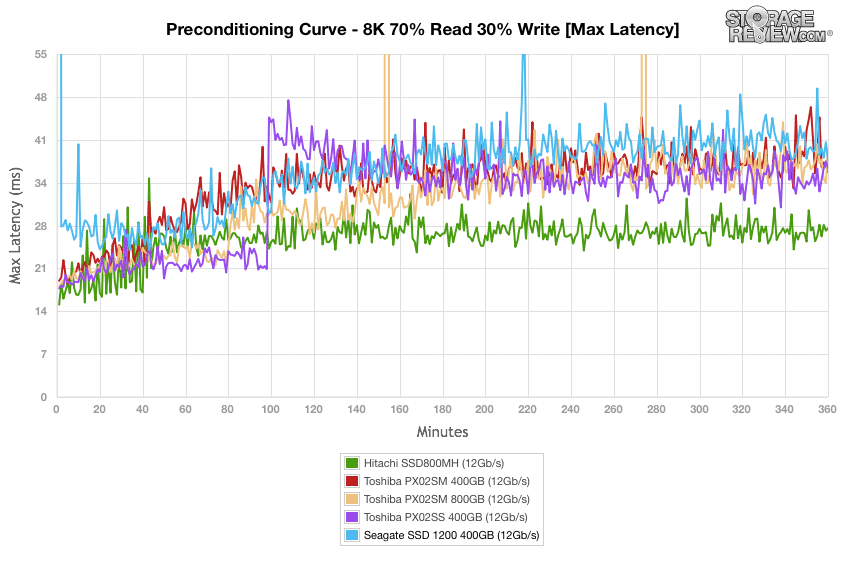 The consistency of latency results as measured by standard deviation during 8k 70/30 preconditioning place the Seagate 1200 in last among the 12Gb/s SAS drives we have benchmarked to date.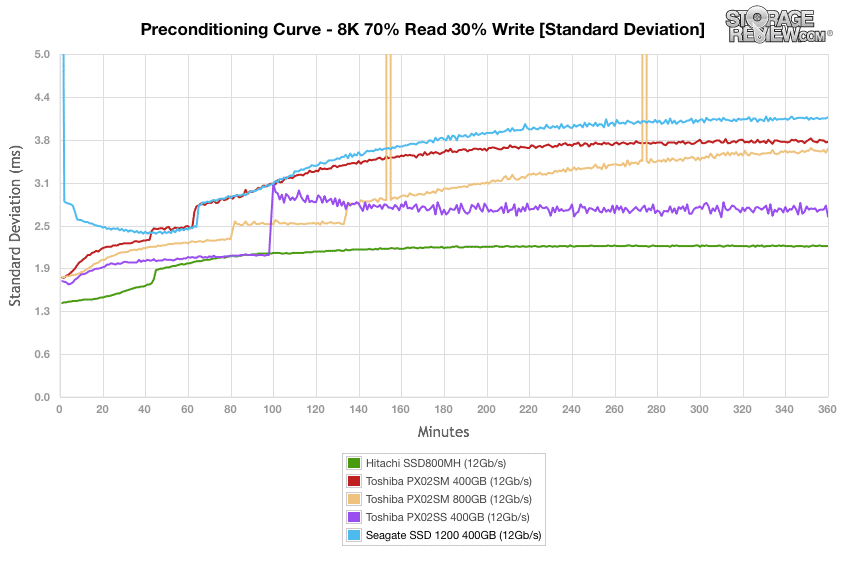 Once the drives are preconditioned, the 8k 70/30 throughput benchmark varies workload intensity from 2 threads and 2 queue up to 16 threads and 16 queue. The Seagate 1200 maintains the lowest 8k throughput results throughout the variations in workload.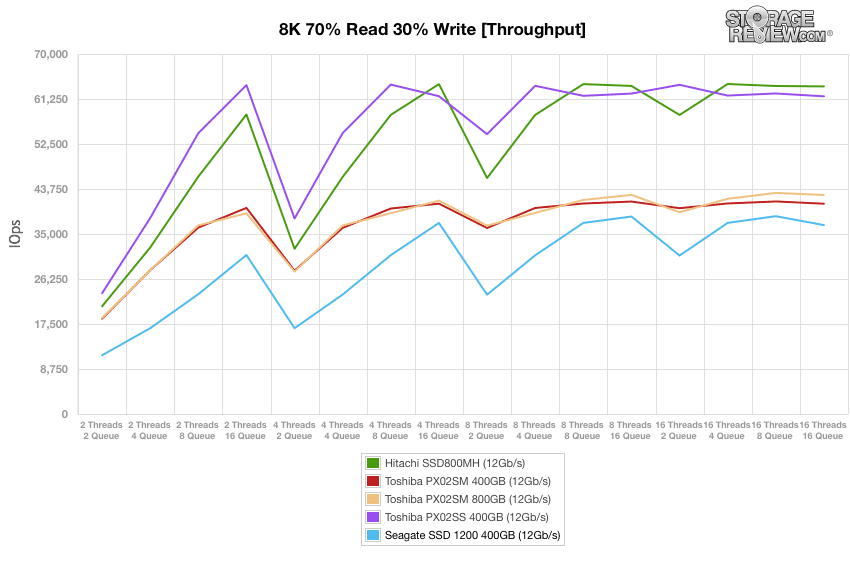 In terms of average latency, the Seagate 1200 again remains consistently in last place although its results were not markedly different from the Toshiba PX02SM.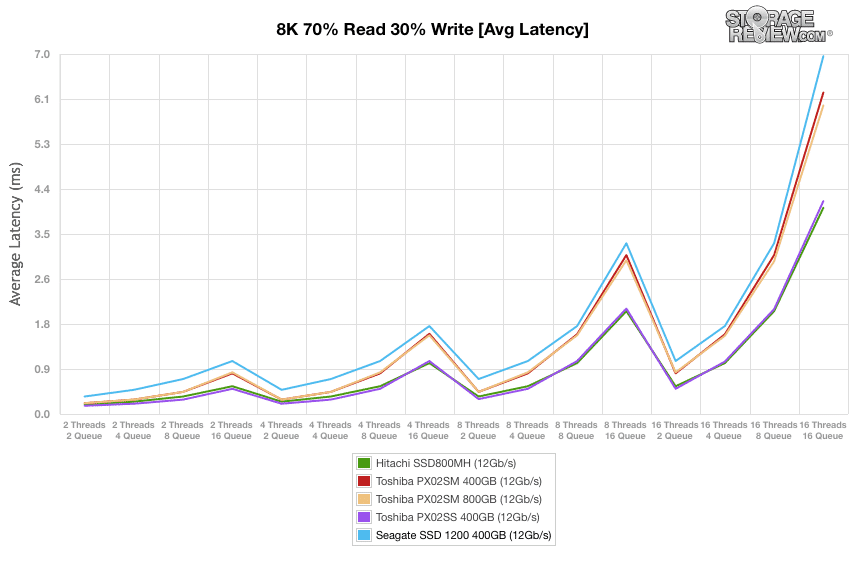 The Seagate 1200 experienced unusual peaks of latencies with deveral different combinations of thread count and queue depth.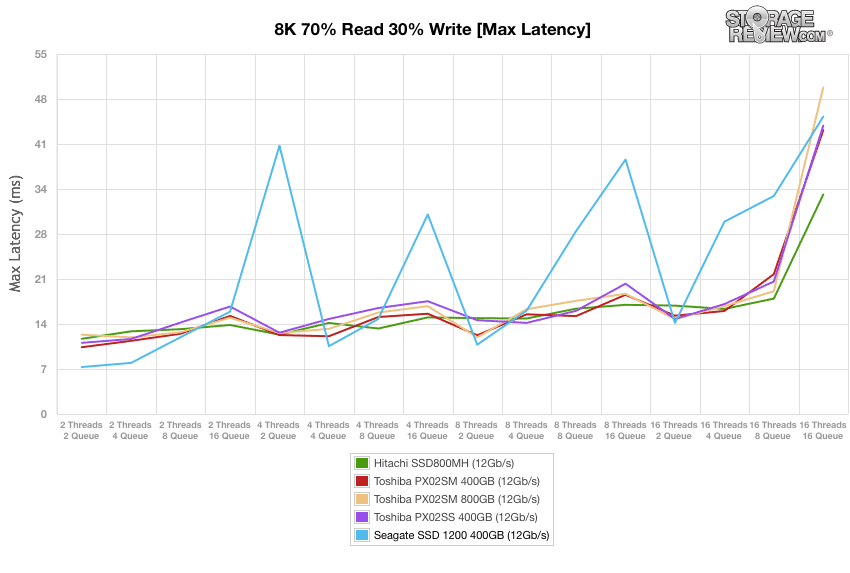 Measured in terms of standard deviation, the Seagate 1200 experienced  the least consistent latencies during the 8k 70/30 protocol.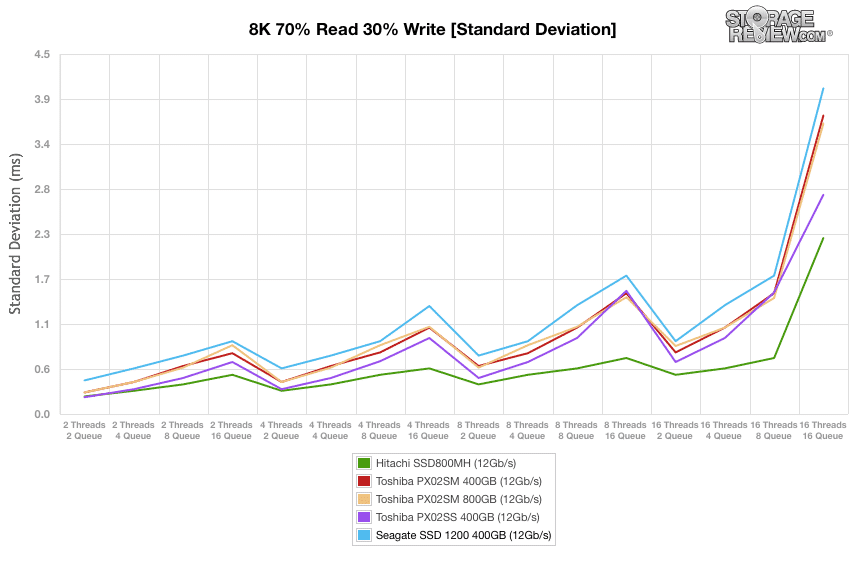 Conclusion
At this early point in 12Gb/s adoption, the Seagate 1200 makes a statement that the company is in a serious bid for market share for the most demanding enterprise SSD use cases. Seagate has built on many years of SSD experience with the new 600 and 1200 series drives; but the Seagate pedigree in flash is something that often goes forgotten. Seagate was one of the early players in the enterprise SSD space, but in the last few years they haven't paid as much attention there, biding their time to get a clear message as to what the market wanted to see from Seagate. With market share of high speed 15K and 10K drives starting to be eroded by flash though, the timing is right for Seagate to be more aggressive, which is highlighted by their new flash offerings for client and enterprise markets.
The Seagate 1200 demonstrated promising capabilities in our SQL Server TPC-C benchmark, coming in just below the HGST SSD800MM, but experienced weakness in other areas. In our MySQL TPC-C benchmark as well as our MarkLogic NoSQL test the Seagate 1200 slumped compared to the HGST SSD800MM and Toshiba PX02SS it competes against. In our synthetic tests the Seagate 1200 came in towards the middle or lower part of the pack depending on the stage of the test. It offered the highest 4K write burst speed topping the SSD800MM but settled in just under the PX02SS in steady-state. In our 8k 70/30 workload it came in at the bottom of the SAS3 pack with a steady-state speed of about 37,500 IOPS.
Depending on its volume pricing, the Seagate will find sectors in the growing enterprise flash market where the 1200 fits a purpose. Seagate is a trusted brand and clearly the infrastructure is in place to support the product. From an engineering and performance standpoint the 1200 SSD is most notable for signifying that Seagate's SSD division is active and capable of engineering a drive approaching the performance of enterprise SSD incumbents even if it has not yet reached parity with others at the top end of the performance scale.
Pros
Strong results in our Microsoft SQL Server application benchmark
Excellent 4K random write burst speeds
Cons
Weak performance in synthetic benchmarks, particularly the 8k 70/30 protocol
Weaker application performance in MySQL and NoSQL tests
Bottom Line
The Seagate 1200 enterprise SSD performed well in database application benchmarks and demonstrates Seagate's ability to manufacture and distribute a competent enterprise SSD.