Seagate's third generation SSHDs (solid state hybrid drives), now for both laptops and desktops, are marketed as a replacement for HDDs and serve as a good option for those otherwise considering an SSD. SSHDs aim to offer users the price-point and robust capacity of HDDs while also utilizing NAND flash to provide the performance attained with SSDs by caching critical applications. Slimmed from 9.5mm to 7mm, our review model third generation Seagate 500GB SSHD Thin with 8GB of MLC NAND would fit well in any user configuration and is especially well-suited for ultra-thin, ultra-light laptops.
Seagate's third generation SSHDs (solid state hybrid drives), now for both laptops and desktops, are marketed as a replacement for HDDs and serve as a good option for those otherwise considering an SSD. SSHDs aim to offer users the price-point and robust capacity of HDDs while also utilizing NAND flash to provide the performance attained with SSDs by caching critical applications. Slimmed from 9.5mm to 7mm, our review model third generation Seagate 500GB SSHD Thin with 8GB of MLC NAND would fit well in any user configuration and is especially well-suited for ultra-thin, ultra-light laptops.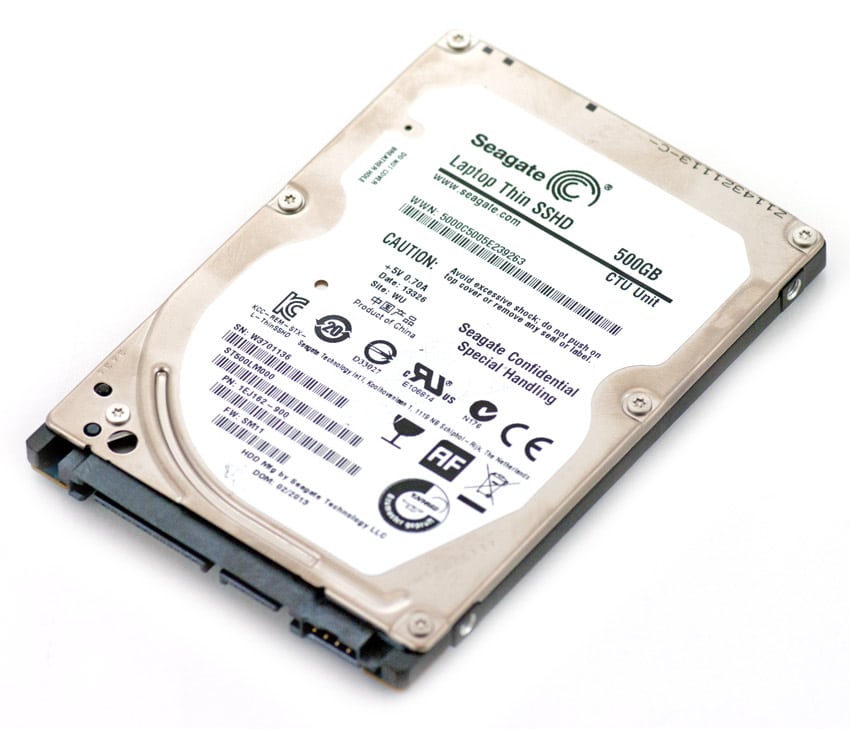 The SSHD serves to satiate the demand of users looking to couple performance gains and storage capacity without breaking the bank – think gamers and media enthusiasts. However, SSHD technology is not a cure-all, which Seagate readily admits; users craving extreme performance will likely desire more than an SSHD provides. Yet, for the market of HDD users Seagate is focused on, the Seagate SSHDs offer users improved performance at a lower price than SSDs.
The new SSHD Gen3 line also gets a naming convention update. The first generation hybrids were called Momentus XT, while the second generation models were called Momentus XT with Fast Factor. Now, Seagate has dropped Momentus family branding altogether, opting instead for the simpler category name of SSHD. To help clarify drive generations, StorageReview will reference the drives on a go-forward basis with the SSHD generation number to help clarify the chronology for consumers (Gen1, Gen2, Gen3).
Along with the change in nomenclature, Seagate implemented several platform changes to the SSHD Gen3 as well. While Gen2 provided users with 8GB SLC NAND, the Gen3 switched to 8GB MLC NAND. This modification does sacrifice some endurance, but the majority of users won't deplete the endurance for the lifetime of the drive's warranty making it mostly a non-issue. By switching to MLC NAND, Seagate is also able to reduce the Gen3 production cost greatly and thus lower the price significantly. Seagate has also decided to streamline their laptop drive production by exclusively offering 5,400 RPM drives. So while the Gen2 had a 7,200 RPM drive, the Gen3 spins at 5,400 RPM. Thanks to improvements in the cache technology, the cache miss pain of hitting the slower spinning drive should be mitigated, but regardless, hitting the drive without flash assistance is going to hurt a little more than in the Gen2 drive.
The Seagate SSHD Gen3 500GB Slim 7mm has a street price of only $80 and comes with a three year warranty. That's substantially less than the Gen2 Seagate Momentus XT 750GB, which launched at $245.
Seagate Laptop Thin SSHD 500GB Specifications
Performance

MLC NAND 8GB
Capacity 500GB at 5,400 RPM
DRAM Cache 64MB
SATA 6Gb/s
Average Data Throughput 100 MB/s
PC Mark Vantage Average HDD Score: 19,838
Average Windows 8 Boot Time <10secs
Seek Average, Read <12ms
Seek Average, Write <14ms

Configuration/Organization

Heads/Disks: 2/1
Bytes per Sector: 4096

Reliability/Data Integrity

QuietStep Ramp Load
Load/Unload Cycles: 600,000
Norecoverable Read Errors per Bits Read, Max 1 per 10E14
Predicted Annualized Failure Rate (AFR) 0.48%

7mm height
Three Year Limited Warranty
Size (LxWxH): 3.951in (100.35mm) x 2.75in (69.85mm) x .275in (7mm)
Weight: 0.209lb (95g)
Power – Idle, Typical 0.9 – Seek, Typical 2.5
Environmental

Acoustics (bels-sound power) – Idle, Typical 2.0 – Seek, Typical 2.2
Shock, Operating, 2ms (Read/Write) (Gs): 70/40
Shock, Non-operating, 1ms and 2ms (Gs): 300
Operating Temperature: 0°-60C°
Nonoperating Temperature: -40° to 70°C
Design and Build
The Seagate 500GB SSHD Thin Gen3 retains the standard Seagate design – all-white label, silver cover, black metal body. However, now at just 7mm, it's a perfect fit for new-generation laptops and essentially any user-configuration.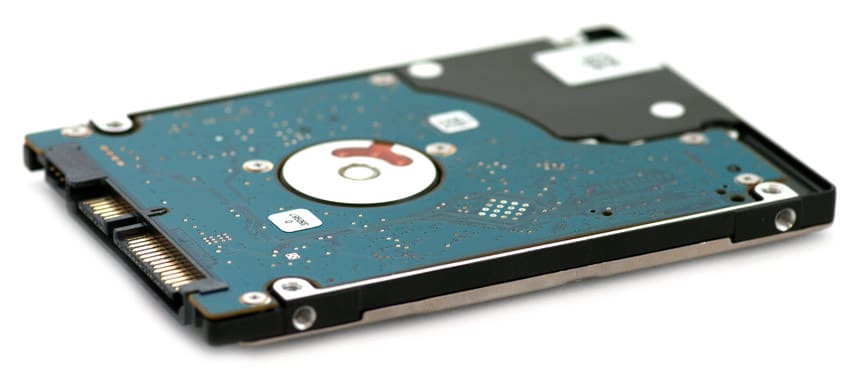 Looking from the front you can see the standard SATA power and data interface, as well as admire the thin 7mm form-factor. This design allows it to fit in more systems, including ultrathin notebooks.

With the drive taken apart, you can quickly see the Seagate SSHD Thin is no normal notebook HDD, as it has an additional controller and NAND memory module that allow it to offer both high capacity as well as faster transactional performance when data gets cached to flash.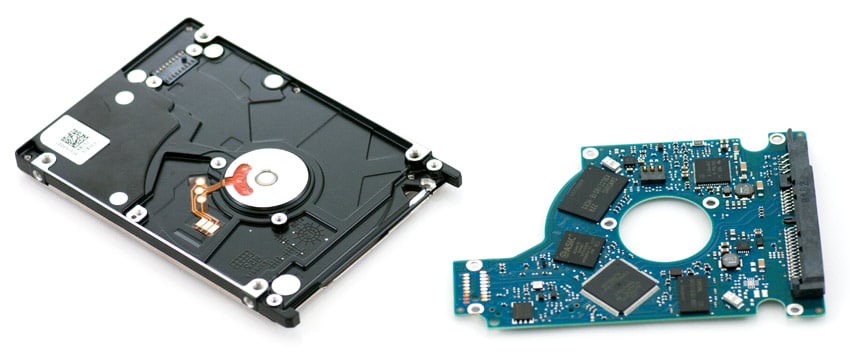 Though there are some key updates from the Gen2 Momentus XT, there are many similarities. Like the Momentus XT, the Seagate SSHD 500GB Gen3 interfaces over high-speed SATA 6GB/s. It also still comes with 8GB of NAND flash, which keeps the price low but, at 8GB, hinders the hybrid from even greater performance.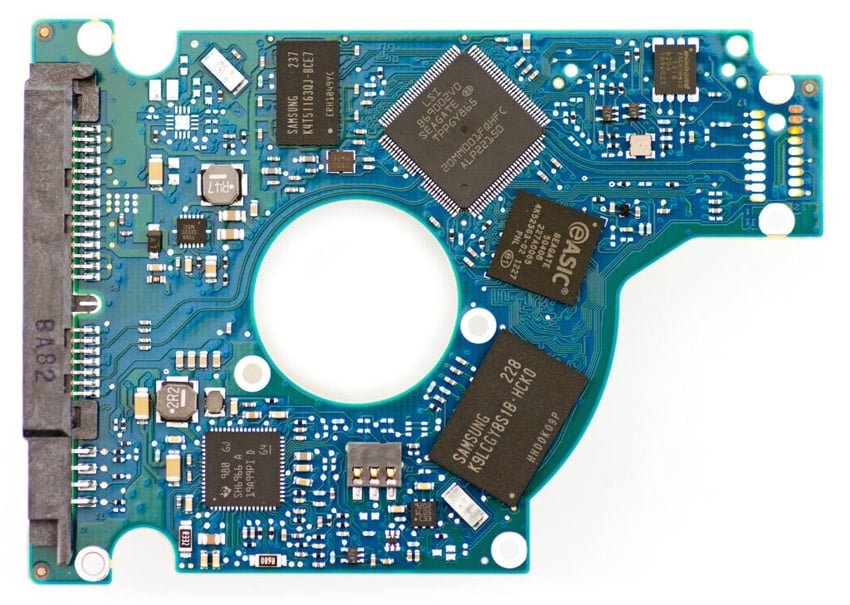 Additionally, as stated above and in our news release for the Seagate SSHD Gen3 line, the NAND is MLC, not SLC as in the previous generation. Seagate still rates the operating shock at 350G, signifying that this drive can handle a decent impact. The layout on the circuit board is essentially a mirror image of the Momentus. However, the Gen3 has updated HDD and SSD controllers, and DRAM cache has also smartly doubled to 64MB from 32MB.
Performance and Synthetic Benchmarks
When it comes to measuring performance of the Seagate SSHD Thin the two categories of benchmarks that we commonly test all consumer HDDs and SSDs on show strengths in different areas. Our synthetic benchmarks are geared at showing the performance of the drive in an uncached "worst case" scenario, while our real-world traces allow the drive to cache data and better show how the drive would perform during repetitive day-to-day activities. Since the SSHD is really geared towards those workloads, we put more weight on than in this review than we would normally do for traditional HDDs or SSDs.
Benchmarking Comparables:
Western Digital Scorpio Black (750GB, 4K)
Seagate Momentus (750GB, 4K, 8GB SLC NAND)
Western Digital Scorpio Black (320GB)
Seagate Laptop Thin SSHD (500GB, 8GB MLC NAND)
Using our Consumer Testing Platform, we measured 2MB sequential speeds, and the Seagate Gen3 SSHD came in at 106.8MB/s read and 107.2MB/s write, placing it in the middle of the pack.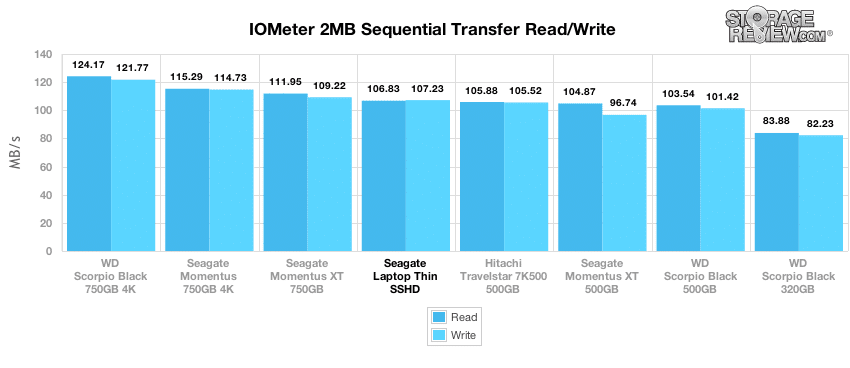 For 2MB random transfer, the Seagate Gen3 came out at 73.5MB/s and 86.6MB/s, placing second only behind the Seagate Gen2.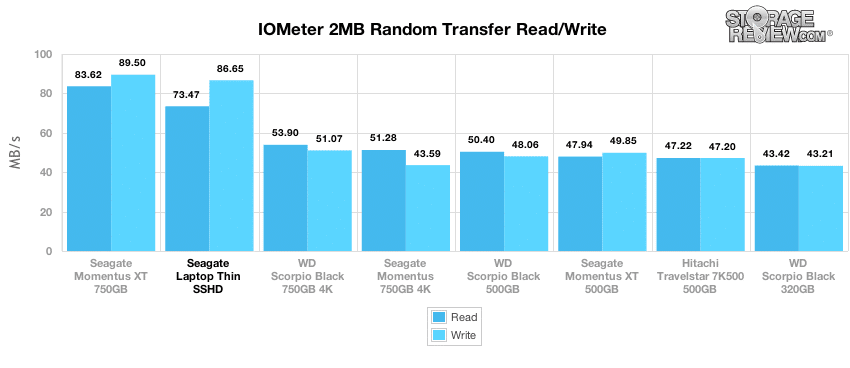 In the 4K Random Transfers MB/s, the Seagate Gen3 again ranked second behind the Gen2, with the Gen3 at 0.496MB/s and 0.896 MB/s. The Seagate Gen3 also ranked high above most of the competition at 127.1 IOPS read and 229.4 IOPS write, but first place was snatched up by the Seagate Gen2.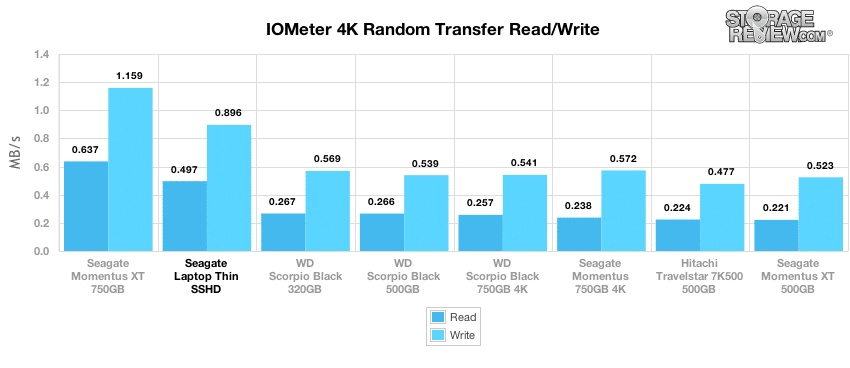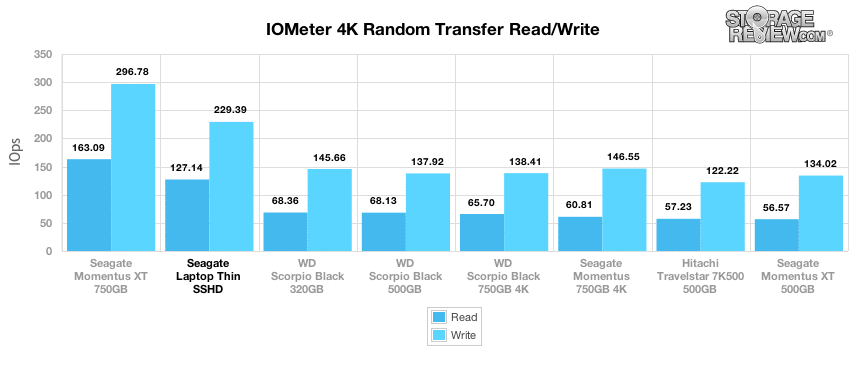 Over to 4K Write Latency, the Seagate Gen3 posted an Average 4K Write Latency of 4.36 and a lackluster last place Max 4K Write Latency of 71.24. Perhaps more important than the Max, the Gen3's Average came in second best, just below the Gen2.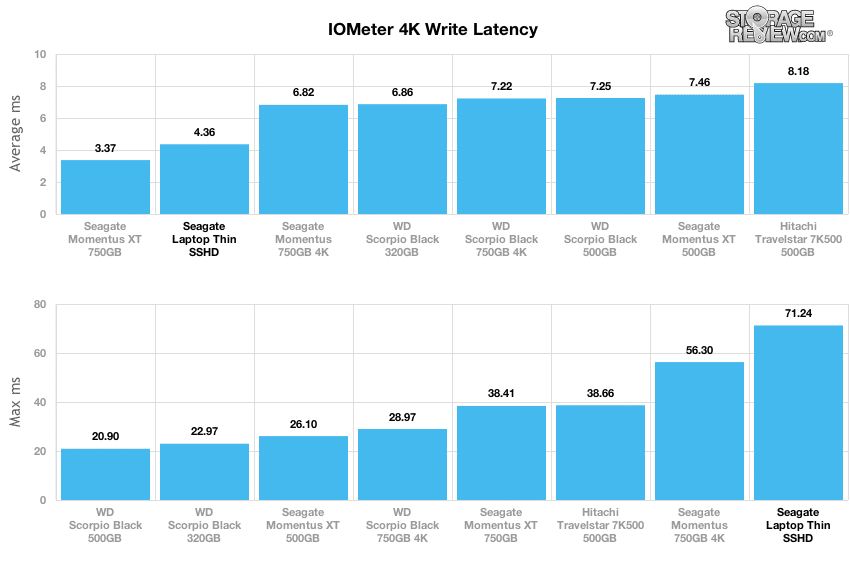 Our last series of synthetic benchmarks compare the hard drives in a series of server mixed-workloads with a queue depth of ranging from 1 to 128. Each of our server profile tests has a strong preference towards read activity, ranging from 67% read with our database profile to 100% read in our web server profile. In all of our mixed workloads, the Seagate Gen3 performed exceptionally. For each test, it ranked either first or second along with the Seagate Gen2. Overall, the SSHDs performed significantly better than standard HDD's. The Gen2's slight performance advantage over the Gen3 comes from its 7,200 RPM spins compared to the Gen3's 5,400 RPM (with Seagate's standardization of laptop drives to 5,400 RPM).
The first is our database profile, with a 67% read and 33% write workload mix primarily centered on 8K transfer sizes.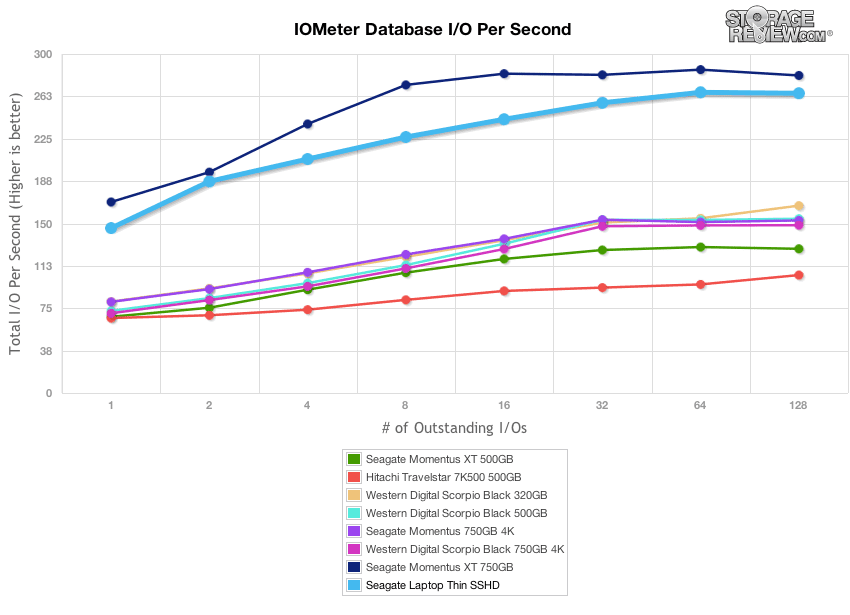 Our Database profile again showed the Seagate Gen3 as a strong runner-up to the Gen2 plateauing at 64 IOPS, steady to 128.
The next profile looks at a file server, with 80% read and 20% write workload spread out over multiple transfer sizes ranging from 512-byte to 64KB.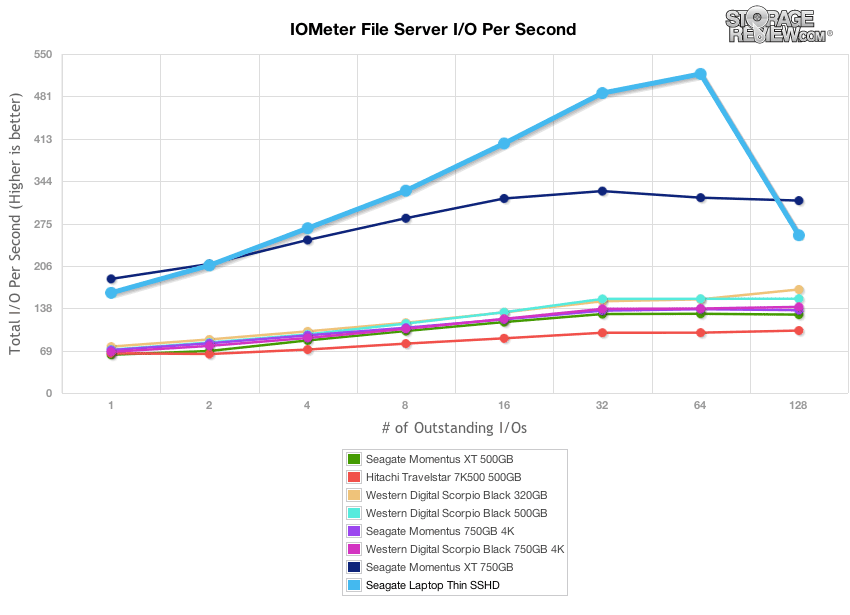 In the File Server profile, the Seagate Gen3 offered substantially better performance than all of the competition from 8-64 IOPS at 3x-5x. However, at 128 IOPS, the Gen2 was tops.
Our web server profile is read-only with a spread of transfer sizes from 512-byte to 512KB.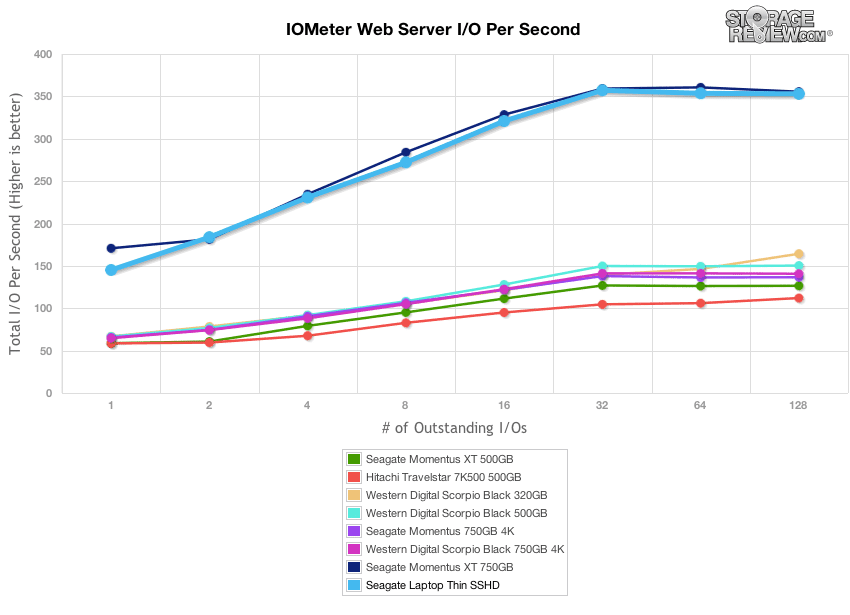 Web Server numbers are impressive too. This time, the generations 3 and 2 were neck-and-neck, with the Gen2 just eeking out the top marks. The Gen3 leveled off at 64 IOPS, decreasing slightly at 128 IOPS.
The last profile looks at a workstation, with a 20% write and 80% read mixture using 8K transfers.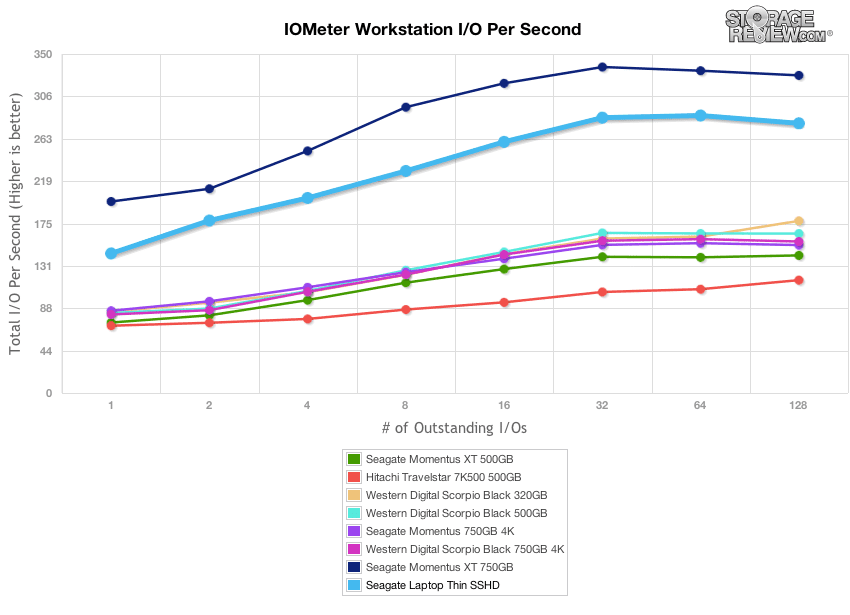 Rounding out the figures, in our Workstation profile, the Gen3 placed a solid second, again to the Gen2. The Gen3 plateaued at 64 IOPS and had a minor decrease at 128 IOPS.
Consumer Real-World Benchmarks
For the average consumer, trying to translate random 4K write speeds into an everyday situation is pretty difficult. It helps when comparing drives in every setting possible, but it doesn't exactly work out into faster everyday usage or better game loading times. For this reason we turned to our StorageMark 2010 traces, which include HTPC, Productivity, and Gaming traces to help readers find out how a drive might rank under their conditions.
The first real-life test is our HTPC scenario. In this test we include: playing one 720P HD movie in Media Player Classic, one 480P SD movie playing in VLC, three movies downloading simultaneously through iTunes, and one 1080i HDTV stream being recorded through Windows Media Center over a 15 minute period. Higher IOps and MB/s rates with lower latency times are preferred. In this trace we recorded 2,986MB being written to the drive and 1,924MB being read. Our second real-life test covers disk activity in a productivity scenario. For all intents and purposes this test shows drive performance under normal daily activity for most users. This test includes: a three hour period operating in an office productivity environment with 32-bit Vista running Outlook 2007 connected to an Exchange server, web browsing using Chrome and IE8, editing files within Office 2007, viewing PDFs in Adobe Reader, and an hour of local music playback with two hours of additional online music via Pandora. In this trace we recorded 4,830MB being written to the drive and 2,758MB being read.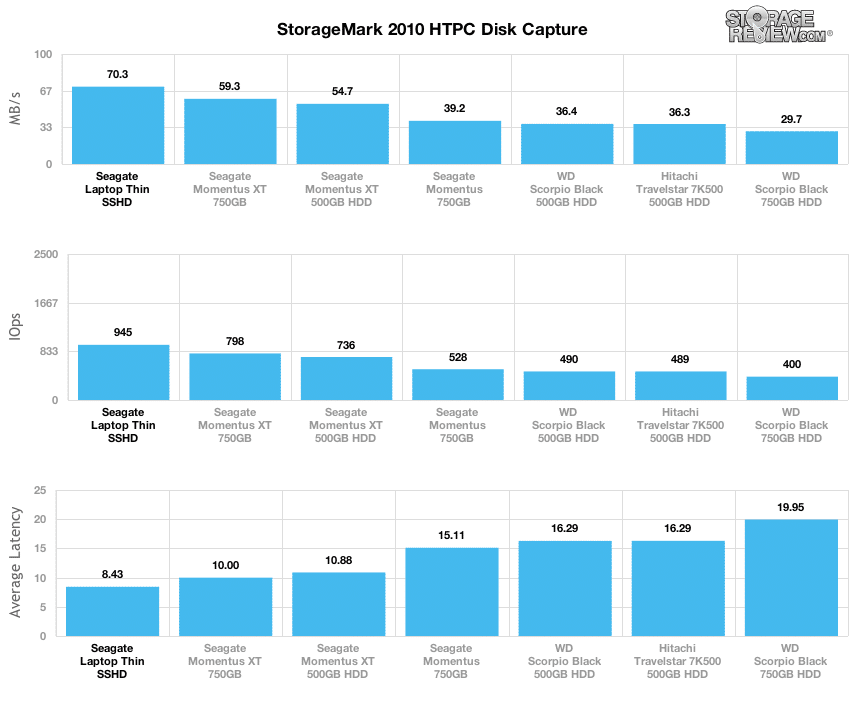 In the StorageMark 2010 HTPC 4K Disk Capture, the Seagate Gen3 offered substantially higher performance, boosting throughput by 18.5% over the previous-generation model. Behind the scenes though, we did notice that before the data was cached, the initial transfer speed was slightly slower than the original 7,200RPM-based models and took much longer to be absorbed as "hot data".
Our next real-life test covers disk activity in a gaming environment. Unlike the HTPC or Productivity trace, this one relies heavily on the read performance of a drive. To give a simple breakdown of read/write percentages, the HTPC test is 64% write, 36% read, the Productivity test is 59% write and 41% read, while the gaming trace is 6% write and 94% read. The test consists of a Windows 7 Ultimate 64-bit system pre-configured with Steam, with Grand Theft Auto 4, Left 4 Dead 2, and Mass Effect 2 already downloaded and installed. The trace captures the heavy read activity of each game loading from the start, as well as textures as the game progresses. In this trace we recorded 426MB being written to the drive and 7,235MB being read.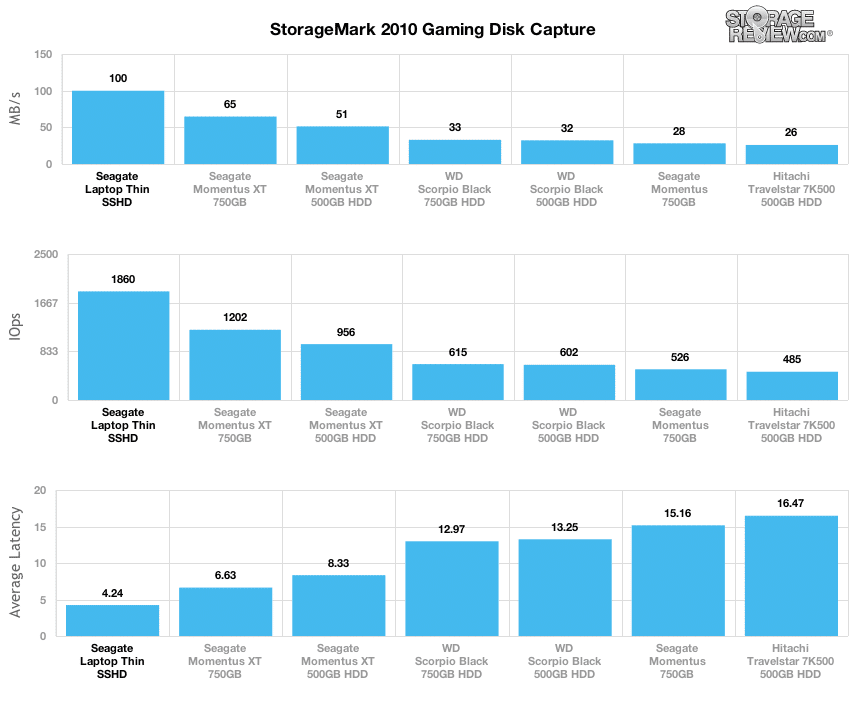 In the StorageMark 2010 Gaming Mark Capture, the Seagate Gen3 really shined. It offered performance 53.8% higher than the Momentus XT 750GB, leading the pack of 2.5-inch consumer platter-based drives.
Power Consumption
With any laptop drive, power consumption is an important factor for users. The key sources of power draw get narrowed down to either the bright screen or the storage device used. In the next test, we record the average power consumed over a small range of synthetic benchmarks. For reference, Seagate lists an average idle power rate of 0.9 watts and an active seek rate of 2.5 watts.

Seagate's provided power values came very close to the data we collected from our tests. Our actual idle rate measured 1.15 watts, while active power values ranged from 3.20 to 2.07 watts. Our sequential write pattern had the highest power values and the random 4K read test had the lowest. Seagate's active seek number falls right in that range. Startup power requirements measured 4.01 watts to get the drive to operating speed.
The Seagate SSHD Gen3 power consumption is lower than the Gen2 in every test but idle, where it is nearly the same. Across the board, the Gen3 made strong gains and saved 0.3-1.2 watts depending on the job it was doing.
Conclusion
The Seagate 500GB SSHD Gen3 provides users an economical option to get more performance out of their purchase without shelling out for an SSD or sacrificing capacity. The "Thin," slimmer body at just 7mm goes in just about everything, and Seagate has added other features like doubled DRAM cache, updated controller, and best of all, the drive is affordably priced starting at a cool $80 thanks to the move to MLC NAND and 5,400 spin speed.
While not a bombshell, Seagate's Gen3 model does provide cost-efficient performance and a significantly lower starting price than the Gen2 Momentus XT 750GB. Our benchmarking shows the Gen3 and Gen2 both outperform HDDs where it matters, in our real world traces where the onboard cache can really show its performance benefits. In that case, where data is nicely cached, the new 500GB Thin bests the 750GB Gen2 product by a significant margin.
Here's the problem though. When the first Momentus XT hybrid came to market, SSDs were relatively young and the cost imbalance still favored hard drives for the masses, especially the new Seagate hybrids that could tack on additional performance gains over pure platter plays. Fast-forward to 2013 and SSD prices have decreased to the point that the 500GB Thin compares on price pretty similarly to a decent 120GB SSD on sale. Yes, the SSHD wins on capacity by a wide margin, but the SSD shows at least 8X gains in the real world traces, the place where the SSHD does the best. And consumers have been well-trained by Apple, Amazon and others to leave storage-heavy content like media files in the cloud, or on a home NAS that can be accessed from any device from anywhere with a decent internet connection.
The 500GB SSHD Thin will still appeal to certain OEMs and end users who want a mix of performance, value and capacity, but the high-end performance guys will no doubt go to an SSD. Value buyers should definitely drop a little more cash for the boost the SSHD Thin offers though. At the end of the day, the 500GB SSHD Thin is a nice progressive improvement, and definitely a worthy upgrade for HDD buyers with only a $15 price delta between the 500GB Thin and leading 500GB 7,200RPM laptop drives.
Pros
Slimmer "Thin" 7mm design works with more devices
Inexpensive starting price
18% faster in HTPC workloads and 54% faster in Gaming workloads than previous generation model
Cons
Still limited to 8GB NAND flash
5,400RPM platter component offers lower uncached data transfer speeds
Bottom Line
Seagate's 500GB SSHD Thin drive at 7mm is a wallet-friendly alternative for users seeking new technology that provides low-power consumption, serious performance gains over conventional HDDs when in cache, and overall solid value per gigabyte.
Seagate Thin 500GB SSHD at Amazon.com
Discuss This Review