The Synology RT2600ac is a wifi router that brings together a comprehensive selection of wireless protocols and features with a management interface based on Synology's DSM operating system. Powered by a dual-core 1.7Ghz processor, the RT2600ac incorporates 2.4GHz and 5GHz radios and offers WAN aggregation, WAN failover, and hardware-assisted Layer 7 traffic control. The result is a wifi router and access point with a polished management experience that is specified for up to 100 connected devices.
The Synology RT2600ac is a wifi router that brings together a comprehensive selection of wireless protocols and features with a management interface based on Synology's DSM operating system. Powered by a dual-core 1.7Ghz processor, the RT2600ac incorporates 2.4GHz and 5GHz radios and offers WAN aggregation, WAN failover, and hardware-assisted Layer 7 traffic control. The result is a wifi router and access point with a polished management experience that is specified for up to 100 connected devices.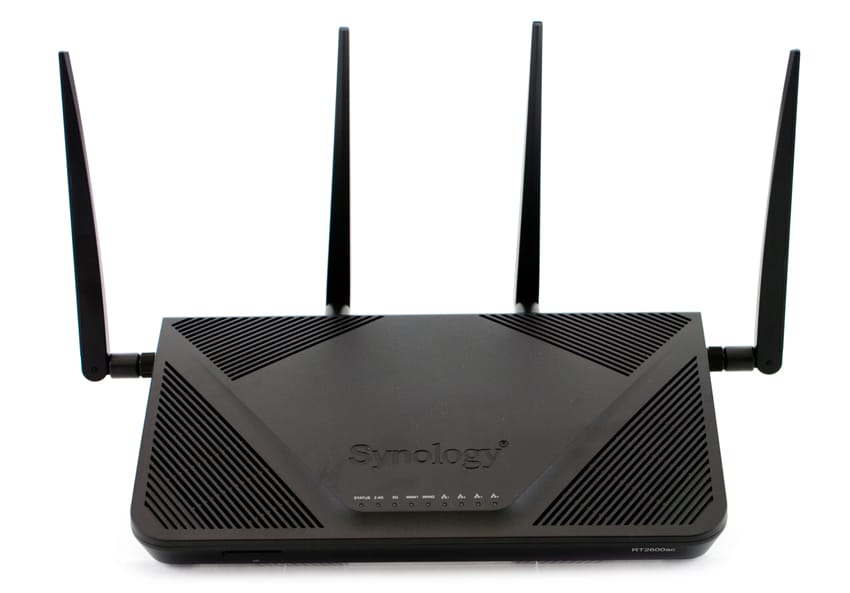 Deploying and managing wifi in small to medium enterprises can be a challenging responsibility for small network administrators. All users, regardless of enterprise size, expect high speed and reliable wifi service, which means that even small organizations are confronted by the need to manage dozens or hundreds of devices. Functionality like VPN, remote file access, and WAN failover are also becoming part of the baseline expectations for wireless networking in the workplace. On the other hand, enterprise-scale wifi solutions that offer these features can be difficult to scale down for SME environments.
These shifts in user expectations and wifi technology are happening in a SME marketplace where wireless router and access point management interfaces and workflows have not evolved at the same pace. Many routers, even incredibly popular ones, feel as though you are stepping back in time five years when it comes time to configure or troubleshoot. This is the market where Synology is trying to make a strong impression with the RT2600ac.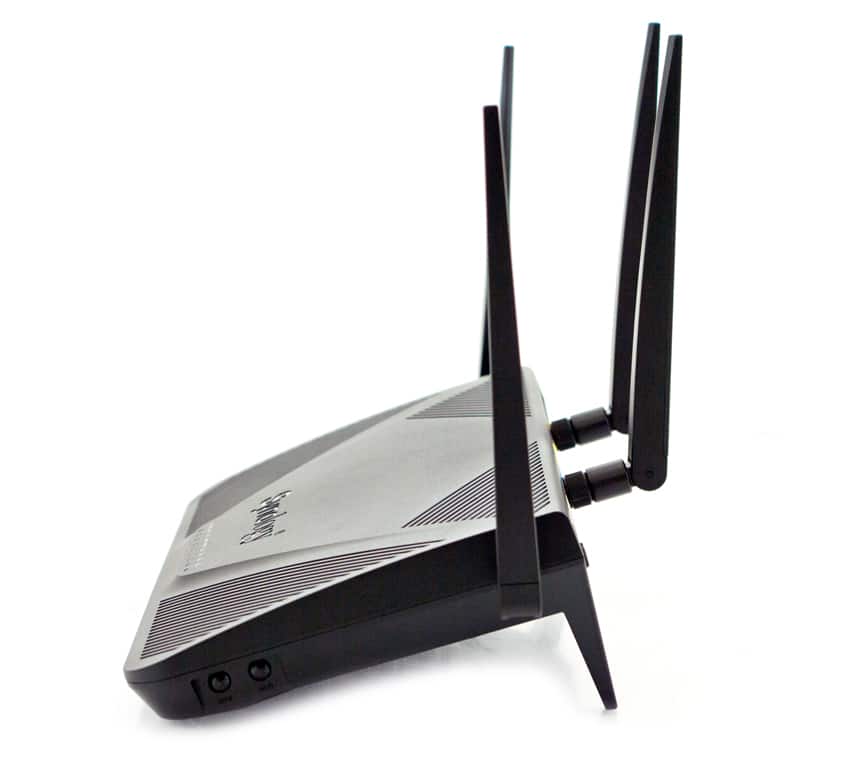 In terms of functionality, the Synology RT2600ac promises data throughput on par with other SME wireless network offerings including MU-MIMO and 802.11ac wave 2 support.  Synology Router Manager (SRM), the RT2600ac's underlying management platform, is built on the foundation laid by Synology's DiskStation Manager (DSM) and benefits from the years of user experience development that has already gone into DSM. This DSM-based management platform, however, is a key part of the proposition for the RTS2600ac, and will therefore be the focus of our review.
The Synology RT2600ac Router has a 2-year warranty and a street price of only $229.
Synology RT2600ac Specifications
CPU: Dual core 1.7 GHz
Hardware Layer 7 Engine
Memory: 512 MB DDR3
Antenna type: 4×4 MIMO Omni-directional high-gain dipole (2.4GHz / 5GHz)
LAN ports

Gigabit (RJ-45) x 4
Gigabit (RJ-45) x 3 (Dual WAN mode)

WAN ports

Gigabit (RJ-45) x 1
Gigabit (RJ-45) x 2 (Dual WAN mode)

External Ports

USB 3.0 x 1
USB 2.0 x 1
SD card reader x 1 (SDXC, SDHC)

Button and switch: WPS, USB/SD eject, Power, Reset, Wi-Fi On/Off
Size (Height x Width x Depth): 77 mm x 280 mm x 169 mm (without antenna)
Weight: 0.7kg
AC Input Power Voltage: 100V to 240V AC
Power Frequency: 50/60 Hz, Single Phase
Power Consumption: 10.80 W (Access), 7.94 W (Idle)
Warranty: 2 Years
IEEE 802.11ac

IEEE 802.11a/b/g/n/ac

Simultaneous dual-band Wi-Fi
2.4GHz: 800Mbps
5GHz: 1.73Gbps

IEEE 802.11ac wave 2

MU-MIMO
2×2 160 MHz (contiguous 80 + 80 MHz)
2×2 80 + 80 MHz (discontiguous)

Beamforming
Schedulable Wi-Fi
WPS 2.0 (Wi-Fi Protected Setup 2.0)
3G/4G mobile dongle support
Maximum MAC filters: 64
Maximum connected devices: 100
Network

Internet connection: Dynamic IP, Static IP, PPPoE
Port forwarding: Setup via manual management or UPnP
Maximum port forwarding rules: 64
Maximum UPnP rules: 64

Port triggering

Maximum port triggering rules: 32
Minimum port triggering timeout: 30s
Maximum port triggering timeout: 3600s

DMZ
IPv6: IPv6 DHCP server/client, IPv6 tunneling
DHCP: Server/client mode, client list, MAC address reservation
Maximum DHCP reservations: 500
LAN/WLAN IGMP snooping
VPN

VPN server/client (PPTP, OpenVPN, L2TP/IPSec)
VPN pass-through (PPTP、IPSec、L2TP)

Management

Operating system: Synology Router Manager (SRM)
Operation modes: Wireless Router, Wireless AP
Wake on LAN (WOL)
WOL over QuickConnect
Notification: Email, SMS, push service (via DS router)
SSH
SNMP
User account management
Printer server maximum printers: 1

Traffic Control

Internet ban, device speed & priority
Application layer (L7) quality of service (QoS)
Maximum device rules: 64
Maximum application rules per device: 32
Traffic Monitor for graphical live / history statistics

Security

Wi-Fi encryption: WEP, WPA/WPA2-Personal, WPA/WPA2-Enterprise
Wi-Fi MAC address filter
Firewall/SPI Firewall
DoS Protection
Auto block
SSL certificate
Security Advisor

Mobile Apps

DS cloud (Android/iOS)
DS get (Android/iOS)
DS file (Android/iOS)
DS router (Android/iOS)
VPN Plus (iOS)

USB/SD Card File Service

File System: EXT4, FAT, NTFS, HFS+
Access support

File explorer (via LAN only)
Web browsers: Chrome, Firefox, Internet Explorer: 8 onwards, Safari 7 onwards, Safari (iOS7 onwards on iPad), Chrome (Android 4.0 onwards on tablets)
Mobile device: DS file

Protocol support: Windows file service (CIFS), Mac file service (AFP), FTP/FTPS, WebDAV
Apple Time Machine
Shared Folder privileges
Storage hibernation

Package Center
Cloud Station Server
Maximum Concurrent File Transfers: 128 (Cloud Station ShareSync is not supported)
DNS Server
Download Station supported protocols: BT/HTTP/FTP/NZB/eMule

Maximum concurrent download tasks: 50
Maximum concurrent BT download tasks: 20

Media Server (DLNA/UPnP)

Media indexing
DLNA certified
PS3/PS4/Xbox 360/Xbox One supported

RADIUS Server
VPN Plus Server (WebVPN, SSL VPN, SSTP, OpenVPN, L2TP over IPSec, and PPTP)
Maximum Connections: 20
VPN Server (PPTP, OpenVPN, L2TP/IPSec)
Intrusion Prevention (Beta)
Intrusion Detection System (IDS)
Intrusion Prevention System (IPS)
Build and Design
The rear of the Synology RT2600ac incorporates one dedicated WAN port at center-right, along with four additional LAN ports farther to the right. One of those LAN ports can optionally be designated as a second WAN port for load balancing or failover configurations. The rear of the RT2600ac also provides access for 3G/4G dongles, which are also supported for WAN failover scenarios. Administrators can attach external storage via USB 3.0, which the RT2600ac can serve locally as well as remotely via Synology Cloud Station.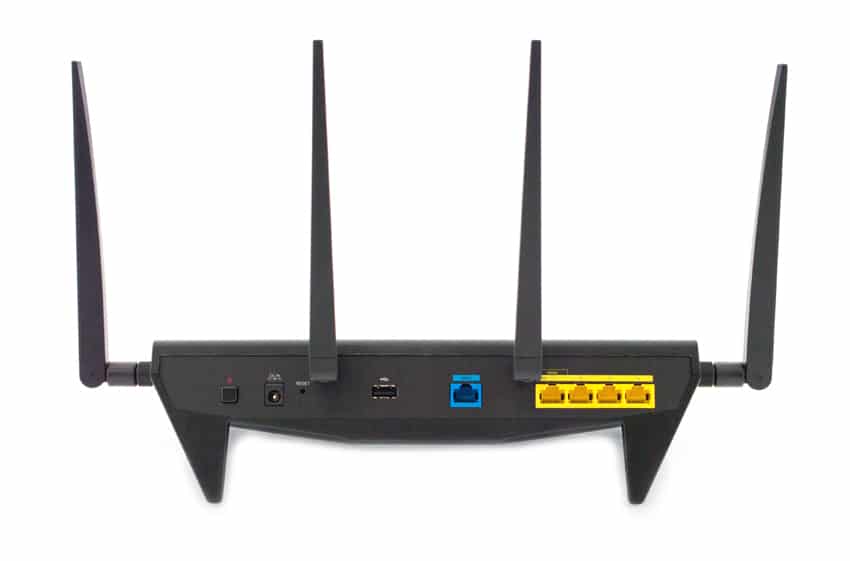 Management
The Synology RT2600ac configuration wizard immediately evokes the polished DiskStation Manager administrative experience we are familiar with from Synology's NAS offerings.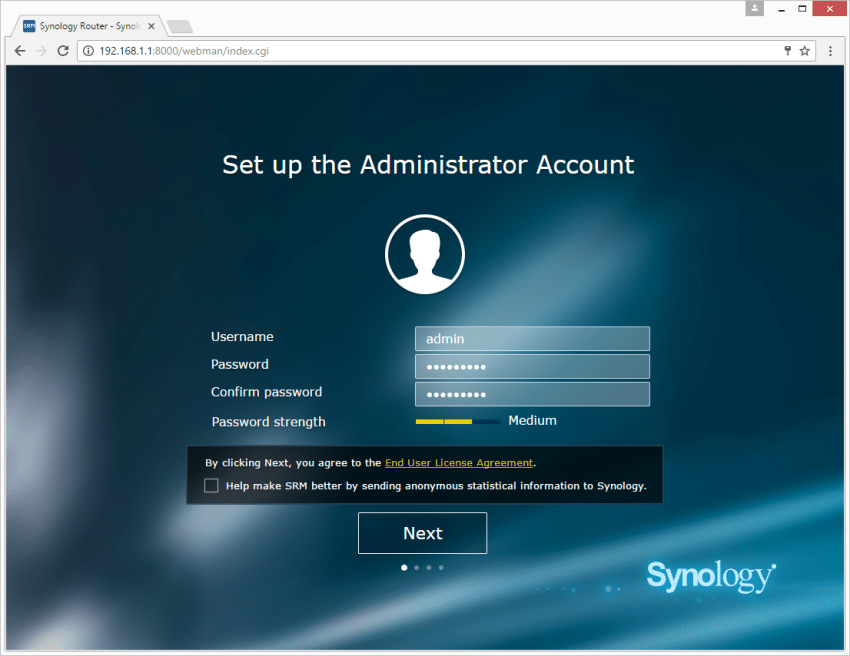 During the initial setup wizard, Synology presents the administrator with the key configuration details that are needed to get the router up and running without exposing the full set of configurable options yet. The Synology RT2600ac can be used as a full-service router and access point, or can be scaled back to provide only access point services in a network where more than one RT2600ac is in use or there is another independent router providing that function.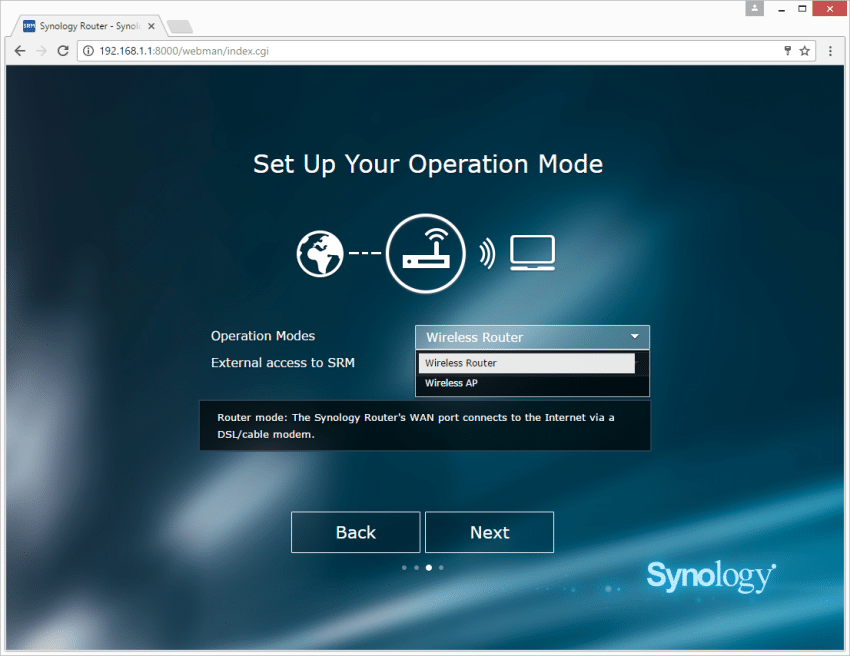 Once the RT2600ac completed its basic configuration wizard we were able to access the full interface provided by Synology Router Manager (SRM). One of the most impressive aspects of this management interface is real-time status monitoring. One of the most common troubleshooting tasks for a SME wifi router is to determine why network performance is impaired. It's unusual — and very welcome — for a SME wifi router to have up-to-the-moment status information on network traffic in order to begin drilling down to troubleshoot a performance issue.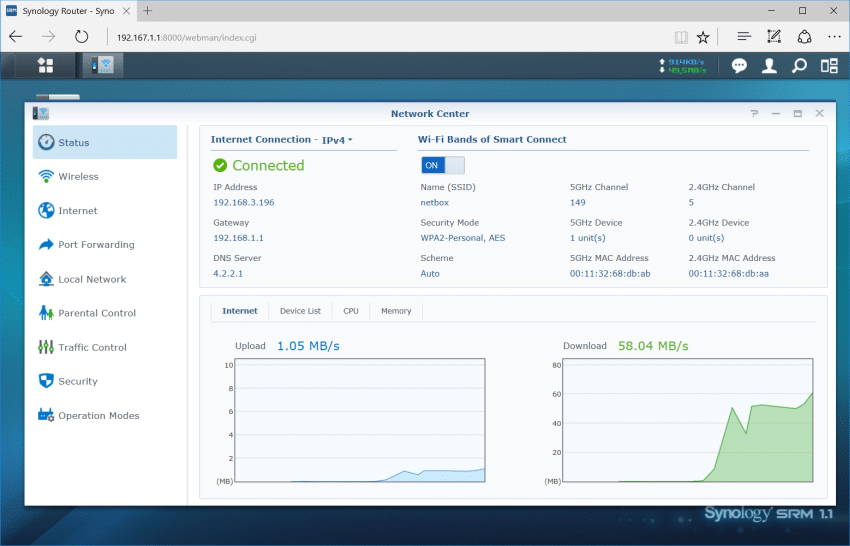 Another key strength of the RT2600ac feature set is access to three operational modes that take advantage of dual WAN connectivity: 1) WAN aggregation and load balancing can combine the bandwidth of two discrete WAN connections; 2) failover mode can reroute traffic from one WAN to the other if one of the connections goes offline; and 3) a wireless 3G/4G dongle can be used to failover to a wireless network when a wired WAN connection goes offline. Policy-based WAN routing allows administrators to route traffic based on its WAN connection in addition to the traffic's destination and source addresses.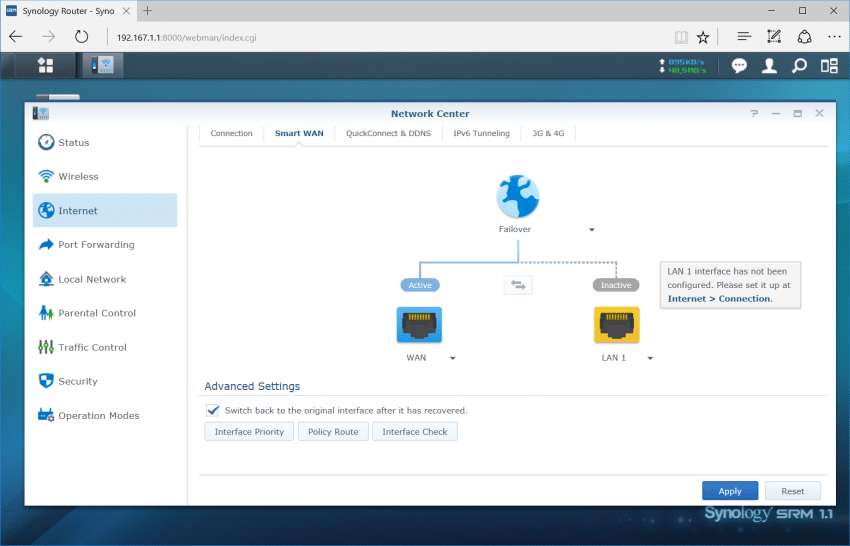 One benefit of the RT2600ac's grounding in the Synology DSM operating system — other than its polished user experience — is that the RT2600ac can access some of the same add-on packages that are available for Synology's NAS offerings. RT2600ac customers may be particularly interested in packages that add media server functionality to the router or the Synology Cloud Station package. Cloud Station is a private file synchronization and sharing platform that has been one of the jewels in Synology's crown, and has previously been the subject of a comprehensive review from the StorageReview Enterprise Test Lab. Users can attach external storage via USB 3.0 for access within the local network as well as remote access.
RT2600ac users can also take advantage of SRM packages that are specifically designed for router use. The SRM Package Center allows customers to enable features including VPN, DNS, and Synology's Intrusion Protection package.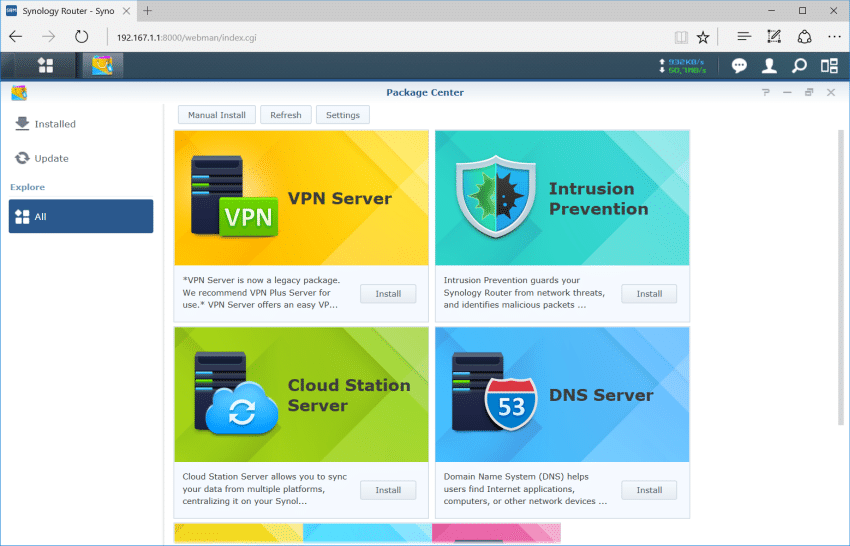 RT2600ac administrators have access to a full set of security options to harden the router against common automated attacks. Auto block settings create temporary or permanent bans based on IP, user logout timers can be configured to automatically terminate sessions that are not active, and increased levels of protection can be activated against cross-site forgery attempts and other exploits designed to gain access to SRM or other services running on the RT2600ac.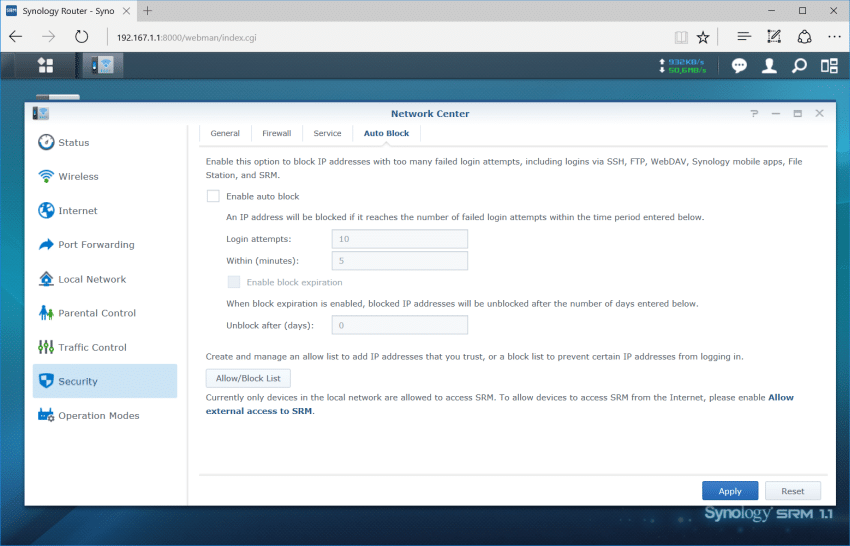 The RT2600ac provides a filtering engine that will be of equal interest for parents hoping to monitor young users as well as managers hoping to keep staff members away from malicious or otherwise inappropriate websites.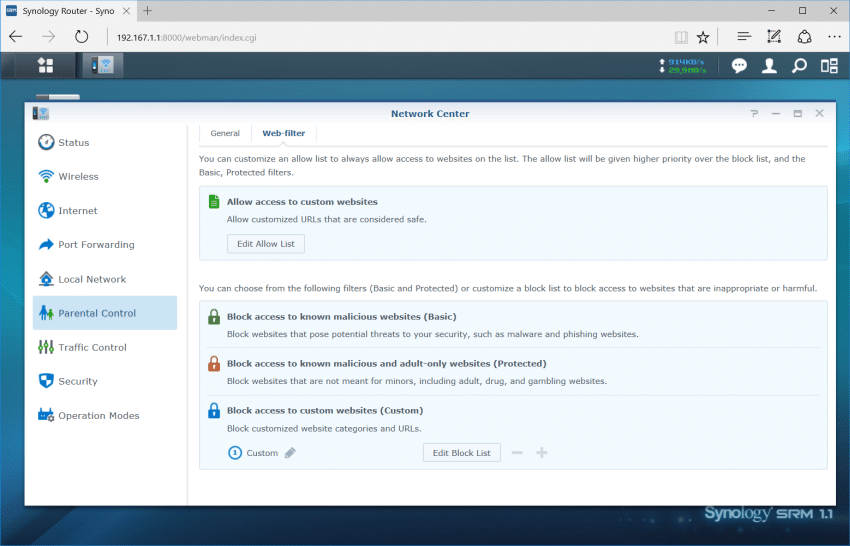 Conclusion
Wifi routers for small to medium enterprises generally feature stripped-down management functionality, which helps make the RT2600ac stand out of the pack from the moment we accessed its SRM management interface. It doesn't hurt that the RT2600ac also has access to advanced features like dual-WAN load balancing and failover, 3G/4G failover, and an integrated app ecosystem that draws on the Synology's NAS technology portfolio. It's not unusual for the price tag for these kinds of 'advanced' routing features to start above $1,000 from other vendors.
Administrators of small wireless networks are often constrained by limited choices and limited management interfaces. If Synology continues to develop networking devices like the RT2600ac that can compete on price, functionality, and management, then Synology has the potential to disrupt this status quo. Synology has the experience and the scale to make change in the SME wifi router marketplace, and the RT2600ac is a promising step in that direction.
Pros
Sophisticated administrative interface based on the Synology DSM operating system
Can be managed within the network, outside the network, and from mobile apps
Access to packages brought over from Synology's NAS offerings, including Cloud Station
Cons
Only 4 LAN ports on the back of the router
The Bottom Line
The RT2600ac demonstrates that the lessons learned from its network storage offerings could be the competitive advantage Synology needs to gain ground against established wifi router offerings from other vendors.
Sign up for the StorageReview newsletter