The Unitrends Recovery-943 Backup Appliance has 97TB of raw capacity and robust connectivity options, and it incorporates standard features found on existing Unitrends Recovery appliances such as backup, archiving, instant recovery, and disaster recovery functionality. In the past, these recovery appliances have been configured and marketed to small and medium businesses. These smaller organizations face complex backup requirements and don't have the dedicated resources and expertise needed to apply multi-platform backup-administration and as such have been Unitrends target-market. The Recovery-943 is however a step-up from previous Unitrends options with three times the storage capacity of its predecessor and the ability to scale the functionality of the Unitrends RecoveryOS to the enterprise market.
The Unitrends Recovery-943 Backup Appliance has 97TB of raw capacity and robust connectivity options, and it incorporates standard features found on existing Unitrends Recovery appliances such as backup, archiving, instant recovery, and disaster recovery functionality. In the past, these recovery appliances have been configured and marketed to small and medium businesses. These smaller organizations face complex backup requirements and don't have the dedicated resources and expertise needed to apply multi-platform backup-administration and as such have been Unitrends target-market. The Recovery-943 is however a step-up from previous Unitrends options with three times the storage capacity of its predecessor and the ability to scale the functionality of the Unitrends RecoveryOS to the enterprise market.

The Recovery-943 runs the same RecoveryOS that powers Unitrends' smaller appliances, and it includes functionality to manage deployments that feature multiple Recovery units. Recovery-943 can replicate to another off-site Recovery-series appliance or to a Unitrends virtual appliance. RecoveryOS can also configure the Recovery-943 as a cross-vault for both on premise backup and off-premise disaster recovery in concert with physical or virtual Unitrends appliances in another location.
Multiple network interface cards with bonded adapters allow organizations to aggregate bandwidth for ingest. The Recovery-943 also provides multiple fiber channel adapters for SAN or NAS long-term backups to tertiary storage. The Recovery-943 supports vaulting to Unitrends' cloud service as well as rotational archiving to tape and disk.
Unitrends has also ramped up its No Limits Licensing program with the Recovery-943. No Limits Licensing does not impose fees that scale per client, agent, OS, application or RecoveryOS update. This is good news for existing Recovery appliance users looking to scale into the Recovery-943 and for medium-sized businesses expecting growth. It also simplifies deployments where multiple Recovery appliances are used to orchestrate data protection between centralized IT and remote sites with smaller Recovery units, or for deployments placing Recovery appliances in each segment of an enterprise network to reduce congestion during the backup window.
Unitrends Recovery-943 Specifications
Raw Usable Capacity: 97TB RAID60
Maximum Recommended Backup: 50TB
Vaulting Capacity: 43TB
Form Factor: 4U Rack
Dual Intel E5-2650 CPUs (2.0GHz, 8-cores, 20MB Cache)
256GB RAM (16GB x 16 DDR3, 128GB per CPU)
Networking

Standard 1GB Ethernet Port: 4 (up to 8 optional)
Optional 2x10Gb Ethernet
Optional 1x8Gb Fiber Channel

Standard eSATA ports: 4 (up to 8 optional)
Features

Unitrends No Limits Licensing
Adaptive Deduplication
Vault2Cloud Enabled
Rapid Recovery Console
AES-256 Bit Encryption
Instant Recovery (Windows)
Instant Recovery (VMware)

Rotational Archiving

Recovery-Dock (USB 2.0)
Recovery-Dock (eSATA)

Recovery-Archive

To Tape (using optional LVD SCSI/SAS Adapter)
To NAS
To SAN

Management

Single Pane of Glass
Backup Scheduling
Inclusion / Exclusion Backup
Bandwidth Throttling
Detailed Reporting
Graphical Reporting
Customer Reporting
Alert-Based Monitoring
SMTP-Based E-mail Reporting
SNMP Trap

Power

AC Inputs (VAC): 100-240
AC Power Consumption (W): 1400
Redundant Power Supplies

Total Heat Dissipation (BTU Max): 3045
Dimensions (WxHxD): 17.2″x 7″ x 27.5″
Unit Weight (lbs): 160
Video Overview
Hardware Overview
The Unitrends Recovery-943 offers byte-level adaptive deduplication technology, which combines inline compression with post-processing data deduplication. It also offers failover virtualization recovery during Windows or VMware system failures. Of course these types of compute-hungry resources don't come easy, which is why the Recovery-943 is backed by some serious hardware.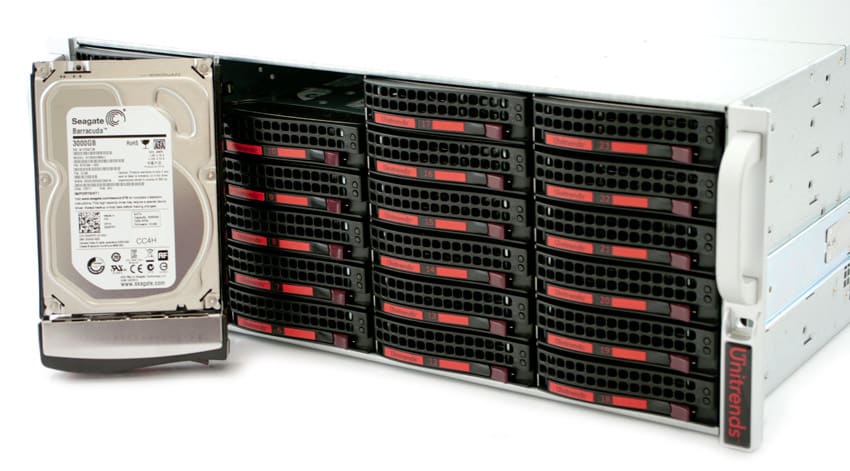 The Recovery-943 is built on the 4U Supermicro SuperChassis 847 with 36 3.5″ drive bays located both front and rear. Inside, a Supermicro X9DRE-LN4F motherboard with twin Intel Romley E5-2650 processors and 256GB of DDR3 memory power the system through its day-to-day activities. Running a Linux installation, the Recovery-943 is quick to boot and ready for anything thrown at it.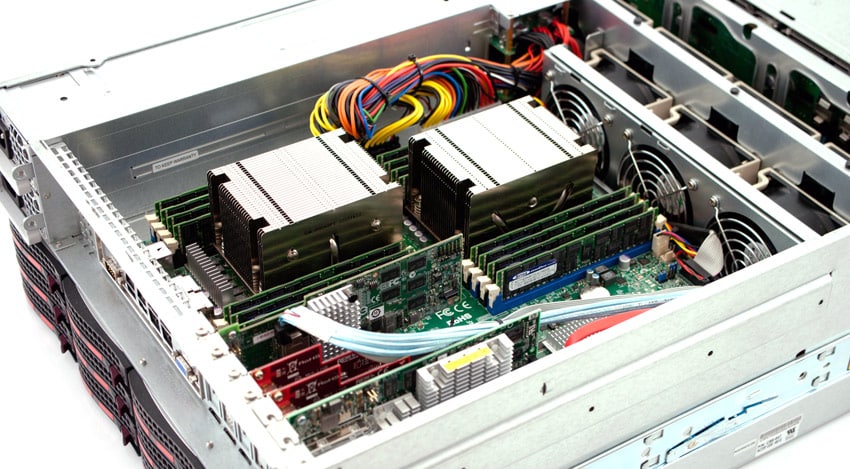 Unitrends implements an impressive amount of storage in the Recovery-943, and not just in terms of bulk capacity. Unitrends incorporates a mix of SSD, 10k SAS, and 7,200RPM SATA inside the unit. This gives the system the performance it needs to avoid getting bogged down. For fast boot up and excellent responsiveness, two 120GB Intel SSD 520 SATA are configured in software RAID-1. The primary storage needs are taken care of by 36 3TB Barracuda HDDs in RAID-60, while 1TB WD VelociRaptors in RAID-1 store the metadata. This configuration is designed for a parallel commit of metadata and backup streams. Backing the hard drives is an LSI 9260-4i MegaRAID adapter connected to the main SAS expander inside the Supermicro chassis.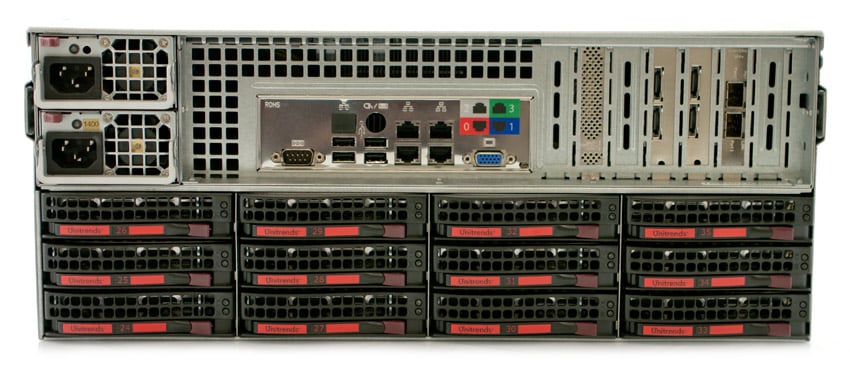 Unitrends Recovery-943 features four gigabit Ethernet ports and four eSATA ports. LVS and SAS SCSI connectivity for standard tape interfaces is available as an option, along with additional 1Gb and 10Gb Ethernet ports and Fibre Channel connectivity. Our unit was configured with a 10GbE add-on card equipped with two SFP+ ports to allow for a fast uplink connection to serve a large working environment and to avoid getting slowed down by multiple simultaneous backup transfers.

The Recovery-943 supports archiving to tape media via LVD and SAS connected devices. eSATA archiving is supported via a 1U Unitrends Recovery-Archive device for up to 24TB of compressed data. Ethernet-fixed archiving with SAN and NAS storage is additionally supported.
Feature Overview
Unitrends' iseGrid-based web interface monitors and manages an unlimited number of Unitrends appliances, storage systems, and client computers. Integrated reporting includes Unitrends appliances and their licensed capacity, client systems, and the statuses of backups, failures, restores and vaulting.
Adaptive Deduplication combines inline compression with post-processing data deduplication. Unitrends InCrypt can be configured to encrypt stored data once it has arrived at the appliance to minimize client processing impact. Using InCrypt, data is compressed and encrypted via AES 256-bit before it is written to the Recovery-943's storage.
Unitrends Incremental Forever technology offers up to 10,000 snapshots per week, with incremental backups as frequently as every 15 minutes. Unitrends Bare Metal restore supports P2V, V2P, V2V, and P2P restoration of OS, applications, data and settings to a different platform. Bare Metal can also be used as a migration tool between systems with dissimilar equipment.
Disaster Recovery
Unitrends describes the RecoveryOS disaster recovery using D2D2x acronyms, with the final letter describing the disaster recovery storage solution. D2D2C uses Unitrends Vault2Cloud technology to integrate Recovery appliances with Unitrends multi-tenancy cloud-based architecture or with a private cloud. For organizations using Unitrends' cloud service, RapidReplacement service guarantees next-day shipping of a fully-populated replacement appliance in the event of a disaster. D2D2D offers disk-based rotational archiving, including plug and play RXDA archiving. D2D2T archiving leverages the Recovery-943's optional LVD SCSI/SAS tape connectivity for archival.
The Recovery-943 can also serve as the virtual host of failed VMware and Windows systems. VMware systems are recovered to a new virtual machine with the Recovery appliance serving as the provisioned virtual storage provider. Windows systems can run directly on the Recovery-943.
Usability
Interfacing via Rapid Recovery on the server for the Unitrends Recovery-943 is not as difficult as one might imagine given the features and capabilities of the machine itself. User storage comes configured and ready, so the first step is to go into the settings and add a client. At this point Windows users can use Agent Push which will automatically add clients, but using the manual install is recommended because it offers more user control and is still easy to do. To start, users will select the computer type (Windows, Mac OS X, VMware, etc.), type in the computer name, and add the IP address (optional if the IP is static). Users can also choose if they want to "Establish Trust" so that they don't need to input the admin username and password.
Users can then configure their options, and for us, we left unchecked the option to automatically create a backup. With this box checked, the default configuration provides backup in the mode "Full with Incrementals." This produces a full backup weekly and incrementals nightly. Full with Incrementals is likely to become far less significant and perhaps obsolete with the addition of "Incrementals Forever" which only needs to run one master. That single master is all that's needed since from that point forward the agent will grab only the changes made since the last backup. From there, Rapid Recovery synthesizes a new backup, rolling up recent changes with it automatically. On the other hand, users with less capacity, say around a couple of terabytes, might find Incrementals Forever to be overkill. Instead, they could use "Full with Differentials" once a week and sufficiently accomplish backing up their data.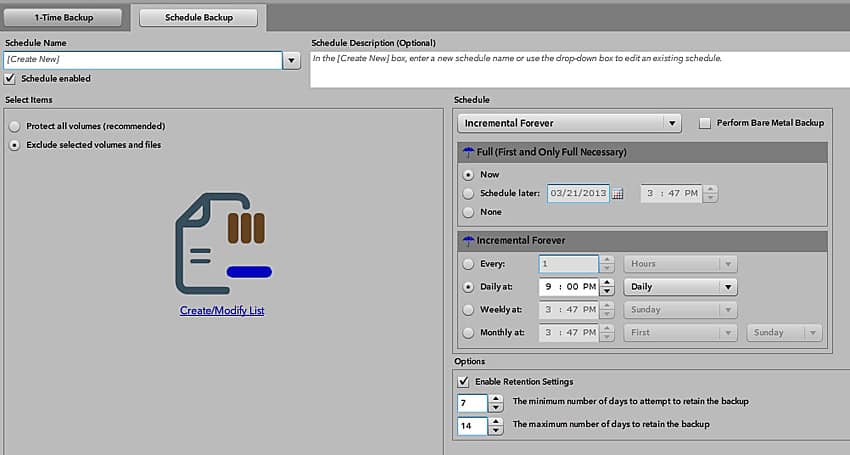 Custom scheduling is also available to enable users to create their own strategy for backing up their storage. With this mode selected, users can click the calendar which allows them to drag and drop master, differential, incremental, and bare metal icons onto the calendar to customize their backup strategy.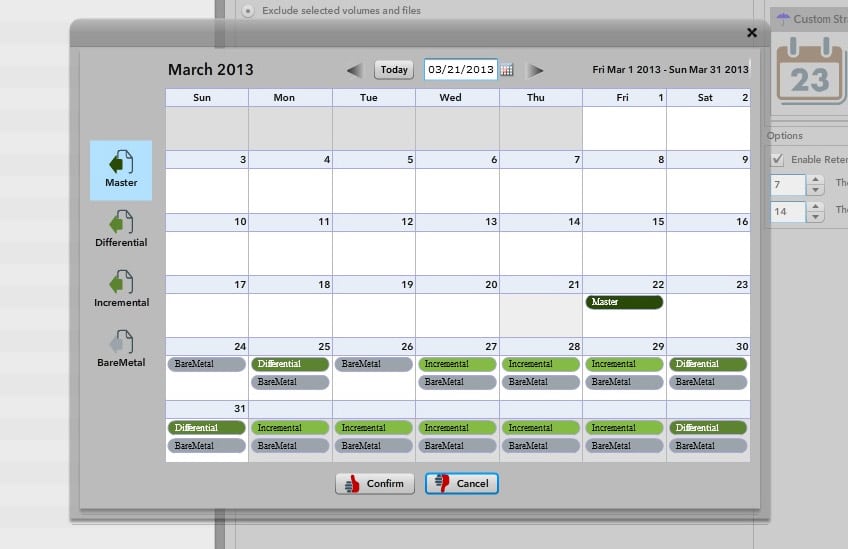 Another feature in the Rapid Recovery main interface allows users to protect all volumes or to choose to exclude particular volumes. Additionally, users can exclude files using their extensions. For instance, it might not be critical for a company to backup their .mp3 files, so the administrator could select to exclude those files.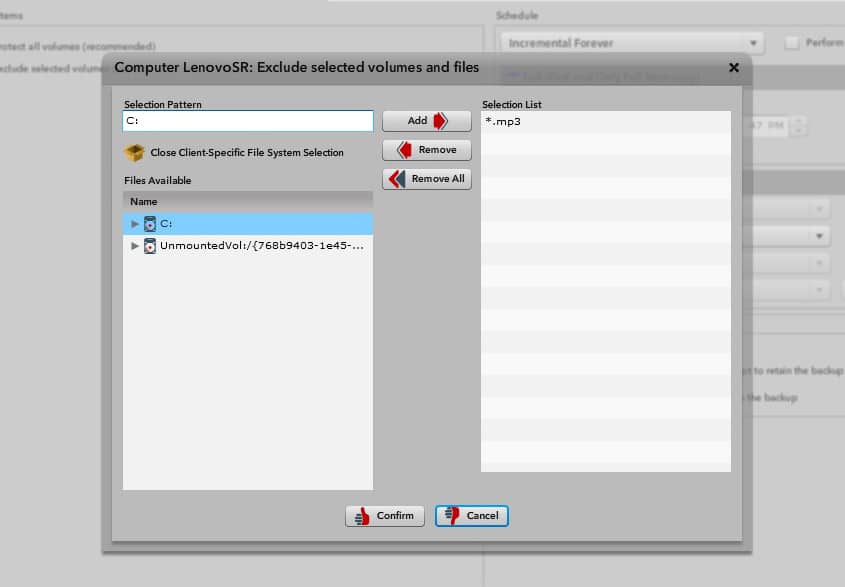 Further customization is available if users go to advanced settings. There, they can turn on and off e-mail reports with a simple click. Additionally, users can keep Linux on one SAN and Windows on another or any other useful configuration, and from the advanced settings they can choose where the backup goes.
Overall, Rapid Recovery presents users with all kinds of tools to backup, monitor, and protect their storage. The interface is simple to navigate and the initial setup can be done quickly. After that point, users can go in to customize all sorts of options and monitor their strategy: they can see a wide array of reports, conduct archiving, easily restore by clicking on a day to which they want to restore their device, etc.
Testing Background

When it comes to testing enterprise hardware, the environment is just as important as the testing processes used to evaluate it. At StorageReview we offer the same hardware and infrastructure found in many datacenters where the devices we test would ultimately be destined for. This includes enterprise servers as well as proper infrastructure equipment like networking, rack space, power conditioning/monitoring, and same-class comparable hardware to properly evaluate how a device performs. None of our reviews are paid for or controlled by the manufacturer of the equipment we are testing.
StorageReview Enterprise Test Lab
Our current Windows Server 2012 10/40Gb Ethernet SAN and NAS testing infrastructure consists of our HP ProLiant DL380p Gen8 testing platform equipped with Mellanox ConnectX-3 PCIe adapters connected through Mellanox's 36-port 10/40GbE switch. This environment allows the storage device we are testing to be the I/O bottleneck, instead of the networking gear itself.
StorageReview 10GbE Windows Server 2012 Enterprise Testing Platform:
2 x Intel Xeon E5-2640 (6 core, 2.50 GHz, 15MB, 95W)
Windows Server 2012 Standard Edition 64-Bit
Intel C600 Chipset
Memory – 64GB (8 x 8GB) 1333Mhz DDR3 Registered RDIMMs
Mellanox SX1036 10/40Gb Ethernet Switch and Hardware
36 40GbE Ports (Up to 64 10GbE Ports)
QSFP splitter cables 40GbE to 4x10GbE
Mellanox ConnectX-3 EN PCIe 3.0 Twin 10G Ethernet Adapter
Enterprise Synthetic Workload Analysis
For storage array reviews we precondition with a heavy load of 16 threads with an outstanding queue of 16 per thread, and then test in set intervals in multiple thread/queue depth profiles to show performance under light and heavy usage. For tests with 100% read activity, preconditioning is with the same workload, although flipped to 100% write.
Primary Steady-State Tests:
Throughput (Read+Write IOPS Aggregate)
Average Latency (Read+Write Latency Averaged Together)
Max Latency (Peak Read or Write Latency)
Latency Standard Deviation (Read+Write Standard Deviation Averaged Together)
At this time Enterprise Synthetic Workload Analysis includes common sequential and random profiles, which can attempt to reflect real-world activity. For this review we narrowed in on our sequential workloads, since they are most representative of backup tasks which can be scheduled carefully to limit the amount of servers being polled in parallel and maximize the available bandwidth of the large disk array. Our testing configuration consisted of two attached SMB shares connected over different subnets, each interfacing with a 50GB test file (100GB sample area total).
8K (Sequential)
128K (Sequential)
In our first workload looking at sequential 8K traffic with 16T/16Q (QD256 effective), we measured throughput in excess of 60,000 IOPS read and 65,000 IOPS write. For multiple simultaneous backups, the 36 3.5″ HDDs would have no trouble absorbing a large data deluge.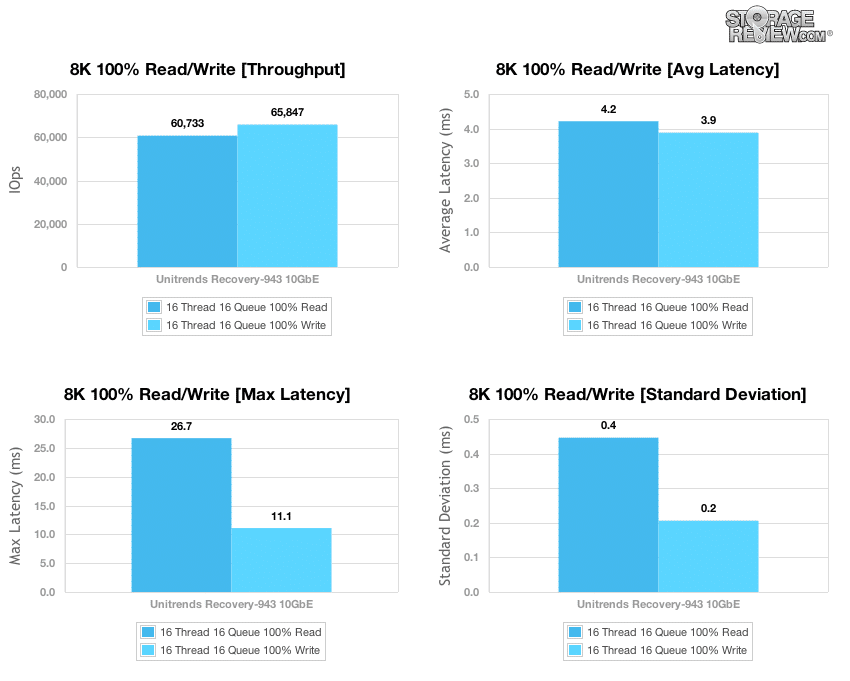 Looking at average latency in our demanding QD256 workload, we measured read latency at 4.2ms and write latency at 3.8ms. Peak latency in our 8k sequential workload remained low over the course of our test, measuring 26ms for read and 11ms for write. With its low maximum latency figures, we were also impressed by the Recovery-943's low latency standard deviation.
Our next test looks at 128k sequential read and write performance, with the same 16T/16Q workload. Looking at total bandwidth, we measured read speeds just under 1.2GB/s and write speeds above 1.5GB/s.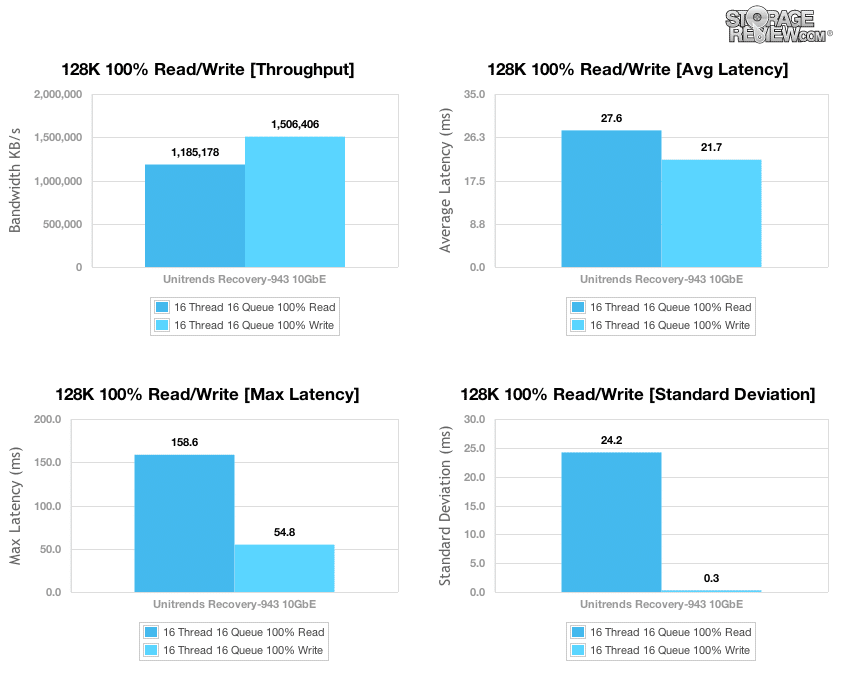 Average latency in our 128k sequential transfer test with a 16T/16Q workload measured 27.6ms in read and 21.7ms in write. Over the course of our 128k transfer test, we measured peak response times of 158ms in read activity and 54.7ms in write. Comparing latency consistency in our 128k sequential transfer test, we saw the Unitrends Recovery-943 favored write activity under high-load with much lower write-latency standard deviation.
Conclusion
The Unitrends Recovery-943 Backup Appliance took a big step forward from its predecessors by offering a massive 97TB capacity and the ability to scale features of the Unitrends RecoveryOS to the SMB and midmarket. The Recovery-943 also includes loads of connectivity options with multiple network interface cards with bonded adapters so that organizations can aggregate bandwidth and the Recovery-943 also has multiple adapter options including 10GbE and Fibre. Unitrends also supports additional connectivity to storage via eSATA ports that are included and optional SAS expanders designed for tape backup.
From a feature set perspective, administrators get access to backup, archiving, instant recovery and disaster recovery. The Recovery-943 can additionally replicate to off-site Recovery appliances as well as Unitrends virtual appliances. Unitrends has certainly developed a backup appliance in the Recovery-943 that is user-friendly. The RecoveryOS web interface is smooth and intuitive and includes solid features such as extensive pre-built reporting. Most importantly, setup is simple. Even for inexperienced administrators who don't have much practice with the kind of features the Recovery-943 offers, it wouldn't be a problem to set up several machines with a user-created strategy in under an hour. The backup scheduling too is well-designed with a full-featured calendar that enables administrators to simply drag and drop to build and customize their backup solution. For larger deployments Unitrends offers services to help migrate to or deploy the 943.
When it comes to performance, the Unitrends Recovery-943 is packed with 36 spindles in RAID60 for backup capacity, as well as dual 10K drives in RAID1 for metadata and dual SSDs in RAID1 for boot. These core components allow it to remain highly responsive during day-to-day backup operations and management duties while also providing its 97TB of usable capacity. At the compute level Unitrends packed in dual Intel Xeon processors and 256GB of RAM which get leveraged in areas such as its instant recovery features, where VMs are hosted directly off the Recovery-943. In terms of transfer performance, we measured multi-threaded large-block sequential transfer speeds of just under 1.2GB/s read and 1.5GB/s write over 10GbE. Small-block 8K transfers measured 60,000 IOPS read and 65,000 IOPS write, which gives the Recovery-943 plenty of muscle to work through multiple simultaneous backup or recovery operations.
Pros
Easy to use interface, intuitive deployment
Cost per TB is impressive
Offers post process deduplication
Simple licensing scheme with updates at no cost
Cons
Consumer storage may turn off some buyers
Lacks some enterprise features like multi-site remote replication and full compression
Bottom Line
The Unitrends Recovery-943 backup appliance offers a tremendous capacity per dollar ratio and a web-based interface that's intuitive to use. SMB/midmarket buyers looking for a disk-based backup solution have a lot to gain when considering the 943 from an ROI perspective.
Unitrends Recovery-943 Product Page