WD created the My Cloud EX line for prosumers who want network-attached storage (NAS) that can be accessed from many different types of computers, including tablets and phones. The newest addition, the EX4100, can hold up to 24TB in four drive bays. It is powered by a Marvell ARMADA 388 1.6 GHz dual-core processor with 2GB of DDR3 RAM — the amount of RAM can't be increased. This is an improvement over the 1.3GHz Marvel processor and 1GB of RAM in the dual-bay My Cloud EX2100.
WD created the My Cloud EX line for prosumers who want network-attached storage (NAS) that can be accessed from many different types of computers, including tablets and phones. The newest addition, the EX4100, can hold up to 24TB in four drive bays. It is powered by a Marvell ARMADA 388 1.6 GHz dual-core processor with 2GB of DDR3 RAM — the amount of RAM can't be increased. This is an improvement over the 1.3GHz Marvel processor and 1GB of RAM in the dual-bay My Cloud EX2100.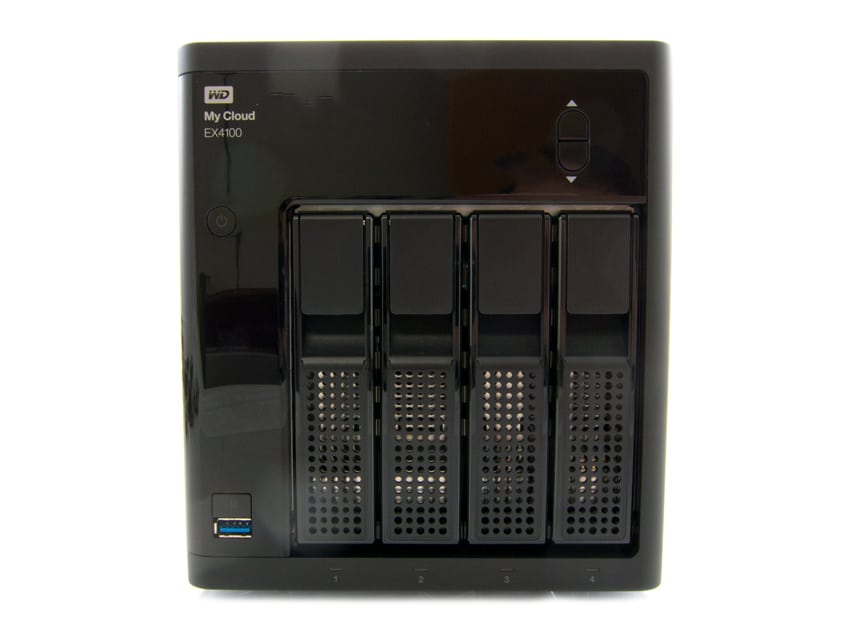 This NAS supports 3.5-inch WD Red drives that are available in 2TB, 3TB, 4TB, 5TB, and 6TB capacities. It is sold diskless, or with drives pre-installed in 8TB, 16TB, and 24TB capacities. The drive bays are hot swappable, with no tools required. The PC and Mac My Cloud applications allow users to drag and drop files, manage their content, and share links to photos, videos or folders via email. The Android and iOS apps allow users to access their files from phones and tablets. In addition, the EX4100 can be used with WD TV Live, Xbox 360, PlayStation 3, Windows 8, connected TVs, Blu-ray players and digital picture frames. It supports UPnP AV Media server (Twonky), DLNA, and iTunes Server.
The EX4100 comes either prepopulated or diskless, comes with a 2-year limited warranty, and has a street price of $399 bare.
Specifications
Processor: Marvell ARMADA 388 1.6 GHz dual-core
Memory: 2GB DDR3
Interface:

Gigabit Ethernet x 2
Power supply (DC in) x 2
USB 3.0 expansion port x 2 rear
USB 3.0 port with direct copy x 1 front

Drive bays: 4 x 3.5 inch hard drive bays, hot swap capable, tray-less design
Internal hard drives: WD Red NAS hard drives
System Requirements:

Windows 8, Windows 7, Windows Vista, Windows XP (SP3) operating system
Mac OS X Mountain Lion, Lion, Snow Leopard and Mavericks operating systems
DLNA/UPnP devices for streaming
Internet connection for remote access

Supported Web Browsers:

Internet Explorer 8 or higher
Safari 6 or higher
Firefox 21 or higher
Google Chrome 27 and later on supported Windows and Mac OS platforms

Network Protocols:

DHCP Client or Static IP
NTP Client
Dynamic DNS (DDNS)
Apple Bonjour and Windows Rally
Jumbo frame support up to 9K
VLAN (802.1Q)
Link Aggregation(802.1ad)/ Ethernet teaming and failover for 2 Gigabit Ethernet ports
UPnP port forwarding
IPv6
iSCSI
SSH

Network File Services
OS Supports

Windows XP Home/ Pro/ 64-bit SP3+
Windows Vista/ 7/ 8 (All versions)
Mac OS X 10.6, Lion, Mountain Lion

Security

Active Directory support for Windows Server
Volume Encryption (256 bit AES)

File System

EXT4 for internal HDD
Support following formats for externally attached USB drives

FAT/FAT32
NTFS (read and write capability)
HFS+J (case sensitive)
Linux EXT2, EXT3, EXT4

Disk management

RAID: JBOD, spanning, 0/1/5 10/5 + hot spare support
RAID migration

JBOD to RAID 1
JBOD to RAID 5
RAID 1 to RAID 5

Hot swapping
Hot spare (in four disk mode)
Remote Access

My Cloud and WD Photos mobile app
My Cloud desktop app

Backup management

Remote backups: My Cloud Expert Series to My Cloud Expert Series locally or remotely
Apple Time Machine (10.5.8+) support
Backup internal files or folders of the device to other files/folders on the NAS
Cloud-based backup services

Power Supply

Input voltage: 100V to 240V AC
Input frequency: 50 to 60 Hz
Output voltage: 19V DC, up to 6.32A

Temperature

Operating Temperature: 0° C to 35° C ( 32° F to 95° F)
Non-op Temperature: -40° C to 70° C (-40° F to 158° F)
Design & Build
The My Cloud EX4100 has a basic black design that looks quite professional. The front is dominated by the four 3.5-inch drive bays which use a tray-less design. There's also a power button, a front-mounted USB 3.0 port, and a backlit LCD capable of showing 2 lines of 16 characters of status updates and alerts.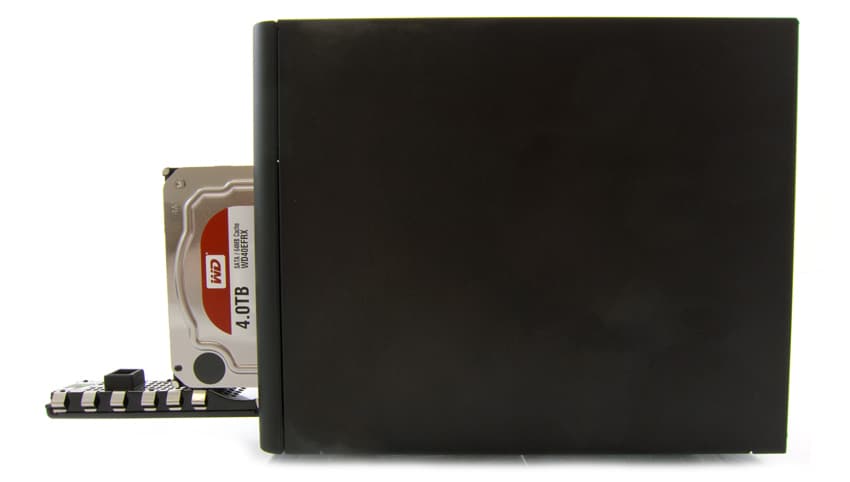 The side is just about as plain as it can be, without the large branding many companies put on their NAS.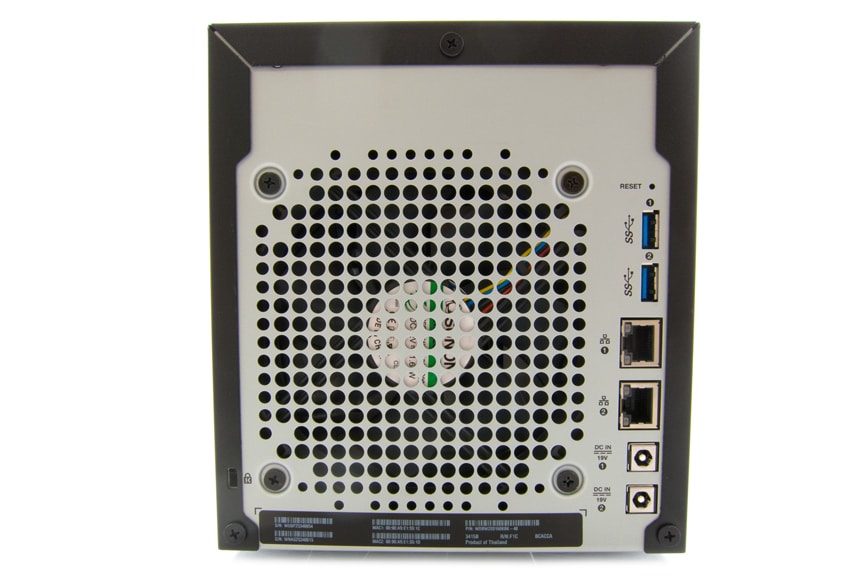 Much of the back is taken up by a 120mm fan, but there's also room for a dual USB 3.0 ports and two Gigabit Ethernet ports with support for Link Aggregation. Two power ports allow for a backup power supply.
Usability
The WD EX4100 uses the My Cloud OS 3 we previously reviewed. Once the NAS is connected to the same network the user's computer to connected to they can easily access the device through a web browser. The home screen gives user a quick overview of the system including capacity available total and the amount currently used. To the right is the specific device and its system health as well as whether or not it needs a firmware update. Along the bottom of the screen is the network activity (in both CPU and RAM), as well as the various cloud devices connected to the NAS, the amount of users, and the total amount of apps installed.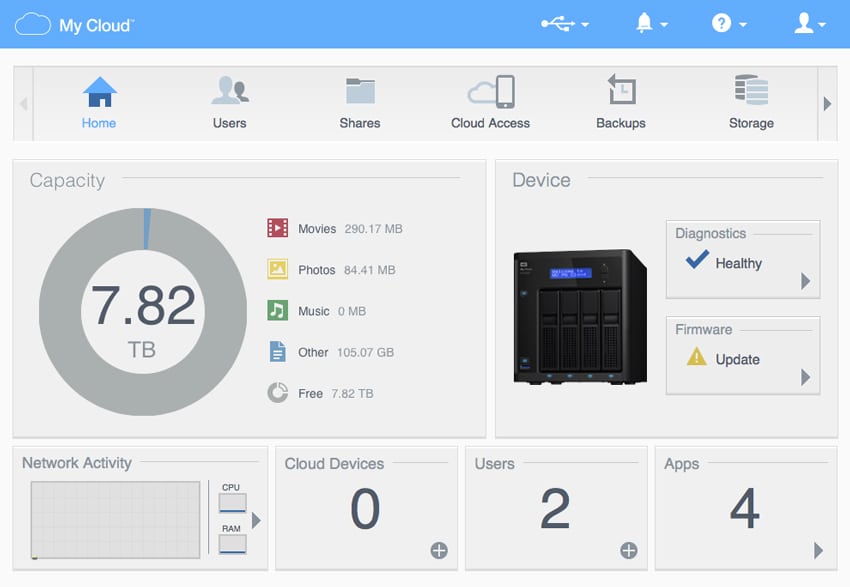 The Settings tab enables users to easily configure their device.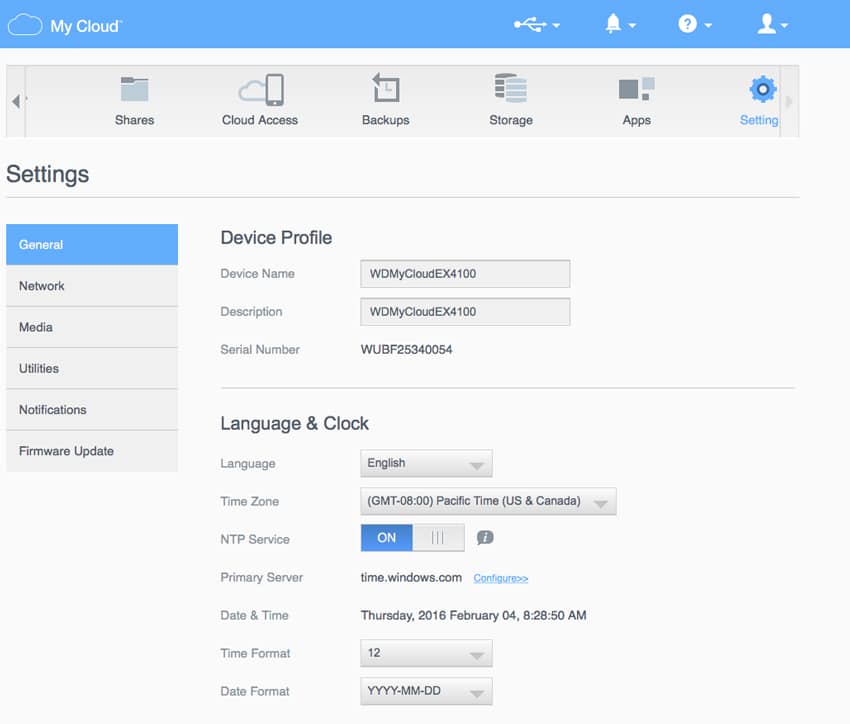 And users can easily add Apps both from WD and from third parties.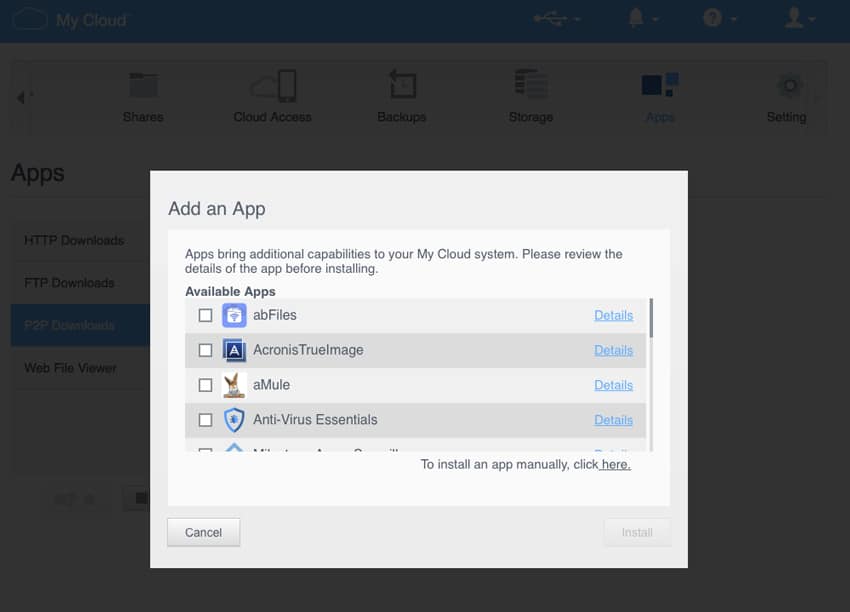 Testing Background and Comparables
We publish an inventory of our lab environment, an overview of the lab's networking capabilities, and other details about our testing protocols so that administrators and those responsible for equipment acquisition can fairly gauge the conditions under which we have achieved the published results. None of our reviews are paid for or overseen by the manufacturer of equipment we are testing.
We tested both SMB and iSCSI performance using RAID 5 and RAID 10 configurations of the WD Red NASware 3.0 4TB drive that ships with the WD My Cloud EX4100 (unless you buy the diskless version).
We tested the EX4100 while comparing it to the following other NAS device:
Enterprise Synthetic Workload Analysis
Each device is tested in intervals across multiple thread/queue depth profiles to show performance under light and heavy usage. Our synthetic workload analysis for the My Cloud EX4100 uses three profiles, which are widely used in manufacturer specifications and benchmarks. It is important to take into consideration that synthetic workloads will never 100% represent the activity seen in production workloads, and in some ways inaccurately portray a drive in scenarios that wouldn't occur in the real world.
When it comes to 4K throughput, the EX4100 generally trailed the DL4100. Its best read performance was 248 IOPS when configured with in RAID5 over iSCSI, and its best write performance was 564 IOPS when configured with RAID10 in CIFS. This latter even beat the best the DL4100 had to offer.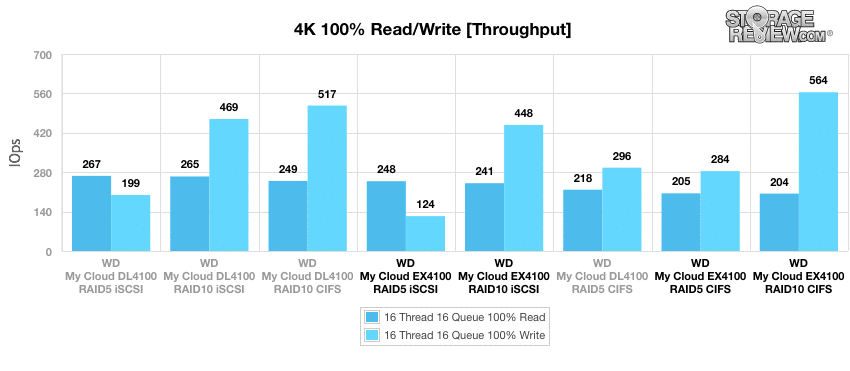 The EX4100 had higher 4K average latency than the DL4100 when reading for the most part but sometimes it had better latency than its rival when writing. Its lowest read score was 1028.19ms when configured with RAID5 iSCSI, while its lowest write score was 453.23ms when configured with RAID 10 CIFS, the lowest latency in this test. On the other side of the coin, the EX4100's 2071.47ms average latency score writing when configured in RAID5 over iSCSI was by far the highest.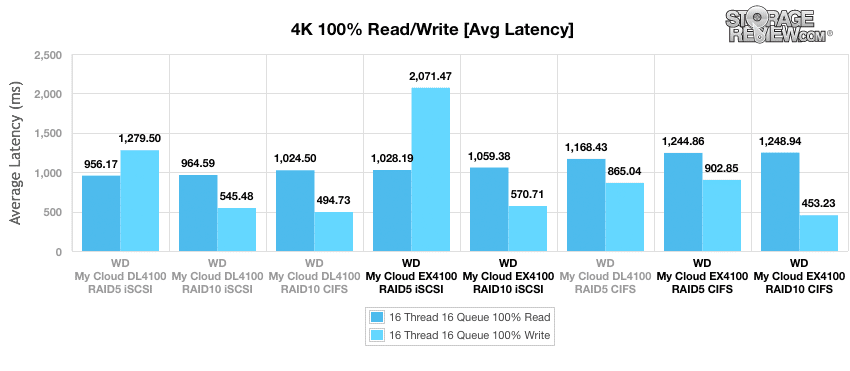 The EX4100 sometimes did a bit better in our 4K Maximum Latency test, with its scores comparing well to those of the DL4100. Its best read performance was 2678.1ms when configured with RAID5 iSCSI, and its best write performance was 20310.2ms when configured with RAID 10 CIFS. The DL4100 generally had high Max Latency scores when writing.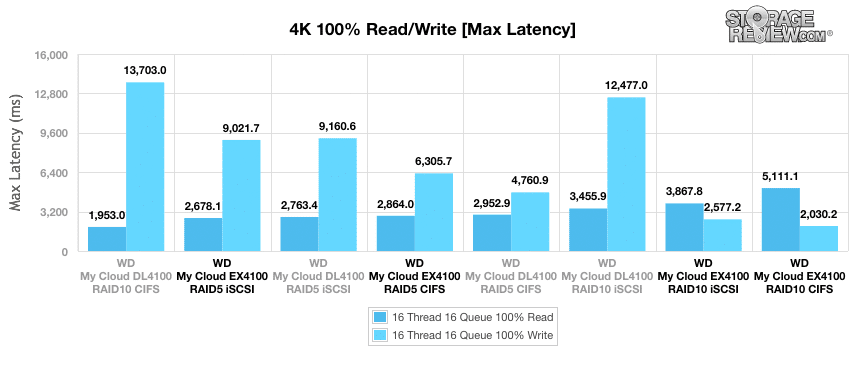 The EX4100's best 4K standard deviation read score was 507ms when configured in RAID5 over CIFS, and its best write score was when configured with 278.73ms RAID10 CIFS. The device's standard deviation could get quite high, such as the 2,125.87ms score when writing configured in RAID5 over iSCSI.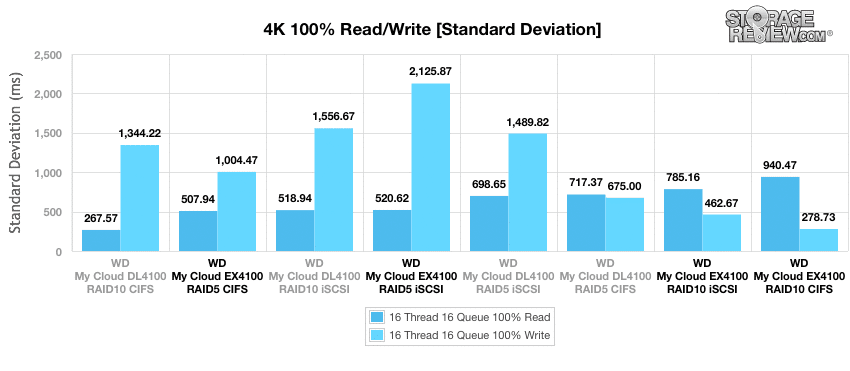 Looking at 8K 100% Read/Write performance the EX4100 lagged behind the DL4100. The highest read performance was 18,318 IOPS in RAID10 iSCSI, which also had the highest write performance at 11,459 IOPS. The DL4100 had a high read throughput of 28,186 IOPS (RAID5 CIFS) and a top write throughput of 20,376 IOPS (RAID10 CIFS).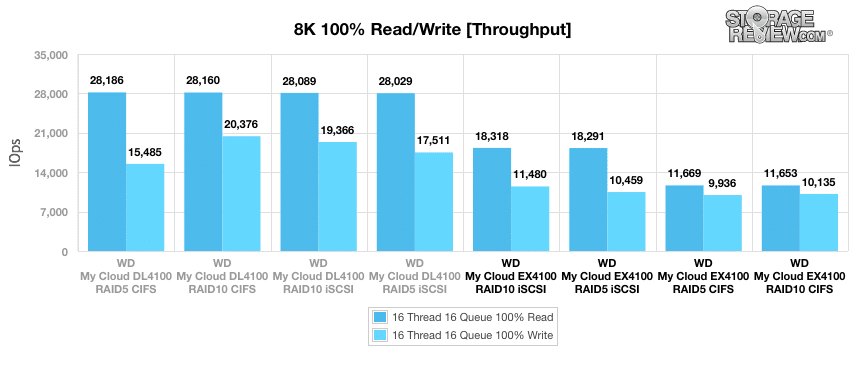 WD's My Cloud EX4100 did very well in the throughput test, generally outperforming the DL4100 across the range of conditions. The RAID10 iSCSI configuration did especially well, and even its slowest configuration (RAID5 iSCSI) often did better than the best its rival had to offer.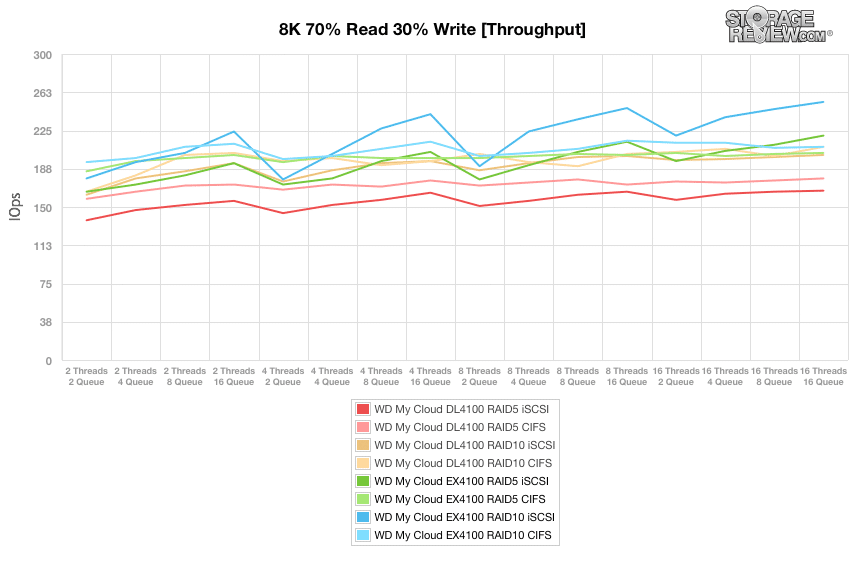 The same was true in our 8K Average Latency tests, with the EX4100 consistently showing lower latency than the DL4100. This was especially for the RAID10 iSCSI configuration.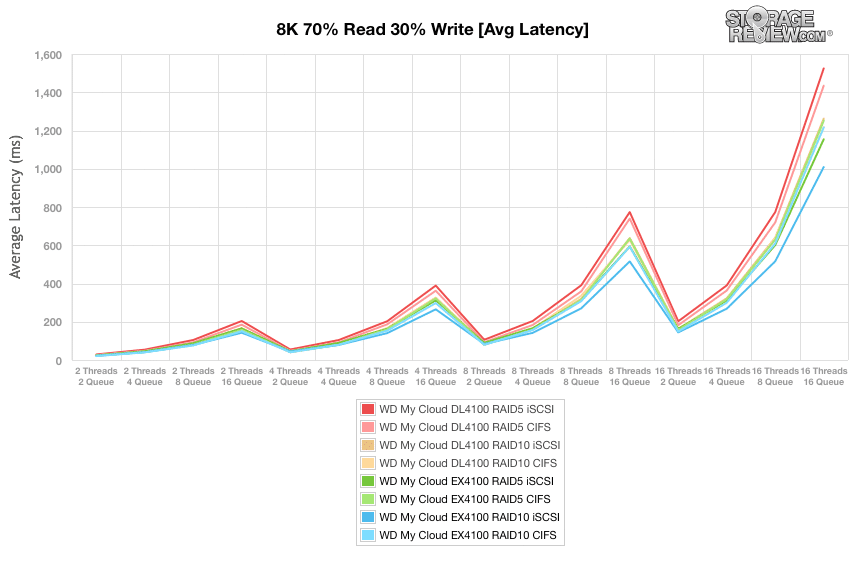 The EX4100 had higher latency spikes when using RAID5, as both the iSCSI and CIFS configurations showed high maximum latency, over 6000ms in some situations. Max latency was much lower when using RAID10, with RAID10 CIFS doing the best.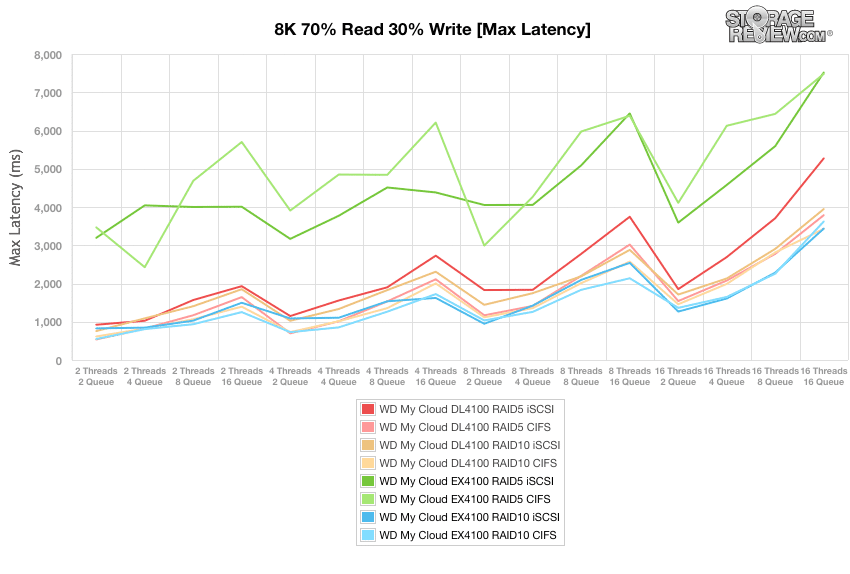 The situation was a bit better in our standard deviation results. The EX4100 configured with RAID5 still experienced the highest deviation in the test, but it was more in-line. Again, this NAS with RAID10 with either the iSCSI or CIFS showed the lowest deviation, solidly besting the DL4100 in most situations.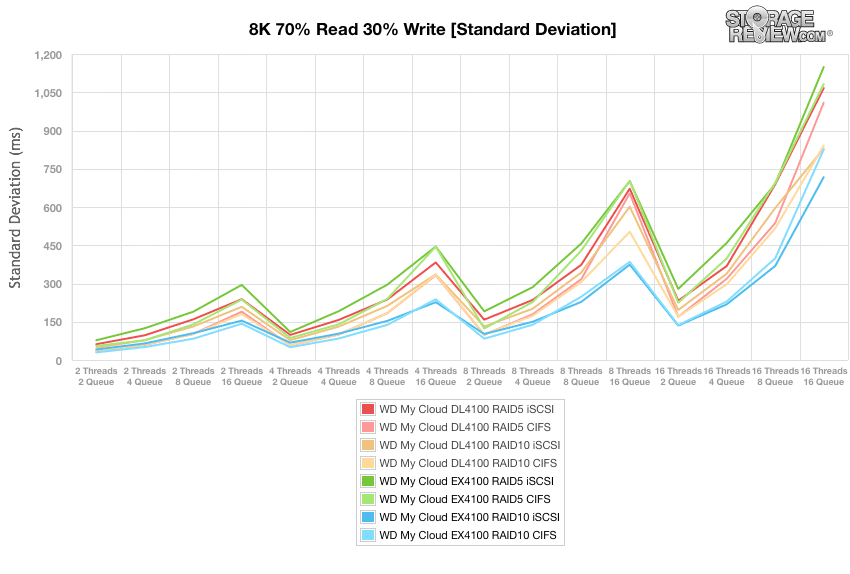 We also performed sequential large-block transfer tests with 128k transfers, and the DL4100's score of 231,478 KB/s when reading configured with RAID10 CIFS was the highest in the test, though there was remarkable consistency across all the configurations of both this device and the DL4100. The EX4100's best write performance was 199,469KB/s when configured with RAID5 CIFS, putting it near the top of the pack.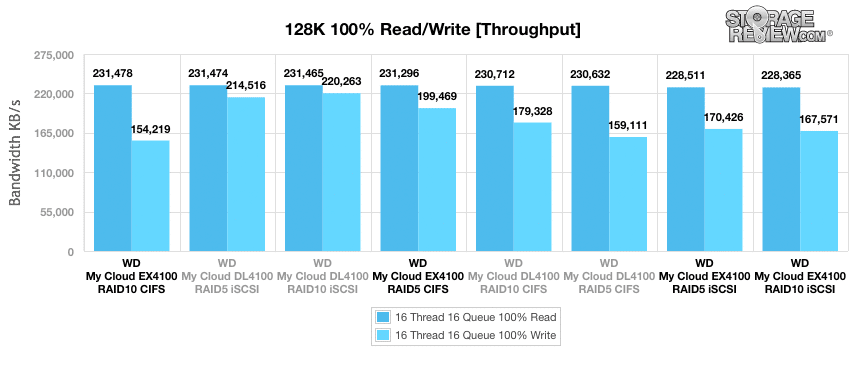 Conclusion
The WD My Cloud EX4100 is intended for multimedia enthusiasts who want to store up to 24 terabytes of files and then stream to a range of devices, including tablets and phones. Files can be uploaded over a network or through any of three USB 3.0 ports, and the EX4100 can be connected to a backup power supply.
In our tests, this NAS did well when writing data with 4K benchmarks at 564 IOPS, though it struggled a bit in the 4K latency tests. Looking at 8k sequential performance the EX4100 gave us performance of 18,318 IOPS read and 11,459 IOPS write, although trailing behind the DL4100. In our 8K 70/30 tests the EX4100 showed an overall stronger performance. When configured with RAID10, the EX4100 regularly outperformed the DL4100, and it showed lower latency while doing so (in iSCSI RAID10 the EX4100 peaked with a throughput of 253 IOPS). In our large block 128K tests the EX4100 gave us bandwidth of 231MB/s read and 199MB/s write.
Pros
Easy to use UI
Wide range of accessibility
Strong 8k 70/30 RAID10 iSCSI performance
Cons
Low performance in our 8K sequential tests.
The Bottom Line
The WD EX4100 is targeted at creative professionals and multimedia enthusiasts that have the need for high capacity and flexibility of access with an easy to use interface.
Sign up for the StorageReview newsletter