December 22nd, 2017

by Adam Armstrong
Crucial MX500 SSD Review
Crucial has expanded its MX line of SSDs with the addition of the MX500 SATA SSD. The drive comes in two form factors: either 2.5" or M.2. It also comes in several capacities ranging from 250GB up to 2TB, though the 2TB version is for the 2.5" form factor only. The drive is being billed as a drop in replacement for HDDs or a low cost flash alternative for system builders and OEMs.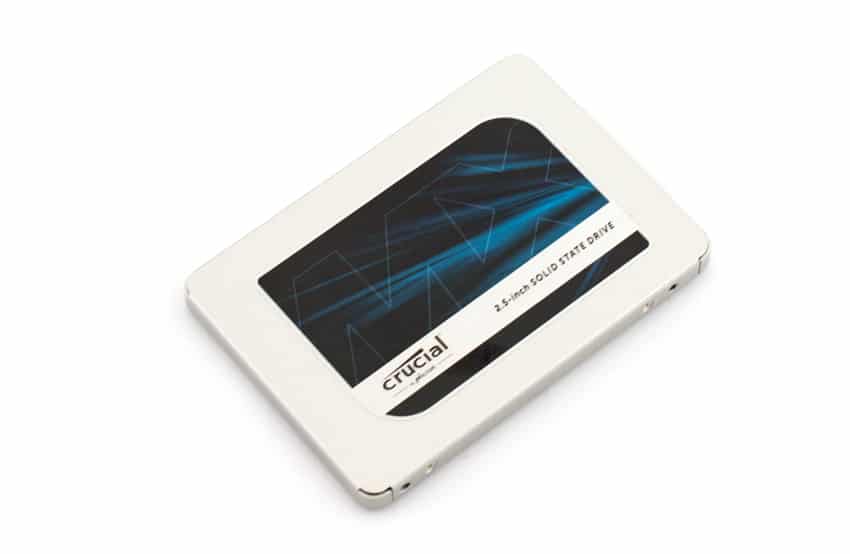 As files grow in size and complexity, users will need a better way of storing them and the ability to access those files more quickly. HDDs win in the capacity department (at least for client devices) but even the best drives are slow compared to an SSD. Crucial's new MX500 SSD can easily be dropped in as a HDD replacement to seem a performance boost up to 560MB/s sequential read, 510MB/s sequential write, and over 90,000 IOPS in random performance. The drive comes with both Acronis True Image and Crucial cloning software to make sure all important files transfer over.
The drive comes with a 5-year warranty and the 1TB version can be picked up today for $250.
Crucial MX500 SSD specifications:
Form Factor: 2.5", M.2
Capacity: 2TB (2.5" only) | 1TB | 500GB | 250GB
Interface: SATA 6Gb/s
Performance

Sequential read: 560MB/s
Sequential write: 510MB/s
Random read: 95K IOPS
Random write: 90K IOPS

Endurance

TBW: 700TB | 360TB | 180TB | 100TB
MTTF: 1.8 million hours
Warranty: 5-year limited

Operating temperature: 0°C to 70°C
Build and Design
The new MX500 looks like most of the other drives in the series, with similar branding and color schemes. On the flip side is a label with all pertinent information such as type and capacity.
Consumer Synthetic Benchmarks
All consumer SSD benchmarks are conducted with the StorageReview HP Z640 Workstation. We compared the Crucial MX500 to the following drives:
All IOMeter figures are represented as binary figures for MB/s speeds.
Looking at 2MB sequential performance, the MX500 showed strong read performance coming in second with 507.37MB/s. For write performance the drive had 451.02MB/s placing it third from last.
2MB random performance saw the MX500 with a read performance of 444.41 MB/s, taking forth, and a write performance of 451.06MB/s again putting it third from last.
Switching to smaller 4K random transfers the MX500 took first in read with 38.97MB/s and took third to last once again in write with 101.17MB/s
In IOPS of the same test, the hit 9,975 IOPS read and 25,901 IOPS write
Our 4K write latency benchmark looks at both the average and maximum readings. Here, the MX500 was third from last in average latency with 0.038ms and second to last in max latency with 44.2ms.
Our next test shifts to a 4k random workload with 100% read activity that scales from 1QD to 64QD. In this scenario, the MX500 started at 26,041 IOPS to a peak of 84,802 IOPS. This places it roughly in third overall and behind the BX300.
In write activity of the same benchmark, the MX500 started at 10,201 IOPS and peaked at 98,578 IOPS. Placing it at the top of the pack, even beating out the Samsung 850 Pro.
Our last series of synthetic benchmarks compare the SSDs in a series of server mixed-workloads with a queue depth of ranging from 1 to 128. Each of our server profile tests has a strong preference towards read activity, ranging from 67% read with our database profile to 100% read in our web server profile.
The first is our database profile, which consists of a 67% read and 33% write workload mix primarily centered on 8K transfer sizes. Here, the MX500 measured a range between 8,690 IOPS to a peak of 48,814 IOPS. This places it third overall behind the Samsung and OCZ.
Our web server profile is read-only with a spread of transfer sizes from 512-byte to 512KB. In this workload, the MX500 started at 5,718 IOPS and peaked at 28,063 IOPS giving it the same placement as above.
The next profile looks at a file server, with 80% read and 20% write workload spread out over multiple transfer sizes ranging from 512-byte to 64KB. The MX500 started at 7,672 IOPS and peaked at 37,534 IOPS taking second to the OCZ.
The last profile looks at workstation activity, with a 20% write and 80% read mixture using 8K transfers. The MX500 started at 6,324 IOPS and peaked at 51,738 IOPS. Again, second to the OCZ.
Conclusion
The new MX500 is a SATA SSD that is ideally used as an upgrade/drop-in replacement for HDDs in computers. The new drive comes in capacities as high as 2TB and has quoted performance as high as 560MB/s and 95,000 IOPS for sequential and random reads respectively. The MX500 comes in two form factors, 2.5" and M.2, giving users more flexibility. It also comes with software and a handy guide for replacing the existing drive.
Looking at performance, the MX500 was able to pull off two first place spots in 4k random reads with 38.97MB/s and 9,975 IOPS. The rest of our IOMeter test showed a fairly strong read and sub par write performance, with its best showing in 2MB sequential read with 507.37MB/s read and 451.02MB/s write. In our 4k aligned write the drive was able to pull off another first place spot and third in 4k aligned read. In the rest of our synthetic tests the drive was able to consistent pull off above average performance.
The Crucial MX500 has very good performance in this category and will definitely give users a performance boost over an aging SSD or certainly any HDD. Another advantage is that the drive is offered in 2TB so users won't have to give up capacity for performance. The MX500 is Crucial's best effort in a very long time in the entry SSD segment, where prior efforts have been lackluster. The MX500 certainly makes a strong case as a leader in the category.
The Bottom Line
The Crucial MX500 is a terrific SSD for those looking for an uncompromising combination of value and performance. Crucial has done very well to meet these objectives and tosses in value-add software as a kicker.