NVIDIA wasted no time driving home the importance NVIDIA Omniverse Enterprise has on multiple industries, especially automotive, manufacturing, and factory design. The latest release touts increased performance, giant leaps in real-time RTX ray and path tracing, and streamlined workflows that help teams build connected 3D pipelines and develop and operate large-scale, accurate, virtual 3D worlds.
NVIDIA wasted no time driving home the importance NVIDIA Omniverse Enterprise has on multiple industries, especially automotive, manufacturing, and factory design. The latest release touts increased performance, giant leaps in real-time RTX ray and path tracing, and streamlined workflows that help teams build connected 3D pipelines and develop and operate large-scale, accurate, virtual 3D worlds.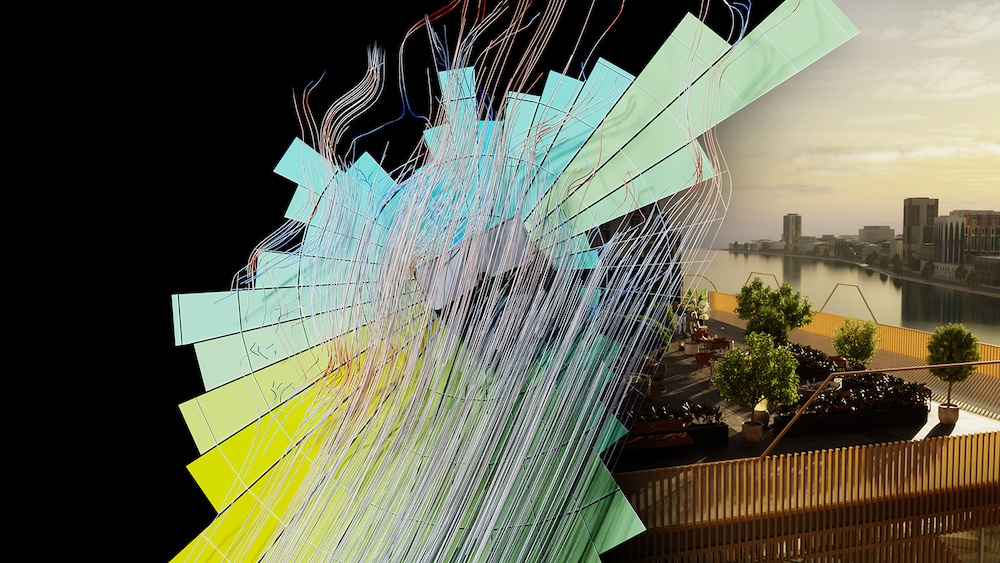 StorageReview has covered NVIDIA Omniverse from the start and continues to update the platform as announced, beginning with the beta program for NVIDIA Omnivers to enhancements announced during GTC and more. To claim NVIDIA Omniverse Enterprise is a critical piece of the AI and digital twin puzzle would be an understatement, and there is a lot to unwrap from the CES 2023 Special Address.
NVIDIA Omniverse Enterprise Updates
Customers and developers alike will benefit from the new features in Omniverse Enterprise. The new release includes innovations within the new NVIDIA Ada Lovelace architecture, such as third-generation RTX technology and DLSS 3. When powered by the latest GPU technology from NVIDIA, will see a 3x performance gain.
New features and capabilities like new Omniverse connectors, layer-based live workflows, an improved user experience, and customization options are a part of this release.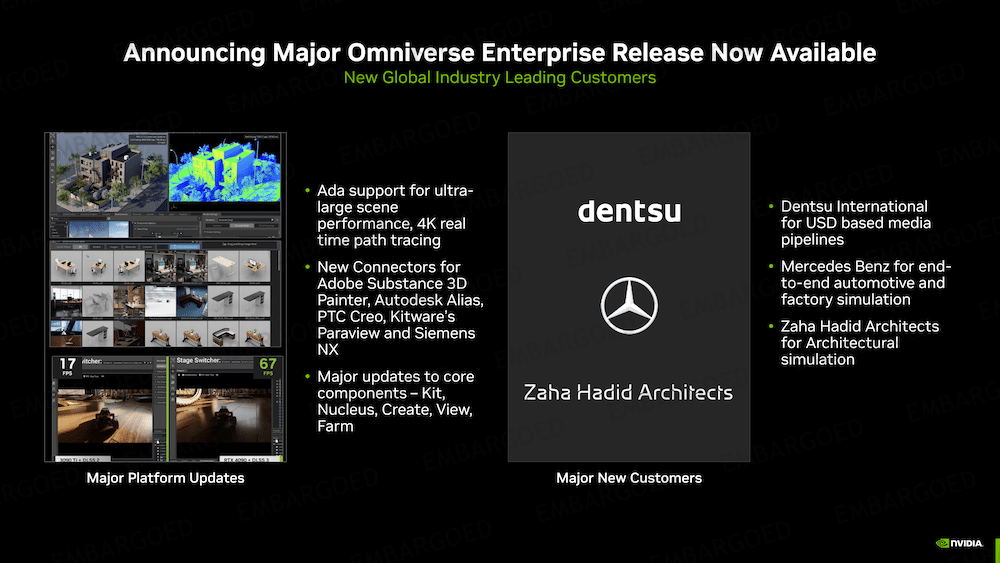 Enhancing 3D Creation
New capabilities and tools allow teams to elevate 3D workflows and reach new levels of real-time, physically accurate simulations. The latest additions include the following:
New Connectors: Omniverse Connectors enable additional seamless connected workflows between disparate 3D applications. Omniverse Enterprise now supports Adobe Substance 3D Painter, Autodesk Alias, Kitware's and Kitware's Paraview Omniverse Connectors. Data created in NX Software from Siemens Digital Industries Software can be easily exported in this updated version.
Omniverse DeepSearch: This AI-powered service lets teams intuitively search through large, untagged 3D databases using natural language or 2D reference images.
Omniverse Farm: A renewed user interface improves usability, performance, and support for Kubernetes.
Omniverse Cloud: Enterprises will benefit from flexibility in connecting and managing distributed teams with new cloud containers for Enterprise Nucleus Server, Replicator, Farm, and IsaacAWS' for AWS. AWS' security, identity, and access-management controls allow teams to maintain complete control over their data. Containers are now available on NVIDIA NGC.
Strengthening Core Components for Building 3D Worlds
With flexibility and scalability, creators, designers, researchers, and engineers can connect tools, assets, and projects to collaborate in a shared virtual space.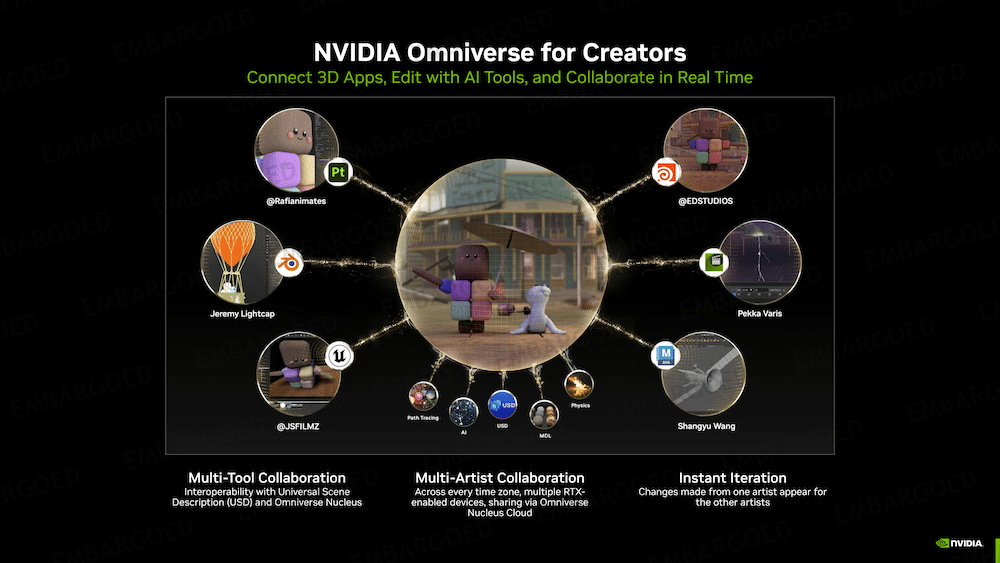 Updated core components of Omniverse Enterprise include:
The Power of Digital Twins and Omniverse Enterprise
Mercedes-Benz announced it would use Omniverse Enterprise to design and plan manufacturing and assembly facilities, the next step in digitizing its production process. Tapping into NVIDIA AI and metaverse technologies, Mercedes-Benz can create feedback loops to reduce waste, decrease energy consumption, and constantly enhance quality.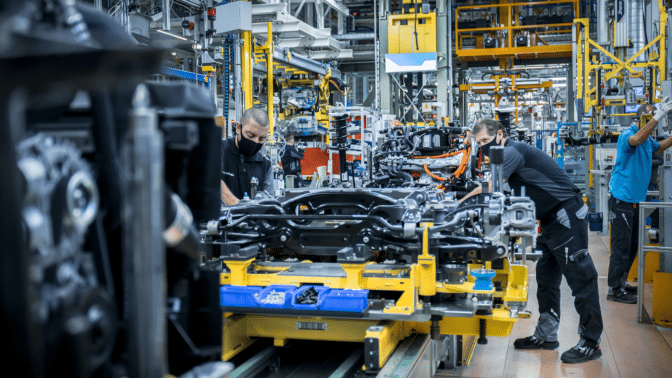 Mercedes-Benz has been working with NVIDIA to develop software-defined vehicles, and its new fleet will be built on NVIDIA DRIVE Orin centralized compute. NVIDIA DRIVE Orin brings intelligent driving capabilities tested and validated within the NVIDIA DRIVE Sim platform built on Omniverse.
Electric-First Platform Built on Digital-First Process
Vehicle production requires thousands of parts and workers moving in harmony, and any supply chain or production issues can lead to costly delays. In addition, when a new model is rolled out, the layout of production plants must be reconfigured to account for the new vehicle design. This process can take significant portions of the factory offline, even pausing manufacturing for existing vehicles.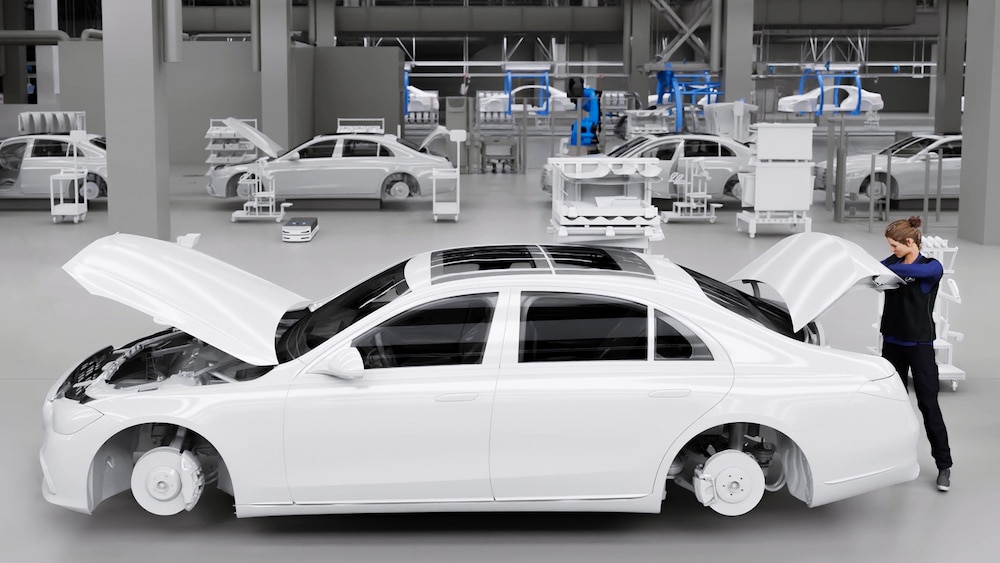 As Mercedes-Benz starts production of its new dedicated platform for electric vehicles at its plant in Rastatt, Germany, a site currently manufacturing the automaker's A- and B-Class, compact SUV GLA, and the all-electric Mercedes-Benz EQA, NVIDIA and Mercedes-Benz operations are setting up a "digital-first" planning process that won't disrupt current production of cars at the site. The blueprint will be implemented in other parts of the global Mercedes-Benz production network for more agile vehicle manufacturing.
Developing With Digital Twins
NVIDIA Omniverse is an open 3D development platform that enables enterprises to build and operate digital twins for industrial and scientific use cases. It's based on Universal Scene Description (USD), allowing enterprises and developers to construct custom 3D pipelines to break down data silos and interact with a single-source-of-truth view of their aggregated simulations.
With Omniverse, Mercedes-Benz planners can access the digital twin of the factory, reviewing and optimizing the plant as needed. Every change can be quickly evaluated and validated in the virtual world, then implemented in the real world to ensure maximum efficiency and ergonomics for factory workers.
Additionally, Mercedes-Benz can synchronize plant locations worldwide by connecting Omniverse with its in-house MO360 Data Platform. This capability streamlines operations across the global production network and enables over-the-air software updates to manufacturing equipment.
NVIDIA DRIVE Platform
As AI extends further into the vehicle, automakers can design and implement intelligent interior features using the NVIDIA DRIVE platform.
It begins with the compute architecture. NVIDIA DRIVE Thor platform unifies traditionally distributed functions in vehicles, including digital cluster, infotainment, parking, and assisted driving, for greater efficiency in development and faster software iteration.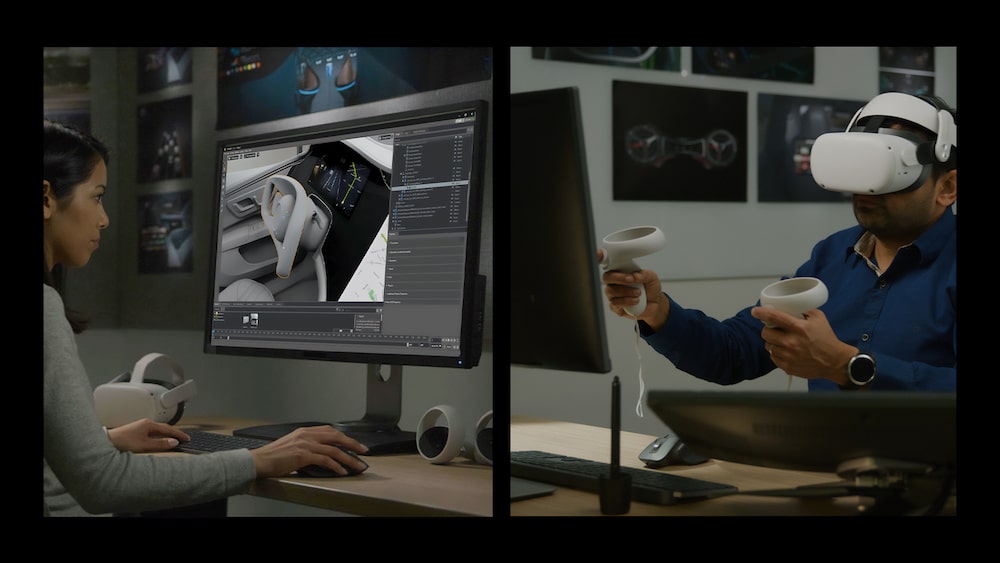 NVIDIA DRIVE Concierge, built on the DRIVE IX software stack, runs an array of safety and convenience features, including driver and occupant monitoring, digital assistants, and autonomous-vehicle visualization. 
Automakers can benefit from NVIDIA data center solutions even if they aren't using the NVIDIA DRIVE platform. With cloud technology, vehicles can stream the NVIDIA GeForce NOW cloud-gaming service without special equipment while developers train, test, and validate in-vehicle AI models on NVIDIA DGX servers. 
The same data center technology accelerating AI development, combined with the NVIDIA Omniverse platform for creating and operating metaverse applications, is also revolutionizing the automotive product cycle. Using NVIDIA DRIVE Sim built on Omniverse, automakers can design vehicle interiors and retail experiences entirely in the virtual world. 
Design teams save time and resources by testing concepts in the virtual world without waiting for physical prototypes. Decision-makers can review designs and ensure they meet relevant safety standards in DRIVE Sim before sending them to production.
From Concept to Customer
Vehicles sell for many reasons: aesthetics, safety, design, size, features, and cost. Interior vehicle design requires the highest levels of organization and orchestration. The cockpit has dozens of components that developers must create and integrate, such as the steering wheel, cluster, and infotainment.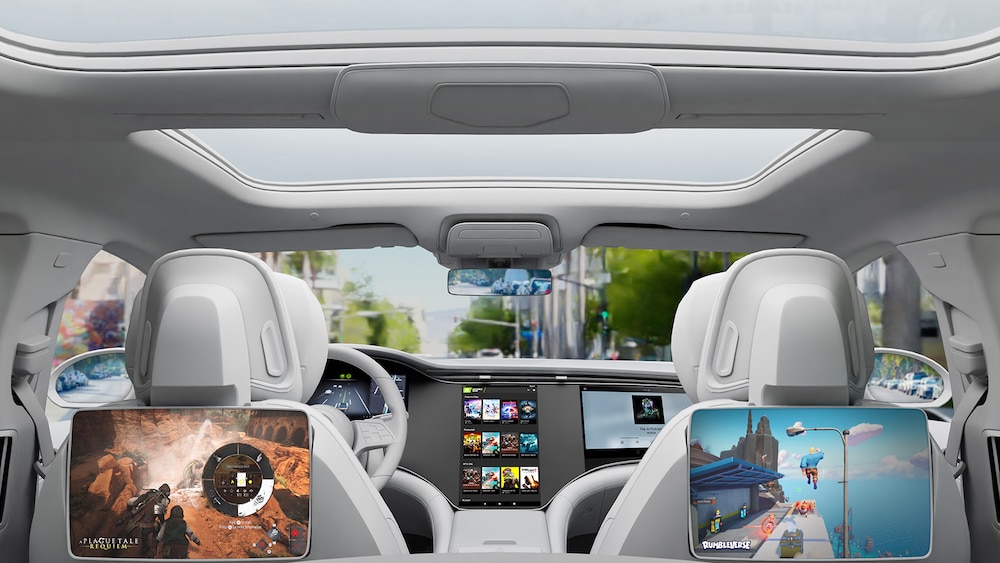 The process is time- and resource-intensive as designers collaborate to test layouts that are then validated and approved. Customers must travel to the dealership to experience options, test features, and hope their ideal car is in inventory.
In the virtual world, developers design vehicles, and buyers test them for an optimal experience on both sides of the pipeline.
Transforming the Customer Experience
The benefits of in-vehicle simulation extend far beyond the design phase.  Consumers are increasingly expecting full-service digital retail experiences. More than 60 percent of shoppers want to conduct more of the car-buying process online, while more than 75 percent are open to buying a car entirely online, according to an Autotrader survey. 
The same tools used to design the vehicle can help meet these rising consumer expectations. 
With DRIVE Sim and Omniverse Configurator, car buyers can configure and test the car from the comfort of their homes. Customers can see all options and combinations of vehicle features at the push of a button and take their dream car for a virtual spin without getting up from the sofa.
DRIVE Sim eases the process and goes from concept design to customer experience.
Engage with StorageReview
Newsletter | YouTube | Podcast iTunes/Spotify | Instagram | Twitter | TikTok | RSS Feed