Lenovo shared performance numbers,  announced new Lenovo ThinkSystem D4390 hardware, and a ThinkSystem DM software update. According to a report by IDC, Lenovo has been ranked the #1 global storage solutions vendor in the $25K and under market and the #5 storage provider globally.
Lenovo shared performance numbers,  announced new Lenovo ThinkSystem D4390 hardware, and a ThinkSystem DM software update. According to a report by IDC, Lenovo has been ranked the #1 global storage solutions vendor in the $25K and under market and the #5 storage provider globally.
This is the first time Lenovo has hit the #1 storage provider ranking for external storage in the under $25K market, representing 61 percent of the total markets for storage device units sold globally, according to the Q4 2022 IDC Worldwide Quarterly Enterprise Storage Systems Tracker. According to IDC, Lenovo also moved up to the #5 storage provider globally in all segments.
Lenovo ThinkSystem D4390
Lenovo also announced a new storage solution that is high-density, sustainable and aims to reduce the data center footprint. There is also a software update for the ThinkSystem DM that will protect customers against threats to mission-critical data.
The Lenovo ThinkSystem D4390 Direct Attached Storage is enterprise-class, scalable storage designed for HPC simulations, object storage, big data and analytics, video surveillance, and more. The D4390 is a 4U enclosure making it denser than the previous 5U D3284 enclosure. So even though the new D4390 currently supports a smaller capacity drive, 18TB vs. 20TB, you can fit more chassis' in the same rack space.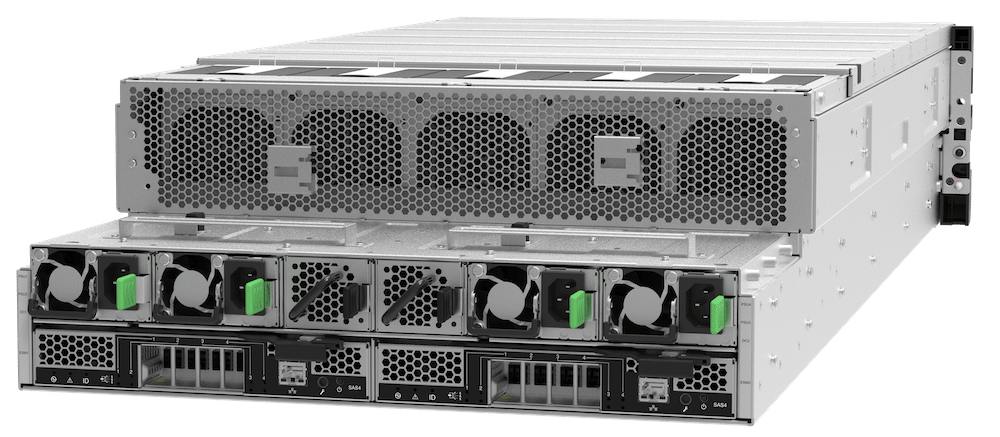 The ThinkSystem D4390 is an energy-efficient, high-density JBOD for Software Defined Storage that uses up to 62 percent less power compared to the previous generation and reduces data center space requirements by as much as 60 percent. The D4390 is a single expansion platform using existing infrastructure that lowers TCO. The 4U chassis supports up to 1620TB of "cold" or archive storage and can grow to 8.1PB in 20U by daisy-chaining the enclosures.
The D4390 Direct Attached Storage features include:
Scalable storage expansion with dual Electronic Service Module (ESM) configurations for high availability and performance
Flexible host connectivity to match diverse client needs for direct attach storage with support for 12 Gb or 24 Gb SAS RAID adapters for advanced data protection or 12 Gb or 24 Gb SAS Host Bus Adapters (HBAs) for maximum JBOD performance
Support 90x 3.5-inch large form factor (LFF) 12Gb Nearline SAS drives in a 4U rack space
Scalability of up to 180 drives per HBA with the attachment of up to two D4390 daisy-chained high-density expansion enclosures
Flexibility in storing data on high-performance SAS SSDs or capacity-optimized enterprise NL SAS HDDs; mixing and matching drive types on a single HBA to meet performance and capacity requirements for various workloads
Supports multiple host attachments

The D4390 supports the following SAS drives:
High-capacity, archival-class nearline HDDs, up to 18 TB 7.2K rpm
High-performance SSDs (2.5″ drive in 3.5″ tray): 800 GB
Additional drives and expansion units are designed to be dynamically added with virtually no downtime (operating system dependent) to quickly and efficiently respond to growing capacity demands.
The D4390 Direct Attached Storage is designed to offer high levels of system and data availability with the following technologies:
Dual ESMs provide redundant paths from a supported HBA to the drives in the enclosures for I/O load balancing and failover
Dual-port drives (both HDDs and SSDs)
Redundant hardware, including host ports, ESMs, power supplies, 5V DC/DC regulators, and cooling fans
Hot-swappable and customer-replaceable components, including ESMs, power supplies, cooling fans, 5V DC/DC modules, and drives
Strong Market Momentum
Lenovo's storage portfolio has experienced significant growth in the last year, with a record 138 percent YTY revenue increase. Fueled by strong market momentum in edge-to-cloud servers, storage, and software, Lenovo continues its transformation into a full-service solutions provider. Building on its success among the top three server companies, Lenovo has also seen greater than 100 percent year-over-year growth in the All-Flash Array (AFA) category and 22%2 growth in midrange storage, demonstrating Lenovo's comprehensive data management and storage portfolio is gaining broad market momentum. As part of the company's overall achievement, Lenovo TruScale Infrastructure as-a-Service also grew more than 600% YOY Year-to-Date.
ThinkSystem DM Series Storage
Lenovo also announced ThinkSystem DM Systems 9.12 Software release. The updated software will reduce threats from cyber-attacks and increase data management efficiency. The new DM Systems software release includes the following:
New automated ransomware protection

Autonomous ransomware protection
One-click defense against malicious files
Tamper-proof snapshots prevent ransomware deletion

Hardened Zero Trust architecture that increases security from insider threats

Advanced multifactor authentication
Immutable, tamperproof logging
Enhanced auditing

33% storage efficiency improvement over the previous generation with new 4 to 1 efficiency

Lowers CAPEX, storing more data with less hardware

Recently announced high-performance data management solutions with WEKA, selling across 160 global markets. The solutions accelerate artificial intelligence (AI) and analytics for high-performance workloads by speeding time to insights while reducing cost.
TruScale Infrastructure as a Service, which enables all of Lenovo's data management offerings to be consumed via a pay-as-you-go model
Lenovo's Global Reach Expands With Channel-Centric Strategy
Lenovo's global reach includes over 180 markets with more than 35 manufacturing facilities, including the new in-house manufacturing facility in Hungary. Globally, Gartner ranked Lenovo ninth in supply chain capability. Partners have easy access to the entire Lenovo portfolio across services and solutions, infrastructure, and intelligent devices giving partners a strong position in the market and servicing customer needs more effectively.
Engage with StorageReview
 Newsletter | YouTube | Podcast iTunes/Spotify | Instagram | Twitter | TikTok | RSS Feed