NVIDIA has announced the general availability of NVIDIA AI Enterprise 2.1, the latest version of end-to-end AI and data analytics software optimized, certified, and supported for enterprise deployment and scaling AI applications across bare metal, virtual, container, and cloud environments.
NVIDIA has announced the general availability of NVIDIA AI Enterprise 2.1, the latest version of end-to-end AI and data analytics software optimized, certified, and supported for enterprise deployment and scaling AI applications across bare metal, virtual, container, and cloud environments.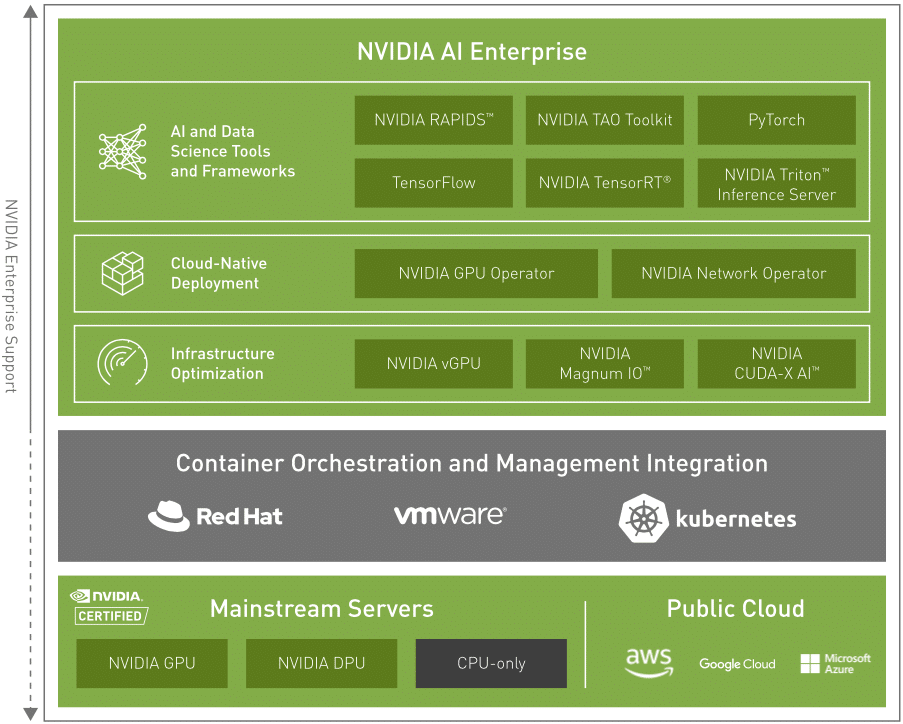 Artificial intelligence (AI) is transforming every industry, like improving customer relationships in financial services, streamlining manufacturer supply chains, or helping doctors deliver better outcomes for patients. While organizations understand the power of AI to transform their business and keep them competitive, IT and line of business stakeholders don't understand the impact AI brings to the table.
AI apps are considered bleeding-edge, tied to open-source code, and don't fit the enterprise IT profile of scaled production-ready solutions. Organizations continue to struggle to identify the proper foundation that will set them up for success and maximize the business value of AI.
AI-Ready Platform
The NVIDIA AI Enterprise software suite provides organizations with the tools they need to harness the power of AI even when AI expertise doesn't exist in the department. NVIDIA AI Enterprise includes proven, open-source containers and frameworks, certified to run on common data center platforms from VMware and Red Hat, mainstream NVIDIA-Certified Systems configured with GPUs or CPU-only, and on the public cloud.
NVIDIA AI Enterprise is optimized to streamline AI development and deployment. With the NVIDIA AI Enterprise software suite, AI is accessible to organizations of any size and provides compute, power, tools, and support that organizations need to focus on creating AI business value.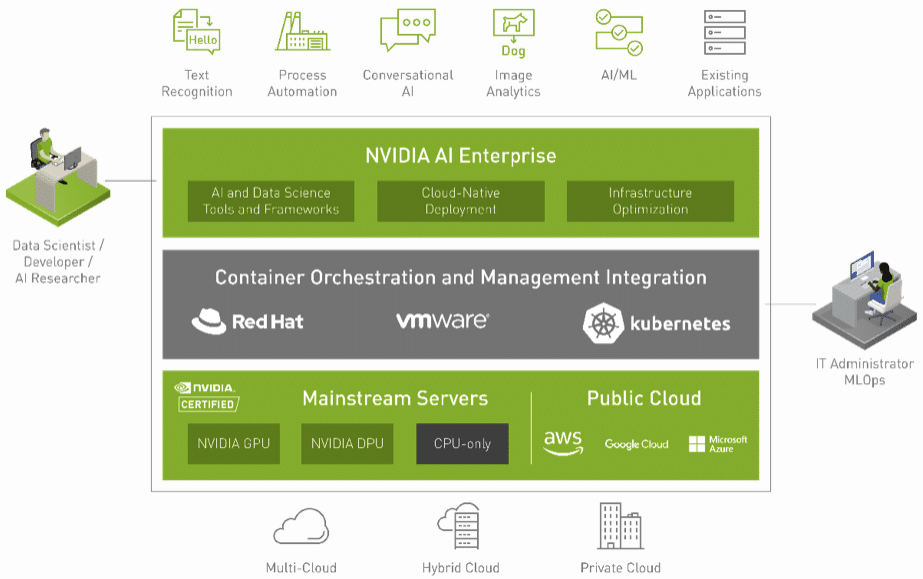 With the included AI frameworks and containers providing performance-optimized data science, training, and inference frameworks and tools, businesses can build, share, and deploy AI software to gather insights faster.
AI Enterprise 2.1 has included support for Red Hat OpenShift running in the public cloud and the new Microsoft Azure NVads A10 v5 series, the first NVIDIA virtual GPU instances offered from the public cloud, enabling more affordable GPU sharing.
Understanding End-to-End AI Workflows
The NVIDIA AI Enterprise software suite provides you with everything you need to deploy and support AI infrastructure.

The AI Enterprise software suite includes the necessary tools to deploy and support an AI infrastructure successfully. Using RAPIDS for ML workloads preps the data before training the neural networks. The RAPIDS tool is also helpful for formatting and labeling data used for training workflows.
AI Enterprise offers pre-built, tuned containers for training neural networks with tools such as TensorFlow and PyTorch. NVIDIA TAO Toolkit provides a faster, easier way to accelerate training, quickly creating highly accurate and performant, domain-specific vision and conversational AI models.
Using TensorRT SDK, the trained models can be optimized by fusing layers and removing unnecessary steps. When the model is ready to deploy, the Triton Inference Server can service incoming inferencing requests. It allows front-end client applications to submit inferencing requests for an AI inference cluster and can service models from an AI model repository.
Latest AI Frameworks Supported
NVIDIA TAO Toolkit
The NVIDIA TAO Toolkit is a low code solution of NVIDIA TAO, a framework that enables developers to create custom, production-ready models to power speech and vision AI applications. The latest version of the TAO Toolkit is now supported through NVIDIA AI Enterprise, with key features including REST APIs integration, pre-trained weights import, TensorBoard integration, and new pre-trained models.
NVIDIA RAPIDS
The RAPIDS 22.04 release provides additional support for data workflows through new models, techniques, and data processing capabilities across all the NVIDIA data science libraries.
Red Hat OpenShift Public Cloud Support
Red Hat OpenShift, the industry's leading enterprise Kubernetes platform with integrated DevOps capabilities, is now certified and supported for the public cloud with NVIDIA AI Enterprise, in addition to bare metal and VMware vSphere-based deployments. This enables a standardized AI workflow in a Kubernetes environment to scale across a hybrid-cloud environment.
Azure NVads A10 v5
The Azure NVads A10 v5 series, powered by NVIDIA A10 Tensor Core GPUs, offers GPU scalability and affordability with fractional GPU sharing with GPU sizes ranging from one-sixth of an A10 GPU to two full A10 GPUs. The NVads A10 v5 instances are certified with NVIDIA AI Enterprise to deliver optimized performance for deep learning inferencing, maximizing the utility and cost efficiency of at-scale deployments in the cloud.
Domino Data Lab Enterprise MLOps Platform Certification
NVIDIA AI Accelerated partner Domino Data Lab's enterprise MLOps platform has been certified for NVIDIA AI Enterprise, mitigating deployment risks and ensuring reliable, high-performance integration with the NVIDIA AI platform. This partnership pairs the Enterprise MLOps benefits of workload orchestration, self-serve infrastructure, and collaboration with the cost-effective scale from virtualization on mainstream accelerated servers.
Try NVIDIA AI Enterprise
NVIDIA LaunchPad provides organizations worldwide with immediate, short-term access to the NVIDIA AI Enterprise software suite in a private accelerated computing environment that includes hands-on labs.
Experience the latest NVIDIA AI frameworks and tools running on NVIDIA AI Enterprise through new NVIDIA LaunchPad labs. Hosted on NVIDIA-accelerated infrastructure, the labs enable enterprises to speed up the development and deployment of modern, data-driven applications and quickly test and prototype the entire AI workflow on the same complete stack available for deployment.
NVIDIA LaunchPad Enterprise AI Review
Podcast with NVIDIA on Enterprise AI
Check out these new LaunchPad labs for NVIDIA AI Enterprise 2.1:
Multi-Node Training for Image Classification on VMware vSphere with Tanzu
Deploy a Fraud Detection XGBoost Model using NVIDIA Triton
Develop a Custom Object Detection Model with NVIDIA TAO Toolkit and Deploy with NVIDIA DeepStream
Engage with StorageReview
Newsletter | YouTube | Podcast iTunes/Spotify | Instagram | Twitter | Facebook | RSS Feed