Quantum has announced the availability of H4000 Essential and F2100 storage appliances. The H4000 is the company's all-in-one appliance that integrates Quantum CatDV media asset management and Quantum StorNext 7 shared storage software.
Quantum has announced the availability of H4000 Essential and F2100 storage appliances. The H4000 is the company's all-in-one appliance that integrates Quantum CatDV media asset management and Quantum StorNext 7 shared storage software.
The H4000 Essential is highlighted by its highly-available shared storage and automatic content indexing, discovery, and workflow collaboration for small, independent creative teams. The Quantum F2100 is the company's next-gen NVMe offering, which is expected to double the speed and storage. This will allow content producers with increasingly demanding workflows to deliver high-end performance via a very small form factor.
Quantum H4000 Essential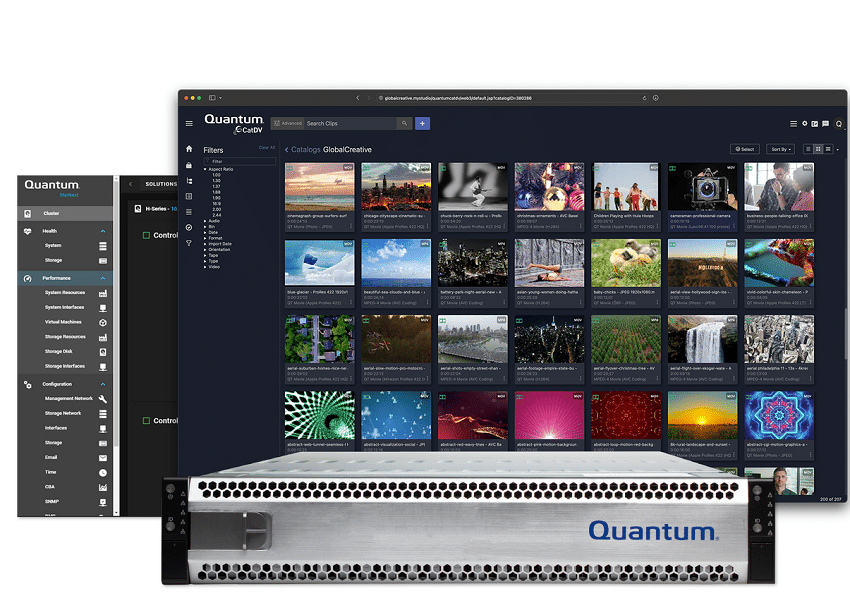 The H4000 Essential has pretty unique features that integrate media management and storage, allowing creative teams to focus more on creating content and less on searching for what they need. Most importantly, with H4000 Essential, small creative teams now have the same technologies used by the largest studios, broadcasters, and post-production houses available to them.
This release by Quantum is essentially meant to bring world-class tools from Quantum's StorNext 7 and CatDV platforms to content teams of all sizes. Quantum also stresses that it is very easy to use, as it does not require specialized IT skills to set up and support, and organizations can have it up and running within minutes.
The H4000 Essential is powered by StorNext 7 and is intelligently integrated with CatDV's easy-to-use asset management. When you add a new team member to CatDV, the user will be able to immediately mount shared storage from Mac, Windows, or Linux clients. They can also upload content for everyone to use right away. Using the same login credentials, users can access CatDV to see the new indexed assets or use the CatDV panel inside Adobe Premiere Pro.
Models start at 48TB or 96TB for raw storage in a single system; however, users can add up to three additional expansion systems to expand both performance and capacity so they can support more simultaneous editors and higher stream counts. In addition, users can connect with 10 GbE and higher to edit up to 4K resolution projects directly on the system.
Quantum indicates the following features of the H4000 Essential:
StorNext collaborative shared storage systems of starting at either 48TB or 96TB of raw storage in a compact 2U server, expandable up to 384TB with the purchase of additional storage
A highly-available dual-controller architecture
An out-of-the-box user experience designed for creative professionals to get up and running quickly
25GbE networking connection to customer networks
Unified StorNext and CatDV account creation with StorNext-powered SMB storage volume sharing
StorNext shared storage operations to trigger file ingesting, metadata extraction, proxy and filmstrip creation without needing 'file tree polling'
Automatic content ingest, metadata extraction, proxy, thumbnail, and filmstrip creation
Automatic content cataloging and indexing based on folder structure made immediately available to all users
Highly efficient StorNext and CatDV integration to avoid file system polling that can impact performance
Quantum CatDV is pre-installed and pre-configured for use by up to 10 named users, including the use of Adobe Premiere Pro CatDV Panel
Integration with Quantum Cloud-Based Analytics (CBA) software for remote, proactive system monitoring
Available archiving plugins for Backblaze B2 Cloud Storage, or choice of S3-compatible storage
Quantum H4000 Essential Specifications
Product
H4000 Primary System
H4000 Expansion System
Form Factor
2U rack-mounted chassis
2U rack-mounted chassis
Controller Design
Dual Controller with Failover, Dual Redundant Power and Cooling

SAS Pass-Through

Processors and Memory

1 AMD 24-Core CPU with 128 GB RAM per controller

N/A

System Bus
PCIe v4.0
SAS
Storage Drives
12 NL-SAS HDD
12 NL-SAS HDD
Drive Capacity Options
4TB, 8TB
4TB, 8TB
Single System Raw Capacity
48TB, 96TB
48TB, 96TB
Single System Usable Capacity
40TB, 80TB
40TB, 80TB

Connectivity

1 Quad-Port 25 Gb Ethernet per Controller (2x 25 Gb Ethernet for local connection)

via H4000 Essential Primary System

Physical Dimensions

Height 3.43" (87 mm)

Width 17.7" (450 mm)

Depth 24.2" (614 mm)

Weight 63 lbs (28.58 kg)

Height 3.43" (87 mm)

Width 17.7" (450 mm)

Depth 20.4" (518 mm)

Weight 48 lbs (21.77 kg)

Power Supply Input
1300 W AC redundant
550 W AC redundant
Operating Temperature
0 °C to 35 °C (32 °F to 95 °F)
0 °C to 35 °C (32 °F to 95 °F)
Non-Operating Temperature
-20 °C to 70 °C (-4 °F to 158 °F)
-20 °C to 70 °C (-4 °F to 158 °F)
Operating Relative Humidity
5% to 95% non-condensing
5% to 95% non-condensing
The H4000 Essential is available to order now starting at an entry-level price under $40,000.
Quantum H4000 Essential Product Page
Quantum F2100 NVMe
Quantum has also announced the availability of the Quantum F2100 NVMe storage appliance, the latest generation of its F-Series line. The new system features faster performance and more NVMe storage capacity, allowing media and entertainment organizations and corporate video teams to ramp up production workflows, rendering, and video and image processing.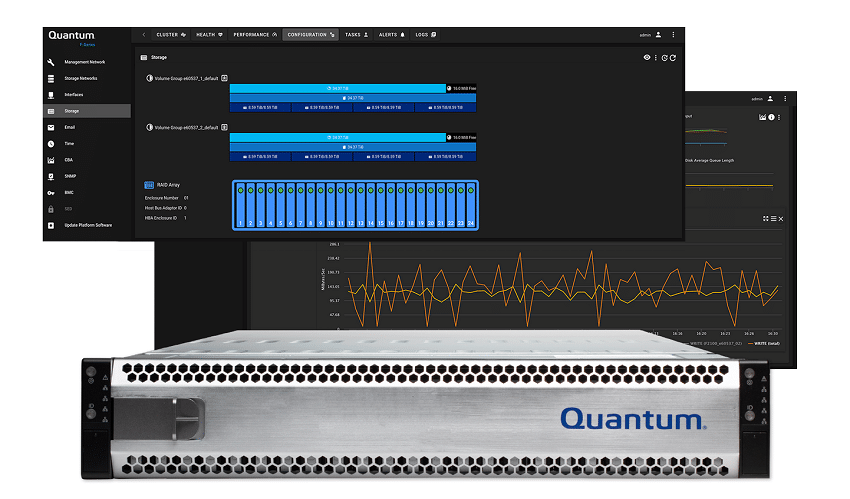 The F2100 is bundled with the latest Quantum block storage software, which now has a unified user experience across F-Series NVMe storage and H-Series SSD/HDD storage solutions. These features give users more flexible configuration options and improved reporting and monitoring tools. The F2100 is also fully integrated with Quantum Cloud-Based Analytics (CBA) software, which allows for proactive system monitoring. Moreover, Quantum users now have access to all of these customer applications via the new MyQuantum service delivery platform.
Performance is quoted at an impressive 50GB/s for multi-client reads, with up to 737TB of raw NVMe storage in a single system. This makes the solution ideal for those in highly demanding workflows areas such as media, special effects, life sciences and AI/ML applications. It will also allow organizations to use just a single system rather than racks of spinning disk storage systems that they might have previously used to get the same amount of storage.
Users will have access to the Quantum StorNext 7 file system pools feature where they can create drive volumes composed of the F2100, as well as spinning disk volumes to customize workflow storage and attain their ideal balance of performance, capacity, and cost.
Quantum indicates the following F2100 NVMe storage appliance features:
Dual-controller architecture on 2U, 24 drive system driven by Quantum's unified Block Storage platform 2.0
Benchmarked multi-client read performance of up to 55GB/s and write performance of 20GB/s
Choice of drive sizes in 24 drive arrays including 15.36TB, 7.68TB, and 3.84 TB for a maximum raw storage capacity of 737.28TB in only 2U
Pre-configured RAID 6 volumes for faster deployment
Connectivity choice of 8 ports of 100Gb/s Ethernet or 16 ports of 32Gb FibreChannel
Integration with Quantum CBA software for proactive system monitoring
And many more new features and enhancements
The Quantum F2100 NVMe is available now to order.
New Video Enrichment and Analytics Solution Using CatDV Software with NVIDIA AI
Lastly, Quantum has announced it will be demonstrating a new solution (NAB Show in Las Vegas from April 23 to 27) that analyzes and enriches video content used in broadcast, post-production, sports, and other media workflows. This new solution integrates Quantum's CatDV asset management and automation platform while leveraging NVIDIA A2 Tensor Core GPU infrastructure and the NVIDIA AI platform.
Quantum indicates that NVIDIA Deepstream, NVIDIA Riva, and NVIDIA Maxine software development kits are part of the NVIDIA AI platform that provides AI and machine learning capabilities to Quantum's CatDV software.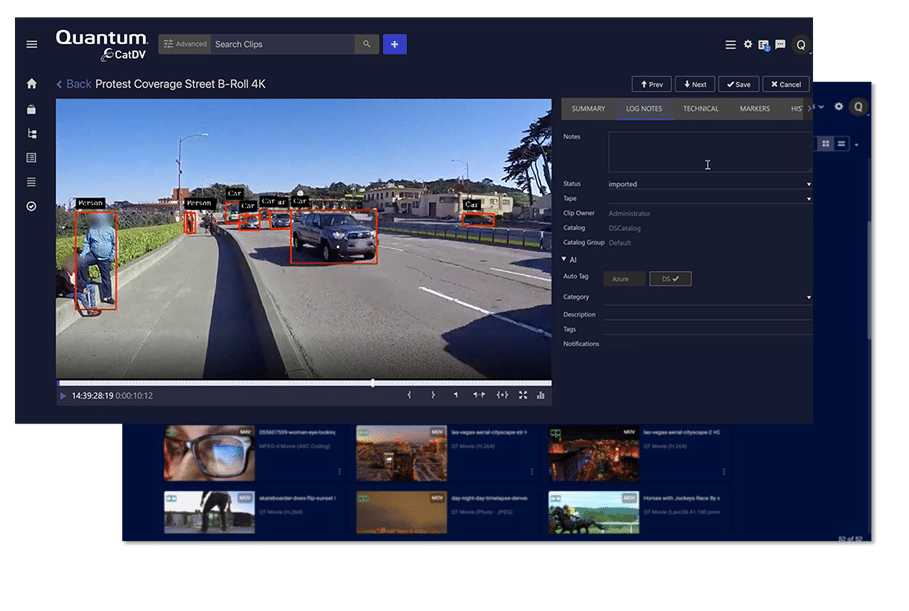 Quantum indicates that their new AI content enhancement automation solution is comprised of the following:
Quantum CatDV Enterprise with CatDV Automation Workers
AI/ML integration based on NVIDIA DeepStream video analytics, NVIDIA Riva automatic speech recognition and text-to-speech technology, and NVIDIA Maxine video and audio quality enhancement SDKs
NVIDIA A2 Tensor Core GPU infrastructure pipeline integration for Quantum CatDV proxy generation, transcoding, and AI acceleration
Additional optional custom AI/ML development to meet customer needs or to enable customer's development teams on the common platform
Quantum StorNext shared file storage environment integration
Optional Quantum NVMe storage to accelerate content movement within the GPU pipeline
Optional Quantum archive to Quantum ActiveScale, Quantum Scalar tape, or S3-compatible storage
Engage with StorageReview
Newsletter | YouTube | Podcast iTunes/Spotify | Instagram | Twitter | Facebook | TikTok | RSS Feed