ADATA is calling the XPG SX8200 its fastest consumer SSD to date. The new drive is an M.2 form factor that leverages the PCIe Gen3 x4 interface (NVMe 1.3 supported) as well as second generation 64-Layer 3D NAND. ADATA gives quoted speeds of 3.2GB/s sequential read, 1.7GB/s sequential write, and for random performance the drive is able to hit up to 310K IOPS read and 280K IOPS write.
ADATA is calling the XPG SX8200 its fastest consumer SSD to date. The new drive is an M.2 form factor that leverages the PCIe Gen3 x4 interface (NVMe 1.3 supported) as well as second generation 64-Layer 3D NAND. ADATA gives quoted speeds of 3.2GB/s sequential read, 1.7GB/s sequential write, and for random performance the drive is able to hit up to 310K IOPS read and 280K IOPS write.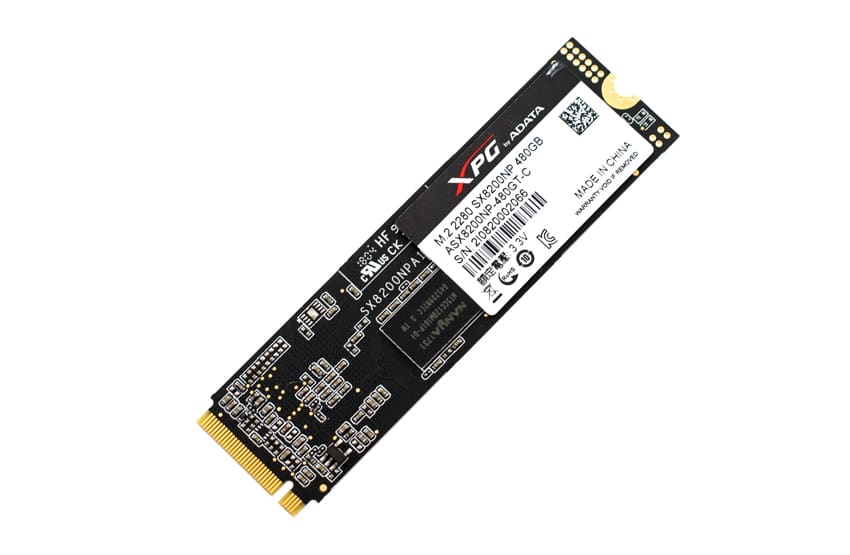 From a data integrity standpoint, the drive leverages low density parity check (LDPC) error correcting code technology. This gives the SSD a longer lifespan while detecting and fixing a wide range of data errors. The drive supports RAID Engine and Data Shaping to further ensure data integrity. Built for gaming, video rendering, overclocking, and other high demand applications, the drive uses its NAND and interface as well as SLC Caching and DRAM Cache Buffer to deliver the performance needed by these use cases.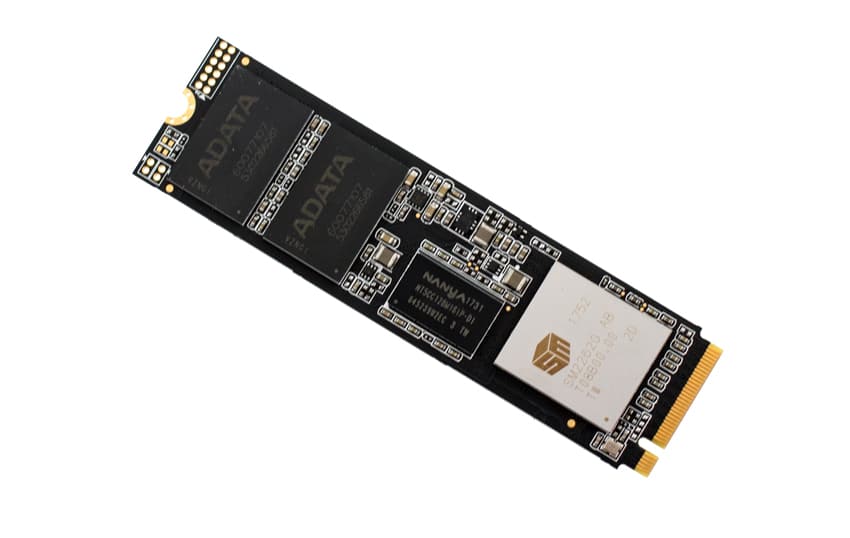 The ADATA XPG SX8200 is an M.2 form factor SSD. On one side is a sticker covering the NAND packs and DRAM with information such as branding, model number, and capacity. The flip side is open and one can clearly see the NAND packs, DRAM, and SMI controller. What is a bit different with this drive is the optional heat sink that covers the non-sticker side.
The drive is backed by a 5-year warranty, comes in 240GB, 480GB and 960GB capacities, and is priced at $92, $150, and $350 respectively.
ADATA XPG SX8200 SSD Specifications
Form factor
M.2 (2280)
Capacities
240GB, 480GB, 960GB
NAND
2nd Generation 64-layer 3D TLC
Interface
PCIe Gen3 x 4 (NVMe 1.3)
Controller
SMI
Performance
Sequential Read/Write max
3.2GB/s/1.7GB/s
Random 4K Read/Write max
310K /280K IOPS
MTBF
2 million hours
Shock resistance
1500G / 0.5ms
Warranty
 5-year
Temperature
Operating
0°C – 70°C
Storage
– 40°C – 85°C
Dimensions (LxWxH)
22 x 80 x 3.5mm
Weight
8g / 0.28oz
Performance
Testbed
The test platform leveraged in these tests is a Dell PowerEdge R740xd server. We measure SATA performance through a Dell H730P RAID card inside this server, although we set the card in HBA mode only to disable the impact of RAID card cache. NVMe is tested natively through an M.2 to PCIe adapter card. The methodology used better reflects end-user workflow with the consistency, scalability and flexibility testing within virtualized server offers. A large focus is put on drive latency across the entire load range of the drive, not just at the smallest QD1 (Queue-Depth 1) levels. We do this because many of the common consumer benchmarks don't adequately capture end-user workload profiles.
Houdini by SideFX
The Houdini test is specifically designed to evaluate storage performance as it relates to CGI rendering. The test bed for this application is a variant of the core Dell PowerEdge R740xd server type we use in the lab with dual Intel 6130 CPUs and 64GB DRAM. In this case we installed Ubuntu Desktop (ubuntu-16.04.3-desktop-amd64) running bare metal. Output of the benchmark is measured in seconds to complete, with fewer being better.
The Maelstrom demo represents a section of the rendering pipeline that highlights the performance capabilities of storage by demonstrating its ability to effectively use the swap file as a form of extended memory. The test does not write out the result data or process the points in order to isolate the wall-time effect of the latency impact to the underlying storage component. The test itself is composed of five phases, three of which we run as part of the benchmark, which are as follows:
Loads packed points from disk. This is the time to read from disk. This is single threaded, which may limit overall throughput.
Unpacks the points into a single flat array in order to allow them to be processed. If the points do not have dependency on other points, the working set could be adjusted to stay in-core. This step is multi-threaded.
(Not Run) Process the points.
Repacks them into bucketed blocks suitable for storing back to disk. This step is multi-threaded.
(Not Run) Write the bucketed blocks back out to disk.
The ADATA XPG drive was able to score near the top of the non-Optane drive with a score of 2,651.9 seconds.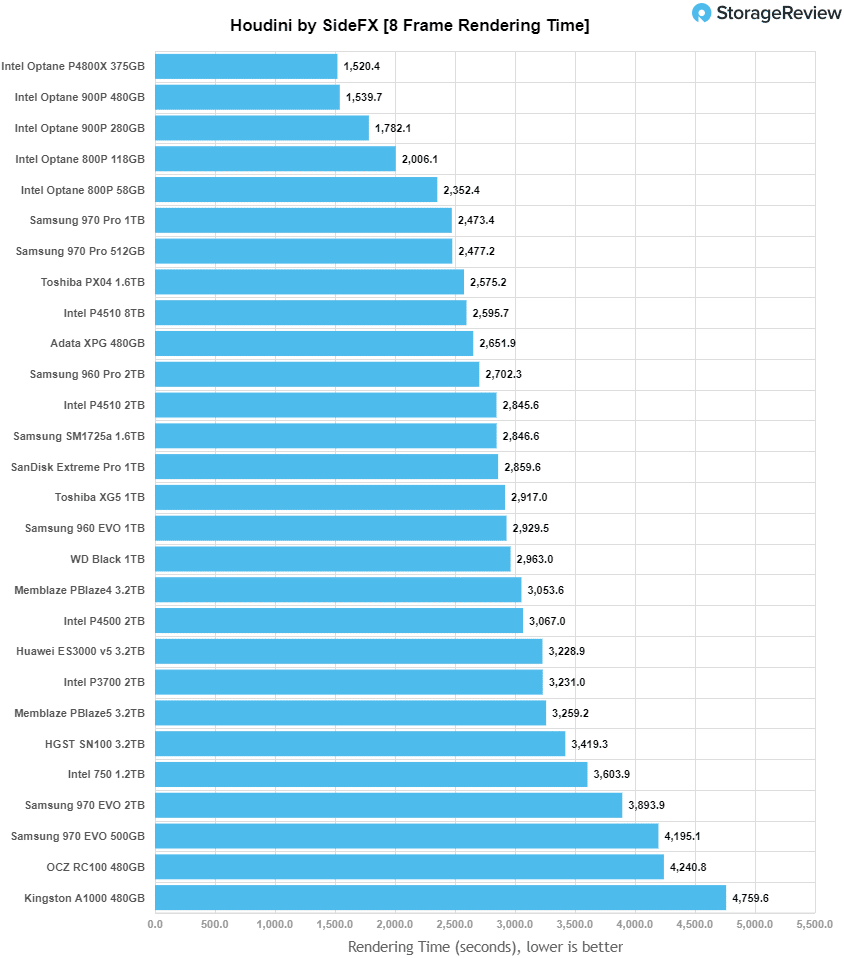 SQL Server Performance
We use a lightweight virtualized SQL Server instance to appropriately represent what an application developer would use on a local workstation. The test is similar to what we run on storage arrays and enterprise drives, just scaled back to be a better approximation for behaviors employed by the end user. The workload employs the current draft of the Transaction Processing Performance Council's Benchmark C (TPC-C), an online transaction processing benchmark that simulates the activities found in complex application environments.
The lightweight SQL Server VM is configured with three vDisks: 100GB volume for boot, a 350GB volume for the database and log files, and a 150GB volume used for the database backup we recover after each run. From a system resource perspective, we configure each VM with 16 vCPUs, 32GB of DRAM and leverage the LSI Logic SAS SCSI controller. This test uses SQL Server 2014 running on Windows Server 2012 R2 guest VMs and is stressed by Dell's Benchmark Factory for Databases.
SQL Server Testing Configuration (per VM)
Windows Server 2012 R2
Storage Footprint: 600GB allocated, 500GB used
SQL Server 2014

Database Size: 1,500 scale
Virtual Client Load: 15,000
RAM Buffer: 24GB

Test Length: 3 hours

2.5 hours preconditioning
30 minutes sample period
When looking at SQL Server Output, the ADATA XPG drive landed near the bottom of the pack of drives with a score of 3,141.8 TPS (it should be noted that it was only 18.2 TPS beneath the top performer, the Intel 900P).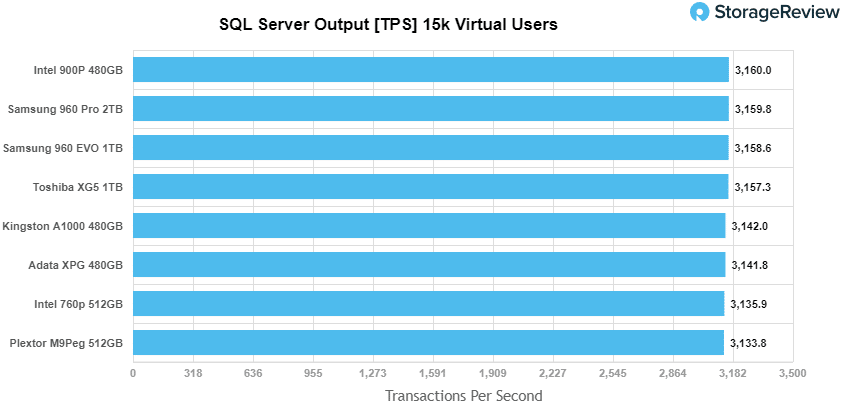 For average latency of the same test, the ADATA drive hit 31ms placing it roughly in the middle of the pack.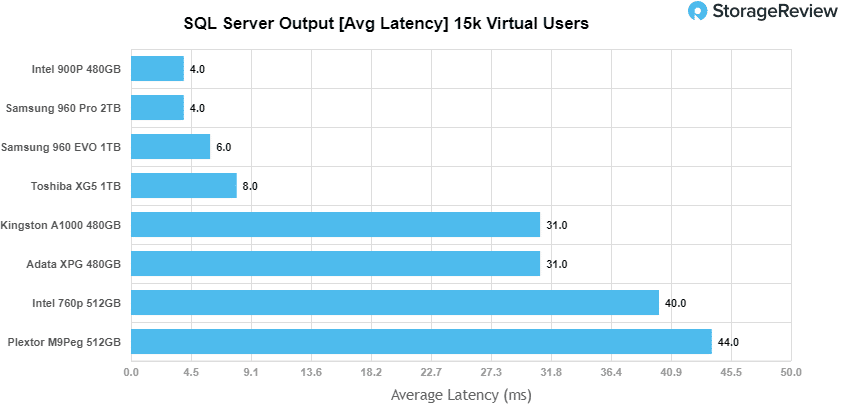 VDBench Workload Analysis
The peak 4K performance of the ADATA drive was 224,279 IOPS at a latency of 570μs, placing it at the bottom of the pack.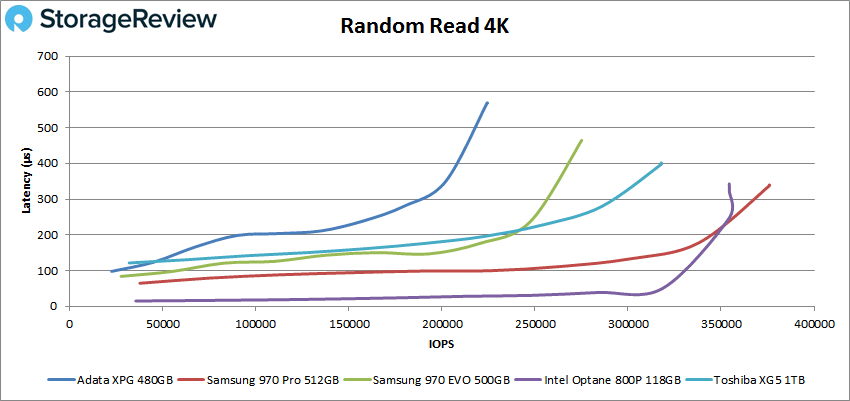 For 4K write performance the drive peaked at 87,726 IOPS with a latency of 1.07ms.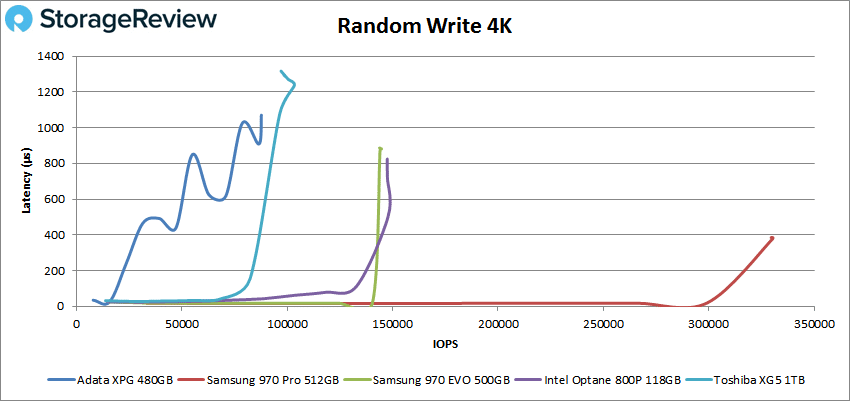 Switching over to sequential work with 64K tests, the ADATA drive didn't fare much better in placing. 64K read had a last place performance of 13,351 IOPS or 834MB/s at a latency of 1.2ms.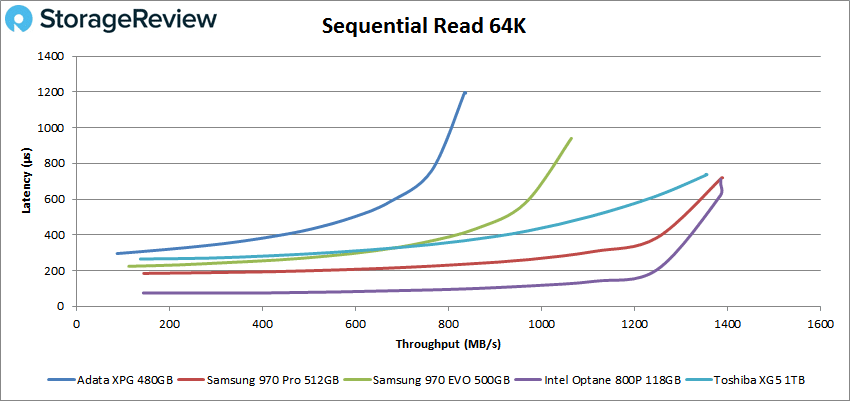 For sequential 64K writes the ADATA drive placed second to last at a peak performance of 9,089 IOPS or 568MB/s with a latency of 1.74ms.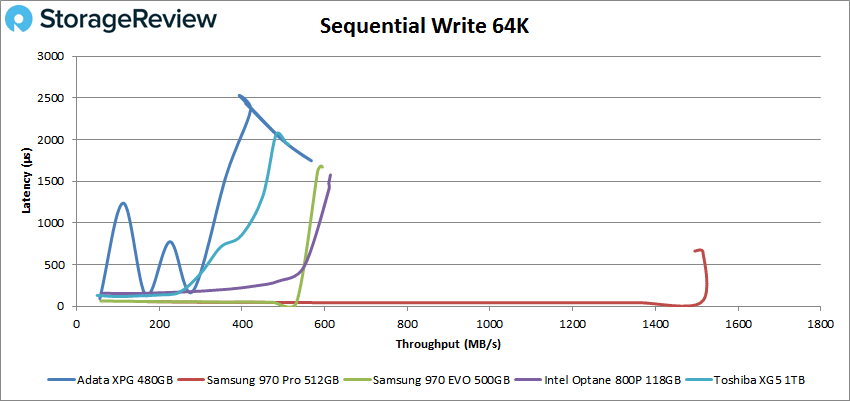 Next, we looked at our VDI benchmarks, which are designed to tax the drives even further. These tests include Boot, Initial Login, and Monday Login. Looking at the Boot test, the ADATA XPG had peak performance of 77,487 IOPS with a latency of 420μs before dropping off a bit. This placed the drive fourth overall.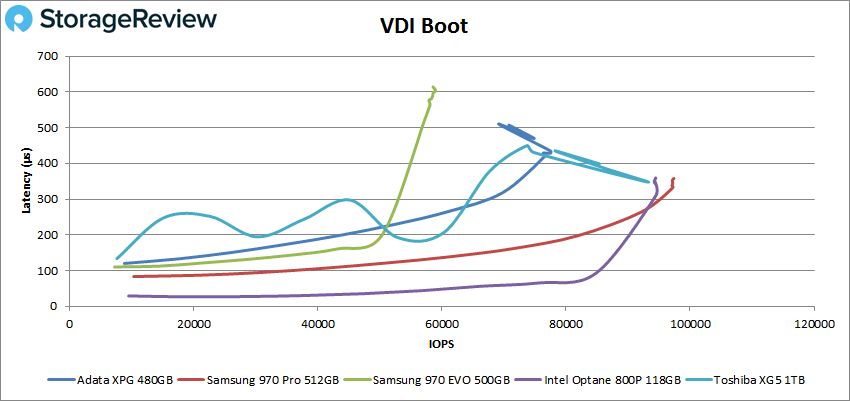 In our VDI Initial Login the ADATA drive come in last with a peak performance of 25,408 IOPS and a latency of 1.2ms.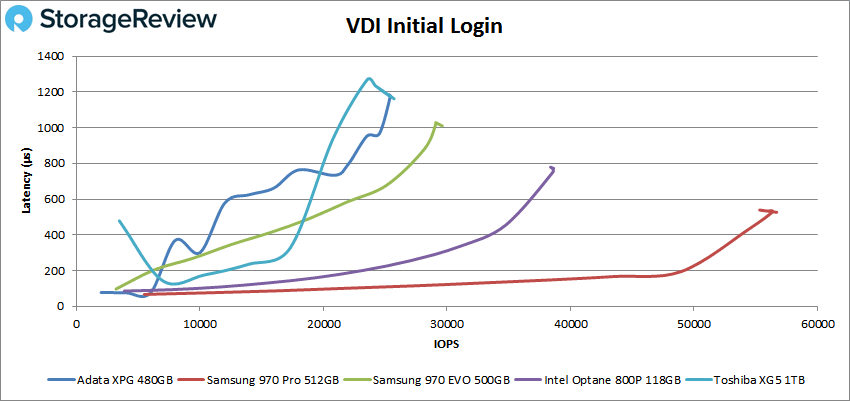 For our VDI Monday Login the ADTAT drive placed third with a peak performance of 27,270 IOPS and a latency of 584μs.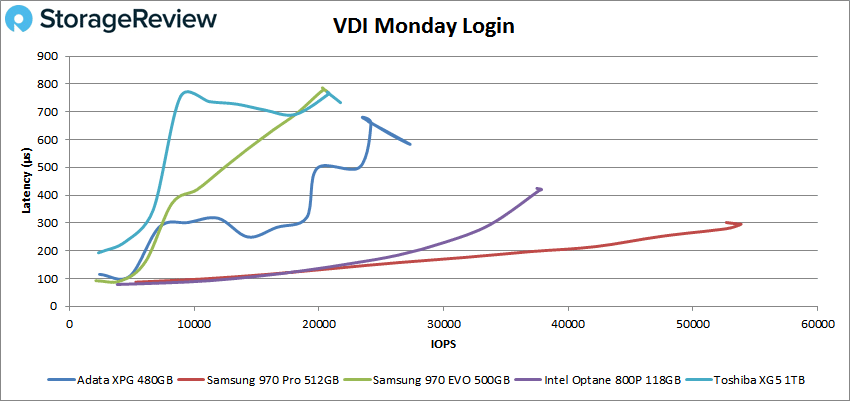 Conclusion
ADATA has released a new powerful M.2 SSD under XPG line, the SX8200. Coming in three capacities, 240GB, 480GB, and 960GB, the drive has quoted sequential speeds of 3.2GB/s read and 1.7GB/s write with quoted random speeds of 310K IOPS read and 280K IOPS write. The drive utilizes several features in order to help it hit those speeds including RAID Engine, Data Shaping, SLC Caching, and DRAM Buffer. The SX8200 comes with an optional heat sink as well that can be easily affixed to the drive.

Looking at performance the drive had average performancein the pack it was tested against. In the Houdini test the drive was able to hit 2,651.9 seconds placing it near the top. In SQL Server the drive had 3,141.8 TPS and an average latency of 31ms, placing near the middle of the pack. In our VDBench tests the ADATA drive tended to trail behind the others. It was able to hit 4K peaks of 224K IOPS read and 88K IOPS write, with 64K scores of 834MB/s read and 568MB/s. In our VDI tests the drive hit 77K IOPS boot, 25K IOPS initial login, and 27K IOPS Monday login.
Overall the SX8200, which is marketed as a high performer, doesn't stack up well against the other high performers tested, it's really more aligned with the mainstream SSD category. If one is looking for brute performance there are better options. However, the ADATA XPG SX8200 is much more cost-effective than the other drives and may be worth considering if the budget is limited and one just needs a good performance bump versus the best money can buy.
Sign up for the StorageReview newsletter