The Amulet Hotkey DX3240 VDI client is geared toward virtual desktop infrastructure (VDI) users looking for a powerful client that can support the most demanding workloads. To give a brief spec overview, the DX3240 is a small form factor VDI client with a discrete GPU that supports 4 x 4K UHD displays (3840×2160) @ 60Hz and has multiple USB ports. It comes preinstalled with Stratodesk NoTouch OS, a Linux-based, hardened operating system for VDI clients that supports all the major VDI environments and has been optimized for Teradici's PCoIP Ultra technology.
The Amulet Hotkey DX3240 VDI client is geared toward virtual desktop infrastructure (VDI) users looking for a powerful client that can support the most demanding workloads. To give a brief spec overview, the DX3240 is a small form factor VDI client with a discrete GPU that supports 4 x 4K UHD displays (3840×2160) @ 60Hz and has multiple USB ports. It comes preinstalled with Stratodesk NoTouch OS, a Linux-based, hardened operating system for VDI clients that supports all the major VDI environments and has been optimized for Teradici's PCoIP Ultra technology.
Amulet Hotkey is based in the UK with a worldwide sales and support organization. It was founded over three decades ago, in 1991. Amulet Hotkey was an early pioneer in KVM and VDI technologies. Its first customers were in the financial, defense and media and entertainment markets. Amulet Hotkey sells VDI clients, bespoke VDI servers but also has High-Performance Computing (HPC), Edge, Artificial Intelligence (AI) & Computer Vision (CV) solutions.
In this article, we will give an in-depth overview of the DX3240 VDI client's specifications, design and build quality, and a summary of the testing that we carried out on it over two weeks. We will then lay out the key findings from those tests and provide our thoughts about the device and briefly discuss who would benefit from this product.
Amulet Hotkey DX3240 Specifications
Manufacturer
Amulet Hotkey (based on the Dell DX3240)
Model
DX3240
Part No.
KT-3240-1100
Client type
Thin client
Form factor
Compact
OS
Stratodesk NoTouch OS
Supported Remote Display Protocols
Citrix ICA/HDX, Microsoft RDP with RemoteFX, VMware Horizon View (PCoIP/RDP/Blast), and others
CPU
Intel Core i5-10500 (6 Core, 12M cache, base 3.1GHz, up to 4.5GHz)
Discrete GPU
MD Radeon Pro WX3200

4 GB GDDR5
640 Stream Processors
10 Compute Units
128-Bit Memory Interface
4x Mini-DisplayPort 1.4

Memory
8GB DDR4 2666MHz (2 x 4GB SODIMM)
Storage
256GB PCIe NVMe Class 40 M.2 SSD
Display

Integrated GPU: Two DisplayPort 1.4
Discrete GPU: Four Mini-DisplayPort 1.4 (3840 x 2160@60Hz)

Power
180W A/C external power adapter with 7.4 mm DC barrel-type connector
Front USB Ports

1 x USB 3.2 Type-A Gen 2 (10 Gbps), with PowerShare
1 x USB 3.2 Type-C Gen 2 (10 Gbps)

Rear USB Ports

1 x USB 3.2 Type-A Gen 1 (5 Gbps)
1 x USB 3.2 Type-A Gen 1 (5 Gbps), with SmartPower
2 x USB 3.2 Type-A Gen 2 (10 Gbps)

Multimedia

1 x Line-out/Line-in audio port
1 x 3.5 mm headset port3.55 mm audio-in jack

Network connectivity

RJ45 – Intel i219-LM 10/100/1000Mb
Optional WiFi via Qualcomm QCA61x4A (867 Mbps) or Intel Wi-Fi 6, AX201 (2400 Mbps)

Physical size

H: 188.10 mm (7.40")
W: 70.20 mm (2.76")
D: 178.65 mm (7.03")

Physical weight
1.71 Kg (3.77 lbs)
Package Contents
DX3240, Power Adapter, quick start guide, two Mini-DisplayPort to DisplayPort adapter.
Warranty
3-year warranty on hardware
Amulet Hotkey DX3240 Design and Build
The DX3240 is based on a Dell Precision 3240 compact workstation but comes pre-installed with Stratodesk NoTouch OS. NoTouch OS is a Linux-based, hardened operating system that provides for a highly secure and flexible endpoint that has been optimized for PCoIP and other remote display protocols.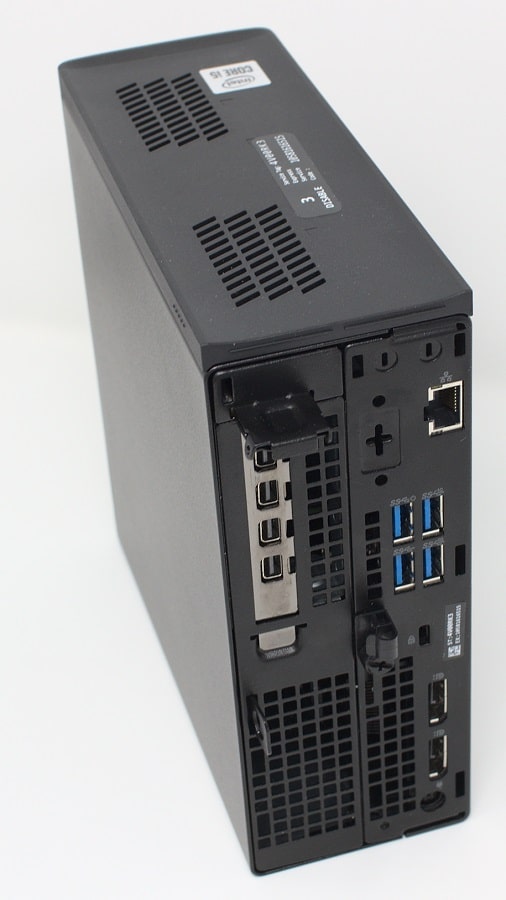 The device came in a Dell box. It was wrapped in a white foam electrostatic bag. The box also contained a 19.5V 39.23A DC power supply, a quick start guide, and two Mini-DisplayPort to DisplayPort adapters.
On the back of the device are two DisplayPort ports, one USB 3.2 Type-A Gen 1 (5 Gbps), one USB 3.2 Type-A Gen 1 (5 Gbps), with SmartPower, two USB 3.2 Type-A Gen 2 (10 Gbps), one RJ45 jack, the power connection, and a theft prevention slot. The discrete GPU had four Mini-DisplayPort 1.4 ports.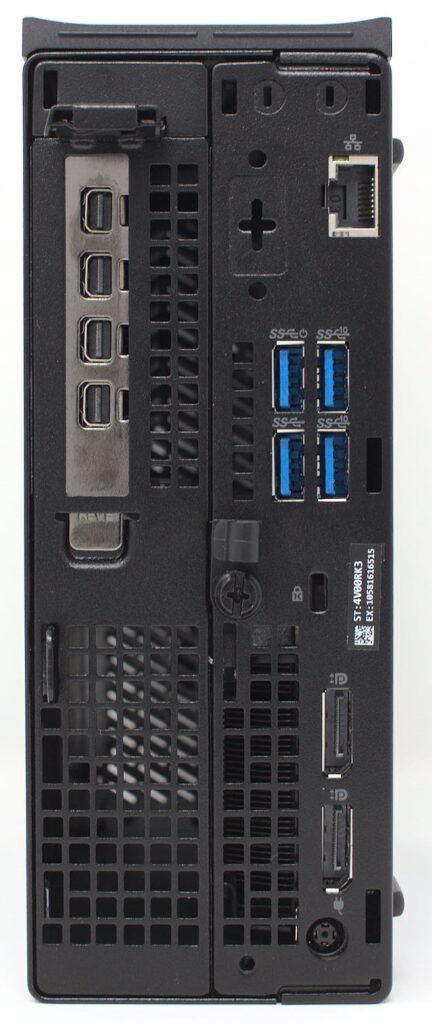 The front of the device has the power button, universal audio jack, audio line in/out port, USB 3.2 Gen 2 Type-C (10Gbs), USB 3.2 Gen 2 with PowerShare (10Gbs).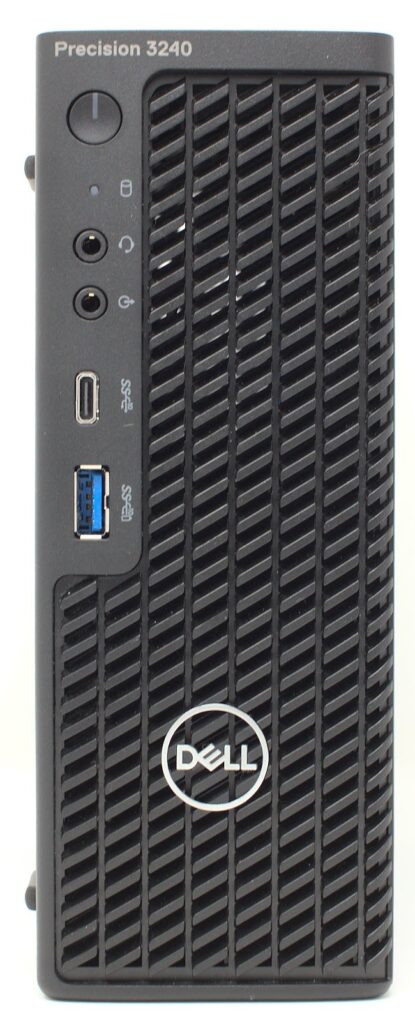 The entire case is made of black metal with ventilation holes on the front, top and back. The left side of the device has four holes that can be used to attach the device to a VESA mount. Overall, the case on this device is very durable and should hold up in an office environment.
Amulet Hotkey DX3240 Inside View
We were a little perplexed about how to get inside the DX3240, but after we referenced the Dell Precision 3240 Compact Service Manual we were able to remove the side cover without any issues. Once the top was removed, we could see the discrete GPU, which was connected to the motherboard via a riser.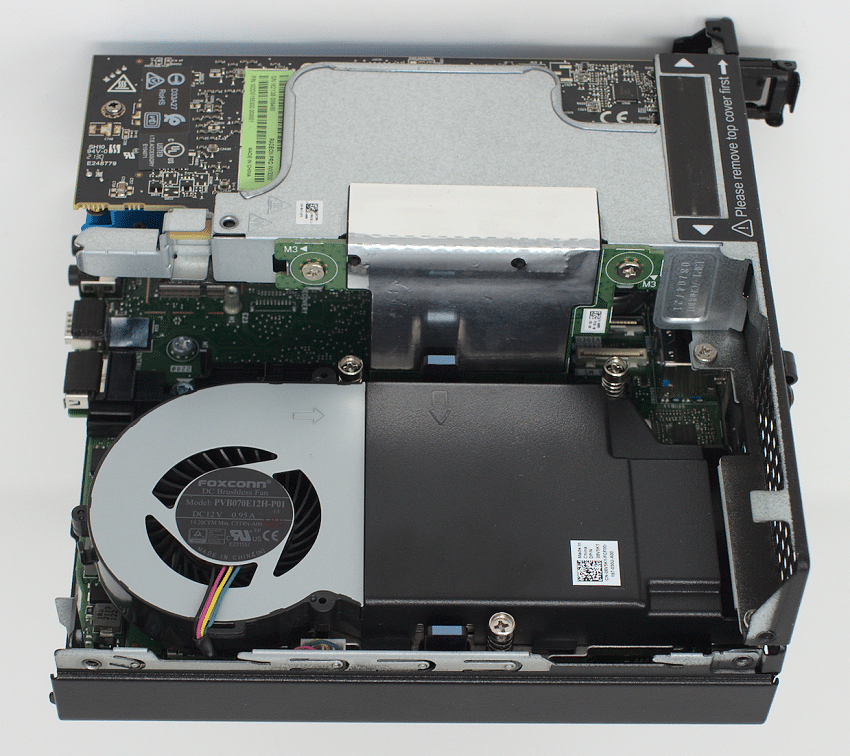 Removing the fan assembly exposed the SODIMM RAM.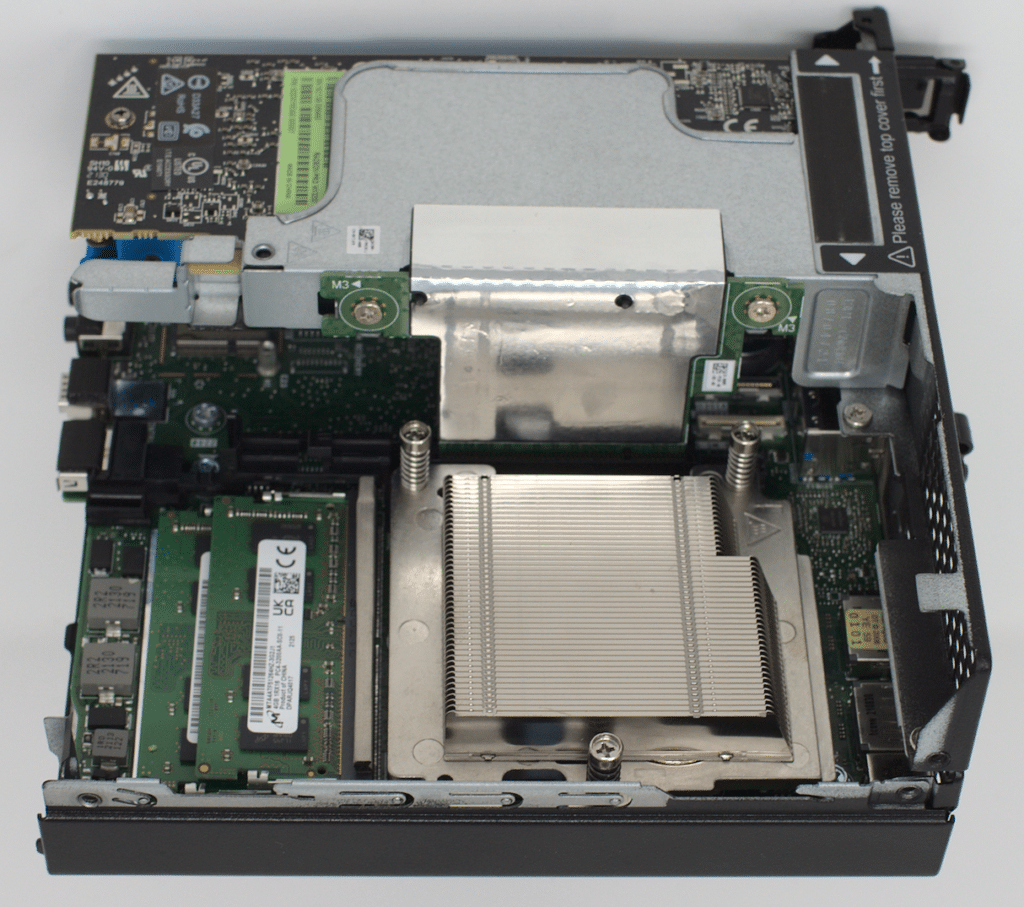 Removing the GPU exposed the motherboard. On the motherboard were a CPU heatsink, an SK Hynix M.2 2280 SSD drive and two open M.2 slots: one for an additional SSD and the other for the optional wireless card.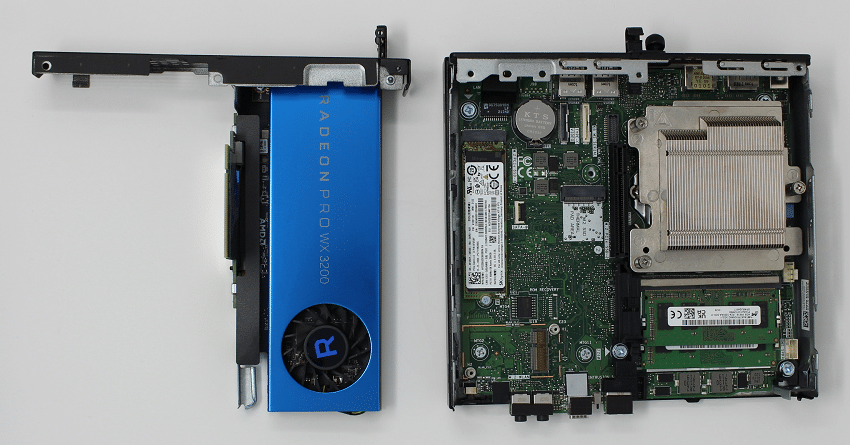 The motherboard was of quality construction and the components were well laid out. The figure below (taken from the Dell service manual) shows the layout of the components on the board.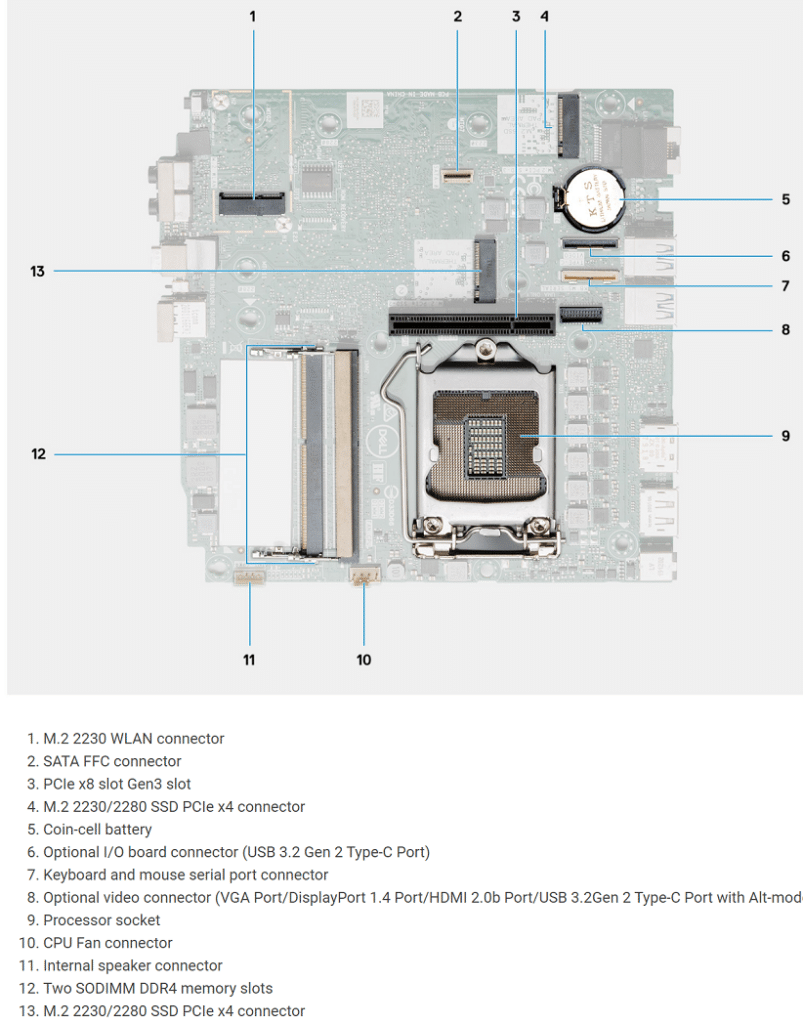 Amulet Hotkey DX3240 Documentation
Amulet Hotkey has a quick start guide but pointed us to the official Stratodesk documentation for more in-depth information on the OS. The Amulet Hotkey documentation did a good job in explaining how to do the initial setup and configure the device to work with all of the major VDI players.
Amulet Hotkey DX3240 Usability
The real test of a virtual desktop client is its usability; to test the usability of the DX3240, we used the client for two weeks in our Pacific Northwest lab with various configurations. Below are the key results we noted during our time using the client.
To test the DX3240, we connected it to our network via a Cat 6 cable through the device's RJ45 port which was connected to our network via a 1Gb network through a single switch that was connected to either a server or a WAN router. The server was hosting our local VMware Horizon virtual desktop while the WAN router was used to connect to a cloud-based virtual desktop. In order to create a controlled environment, the network was monitored during testing to ensure that no other traffic was present on the network. A Dell wireless keyboard and mouse (part number KM636) were connected to the device and used throughout our testing.
For the initial boot and testing of the device, we connected the DX3240 to a Dell 43 Ultra HD 4k Multi Client Monitor (P4317Q) through one of the devices DisplayPort. We chose to use this monitor as it allows us to display one to four separate screens on it at the same time via its two DisplayPort and two HDMI connections.
Amulet Hotkey DX3240 Initial Configuration
After powering on the device, it took 40 seconds to boot, obtain an IP address from our DNS server, and present an "Amulet Hotkey" background display a Browser, VMware Horizon and PCoIP icon.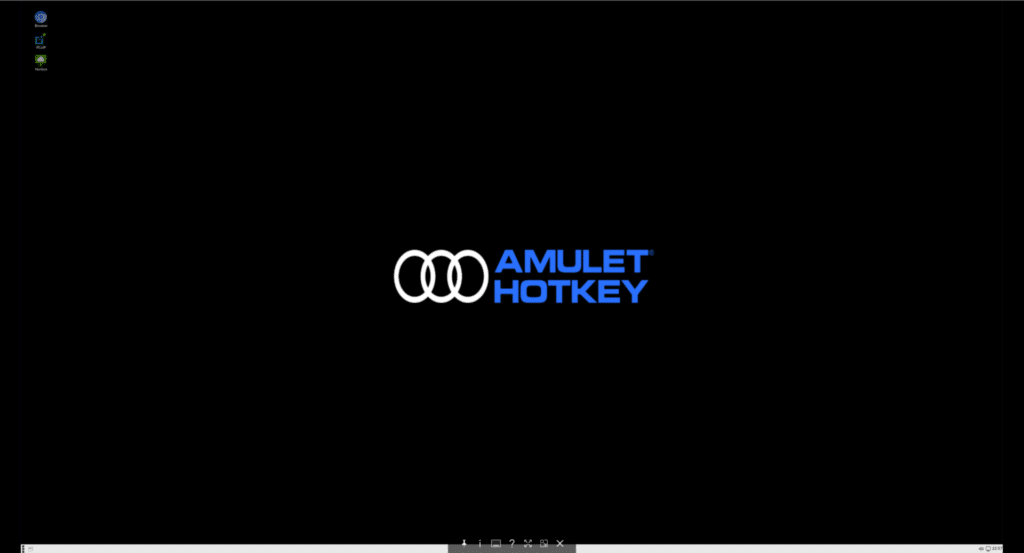 One of the unique features of No Touch OS is that it can be configured remotely from a web browser. From our laptop, we entered the IP address of the device in Chrome and were presented with a login screen. After we entered the default password, we were presented with a configuration screen.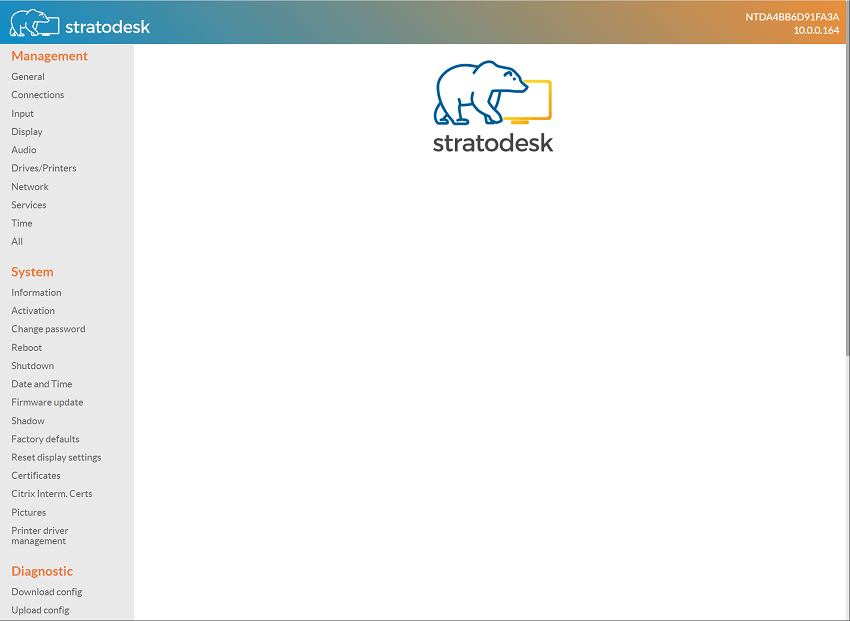 We first updated the device with the latest Stratodesk NoTouch software by selecting Firmware update from the side navigation, selecting Update From URL, entering the URL of the update file and then clicking Update.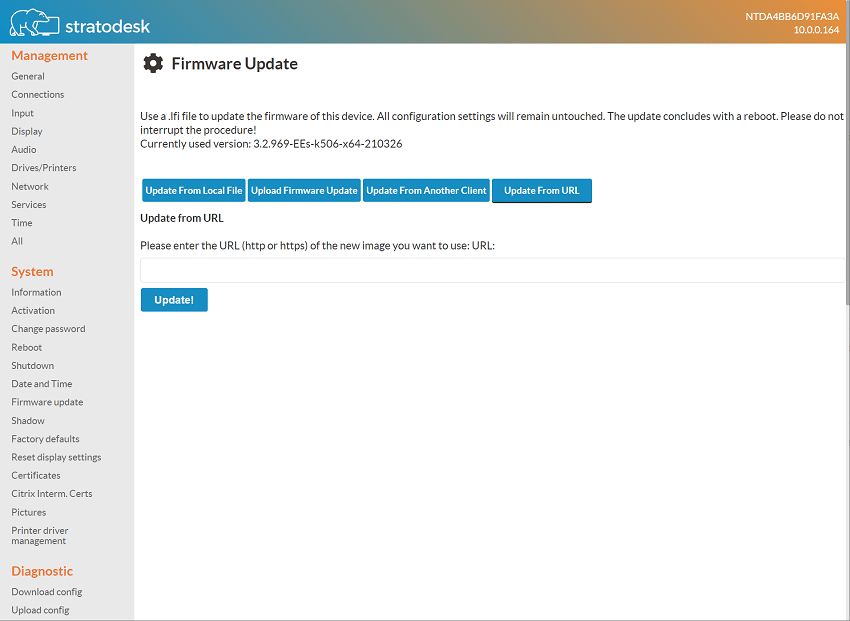 We received a message that the update was in progress and then the device rebooted automatically. We then logged back into the device from the web console.
The device allows screen shadowing via VNC, which we used to capture many of the screenshots used in this review. To avoid adversely affecting the client's performance, however, we did not use screen shadowing while monitoring the responsiveness of the device.
Screen shadowing is enabled by selecting Services and then Screen Shadowing from the menu.

We were presented with a menu that allowed us to enable the VNC screen shadowing.
We found we could also shadow the device by clicking on Shadow from the Navigation menu.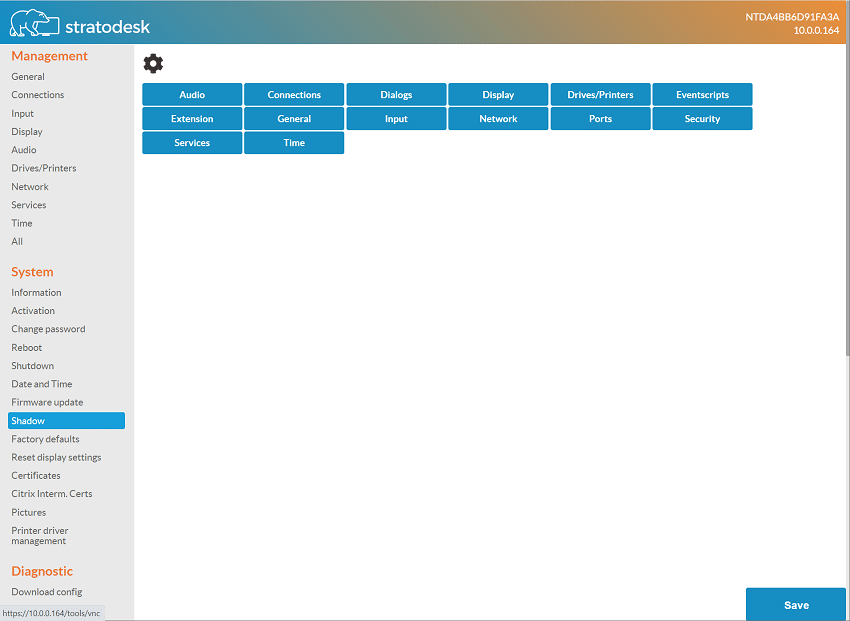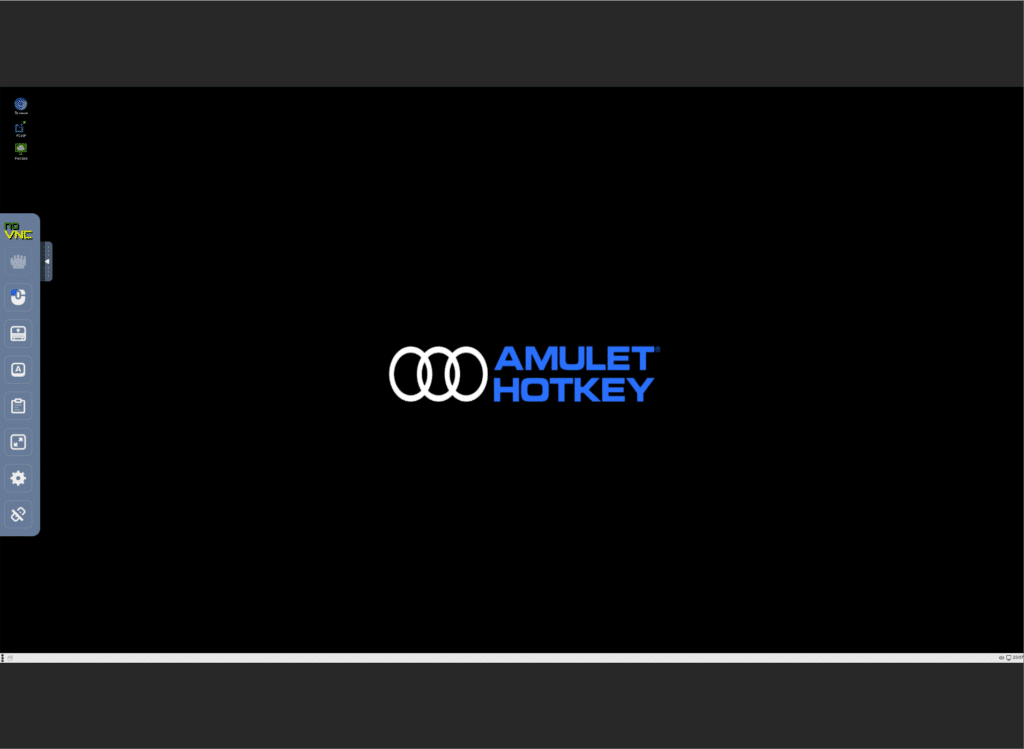 System information, such as the version of the VDI clients, and vendor information, is shown by selecting Information from the navigation menu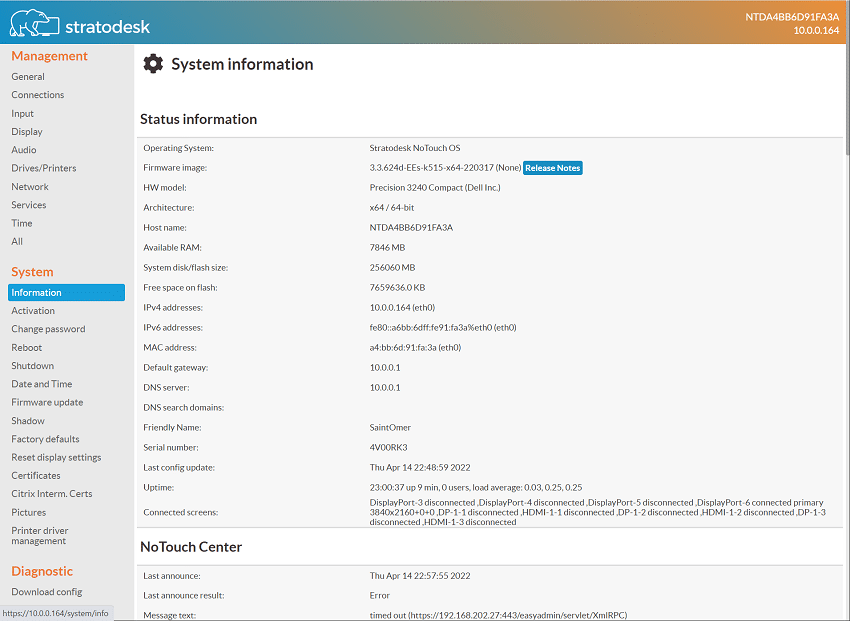 The performance of the client was monitored using ControlUp Edge DX, which we installed and configured on this device from the Services menu. This allowed us to see the resources that it consumed during testing.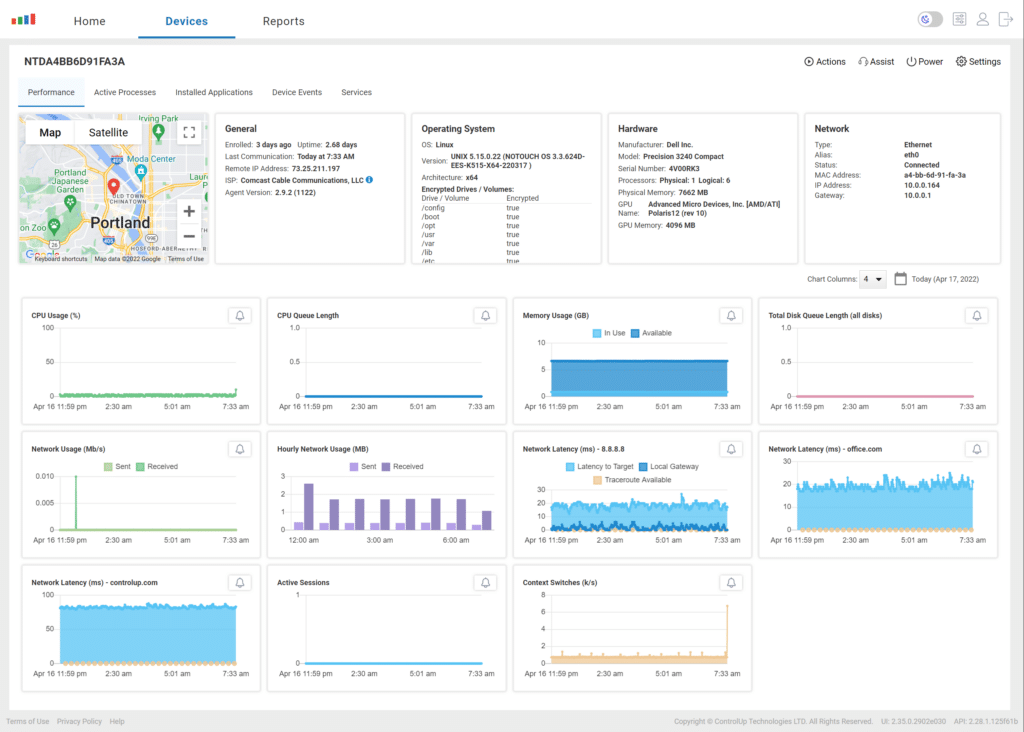 VMware TestDrive
VMware TestDrive allows you to try various VMware products without having to install or configure them. We will use it to work with an NVIDIA GPU-enabled Horizon desktop.
From Connections on the configuration menu, we added a Horizon client connection to TestDrive.

We launched the client and selected the Nvidia-VMware-vGPU desktop.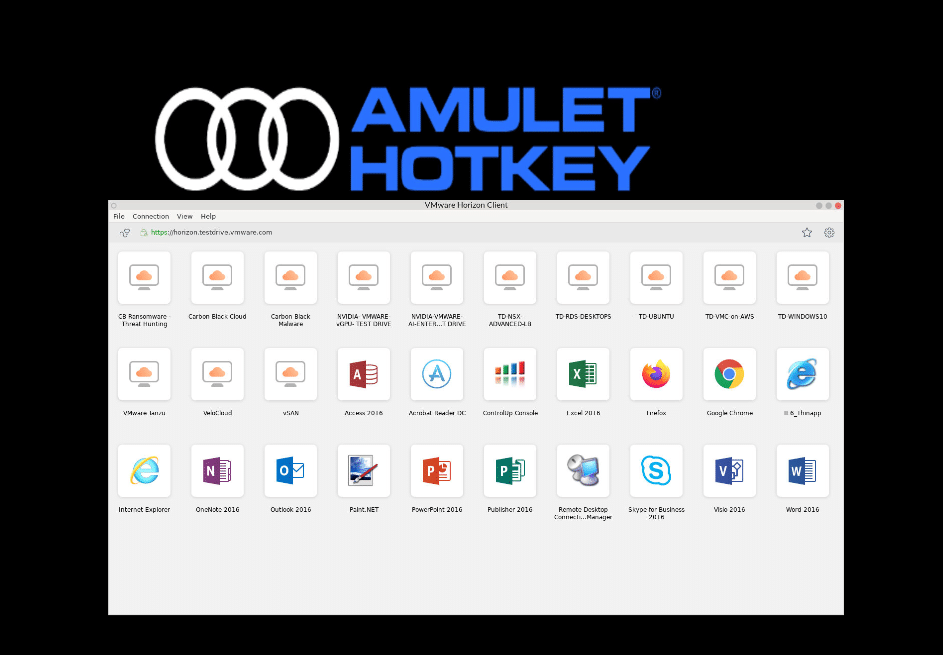 The VDI client set the display to a resolution of 3840 x 1600 (the device's max resolution). We launched a web browser that displayed an HD Video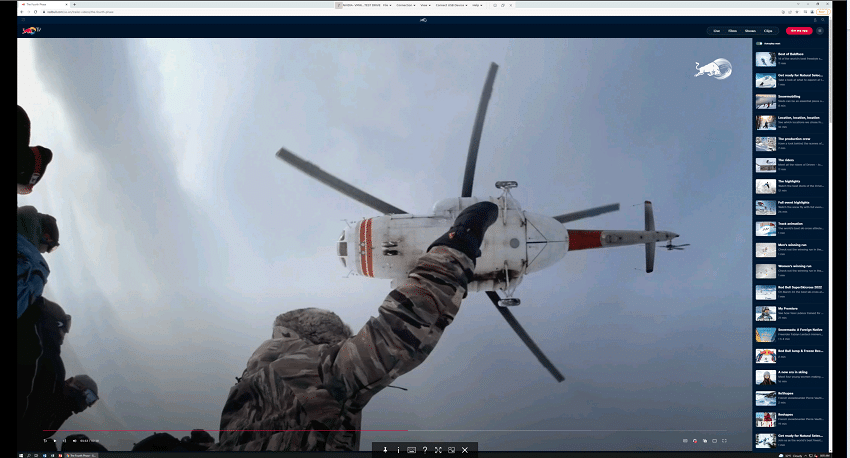 The video is displayed cleanly without any jitter. Unfortunately, Stratodesk does not provide any tools to monitor GPU usage of the device, but Edge DX showed that even though 1 Mbps of data was being transmitted the CPU usage was very moderate which indicated that the GPU was handling most of the load.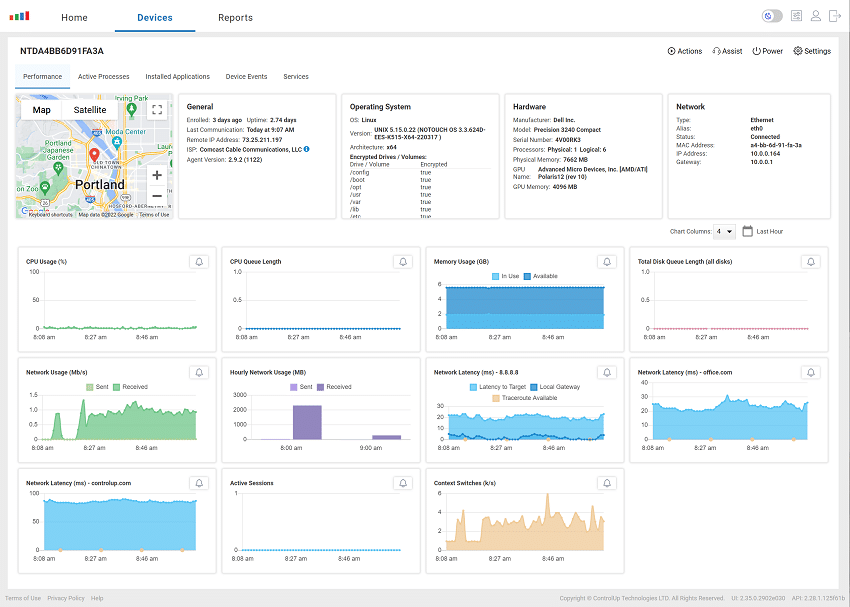 Amulet Hotkey DX3240 Dual Monitor
We connected a second monitor cable to the device. It was immediately detected, and one monitor was set to 4K, and the other was 1920 x 1080 the max resolution of the monitor in this configuration.  We used the configuration menu to have it use merge mode which made a seamless display between the two monitors.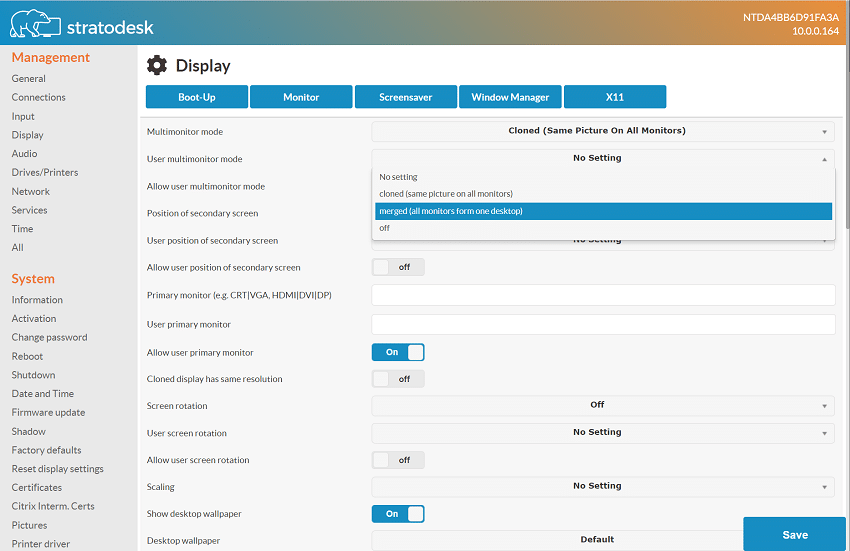 We SSH'ed into the device and ran the xrandr command. This showed the resolution of the monitors that were connected to the monitor and those that were not.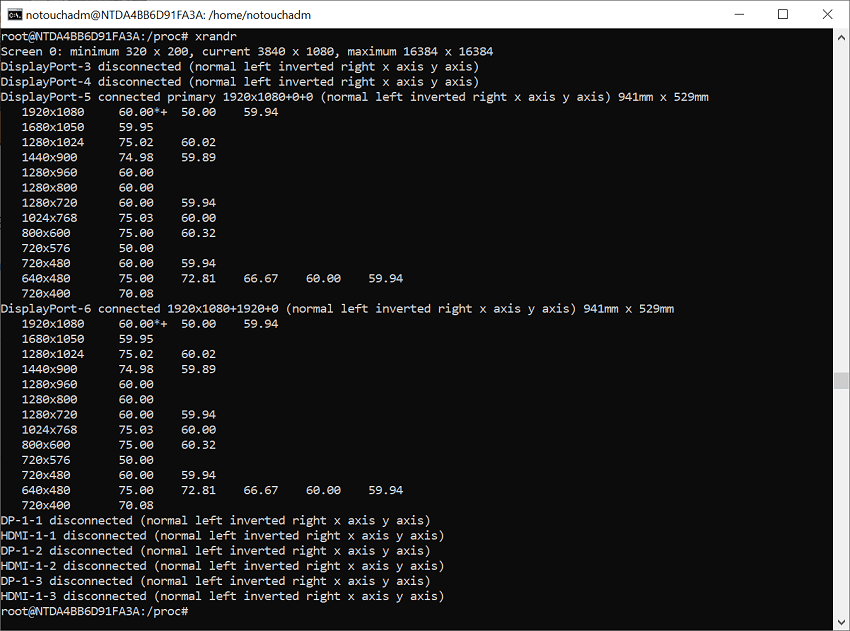 We connected the two additional monitor cables up to the device and they were detected. The Dell P4317Q displayed all the monitors at 1920×1080, its max resolution for four monitors.

We launched TestDrive sessions on two of the monitors, one using VMware Blast and the other using PCoIP and streamed the Chrome browser on a third monitor. We could use all the monitors without any difficulty.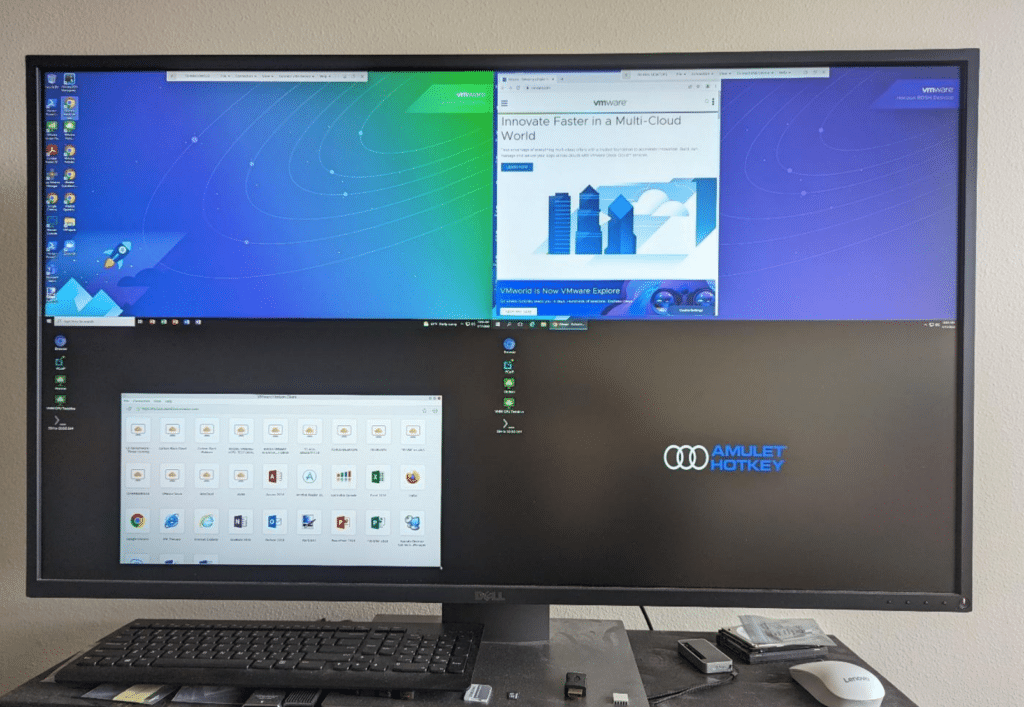 During this testing Edge DX showed a slight spike in CPU usage, but it was still only using a fraction of its CPU capacity.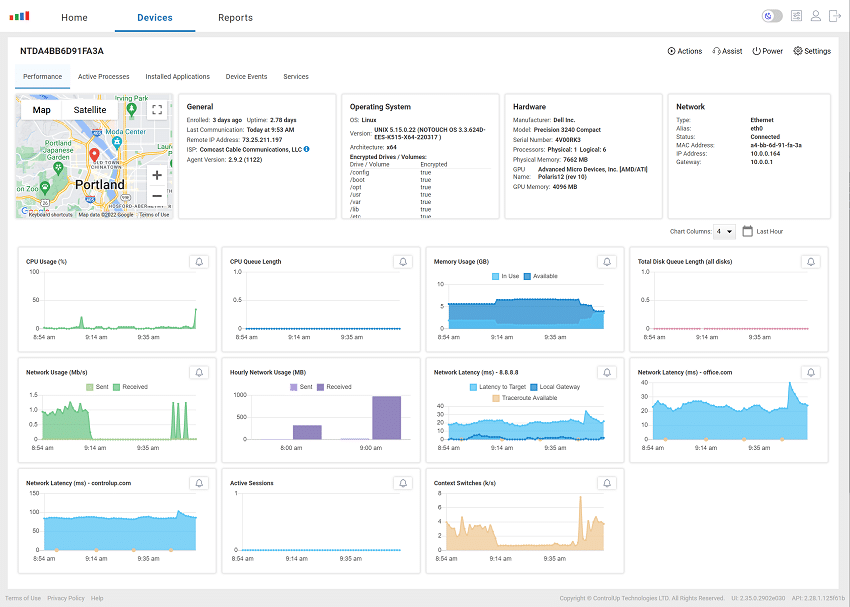 After verifying that the device could support multiple monitor configurations, we set it back to a dual monitor configuration and used it with a local virtual desktop to complete our daily tasks. We used Word, PowerPoint, Chrome and other applications simultaneously without any issues.
Local Horizon Desktop
For the remainder of the two weeks that we used the device, we used a local Horizon virtual desktop with a dual monitor setup to do my daily tasks.
The virtual desktop that we used ran Windows 10 (2004), and had 2 vCPUs, 8 GB of memory, and 50 GB of NVMe-based storage.
The first test we conducted was to use VLC to play a video (1280 x 720 @ 712kbs) that was stored on the virtual desktop. First, we played the video using a quarter of the display, and then once again in full-screen mode. In quarter-scale, the video played without any frames dropping; in full-screen mode, however, the video was jerky, and frames were being dropped as was the case with other VDI clients that we have used. We believe video frame dropping was a result of the virtual desktop and not the client or network. The audio played flawlessly through a headset plugged into the 3.5 mm jack when the video was displayed in both quarter-scale and full-screen mode.

While the video was playing the bandwidth usage was about 0.6Mbps but the CPU usage was very low, which indicated that the GPU was being used.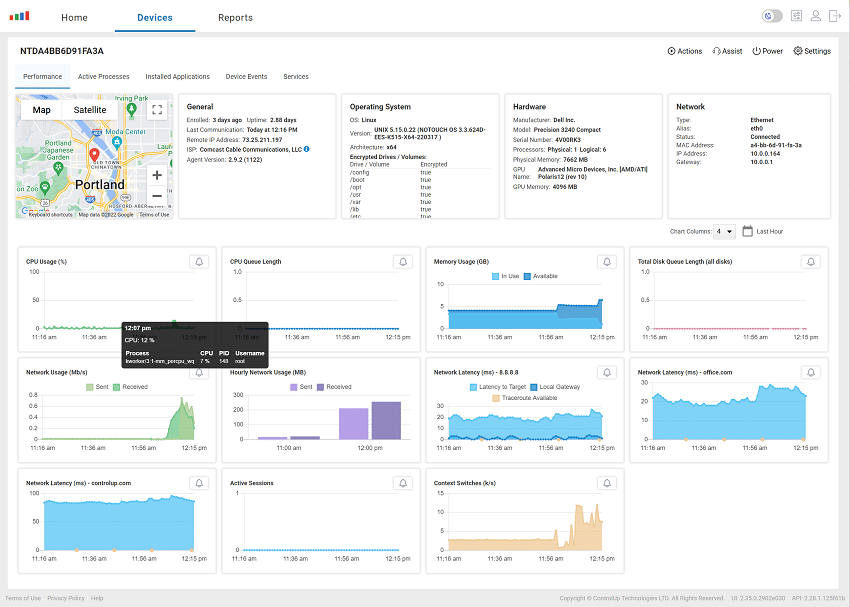 To further test the device, we connected a Jabra voice 150 headset to a USB connection; the Jabra headset was discovered by the virtual desktop and worked without any issues.
We used the client for our daily activities for two weeks without any problems. This included using Microsoft Office applications, Chrome web browser, playing internet-streaming music, etc. During this time the device performed flawlessly.
Using Other Protocols
Amulet Hotkey advertises the device as working with PCoIP, VMware Horizon Blast, and CITRIX HDX, but we found that when setting up a connection you have the option of using other protocols. We were able to connect to other systems using SSH and to an XP and Windows 10 system using RDP without any issues.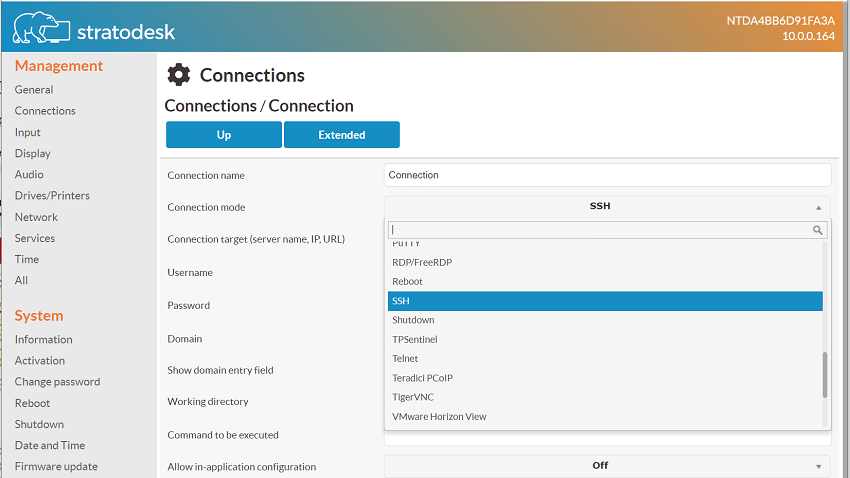 Multiple Device Management
The device can be used with Stratodesk NoTouch Center, a browser-based administration tool that is used to manage multiple VDI clients from a single portal. Using this is beyond the scope of this review.
Amulet Hotkey DX3240 System Management
We did the initial configuration of the device remotely by entering the IP address of the devices in a web browser, but the Configuration menu can also be accessed by right-clicking on the screen and clicking on Configuration.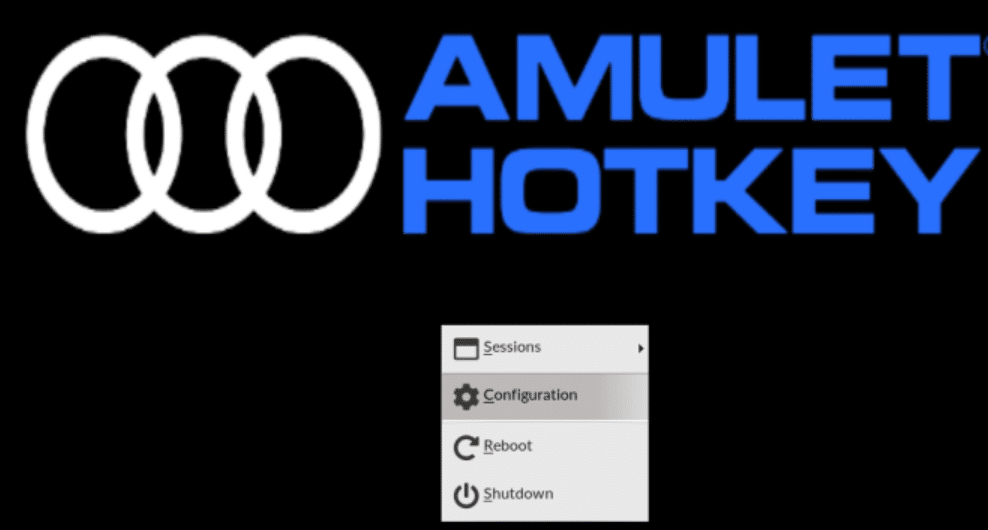 The configuration pane is broken down into different sections: Management, System, Diagnostic, and Generic.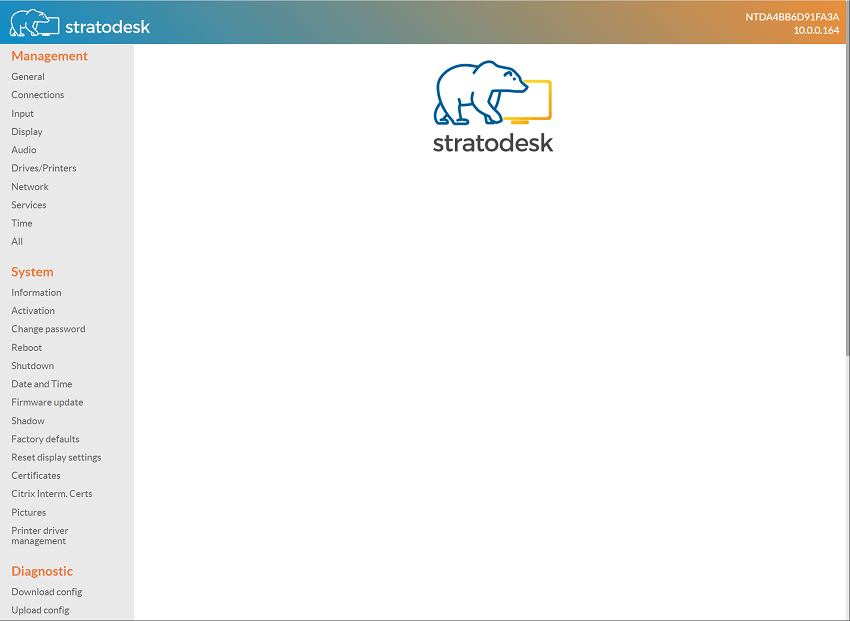 The Management section has the option to configure connections using different protocols. Once a connection is configured it is shown in the main pane where it can be removed or edited.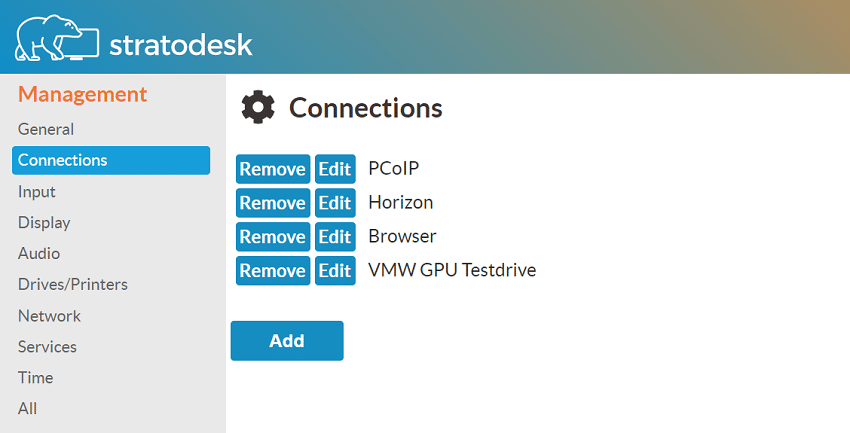 This has the settings for the display, desktop, keyboard, mouse, and screensaver. Unlike some of the other client configuration menus that we have worked with, this one does not allow you to arrange and position the monitors graphically but instead requires you to do so through a drop-down menu.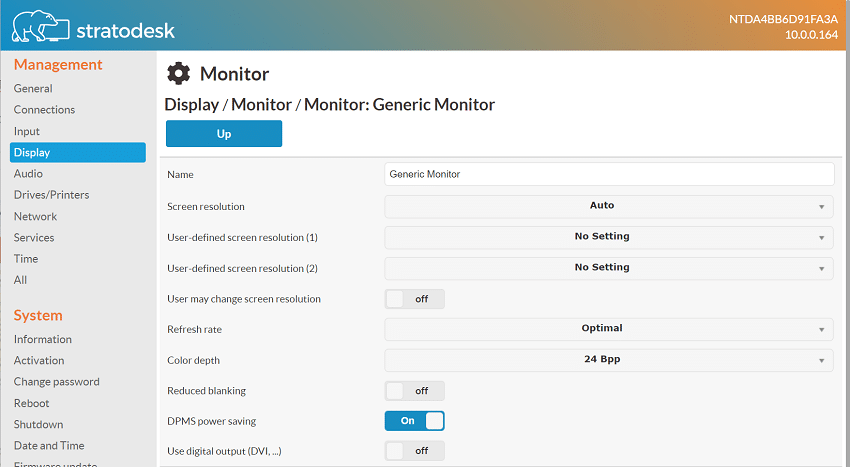 The System menu displays information about the device, NoTouch center, the packages installed on the device and the OS vendor, data and time, etc.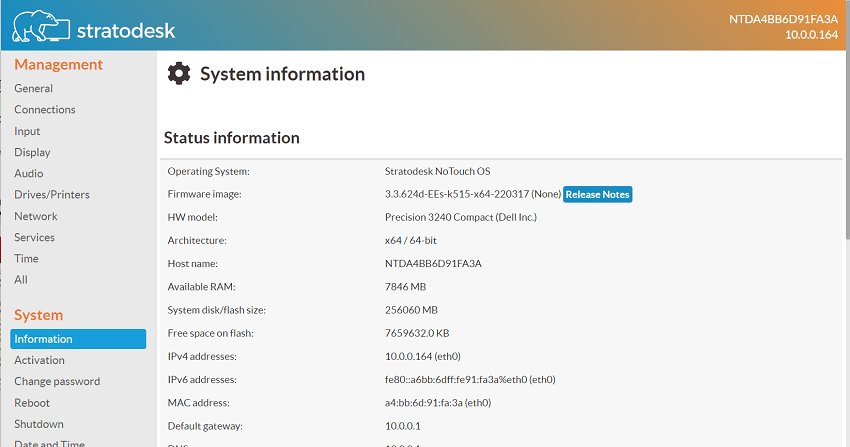 The other sections in the navigation pane are used to configure the client and the devices that are attached to it. We found the menu intuitive and easy to navigate. The Amulet Hotkey and Stratodesk documentation can be consulted for more information on what the settings do.
Conclusion
Amulet Hotkey has been a going concern for over 30 years years and has seen wide acceptance in Europe but is not as well known in America. After using the DX3240 client for two weeks, with both on-premise and cloud-based virtual desktops, we found it to be a well-built device that could easily handle the loads that we placed on it, which we feel would replicate a moderate power user's.
Currently, M&E, CAD/CAM, and financials are some of the industries that need a high-powered VDI client, and the DX3240 can handle the load without any issues. But, in the near future, VDI clients will need to be more powerful for a wider range of users. For example, Dell technologies along with VMware and NVIDIA recently announced their Omniverse initiative, which will allow content creators, designers, and engineers to collaborate in a 3D virtual workspace. This will require powerful, GPU-equipped VDI clients like the DX32340.
To summarize the DX3240, it is a Powerful VDI client with an Intel Core i5CPU, 8GB of RAM, and a discrete AMD Radeon Pro WX3200 GPU with 4 GB GDDR5 RAM that supports up to four 4K UHD displays (3840×2160) @ 60Hz. It runs Stratodesk NoTouch OS which is a highly secure OS that supports PCoIP, Blast, and other remote display protocols. The DX3240 is a good candidate for businesses that need a powerful, reliable, and well-built VDI client for power users that need two or more 4K monitors to complete their tasks.
More information about the DX3240 can be found on the Amulet Hotkeys website. Dealers and partners of Amulet Hotkey can be located here.
More information about the Stratodesk NoTouch OS can be found here.
Engage with StorageReview
Newsletter | YouTube | Podcast iTunes/Spotify | Instagram | Twitter | Facebook | TikTok | RSS Feed