The Backblaze Storage Pod 6.0 accommodates 60 hard drives in a 4U rackmount server, with an architecture that puts the emphasis on storage density and price-per-GB. The Storage Pod 6.0 design is the result of an open-source hardware-development process that allows administrators the choice of purchasing a pre-built server or building their own to the same specifications.
The Backblaze Storage Pod 6.0 accommodates 60 hard drives in a 4U rackmount server, with an architecture that puts the emphasis on storage density and price-per-GB. The Storage Pod 6.0 design is the result of an open-source hardware-development process that allows administrators the choice of purchasing a pre-built server or building their own to the same specifications.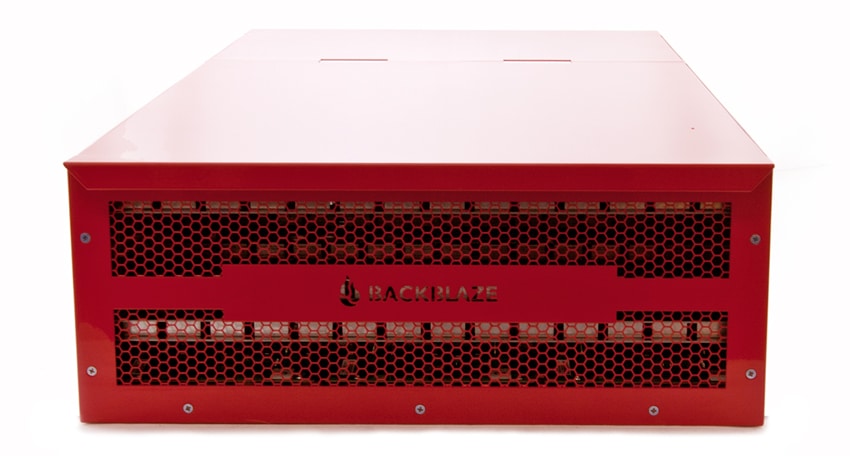 Backblaze bills itself as a cloud-based backup and offsite storage service, but within the storage industry, they are also known as the originator of the Storage Pod series of storage arrays and the publisher of detailed reviews on the longevity of hard drives. In fact, Backblaze only publishes open-source designs and parts lists for their Storage Pods, which means that those who do not wish to build their own Pods will need to purchase them from a third-party vendor like Backuppods or 45 Drives. Backuppods sells the stock Backblaze design, while 45 Drives took the approach of taking the Backblaze design, using it as a launch pad, and modifying it for a much broader audience into a product they call the Storinator.
The Storinator servers are software agnostic. These servers offer the freedom to run any software you choose, including OS (Linux, CentOS, Debian, etc.), FreeBSD, Windows Server, as well as NAS software (FreeNAS, RockStor, etc.). Storinator servers will also allow you to run cluster software such as Gluster FS, and object-store systems such as Caringo or Ceph. The servers can be utilized as a NAS device, but offer the ability to transform into a hyper-converged solution for your chosen application. With 30, 45 or 60 hard-drive slot configurations, the Storinator provides massive amounts of storage with up to 600TB of raw data. It offers read/write data at speeds in excess of 3 GB/s, and is capable of moving massive amounts of data in a very short time over high-speed connectivity.
The Storage Pod 6.0 incorporates 60 commodity hard drives in a 4U-sized server built from parts that are commercially available. According to Backblaze, the Pod 6.0 is designed to allow administrators to get the price as low as $0.05/per GB when using 4TB drives. This means that a 40U rack composed entirely of Storage Pods can accommodate up to 2.4PB of raw storage. By populating the Storage Pod 6.0 with 8TB drives, it's possible to amass 4.8PB in a standard rack.
Because of Backblaze's commitment to open-source hardware, there is an abundance of available information about the build and design of the Storage Pod 6.0. Blueprints, STEP files, wiring diagrams, build instructions, and a parts list are available on the Backblaze website.
Backblaze Storage Pod 6.0 Specifications
Processor: Intel Xeon E5-1620 v2 Quad-Core 3.7GHz 0GT/s 10MB LGA 2011 CPU
RAM: HYNIX 4x8GB DDR3-133MHz HMT31GR7CFR4C-PB
Motherboard: SuperMicro MBD-X9SRH-7TF-O
Power Supply: 2 EVGA 750w
Boot Drive: Samsung ST500LM012
SATA III Card: Sunrich 4 Port PCI Express A-540
Backplane: Sunrich S-331
CPU Fan: Dynatron R13 1U
Operating System: Linux Debian 7
Build and Design
One of the first things to notice about the Storage Pod 6.0 is that its chassis depth (which measures 35 1/16 inches inclusive of the lid) is deeper than most server racks, although not as long as some of the larger bulk-storage shelves we've seen come into the lab. The added depth is key to fitting 60 bays into a 4U server, especially when you factor in that it's built with commodity components. While not knocking the commodity bit, there are some limitations when using generic components over custom, which to a large extent include size. Off-the-shelf ATX power supplies are much, much larger than say, the power supplies found in a Dell, HP or IBM server. In the space leveraged by two of these units, you could probably fit 6 or 8 server PSUs. That said, the cost differential between those two options is dramatically higher, as well as the R&D costs associated with integrating them.
There is one design element associated with the power supply configuration that does require special attention. While most servers don't activate components until the server soft-powers on (fans, drives, etc.), the Storage Pod does. The way it is configured to work in their environment, physically turning on PSU1 will activate part of the hard-drive backplane, spinning up hard drives. The element of concern enters here, since the chassis fans don't turn on at this sequence yet; instead they turn on when a user soft-powers on the motherboard later in that process. So if you purchase the Storage Pod to use in your own environment, you need to be aware that in the odd chance the OS powers itself down, you have a short window (minutes) to flip the switches on the PSUs before the hard drives overheat. If it is in a colocation datacenter and no tech is nearby, you may have hardware failure or worse.
We reached out to 45 Drives, one of the VARs listed on the Backblaze website, about the design quirk and they have already addressed this configuration issue. Early in their deployment, they recognized the power configuration as a possible problem and changed to a single power supply. They offer a redundant, hot swappable supply with remote PMBus management, as well as a non-redundant supply. So, if the OS does shut down, the full chassis powers down as usual, with users having control over the entire system remotely.
Backblaze recommends aligning the front of the chassis with the front of a standard 29-in rack, meaning that the extra inches hang out the back end. That alignment keeps the majority of the system's weight – the hard drive bays – supported directly by the rails. That's an important consideration for a system that weighs about 150 pounds when fully populated.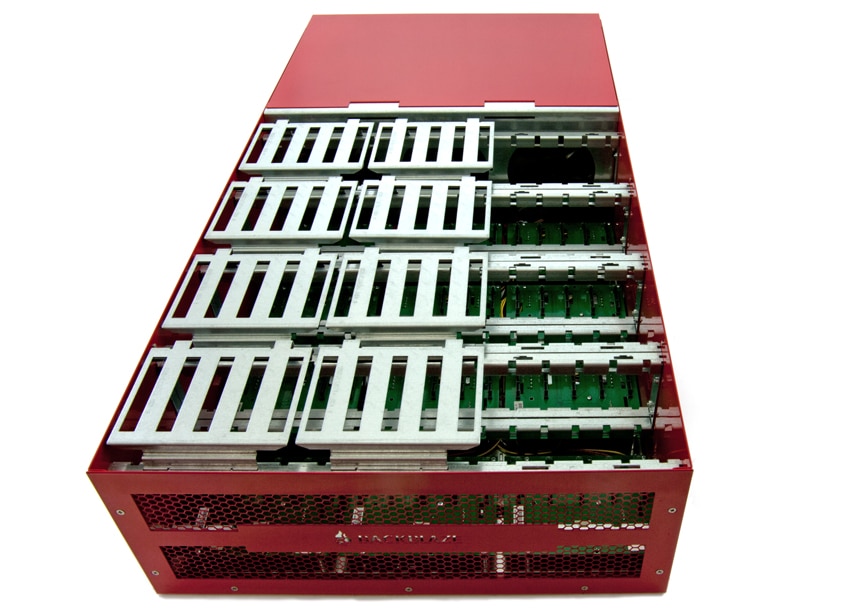 The Backblaze Storage Pod 6 uses 12 SATA multipliers, each with five ports, for connectivity with the storage drives. Backplane SATA connectivity is provided via 3 SATA III cards with Marvell 9235 chipsets, and the multipliers use Marvell 9715 chipsets.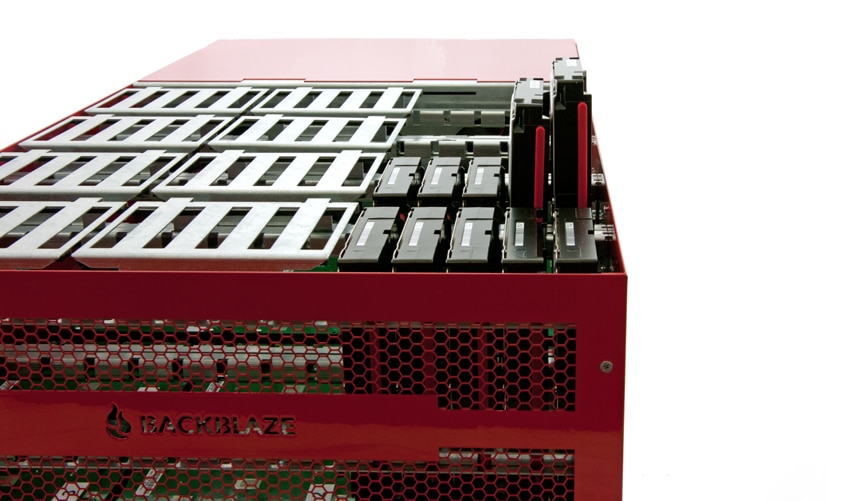 The Storage Pod 6.0 is designed for dual EVGA Supernova NEX750G power supplies, at top-left. The Supermicro MBD-X9SRH-7TF-O MicroATX motherboard provides dual PS/2 ports, dual USB 2.0 ports, a serial port, VGA port, and Intel X540 Dual port 10GBase-T network ports.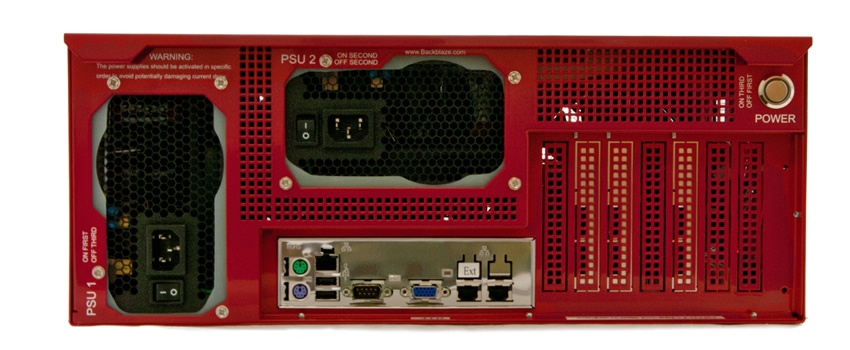 The motherboard's eight DDR3 DIMM slots are specified for up to 512GB ECC LRDIMM, 256GB ECC RDIMM, or 64GB ECC/non-ECC UDIMM. In light of its purpose as a dense storage server, the recommended RAM configuration is four 8GB PC3-12800 DDR3-1600MHz modules for a total of 32GB RAM. The quad-core Intel Xeon E5 -1620 V2 CPU that powers the system is located on the center of the board under the power supply, just out of view. All three of the available PCIe slots are occupied by SATA cards. The two PCI-32 slots are unoccupied.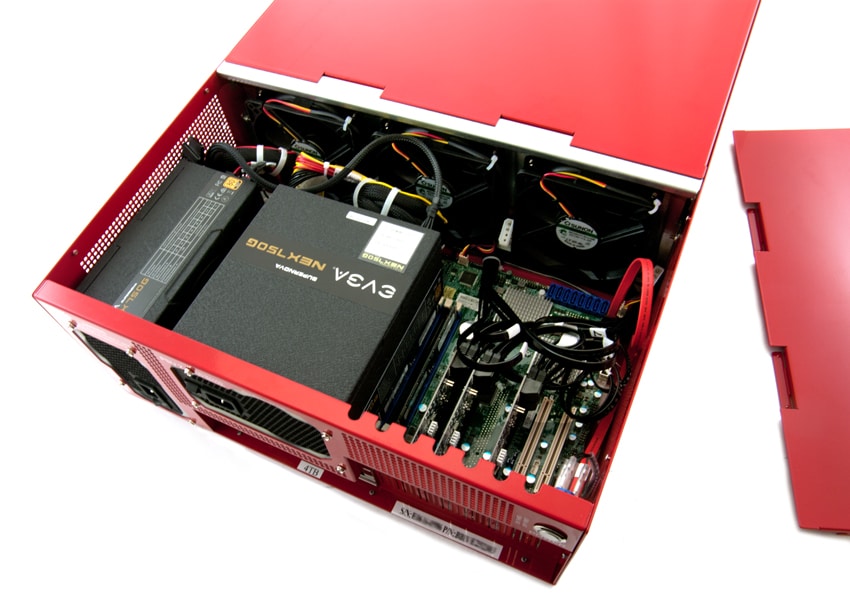 Management
In keeping with Backblaze's open-source orientation, the Storage Pod 6.0 uses an operating system and software stack based on Debian and Apache. At the system level, that means server administrators have access to the wide range of software tools available in the Debian ecosystem.
It is important to note that accessing Backblaze storage is only possible via HTTPS, in contrast with most other enterprise storage solutions that provide accessibility via more traditional file- or block-based transports. HTTPS connectivity is handled via a custom Backblaze application layer in Apache Tomcat. This application layer is responsible for monitoring pods, storage allocation, encryption, deduplication, and other functionality.
This review will explore the Storage Pod 6.0 as an independent storage server, but Backblaze Storage Pods can also be federated into a cluster of 20 pods called a Vault Storage Pod. In that arrangement, each of the 20 Storage Pods either provides data or parity storage for any given file saved to the Vault. Backblaze's open-source Reed-Solomon encoding algorithm is used to distribute the data across the cluster.
For use as a standalone server, Backblaze recommends dividing the storage into four RAID6 volumes, each incorporating 13 data drives and 2 parity drives. The RAID Array is created with the mdadm utility and the filesystem is EXT4.
Conclusion
The Backblaze Storage Pod family is probably the most widely adopted open-source alternative to the closed storage platforms offered at enterprise and datacenter scale. "Rolling your own" data storage system is not unique to Backblaze, but the company's work to open-source its architecture has resulted in an active community of users and third-party vendors who are vested in this approach and share a common hardware and software baseline.
The Storage Pod 6.0 is designed primarily to be one node in an integrated Vault-based cloud storage system that only speaks HTTPS to clients. We know that many people who have built Storage Pods are using them individually or in groups smaller than the 20 Pods which are required to form a Vault, so we were eager to take a look at how a single Pod functions under the same workloads which we used to evaluate other storage systems.
According to Backblaze, administrators can expect to spend a bit more than $10,000 to buy the components necessary to assemble a complete Storage Pod 6.0. Alternately, Backblaze currently offers an assembled Pod 6.0 chassis for about $6,000 with everything included except the 60 hard drives. They suggest budgeting an additional $7,000 for storage for a total estimated price of about $12,850.
Pros
A standardized and well-documented data storage architecture at a price competitive with "roll-your-own" or "whitebox" solutions
An open hardware and software platform empowers administrators
Cons
Some hardware elements may not work for all customers, but some 3rd parties do offer modified designs
The Bottom Line
The Backblaze Storage Pod 6.0 is a great tool for users looking for a cost-effective "white box" solution that they can easily integrate into their current data center or IT infrastructure.
Backblaze Storage Pod 6.0 product page
Sign up for the StorageReview newsletter