Reduce. Reuse. Recycle. Not only do these three words make environmental sense they are the mantra of homelabbers, educational institutions, startup companies, and other users and organizations that have limited funds. We have started to notice a trend on reselling sites that more and more low-powered devices with Win IoT installed on them are coming up for sale.
Reduce. Reuse. Recycle. Not only do these three words make environmental sense they are the mantra of homelabbers, educational institutions, startup companies, and other users and organizations that have limited funds. We have started to notice a trend on reselling sites that more and more low-powered devices with Win IoT installed on them are coming up for sale.
For example, a used Dell Wyse 7020 Thin Client with 4GB/32GB and W10 IoT was for sale on eBay for less than $50! We saw lots of  Win IoT devices from HP, Dell, and other vendors with similar specifications for under $100. With this in mind, we decided to look at a low-powered device running Win IoT as thin clients.
First, we will look at Win IoT, then a low-powered device ( a Lenovo Nano M75n) that comes with Win IoT pre-installed on it, and give our final thoughts on the utility of these devices either in your homelab or other organization trying to stretch the IT budget.
What is Win IoT?
Windows IoT, formerly Windows Embedded, comes in three different versions: Core, Enterprise, and Server. Each of these versions has unique characteristics that make it suitable for different use cases. Most of the devices that we saw for sale didn't specify which version they came with but with a little bit of digging, we found that for those that did mention the version, Enterprise was the most common.
Win IoT Core is intended to run on low-powered and systems on a chip (SoCs) powered devices; as such, it has a stripped-down OS but still has the familiar Windows graphical interface. It can only run a single application in the foreground.
Win IoT Enterprise is based on the complete Windows Enterprise edition but has been optimized for industrial devices, kiosks, and other commercial applications. It also has the familiar Windows interface. Only Enterprise is certified by VMware to run its Horizon client.
Below is a comparison of Win IoT Core and Enterprise from Microsoft. You can also visit the Microsoft web page, which details their differences.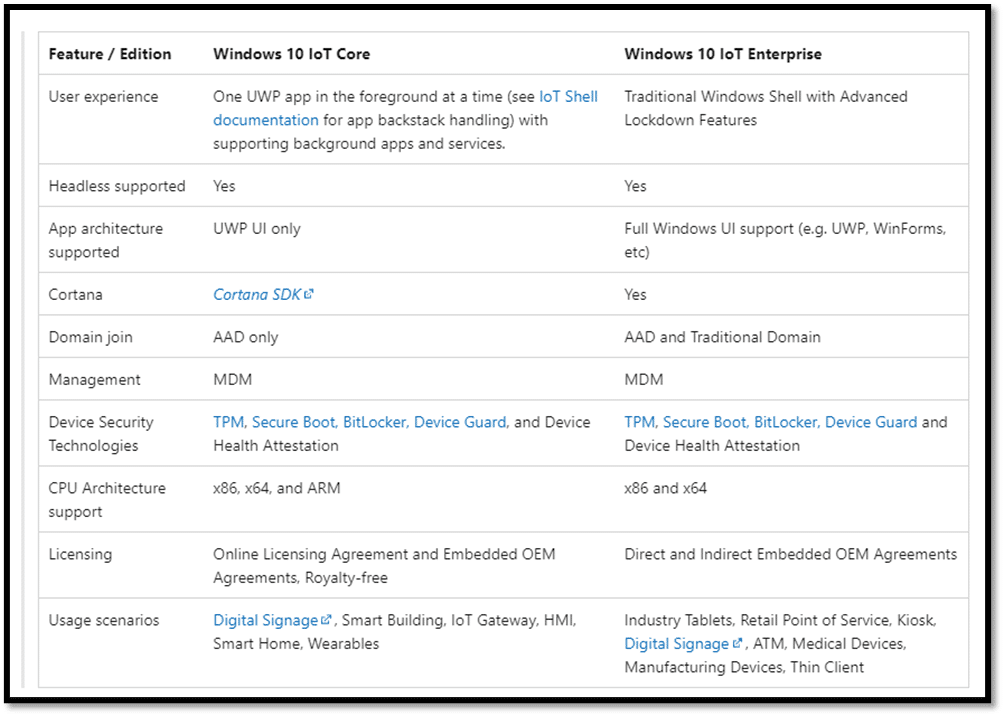 Win IoT Server is a full version of Windows Server locked down to specific applications and peripherals. It is the binary equivalent to Windows Server and uses the same development and management tools as other Windows servers, including Endpoint Configuration Manager, Windows Admin Center, and Azure ARC.
The Windows IoT family leverages the Windows ecosystem and provides a familiar platform for developers to create IoT solutions that use Windows management tools, applications, and drivers.
Special licensing is required for IoT from Microsoft, and individuals cannot purchase it, but many low-powered devices do come with a license for it.
Lenovo Nano M75n
The device we used for the hands portion of this article was the Lenovo Nano M75n as it is a low-powered device that is a few years old. We did see a few of these devices on eBay and for sale new from resellers.
The M75n is a small and attractive PC/thin client. With its black body and red bottom, it may be considered by some, including us, to be the thin client equivalent of a pair of Christian Louboutin shoes. However, unlike Louboutin shoes, this device is geared towards workloads that don't require a powerful CPU, RAM, or a lot of storage, in short, it is an ideal device for task workers looking for a small yet capable thin client to attach to virtual desktops and stream applications.
To give a brief overview of its specifications, the M75n is a Nano has multiple USB and video ports, and is powered by an AMD Ryzen CPU with an integrated Radeon GPU. The device runs the Win 10 IoT Enterprise operating system and supports all the major VDI environments, as well as some niche ones. It had an original  MSRP: $519 USD (street price is lower). It supports  Microsoft RDP; VMware Horizon RDP/PCoIP and Blast Extreme, Citrix ICA/HDX, and other remote display protocols.
Inside it is powered by a AMD Ryzen 3 3300U processor with four cores and four threads. It has a base frequency of 2.1GHz and a boost frequency of 3.5GHz. It uses Radeon RX Vega 6 graphics with 6 CUs (384 Shaders) clocked at up to 1200 MHz. It has 8GB soldered DDR4-2400 and a 256GB SSD M.2 2280 PCIe NVMe Opal for storage. It supports up to two displays at up to UHD/4K (3840 x 2160 @ 60 Hz) resolution. It has numerous USB ports, 1 Gbps NIC, and wireless networking.
it is very small and light at  880 x 220 x 180 mm 505 g.  It is so small that a US bill will almost cover it.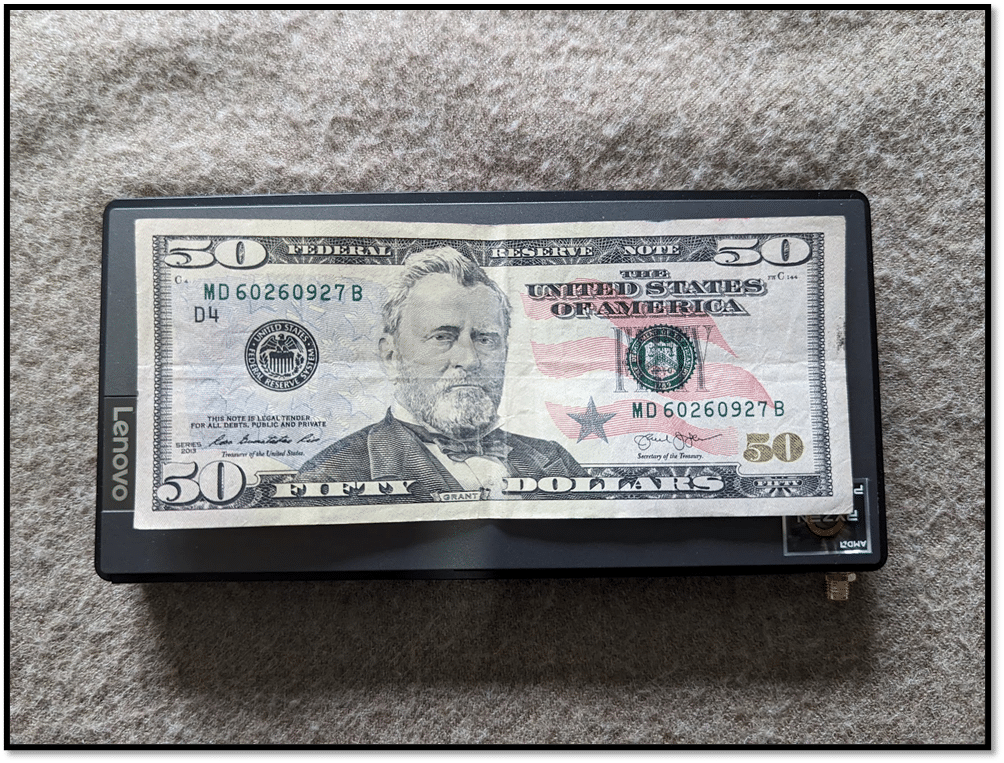 On the front of the device is the power on button with an indicator light, three USB ports (a USB-C [3.2 Gen 2], USB-C [3.2 Gen 2], USB 3.2 [Gen 2], and a 3.5 mm headphone/microphone combo port.

The back of the device has connectors for a power adapter connector, DisplayPort, USB 3.2 (Gen 2), USB-C (3.2 Gen 2), USB 2.0, RJ-45 (Ethernet) ports, a security lock, and a Wi-Fi antenna.

The sides and bottom of the device are perforated for ventilation.
A VESA stand can be connected to the device via three holes in the bottom.
The bottom of the device can be removed to expose the device's motherboard, which has two M.2 SSD drives and a Wi-Fi card slot.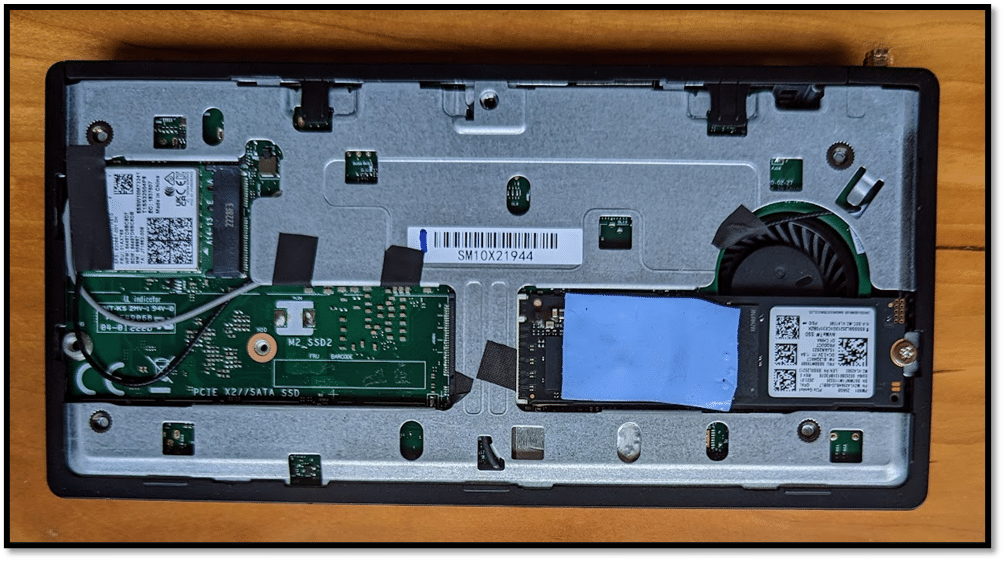 The build quality and attention to detail of the device is excellent.
Usability and Device Setup
The real test of a virtual desktop client is its usability; to put the M75n to the test, we used it for two weeks in our Pacific Northwest lab with various configurations. Below are the key results we noted during our time using it.
We connected a Lenovo ThinkVision P27 monitor using the included USB-C to HDMI adapter for system configuration and our initial testing. We set the monitor to a 2K resolution.
We powered on the device by pressing the power button on the front. As it powered on, we saw a Lenovo splash screen.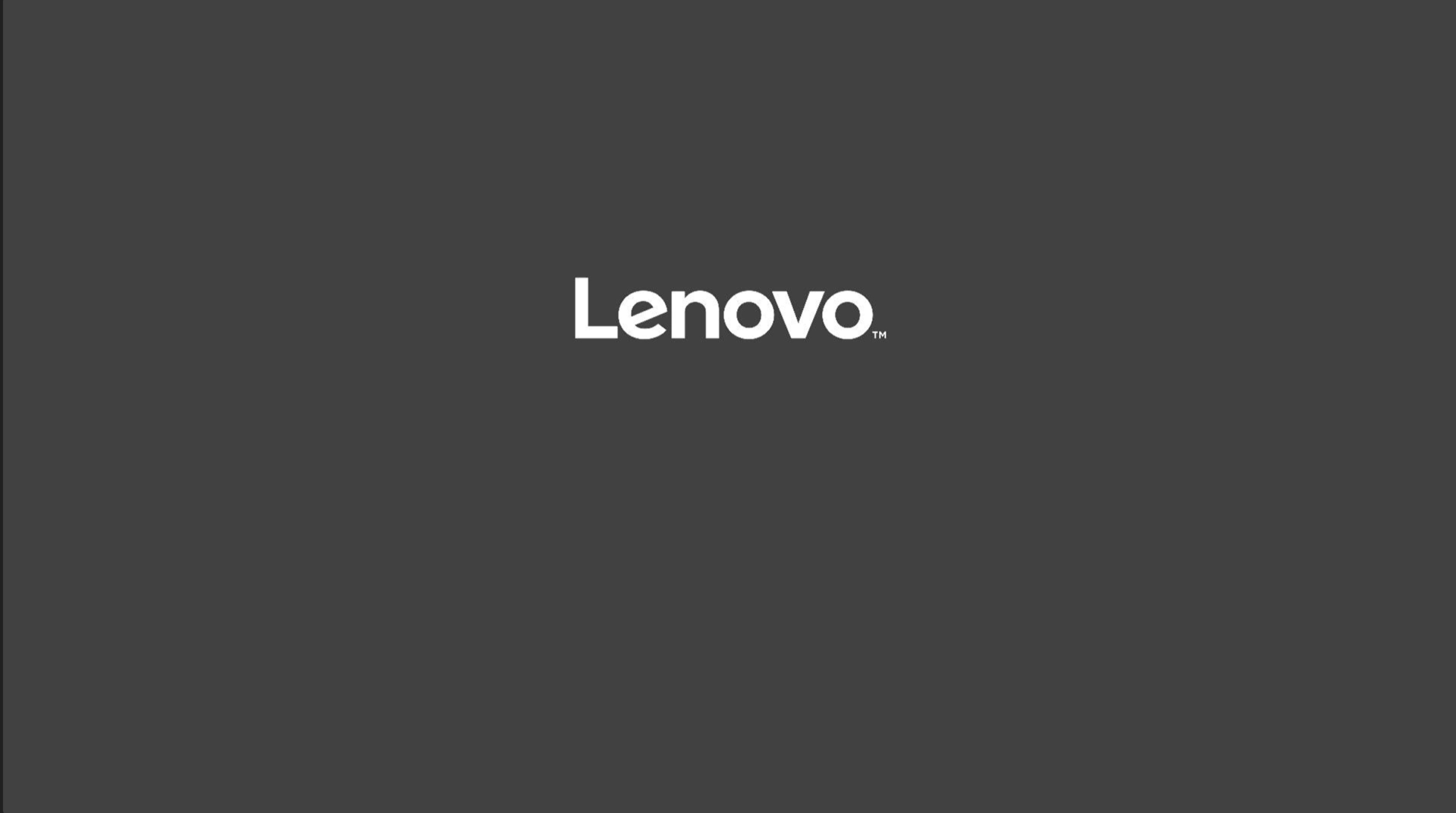 As this is the first Windows IoT device we tested, we were unsure what to expect, but it seemed to boot up like other Windows systems. It did some system configurations and then rebooted.
We were automatically logged on as MyUser and booted onto a screen asking us to accept the EULA. Icons for various VDI connections (e.g., Horizon, Citrix, RDP) and Internet Explorer were on the background. Right-clicking the background and taskbar did not give us any options, and the Start menu had limited options. Many standard tools, such as the command prompt, were unavailable.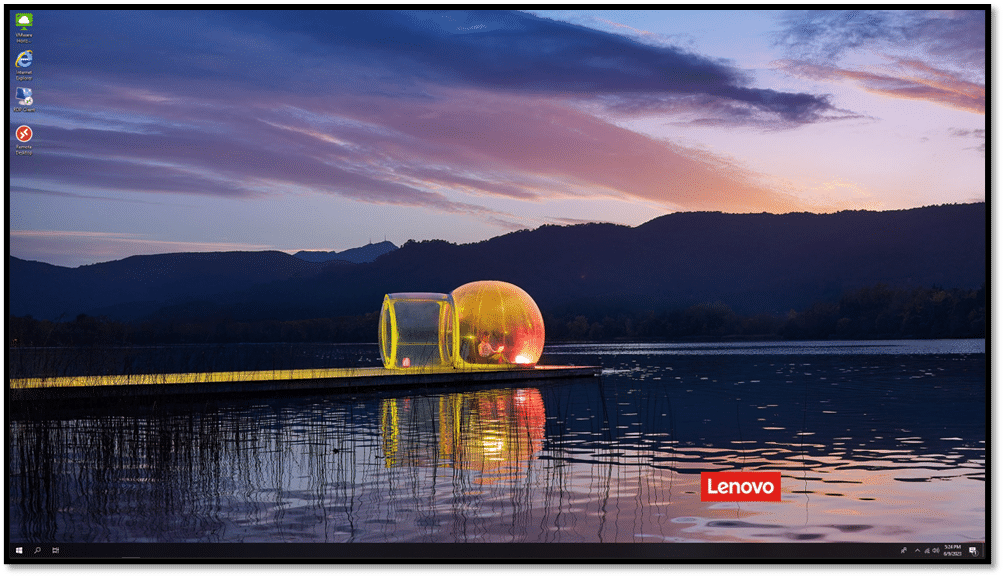 We signed out as MyUser and signed back in as Administrator with the default password of 000000. As Administrator, we could configure the networking and add connections to our Horizon desktops.
We installed Chrome and Edge web browsers on the device without any issues.
To monitor the device's performance and to check third-party product integration, we installed ControlUp Edge DX on it. As a disclaimer, one of our analysts, Tom Fenton, works for ControlUp. We were able to install Edge DX without any issues.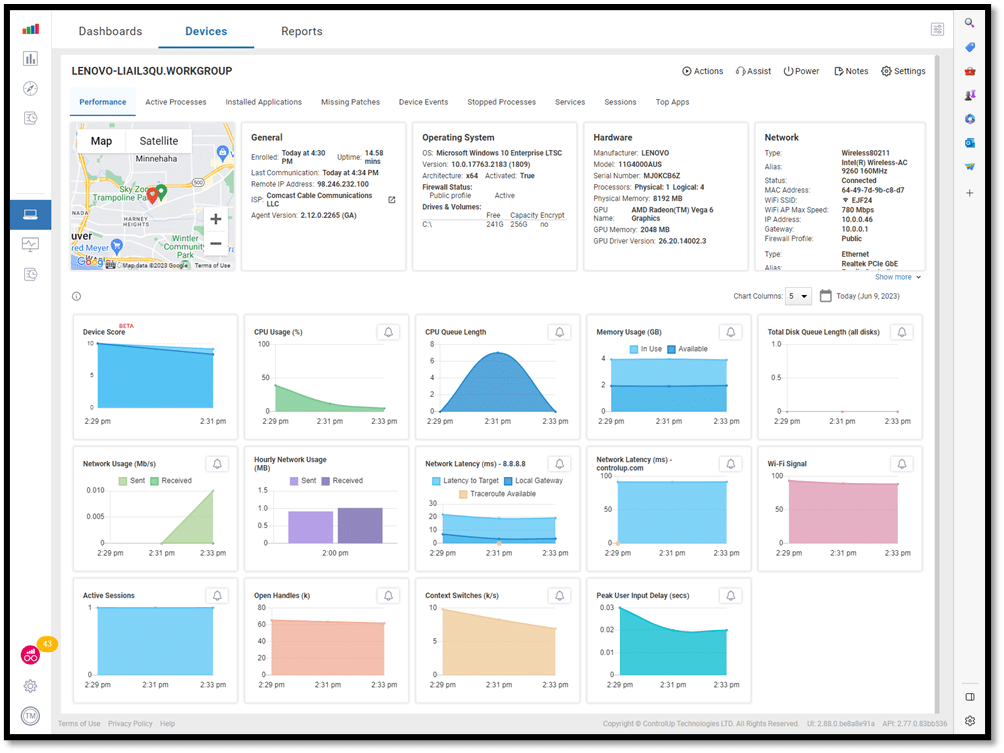 We tested the Edge DX assist features and found that we could use its remote shell feature to run commands remotely.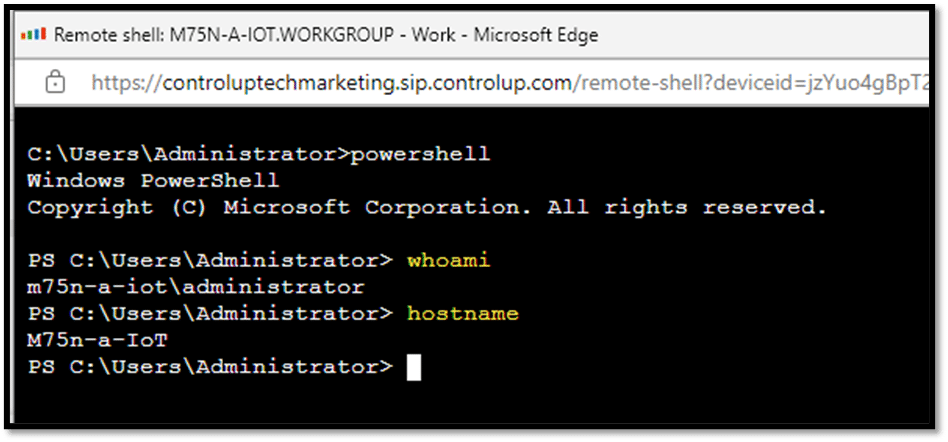 Likewise, Edge DX remote console and shadow worked as expected.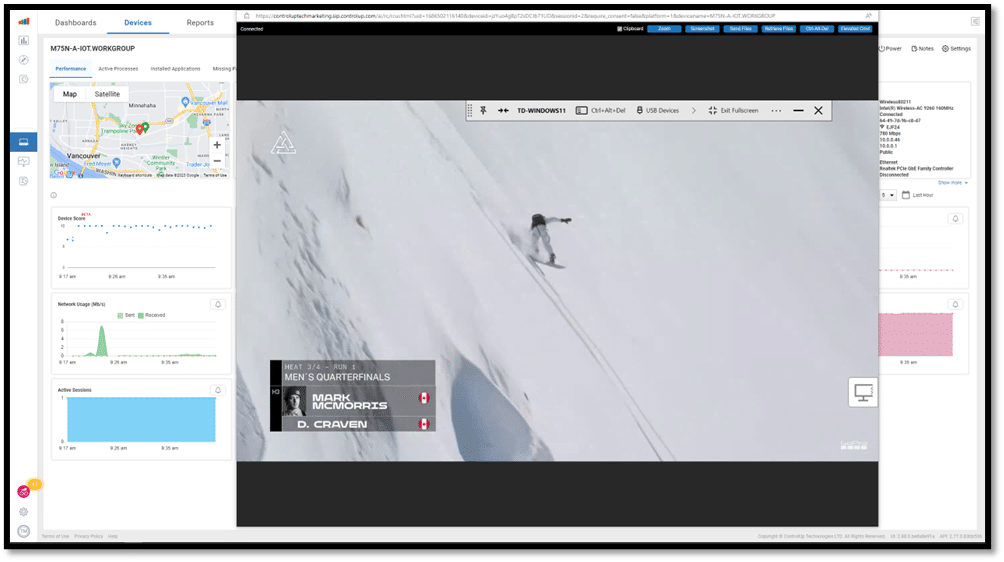 When we rebooted the system, all the applications that we installed were gone.
Unified Write Filter (UWF) is a feature that protects physical storage media from data writes. UWF intercepts all write attempts to a protected volume and then redirects those write attempts to a virtual overlay. This improves the reliability and stability of your device and reduces the wear on write-sensitive media, such as flash memory media (e.g., solid-state drives). When enabled, all applications will only be temporarily installed and will be gone after the system reboots.
To install applications, we needed to disable UWF. After using uwfmgr to disable and reboot it, I received a message about UWF being disabled and could then permanently install applications on it. Companies deploying IoT devices will do this to the gold IoT image before installing it on devices.
Local Horizon Desktop
To understand how well the M75n would work in a real-world scenario, we used the device with a local Horizon virtual desktop to perform our daily tasks for two weeks.
We tested it by connecting it to our network through a Wi-Fi router connected to a local ESXi server. The server was hosting our local VMware Horizon virtual desktop. To create a controlled environment, we monitored the network during testing to ensure no other traffic was present.
The virtual desktop we used ran Windows 10 (1607) with two vCPUs, 8GB of RAM, and 128GB of NVMe-based storage.
We brought up the Horizon client and configured it to connect to a local Horizon desktop without difficulty.
For our first test, we used VLC to play a 640×360 30fps video stored on the virtual desktop. We played the video in its native resolution, and the video played without any frames dropping.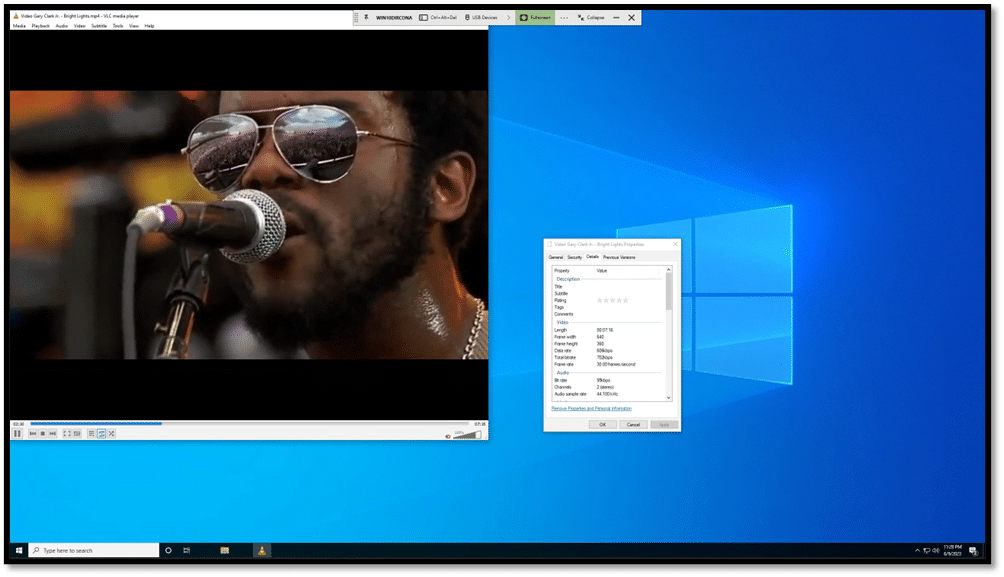 While the test was running, the CPU usage on the device was less than 10%.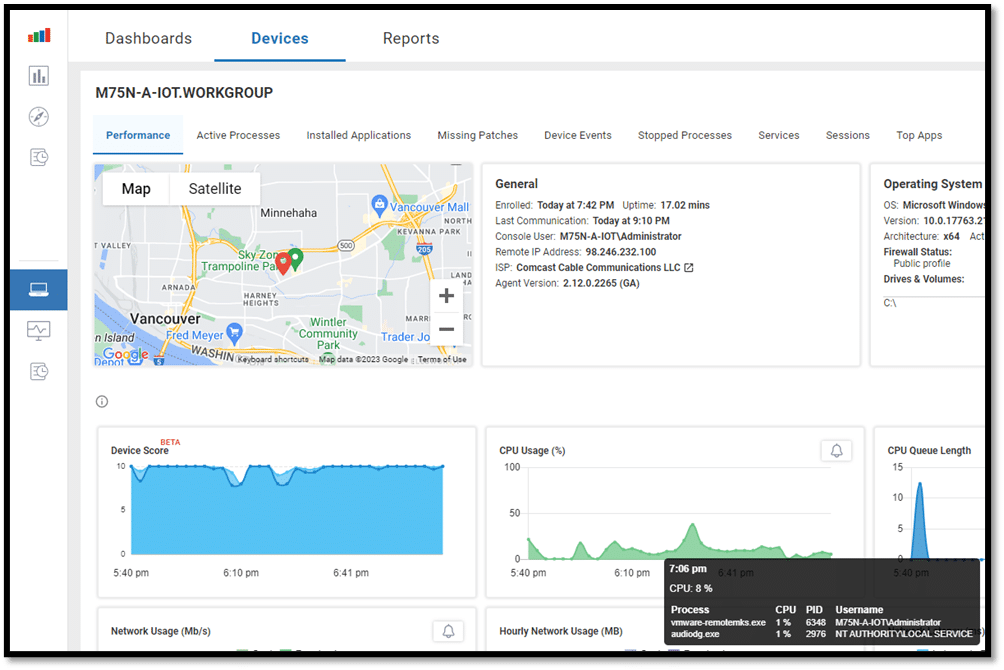 The playback was slightly jerky when we played the video in full-screen mode. This was because the virtual desktop consumed 100% of the virtual machine's (VM's) resources.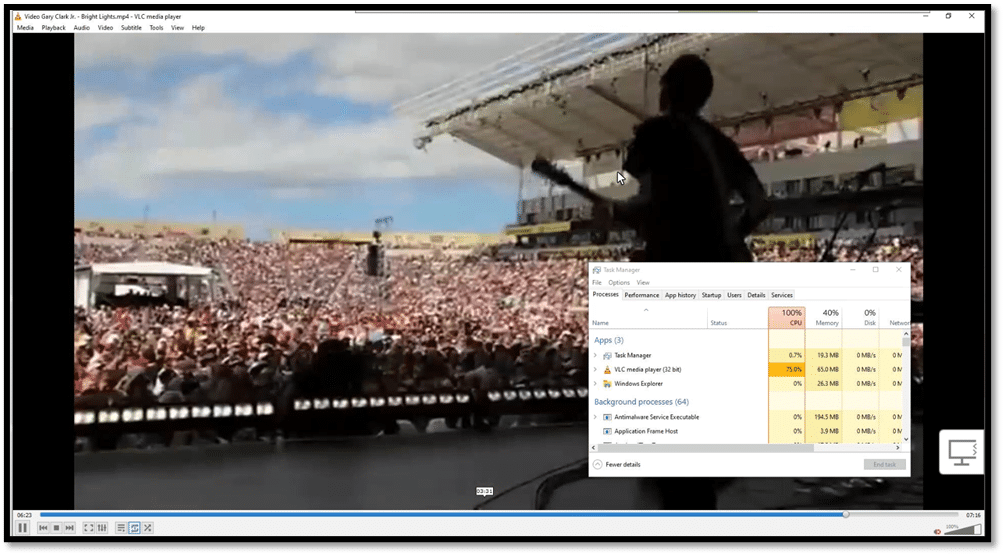 While the test was running, the CPU usage on the device was less than 15%.
The audio played flawlessly through the device's built-in speaker when the video was displayed in quarter-scale and full-screen modes. The device's built-in speaker was loud enough for us to hear, but you would want to use headphones or an external speaker in an office environment.
We connected a Jabra Voice 150 headset to a USB connection, which was not discovered by the device. We suspect that the IoT system did not include its driver.
We used the client for our daily activities for two weeks without problems. This included using Microsoft Office applications and Chrome web browser, playing internet-streaming music, etc. During this timeframe, the device performed flawlessly.
One of the benefits of using Win IoT and one of its biggest attractions is that it can be used with the Windows management systems as any other Windows system. However, device management is beyond this review's scope.
Conclusion
Reusing a low-powered device is a cost-efficient way for companies and organizations to save capital while keeping gently used items from landfill. We were unsure what to expect with a device running Win 10 IoT, but after working with the device for a few weeks, we were satisfied with its performance. We can see how corporations with a heavy Windows bias and invested in tools and personnel to support it would be attracted to it from a support and deployment point of view.
Without a doubt, the M75n was a more than capable tiny device. Its AMD quad-core processor with 4GB was peppy enough to deliver a desktop for task workers and other workloads that don't require a high-powered CPU, lots of RAM, or storage.
Although we focused on reusing devices in this article, a new M75n is reasonably priced and would be a good fit for corporations that are looking for Windows-based a device that would sit unobtrusively and quietly on a user's desktop or mounted to the back of a monitor while soundly delivering remote desktops and streaming applications.
Engage with StorageReview
Newsletter | YouTube | Podcast iTunes/Spotify | Instagram | Twitter | TikTok | Discord | RSS Feed