The WD Blue SN580 is the successor to the SN570 SSD. The SN580 is part of the WD blue line, which features mainstream value SSDs for users who are on a budget that don't need a lot of storage power. The SN580 features a PCIe Gen 4 interface and offers capacities from 250GB up to 2TB.
The WD Blue SN580 is the successor to the SN570 SSD. The SN580 is part of the WD blue line, which features mainstream value SSDs for users who are on a budget that don't need a lot of storage power. The SN580 features a PCIe Gen 4 interface and offers capacities from 250GB up to 2TB.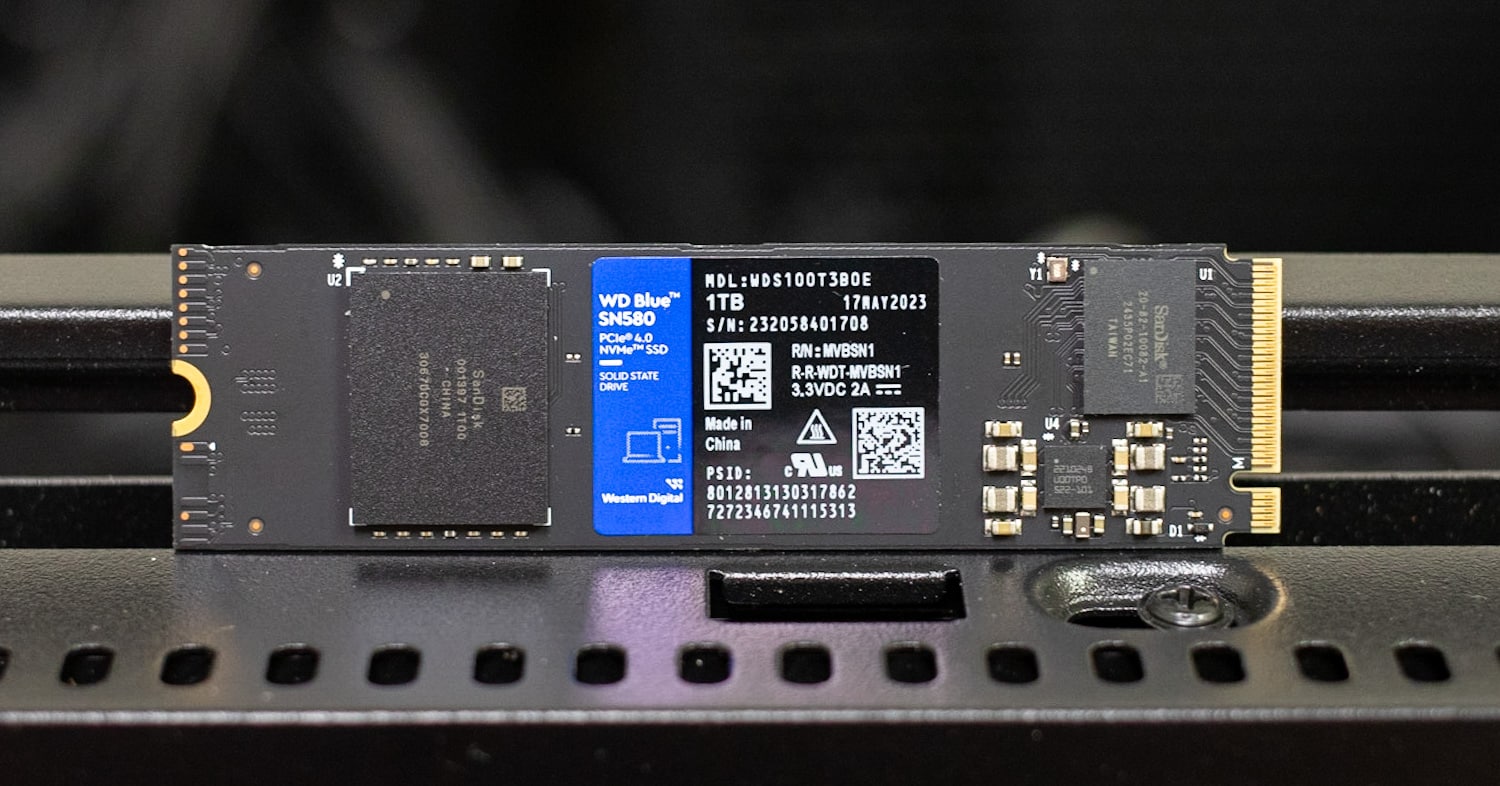 While most new SSDs coming to market on are a Gen5 interface, the bulk of the systems in the world still use a Gen4 interface. This makes the interface update an improvement from the SN570's PCIe Gen 3 interface, especially for OEMs trying to offer flash-based systems at an affordable price point.
WD claims a sequential read and write speed of up to 4,150 MB/s (for 1TB and 2TB models). This beats SN570 performance by 14 to 21 percent in sequential reads and 18 to 66 percent in sequential writes depending on the size of the drive. For random reads and writes, WD claims up to 600k IOPS in reads and 750k IOPS in writes.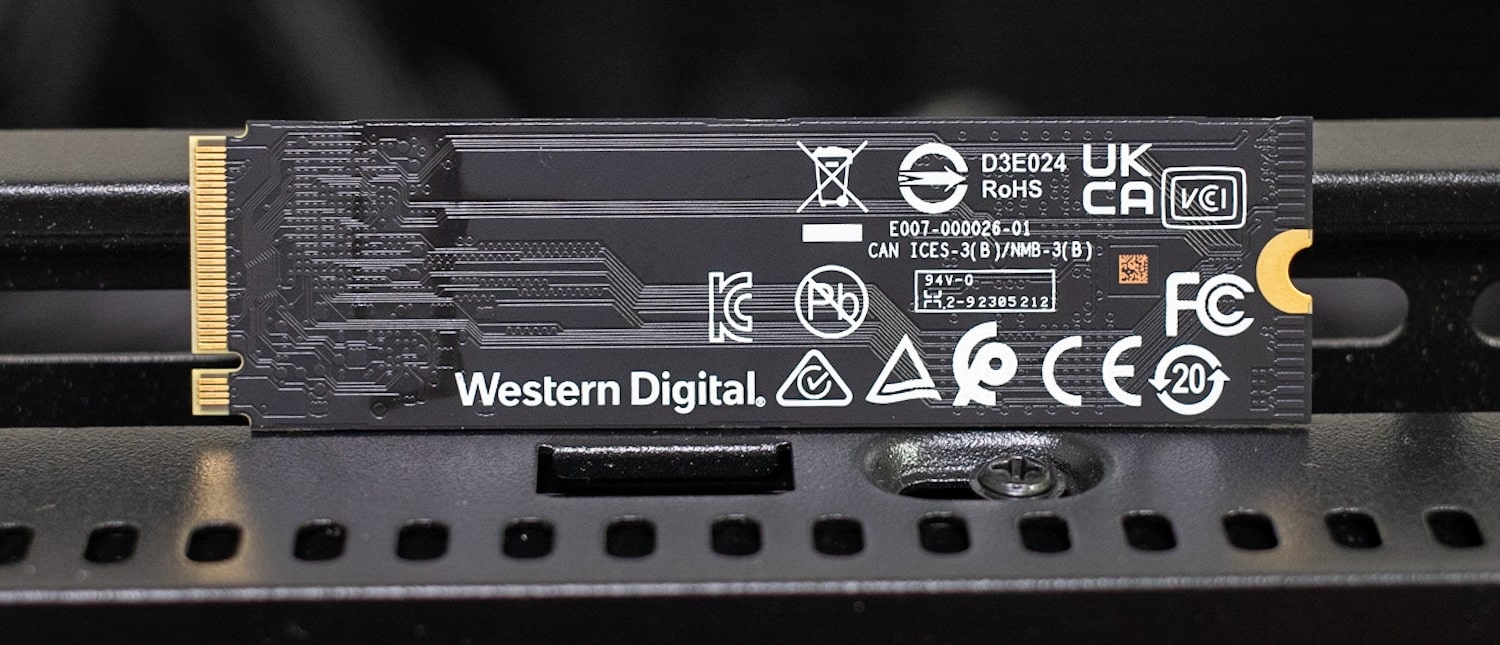 To help with management, the SN580 comes with the Western Digital SSD dashboard which monitors the health, capacity, and temperature of the drive. It also upgrades your firmware when available. The mean time to failure (MTTF) rating is specced at 1.50 million hours. The SSD comes with a 5-year limited warranty.
The WD SN580 is available for approximately $28 (250GB), $32 (500GB), $50 (1TB), and $110 (2TB) on Amazon. We will be looking at the 1TB model for this review.
WD Blue SN580 Specifications
Available Capacities
250GB, 500GB, 1TB, 2TB
Interface
PCIe® Gen 4.0 16Gb/s, up to 4 lanes
NAND
Western Digital TLC NAND
Sequential Read and Write Speed
Up to 4,150 MB/s
Random Read 4KB IOPS up to
(Queues=32, Threads=16)
240K (250GB), 450K (500GB), 600K (1TB), 600K (2TB)
Random Write 4KB IOPS up to
(Queues=32, Threads=16)
470K (250GB), 750K (500GB), 750K (1TB), 750K (2TB)
Form Factor
M.2 2280
Endurance
250GB: 150 TBW
500GB: 300 TBW
1TB: 600 TBW
2TB: 900 TBW
Warranty
5-Year Limited
MTTF
1,500,000 Hours
Operating Temperature
0°C to 85°C
Storage Temperature
-40°C to 85°C
Sleep (PS5)
3.3mW
Average Active Power
65mW
Features
✓ PCIe® Gen 4.0
✓ nCacheTM 4.0
✓ M.2 2280 form factor
✓ Western Digital®-designed controller and firmware for optimized performance
✓ Western Digital® SSD Dashboard constantly monitors the health of your SSD
WD Blue SN580 Performance 
For database and synthetic testing, we leverage the Lenovo ThinkSystem SR635 server, equipped with an AMD 7742 CPU and 512GB of 3200Mhz DDR4 memory. NVMe is tested natively through an M.2 to PCIe adapter card in the edge-card slot. A large focus is put on drive latency across the entire load range of the drive, not just at the smallest QD1 (Queue-Depth 1) levels. We do this because many of the common consumer benchmarks don't adequately capture end-user workload profiles. For our added BlackMagic Disk Speed Test performed in Windows, we use our self-built StorageReview desktop.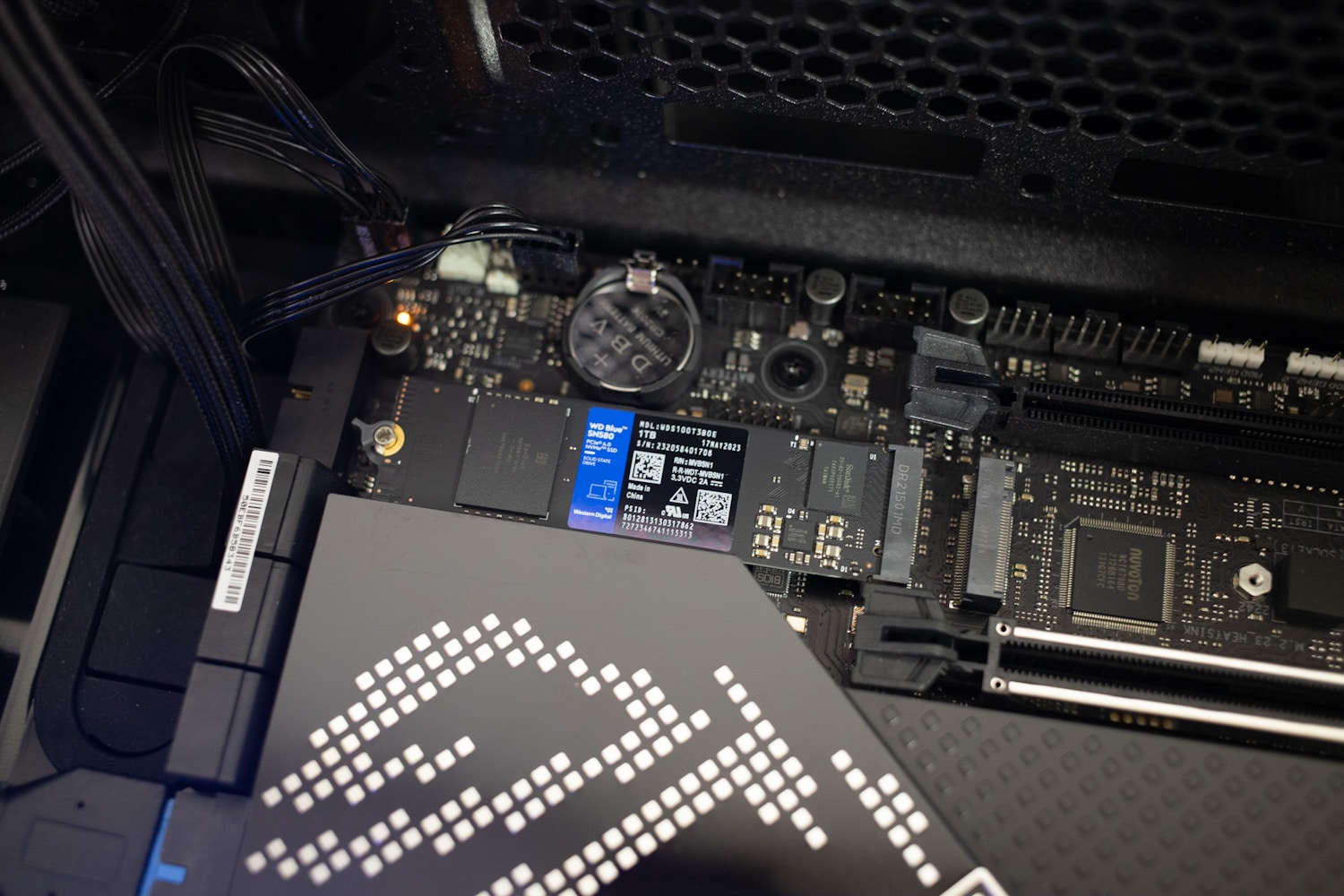 We are reviewing the 1TB version of the SN580. To keep the results within the family and to show scale, will be comparing to the WD SN770 and WD SN850X.
VDBench Workload Analysis
When it comes to benchmarking storage devices, application testing is best, and synthetic testing comes in second place. While not a perfect representation of actual workloads, synthetic tests do help to baseline storage devices with a repeatability factor that makes it easy to do an apples-to-apples comparison between competing solutions. These workloads offer a range of different testing profiles ranging from "four corners" tests, common database transfer size tests, to trace captures from different VDI environments.
All of these tests leverage the common vdBench workload generator, with a scripting engine to automate and capture results over a large compute testing cluster. This allows us to repeat the same workloads across a wide range of storage devices, including flash arrays and individual storage devices. Our testing process for these benchmarks fills the entire drive surface with data, then partitions a drive section equal to 1% of the drive capacity to simulate how the drive might respond to application workloads. This is different from full entropy tests which use 100% of the drive and take them into a steady state. As a result, these figures will reflect higher-sustained write speeds.
Profiles:
4K Random Read: 100% Read, 128 threads, 0-120% iorate
4K Random Write: 100% Write, 64 threads, 0-120% iorate
64K Sequential Read: 100% Read, 16 threads, 0-120% iorate
64K Sequential Write: 100% Write, 8 threads, 0-120% iorate
Starting with 4k random read, the SN580 showed very weak performance, showing a peak of just 138K IOPS at a latency of 928µs.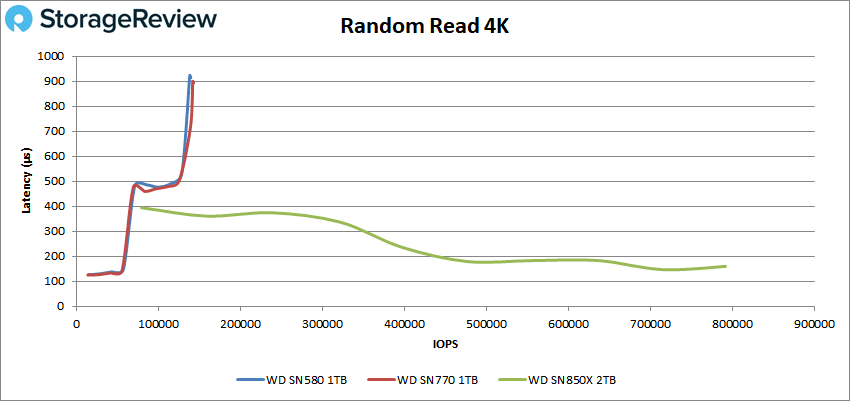 The results were similar for 4k random writes. The SN580 ended with 27.5K IOPS and about 4,600µs.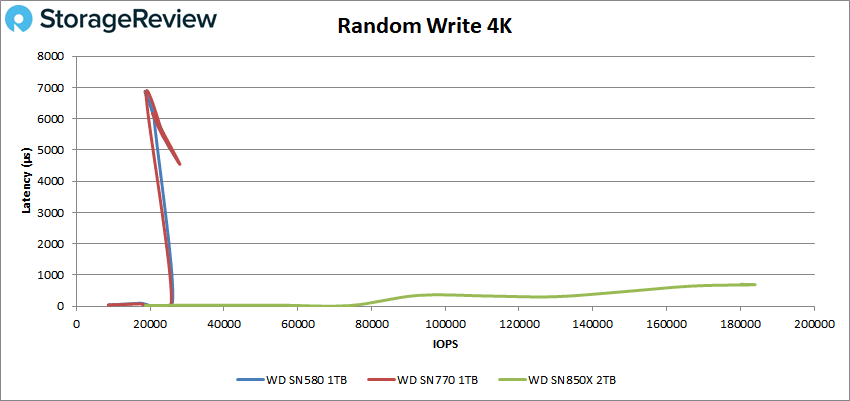 The SN580 once again fell short when switching to sequential 64K workloads. The SN580 had a peak throughput of 3.44GB/s read with a latency of 580µs.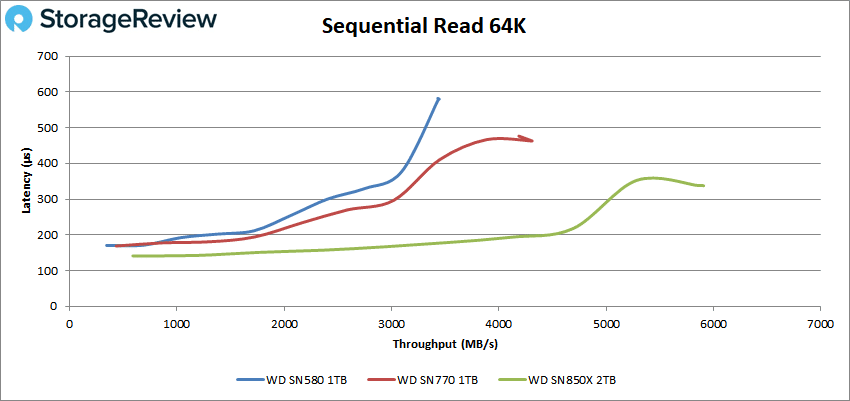 In sequential writes, the SN580 fell back once again, peaking at 425MB/s with a latency of just 2345µs.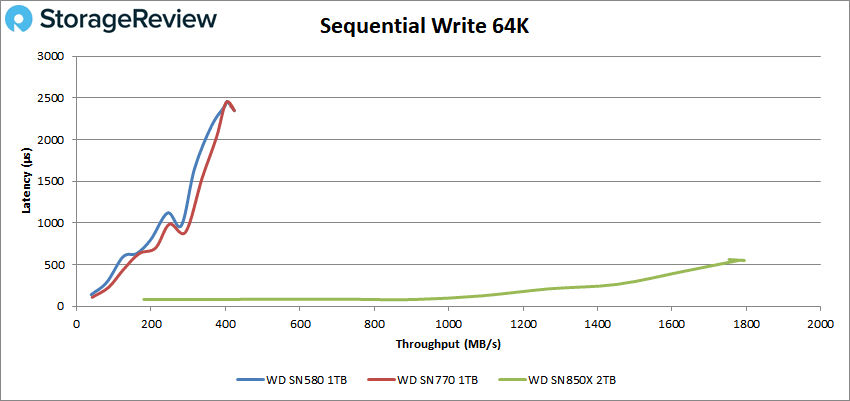 Next, we looked at our VDI benchmarks, which are designed to tax the drives even further. These tests include Boot, Initial Login, and Monday Login. The SN580 didn't do well with these workloads, consistently showing high latency. Starting with Boot, the SN580 ended the test at 37.4 IOPS (at 959.5µs).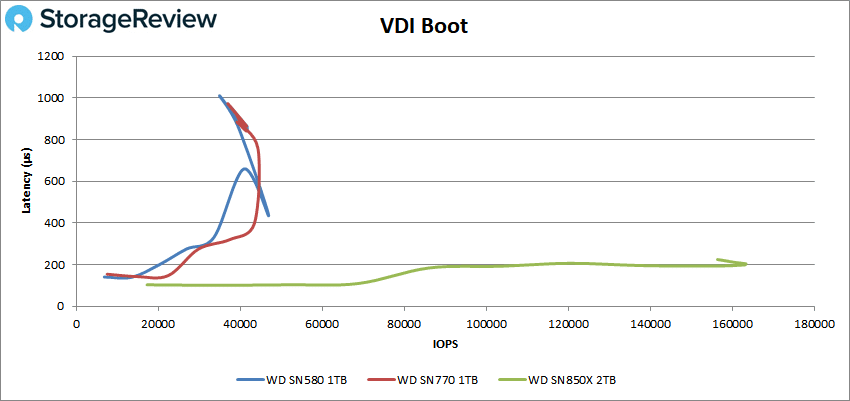 For VDI Initial Login, the SN580 ended with a peak of 6.2K IOPS (at 1,224µs).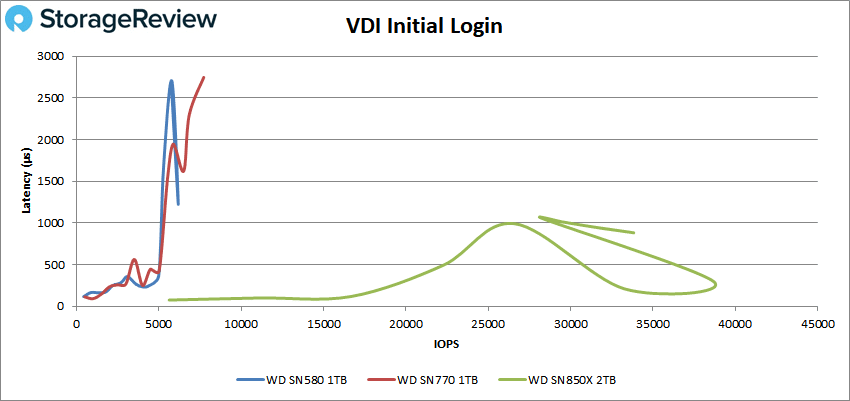 Finally, is the VDI Monday Login benchmark, where the SN580 remained alongside the Corsair and WD drives at the bottom of the leaderboard. Here, we saw a peak of just 10.1K IOPS with a latency of just over 1,500µs.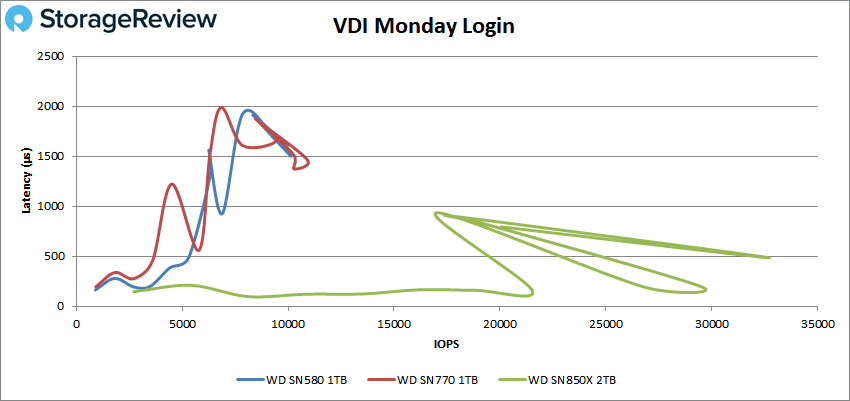 Blackmagic Disk Speed Test
We measured performance inside a Windows 11 environment on our consumer test platform via the popular Blackmagic test. Here, the SN580 was able to hit 3,167MB/s read and 3,196GB/s write.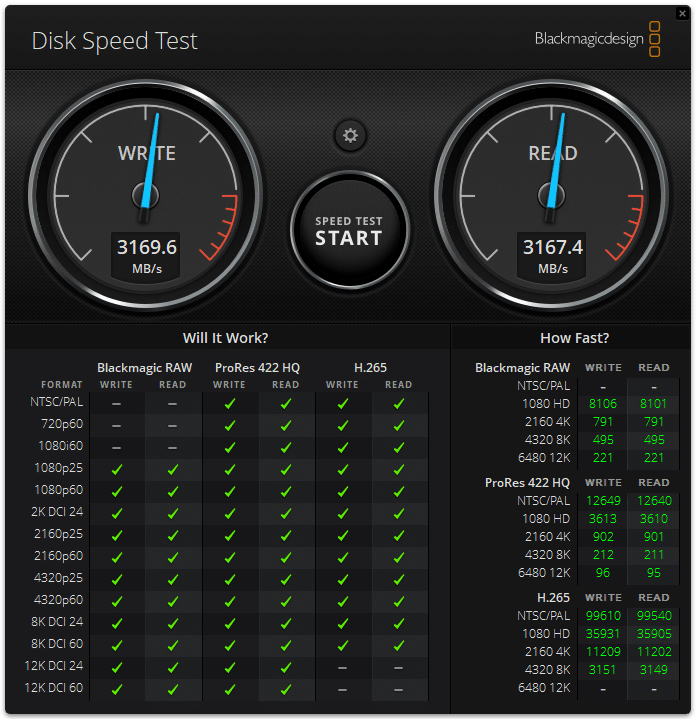 BootBench
BOOT-BENCH-1 is a workload profile adopted by OCP to profile SSDs that are designed for server boot duty. While this is intuitively a job for enterprise SSDs, client SSDs are often selected for their performance, capacity, and cost combination. The boot drive issue is germane not just to hyperscalers, but also to server and storage system providers as well as they face similar challenges.
This boot workload executes a relatively intense test plan that fills the drive entirely with writes before testing a read-heavy workload sequence. For each test, it performs a 32K random read async operation alongside a 15MiB/s synchronous 128k random write as well as a 5MiB/s synchronous 128k random write/trim background workload. The script starts with the random-read activity at a 4-job level and scales up to 256-jobs at its peak. The final result is the read-operations performed during its peak run.
The OCP goal for this benchmark is a pass/fail at 60K read IOPS. Most drives we test will far exceed the minimum, but the results are instructive regardless.
| | |
| --- | --- |
| SSD | Read IOPS |
| SK hynix Platinum P41 | 220,884 IOPS |
| WD SN850X | 219,883 IOPS |
| Solidigm P44 Pro | 211,999 IOPS |
| Fantom VENOM8 | 190,573 IOPS |
| Samsung 990 Pro | 176,677 IOPS |
| Sabrent Rocket 4 Plus | 162,230 IOPS |
| SN580 | DNF |
As you can see in the table below, the SN580 did not finish, meaning it didn't fulfill the performance requirements to meet the requirements of the test.
Conclusion
The WD Blue SN580 Gen4 SSD may be positioned as a low-cost client drive but unfortunately had disappointing results during our benchmarking when looked at through a cost/TB scope. The performance itself wasn't a huge surprise because the blue line is not meant for high performance, they're really designed as cost-effective drives for system builders. The pricing at launch is the SN580's biggest flaw.
The SN580 is $50 for the 1TB version which sounds great until you look at other options. Even within the WD family, there are much better options out there such as the WD SN850X. Sure it's a high-performance gaming drive, but at $60 on Amazon right now, this 1TB drive offers so much more than the SN580 while only being $10 more! Even the SN770, which we said should have been a Blue drive in our review, is priced the same as the SN580 but outperforms it a little.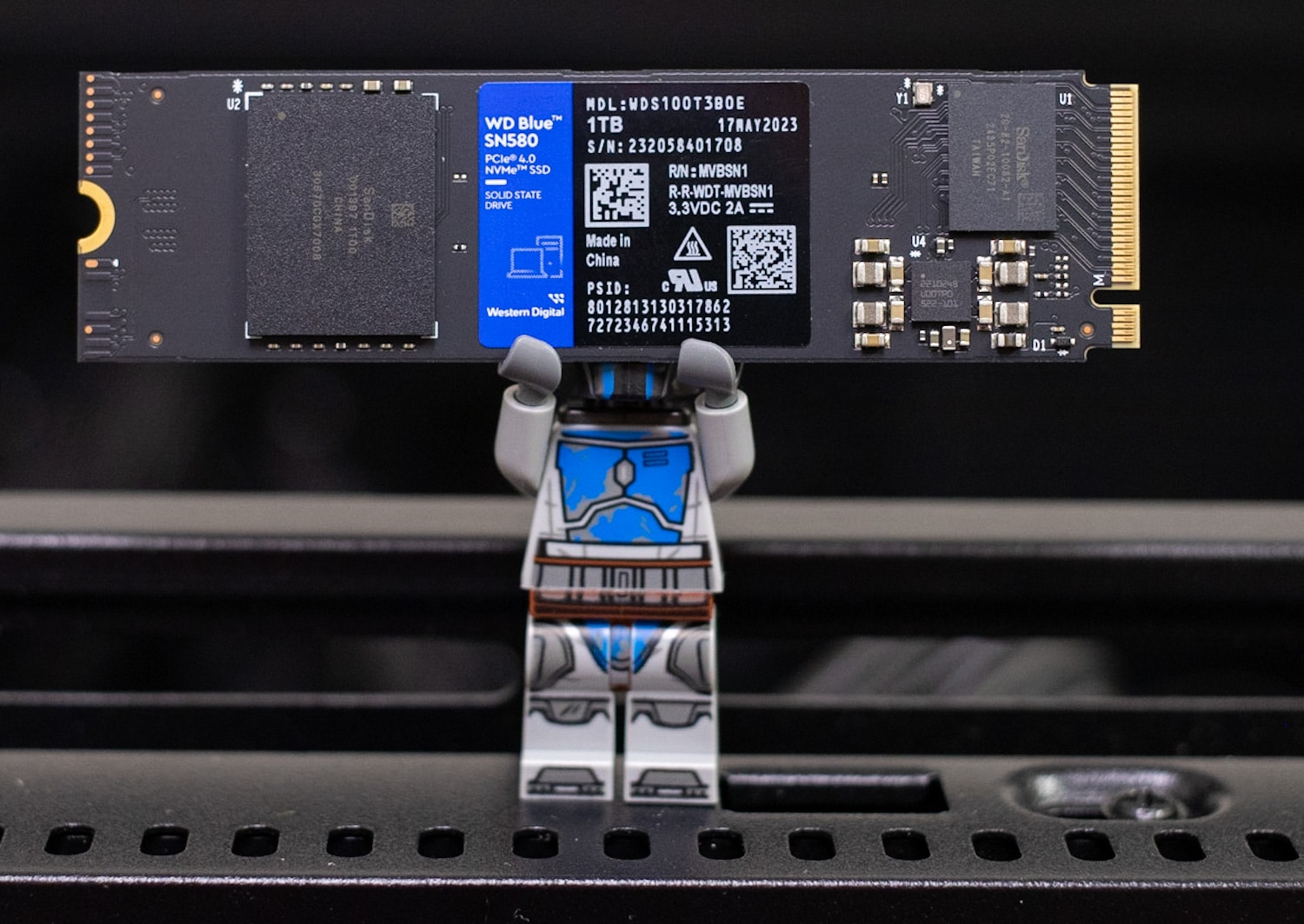 There is no reason for consumers to buy the SN580 when they can buy an SN850X, or a number of other mainstream drives priced the same or a few dollars more instead. To be fair, this drive is tailored to OEMs and system integrators who need large quantities of SSDs to put into their budget laptops and tablets, and for them, the SN580 may make sense when volume pricing is considered. But for everyone else, WD offers better options at/near this price point.
Engage with StorageReview
Newsletter | YouTube | Podcast iTunes/Spotify | Instagram | Twitter | TikTok | Discord | RSS Feed