The ClearCube C3Pi+ is a low-cost, and very small form-factor, virtual desktop infrastructure (VDI) client based on the Raspberry Pi B+ platform. ClearCube is positioning this product for use by state and local governments, medical organizations, kiosks, and other environments where a low-cost, single monitor VDI client is desirable.
The ClearCube C3Pi+ is a low-cost, and very small form-factor, virtual desktop infrastructure (VDI) client based on the Raspberry Pi B+ platform. ClearCube is positioning this product for use by state and local governments, medical organizations, kiosks, and other environments where a low-cost, single monitor VDI client is desirable.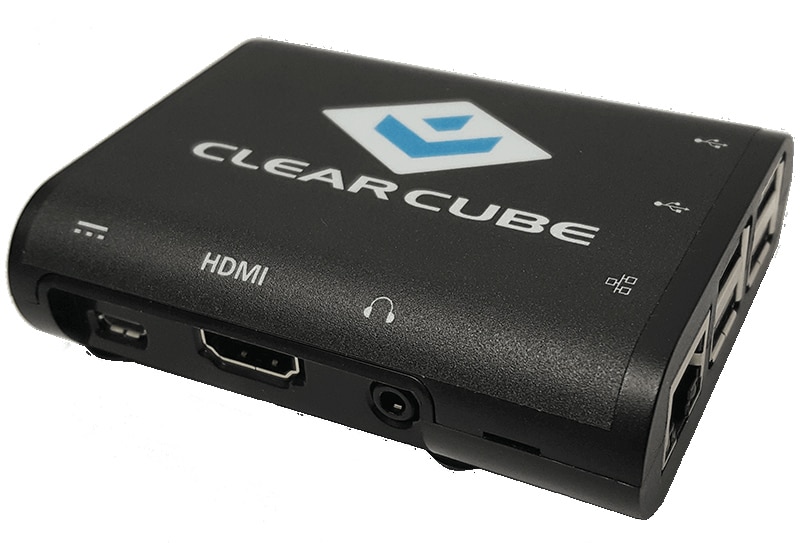 One of the features that makes this thin client unique is that ClearCube was the first VDI client producer to include support for the Blast protocol in its Raspberry Pi-based products. This product also supports Citrix HDX and Microsoft RDP connections to virtual desktops.
ClearCube Technology is a USA-based manufacturer that specializes in creating centralized computing and desktop virtualization solutions. If you don't work around the Federal Government or in a highly secure environment you may not have heard of ClearCube, but they have been in business since 1997 and are a main VDI supplier for DoD, DHS, and other major federal agencies. We previously reviewed a ClearCube's CD7012 ZERO+VDI client which was geared towards security-conscious virtual desktop infrastructure (VDI) environments that need an extremely robust and secure VDI client. The C3Pi+ is geared towards a different audience as it is a low cost VDI device based on commodity hardware.
In this article, we will give you an overview of the specifications, design and build of the C3Pi+, and then will outline the testing that we carried out on the device and give an overview of the key findings from those tests. Lastly, will provide some final thoughts and briefly discuss who would benefit most from purchasing and using this device.
ClearCube C3Pi+ Specifications
Model
C3Pi+
Client type
thin client
Form factor
ultra-small
OS
ClearCube Cloud Desktop OS
Client Management
ClearCube Cloud Desktop Management
Supported remote display protocols
VMware Horizon Blast
Citrix HDX
Microsoft RDP
Processor/GPU
Quad-core A53 (ARMv8) 64-bit CPU (1.4 GHz)
GPU
VideoCore IV 3D
Memory
1GB LPDDR2 RAM
Storage
8-GB high-speed microSDHC card
Auxiliary Storage
N/S
Display
Single – HDMI: 1920 x 1200
Optional USB adapter (not tested) allows a secondary HDMI, DVI, Display port, or VGA Display
Power consumption
4 watts typical
​12 watts maximum (5.1V DC; 2.5A)
Ports
4 USB 2.0 (4 front, 2 back)
3.5mm Audio in/out
HDMI 1.3 × 1
1 RJ45
Network connectivity
10Mb/100Mb RJ45 (wired ethernet)
802.11 b/g/n/ac (wireless)
Integrated Bluetooth 4.2 BLE
Physical size
3.78" x 2.40" x 1.16" (96mm x 61mm x 29.5mm)
Physical weight
0.44 lbs. (0.20kg)
Compliant standards
cTUVus, FCC, FCC ID, ICES-003, IC, RoHS
Warranty
1-year limited
Design and Build
The C3PI+ does not contain any moving parts (not even a fan), which should make it extremely reliable. Removing the top of the device's case (which will void the warranty) revealed that the device has a Raspberry Pi 3 Model B+ motherboard. The case, made from black plastic, has slots and holes in it for cooling, as well as ribs molded into it for rigidity. Although the case is lightweight, it is durable enough to withstand an office environment; as an extreme example, we verified that an average-sized analyst can stand on the client without having the case break or flex.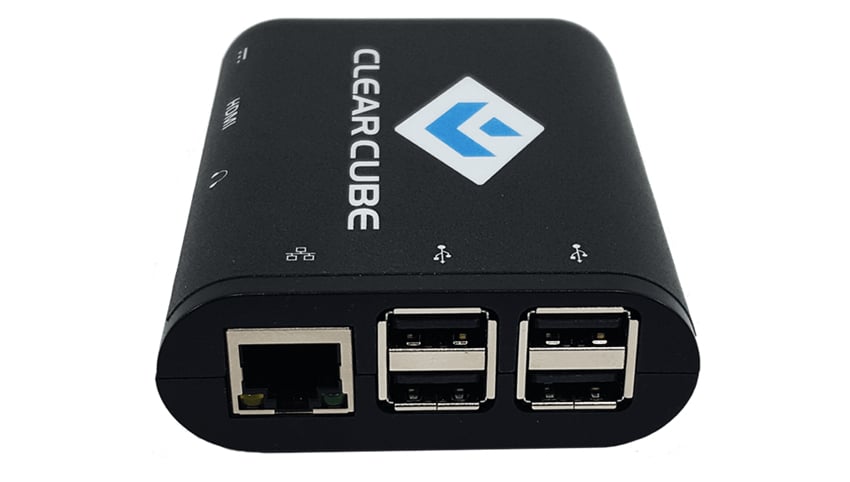 The top of the device has cooling slots molded into it and contains symbols to indicate the function of each port (e.g., Power, Ethernet HDMI, etc.).
On the right side of the device is the HDMI, 3.5mm audio jack, and micro USB ports (for power). The front of the device has an RJ45 connector and four 2.0 USB ports.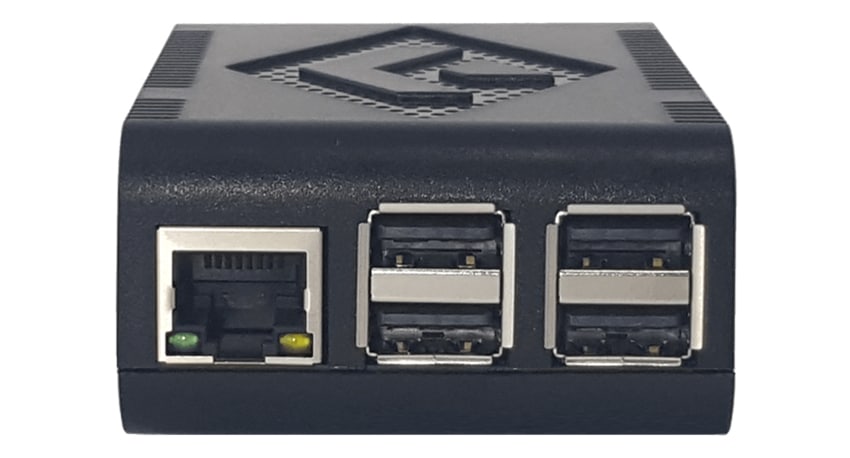 The back of the device has a Kingston lock slot.
The bottom of the device is perforated with holes and has two slots that can be used to attach the device to the included VESA mounting bracket.
Usability
The real test of a virtual desktop client is its usability; to test the usability of the C3Pi+, we used the client for two weeks in our Pacific Northwest lab with various configurations. Below are the key results we noted during our time using the client.
To test the C3Pi+, we connected it to our network via a Cat 6 cable through the device's RJ45 port which was connected to our network via a 1Gb network through a switch that was connected to the server that was hosting our local VMware Horizon virtual desktop. The network was monitored during testing to ensure that no other traffic was present on the network.
For the initial boot and testing of the device, we connected the C3Pi+ to a Dell UltraSharp U3219Q 4K Monitor through the device's HDMI Port. The Dell monitor has a keyboard, mouse, and video (KVM) switch built into it. The monitors built-in KVM switch was extremely useful during our testing as it allowed us to switch between the VDI client and our laptop with the push of a button. We plugged the keyboard/mouse's dongle into the monitors upstream USB port.
Initial Configuration
We pressed the button on the power cord to power on the device. It took the device about 30 seconds to boot, obtain an IP address from our DNS server, and present us with a wizard to configure the system, set the device's password, and then another wizard to configure Citrix Workspace Hub, which we opted not to do.
When we right-clicked the ClearCubeicon on the task bar, it displayed four menu items; Sessions, Configuration, reboot, and Shutdown. Sessions had a connection to a Citrix Workspace Hub.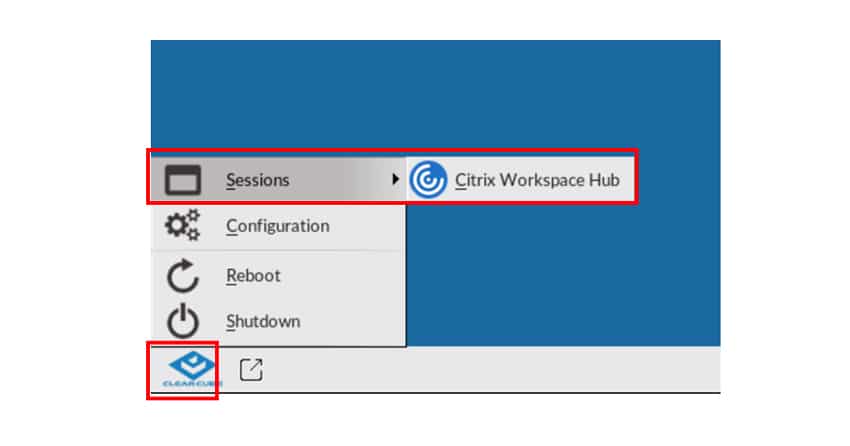 When we clicked Configuration,we were presented with a prompt for the password and then a list of configuration options that were divided into four categories; Management, System, Diagnostic and Generic. We noticed that in the upper right corner of the window it said "stratodesk powered". Stratodesk is the creator of Thin Client OS and Endpoint Management Software.
Under the Management category we selected Connections. We removed the Citrix Workspace Hub and then Clicked Add and then Edit and we then configured the device to connect to our Horizon desktop.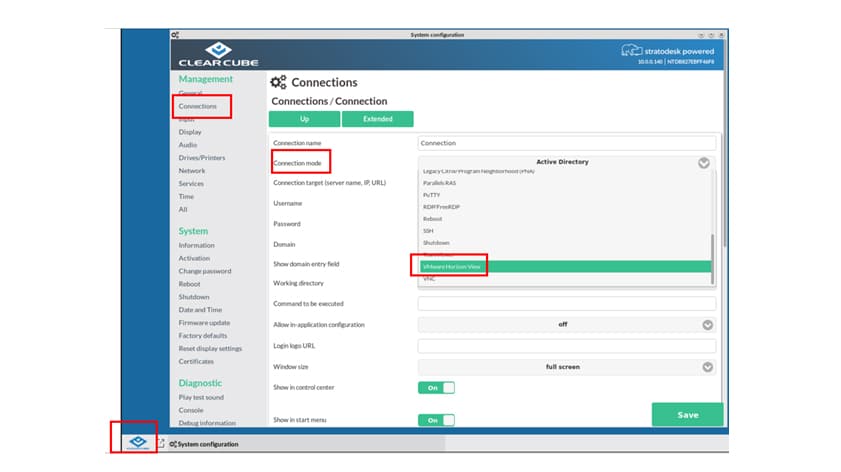 During the configuration we had more than a dozen options to choose from. We configured the desktop to use a Horizon connection broker. We also had the option to have start icons for the Horizon desktop on the; control center, start menu, the desktop, and if we wanted it to automatically start when the system booted up. The device was using the Horizon 4.10 client.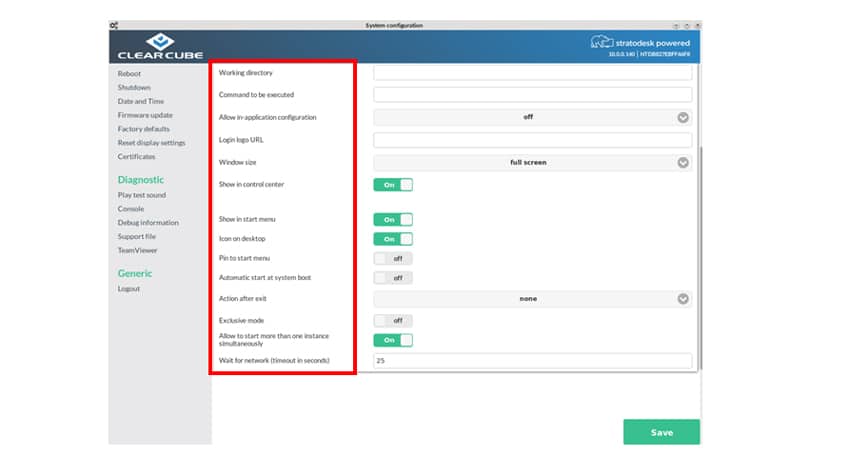 The device allows screen shadowing via VNC, which we used to capture many of the screenshots we used in this review. To avoid adversely affecting the client's performance we did not use screen shadowing while monitoring the responsiveness of the device.
We enabled screen shadowing by selecting Configuration> Services > Screen Shadowing.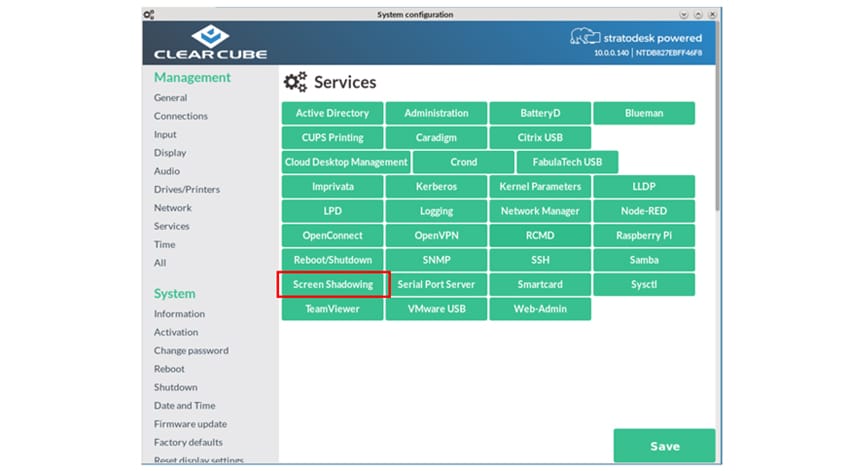 Information such as the versions of the software that it was running, and vendor information, is shown by selecting System > System Information from the settings menu. We found a slight lag when using these menus.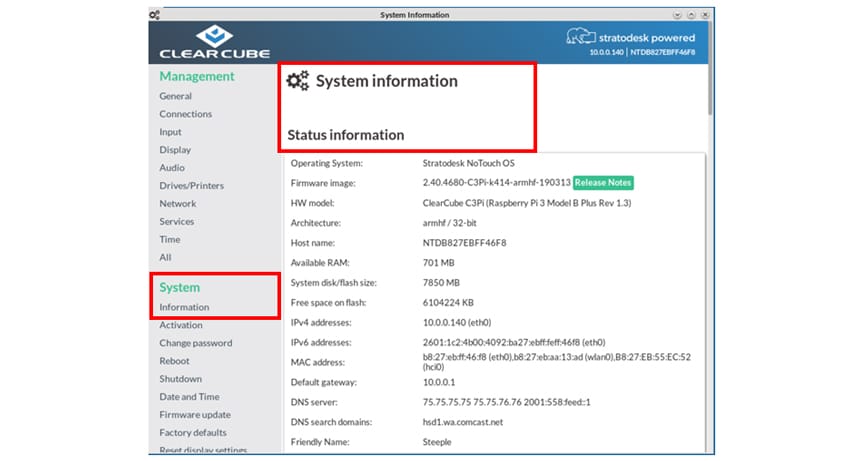 Local Horizon Desktop
For the two weeks that we used the device, we used a local Horizon virtual desktop to do our daily tasks.
The virtual desktop that we used ran Windows 10 (1607), had 2 vCPUs, 8 GB of memory, and 50 GB of NVMe-based storage.
When we first tried to bring up our Horizon virtual desktop we were presented with a full-sized black screen. We needed to reboot the virtual desktop and then select Large from the VMware Horizon Client display size, after doing this we were able to connect to the virtual desktop without any issues.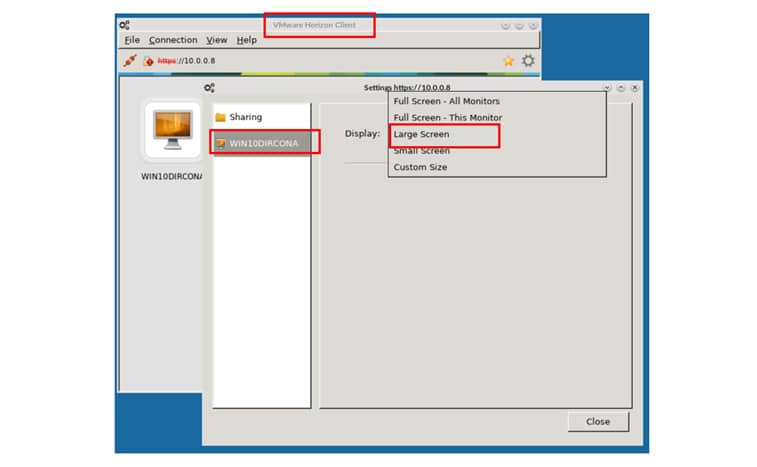 The first test we conducted using our Horizon virtual desktop was to use VLC to play a video (1280 x 720 @ 712kbs) that was stored on the virtual desktop. First, we played the video using a quarter of the display, and then once again in full screen mode. In quarter-scale, the video played without any frames dropping; in full screen mode, however, the video was jerky, and frames were being dropped. We have seen video frames dropping in full screen mode with other VDI clients that we have used and believe that it is a result of the virtual desktops limited graphics capabilities and not a problem with the client. When the video was displayed in both quarter-scale and full screen modes the audio played flawlessly through a set of earbuds that we plugged into the 3.5mm jack; the device does not have a built-in speaker.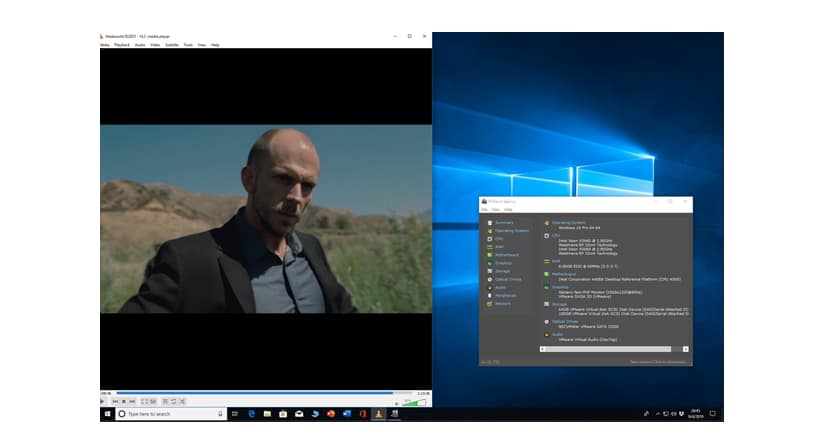 To further test the device, we connected a Jabra voice 150 headset to one of the device's USB connection; the Jabra headset was discovered by the virtual desktop and worked without any issues.
At one point during our test we sent back to our virtual desktops configuration on the device and examined its configuration and we found that we had a bevy of options that we could configure, from this menu we set the desktop size to full and the preferred protocol to Blast.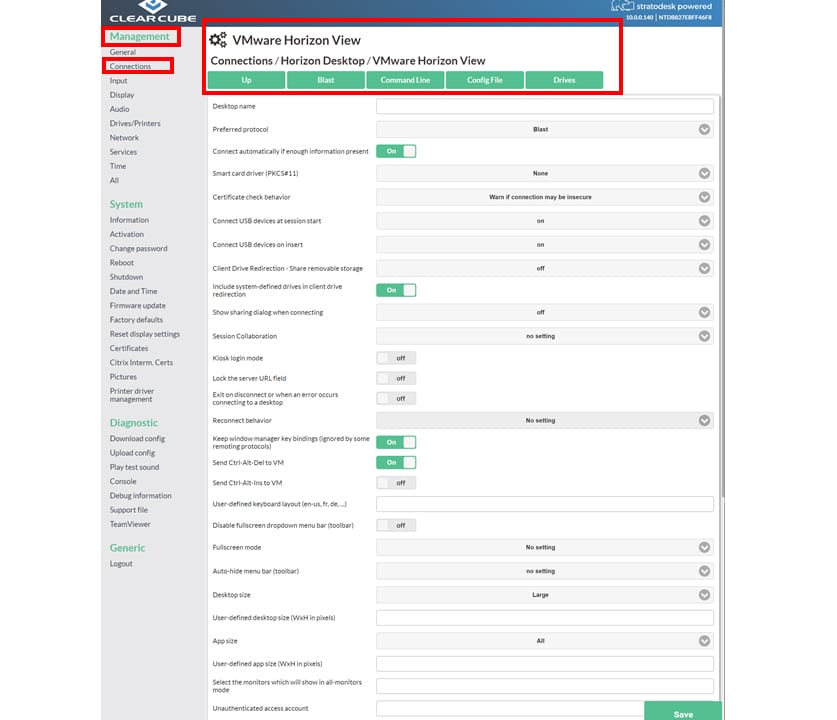 We used the client for our daily activities for two weeks without any problems. This included using Microsoft Office applications, Chrome web browser, playing internet-streaming music, etc. During this time the device performed well but we did find that if tried to play a streaming video while working on having multiple office documents open we would occasionally see a lack of responsiveness from our mouse and keyboard.
Using Other Protocols
ClearCube advertises the device as working with VMware Horizon Blast, CITRIX HDX, and RDP but we found that when editing a connection, you have the option of using other protocols.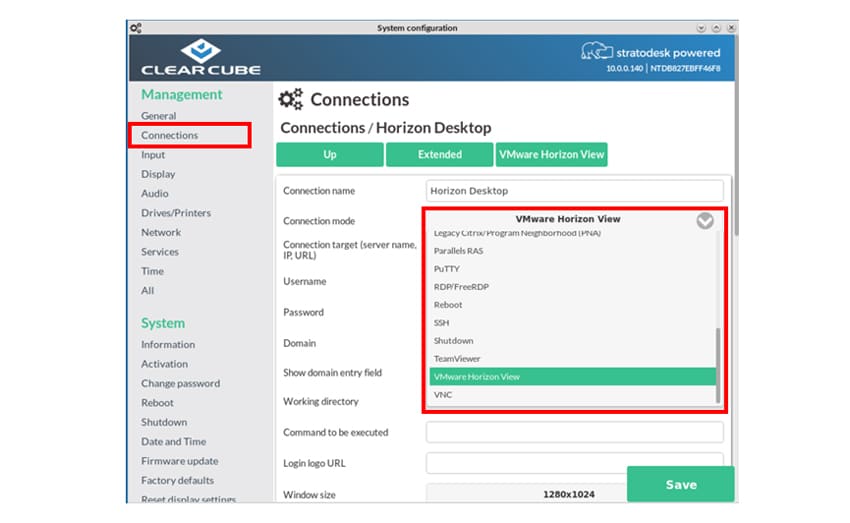 It needs to be noted the information below is just from our own observations and we did not factor it into our final verdict of the device as it was not advertised to work with other protocols.
We were able to connect to other systems using SSH and could connect to an XP and Windows 10 system using RDP.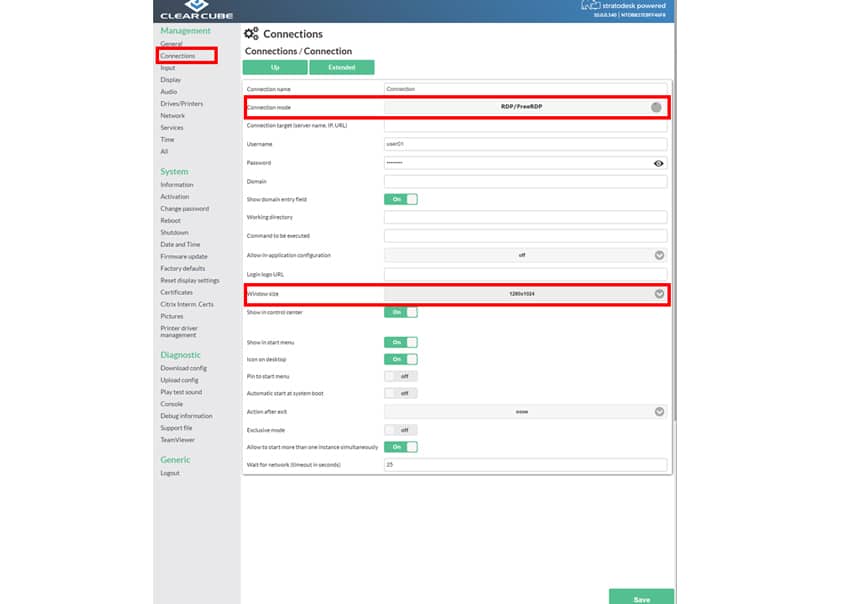 Other Configurations
As this is a basic review of the device, we only tested it using the Horizon desktops; we did not test the device in the following circumstances: adverse network conditions, using communication software such as Skype, or using any of the advanced features of the device such as accessing local storage on the device from the virtual desktop or using it as a print server.
Device Management
The device can be used with ClearCube Remote Management Console, a browser-based administration tool that is used to manage a multiple VDI clients from a single portal. Using ClearCube Remote Management Console is beyond the scope of this review.
Device Configuration
To access the device's settings we clicked the ClearCube icon in the lower left-hand corner of the toolbar and then clicked Configuration and entered the device's password.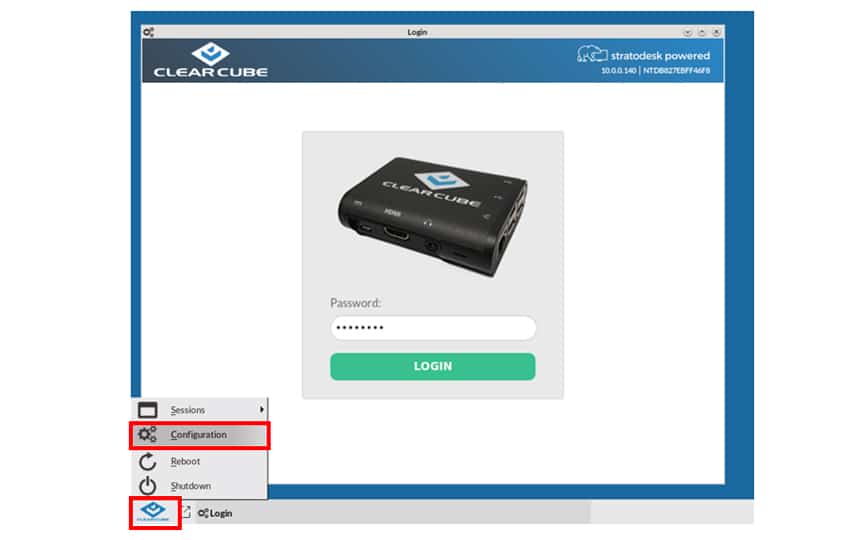 The configuration screen was divided into four different sections; Management, System, Diagnostic and Generic.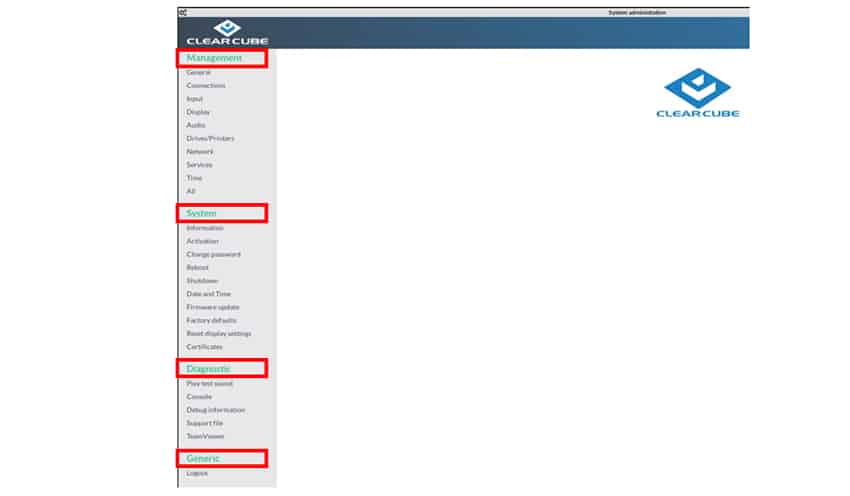 The Management section has the settings for setting up; VDI connections, display, desktop, keyboard, services, etc.. One of the interesting features that we found under management> services was Web-Admin when we enabled it we were able to use a browser on our laptop to access all the device's configuration features.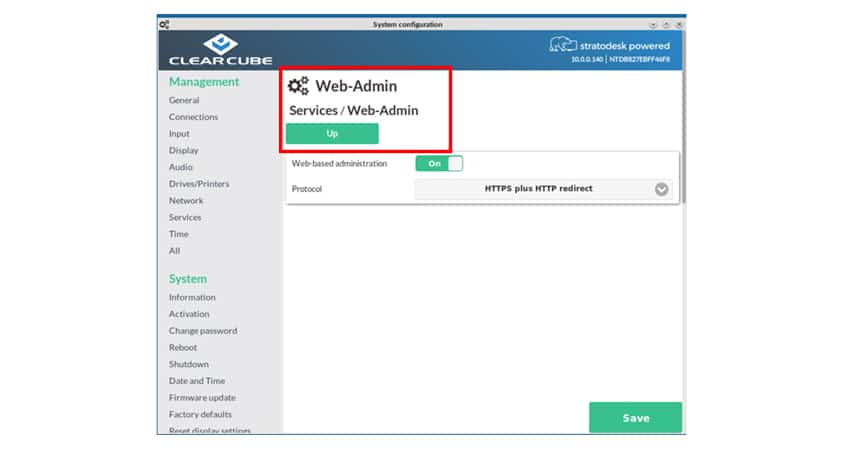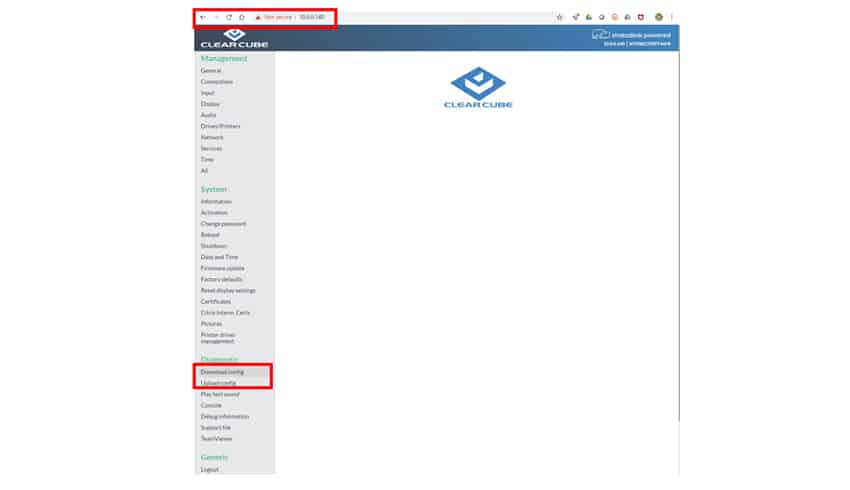 Unlike some of the other client configuration menus that we have worked with, this one does not allow you to arrange and position the monitors graphically, but instead requires you to do so through the menu.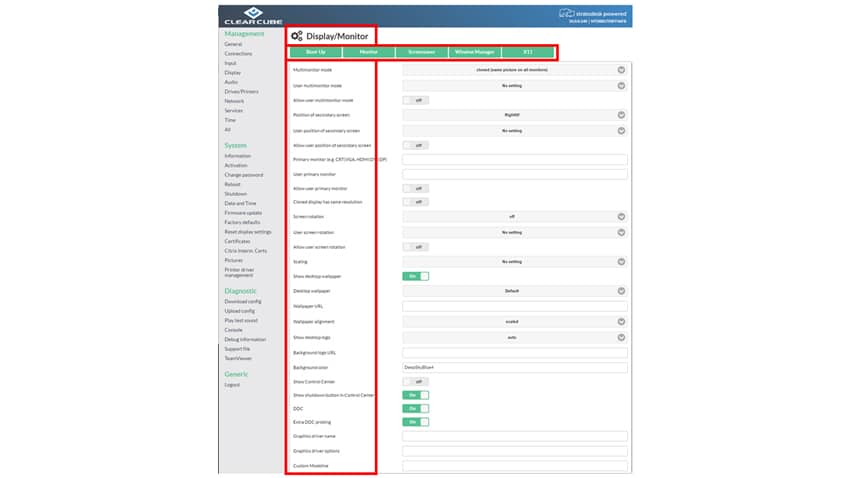 The System section allows you to see the systems firmware and software versions, hardware information, change the device's password, update the firmware, etc.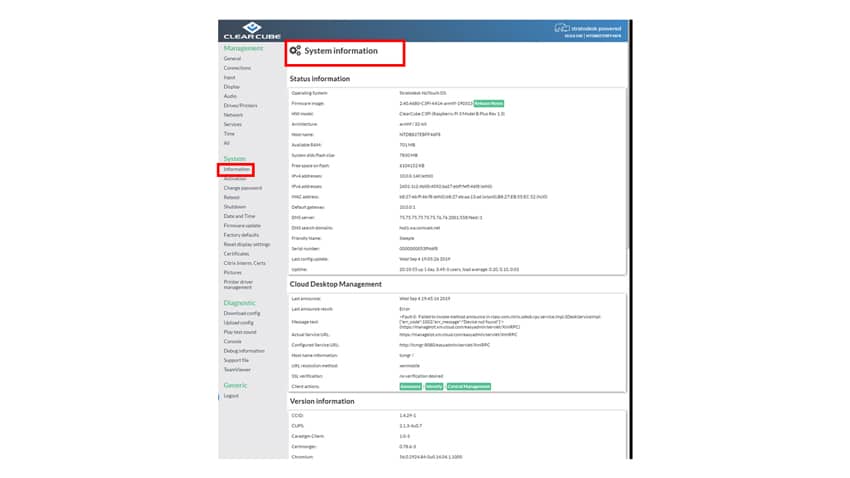 Under Diagnostics you can open a text console to systems operating system, see log files (under Debug Information), start a TeamViewer session, open the Web-Admin diagnostic section. When using the Web-Admin you have the ability to download and upload config files.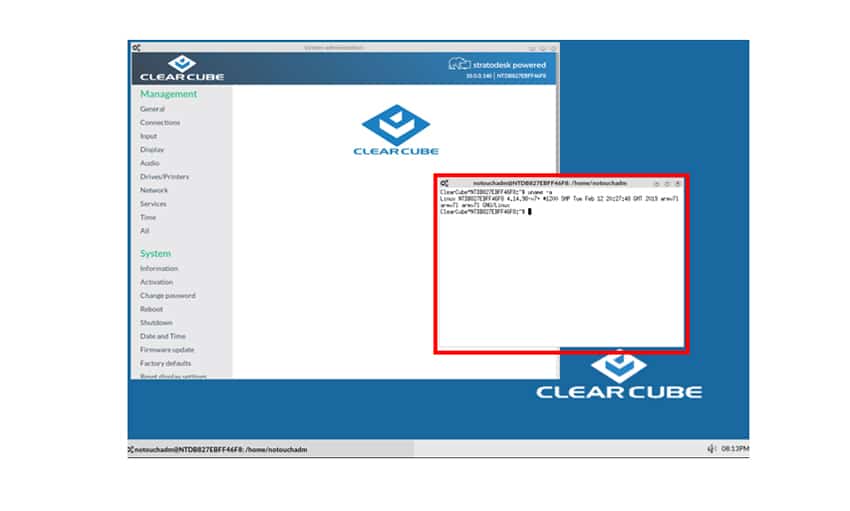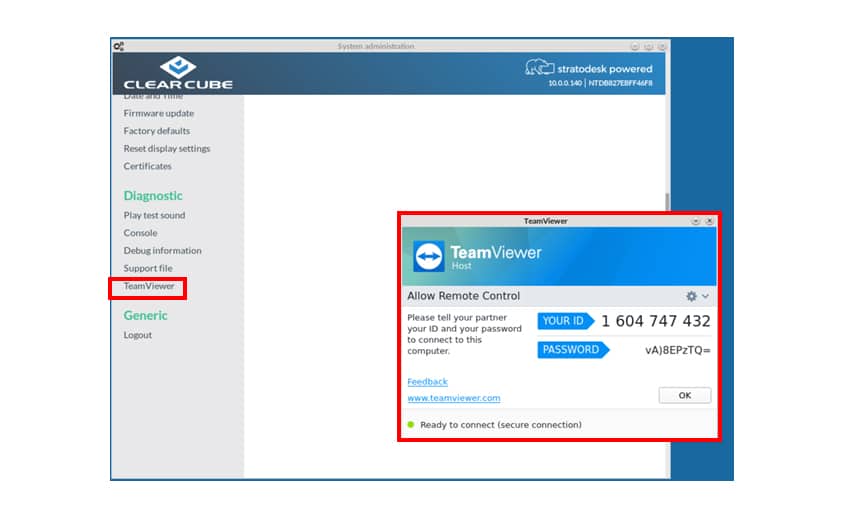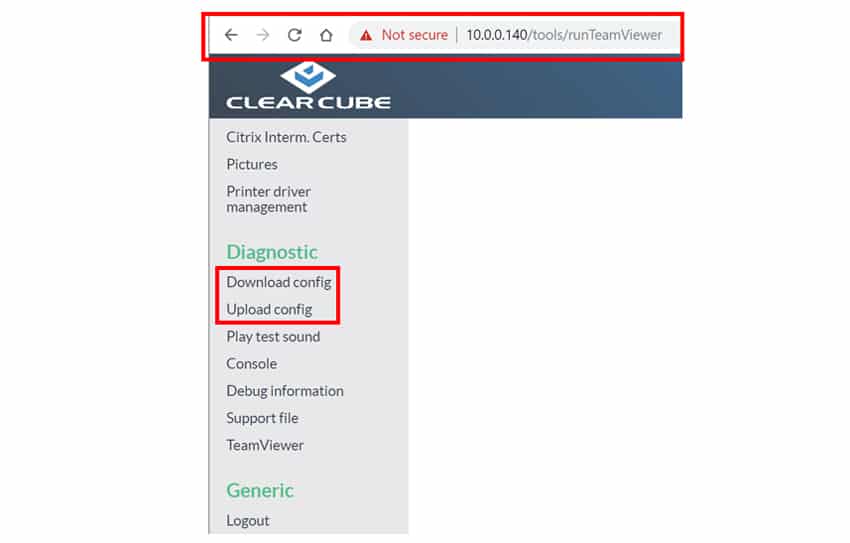 Conclusion
ClearCube has been a going concern for over 20 years and their VDI products have seen widely implementation in governmental and military installations but the C3Pi+ is clearly marketed for a far wider audience.
The Raspberry Pi platform that the C3Pi+ is built on has been proven to be reliable and robust and, due to its widespread adoption (over 25 million have been sold), allows ClearCube to price this device at an attractive price-point.
After using the ClearCube C3Pi+client for two weeks, with an on-premise virtual desktop, we found it to be a reliable and functional VDI client. The ClearCube C3Pi+is a good candidate for task or light-weight knowledge workers that need a reliable and inexpensive VDI client to access their virtual desktop from in order to complete their day-to-day tasks.
Sign up for the StorageReview newsletter