At CES in January of this year, Corsair surprised us by announcing a line of SATA 6Gb/s SSDs based on the Marvell 9174 processor. What appeared to be a departure from Corsair's use of the SandForce line of processors turns out to be a supplemental deal. The Marvell partnership let Corsair get a SATA 6Gb/s SSD to market more quickly and with a battle-tested processor. The resulting Corsair Performance 3, or P3 as commonly known, offers top end speeds of 480 MB/s sequential read speeds and 320 MB/s writes, in the 256GB capacity.
At CES in January of this year, Corsair surprised us by announcing a line of SATA 6Gb/s SSDs based on the Marvell 9174 processor. What appeared to be a departure from Corsair's use of the SandForce line of processors turns out to be a supplemental deal. The Marvell partnership let Corsair get a SATA 6Gb/s SSD to market more quickly and with a battle-tested processor. The resulting Corsair Performance 3, or P3 as commonly known, offers top end speeds of 480 MB/s sequential read speeds and 320 MB/s writes, in the 256GB capacity.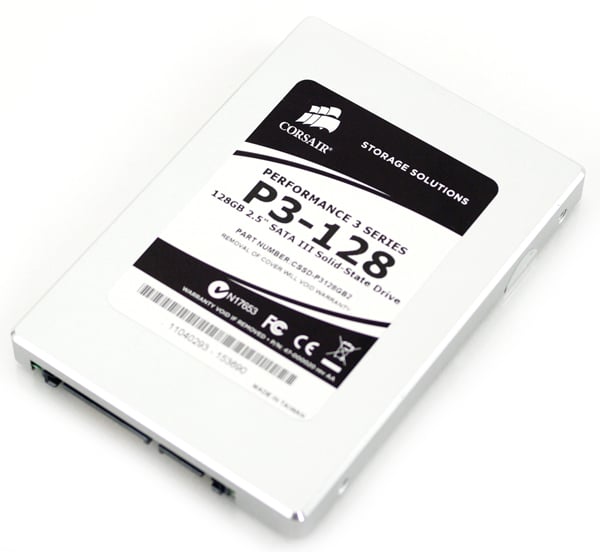 The P3 comes to market in a busy time. It has to stare down competition from the Intel SSD 510, Plextor M2 and Crucial m4, who are all using similar variants of the Marvell SSD processor. The SandForce side is busy too with the OCZ Vertex 3 and OWC Mercury Extreme Pro 6G both finding their way to market. Needless to say, the Corsair Performance 3 has a lot of drives to compete against.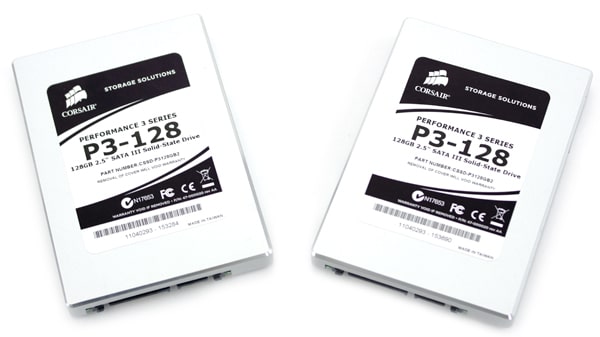 Corsair does have a number of factors in its favor though – namely superb build quality and a reputation for reliability and good service. While those factors are harder to quantify – we can measure performance and will do so in this review. Corsair was kind enough to supply us with two 128GB versions of the Performance 3 for testing, allowing us to benchmark both both single drive and RAID0 configurations.
Corsair Performance 3 SSD 128GB Specs
Formatted Capacity 119GB
Sequential Read/Write – 410 MB/s sequential read, 210 MB/s sequential write
Interface – 6Gb/s
34nm Synchronous NAND
DRAM Cache Memory 128MB
Form Factor – 2.5″
Power Consumption – 0.7A Active, .2A Idle/Standby/Sleep
MTBF – 1,500,000 hours
Warranty – Three years
Aesthetics
The Corsair Performance 3 looks very different from the current Corsair SSD offerings. With a black theme across the board on the current Force-series SSDs, the Performance 3 gets a fresh silver treatment. The P3 also has other physical differences, including beveled edges around the top and bottom cover and a different bottom plate design to seal in the circuit board. The bottom plate also includes a sticker indicating the drive's serial number, capacity, and firmware version.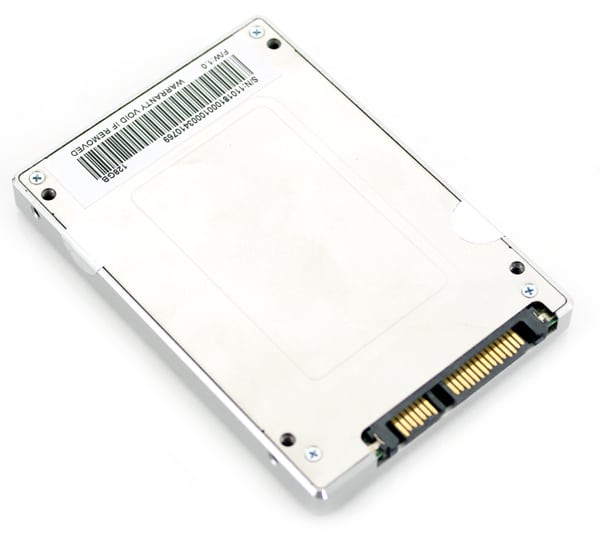 The side of the Performance 3 is basic, with the standard screw holes for mounting as well as the holographic "Warranty Void if Removed" sticker peaking up from the bottom.

The front the Corsair Performance 3 includes the SATA power and data connection, with no additional pins for service modes. On this style of drive all firmware updates are done through software without having to use jumper pins.

Disassembly
The Corsair Performance 3 is very easy to take apart – though removing the stickers holding the bottom plate on will void the warranty. After removing four Phillips head screws and peeling away the tamper-evident stickers the bottom plate easily lifts away. Inside we see a circuit board layout very similar, if not identical, to the Plextor M2 we reviewed back in March.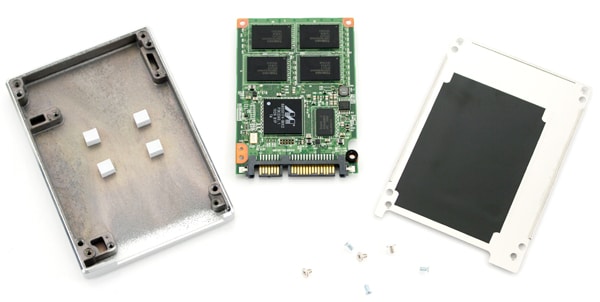 The circuit board design is condensed compared to a standard 2.5-inch board, allowing it to be easily adapted between 2.5-inch and 1.8-inch form factors assuming you replace the connector on the end of the drive.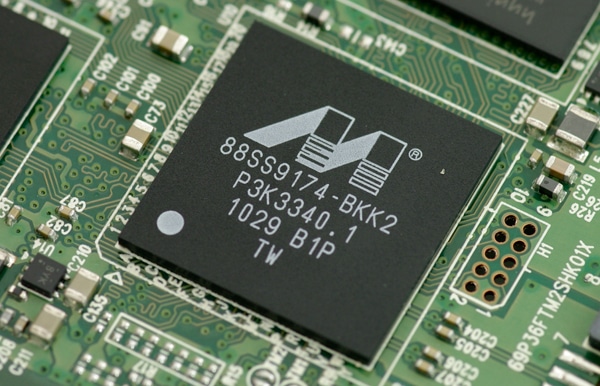 The focal point inside the Corsair P3-128 SSD is the Marvell 88SS9174-BKK2 SATA 3.0 6.0Gb/s controller. This controller is also found inside the Intel SSD 510 and the Plextor M2, meaning that it's tried and true in the SSD community. Paired up with this controller are eight 34nm 16GB Toshiba TH58TVG7D2FBA89 NAND chips and one 1333MHz DDR3 128MB Hynix RAM piece for cache.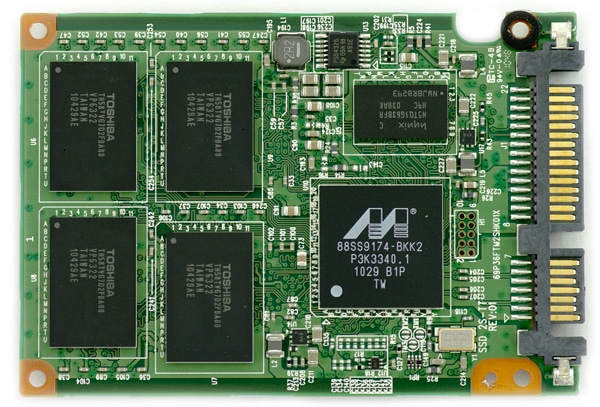 The bottom of the circuit board also uses the same thermal pad design as the Plextor M2 to draw heat away from the four NAND chips they are pressed up against to the body of the case.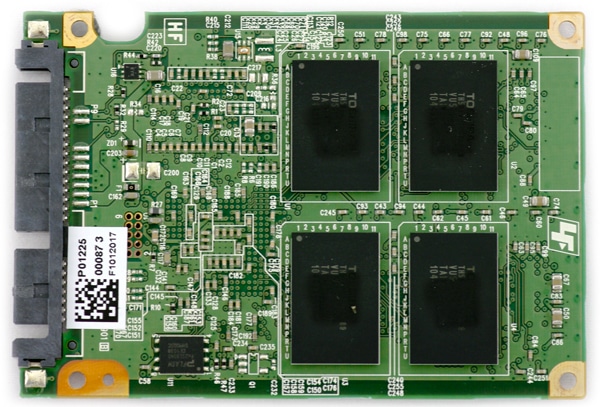 Synthetic Benchmarks
With two 128GB Performance 3 samples on hand, we reviewed the P3 in single drive mode as well as in RAID0 on our LSI 9260-8i. We decided to only look at SATA 6.0Gbps performance, which is the target platform for this particular drive. All testing was performed on our Dell XPS 9000-based test rig.
Corsair lists the sequential read speed as 410MB/s and the write speed as 210MB/s on the 128GB model of the Performance 3. As you can see below, through our RAID card we came close to the write speed, although came up short on the read speed.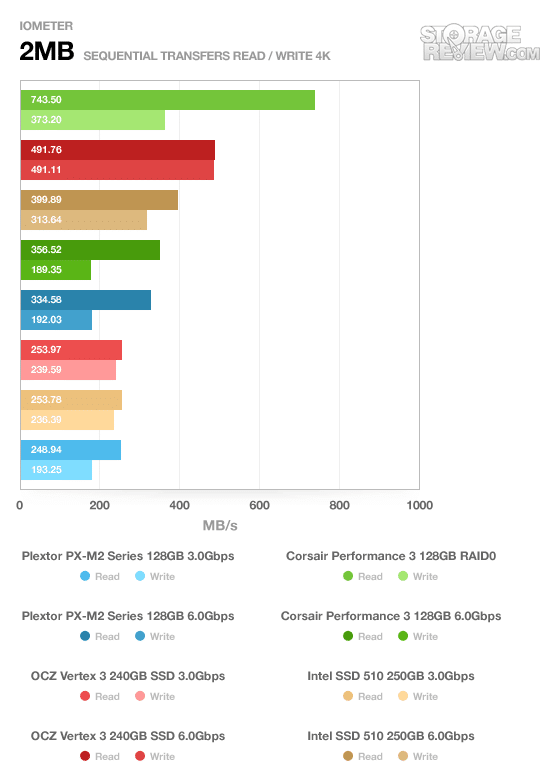 We measured 356MB/s read and 189MB/s write in the 2MB sequential transfer test on a single Performance 3. With the drives doubled up in RAID0 speeds picked up considerably to 743MB/s read and 373MB/s write… just shy of doubling the single drive speeds.
Looking at the 2MB random transfer speeds, the Corsair Performance 3 stayed on target with its sequential scores, although the read speeds slipped slightly in RAID0.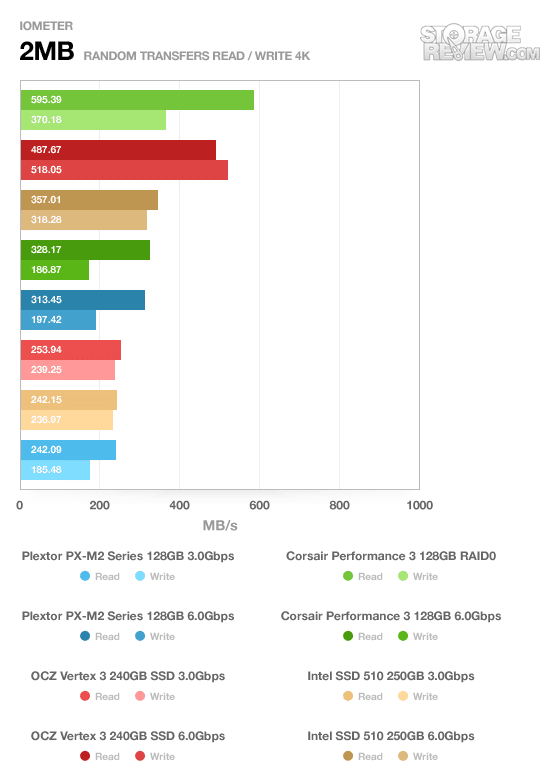 In the 2MB random transfer test we recorded 328MB/s read and 186MB/s write over a single drive and 595MB/s read and 370MB/s write in RAID0.
In the next test we look at 4K write performance in IOMeter at a queue depth of 1. The Corsair P3-128 holds its own pretty well, even coming in above the Plextor M2.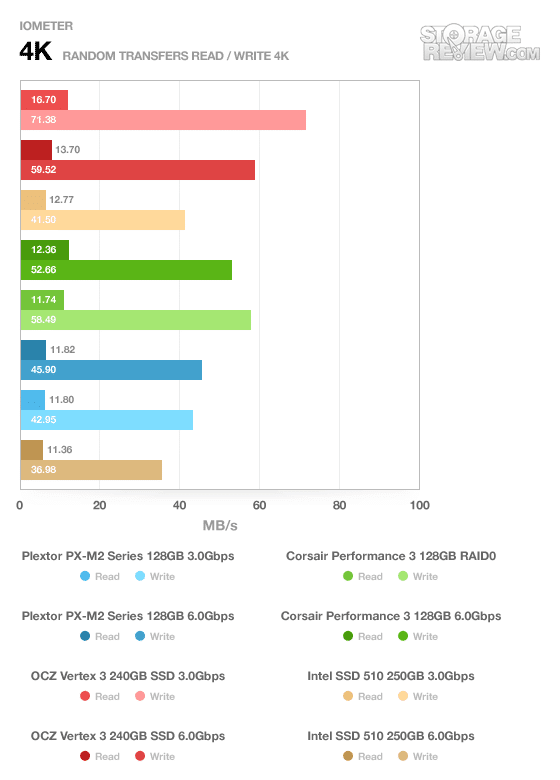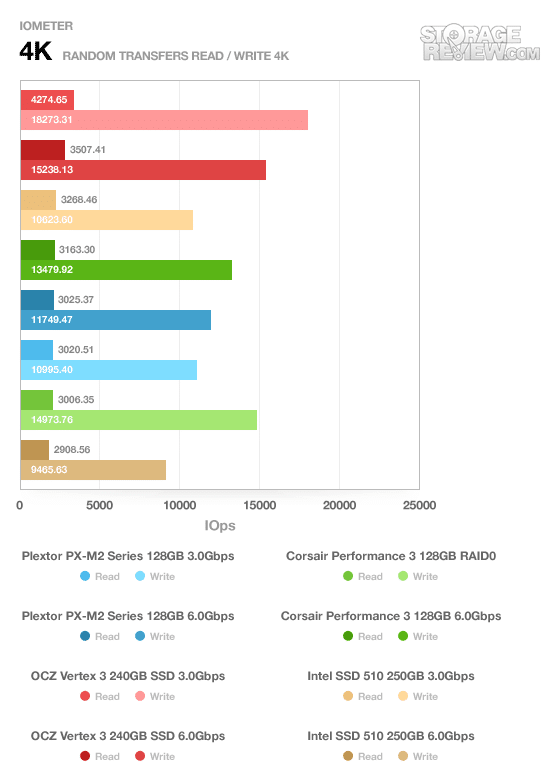 We measured a random read speed of 12MB/s and a write speed of 52MB/s from the drive by itself, and 11MB/s read and 58MB/s write in RAID0.
In the next section we look at 4K write latency which is a good indicator for how responsive a drive will be, as well as the max lantecy which might indicate hanging under certain conditions.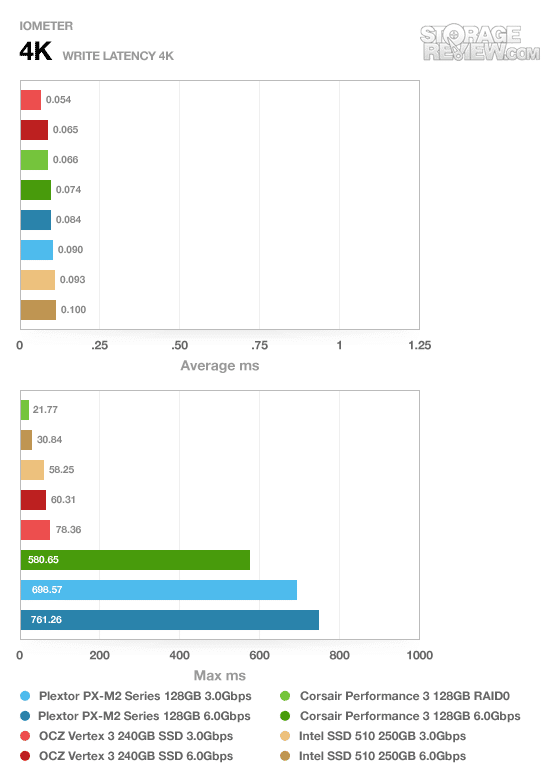 Under a constant load of 4K-aligned writes over one minute, the Corsair P3 averaged 0.074ms lantecy by itself, and 0.066ms in RAID0. Max response time was 21ms in RAID0 and 580ms alone.
The next test uses CrystalDiskMark to measure the drive's performance under a more consumer-friendly benchmark. These tests are performed with fully random data to offset compression algorithms that some drives employ. Since the Corsair Performance 3 doesn't compress data, these numbers should more or less line up with what we measured using IOMeter.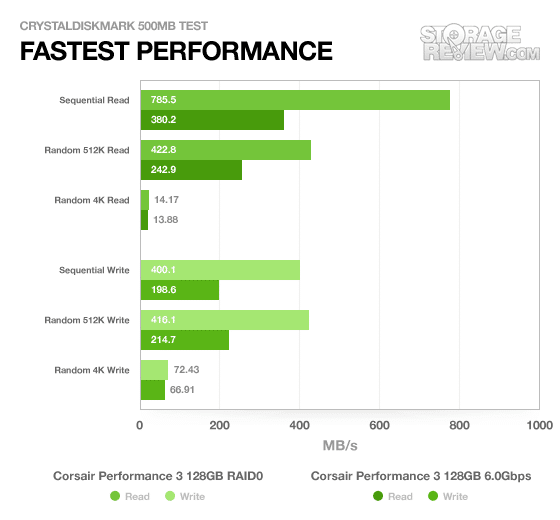 Our final synthetic benchmarks cover simulated server workloads using IOMeter. While some readers might ask why we perform these tests on consumer drives, our response would be that they help to show how a drive handles itself under multi-threaded load. These tests also show how well a drive's NCQ implementation holds up under an increasing queue depth load.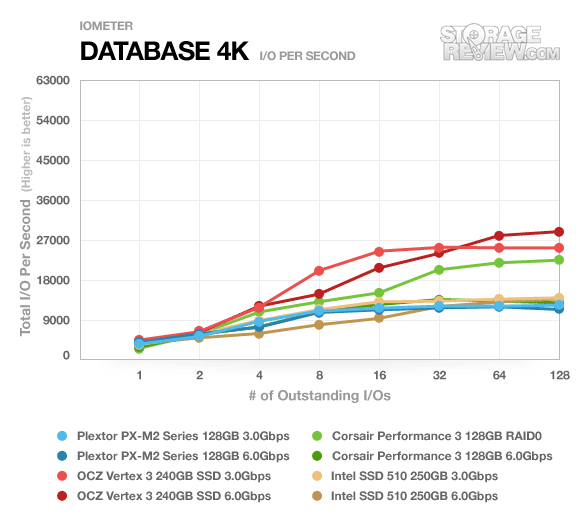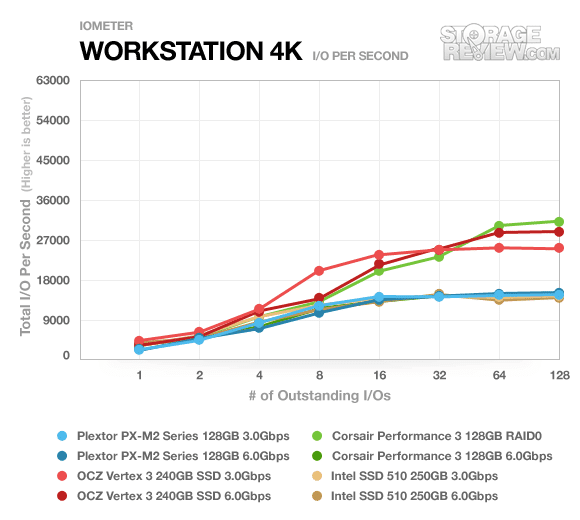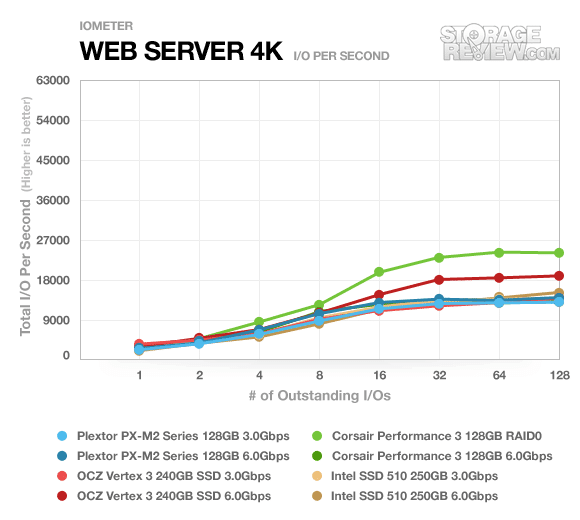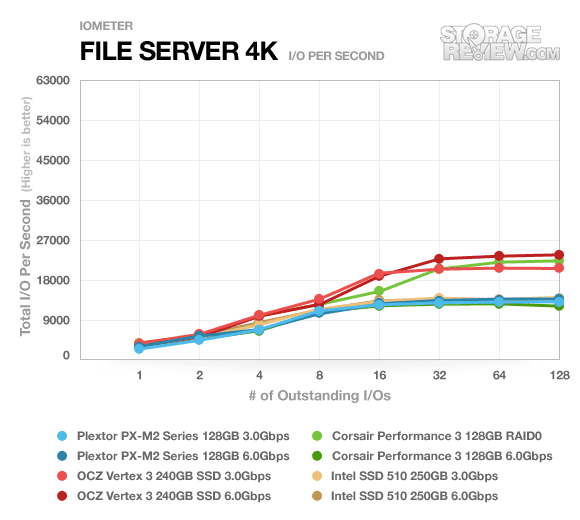 Real-World Benchmarks
While synthetic benchmarks are great for showing peak speeds under a specific load pattern, outside of advertising specifications they don't help the end user really get an idea of how the drive might perform under normal conditions. This is where our real-world traces come in with actual-usage scenarios covering HTPC, Productivity, and Gaming activity.
We keep the same drive comparisons for the real-world traces as we did for the synthetic benchmarks, including the OCZ Vertex 3, the Plextor M2, the Intel SSD 510, as well as the Corsair P3 single and P3 RAID0 array.
The first real-life test is our HTPC scenario. In this test we include: playing one 720P HD movie in Media Player Classic, one 480P SD movie playing in VLC, three movies downloading simultaneously through iTunes, and one 1080i HDTV stream being recorded through Windows Media Center over a 15 minute period. Higher IOps and MB/s rates with lower latency times are preferred. In this trace we recorded 2,986MB being written to the drive and 1,924MB being read.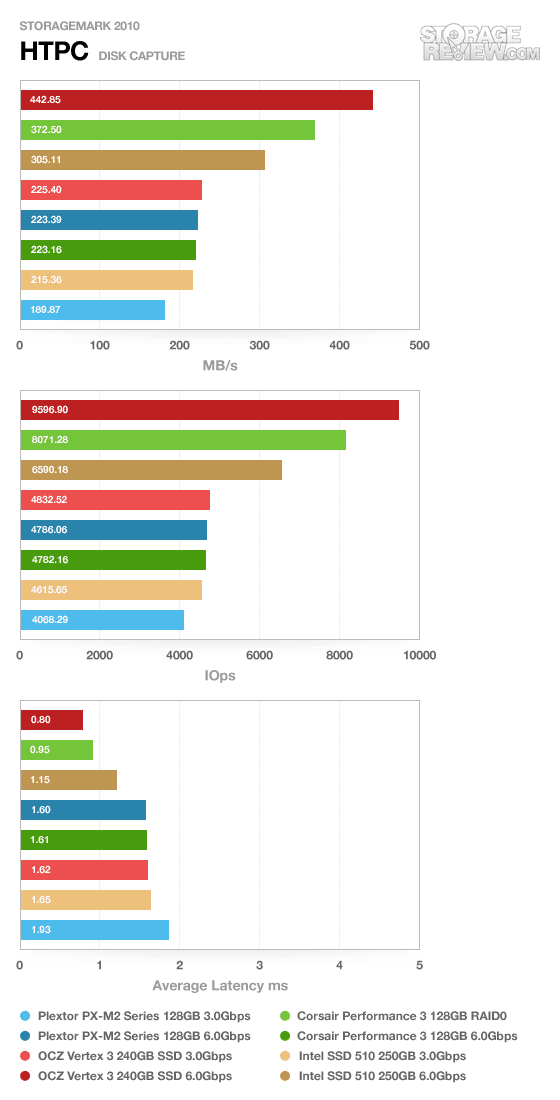 In the HTPC trace the single Corsair Performance 3 measured an average of 223MB/s, with the combo in RAID0 getting 372MB/s. With the NAND channel limitation, the P3 had trouble keeping up with the single SSD 510 and in RAID0 had trouble keeping up with the Vertex 3.
Our second real-life test covers disk activity in a productivity scenario. For all intents and purposes this test shows drive performance under normal daily activity for most users. This test includes: a three hour period operating in an office productivity environment with 32-bit Vista running Outlook 2007 connected to an Exchange server, web browsing using Chrome and IE8, editing files within Office 2007, viewing PDFs in Adobe Reader, and an hour of local music playback with two hours of additional online music via Pandora. In this trace we recorded 4,830MB being written to the drive and 2,758MB being read.
In the productivity trace the P3-128 measured 249MB/s and 376MB/s in RAID0. This compared to 328MB/s from the 250Gb Intel SSD 510 or 448MB/s on the Vertex 3.
Our third real-life test covers disk activity in a gaming environment. Unlike the HTPC or Productivity trace, this one relies heavily on the read performance of a drive. To give a simple breakdown of read/write percentages, the HTPC test is 64% write, 36% read, the Productivity test is 59% write and 41% read, while the gaming trace is 6% write and 94% read. The test consists of a Windows 7 Ultimate 64-bit system pre-configured with Steam, with Grand Theft Auto 4, Left 4 Dead 2, and Mass Effect 2 already downloaded and installed. The trace captures the heavy read activity of each game loading from the start, as well as textures as the game progresses. In this trace we recorded 426MB being written to the drive and 7,235MB being read.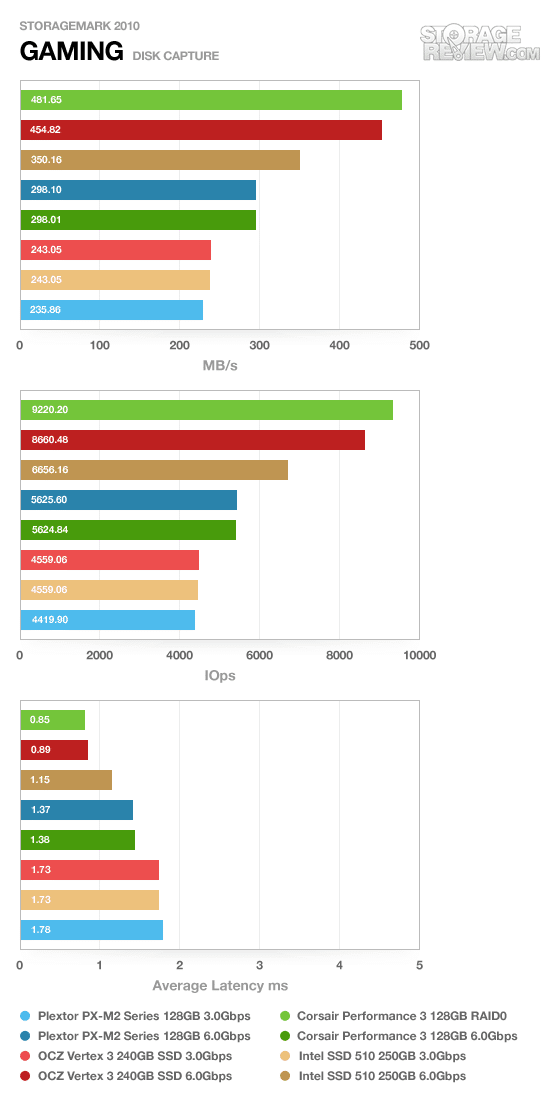 The gaming trace marked the first time the Corsair P3-128 in RAID0 beat the formidable OCZ Vertex 3 with an average speed of 481MB/s. In single drive mode the speed dropped to 298MB/s, which is still pretty quick compared to last generation drives.
Power Consumption
Corsair lists fairly realistic power values for the 128GB Performance 3, including an active power consumption of 0.7A (3.5w at 5V) and 0.2A at idle (1w at 5V). To see how these stack up, we measure the power consumed by the drive during a 2MB sequential write and read test as well as a 4K random read tests.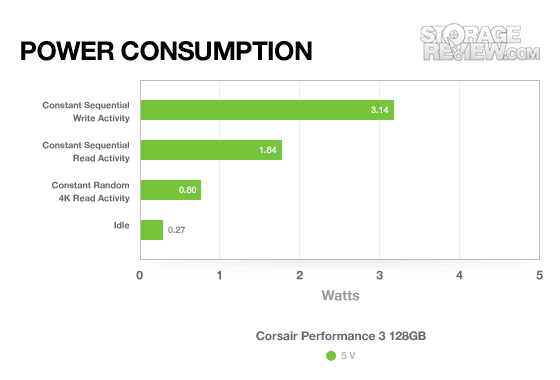 Under constant sequential write activity the drive used just 3.14 watts of power, dropping to 1.84 watts under constant read activity. Under a random load the power dropped even further, to just 0.8 watts in the 4K read test. Idle power was just 0.27 watts, making this drive very notebook friendly.
Warranty
Corsair stands behind the 128GB Performance 3 with an industry-standard three year warranty. This is also shared by many other SSD manufacturers in the consumer and enterprise space. Corsair also has an online community for additional tech support, which are always handy to get up to the minute news and updates on products.
Conclusion
The Corsair P3 finds itself entwined in a popular, yet very crowded segment of the SSD space. The performance oriented SATA 6Gb/s drives are everywhere, in fact Corsair has twin lines – the P3 reviewed here and the upcoming SandForce-based Force Series GT. Further complicating things,  the 128GB model is a step slower than most full-channel 256GB models, which makes it a little harder to compare apples to apples.
To complete a bit of that comparative logic though, the P3 competes pretty much dead-on with the Plextor M2 of the same capacity. As expected, both drives fall behind the larger capacity Intel SSD 510. Given the performance data of these drives, we then fall back to what we mentioned in the beginning, Corsair's reputation for quality and support as a possible tie breaker. Of course there's price as well, where Corsair is roughly in line with the M2 and significantly cheaper than the SSD 510.
The price argument starts to fail though when you consider the Vertex 3 carries a street price ($300) of less than $20 more. Couple this with the fact that Corsair themselves will have an SSD to market soon that uses the same SandForce processor as the Vertex 3. Given the performance and price factors at play, the P3 would be a great buy at a slightly lower price. Crucial's m4 will debut soon at $250 at the 128GB capacity – at this price, the entire line of Marvell-based SSDs makes a lot more sense. If the market exerts pressure on Corsair to drop the price more on the Corsair P3, we can recommend it fully.
Pros
Proven reliable Marvell 9174 controller
Priced competitively
Good power consumption
Cons
Up against some very tough competition
Bottom Line
The 128GB Corsair Performance 3 launched just a few weeks in front of a massive wave of 6Gb/s SSDs hitting the market. We found the P3 settled in towards the middle of the pack, with chart topping performance if you compare it against some of the previous generation drives it was originally launched against. Price is an issue though and Corsair will offer a competing drive based on a SandForce controller in the coming weeks. Given these factors we feel the P3 will be a great buy if it gets closer to $250.
Discuss This Review