Just as all hard drives and SSDs are not created equal, neither is RAM, as we're finding in our expanding coverage of traditional DRAM used in a RAM disk scenario. Corsair's Vengeance DDR3 RAM kit is part of Corsair's quad channel high-performance line of RAM, featuring PC3-12800 (1600MHz) speed rating and 9-9-9-24 latency timings, aimed squarely at overclockers and performance enthusiasts.
Just as all hard drives and SSDs are not created equal, neither is RAM, as we're finding in our expanding coverage of traditional DRAM used in a RAM disk scenario. Corsair's Vengeance DDR3 RAM kit is part of Corsair's quad channel high-performance line of RAM, featuring PC3-12800 (1600MHz) speed rating and 9-9-9-24 latency timings, aimed squarely at overclockers and performance enthusiasts.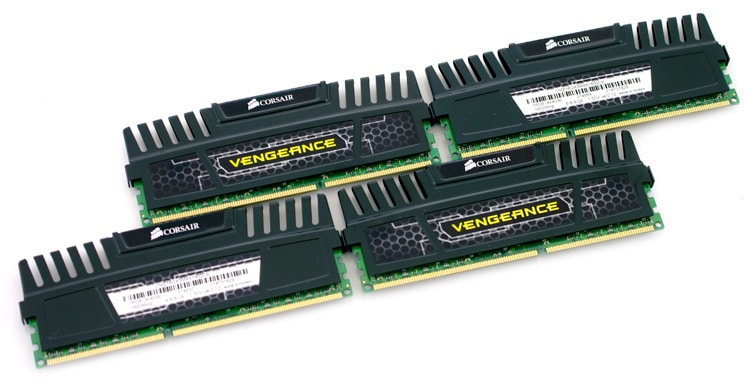 The Vengeance line of RAM comes in several configurations, our review uses the 4 x 4GB kit (CMZ16GX3M4X1600C9) which carries a street price of $105, comparable to the same configuration Patriot Viper Xtreme RAM we recently reviewed. Patriot uses slightly tighter timings, but otherwise the kits are both targeted to the enthusiast buyer who wants to balance performance and budget.
Corsair Vengeance Quad Channel DDR3 Memory Kit Specs
16GB Kit (4 x 4GB)
Warranty – Lifetime
Performance Profile – XMP
Heat Spreader
Memory Type – DDR3
Memory Pin – 240
Memory Format – DIMM
Tested Voltage – 1.5
SPD Voltage – 1.5
Speed Rating – PC3-12800 (1600MHz)
SPD Speed – 1333Mhz
Tested Speed – 1600Mhz
Tested Latency – 9-9-9-24
SPD Latency – 9-9-9-24
Aesthetics
The Corsair Vengeance DDR3 has a tall and slender design with large aluminum heat spreaders that are designed to wick away excess heat from the DDR3 memory modules. Meant for overclocking or just keep stock-timed RAM operating smoothly, the heatsink stands about double the height of the RAM stick itself, with plenty of openings for passively cooling the memory through convection.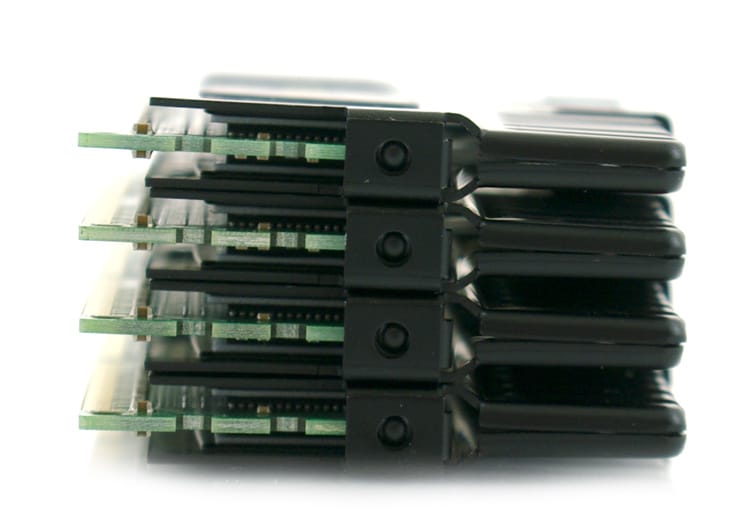 The design is a bit more minimalistic than the copper pads and aluminum spreaders we saw on the Patriot Viper Extreme memory we reviewed previously, but in testing the RAM only got 15-20F above room temperature mostly static airflow.
RAM Disk Configuration
In our RAM disk testing, we use RAMDisk software from Dataram ($15) for setup and configuration of the disk. With this RAM specifically targeting the new Intel X79 platform, we test all RAM disk reviews in our StorageReview Intel Core i7 3960X-powered test rig.
To test the speed of the Corsair RAM, we turned to our IOMeter benchmark suite and scaled it up to be relevant in testing the much faster DDR3 memory. We used the same testing profiles, but adjusted for multiple managers and multiple workers to simulate an intensive multi-threaded working environment. Limited to 16GB of total system memory, we segmented off 8GB of RAM for the RAM disk. For timing and RAM speed, we kept stock timings for each product as seen by the Intel DX79SI motherboard.
Synthetic Benchmarks
When looking at the performance of DRAM, it is important to understand the differences between it and fast enterprise storage solutions like a Fusion-io ioDrive, LSI WarpDrive, or OCZ Z-Drive R4. While some straight-line benchmarks could be comparable or in some cases faster than their multi-thousand dollar counterparts, the RAM disk solution is much more expensive per GB and limited in total capacity. In the case of this review we are working with 16GB of DDR3 memory, in a system with eight total RAM slots. Generally speaking the highest capacity easily-acquired  consumer RAM tops at 8GB per stick, putting a maximum limit of 64GB in our system. Compare that to 300GB on the LSI WarpDrive, 1.6TB on the OCZ Z-Drive R4, or 640GB on the Fusion-io ioDrive and you start to realize RAM can't come close to competing in like capacities.
A big difference between DRAM and NAND Flash is its performance over time. Flash will progressively slow in performance until it reaches its steady-state level, while DRAM will maintain roughly the same speed 2 minutes in as it would 40 hours in. It also doesn't have the same limited lifecycle of NAND, which progressively drops as the manufacturing processes shrink. So while you get incredibly high speeds with unlimited write cycles, you are still limited by capacity, especially in the client space.
Our first test looks at the speed in a sequential write environment with large block transfers. This particular test uses a 2MB transfer size with IOMeter, with 4k sector alignment and measures performance with a queue depth of 4.

With the same clock speed and looser timings, it was surprising to see the Corsair Vengeance DDR3 pull slightly ahead the Patriot Viper Extreme memory in the sequential speed test. Both memory kits were neck and neck with write speed, with the Patriot memory having a razor thin lead, but in read speed the Corsair memory led by a gap of 200MB/s.
Moving to a random access profile, but still maintaining a large block transfer size of 2MB, we start to see how performance varies in a multi-user environment. This test keeps the same queue depth level of 4 that we used in the prior sequential transfer benchmark.

In this test the Corsair Vengeance memory still pulled ahead by a slight margin, leading by 60-80MB/s.
Moving to an even smaller random access transfer size of 4K, we get closer to the packet size that might be found in a heavy random access environment. In the first test we look at expanded 4K read performance and how it scales from a queue depth of 1 to a maximum of 64.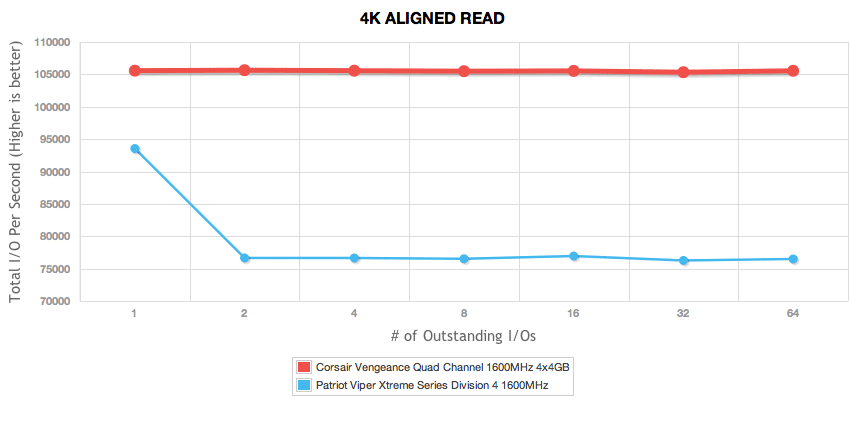 The 4K random read I/O test was very surprising, showing a strong read speed of roughly 105,000 IOPS throughout the duration of our test. This compares to the Patriot RAM that started high at 93,548 IOPS and slowed to around 76,500 IOPS at higher queue depths.
Our next test looks at 4K random write performance at a static queue depth of 32 and results are recorded and averaged once the drives have reached steady-state. In the case of DRAM, steady was reached moments after the test began. While IOPS performance is a good metric to measure steady-state performance, another key area of interest is around average and peak latency. Higher peak latency figures can mean certain requests can backed up under heavy continuous access.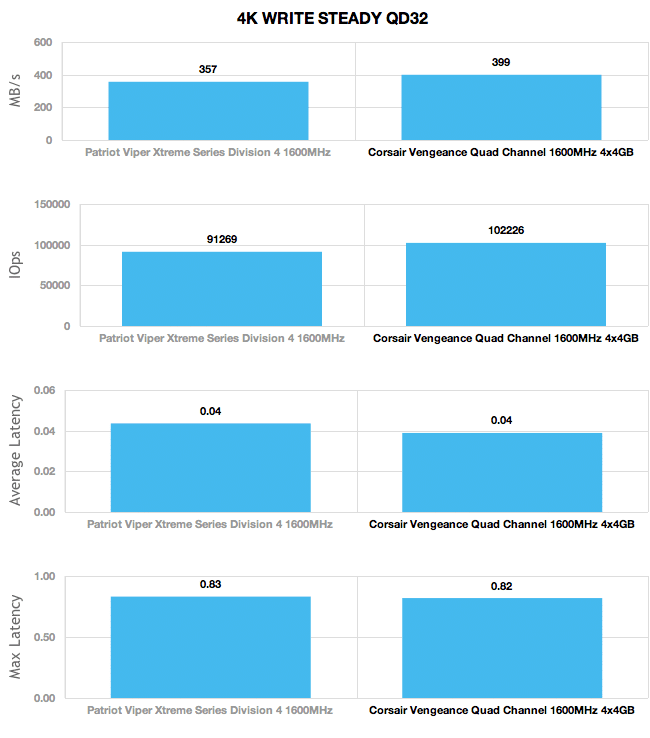 At a queue depth of 32, the Corsair Vengeance DDR3 maintained a speed of just under 400MB/s with an average of just over 102,000 IOPS. Average latency measured 0.039ms compared to 0.044ms of the Patriot RAM.
Our last series of synthetic benchmarks compare both enterprise drives in a series of server mixed-workloads with a static queue depth of 32. Like the synthetic benchmarks at the start of this review, these tests are also measured in steady state. Each of our server profile tests has a string preference towards read activity, ranging from 67% read with our database profile to 100% read in our web server profile.
The faster 4K read and write speeds translated into very strong mixed workload speeds in our server profiles. In some cases the Corsair RAM stayed within fairly close margins compared to the Patriot Viper Xtreme RAM, but in others like the Webserver profile, it offered a huge advantage in performance. In a mixed workload environment, the Corsair Vengeance DDR3 would have no problem pulling in consistently high speeds day in and day out. If you want to push past the capacity limit though, Corsair does have a 4 x 8GB kit that would allow up to 64GB of RAM in a single system.
The first is our database profile, with a 67% read and 33% write workload mix primarily centered on 8K transfer sizes.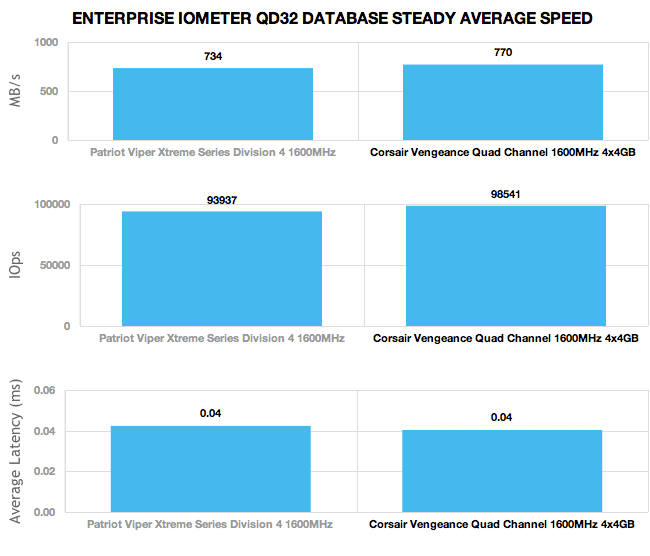 The next profile looks at a file server, with 80% read and 20% write workload spread out over multiple transfer sizes ranging from 512-byte to 64KB.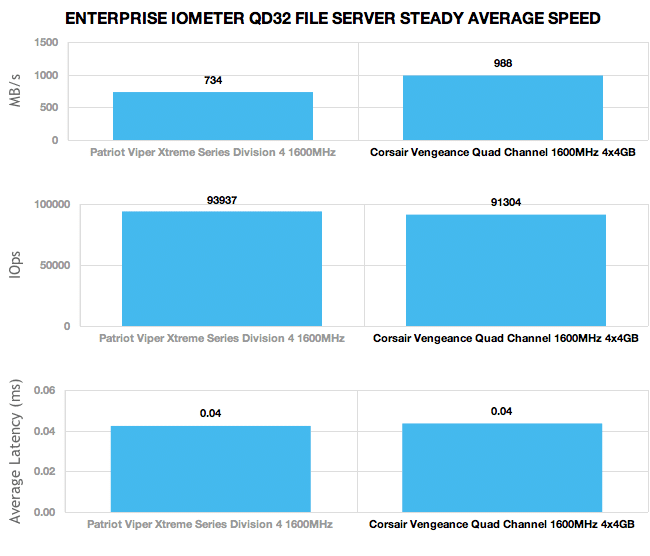 Our web server profile is read-only with a spread of transfer sizes from 512-byte to 512KB.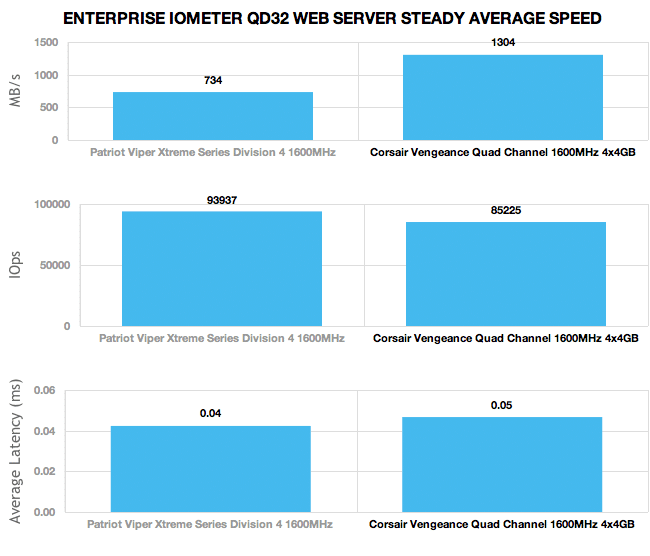 The last profile looks at a workstation, with a 20% write and 80% read mixture using 8K transfers.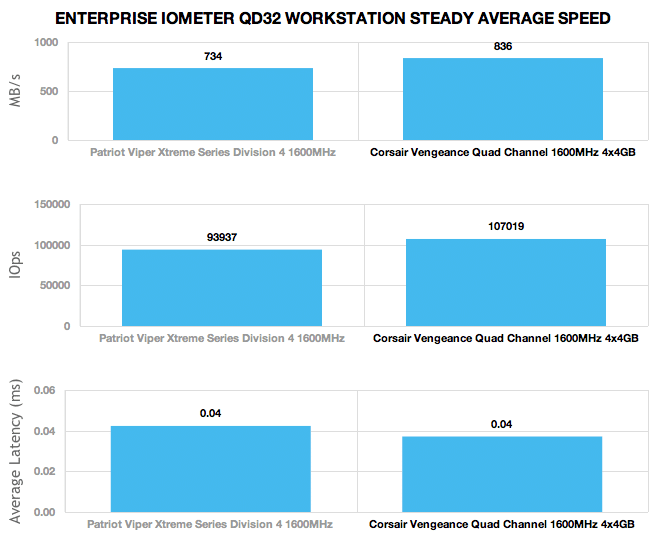 Conclusion
It almost goes without saying, but if you are looking for the fastest storage solution available within the grasp of most consumers, it's hard to look past a RAM disk solution. While the capacities might not handle more than one specific program or game, the speeds from it would far exceed what you might find in any consumer SSD. With the Corsair Vengeance RAM retailing for around $105 for the 16GB kit, you could easily slice off 8GB for a RAM disk for I/O intensive applications.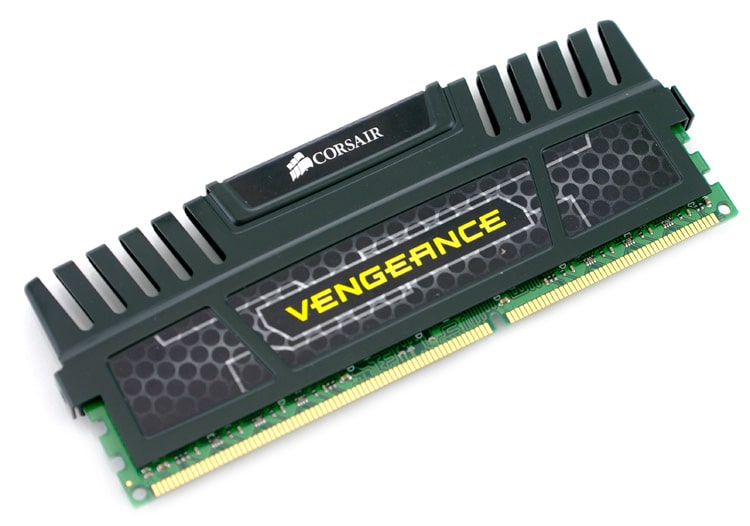 The uses for a high-performance RAM disk are endless be it video production teams looking to render video faster, gamers looking for faster load times, programmers reducing the time needed for hourly/daily code builds, or even graphic designers looking to speed up image manipulation times. As we found out in this review, not all RAM behaves the same in each workload, with the Corsair Vengenance RAM having a big advantage in small I/O read speeds. If you are in the market for a fast storage solution on a consumer budget, look no further than a software RAM disk for speeds and endurance levels that flash storage can't touch.
Pros
Excellent mixed-workload performance
Tall heat spreaders draw heat up and away from tightly-packed RAM groups
Exceptionally strong 4K read speed
Cons
Pretty expensive at $6.56/GB as a competitor to flash storage

Bottom Line
The Corsair Vengeance DDR3 out-performed our expectations, driving excellent scores in our server profile tests and surpassing 105,000 IOPS in our 4K random read test. For enthusiasts interested in squeezing out even more performance on a constrained budget, a small Corsair RAM disk might be just the solution.