The Crucial BX300 is the company's latest consumer SSD that combines their 3D NAND with a budget-friendly price tag. The new BX300 SSD is the direct successor to the BX200 and features a Silicon Motion Controller and custom firmware. Highly energy efficient, the BX300 is available in 120GB, 240GB, and 480GB capacities.
The Crucial BX300 is the company's latest consumer SSD that combines their 3D NAND with a budget-friendly price tag. The new BX300 SSD is the direct successor to the BX200 and features a Silicon Motion Controller and custom firmware. Highly energy efficient, the BX300 is available in 120GB, 240GB, and 480GB capacities.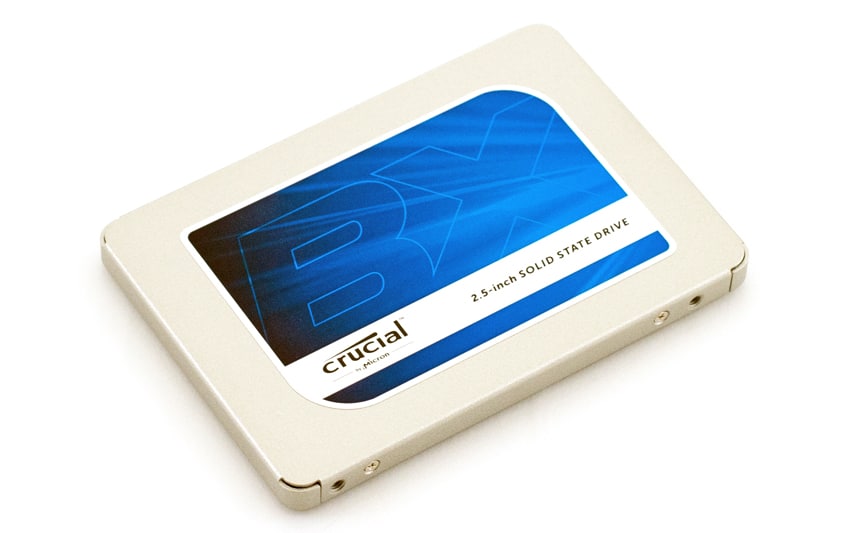 Crucial has released some of the most accessible drives over the past several years, and their latest release is no exception; the BX line has been a driving force affordable SSDs. And even though the BX300 is marketed as one of these lower-end drives, it still offers leaps and bounds in performance gains over platter-based drives; upwards of 10 times more. To this end, the highly energy-efficient BX300 is quoted to deliver noticeable improvement over the previous 2015 BX200 model, claiming sequential speeds of 555MB/s read and 510MB/s write (compared to 535MB/s read and 450MB/s write) and 95,000 IOPS read and 90,000 IOPS write in random throughput performance (compared to 66,000 IOPS and 78,000 IOPS).
To make the upgrade process easier for users, Crucial's Advisor tool determines if compatibility is possible with Crucial drives based on their current rig's manufacturer, make and model. In addition, Crucial has bundled an Acronis True Image HD software key for seamless data migration from your old drive to the BX300.
Sporting a 2.5-inch form factor drive, the BX300 goes for roughly $60 (120GB), $90 (240GB), and $150 (480GB).
Crucial BX300 Specifications
Capacities: 120GB, 240GB, 480GB
Performance:

Sequential Read MB/s: 555
Sequential Write MB/s: 510
Random Read IOPS: 45,000 (120GB), 84,000 (240GB), 95,000 (480GB)
Random Write IOPS: 90,000

Form factor: 2.5-inch 7mm SSD
Interface: SATA 6Gb/s,
Compatibility: Fits 7mm to 9.5mm spacer,
Acronis True Image HD software key
Design and Build
Like the BX100 and BX200 before it, Crucial has once again decided to leave the design of the BX series untouched with its newest drive. To this end, it features the slick looking blue and white label sticker on the front side of the SSD, which displays the Crucial logo, product brand, and the form-factor information. The enclosure has robust metal build with smoothed out edges. There's no indication that this is the BX300 model, which might cause minor confusion for those who own different generation from the BX line.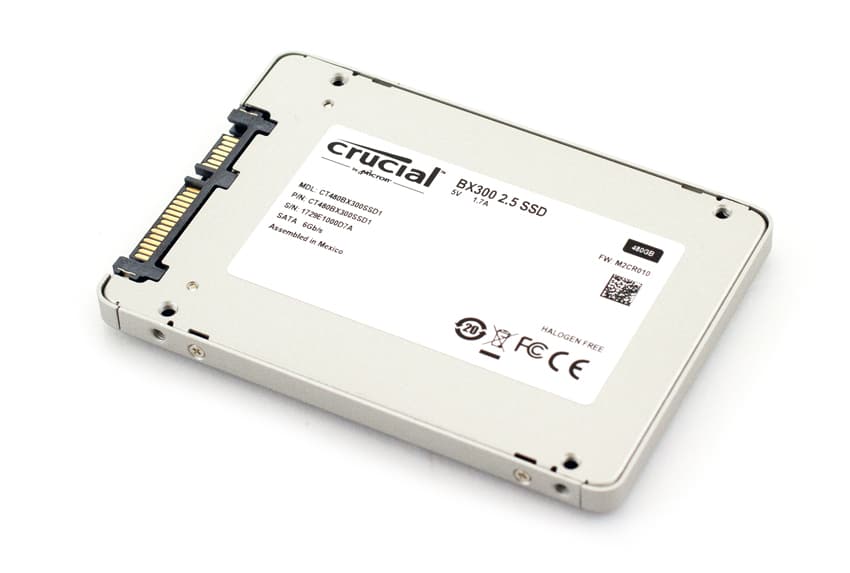 The backside of the SDD features the usual white sticker that displays information about the specific drive model, such as the model number, capacity and form factor.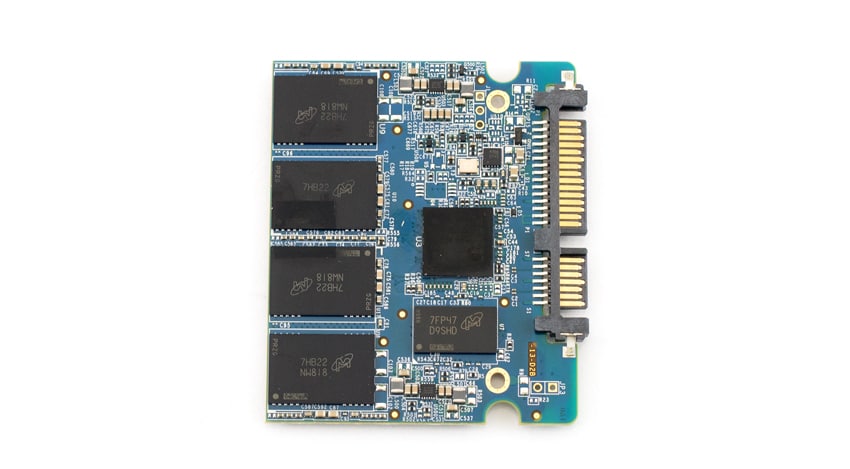 The side profiles each have two mounting screw holes and,  with its slim 7mm (2.5″) form factor, the BX300 can fit inside pretty much any notebooks. For desktop PC users, the new Crucial drives come bundled with a 7mm-to-9.5mm adapter bracket.
Consumer Synthetic Benchmarks
All consumer SSD benchmarks are conducted using the StorageReview HP Z640 Workstation. We compared the Crucial BX300 SSD to the following drives:
All IOMeter figures are represented as binary figures for MB/s speeds.
In our 2MB sequential benchmark, the Crucial BX300 480GB placed right near the top of our leaderboard in reads with 506.66MB/s, just behind the ADATA SU900, which scored 521.55MB/s. In write performance, the drive gave us 460.86MB/s for fourth spot.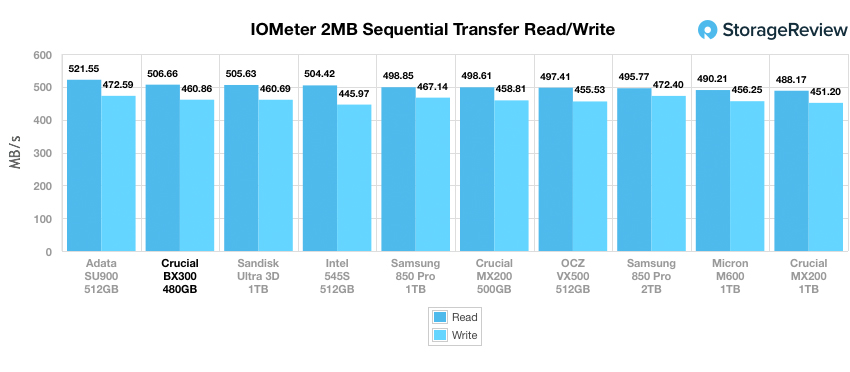 Looking at 2MB random transfer performance, results were pretty much reversed: the BX300 480GB measured 432.21MB/s read and 461.73MB/s write, placing it right at the bottom of the pack (only the ADATA SU900 512GB fared worse).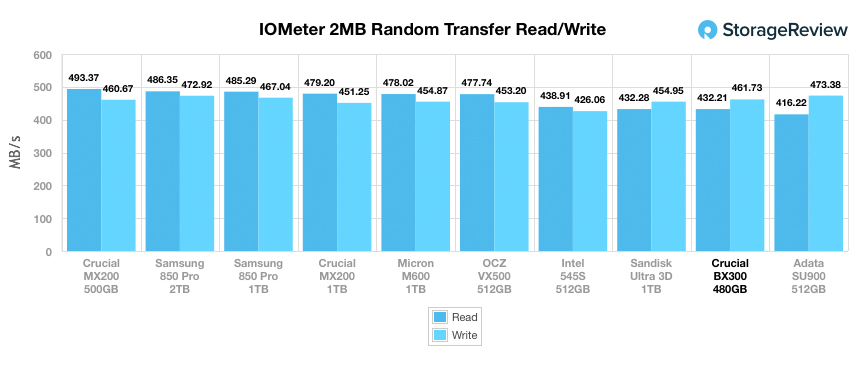 Switching to smaller 4K random transfers, the BX300 480GB measured 30.24MB/s in read activity and 107.21MB/s for writes, placing it in the bottom and middle of the pack, respectively.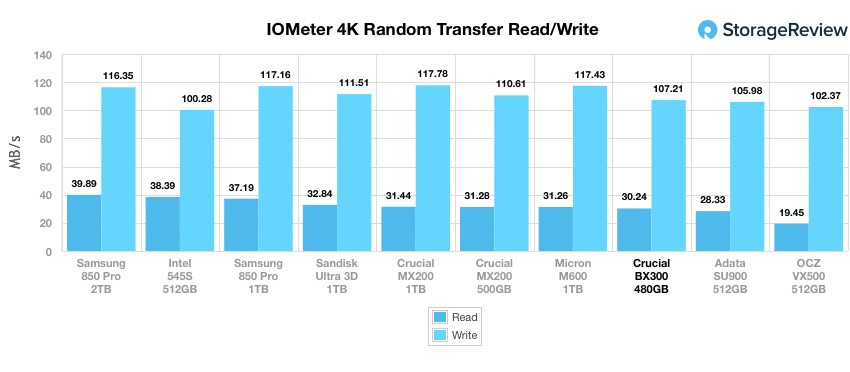 In the IOPS category, the BX300 model posted 7,740.82 IOPS read and 2,7445.66 IOPS write, which were lower end results on the leaderboard. Unsurprisingly, the Samsung 850 Pro 2TB had the best results here.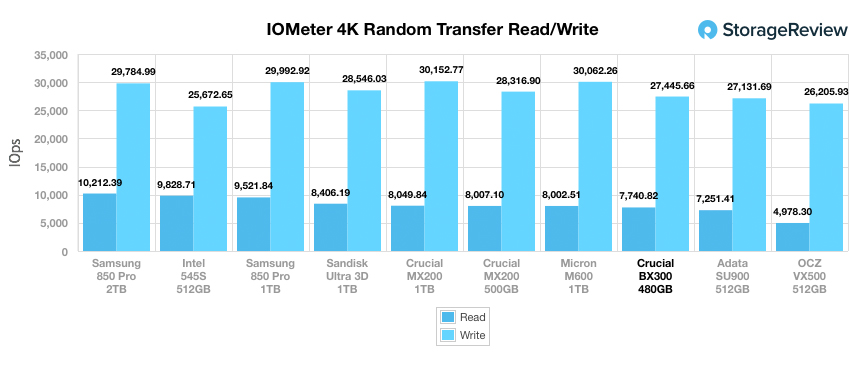 Our 4K write latency benchmark looks at both the average and maximum readings. Here, the BX300 showed somewhat weaker performance with 0.0363ms and 16.58ms in average and maximum latency, respectively.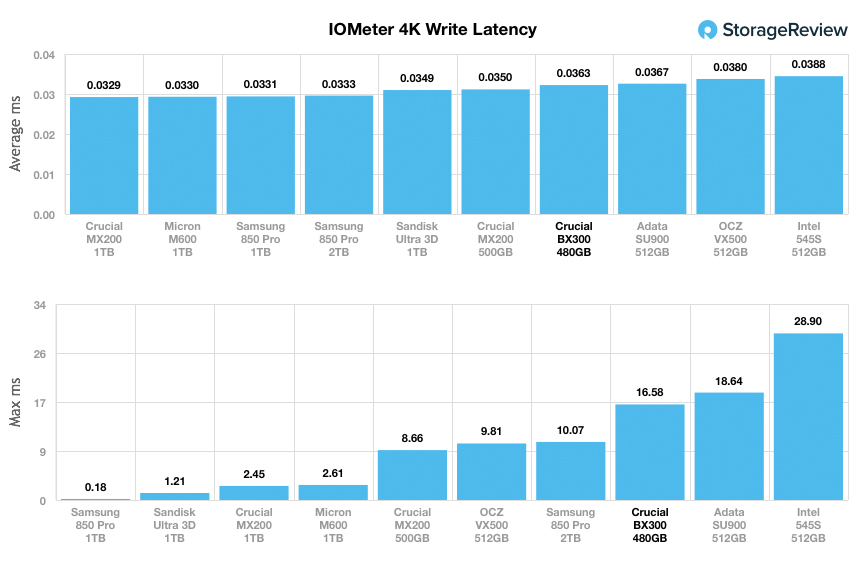 Our next test shifts to a 4k random workload with 100% read activity that scales from 1QD to 64QD. In this scenario, the BX300 480GB gave an impressive performance, scaling from 27,441.61 IOPS up to 85,296.65 IOPS. These results placed it at the very top of the leaderboard and more than 1,000 IOPS better than the Samsung 850 Pro 1TB.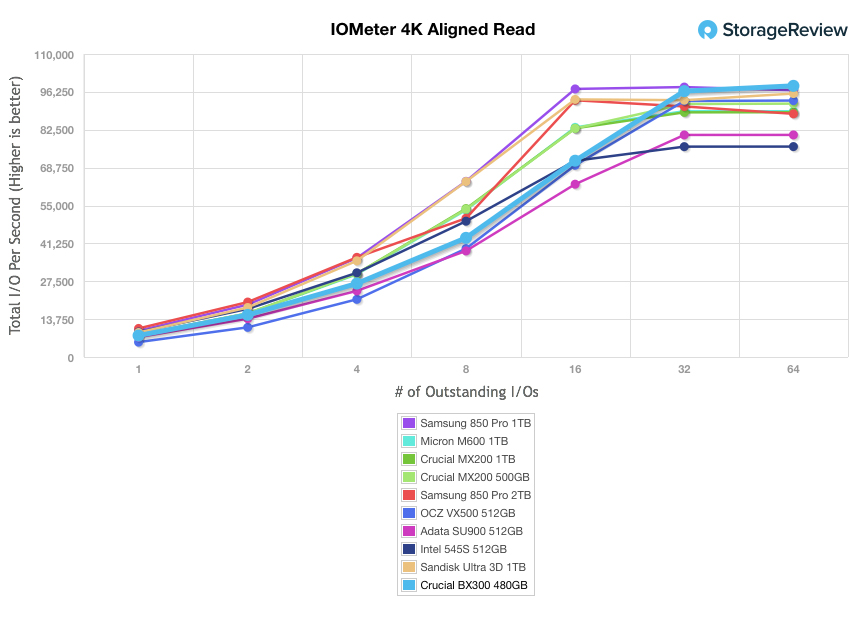 In write activity of the same benchmark, the BX300 480GB ranged from 7804.250197 IOPS to 96519.20322 IOPS, which was good enough for second place overall and just behind the Samsung 850 Pro.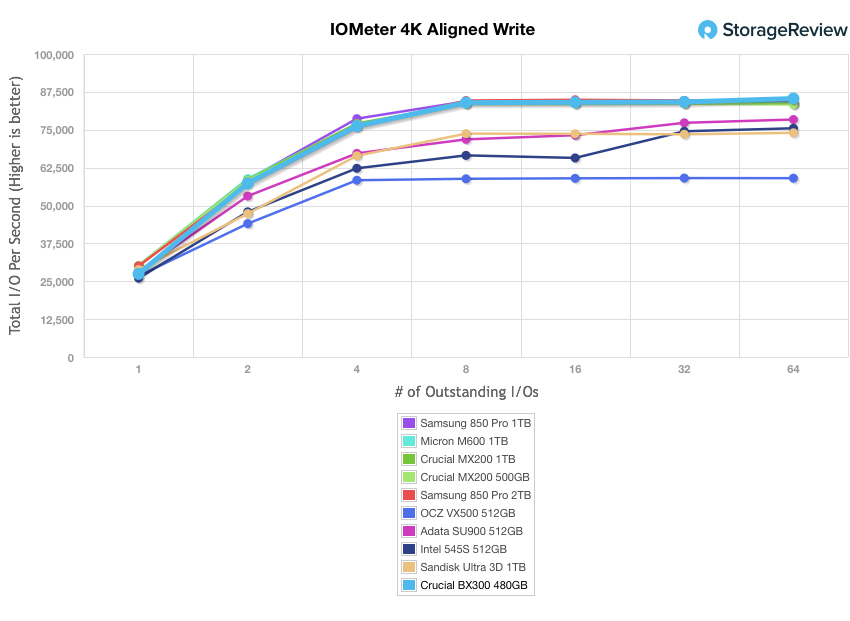 Our last series of synthetic benchmarks compare the SSDs in a series of server mixed-workloads with a queue depth of ranging from 1 to 128. Each of our server profile tests has a strong preference towards read activity, ranging from 67% read with our database profile to 100% read in our web server profile.
The first is our database profile, which consists of a 67% read and 33% write workload mix primarily centered on 8K transfer sizes. Here, the BX300 measured a range of 7,438.52 IOPS to 47,704.30.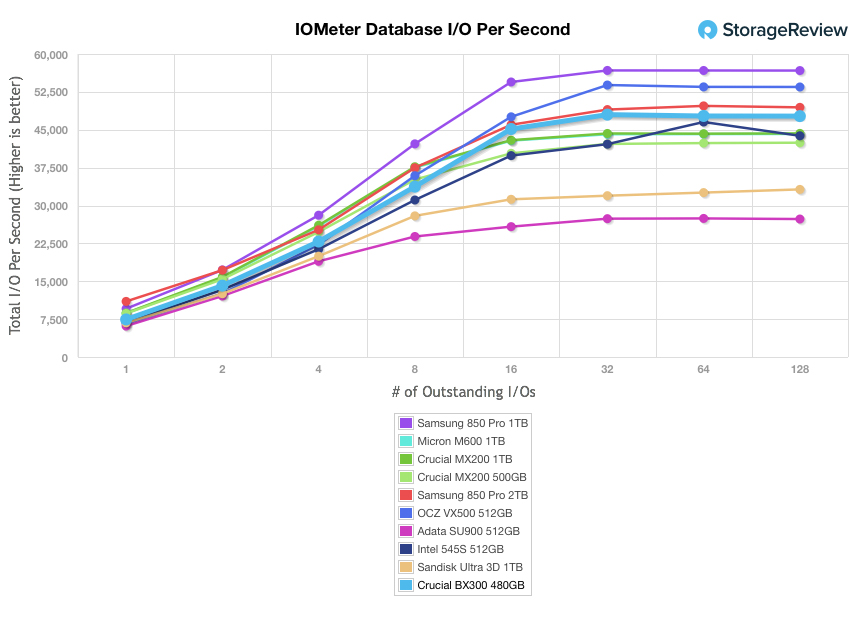 Our web server profile is read-only with a spread of transfer sizes from 512-byte to 512KB. In this workload, the BX300 drive provided a range of 4,598.5 IOPS to 23,988.22 IOPS.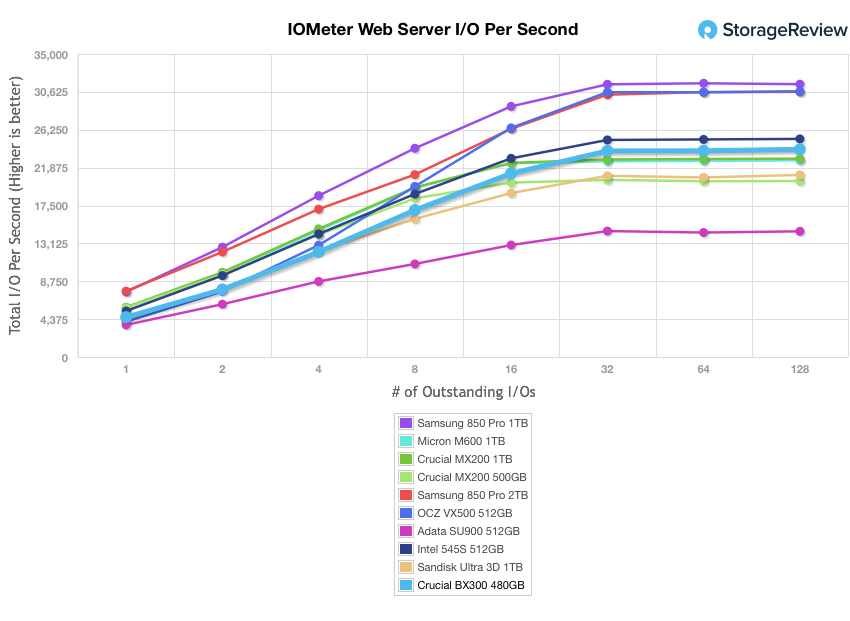 The next profile looks at a file server, with 80% read and 20% write workload spread out over multiple transfer sizes ranging from 512-byte to 64KB. The BX300 delivered a range of 5,240.36 IOPS and 36,908.54 IOPS, placing it among the leaders once again.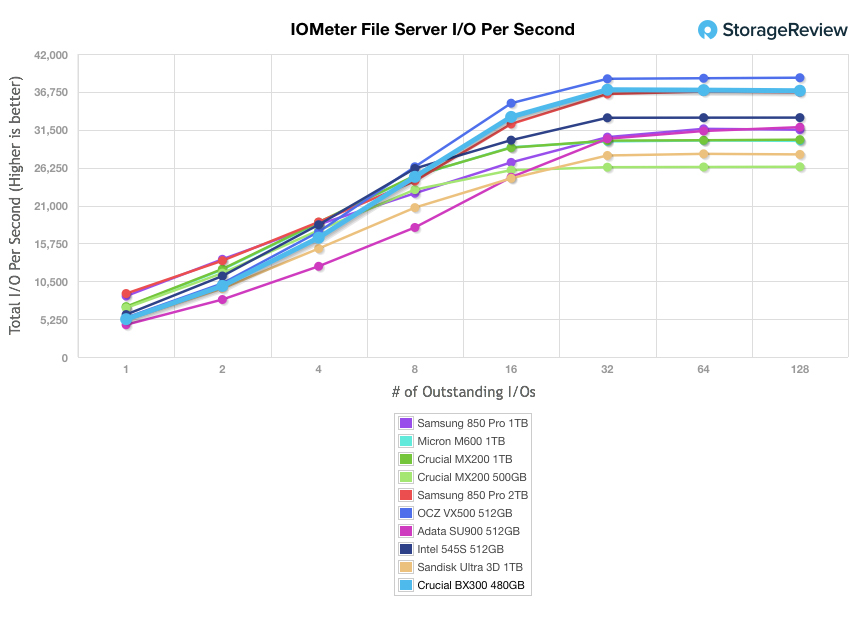 The last profile looks at workstation activity, with a 20% write and 80% read mixture using 8K transfers. The BX300 had a week start at just 5,180.51 IOPS; however, it ended up at being the third fasted drive with 48,330.04 IOPS.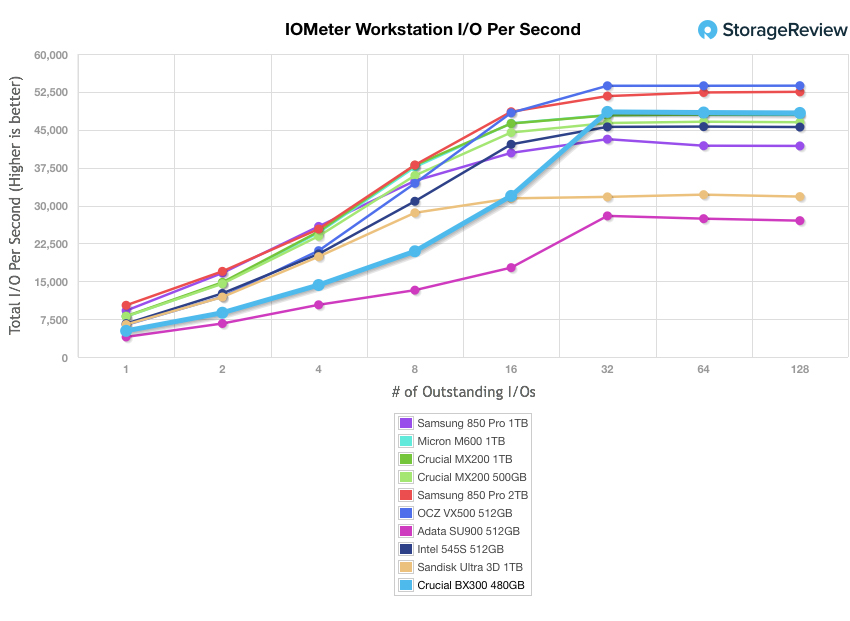 Consumer Real-World Benchmarks
While the results of synthetic benchmarks are important in identifying the key strengths and weaknesses of a drive, performance in these tests does not always translate directly into real-world situations. To get a better idea how the Crucial BX300 drive will handle itself in the field, we will chart StorageMark 2010 HTPC, Productivity, and Gaming traces against comparable drives. Higher IOPS and MB/s rates with lower latency times are preferred.
The first trace is based on use as a Home Theater PC (HTPC). The test includes playing one 720P HD movie in Media Player Classic, one 480P SD movie playing in VLC, three movies downloading simultaneously through iTunes, and one 1080i HDTV stream being recorded through Windows Media Center over a 15-minute period.
In our HTPC trace, the BX300 had an impressive 8,333.92 IOPS, 380.49MB/s and an average latency of 0.915ms. In all three categories, the SSD placed second just behind the OCZ VX500 512GB.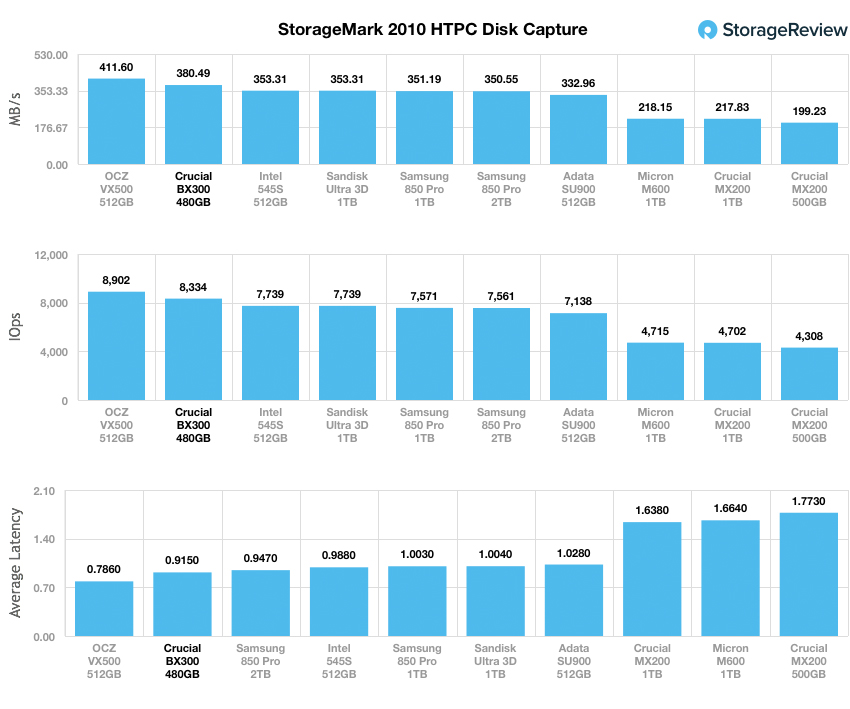 The next trace simulates disk activity in an office workstation or productivity scenario. This test includes three hours of operation in an office productivity environment with 32-bit Windows Vista running Outlook 2007 connected to an Exchange server, web browsing using Chrome and IE8, editing files within Office 2007, viewing PDFs in Adobe Reader, an hour of local music playback, and two hours of streaming music via Pandora.
With our productivity trace, the BX300 fell a bit behind with 11,644.95 IOPS, 344.95MB/s, and 0.663ms in average latency. The results were still very good, however.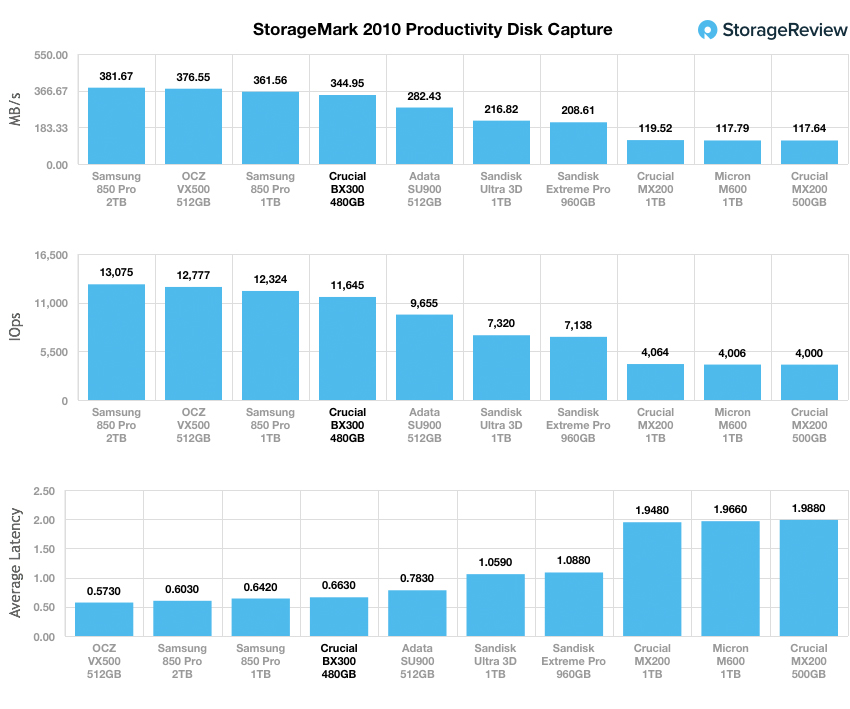 The final consumer real-life benchmark simulates disk activity during gaming. This simulation taxes the drive's read performance, with 6% write operations and 94% read operations. The test consists of a Windows 7 Ultimate 64-bit system pre-configured with Steam, and with Grand Theft Auto 4, Left 4 Dead 2, and Mass Effect 2 already downloaded and installed. The trace captures the heavy read activity of each game loading from the start, as well as textures as the game progresses.
In our gaming benchmark, the BX300 fell pretty hard, nearly placing last. Here the BX300 scored 8020.11 IOPS, 431.65MB/s and 0.934ms in average latency, results which were identical to the Sandisk Ultra 3D 1TB with the exception of the latter.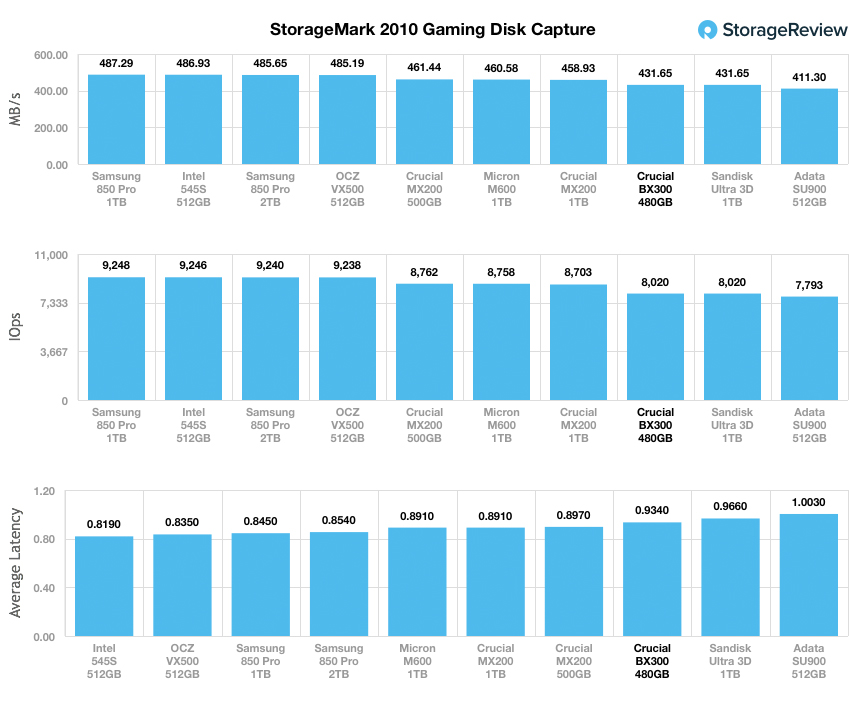 Conclusion
Like its predecessors, the BX300 is an impressive release for a budget drive, giving consumers a viable and inexpensive option to upgrade their computers from a platter-based hard disk system to one that runs significantly faster via solid-state drive technology. The new Crucial drive features Micron 3D NAND, a Silicon Motion Controller and a 7mm-to-9.5mm adapter bracket. With its 2.5″ (7mm) form factor and SATA 6Gb/s interface, the BX300 can fit inside compact desktop PCs to ultra-slim notebooks. Not only is this one of the least expensive drives one of the SSD market, the BX300 comes with the company's lowest power consumption to date.
Reiterating what we have said in previous reviews of past BX SSDs, we do acknowledge the sometimes inconsistent performance, which was made obvious in our benchmarks; however, Crucial didn't design the BX300 to compete with drives like the Samsung 850 Pro (though it did manage to beat it in some of our tests); it was designed to provide an ultra-affordable option with decent performance.
Diving into the details of the 480GB model's performance, sequential 2MB workloads showed 506.66MB/s read and 460.86MB/s write, placing it right at the top of the leaderboard with much more expensive drives. The random workload, however, showed performance of 432.21MB/s read and 461.73MB/s write, results which found it near the bottom of the pack (only the ADATA SU900 512GB had slower numbers). Results were mirrored in our smaller 4k random transfers and latency benchmarks.
Performance picked up slightly during our server profile tests, where the BX300 placed among the leaders throughout most of the workloads. Moving to our real-world workloads, the new Crucial drive model showed impressive performance during our Productivity and HTPC traces, though it placed ranked near the bottom in our Gaming profile.
Pros
One of the most affordable consumer drives on the market
Impressive performance for its class and price
Energy efficient
Cons
Capacity tops out at only 480GB
Bottom Line
The Crucial BX300 is a great addition to the budget-friendly SSD line, as it offers an inexpensive option for consumers looking to upgrade their HDD rig to solid state technology.
Sign up for the StorageReview newsletter