In December, Dell launched their new series of EqualLogic SANs, the PS6210 family. The updates are significant and highlighted by both performance and usability enhancements. On the performance side, Dell promises up to three times random read performance improvement compared to predecessor PS6110XS arrays. This is due in large part to the larger capacity SSDs and code enhancements to better handle the flash. Dell also introduced EqualLogic Array Software 7.0, EqualLogic SAN Headquarters 3.0, and new support for the Fluid File System (FluidFS) v3 on EqualLogic FS7610/7600 NAS appliances.
In December, Dell launched their new series of EqualLogic SANs, the PS6210 family. The updates are significant and highlighted by both performance and usability enhancements. On the performance side, Dell promises up to three times random read performance improvement compared to predecessor PS6110XS arrays. This is due in large part to the larger capacity SSDs and code enhancements to better handle the flash. Dell also introduced EqualLogic Array Software 7.0, EqualLogic SAN Headquarters 3.0, and new support for the Fluid File System (FluidFS) v3 on EqualLogic FS7610/7600 NAS appliances.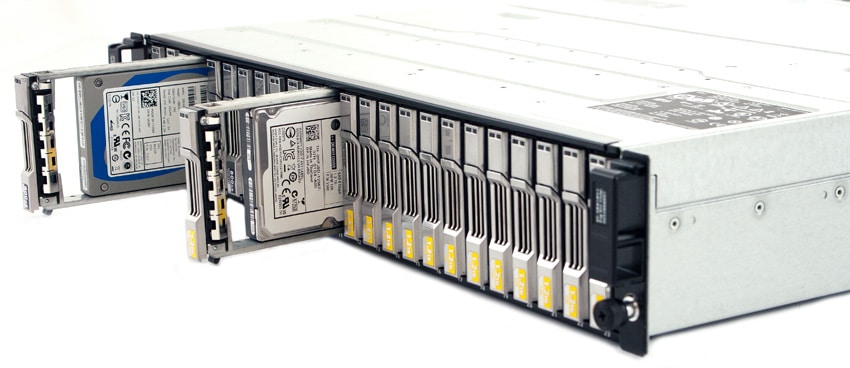 At the time of the announcement, Dell provided StorageReview with a pre-production version of its EqualLogic PS6210XS hybrid array which we showed to hit more than three times the performance of the PS6110XS during some benchmarks in our hands-on preview of the PS6210XS. With a production version now available at the StorageReview Enterprise Test Lab, we will return to the PS6210XS to complete a full benchmark protocol of the array.
We have found EqualLogic to be a compelling choice for many enterprise storage scenarios because of its ease of administration and tight integration with VMware, including VAAI, VASA and SRM. Dell also provides some of the best Linux host integration tools available alongside comprehensive integration support for Microsoft hosts. EqualLogic PS series iSCSI arrays such as the PX6210XS can also be combined with NAS appliances from the FS series in order to design a unified storage solution that, as part of the EqualLogic family, will continue to be supported by Dell through multiple hardware generations
The EqualLogic PS6210 uses a baseline hardware configuration of dual storage controllers with 16GB non-volatile caches, two 10Gb/1Gb/100Mb ports, and two 10GbE SFP+ ports for fiber or copper. The PS6210 is a direct update to the EqualLogic PS6110, with upgraded controllers and processing power, larger drives, and software updates. We will benchmark the XS (hybrid) edition of the PS6210, which uses a combination of 7 SSDs and 17 10K SAS HDDs with a raw capacity of up to 26TB per array. Five other EqualLogic PS6210 variations exist:
PS6210E

Drives: 2TB, 3TB, 4TB
Raw capacity: Up to 96TB per array
24 hot-pluggable 3.5-inch 7.2K RPM NL-SAS drives (4TB SED)
Dual controllers with 16GB non-volatile memory per controller

PS6210X

Drives: 600GB, 900GB, 1.2TB
Raw capacity: Up to 28.8TB per array
24 hot-pluggable 2.5-inch 10K RPM SAS drives (900GB SED)
Dual controllers with 16GB non-volatile memory per controller

PS6210XV

Drives: 300GB
Raw capacity: 7.2TB per array
24 hot-pluggable 2.5-inch 15K RPM SAS drives (300GB SED)
Dual controllers with 16GB non-volatile memory per controller

PS6210XV 3.5"

Drives: 600GB
Raw capacity: 14.4TB per array
24 hot-pluggable 3.5-inch 15K RPM SAS drives (600GB SED)
Dual controllers with 16GB non-volatile memory per controller

PS6210S

Drives: 400GB, 800GB
Raw capacity: Up to 19.2TB per array
24 hot-pluggable 2.5-inch SSDs
Dual controllers with 16GB non-volatile memory per controller
Dell's EqualLogic platform has successfully married high-performance and gracefully scalable enterprise storage arrays with an administrative experience that does not require storage specialists to keep tuned. One key aspect of EqualLogic technology is its use of a common firmware and management software to establish virtualized storage architectures that can support up to 16 peer arrays in a Group. This architecture allows EqualLogic environments to offer linear performance scaling as additional arrays are added to increase capacity. It also makes it easier to keep older arrays in service as they age due to their interoperability with newer EqualLogic devices.
Dell EqualLogic PS6210XS Specifications
Hard Disk Drives: 7 hot-pluggable 2.5" SSDs and 17 hot-pluggable 2.5" 10K RPM SAS drives
Drive Capacities: 400GB SSDs, 600GB 10K RPM SAS HDDs, 800GB SSDs and 1.2TB 10K RPM SAS hard drives.
Self Encrypting Drives (SED): N/A
System Capacities: Up to 26TB
RAID Support: Accelerated RAID 6
Power

AC voltage: 100-240 VAC ±10% single phase, 700W (max, total), +5V up to 155W; +12V up to 624W; +5Vsb up to 10W
Frequency: 50/60Hz
Power factor: 0.98 (minimum)
Power supplies: Dual, optional dual 700W DC-DC

OS Support

Microsoft Windows Server including Hyper-V
VMware ESX Server
Red Hat Enterprise Linux (RHEL)
SUSE Enterprise Linux (SLES)
Oracle Linux
Oracle Solaris
IBM AIX
HP-UX
Mac OS X
Citrix XenServer
Novell NetWare

Height: 2U / 87mm (3.42in)
Width: 446mm (17.57in)
Depth: 546mm (21.50in)
Weight: 26.4kg (58.3lb)
Storage Controllers: Dual controllers with 16GB non-volatile memory per controller
Network Interfaces: Management network: One 100BASE-TX per controller
Interface ports: Two 10GBASE-T with RJ45 and two 10GbE SFP+ for fibre or twin-ax copper cabling
Reliability:

Redundant hot-swappable controllers with vertical port sharing
Hot-swappable disks and power supplies
Enclosure Monitoring System:
Automatic spare configuration and utilization
SMART
Automatic bad block replacement
Auto-Stat Disk Monitoring System (ADMS) to monitor health of data on disk drives

Management Interfaces:

Group Manager (GUI & CLI)
SAN Headquarters multi-group performance and event monitoring tool
Virtual Storage Manager vCenter plugin
Serial console
Ability to configure a separate management network
SNMP, telnet, SSH, HTTP, Web (SSL)
Host scripting, including Windows PowerShell

Multi-administrator support
CHAP authentication
Access control for iSCSI as well as new Access Control Policies
Access control for management interfaces including Active Directory, LDAP, or RADIUS support
Notification Methods: SAN Headquarters, including Dell SupportAssist, SNMP traps, e-mail, syslog
Rack Support: ReadyRails II static rails tool-less mounting in 4-post racks with square or unthreaded round holes or tooled mounting in 4-post threaded-hole racks
Design and Build
The Dell EqualLogic PS6210XS shares its chassis with the previous-generation PS6110XS, so much of this section was brought over from that past review. The PS6210XS is designed to blend in with existing Dell PowerEdge-equipped datacenters, leveraging a similar front bezel design and drive bay configuration. That said, if you leave the bezel off, the shiny metallic drive trays really do stand out from the crowd. The PS6210XS packs 24 2.5" SSD/HDD drive bays in the front; each individually labeled so users know which are SSDs and which are traditional HDDs. From a local management perspective, the front of the chassis is very basic, offering go/no-go LEDs to show the current status of power, network connectivity, and array errors. As with many enterprise storage platforms, power is always on when a power supply is connected switched on, there is no separate chassis on/off button. One minor feature to make servicing the platform easier, is the right tab includes a sticker with the Dell Express Service code. This makes it easier for calling in to support without reading it off the top or rear of the chassis.

The rear of the PS6210XS houses two controller modules, each incorporating independent network connectivity and out-of-band management access. The chassis also features two independent power supplies which load-balance during use and can individually fully power the array in the event of a PSU failure.

EqualLogic PS6210XS deployments use dual storage controllers designed to operate in an active/passive configuration. When the first controller is in use, the second controller remains in a passive operating mode, with its Ethernet ports electrically inactive and activity LEDs unlit until a vertical port failover has occurred. The same goes for the network connection on the 10GbE unit, meaning that while each controller has two Twinax ports and two 10Gbase-T ports, only one or two are active on a single controller at any given time. If both Twinax and 10Gbase-t connections are present, the Twinax side has higher priority and is connected first. In the event of a port or cable failure, the controllers will fail-over to the corresponding port on the other controller, offering multiple paths for a given network connection.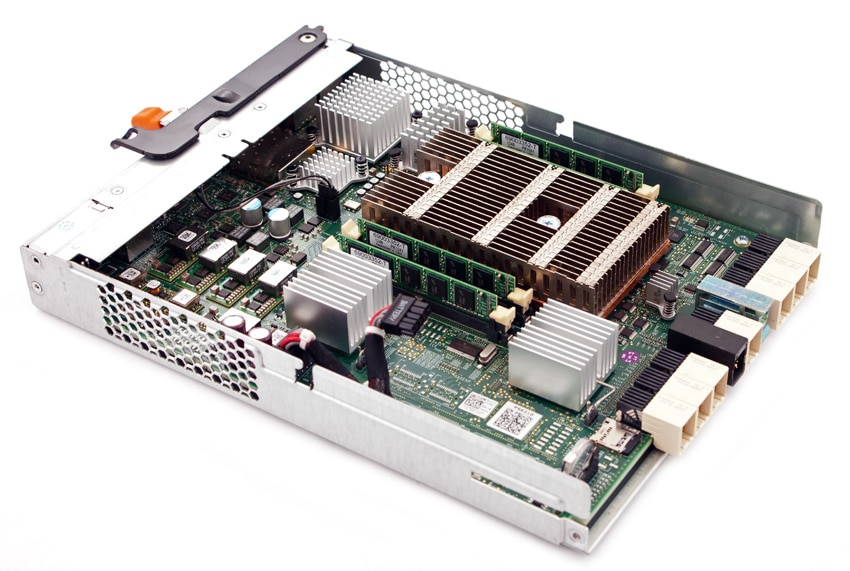 Dell did an excellent job designing the chassis and controllers in the EqualLogic PS6210XS, making them easy to service and putting a great deal of attention cooling. Removing a controller shows a layout that uses few if any cables to connect hot-swap components, which instead utilize quick-connect fittings mounted directly to the circuit boards. This improves both cooling by not having excess wires disturbing airflow across components and means you can slot load modules without worrying about missing internal power or data cables.
Management
According to Dell, approximately 89% of EqualLogic arrays are used with virtualized environments. The PS series offers complete VAAI integration with VMware, meaning that in addition to providing storage services to VMware via LUN, EqualLogic storage and management tools are available directly from vCenter. Dell has invested its expertise into reducing the amount of time administrators spend configuring VMware integration and other key setup and integration tasks for virtual environments. For example, EqualLogic provides scripts that take attributes from your environment (usernames, passwords, NIC names, IP addresses, etc) to automatically make the interconnections. For environments leveraging MPIO settings across multiple VMware hosts, these tools dramatically reduce the time needed to get the array properly configured in the environment.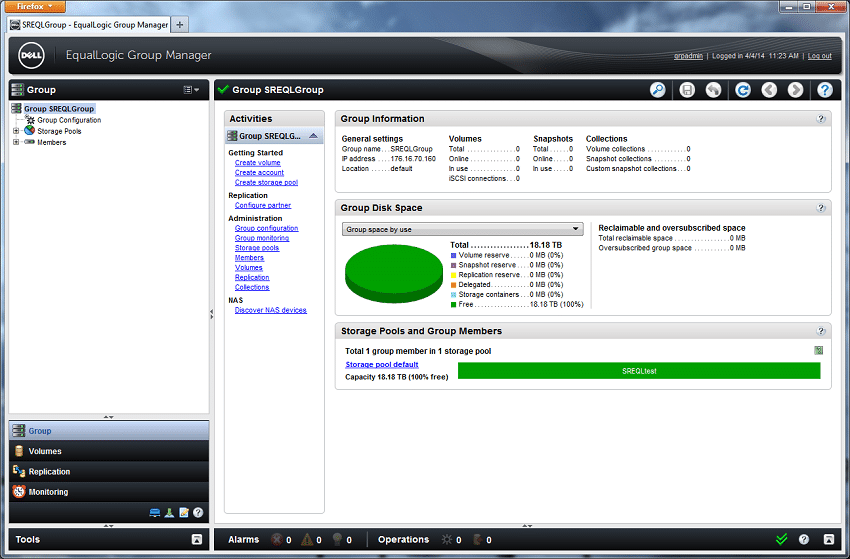 Dell Virtual Storage Manager 3.5.3 (VSM) operates as a VMware vCenter plug-in to manage EqualLogic-backed virtual environments from a centralized console, including management of multiple EqualLogic groups. VSM incorporates Dell's Datastores Manager to create, resize, and delete datastores, as well as VSM Smart Copies and Replication for hypervisor-consistent snapshots, clones, and replicas and VDI Tool for thin cloning within a VMware View environment. Integration with VMware snapshot technology can protect individual VMs on top of the intelligent snapshot technology built into the array in order to implement a scalable and automated data protection system for a virtual environment.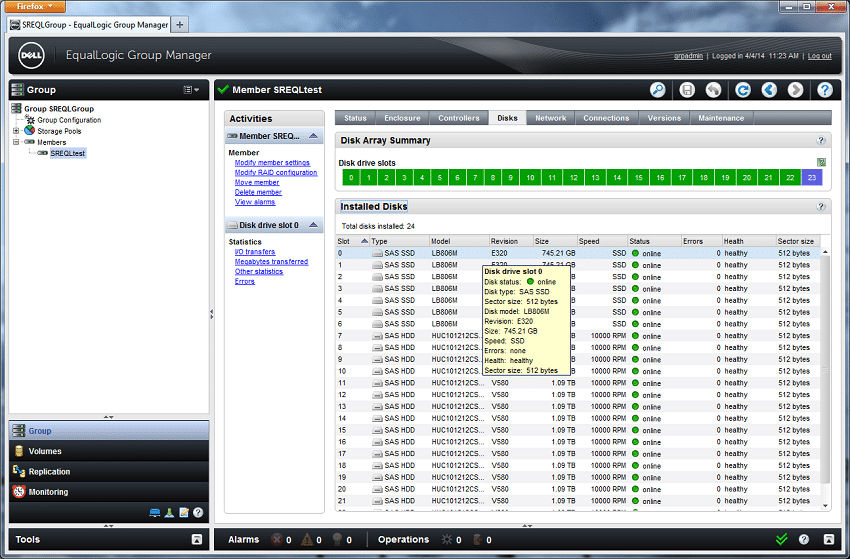 The EqualLogic PS series offers a web interface that can manage individual arrays and pools. The EqualLogic WebGUI allows users to manage all aspects of each array, including creating LUNs, adjusting permissions, initiating snapshots, and establishing a replication protocol. One item missing from the web interface is performance data, which is instead accessible via the Dell SAN HQ software.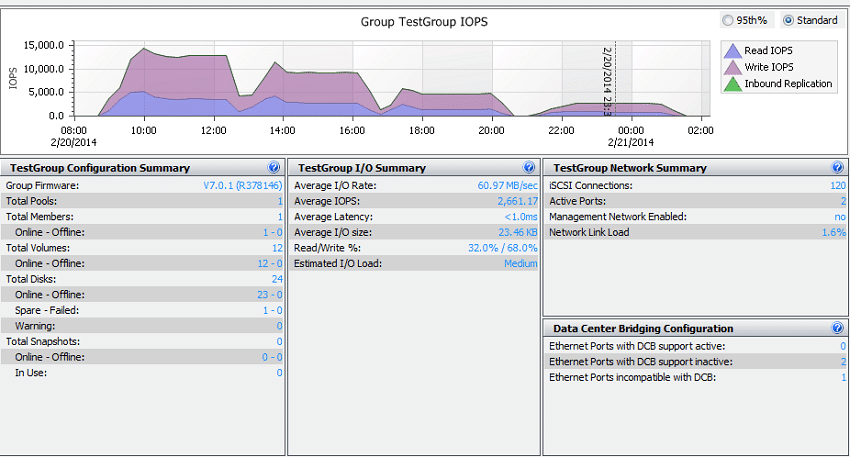 EqualLogic SAN Headquarters (SAN HQ) is a monitoring and reporting tool that aggregates information on performance, capacity, and alerts across multiple groups of EqualLogic PS arrays. The EqualLogic family can be configured to automatically transmit management and diagnostic information to Dell via SAN HQ SupportAssist. During configuration and preconditioning for the benchmarks SAN HQ was able to verify LUNs were tiered in flash and could monitor low-level latency in ways our benchmark doesn't capture.
Testing Background and Comparables
We publish an inventory of our lab environment, an overview of the lab's networking capabilities, and other details about our testing protocols so that administrators and those responsible for equipment acquisition can fairly gauge the conditions under which we have achieved the published results. None of our reviews are paid for or overseen by the manufacturer of equipment we are testing.
Dell's Technical Marketing team gave us a unique opportunity when we started our evaluation of the new PS6210XS with its (7) 800GB SSDs and (17) 1.2TB 10K SAS HDDs. Those familiar with the EqualLogic hardware platform know that within certain model families the drives and controllers can be swapped around with some limitations. To show an apples to apples comparison of the PS6210XS versus the older PS6110XS, we loaded the older controllers into the new chassis. This meant that our focus, with all other hardware being equal, what performance advantage do the new controllers offer. This type of hardware swap would be similar to a customer upgrading their existing PS6110XS hardware with PS6210XS controller. These results are shown in our SQL Server and FIO synthetic benchmark tests.
Lenovo ThinkServer RD630 Testbed
2 x Intel Xeon E5-2690 (2.9GHz, 20MB Cache, 8-cores)
Intel C602 Chipset
Memory – 16GB (2 x 8GB) 1333Mhz DDR3 Registered RDIMMs
Windows Server 2008 R2 SP1 64-bit, Windows Server 2012 Standard, CentOS 6.3 64-Bit
LSI 9211-4i SAS/SATA 6.0Gb/s HBA (For boot SSDs)
LSI 9207-8i SAS/SATA 6.0Gb/s HBA (For benchmarking SSDs or HDDs)
Emulex LightPulse LPe16202 Gen 5 Fibre Channel (8GFC, 16GFC or 10GbE FCoE) PCIe 3.0 Dual-Port CFA
Mellanox SX1036 10/40Gb Ethernet Switch and Hardware
36 40GbE Ports (Up to 64 10GbE Ports)
QSFP splitter cables 40GbE to 4x10GbE
Application Performance Analysis
In Dell's internal benchmarks, the PS6210XS supported 2.4 times the virtual desktops of a PS6110XS in a LoginVSI VDI workload generator benchmark and double the OLTP database workload with half the latency of the PS6110XS. Using a pool of eight PS6210XS arrays, Dell benchmarked more than 267K IOPS with an OLTP workload with latency below 5ms. With its automatic SSD tiering technology and emphasis on virtualized environments, these are the types of workloads the PS6210XS is engineered to handle. Our first two benchmarks of the EqualLogic PS6210XS hybrid array are therefore the VMware VMmark Virtualization Benchmark and our Microsoft SQL Server OLTP Benchmark.
The StorageReview VMmark protocol utilizes an array of sub-tests based on common virtualization workloads and administrative tasks with results measured using a tile-based unit. Tiles measure the ability of the system to perform a variety of virtual workloads such as cloning and deploying of VMs, automatic VM load balancing across a datacenter, VM live migration (vMotion) and dynamic datastore relocation (storage vMotion).
The EqualLogic PS6110XS topped out at 4 tiles, while the PS6210XS more than doubles this with 10 tiles. Limiting the workload to the first four tiles of the benchmark, the PS6210XS throughput was approximately 9,200IOPS, while the PS6110 struggled to hit four tiles with just 7,100IOPS. At ten tiles the PS6210XS pushed an average of approximately 18,200IOPS.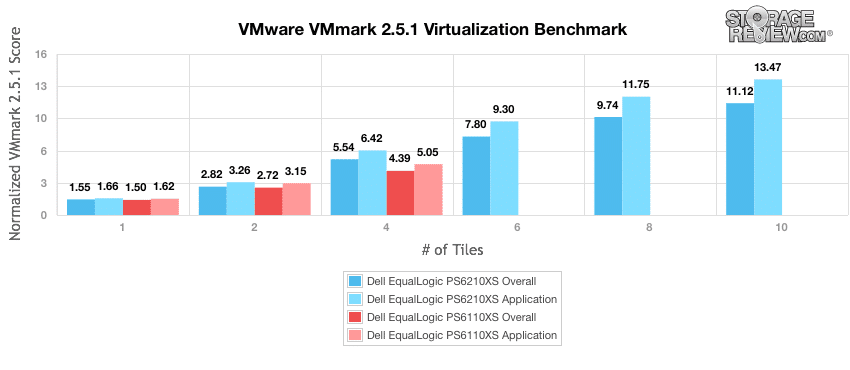 StorageReview's Microsoft SQL Server OLTP testing protocol employs the current draft of the Transaction Processing Performance Council's Benchmark C (TPC-C), an online transaction processing benchmark that simulates the activities found in complex application environments. The TPC-C benchmark comes closer than synthetic performance benchmarks to gauging the performance strengths and bottlenecks of storage infrastructure in database environments. Our SQL Server protocol uses a 685GB (3,000 scale) SQL Server database and measures the transactional performance and latency under a load of 30,000 virtual users and then again with a half-size database of 15,000 virtual users.


In the 30k virtual users SQL Server test, we measured an average latency of 146ms from the PS6210XS, which ranks well against the previous-generation PS6110XS that measured a higher 434ms average latency.


In the 15K VU test we measured latency of 48ms from the PS6210XS, compared to 94ms from the PS6110XS.
Enterprise Synthetic Workload Analysis
Prior to initiating each of the fio synthetic benchmarks, our lab preconditions the device into steady-state under a heavy load of 16 threads with an outstanding queue of 16 per thread. Then the storage is tested in set intervals with multiple thread/queue depth profiles to show performance under light and heavy usage.
Preconditioning and Primary Steady-State Tests:
Throughput (Read+Write IOPS Aggregated)
Average Latency (Read+Write Latency Averaged Together)
Max Latency (Peak Read or Write Latency)
Latency Standard Deviation (Read+Write Standard Deviation Averaged Together)
This synthetic analysis will use 4k and 8k 70/30 benchmarks which are widely used in manufacturer specifications and benchmarks.
In the first of our enterprise workloads, we measured a long sample of random 4k performance with 100% write and 100% read activity to get our main results. During the 6 hour preconditioning period we verified the data we were measuring was fully tiered on the SSDs to show optimal performance out of the array when configured as eight LUNs. With the PS6210XS in steady-state, we measured peak random 4K throughput at 133,247IOPS read and 20,059IOPS write, compared to the PS6110XS that measured 30,881IOPS read and 8,478IOPS write on the same drives.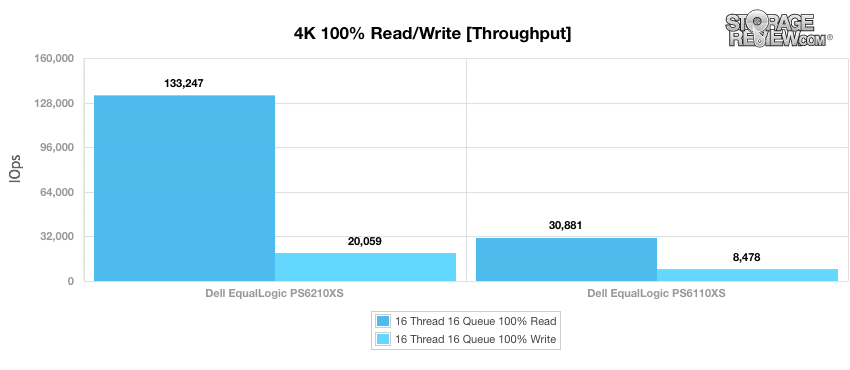 With a heavy effective queue depth of 256 average latency from the EqualLogic PS6210XS measured 1.92ms read and 12.76ms write, versus 8.29ms read and 30.19ms write from the PS6110XS.
Measuring peak response times in our heavy 4K random read and write test, the EqualLogic PS6210XS achieved an aggregated maximum latency of 516ms for read operations and 499ms for write operations, compared to the PS6110XS that measured 1028ms read and 407ms write.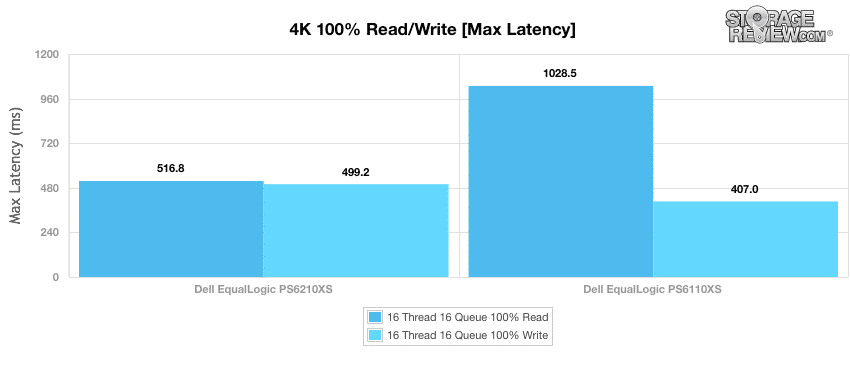 By charting the standard deviation of both read and write latency results we can visualize the consistency of latency results between the EqualLogic PS6110XS and PS6210XS. Standard deviation for latency results among write operations is one area in which the PS6110XS is able to slightly out-perform the PS6210XS, but for read latency consistency the PS6210XS offered a substantial lead.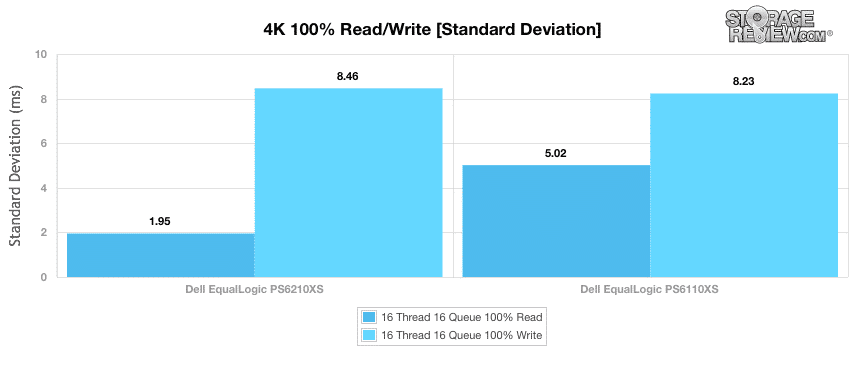 Our next workload uses 8k transfers with a ratio of 70% read operations and 30% write operations. Compared to the fixed 16 thread, 16 queue max workload we performed in the 100% 4k write test, our mixed workload profiles scale the performance across a wide range of thread/queue combinations from 2 threads and 2 queue up to 16 threads and a queue depth of 16. By the time we reached the highest workloads during the 8k 70/30 test, the PS6210XS more than doubles the performance of the PS6110XS at 29,068IOPS versus 11,758IOPS.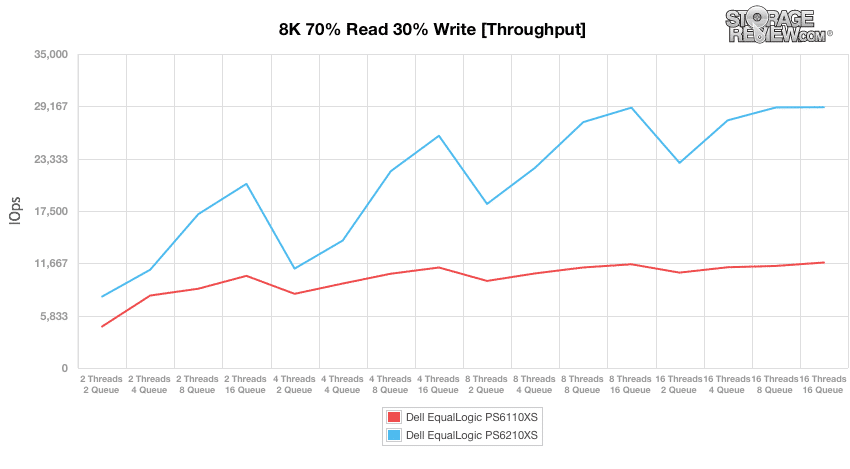 The average latency results during our 8k 70/30 benchmark mirror the throughput measurements. At 16 threads and a queue depth of 16, the PS6210XS solution maintained an average latency of 8.8ms while the PS6110XS experienced an average latency of 21.76ms.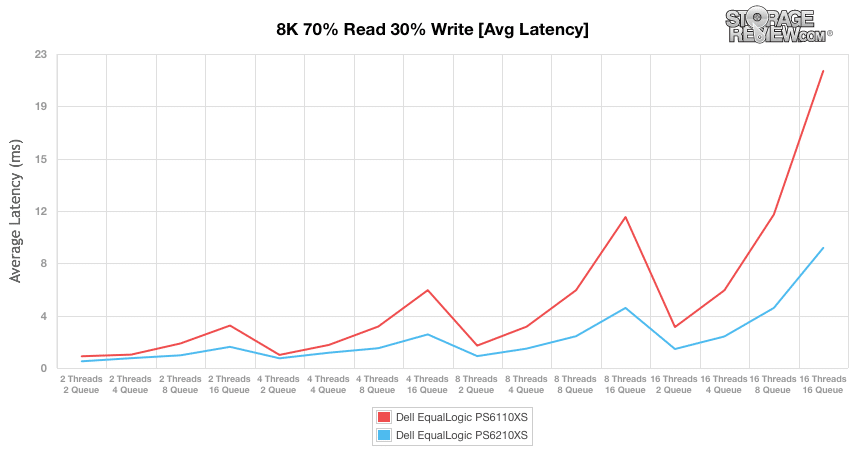 Charting the maximum latency results experienced during the 8k 70/30 benchmark reveals that both the PS6210XS and PS6110XS experience roughly similar latency peaks, which was to be expected using the same drives. In most areas the PS6210XS offered a slight edge.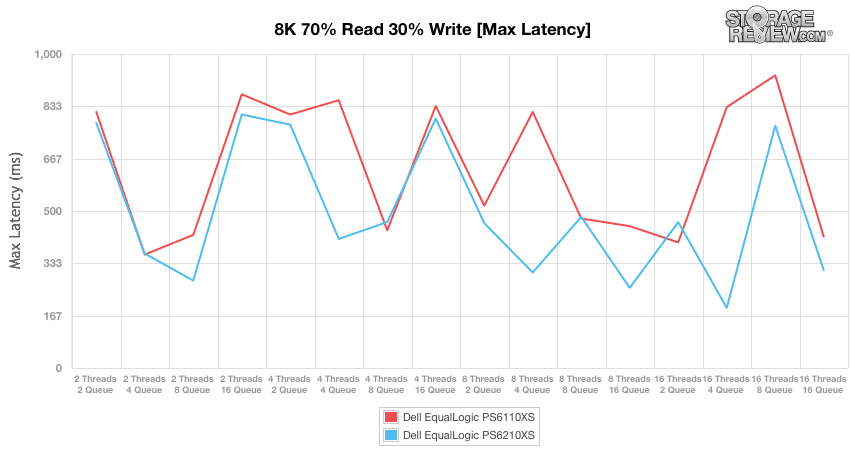 Charting standard deviation values for aggregated latencies we can see the PS6210XS jockeying for the more consistent latency values during the entire course of the test.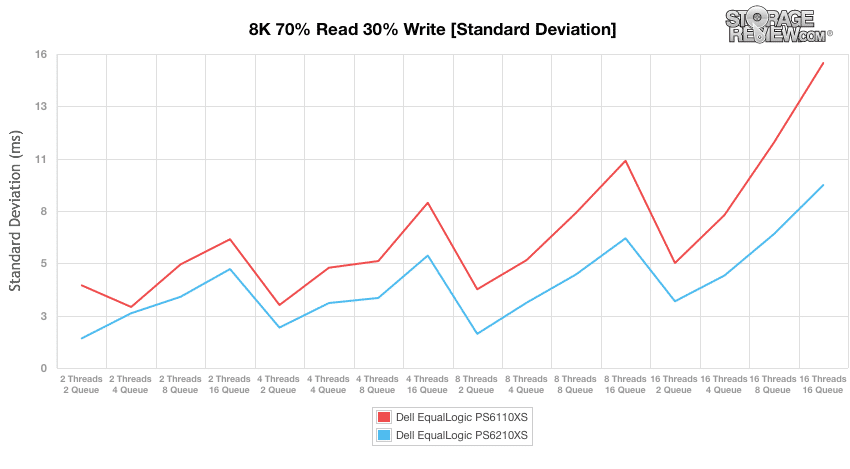 Our last test measured sequential 8k performance, focusing on both peak read and write speed. Over a twin 10G connection, the PS6210XS had read speeds exceeding 95,000IOPS or just over 761MB/s, while write speeds measured north of 39,000IOPS or 317MB/s. The PS6110XS with the same drive set measured 27,000IOPS read or 216MB/s with write speeds measuring south of 16,000IOPS or 127MB/s read.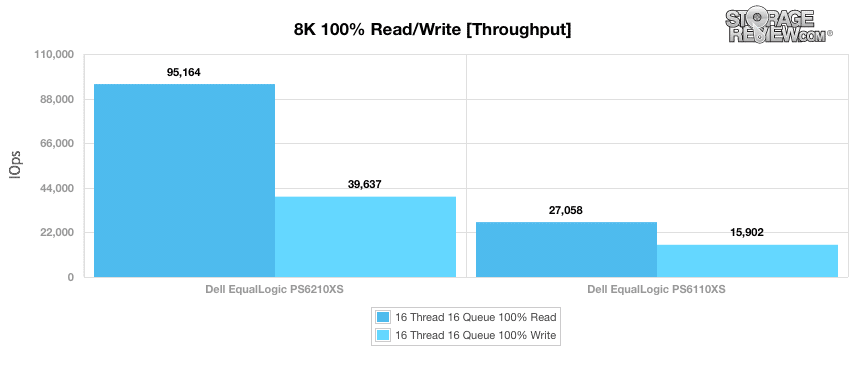 Conclusion
The EqualLogic family excels at scale-out capability, ease of use, and deployment. EqualLogic's automated data management, which encompasses automated tiering and load management, is also a critical reason for the versatility of the platform. The EqualLogic family is not designed to compete on price against high-capacity NAS and JBOD solutions. Instead, Dell has focused on the performance and administrative experience for virtualized environments and other applications that make use of EqualLogic's peer scaling model and automatic tiering.
This peer scaling model allows EqualLogic administrators to increase performance alongside new capacity by scaling out memory and processing across multiple arrays. EqualLogic arrays can also be pooled across hardware generations rather than being retired when they are no longer viable as front-line storage. The PS6210XS demonstrates the strong performance and versatile functionality that has been the hallmark of the EqualLogic family and promises to keep Dell among the leading edge of enterprise storage vendors through another generation of EqualLogic solutions.
Dell made significant performance improvements with the PS6210XS, which can be seen even when the same backend storage components such as the HDDs and SSDs remain constant. This type of scenario would be seen where a customer upgrades the controllers on an existing installation. In our VMmark virtualization benchmark, we saw a significant performance jump with the PS6210XS now supporting 10 tiles, whereas the PS6110XS topped out at 4. In our SQL Server TPC-C benchmark the PS6210XS offered 3x improvement in average latency in our 30k VU test, and just under a 2x improvement in our 15k VU test. In traditional synthetic benchmarks the PS6210XS continued to show significant improvements across the board with a 4x improvement in 4K random read performance, a 2.4x jump in 8k 70/30 performance, and 3.5x improvement in sequential 8k read throughput. For enterprise buyers looking to substantially improve upon existing EqualLogic Hybrid installations or looking to add a new array to their environment, the PS6210XS is a new force to be reckoned with.
Pros
Substantial improvements in performance over the PS6110XS
Sophisticated VMware integration places EqualLogic management directly into vCenter
Scales-out to improve performance along with increased capacity
Firmware supports prior generation arrays, keeping arrays online longer
Cons
SSDs in use could be more modern and would net even better array performance
Bottom Line
Dell's EqualLogic PS6210XS maintains the EqualLogic platform's track record of delivering versatile, easy to administrate enterprise storage with top-tier integration tools while posting major performance gains over the prior hybrid array.