The NetApp FAS2240-2 is a unified storage platform for both SAN and NAS that features 24 bays of high-performance storage for a maximum of 28.8TB of raw capacity, which can scale to 509TB using expansion disk shelves. Engineered primarily for midsized enterprises with distributed environments, the FAS2240-2 supports both SSDs and high-performance 10K HDDs. FAS2240-2 units feature either one or two controllers that allow for up to 6GB or 12GB of RAM, respectively. The FAS2240-2 incorporates up to 4 SAS ports and supports both Ethernet and Fibre Channel connectivity.
The NetApp FAS2240-2 is a unified storage platform for both SAN and NAS that features 24 bays of high-performance storage for a maximum of 28.8TB of raw capacity, which can scale to 509TB using expansion disk shelves. Engineered primarily for midsized enterprises with distributed environments, the FAS2240-2 supports both SSDs and high-performance 10K HDDs. FAS2240-2 units feature either one or two controllers that allow for up to 6GB or 12GB of RAM, respectively. The FAS2240-2 incorporates up to 4 SAS ports and supports both Ethernet and Fibre Channel connectivity.

NetApp's FAS2200 Series currently includes two other storage arrays: the FAS2240-4 and the FAS2220. NetApp's naming convention uses the number after the hyphen to distinguish between products with the same model number that occupy a different number of rack units, indicating that the FAS2240-2 is a 2U system, and the FAS2240-4 is a 4U — but otherwise both FAS2200 units share a common design and functionality. The FAS2240 features 64-bit Intel Jasper Forest processors.
The FAS2240-4 emphasizes capacity with support for 1, 2, 3, or 4TB HDDs and optional support for 200GB SSDs, where the FAS2240-2 uses 450, 600, 900, and 1.2TB HDDs and optionally supports 200GB or 800GB SSDs.  The FAS2220 is a 2U system with 12 drive bays – half the number of its siblings – but supports both bulk capacity and performance-oriented drives. Unlike the two FAS2240 units, NetApp does not offer a Fibre Channel Disk Adapter for the FAS2220.
The FAS2200 series utilizes NetApp's Clustered Data ONTAP 8 operating system which offers continuous data access during scheduled downtime and supports scaling up to 69PB and 24 controller nodes. Clustered Data ONTAP abstracts physical storage into a set of Storage VMs (SVM) for native multi-tenant, policy-based storage services via programmable APIs and application integrations. The NetApp FAS2240-2 also includes NetApp Flash Accel Server Cache and Flash Pool Intelligent Caching, NetApp technologies designed to improve performance and reduce storage costs.
NetApp FAS2240-2 Specifications
Form Factor: 2U 19-inch
Controller Form Factor: 1 or 2 controllers
Connectivity per controller: 4 x GbE ports, 2 xb10GbE, or 2 x 8 Gb FC using optional mezzanine I/O card
Max. Raw Capacity: 509TB
Internal Drives: 24
Max. Drives (Internal + External): 144
Maximum Flash Pool: 400GB
Cluster data communication interconnect: 10GbE
Cluster capacity: Up to 1017TB
Storage protocols: FC, iSCSI, NFS, pNFS, CIFS/SMB
Cache Memory: 6GB memory per controller
LUNs: up to 1,024
Max. Hosts: Up to 256 SAN connected servers (per active/active configuration)
Server Operating Systems: Windows 2000, Windows Server 2003, Windows Server 2008, Windows Server 2012, Windows XP, Linux, Oracle Solaris, AIX, HP-UX, Mac OS, VMware, ESX
Number of Supported Hosts

Up to 2 ports per controller configured as front-end (host) connectivity ports
Up to 4 directly connected servers per active-active configuration
Up to 256 SAN connected host servers per HA pair:

Drives Supported

SATA II 7200RPM: 1TB, 2TB, 3TB, and 4TB
SAS 10K RPM: 450GB, 600GB, 900GB, and 1.2TB
SAS 15K RPM: 450GB and 600GB
Flash Drives: 200GB SSD and 800GB SSD

Backend Connectivity: 6 Gb/s SAS interface (2 SAS ports per controller); optional FC-AL Management
Full-duplex 10/100/1000 Base-T Ethernet onboard console, diagnostic LED, Maintenance Center, SNMP, telnet, SSH, HTTP, Web (SSL), host scripting, e-mail alerts
Reliability: Redundant hot-swappable controllers, cooling fans, power supplies, optics, and RJ-45 ports
Availability: multi-path access mirrored cache, battery-backed non-volatile Memory (NVMEM)
Dimensions (H"xW"xD"): 3.34 x 17.6 x 19
Weight: 55.4lbs
Operating temperature: 50°F to 104°F
Non-operating temperature: -40°F to 149°F
Power consumption: 200VAC, 339W typical
NetApp FAS2240-2 Design and Build
The NetApp FAS2240-2 is a 2U device (signified by the number after the hyphen) that ships with a sliding rail kit and includes a modern faceplate. With the faceplate removed, the front panel allows access to twenty-four 2.5-inch drive bays, with LED indicators on the left side signaling status and array ID number. Each drive bay has LED indicators for drive status and activity.

The NetApp FAS2240-2 offers 2.5-inch drive bays which can be populated with HDDs and SSDs. Similar with other enterprise storage solutions, NetApp uses a proprietary sled and interposer card to support only qualified storage devices.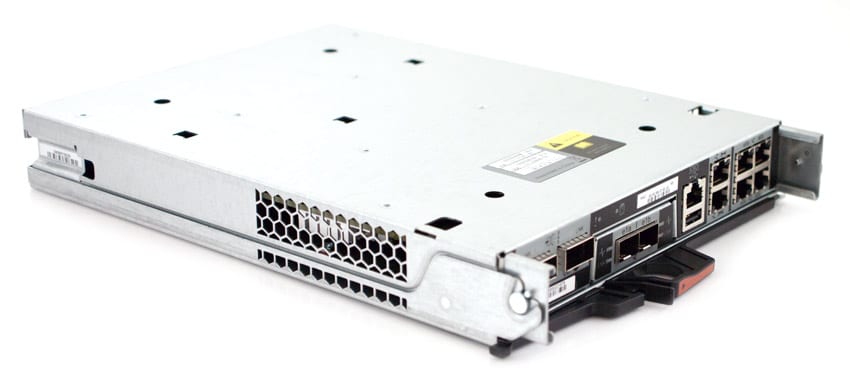 Our review unit features a High Availability configuration with two Processor Control Modules (PCMs) as well as redundant power supply and fan modules. Visible below, the NetApp FAS2240-2 is designed to offer multiple I/O paths for both storage to limit the chance of one component failure lowering system stability or performance. This includes using QSFP+ cabling to create an external redundant path for storage I/O (besides internal access) to keep the system online in the event one link is lost. An internal heart-beat network link is also used to again keep things operating smoothly if the main internal link goes down.

Onboard PCM I/O includes four Gigabit Ethernet ports for LAN connections and two 6Gb wide SAS ports for internal and external SAS and SATA disks or SAS tape devices. Alternately, the FAS2240-2 can be converted to a disk shelf by replacing the controllers with the corresponding NetApp disk shelf I/O modules. In the picture below, our system was configured with a dual-port 10GbE Twinax add-on card, while 2/4/8Gb FC is also an option that can be swapped without tools in a matter of seconds.

NetApp is part of the Storage Bridge Bay (SBB) working group, which utilizes an open standard for storage arrays, meaning that any SBB controller can fit, connect, and operate within any storage enclosure controller slot design based on the SBB specification. By implementing the Storage Bridge Bay Standard, NetApp FAS2240 devices are able to keep within a depth of 19-inches to allow for space-constrained deployments. The most immediate benefit for NetApp FAS2240 customers is increased ease of upgrading from either of the FAS2240 models to another Storage Bridge Bay platform.

One optional mezzanine card per PCM can be installed without requiring any hand-tools to provide 10 Gigabit Ethernet or 8/4/2Gbps Fibre Channel (two ports per card). 10GbE interfaces support Cluster-Mode configurations under Data ONTAP 8.1 or high-speed client connections, while the 8Gbps Fibre Channel card option can be configured as a target or an initiator for connectivity with SAN hosts or Fibre Channel disk storage shelves and tape devices.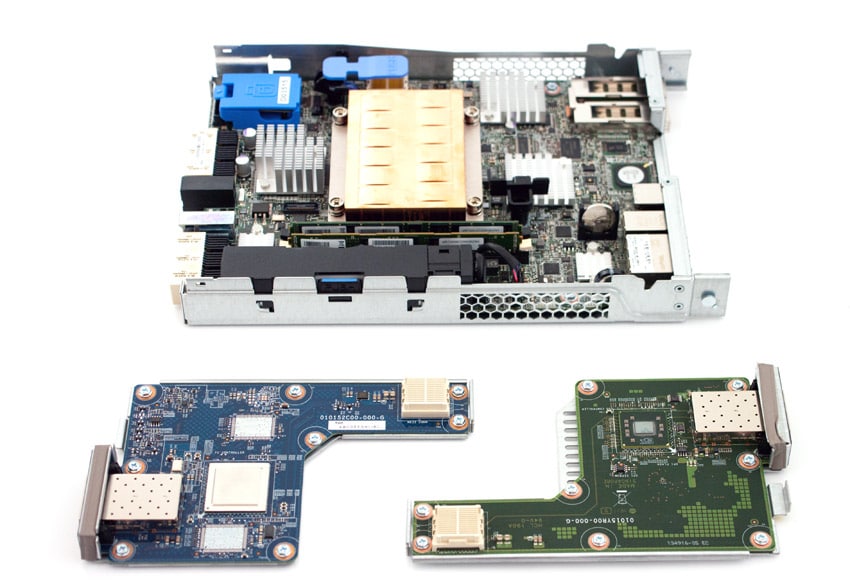 Architecture and Management
NetApp provides a tool aptly named System Setup to get the FAS2240-2 discovered and provisioned once you supply power and networking to the system. System Setup quickly found the FAS2240-2 in our test environment after we entered the subnet to search for the array under (System Setup can also act as its own DHCP server when connected to the array through its own switch). The setup process is designed to handle basic setup needs such as storage pool creation, administrative passwords and connection IP addresses to get you to a stage where you can then connect to the array through its primary OnCommand System Manager interface. NetApp also provides a detailed quick setup poster and an array worksheet that houses important information like IP addresses and passwords.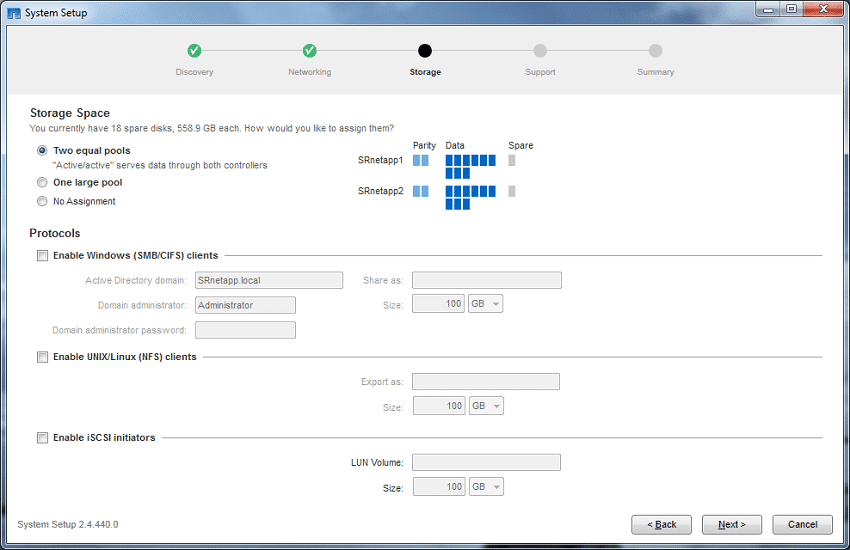 FAS2200 systems including the FAS2240-2 run NetApp's Data ONTAP storage operating system which integrates with a number of NetApp and third-party administrative tools. NetApp OnCommand System Manager is a browser-based management tool that manages individual NetApp systems for both SAN and NAS environments with a workflow-driven interface. Flash pool management allows administrators to view, create and manage Flash Pool implementations. As with the FAS2240-4, the FAS2240-2 allows administrators to manage up to 120 additional external disks for a total of 144 disk drives.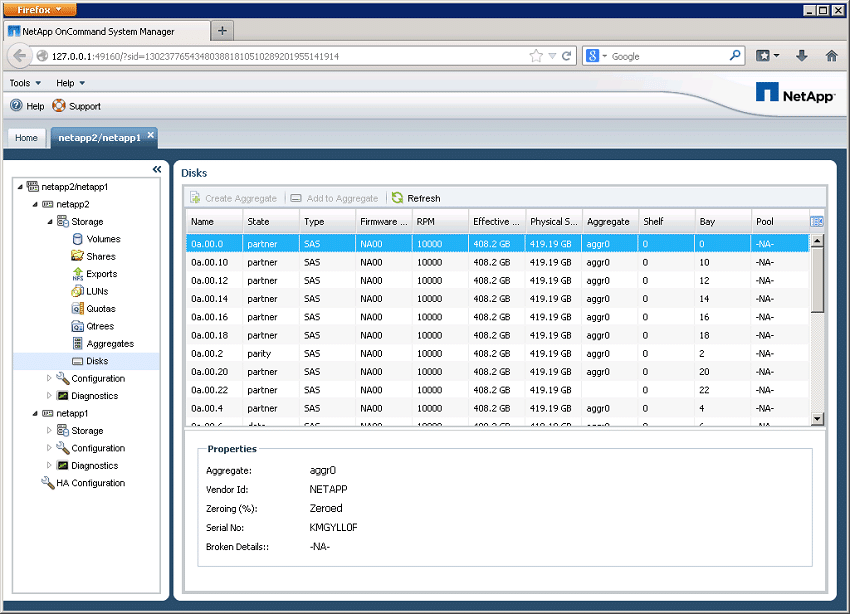 The Disks interface can be used to manage spare disks, create new aggregates, or increase the size of an existing aggregate. The Properties area below the list displays details about the selected disk, including information about the containing aggregate or volume if applicable.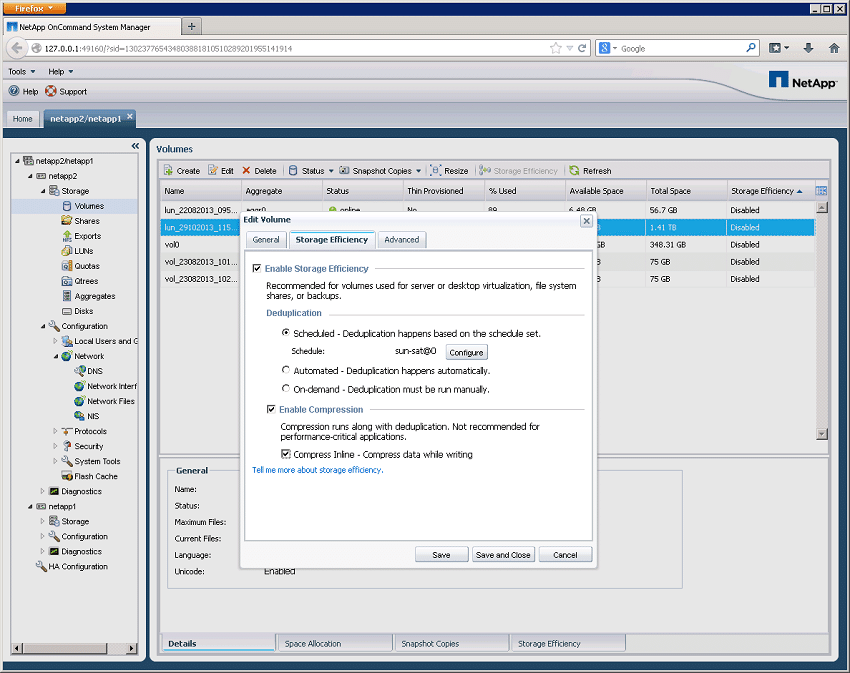 FAS2240-2 storage efficiency technologies incorporated by NetAppp include RAID-DP, FlexVol, Snapshot copies, deduplication, SnapMirror, and FlexClone. RAID-DP is a double-parity RAID6 implementation that specifically protects against dual disk drive failures. Thin provisioning and deduplication features are available via NetApp's FlexVol implementation, as well as incremental snapshot copies. FlexVol can be used to aggregate capacity and performance by spanning thin or thick provisioned virtual volumes across multiple physical storage pools. This can save time on the administrative end by allowing you to worry about the datasets being stored instead of the underlying hardware needed to store it. SnapMirror replicates data over local area, wide area, and Fibre Channel networks. FlexClone creates writeable instant copies of data volumes, files, and LUNs, storing only data that changes between the parent and the clone.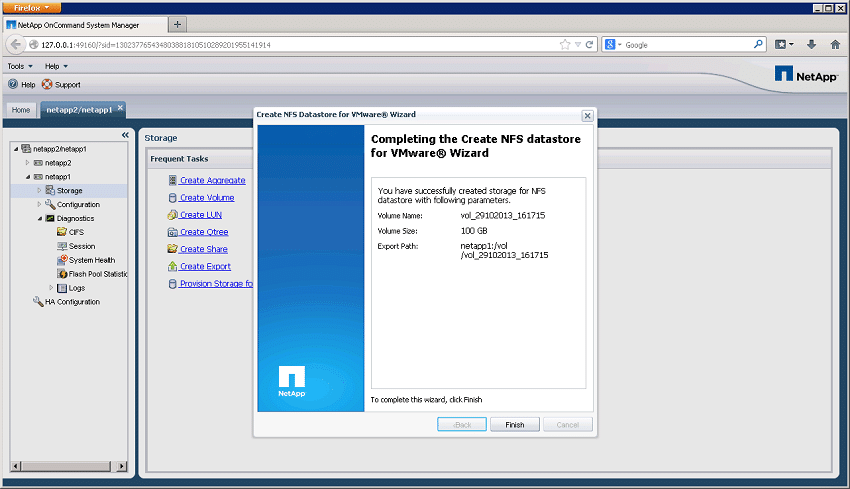 System Manager provides a wizard to assist in creating an NFS Datastore for VMware for administrators with a licensed NFS service. The wizard allows the administrator to create a volume for the NFS datastore and then specify the ESX servers that can access the NFS datastore.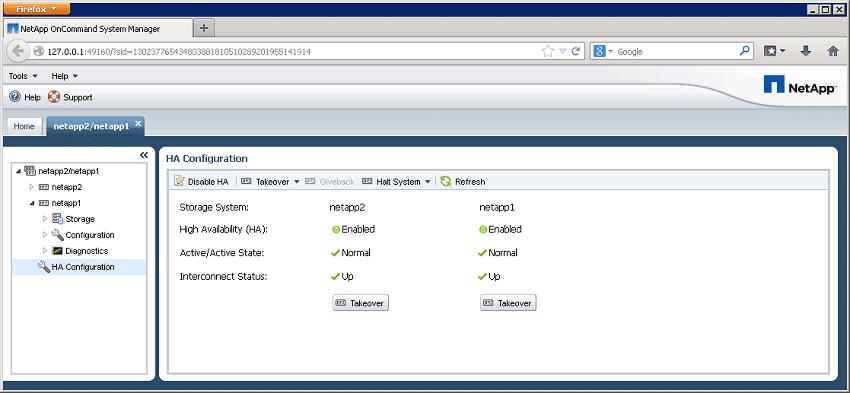 Multipath High Availability (MP-HA) provides redundant paths between storage controllers and disks for dual-controller high availability configurations in order to reduce the chance of a failover occurring as the result of path failures. MP-HA enables twice the bandwidth between the SAN and the FAS2240-2 unit as well as allowing the Data ONTAP operating system to perform maintenance activities such as disk firmware upgrades non-disruptively.
Testing Background
The StorageReview Enterprise Test Lab provides a flexible architecture for conducting benchmarks of enterprise storage devices in an environment comparable to what SAN administrators encounter in real deployments. The Enterprise Test Lab incorporates a variety of servers, networking, power conditioning, and other network infrastructure that allows our staff to establish real-world conditions to accurately gauge performance during our reviews.
We incorporate these details about the lab environment and protocols into reviews so that IT professionals and those responsible for storage acquisition can understand the conditions under which we have achieved the following results. None of our reviews are paid for or overseen by the manufacturer of equipment we are testing. Additional details about the StorageReview Enterprise Test Lab and an overview of its networking capabilities are available on those respective pages.
In order to fairly evaluate the performance of the NetApp FAS2240-2, deployed dual Lenovo ThinkServer RD630s paired with a Mellanox SX1036 10/40Gb Ethernet Switch, with connectivity via Mellanox ConnectX-3 PCIe adapters. This configuration ensures that the FAS2240-2 is the bottleneck rather than the SAN; the benchmark results below reflect workloads which reach the performance limitations of the storage rather than other components of the lab infrastructure.
2 x Intel Xeon E5-2620 (2.0GHz, 15MB Cache, 6-cores)
Intel C602 Chipset
Memory – 16GB (2 x 8GB) 1333Mhz DDR3 Registered RDIMMs
Windows Server 2008 R2 SP1 64-bit, Windows Server 2012 Standard, CentOS 6.3 64-Bit
LSI 9211-4i SAS/SATA 6.0Gb/s HBA (For boot SSDs)
LSI 9207-8i SAS/SATA 6.0Gb/s HBA (For benchmarking SSDs or HDDs)
Intel X540-T2 10GbE PCIe 2.1 Adapter
Mellanox ConnectX-3 10GbE PCIe 3.0 Adapter
Mellanox ConnectX-3 InfiniBand PCIe 3.0 Adapter
Mellanox SX1036 10/40Gb Ethernet Switch and Hardware
36 40GbE Ports (Up to 64 10GbE Ports)
QSFP splitter cables 40GbE to 4x10GbE
Mellanox ConnectX-3 EN PCIe 3.0 Twin 10G Ethernet Adapter
Enterprise Synthetic Workload Analysis
Our enterprise storage benchmark process preconditions each device into steady-state with the same workload the device will be tested with under a load of 16 threads with an outstanding queue of 16 per thread, and then tested in set intervals in multiple thread/queue depth profiles to show performance under light and heavy usage.
Preconditioning and Primary Steady-State Tests:
Throughput (Read+Write IOPS Aggregate)
Average Latency (Read+Write Latency Averaged Together)
Max Latency (Peak Read or Write Latency)
Latency Standard Deviation (Read+Write Standard Deviation Averaged Together)
Our Enterprise Synthetic Workload Analysis includes four profiles based on real-world tasks. These profiles have been developed to make it easier to compare to our past benchmarks as well as widely-published values such as max 4k read and write speed and 8k 70/30, which is commonly used for enterprise systems.
4k

100% Read or 100% Write
100% 4k

8K (Sequential)
8k 70/30

70% Read, 30% Write
100% 8k
NetApp intends the FAS2240-2 to be useful as both SAN and NAS storage, so we established a benchmark protocol that examines the performance of the array across both scenarios in each test. Results when connecting to the FAS2240-2 as part of a SAN are indicated in the key by iSCSI, the protocol used to access the storage. When benchmarking NAS performance, results are indicated in the key by SMB, the protocol used for those tests.
In the first workload, we measured a long sample of random 4k performance with 100% write and 100% read activity. During the random 4K throughput test we saw very similar results across both servers in the protocol when connecting via iSCSI, with slightly greater variation between the two — but higher throughput — via SMB. Total throughput via iSCSI measured 4,732IOPS read and 4,271IOPS write. Benchmarking SMB workloads we achieved a combined 4,659IOPS read and 31,420IOPS write.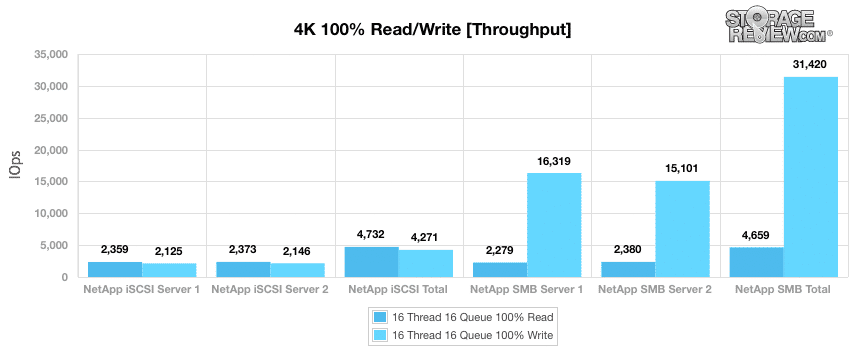 The average latency uses a large effective queue depth of 512, or 256QD per server. Aggregating results from both servers, we measured latency of  108.18ms read and 119.84ms write for the iSCSI benchmark and 109.92ms read and 16.32ms write latencies via SMB.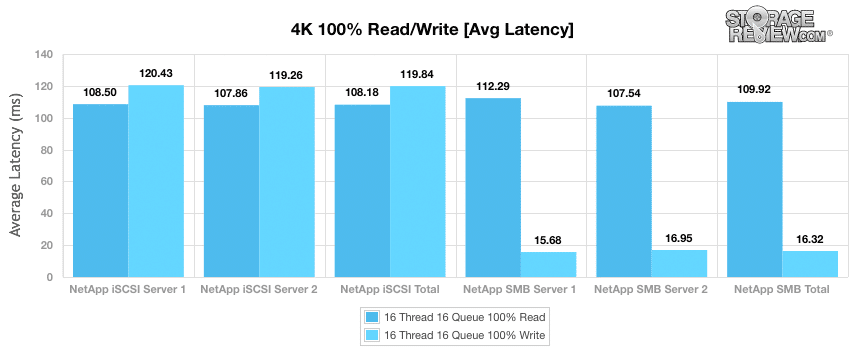 The maximum latency results reflect the worst case scenario from the 4k throughput benchmark. For both iSCSI and SMB, the results between the two servers were relatively consistent. In our test of iSCSI throughput, the NetApp FAS2240-2 achieved a maximum read latency of 2033.0ms in the 4k test and a maximum write latency of 3093.5ms aggregated across both servers. During the SMB throughput benchmark, the FAS2240-2 maintained a maximum read latency of 294.5 and a maximum write latency of 75.5ms.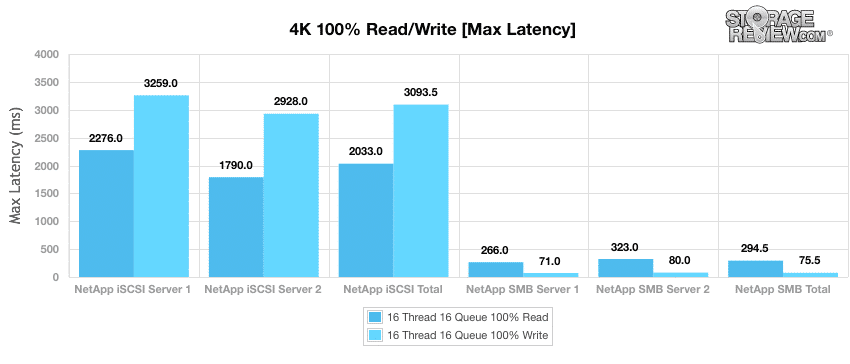 In contrast to the maximum latency report, standard deviation reflects how consistent the NetApp FAS2240-2 was able to maintain latency performance rather than the worst case scenario. Connected via iSCSI, the FAS2240-2 maintained a standard deviation of 55.02ms for read operations and 97.32ms in write operations during the 4k benchmark. In the SMB protocol, the FAS2240-2 kept performance very tight across the benchmark, with an average standard deviation for both servers of 5.96ms read and 8.35ms write.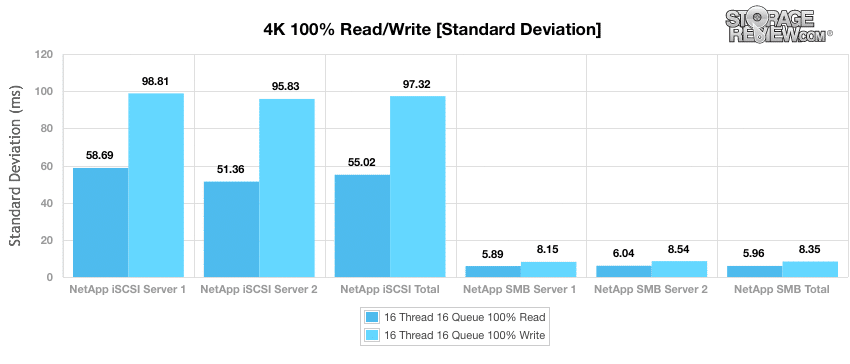 The next benchmark measures 100% 8K sequential throughput with a 16T/16Q load for 100% read and 100% write operations. With a only minor discrepancies in write performance between the two servers used in this protocol, the NetApp FAS2240-2 achieved a combined 121,460IOPS read performance and 45,047IOPS write performance when accessed via iSCSI. Switching to SMB connectivity, the FAS2240-2 kept performance for both servers much tighter albeit with lower aggregated throughput of 47,374IOPS read and 27,282IOPS write.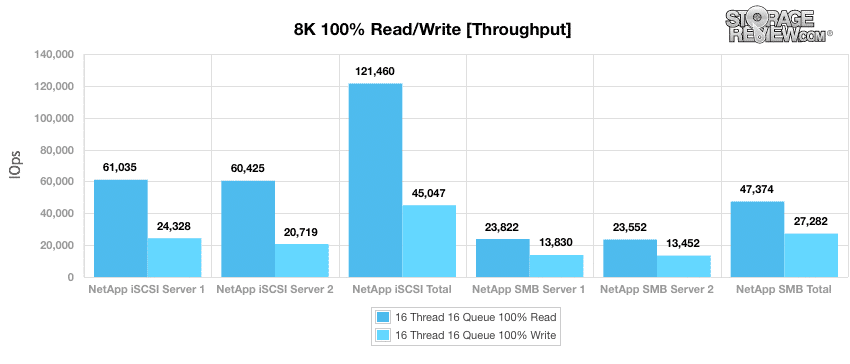 The next synthetic enterprise benchmark measures throughput with an 8k transfer size and 70% read operations and 30% write operations. This benchmark utilizes a variety of thread and queue depth combinations from 2 threads and a queue of 2 up to 16 threads and a queue depth of 16. The chart makes it easier to identify the approximate doubling of performance when moving from iSCSI connectivity (red colors) to SMB connectivity (blue colors) in the 8k 70% read, 30% write benchmark. Performance was predictably weakest for both connection protocols in situations where the thread count was high and the queue depth was low.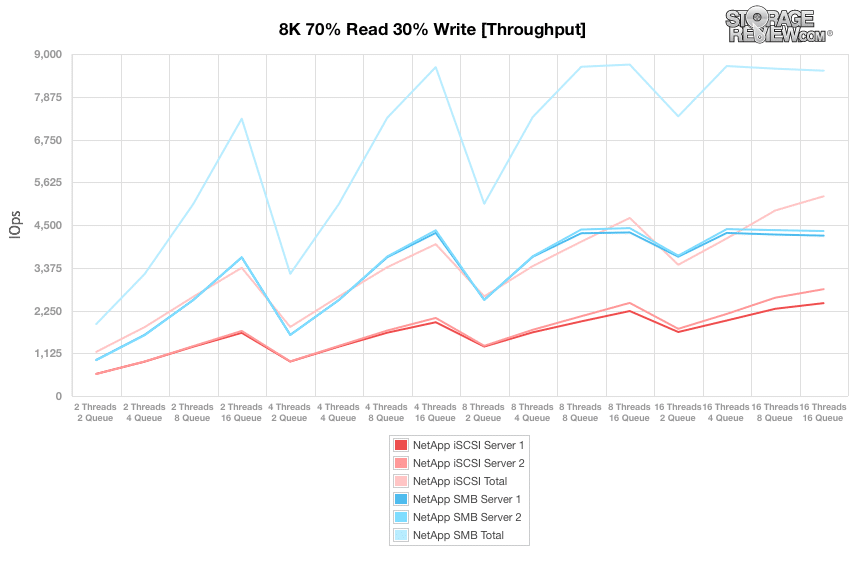 Charting the average latency in the 8k 70% read and 30% write benchmark suggests very consistent performance between servers, with the SMB-connected protocol resulting in lower average latencies but with expected peaks in average latency at high queue depths.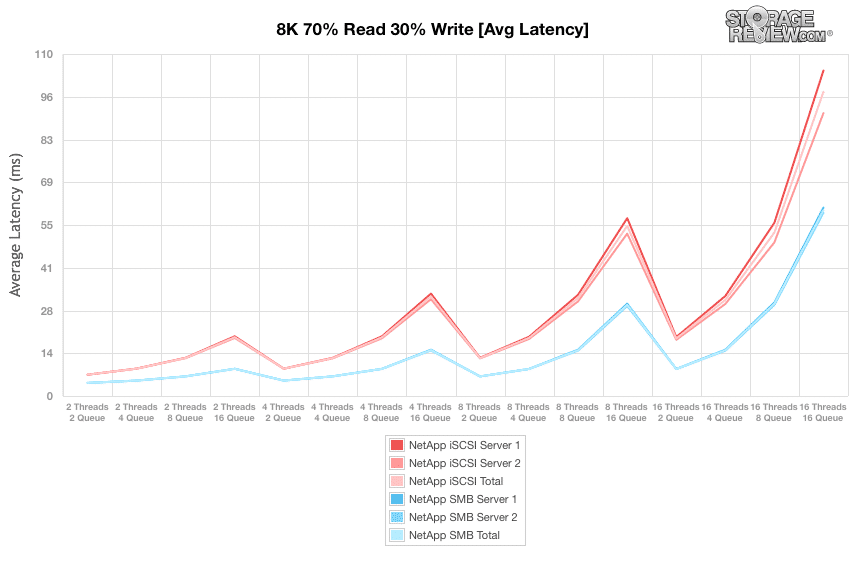 The maximum latency results reveal a more complex picture than average latency alone would suggest. As with average latency, the SMB results have the best maximum latency performance under lighter loads, but that distinction begins to disappear at higher queue depths once the benchmark reaches a thread count of 4. Both iSCSI and SMB results reach maximum latencies above one second a high queue depths for the remainder of the benchmark which reflects an underlying limitation of the platform that is not dependent on the protocol.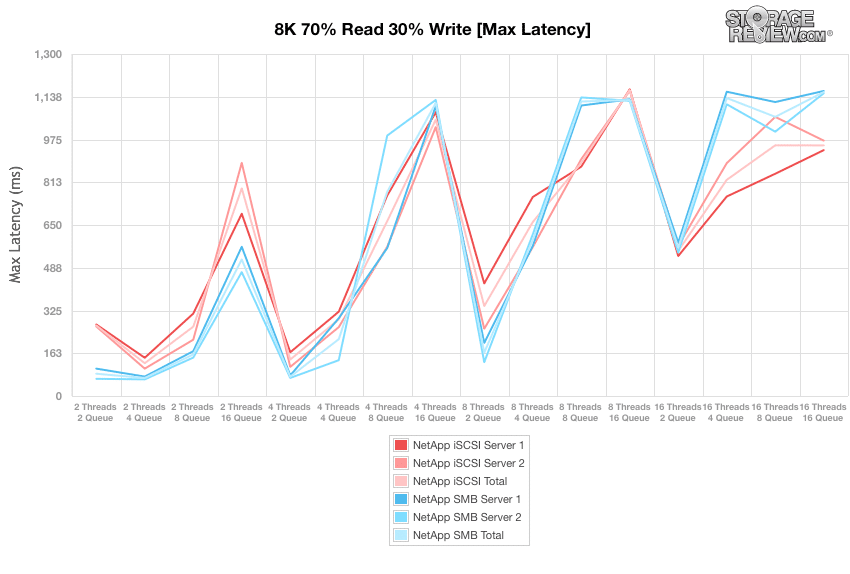 Plotting standard deviation in latency results for the 8k 70/30 benchmark produces results that are in line with expectations and the 4k benchmark results, with SMB maintaining the upper hand with more consistent latencies and both protocols experiencing their greatest range of latency variation with long queues.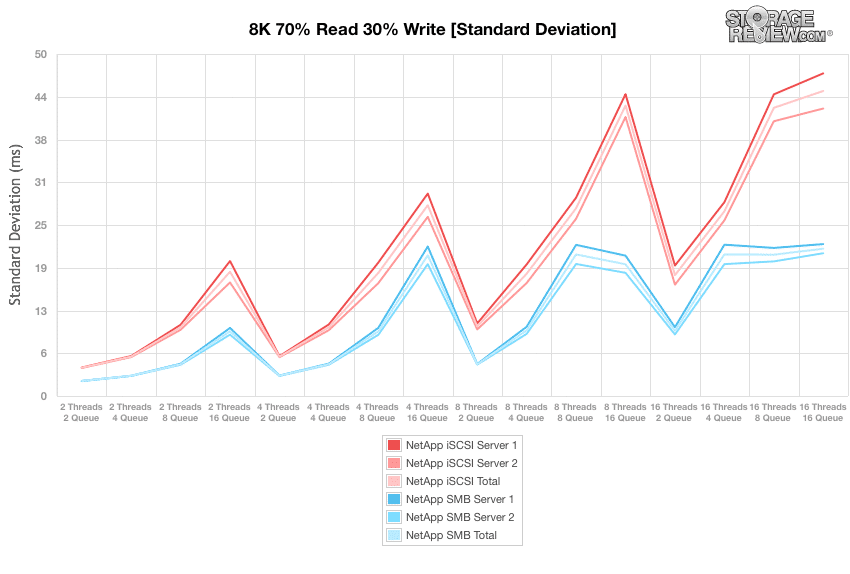 Our last benchmark measures sequential 128k transfer speed with a 16T/16Q workload on 100% read and 100% write operations. When connected via iSCSI, we noted a discrepancy of nearly 100,000KB/s in read performance between Server 1 and Server 2. Total iSCSI throughput in the 128k protocol reached 1,247,666KB/s read and 571,454KB/s write. Performance in the SMB test was lower, albeit with less variation between servers with a total of 408,305KB/s read and 236KB/s write.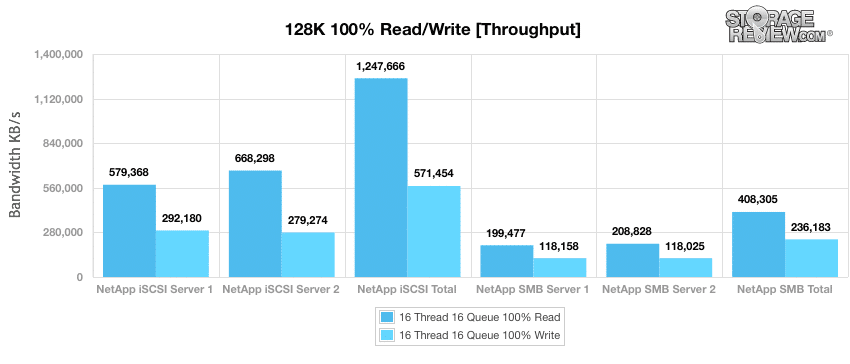 Conclusion
NetApp has engineered the FAS2240-2 to accommodate generational upgrades as well as scale-out scenarios. SMB customers can begin with the FAS2240-2 as the center of a small NAS or SAN solution, expand it with external disk shelves as capacity requirements increase, and then convert the FAS2240-2 itself to a disk shelf as it reaches the end of its useful life by swapping out the controller modules. Since the entire FAS line of disk arrays can be managed with OnCommand System Manager, the learning curve as an infrastructure grows is minimal. Further, integration with Windows and VMware also simplify deployments and help the NetApp systems seamlessly blend into an existing IT environment. For larger enterprises, the FAS2200 Series serves as an easy to manage remote office or branch office storage. Thanks to features like remote replication, branch/remote office users can have local access to key data without having to worry about managing their own backup routines. The FAS2200 Series family is quite flexible and carries a starting price point of under $8,000.
On the flexibility point, one hardware feature worth noting in the FAS2240-2 is the interconnect options. Many arrays in this class offer Ethernet and 10GbE or 8Gb/s Fibre Channel as interconnect options. The FAS2240-2 we reviewed was configured with a dual-port 10GbE Twinax add-on card but just as easily a customer could opt for an 8Gb/s Fibre Channel mezzanine card. Switching between the two if needed is a simple task and takes just a few minutes. Also, while not tested in this review, the FAS2200 Series can support flash disks for those who require flash pools for more demanding applications and workloads.
In our testing environment we were able to bring the FAS2240-2 online quickly and get LUNs and shared folders provisioned in minutes from a fresh out of box condition. In our benchmarks we found the active/active controller setup to provide strong performance across both iSCSI and CIFS, with CIFS showing a strong write caching tendency even with test sample sizes substantially larger than controller DRAM amounts. In terms of peak I/O we were able to pull up to 121k sequential IOPS read in our 8K workload over iSCSI, dropping to around 4,700 IOPS read with a random 4K workload also over iSCSI. Peak bandwidth from the FAS2240-2 measured 1.2GB/s read and 571MB/s write over iSCSI, while CIFS bandwidth came in lower at 408MB/s read and 236MB/s write. Overall for a 100% HDD configuration with no SSD caching introduced, the FAS2240-2 was able to show plenty of muscle and remain very versatile across multiple storage interfaces.
Pros
Flexible upgrade paths via external disk shelves and swappable storage modules
Multiple user-upgradable interconnect options to support both 10Gb Ethernet and 8Gb Fibre Channel environments
Supports all major interface standards including iSCSI, CIFS and NFS
Cons
Unbalanced block and file performance
Bottom Line
The NetApp FAS2240-2 is a versatile unified storage array that is extremely simple to deploy and manage, yet has the capability to grow with an organization's data needs. Equally at home as the central storage repository for a SMB or in a branch/remote office for a larger enterprise, the FAS2240-2 delivers a complete set of enterprise features with an aggressive starting price point.
NetApp FAS2200 Series Product Page