The Dell OptiPlex 7040 Series is a small form factor (SFF) computer that can pack quite the power punch per square inch. The OptiPlex 7040 comes equipped with the latest sixth generation Intel Core Processor. The OptiPlex 7040 is offered in two form factors: the mini tower and the SFF. Both of these form factors have been scaled down from the previous models. For our review we will be looking at the SFF.
The Dell OptiPlex 7040 Series is a small form factor (SFF) computer that can pack quite the power punch per square inch. The OptiPlex 7040 comes equipped with the latest sixth generation Intel Core Processor. The OptiPlex 7040 is offered in two form factors: the mini tower and the SFF. Both of these form factors have been scaled down from the previous models. For our review we will be looking at the SFF.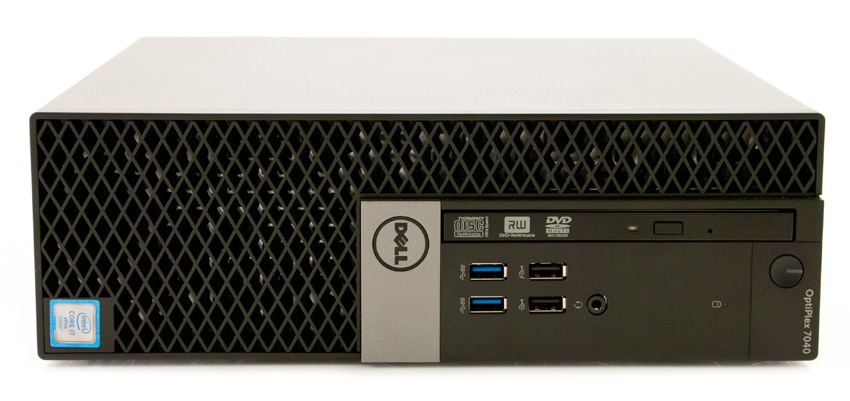 Like several of Dell's products, the OptiPlex 7040 Series is highly customizable. For the SFF, there is up to 16GB in memory, CPUs up to a quad core i7-6700, multiple drive options including PCIe NVMe SSD with up to 512GB of capacity. The NVMe SSDs one can choose from include Samsung's NVMe SSDs, which are far and away some of the best performing NVMe SSDs we have tested. The desktop is designed for businesses of all sizes and comes with BIOS setting and system configurations that can be manipulated to fit the user's specific IT requirements. Dell also enables users to keep their BIOS and system configurations flexible with its Client Command Suite of free tools. Administrators can remotely manage the desktop with optional Intel vPro technology, plus Dell's unique capabilities for out-of-band BIOS management.
While businesses need both performance and flexibility, there is a big concern for security. To this end, Dell is claiming the best security "right out of the box." With Dell Data Protection, OptiPlex users can expect centralized remote management and encryption, authentication options, secure credential storage, the ability to stop even advanced forms of malware, and single console security.
Our system has a street price of $1,400, which consists of an Intel Core i7-6700 CPU, an AMD Radeon R7 M350X, 16GB of DDR4 RAM and a Samsung PM951 M.2 256GB NVMe SSD.
Dell OptiPlex 7040 SFF specifications:
CPU options:

Intel Core i5-6500 Processor (Quad Core, 6MB, 4T, 3.2GHz, 65W)
Intel Core i5-6600 Processor (Quad Core, 6MB, 4T, 3.3GHz, 65W)
Intel Core i7-6700 Processor (Quad Core, 8MB, 8T, 3.4GHz, 65W)

Operating system options:

Windows 10 Pro, 64bit
Windows 7 Professional 64bit (Includes Windows 10 Pro License)

Memory options:

4GB (1x4G) 2133MHz DDR4 Memory
8GB (2x4G) 2133MHz DDR4 Memory
16GB (2x8G) 2133MHz DDR4 Memory

Hard Drive options:

3.5 inch 500GB 7200rpm HDD
3.5 inch 1TB 7200rpm HDD
M.2 128GB SATA Class 20 SSD
M.2 512GB PCIe NVMe Class 40 SSD
M.2 256GB PCIe NVMe Class 40 SSD

GPU options:

Intel Integrated Graphics
AMD Radeon R5 340X (2GB DP/DVI-I)
AMD Radeon R7 350X (4GB DP/DVI-I)
Dual AMD Radeon R5 340X (2GB DP/DVI-I)

Optical Drive options:

8x DVD+/-RW 9.5mm Optical Disk Drive         
8x DVD-ROM 9.5mm Optical Disk Drive
No Optical Disk Drive

Ports:

6 USB 3.0 (2 front/4 rear-1 with PowerShare)
4 USB 2.0 (2 front/2 rear-1 front with PowerShare)
1 Internal USB 3.0 with smart power on
1 RJ-45
1 P2/Serial
2 Display Port 1.2
1 HDMI
1 UAJ
1 Line-out
1 VGA (optional)

Slots:

1 half height PCIe x16
1 half height PCIe x4
1 M.2 (22x80mm)

Dimensions

Height: 11.4″ (29 cm)
Width: 11.5″ (29.2 cm)
Depth: 3.6″ (9.26 cm)
Weight: 2.82lbs (1.28kg)

Warranty: 3-Year Hardware Service with Onsite/In-Home Service After Remote Diagnosis
Design and Build
The Dell OptiPlex 7040 Series SFF is a very small desktop computer; in fact, it could easily be placed on a desktop next to a monitor and not take up too much room. It could also be turned on its side and placed under a monitor–more akin to how computers were set up in the early-to-mid 1990s. The front of the computer is predominately taken up by ventilation. In the upper right hand corner, there is the Dell branding, four USB ports (2 x 2.0 and 2 x 3.0), an optical drive, and the power button.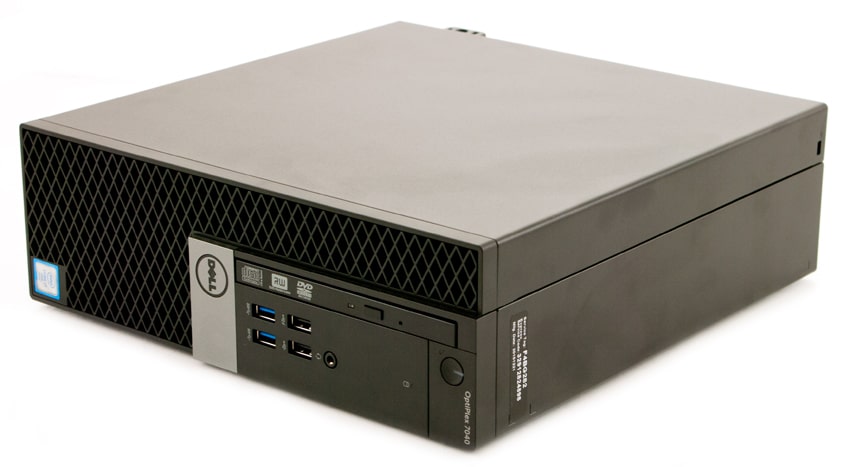 One side of the computer has rubber feet so users can, as stated above, turn the device on its side.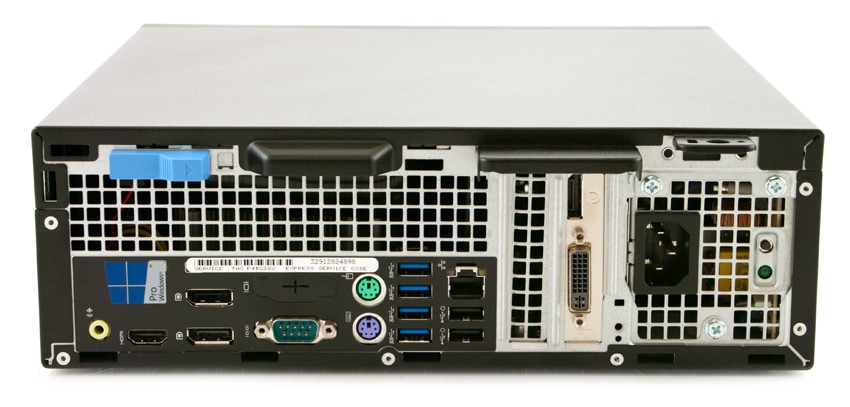 The rear of the computer is a quasi-reflection of the front, with the same amount of real estate taken up by ventilation. The left-hand corner that isn't ventilation is filled with ports including an HDMI port, two DisplayPorts, a serial port, a keyboard and mouse port, 4 USB 3.0 ports, 2 USB 2.0 ports, and a RJ45 port. Near the bottom of the computer is a DVI-I dual link port next to another DisplayPort, with the power port beneath them.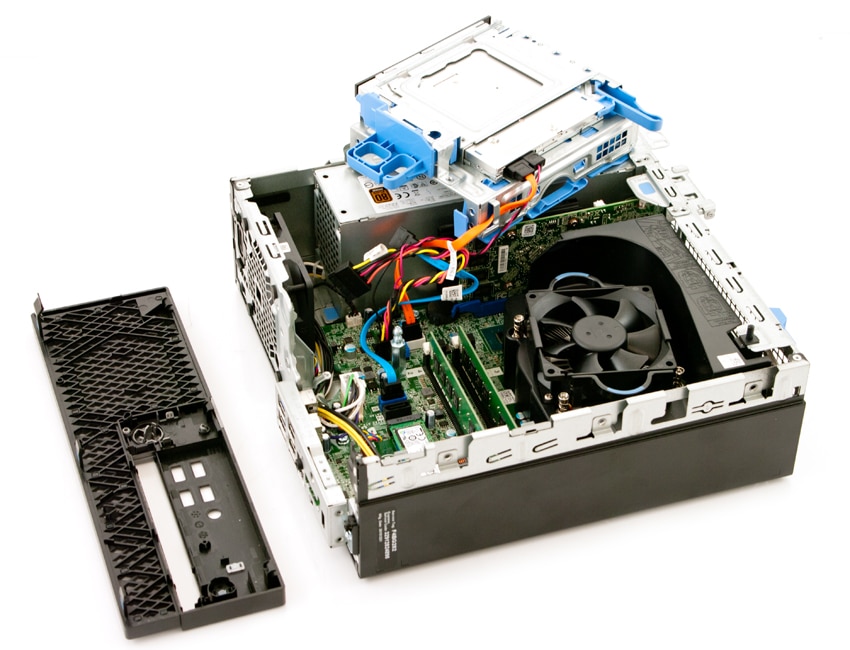 The OptiPlex 7040 has been designed for easy maintenance, with a tool-less enclosure that can be popped open at the flip of a retention clip. IT admins can easily get inside of the unit if something needs to be repaired, replaced, or upgraded.
Performance
In order to test the Dell OptiPlex 7040 Series SFF, we put it through a series of benchmarks to demonstrate its performance when confronted with resource-intensive workloads and to examine the performance of its equipped AMD Radeon R7 M350X graphics card. We will be testing the OptiPlex alongside the Dell Precision 7810. We are sure that the T7810 will out perform the OptiPlex, but we are not running the comparison in an effort to state one is better than the other. Though the T7810 will have better performance, it does show users the type of performance they can expect from this SFF desktop model.
The first benchmark is SPECviewperf 12, the worldwide standard for measuring graphics performance based on professional applications. SPECviewperf runs 8 benchmarks it calls viewsets, all of which represent graphics content and behavior from actual applications. These viewsets include: CATIA, Creo, Energy, Maya, Medical, Showcase, Siemens NX, and Solidworks.
Looking at the results as it compares to the T7810, there is no real surprise that the OptiPlex falls behind in every category. The 7810 does have better graphics capabilities across the board. That being said, the results pretty much are on par with similarly built computers.
SPECviewperf 12
Viewsets
T7810
OptiPlex 7040
catia-04
112.02
20.46
creo-01
72.96
17.00
energy-01
9.65
0.74
maya-04
71.24
16.69
medical-01
41.68
5.15
showcase-01
58.68
9.03
snx-02
112.32
7.20
sw-03
123.50
35.38
In addition to SPECviewperf, we also ran SPECwpc. SPECwpc is a benchmark designed specifically for testing all key aspects of workstation performance and has over 30 workloads it uses to test CPU, graphics, I/O, and memory bandwidth. The workloads fall under broader categories such as Media and Entertainment, Financial Services, Product Development, Energy, Life Sciences, and General Operations. We are going to list the broad-category results for each, as opposed to the individual workloads. The results are an average of all the individual workloads in each category.
Again, the results reflected the difference in the two machines. While the Dell OptiPlex 7040 numbers were lower, it did score higher than the non-workstation notebooks we've tested over the last few months.
SPECwpc v2.0
Category
T7810
OptiPlex 7040
M&E
2.28
1.61
ProdDev
4.9
1.38
LifeSci
6.12
1.46
Energy
7.6
1.53
FSI
5.02
1.29
GeneralOps
1.57
1.01
Next up is the Environmental Systems Research Institute (ESRI) benchmark. ESRI is a supplier of Geographic Information System (GIS) software. ESRI's Performance Team designed their PerfTool add-in scripts to automatically launch the ArcGIS Pro. This application uses a "ZoomToBookmarks" function to browse various predefined bookmarks and create a log file with all the key data points required to predict the user experience. The script automatically loops the bookmarks three times to account for caching (memory and disk cache). In other words, this benchmark simulates heavy graphical use that one might see through ESRI's ArcGIS software. It's a safe bet that similar graphics-intensive programs, such as Autodesk's AutoCAD, will fare closely with the results in this benchmark.
With the ESRI benchmark, the  Dell OptiPlex 7040 is one of our lower performers with an average drawtime of 20.625 seconds, and Average FPS of 58.348, and a Minimum FPS of 41.288. This isn't too surprising, though, as it's not billed as a graphics workstation, but instead offers strong business productivity with some graphics capabilities if the need arises.
ESRI Benchmark
Drawtime
Average
OptiPlex 7040
0:00:20.625
Precision T7810
0:00:06.498
Average FPS
Average
OptiPlex 7040
58.348
Precision T7810
368.473
Minimum FPS
Average
OptiPlex
41.288
Precision T7810
192.335
In our last benchmark, we will leverage PCMark, a tool that calculates the performance at the system and component level–and most often represents typical home user workloads for all types of PCs, including tablets, mobile workstations, and desktops. While there are multiple categories that PCMark tests (including typical work usage, home usage, and creative usage), we will only be looking at Storage and Home Conventional benchmarks.
The Storage PCMark tests the performance of any drives installed in the system. Specifically, it leverages traces recorded from Adobe Creative Suite, Microsoft Office and a selection of more popular video games to measure real-world performance differences between storage devices. The Dell OptiPlex 7040 uses the Samsung PM951 M.2 NVMe SSD, the same SSD used in our T7810 review. Therefore, it is no surprise that the storage score is very similar, as the 7040 had a 5,016 to the T7810's 5,036. Bandwidth is about half of the workstation's at 327.3MB/s, but there most likely are other limiting factors, as the 7040 as a whole didn't have nearly as much performance boost (lower RAM, CPU, and the like).
PCMark Storage
Score
Bandwidth
OptiPlex 7040
5,016
327.30MB/s
T7810
5,036
676.85MB/s
Conclusion
The Dell OptiPlex 7040 Series of SFF desktop computers is designed for businesses of all sizes, providing ample performance, flexibility, and security. The OptiPlex can be customized with an Intel Core i7-6700 CPU, 16GB of memory, and up to 512GB of NVMe SSD capacity. The OptiPlex also offers flexibility to IT by offering the ability to configure BIOS and the system to meet their needs by using the free tools in Dell's Client Command Suite. Dell also offers its Dell Data Protection for the OptiPlex to make it what Dell refers to as "the world's most secure desktop."
Looking at performance, we compared the Dell OptiPlex 7040 to the Dell Precision T7810. This may seem like an odd choice, as it is definitely is not an apples-to-apples comparison. However, as stated above, we are less interested in saying one is better than the other versus giving users a clear guide on the performance they can expect when choosing a business tower versus a workstation.
In the graphics-intensive tests, the OptiPlex 7040 trailed behind the T7810 every step of the way. However if you look at some of our mobile workstation or business notebook reviews, the OptiPlex 7040 hung in performance-wise in the SpecviewPERF 12 and SpecWPC. With the ESRI benchmark, the OptiPlex 7040 trailed behind more than any other computer we've yet to run through the benchmark. So the computer may not be great with graphics-intensive use cases, but it will still do the job if needed.
Since the OptiPlex uses a similar class of Samsung NVMe SSDs as other Dell computers we've tested, the storage performance was right in line with what we expected. With the PCMark 8 storage benchmark, the OptiPlex gave us a score of 5,016, with a bandwidth of 327.3MB/s.
Pros
Compact form factor; great for users with limited space
Storage options of Samsung's high performance NVMe SSDs
Customizable to fit the right business need
Cons
Limited storage capacity options
The Bottom Line
The OptiPlex 7040 SFF is a small desktop that can fit just about any compact space and can be loaded up to provide more than enough performance for most business needs.
Dell OptiPlex 7040 SFF on Amazon
Special offer! Take an additional $100 off OptiPlex Desktops for your business! Free shipping! Coupon code $W99$D2LGFPZB6
Discuss this review
Sign up for the StorageReview newsletter