The Dell PowerEdge R660 is a 1U, dual-CPU rackmount server based on Intel's fourth-generation Xeon Scalable "Sapphire Rapids" processors. It supports the latest in server technology, including E3.S Gen5 storage, DDR5 memory, and configurations with liquid CPU cooling. It also accepts up to 16 SSDs despite being a 1U form factor.
The Dell PowerEdge R660 is a 1U, dual-CPU rackmount server based on Intel's fourth-generation Xeon Scalable "Sapphire Rapids" processors. It supports the latest in server technology, including E3.S Gen5 storage, DDR5 memory, and configurations with liquid CPU cooling. It also accepts up to 16 SSDs despite being a 1U form factor.

Dell PowerEdge R660 Specifications
The PowerEdge R660 is an evolution of Dell's previous generation PowerEdge R650. This 1U rackmount server is aimed at everything from general-purpose usage to HCI/HPC. Key features include support for two processors (dual sockets), 32 RDIMMs, and three graphics cards.
The R660's biggest advancement over the R650 is that it's based on Intel "Sapphire Rapids" fourth-generation Xeon Scalable processors. These new chips scale to 56 scores, use DDR5 memory and support Gen5 storage.
Storage configurations are also one of this server's strengths. Conventional storage scales up to ten 2.5-inch SAS/SATA drives, but it can also use Gen5 NVMe SSDs. Additionally, a new backplane option includes support for up to 16x E3.S (7mm) drives. There are also rear-drive options for boot which includes the new NVMe BOSS drive.
The PowerEdge R660 has the following specifications:
CPU
Sapphire Rapid (Bronze, Silver, Gold5, Gold6, Platinum) with up to 56 cores

per processor

Support for up to 2x 350W processors

Direct Liquid Cooling support

Memory
Up to 32 x DDR5 RDIMMs

DIMM Speed: Up to 4800 MT/s

Storage
Up to 10 x 2.5" SAS/SATA HDD/SSD; or NVMe SSD

Up to 16 x E3.S NVMe Gen5 DUAL PERC*

Up to 14 x E3.S NVMe Gen5 direct attach*

Up to 2 x 2.5" (rear) SAS/SATA HDD/SSD; or NVMe SSD

Up to 2 x E3.S(rear) NVMe Gen5*

Rear BOSS-N1 (2xM.2 NVMe) for boot

Internal: USB

Bandwidth: SAS4-24Gb, SAS3-12Gb, SATA-6Gb

Storage Controller
HW RAID: PERC 11 & 12 (dual PERC option)

HW SAS4/SATA/NVMe RAID (PERC12)

SW RAID: Yes

Network
Optional 2 x 1GbE LOM and/or 1 x OCP 3.0
PCIe Slots
Up to 3 x PCIe Slots (with up to 2 PCIe Gen5), SNAP I/O option
GPU
3x SW GPUs*
Integrated Ports
Front: 1 x USB 2.0, 1 x iDRAC Direct (Micro-AB USB) port, 1 x VGA

Rear: 1 x Dedicated iDRAC Ethernet port, 1 x Serial (optional), 1x USB 2.0,

1 x USB 3.0, 1 x VGA (optional for Liquid Cooling configurations)

Internal: 1x USB 3.0 (optional)

System Management
iDRAC9, iDRAC Direct, iDRAC RESTful API with Redfish, iDRAC Service

Module, Quick Sync 2 wireless module, OpenManage Enterprise and Plugins

(Power Manager, SupportAssist, Update Manager), OpenManage Mobile

High Availability
Hot-plug redundant hard drives, PSU.

Hot-plug fans. Hot-plug BOSS

Power Supplies
AC (Platinum): 800W, 1400W

AC (Titanium): 700W, 1100W, 1800W

LVDC @-48VDC Input: 1100W

Dimensions
H x W x D: 42.8mm x 482mm x 809mm (without bezel)
Form Factor
1U Rack Server
Dell PowerEdge R660 Build and Design
Our PowerEdge R660 review unit is a basic configuration, with five 2.5-inch bays. The center stack is not populated for improved airflow to the dual Xeon Scalable processors.
Front connections include one USB 2.0, VGA video output, and a Micro-AB USB port for connecting to Dell iDRAC (Dell Remote Access Controller).
Ports along the rear of our unit include dual 1GbE, one USB 2.0, one USB 3.0, VGA out, and one more Ethernet for Dell's iDRAC remote management. A serial port, not present on our unit, is optional. Additional networking ports can be added via the server's OCP 3.0 slot.
Our unit's dual Platinum-rated 1,400-watt hot-swap power supplies flank the rear edge.  The dual M.2 NVMe SSDs are accessible at the left rear; these are intended to be boot drives. Other configurations support Gen5 E3.S drives here.
Let's go inside this beast. This front view shows the numerous cooling fans that draw air through the drive bays along the front edge. Airflow passes directly over the dual CPU heatsinks and DDR5 RDIMM slots immediately beyond. Like the PowerEdge R650, the PowerEdge R660 supports CPU liquid-cooling solutions, though our unit isn't so equipped.
There's plenty of room between the front drive bays and the cooling fans for RAID controllers. The PowerEdge R660 supports dual hardware RAID controllers.
Here's a closer look at one of the CPU heatsinks. The Xeon 8452Y processors in our unit each have 36 cores/72 threads, 67.5MB of cache, and a 300-watt TDP, the highest that this server supports. These chips support up to 6TB of DDR5-4800 RAM. The PowerEdge R660's 32 DIMM slots allow it to support up to 8TB of RAM (32x 256GB RDIMMs), which can be achieved using higher-end Xeon chips. Our unit has 512GB of RAM via 16x 16GB RDIMMs, with plastic fillers in the other slots to prevent dust buildup.
You'll find the PowerEdge R660's expansion slots predictably towards the rear of the server. There are up to three PCIe slots, two of which are Gen5. The riser shown here allows full-height cards to be used.
Dell PowerEdge R660 iDRAC9 Remote Management
We used Dell's iDRAC9 Enterprise remote management software with the PowerEdge R660. The dashboard provides essential info, such as basic system health, system information, and recent logs.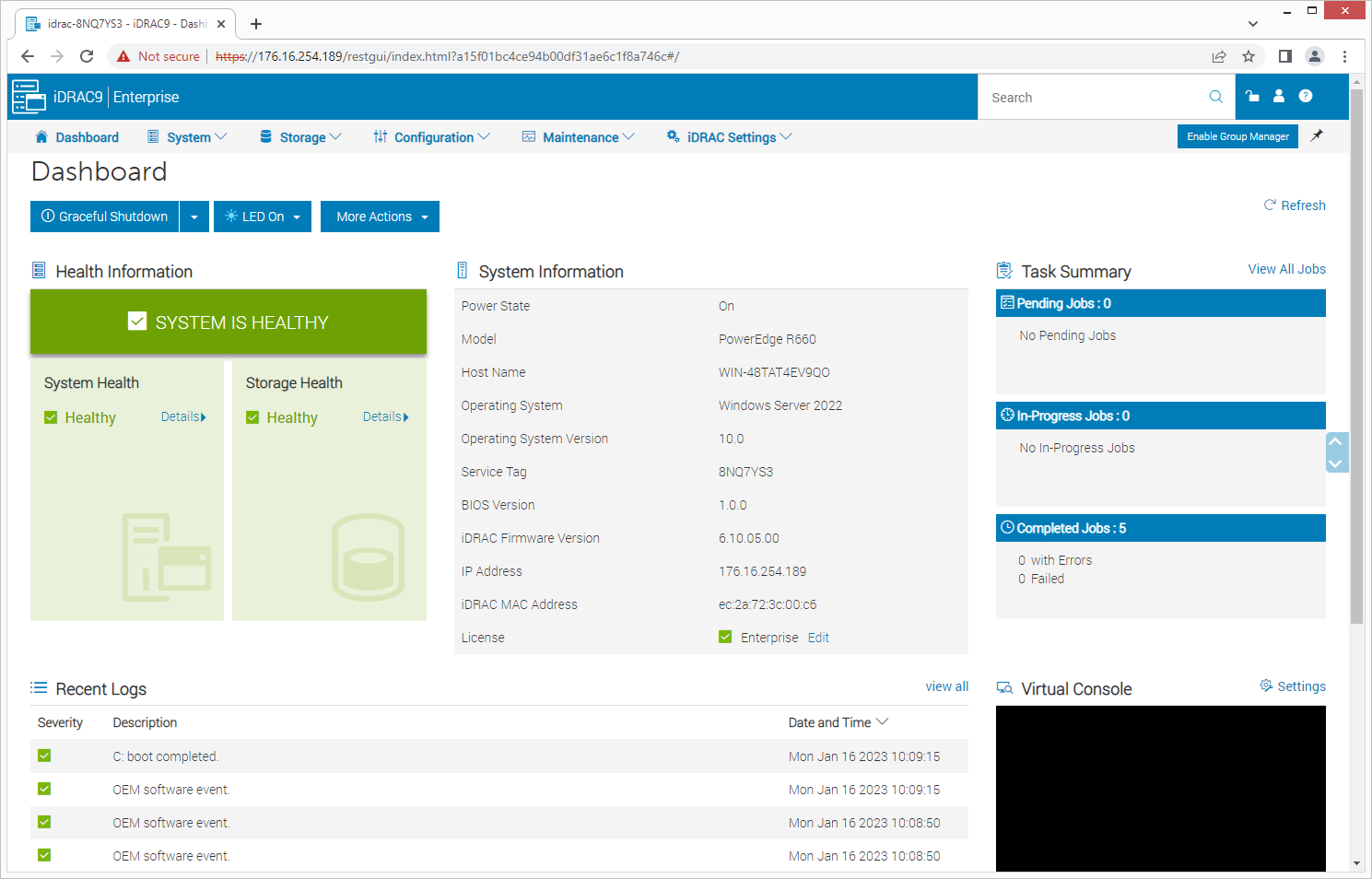 The System Information section provides detail on any selected component. For instance, the Network Devices section shows all NICs and their status.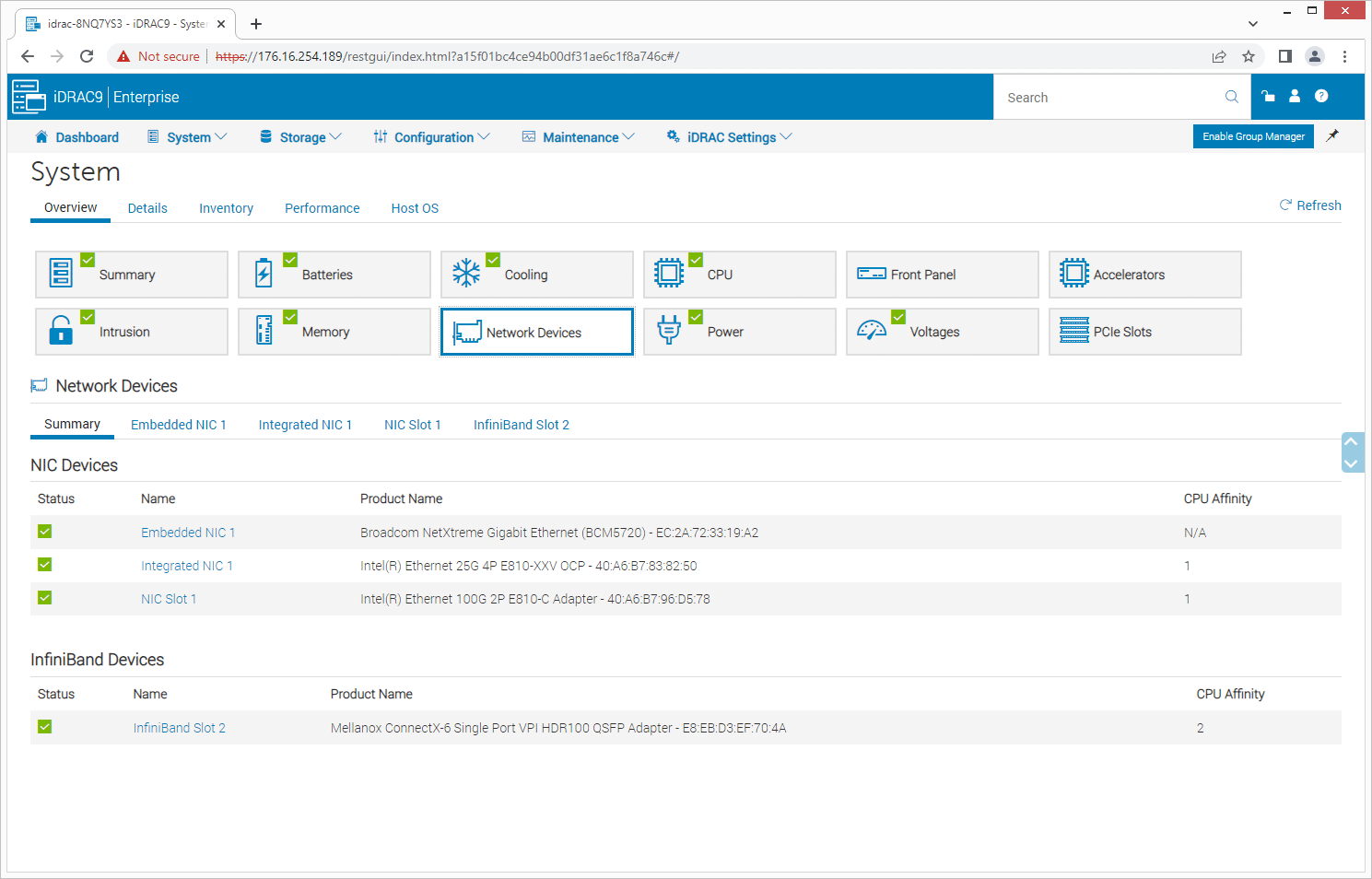 The Power section shows the installed power supplies and a snapshot of recent usage.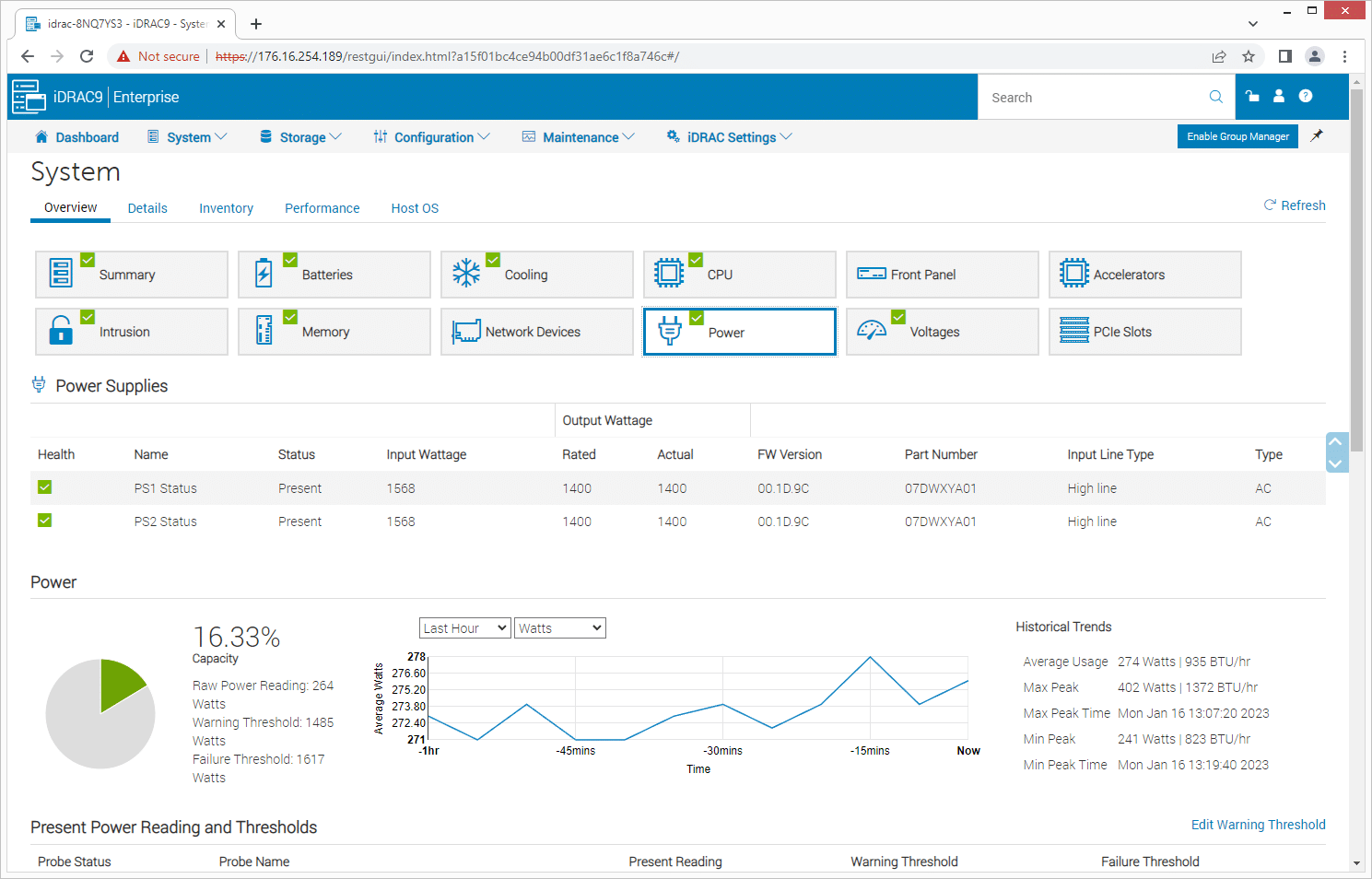 The Configuration area lets you change every conceivable server setting all the way down to Serial communication.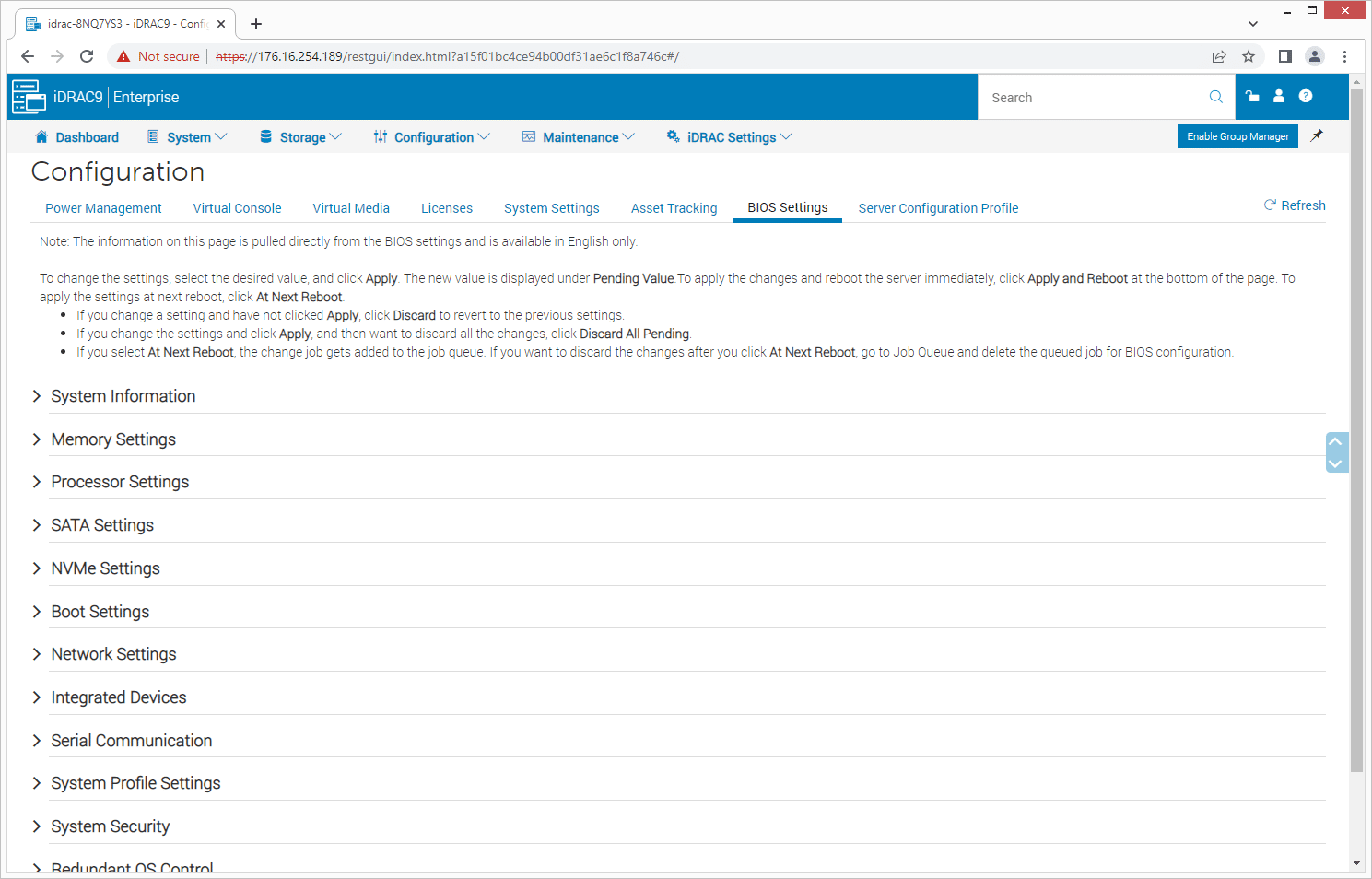 For example, let's peek at the Processor settings.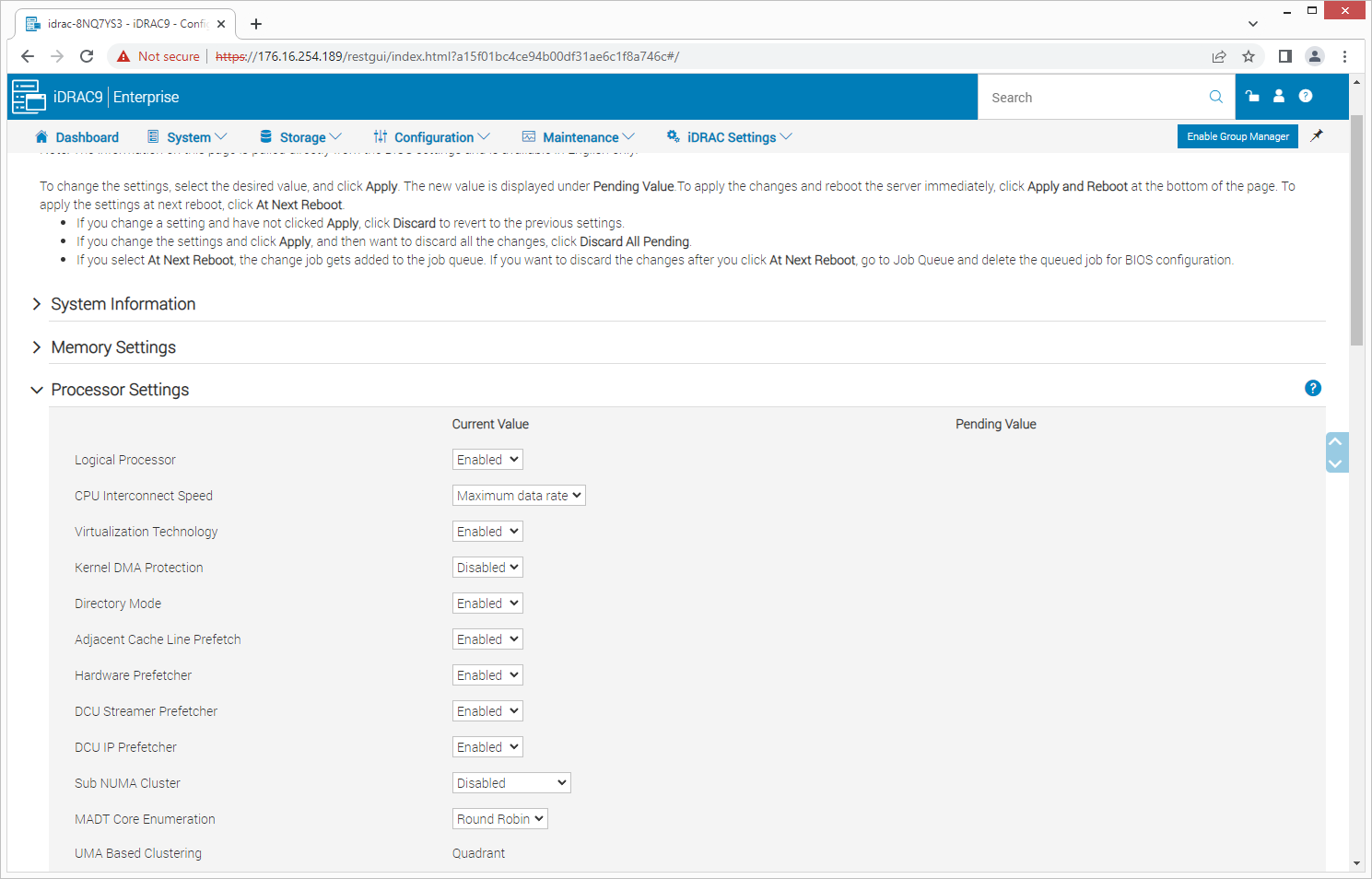 We'll also look at the Maintenance section; the screenshot below shows the lifecycle log, but you can switch to system update, system event logs, troubleshooting, and more by clicking the tabs. Navigation throughout this app is straightforward.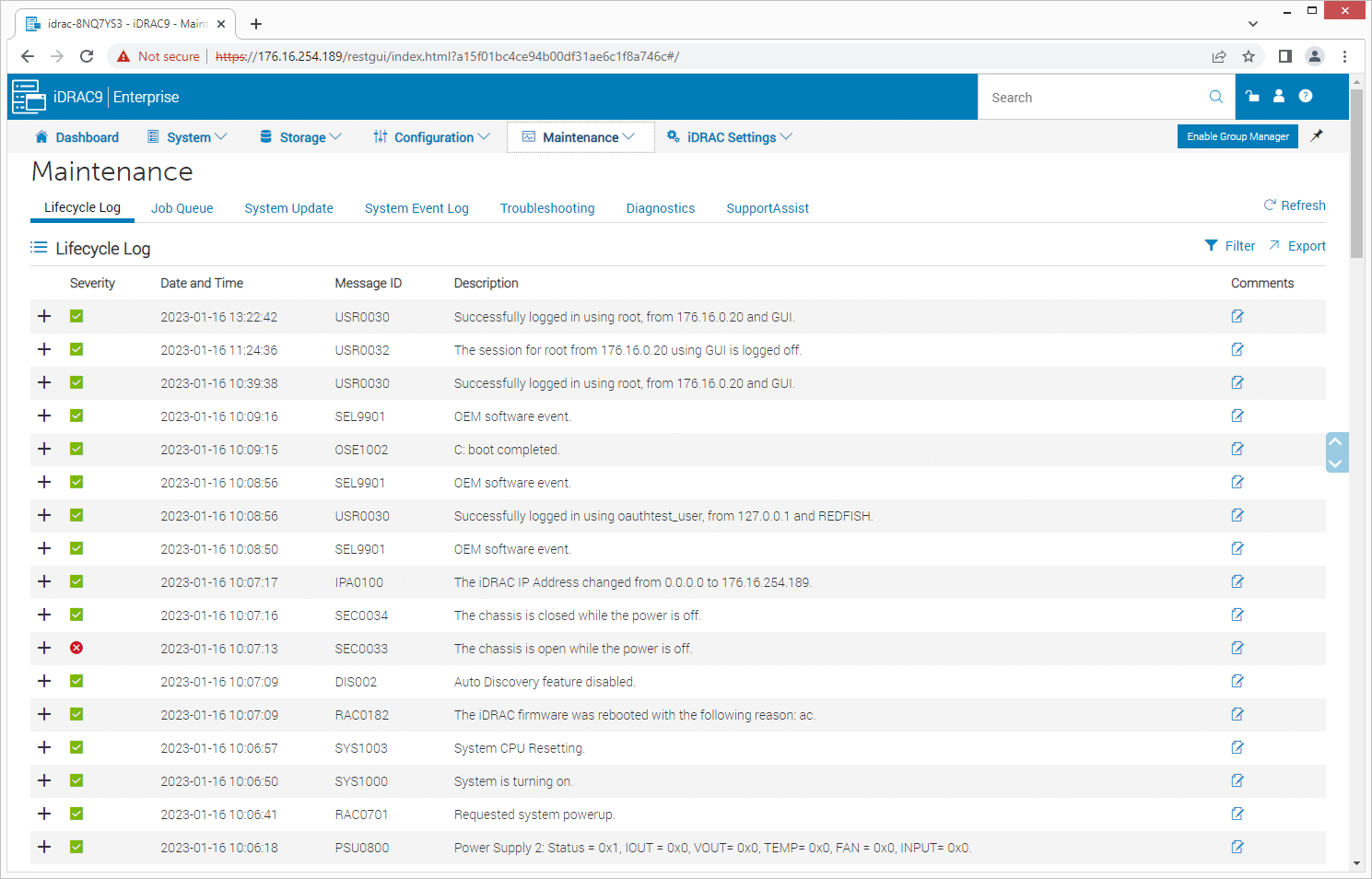 Last, we'll of course check out the storage section. It's easy to distinguish between physical and virtual disks.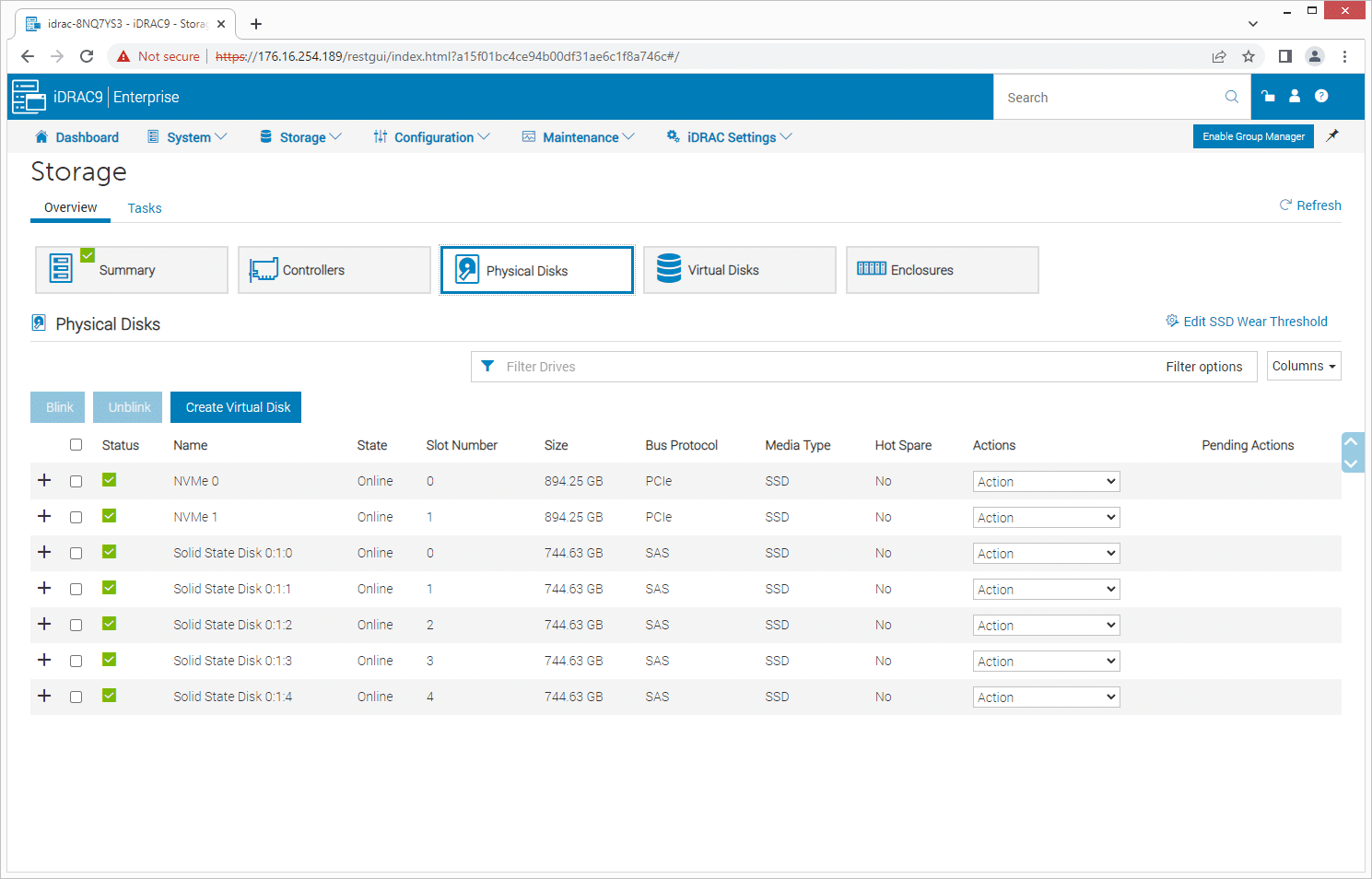 We configured the seven physical drives in our unit into two virtual drives, an 894GB RAID 1 boot volume and a 2,975GB RAID 5 storage volume.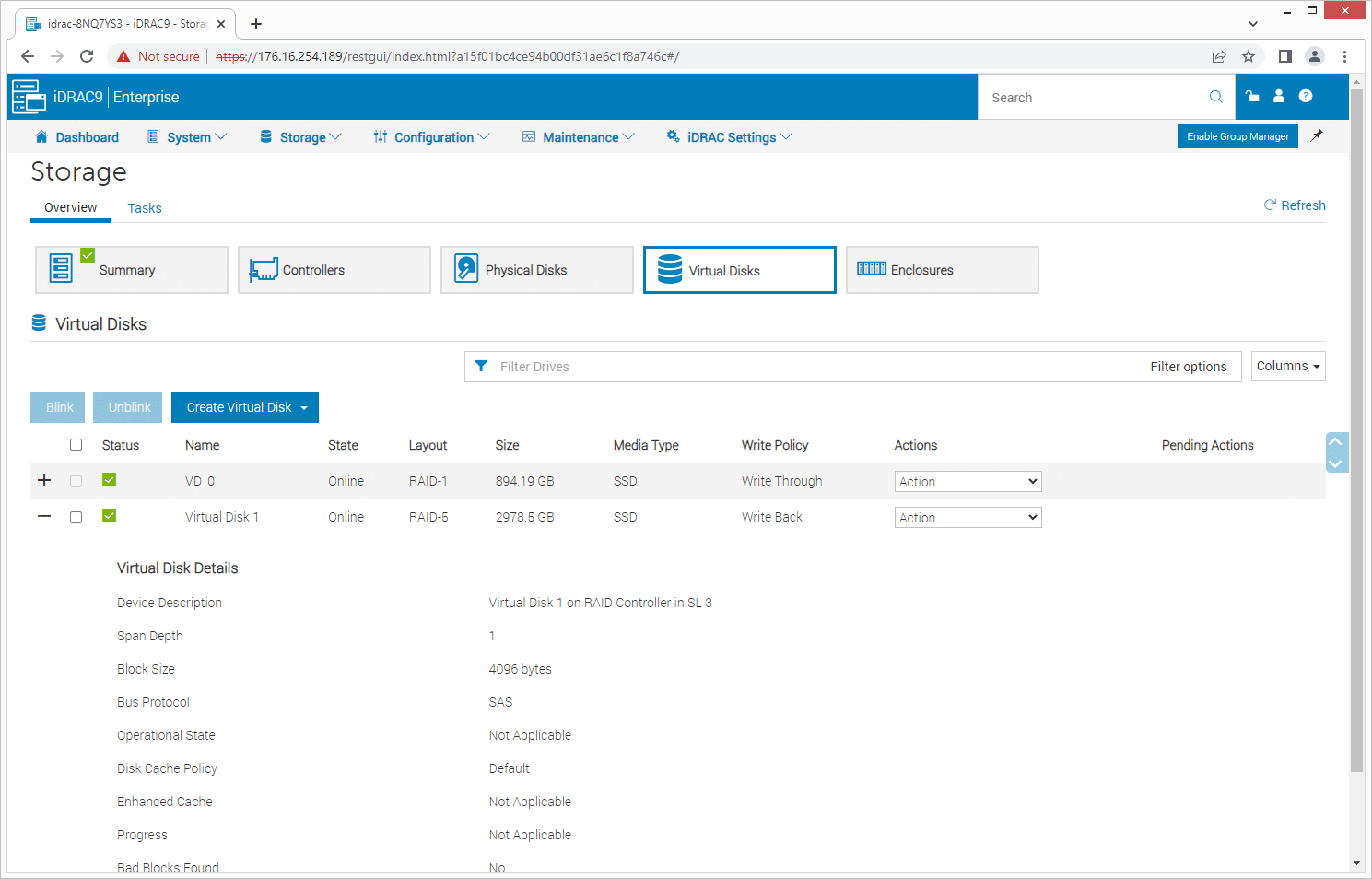 Dell PowerEdge R660 CPU Benchmarks
The Dell R660 in the lab is equipped with a pair of Intel Xeon Platinum 8452Y and 512GB of DDR5 RAM. On the storage side, our specific backplane configuration leverages SAS, which limits us from going towards various high-performance scenarios leveraging NVMe flash. For this reason, we focus entirely on CPU benchmarks in this review. Future PowerEdge reviews should be more comprehensive.
Dell PowerEdge R660 Configuration

2 x Intel Xeon Platinum 8452Y CPUs
512GB DDR5
5 x 800GB SAS3 SSDS in RAID5
To see how the R660 with the new 4th Generation Intel Scalable Processors performs, we equipped it with an Nvidia T4 and ran several benchmarks to measure raw CPU performance and some tests to see how it stacks up against the T4 GPU.
Geekbench 5 is a cross-platform benchmark that measures the performance of a system and provides a score for comparison. It is designed to work on multiple platforms and provides a consistent measure of performance across many devices, from smartphones and tablets to desktops and servers.
| | |
| --- | --- |
| Geekbench5 Multi | 31,523 |
| Geekbench 5 Single | 687 |
HWBOT x265 Benchmark, hosted on hwbot.org, measures the performance of a system by rendering a video in 1080P or 4K resolution using the x265/HEVC encoder. It is designed to take advantage of modern CPU instruction sets and is optimized for multi-threaded performance for competitive benchmarking.
| | |
| --- | --- |
| HWBOT x256 4k 3x overkill | 74.338 |
y-cruncher is a multi-threaded and scalable program that can compute Pi and other mathematical constants to trillions of digits. Since its launch in 2009, it has become a popular benchmarking and stress-testing application for overclockers and hardware enthusiasts.
| | |
| --- | --- |
| y-cruncher 1b | 8.294s |
| y-cruncher 10b | 92.779s |
Blender benchmark measures the 3D rendering performance of a CPU or GPU by rendering a 3D scene in the Blender software. It provides a score that can be used to compare the performance of different systems and components.
| | |
| --- | --- |
| Blender CLI CPU Only | |
| Monster | 641.524059 |
| Junkshop | 398.081932 |
| Classroom | 313.184991 |
| Total | 1,352.790982 |
Blender also offers the ability to run the same set of tests on a GPU, in our case we installed an nVidia T4 and ran the same test to some surprising results. Intel has called attention to the performance of the 4th Gen Xeons being able to be able to blur the lines of CPU and GPU workloads of their top tier chips. Keeping in mind that this is not the flagship CPU, the numbers above of CPU only performance are quite impressive compared to the T4.
| | |
| --- | --- |
| Blender CLI nVidia T4 | |
| Monster | 868.163988 |
| Junkshop | 541.835198 |
| Classroom | 500.103251 |
| Total | 1910.102437 |
V-Ray Benchmark is a benchmarking tool that measures the rendering performance of both CPUs and GPUs using the V-Ray rendering engine. It provides a score that can be used to compare the performance of different systems and components and is widely used in the computer industry.
| | |
| --- | --- |
| V-Ray CPU | 64,296 |
| V-RAY CUDA T4+CPU | 2094 |
| V-RAY CUDA T4 | 564 |
| V-RAY CUDA CPU | 1696 |
The Dell R660 equipped with a pair of 4th Gen Xeon 8452Y's is an impressive powerhouse packing into 1U of rack space. Packing extreme performance into 1U of rack space saves valuable real estate, allowing organizations to maximize their data center space, reduces power consumption and cooling requirements, making the data center more efficient and cost-effective to run, and simplifies maintenance and upgrades by allowing administrators to easily access and replace components, reducing downtime and improving overall reliability.
Conclusion
The Dell PowerEdge R660 is an impressive step up for Dell's server line. Cooling improvements allow this 1U server to support up to two 300-watt, fourth-generation Xeon Scalable processors, which in turn bring DDR5 memory and Gen5 storage support.
A variety of storage drive configurations is a big highlight for the PowerEdge R660. Dell has embraced E3.S SSDs for storage density, which will be a huge boon when these servers are qualified for vSAN, VxRail, and modified for storage systems like PowerScale.
Dell's experience with Enterprise servers is also clearly visible in its excellent iDRAC9 remote management, which puts server health, settings, maintenance, and support at your fingertips. Overall, the PowerEdge R660 shows much promise, we can't wait to see some of the more storage-heavy configurations in the future, especially the E3.S systems.
Engage with StorageReview
Newsletter | YouTube | Podcast iTunes/Spotify | Instagram | Twitter | TikTok | RSS Feed