The Dell Precision 15 3000 Series (3510) is an affordable mobile workstation that features Intel Xeon Gen-6 processors, an AMD FirePro professional graphics card, as well as high-performance NVMe storage. The Precision 3510 comes with a variety of displays including an HD touchscreen option to meet a variety of use cases. Dell has also worked to improve the touchpad on the workstation and put an emphasis on weight, as the 3510 starts at under 5 pounds.
The Dell Precision 15 3000 Series (3510) is an affordable mobile workstation that features Intel Xeon Gen-6 processors, an AMD FirePro professional graphics card, as well as high-performance NVMe storage. The Precision 3510 comes with a variety of displays including an HD touchscreen option to meet a variety of use cases. Dell has also worked to improve the touchpad on the workstation and put an emphasis on weight, as the 3510 starts at under 5 pounds.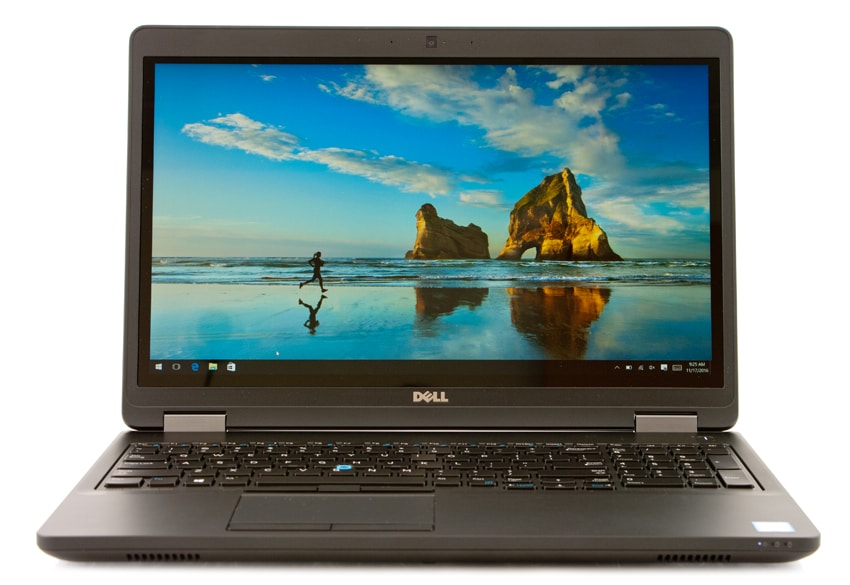 Don't let the affordable moniker make you think this Precision gives up flexibility at the expense of price point. There are ample customization options with the 3510. From a storage perspective, the 1TB NVMe drive will be the best performing, but there are a number of other options. For Federal use cases, for example, Dell offers an M.2 SED SSD with support for OPAL 2.0. It's important to note that the battery and storage options are intertwined on this notebook. The area where a hard-drive cage would be located consumes some of the space for the larger 6-cell battery. So if you go with the m.2 SSD, the larger battery can be chosen; whereas if you pick the hard drive, the smaller 4-cell battery is required.
Processors range from an Intel Core i5-6300 to the powerhouse Intel Xeon E3-1505M v5, as well as memory support of up to 32GB of DDR4. Connectivity includes a docking connector, one SD 4.0 memory card reader, three USB 3.0 ports, one PowerShare Capable and one HDMI 1.4 port. You can add even more flexibility with optional Thunderbolt 3 connectivity. The 3510 also comes with the Dell Precision Optimizer, software that promotes enhanced application performance and productivity by automatically adjusting system settings based on the specific needs of professional software applications.
Our build includes an Intel Core i7­-6820HQ (2.7GHz, 4-core) processor, AMD FirePro W5130M GPU with 2GB of GDDR5 RAM, 16GB (2x8GB) of 2133MHz DDR4 RAM, and a 256GB NVMe SSD–all of which came to a retail price of $1,870.00.
Dell Precision 3000 Series (3510) Specifications
Processors:

Intel Core i5-6300HQ (Quad Core 2.30GHz, 3.20GHz Turbo, 6MB 35W)
Intel Core i5-6440HQ (Quad Core 2.60GHz, 3.50GHz Turbo, 6MB 35W)
Intel Core i7-6700HQ (Quad Core 2.60GHz, 3.50GHz Turbo, 6MB 35W)
Intel Core i7-6820HQ (Quad Core 2.70GHz, 3.60GHz Turbo, 8MB 35W)
Intel Xeon E3-1505M v5 (Quad Core Xeon 2.80GHz, 3.70GHz Turbo, 8MB 35W)

Operating Systems:

Windows 7 Pro (64-bit)
Windows 8.1 (64-bit)
Windows 8.1 Pro (64-bit)
Windows 10 Pro (64-bit)
Red Hat Enterprise Linux (RHEL) 7.2
Canonical Ubuntu 14.04 SP1
NeoKylin v6.0

Chipset: Intel Mobile CM236
Memory:

DIMM slots – up to 16GB 2133Mhz NECC DDR4
Up to 32GB 2133Mhz NECC / ECC (coming soon)

Graphics:

AMD FirePro W5130M w/2GB GDDR5
Intel Integrated HD Graphics 530
Intel Integrated HD Graphics P530

Display Options:

15.6″ HD TN (1366×768) Anti-Glare LED-backlit (45% color gamut)
15.6″ FHD IPS (1920×1080) Wide View Anti-Glare LED-backlit (72% color gamut)
15.6″ FHD IPS Touch(1920×1080) Wide View LED-backlit(72% color gamut)

Storage Options:

2.5" Hard Disk Drive (HDD): 500GB 7200RPM, 1TB 5400RPM, 500GB 7200 SED FIPS
2.5" Solid State Drive (SSD): Intel 360GB SSD
M.2 SATA Solid State Drive (SSD): Up to 512GB SATA SSD, Up to 512GB SATA SED SSD
M.2 PCIe Solid State Drive (SSD): Up to 1TB NVMe PCIe SSD

Input:

Dual Pointing Keyboard: Standard or Backlit Option
Multi-touch Touchpad

Communication Options:

Wired: Integrated Intel i218LM 10/100/1000 Gigabit Ethernet Controller
Wireless LAN & Bluetooth:

Intel Dual Band Wireless – AC 8260 802.11AC Wi-Fi Wireless Card (No BT)
Intel Dual Band Wireless – AC 8260 802.11AC Wi-Fi + BT 4.1 LE Wireless Card
Dell Wireless 1820A 802.11AC Dual Band High Speed Wi-Fi + BT 4.1 LE (coming soon)

Mobile Broadband:

Dell Wireless DW5811e GobiTM LTE Mobile Broadband Card (regional availability)
Dell Wireless DW5811e GobiTM for Indonesia and China

Multimedia:

Dual integrated high quality speakers and dual integrated noise cancelling digital array microphones
MaxxAudio Pro by Waves
Optional integrated light sensitive HD or FHD video webcam

I/O Ports and Connectors

1 x Docking Connector; 1 x Thunderbolt 3 Port optional (coming early 2016); 1 x SD 4.0 Memory Card Reader; 3 x USB3.0 – 1x PowerShare Capable; 1 x HDMI 1.4; 1 x VGA; 1 x Headphone and microphone combo jack; 1 x RJ-45 Network Connector

Security:

Intel Platform Trust Technology, Trusted Platform Module (TPM) 1.2, Chassis lock slot support; 1 x SmartCard Reader
optional; 1 x FIPS Fingerprint reader optional (coming early 2016)

Dimensions Width: 14.61"/377.1mm x Depth: 9.94"/252.6mm x Height: (Front 0.97"/24.55mm)
Battery:

4-cell, 62Whr Lithium Ion polymer battery with Express Charge
6-cell, 84Whr Lithium Ion polymer battery with Express Charge

Weight: Starting at 4.92lbs with a 4-cell battery and HD non-touch panel
Power Adaptor: 130 Watt AC adapter (7mm barrel)
Regulatory and Environmental Compliance: ENERGY STAR 6.1; EPEAT registered
TAA Configurations available
Design and build
Dell has completely redesigned the chassis for the 3510, putting an emphasis more on portability and usability compared to its past mobile workstations. It's also 26% thinner and 12% lighter while the touch now has a larger surface area. The keyboard and touchpad offer ample space for comfortable typing or navigating, while the touch-screen on our review unit offers an up close and personal way to interface with the UI. The chassis has no flex or movement while carrying it around and the rigid bottom panel didn't squeak during our usage of the notebook. The matte black finish did catch a few smudges here and there, but it wasn't excessive by any means.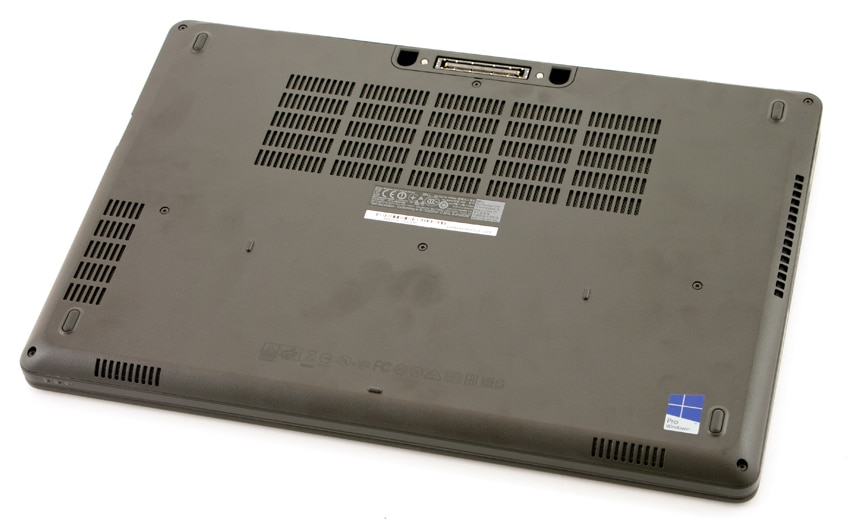 The 3510 is equipped with a 15.6″ screen and gives users several options: anti-Glare LED-backlit (1366×768, 45% color gamut), wide view anti-glare LED-backlit (1920×1080, 72% color gamut), or (1920×1080) wide view LED-backlit touch screen (1920×1080, 72% color gamut). Just above the screen is the microphone and camera/camera light. Below the keyboard is the fingerprint reader.

On the right side of the Dell 3510 is the usual connectivity and functionality of a mobile workstation: a security cable slot, memory card reader, two USB 3.0 ports, and the headset connector.

On the left side is the smart-card reader and USB Type C connector. Underneath is ample ventilation and the service sticker for warranty purposes.

The rear of the notebook offers the traditional business-oriented connectivity options, including wired Ethernet, VGA, a sim-card slot for WWAN, HDMI, USB, as well as a power jack.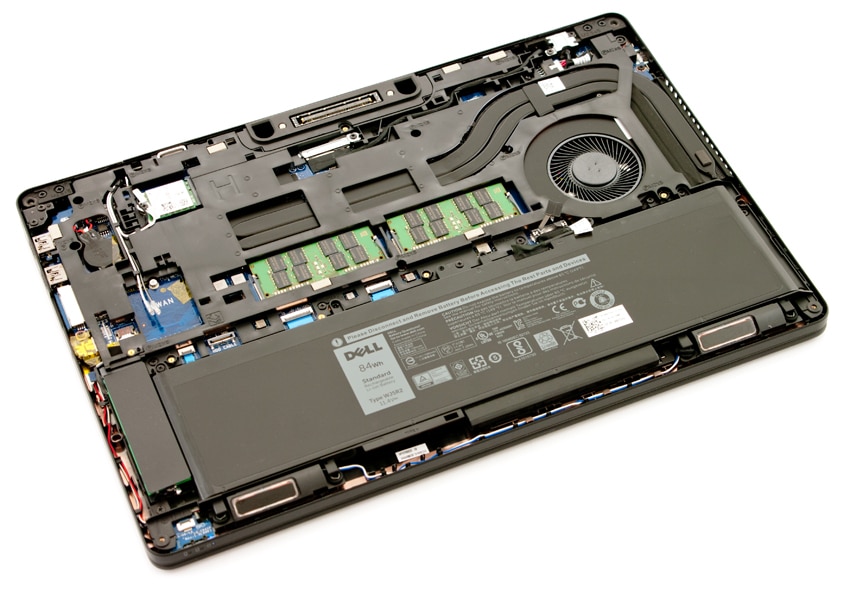 The inside of the notebook is easily accessible by removing the bottom plate after loosening 8 Phillips head screws. With basic tools users can swap out the DRAM, remove and replace the battery pack, change the M.2 NVMe SSD, add a WWAN card, or change out the Wi-Fi card. Dell has made long term maintenance of the Precision 15 3000-series easy for even small IT shops to handle.
The Dell 3510 comes equipped with the W5130M, a graphics card from AMD's latest generation of FirePro mobile GPUs. The W5130M is a mid-ranged mobile workstation card that boasts 2GB of DDR5 memory. Like the Dell Precision mobile workstation itself, the W5130M is built to handle the workloads of engineering and design professionals, and works well with CAD/CAM/CAE software and graphics solutions for media and entertainment.
AMD FirePro W5130M Specifications
Single-Precision Floating Point (TFLOPS): 950 GFLOPS
GCN Stream Processors: 512
Memory: 2GB GDDRS
Memory Interface 128-bit
Memory Bandwidth: 64GB/s
PCle: 3.0 (x16)
OpenGL: 4.4
OpenCL: 1.2
DirectX: 12
AMD Enduro
AMD App Acceleration
AMD PowerTune
AMD ZeroCore Power
Performance
We put the Dell Precision 3510 mobile workstation through several benchmarks to showcase its performance during resource-intensive workloads; we also examined the performance of its equipped AMD FirePro W5130M graphics card. The Dell 3510 is one of their more affordable mobile workstations and has, for the most part, similar performance to the Latitude e5570, which we will be comparing it to throughout this section. We will also be comparing the 3510 to Dell's performance-driven Precision 7510, which is specced and built with higher-grade components. That being said, these tests aren't set up to show which one is "better," but instead to illustrate the performance difference one can see in the products to help customers choose the right device for their workloads.
First, we will look at the SPECviewperf 12 benchmark, which is the worldwide standard for measuring graphics performance based on professional applications. SPECviewperf runs 8 benchmarks it calls "viewsets," all of which represent graphics content and behavior from actual applications. These viewsets include: CATIA, Creo, Energy, Maya, Medical, Showcase, Siemens NX, and Solidworks.
SPECviewperf 12
Viewsets
Precision 3510 
Precision 7510
Latitude e5770
catia-04
21.55
39.86
21.89
creo-01
19.29
33.87
17.89
energy-01
0.45
2.39
0.43
maya-04
22.22
24.11
20.30
medical-01
7.77
13.53
7.12
showcase-01
14.18
23.74
11.96
snx-02
26.73
29.89
7.10
sw-03
33.40
57.53
33.43
The 3510's MD FirePro W5130M showed results that were mostly expected from a lower-to-mid range graphics card. Overall, the Dell 3510 and the Dell e5570 showed similar results, with the former showing slightly better results in every viewset with a few exceptions. This included the Solidworks viewset, where the e5570 performed a tad bit better (33.43 vs 33.40). The most significant difference in performance between the two Dell mobile workstations was during the Siemens NX viewset, where the 3510 boasted 26.73 and the e5570 only reached 7.10. As far as the Precision 7510 goes, it out-performed the two mid-range workstations, more than doubling the scores in many of the viewsets.
In addition to SPECviewperf, we also ran SPECwpc, a benchmark that is specifically designed for testing all key aspects of workstation performance. It consists of over 30 workloads that test CPU, graphics, I/O, and memory bandwidth, which also fall under broader categories such as Media and Entertainment, Financial Services, Product Development, Energy, Life Sciences, and General Operations. We are going to list the broad category results for each as opposed to the individual workloads. The results are an average of all the individual workloads in each category.
SPECwpc v2.0
Category
Precision 3510
Precision 7510
Latitude e5570
M&E
1.49
2.0
1.43
ProdDev
1.39
2.0
1.3
LifeSci
1.39
2.13
1.4
Energy
1.24
1.95
1.24
FSI
1.07
1.18
1.05
GeneralOps
0.81
1.21
0.85
Again, the results of the SPECwpc benchmark showed similar performance between the two similarly classed notebooks (the 3510 and the e5570), with even closer results than the SPECviewperf. As expected, the Precision 7510 showed results that were noticeably higher than the other two mobile workstations.
Next up is the Environmental Systems Research Institute (ESRI) benchmark. ESRI is a supplier of Geographic Information System (GIS) software. ESRI's Performance Team designed their PerfTool add-in scripts to automatically launch the ArcGIS Pro. This application uses a "ZoomToBookmarks" function to browse various pre-defined bookmarks and create a log file with all the key data points required to predict the user experience. The script automatically loops the bookmarks three times to account for caching (memory and disk cache). In other words, this benchmark simulates heavy graphical use that one might see through ESRI's ArcGIS software. It's a safe bet that similar graphics-intensive programs, such as Autodesk's AutoCAD, will fare closely with the results in this benchmark.
This benchmark looks at several aspects of the ArcGIS program; however, we are most interested in the average of the drawtime, average frames per second (Average FPS), and minimum frames per second (Minimum FPS). Here the entry-level Precision offered a leg up on the Latitude e5570, although came in below where the 7000-series Precision ranked.
ESRI Benchmark
Drawtime
Average
Latitude e5570
0:00:18.167
Precision 3510
0:00:15.190
Precision 7510
0:00:06.146
Inspiron 7559
0:00:06.117
Average FPS
Average

Latitude e5570

70.79
Precision 3510
86.39
Precision 7510
270.31
Inspiron 7559
230.93
Minimum FPS
Average

Latitude e5570

45.45
Precision 3510
54.36
Precision 7510
138.40
Inspiron 7559
112.13
In our last benchmark, we will leverage PCMark, a tool that calculates the performance at the system and component level and most often represents typical home user workloads for all types of PCs, including tablets, mobile workstations, and desktops. While there are multiple categories that PCMark tests (including typical work usage, home usage, and creative usage), we will only be looking at Storage and Home Conventional benchmarks.
PCMark Storage
Score
Bandwidth
Precision 3510 (Samsung SM951 M.2 NVMe SSD)
5,087
584.55MB/s 
Precision 7510 (Samsung SM951 M.2 NVMe SSD)
5,059
469.38MB/s
Latitude e5770 (Samsung PM871 M.2 SATA)
4,960
247.05MB/s
The Storage PCMark tests the performance of any drives installed in the system. Specifically, it leverages traces recorded from Adobe Creative Suite, Microsoft Office and a selection of more popular video games to measure real-world performance differences between storage devices. Because the Dell 3510 supports the NVMe interface, it was able to boast some serious performance with its equipped Samsung SM951 NVMe SSD, reaching a bandwidth of 584.55MB/s and a PCMark storage score of 5087. The Precision 7510 was also populated with the SM951, but, somewhat surprisingly, couldn't quite catch the performance of the Dell 3510 with its score and bandwidth of 5,059 and 469.38MB/s, respectively. The Dell e5570 was equipped with a 256GB Samsung PM871 M.2 SSD, posting a much slower bandwidth of 247.05 MB/s. However, it had a very similar PCMark storage score of 4960. Though the M.2 is certainly a speedy interface, it is still a far cry away from the capabilities of the NVMe.
Conclusion
The Precision 15 3510 mobile workstation offers strong performance with configuration options up to quad-core Intel Xeon E3 processors, AMD FirePro professional graphics, and up to 32GB of DDR4 memory. The Precision 15 3000 series (3510) is designed to be an entry workstation-class notebook, with a price starting below $1,000. Entry-level doesn't completely define this system though, with high-performance NVMe storage and 1080P IPS touch-enabled display as options.
To get an overall sense of the Dell 3510's performance, we used several benchmarks to gauge how it would fare under both resource-intensive and casual workloads. This included storage tests to demonstrate the effectiveness of the NVMe drive, as well as tests to see how well the dedicated AMD FirePro graphics card could handle specific scenarios. For storage, we installed the Storage PCMark test, which analyzes the performance of all drives installed in the system. Leveraging a Samsung SM951 NVMe SSD, the Precision 3510 offered an impressive bandwidth of 584.55 MB/s with a PCMark storage score of 5087. These results were on par with the higher-end Precision 7510, showing the versatility of the drive even in a midrange system.
To see what the 3510 is capable of in terms of graphics, we turned to the popular ESRI, SPECwpc, and SPECviewperf benchmarks. In our ESRI benchmark which validates what level of performance users can expect using the ESRI ArcGIS software, the Precision 3510 offered an average FPS of 86.4FPS with a minimum average of 54.4FPS. Looking at SPECviewperf and SPECwpc showed decent performance, which was in line with the much more premium Precision 7510 with its superior Nvidia Quadro M2000M GPU.
Pros
Budget-friendly workstation-class pricing
Easy to service, great build quality
Supports the NVMe interface
Cons
2.5″ HDD or SSD limits battery capacity
Bottom Line
The Dell Precision 3510 is a flexible midrange mobile workstation that will easily satisfy the needs of various business use cases, while staying inside more constrained budgets.
Dell Precision 3510 Product Page
Business laptop deals at Dell.com