The Dell UltraSharp 34 Curved Monitor was launched in September of this year, about a year after Dell's first curved panel–the U3415W. New in the 34″ panel this time around is an updated body design with a touch more curvature. The panel is squarely targeted at business users or other multitaskers wanting to get the most out of a single panel, rather than managing multiples on their desk. The UltraShart 34 aims to improve the life of professionals who need a significant amount of display real estate to do their jobs.
The Dell UltraSharp 34 Curved Monitor was launched in September of this year, about a year after Dell's first curved panel–the U3415W. New in the 34″ panel this time around is an updated body design with a touch more curvature. The panel is squarely targeted at business users or other multitaskers wanting to get the most out of a single panel, rather than managing multiples on their desk. The UltraSharp 34 aims to improve the life of professionals who need a significant amount of display real estate to do their jobs.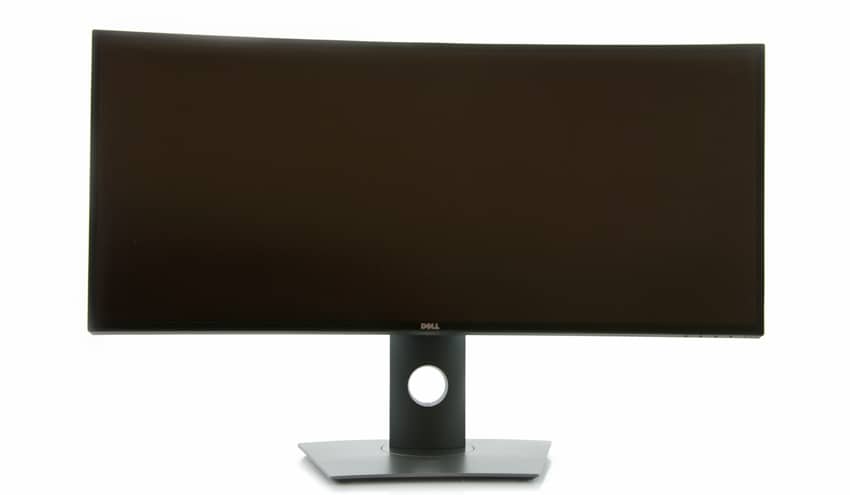 The U3417W sports an ultra-wide 21:9 aspect ratio and 3440×1440 WQHD in maximum resolution; it also features a 99% sRGB color gamut right out of the box. Comfort is also a major focus of the U3417W. The curvature of its screen is designed to improve field of vision and minimize reflection, allowing users to focus better on the display. Dell also indicates that because of this design, there is a lot less strain on a person's vision, as eye movement is significantly reduced.
The U3417W comes with other useful features via the Dell Display Manager which allows users to customize their monitor to improve workflows. For example, users can display several application windows at a glance by choosing a preferred available layout on Dell Easy Arrange. They can then simply drag and drop applications into a specific grid location. You can also save on energy costs via the PowerNap feature; this automatically dims the monitor (or puts it in sleep mode) when the U3417W is not being used.
The Dell UltraSharp 34 Curved Monitor is shipping now with a street price of around $879.
Dell U3417W Curved Monitor Specifications
Viewable Image Dimension (diagonal): 86.72 cm (34.14 inches)
Horizontal, active area: 799.80 mm (31.49 inches)
Vertical, active area: 334.80 mm (13.18 inches)
Maximum resolution: 3440 x 1440 at 60Hz
Curve radius: 1900 R
Pixel pitch: 0.233 mm x 0.233 mm
Aspect ratio: 21:9
Brightness (min to typical): 300 cd/m²
Color gamut (typical): 99% sRGB (deltaE < 3)
Color depth: 1.07 billion colors
Contrast ratio: (typical) 1000:1
Dynamic contrast ratio: 5 million:1
Viewing angle (typical) vertical/horizontal: 178°/178°
Response time Fast mode: 5 ms gray-to-gray (typical)
Normal mode: 8 ms gray-to-gray (typical)
Panel type: In-plane switching
Backlights: LED
Integrated speakers: 2 x 9W
Connectivity

Connectors: DP 1.2, mini-DP, DP-out, 2 x HDMI 2.0, 4 x USB3.0 (2 at the side, 2 at the bottom), 2 x USB 3.0 upstream ports
Features: KVM (Keyboard, Video, Mouse)

Design features:

Stand Height adjustable stand, tilt, swivel, built-in cable management
Security lock slot (security lock not included)
VESA mounting support (wall mount sold separately): 100 mm x 100 mm

Power

AC input voltage/frequency/current: 100 to 240 VAC / 50 or 60 Hz ± 3 Hz / 1.5A
(typical)
Power consumption (normal operation): 50 W (typical)
Power consumption (Active-off mode): < 0.5 W

Dimensions (with stand):

Height (compressed ~ extended): 417.0 mm (16.42 inches) ~ 532.0 mm (20.94
inches)
Width: 813.6 mm (32.03 inches)
Depth: 226.4 mm (8.91 inches)

Weight

Weight without stand assembly: 7.7 kg (16.97 lb)
Weight with stand assembly and cables: 10.4 kg (22.92 lb)
Weight with packaging: 15.4 kg (33.94 lb)

Environmental compliance

PVC-free monitor (excluding cables), arsenic-free glass and mercury-free panel

Service and warranty:

3 years Premium Panel Guarantee
3 years Advanced Exchange Service and Limited Hardware Warranty
Optional Dell ProSupport (EMEA only)
Usability and Features
The U3417W leverages the Dell Display Manager for its customization and device management. This handy piece of software allows users to manually adjust displayed images, change automatic settings, configure energy management, organize windows, rotate images, and more. The Dell Display Manager is easily accessed on PCs by right-clicking the icon in the notification tray. We had no trouble navigating the menus and options, as the interface is clean, intuitive and very responsive.
The Quick Settings feature will pop up by clicking the Dell Display Manager's notification tray icon so that users have quick access to the most common settings used. This includes the ability to adjust things like the brightness, contrast, resolution, and window layout. Users can also enable automatic switching between preset modes here or they can just manually select a preset mode.
To access the full features of the Dell Display Manager, you simply click the link at the bottom of the Quick Settings window. Users are then presented with the clean layout, which is highlighted by five tabs: Basic, Auto Mode, Easy Arrange, Input Manager, and Options.
The Basic section allows you to quickly change things like the brightness, contrast, and resolution of the U3417W monitor.
The Auto Mode section lets users automatically assign a specific Preset Mode with a specific application. When enabled, Dell Display Manager will automatically switch to the specific Preset Mode of the application once it has been loaded. Users with more than one supported Dell monitor can use the same preset on each connected monitor, or each can be individually customized.
In the Easy Arrange section, users can–as its name indicates–easily arrange all opened windows using one of Dell's predefined layouts. Simply drag and drop them in the zones. Creating a custom layout is easy as well.
With Input Manager, users can manage their video inputs connected to the U3417W and have the ability to switch between inputs while working with multiple computers.
All video input ports (which can also be named by the user) are clearly listed and show whether or not they are in use. In addition, you can give each input a name as you like. Input Manager also allows users to define shortcut keys to quickly switch inputs. Changing the PIP/PBP (Picture in Picture/Picture by Picture) from Off to PIP Small, PIP Large, PBP Aspect Ratio, or PBP Fill is also done here.
Design and build
Though the Dell U3417W is an incredibly unique-looking display, the design is pretty much in line with other UltraSharp products–Dell's premium line of monitors (Dell UltraSharp 27 Ultra HD 5K UP2715K). This is certainly welcomed as the UltraSharp line offers premium, non-bulky builds. The U3417W is no exception here; it's a beautiful-looking monitor that sports a nice, smooth surface, making the most of its physical footprint.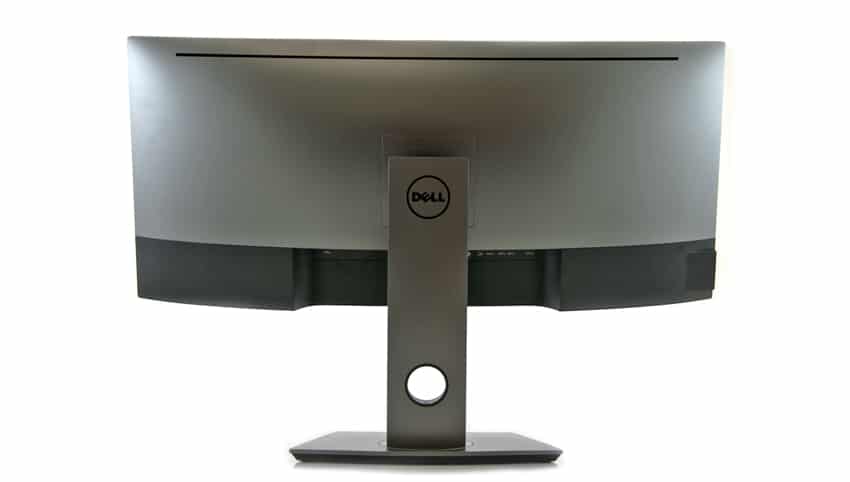 The wingspan of this display is just over 32 inches with a slightly higher diagonally viewable size of 34.14 inches.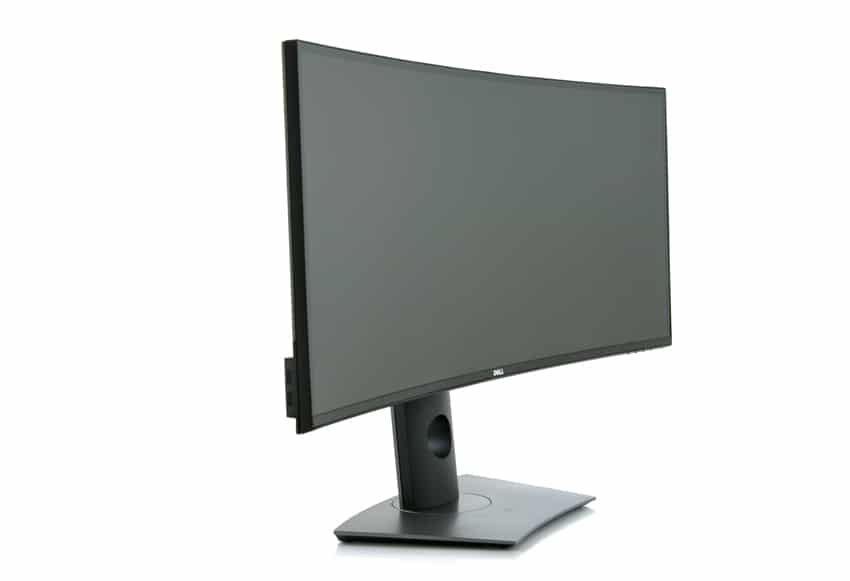 There's also an abundance of connectivity options located underneath the back panel of the U3417W. From left to right is the power port, two HDMI 2.0 ports,  a DP 1.2 (in), mDP 1.2 and 1 DP 1.2 (out) with MST ports, two USB 3.0 upstream ports, and two USB 3.0 downstream ports. Two USB 3.0 ports with BC1.2 charging capabilities are located on the side.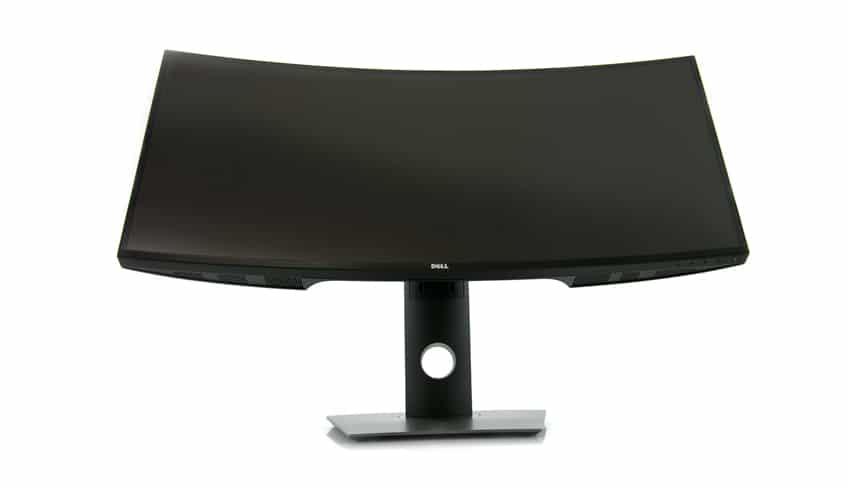 There are four buttons for navigating in-display menus on the bottom right. Here users can tweak settings to their liking and set the modes of the shortcut buttons. The defaults of display modes and volume are a good starting point. The latter had to be used with the Macs during testing as Apple has a longstanding issue when it comes to controlling speaker volume on a display via Mac hardware buttons. Incidentally, the integrated speaker quality is pretty good, and certainly better than most portable systems that may be connected to it.
Conclusion
The Dell UltraSharp 34 Curved Monitor makes a lot of claims about productivity and usability that are critical to its success. As an external display novice, my experience may not reflect everyone's who's "old hat" at this type of setup. What I found, though, was absolutely amazing in terms of my workflow and efficiency, both of which had significant voids that I simply didn't know about. As a business user who's often on the go, I always found my 13″ MacBook Pro to be perfectly suitable. I've become so accustomed to living on it and phone and tablet screens that making due with smaller, more portable options seemed normal. I simply didn't know what I didn't know. At my desk now I have the ability to have full views into so many applications at once, and the experience really is transformative. The most concrete example I have is an ad server view that for complex campaigns required a significant amount of horizontal and vertical scrolling on the Mac. That report sits in its entirety now on half the screen, while email, chat and calendar remain open on the other half.
The rest of the goodies Dell talks about are perhaps more subjective. The increased curvature, and curvature in general, really is a personal issue (I find the curvature to be a pleasing element on the desk–something I've not always thought with TV panels). More practically, my office is subject to light from two windows with full sun in the AM and overhead LEDs; I see no reflections whatsoever, which provides a uniform workspace. Whether or not my eyes are less tired, I'm not entirely sure. But I'm certainly not feeling any strain with the U3417W after a couple weeks of heavy usage.
My use case for the display is pretty vanilla. For those who want to take advantage of more advanced features, the monitor offers all the inputs you could ask for and supports even more multitasking options. Two PCs can be attached to use the screen simultaneously, with a single keyboard and mouse. Dell also offers Easy Arrange, which enables picture-in-picture and picture-by-picture features. However it's configured and used, the U3417W has a lot to offer anyone whose productivity relies on bouncing between several applications or browser windows to get their job done.
Pros
Fantastic workspace for those with multiple windows open at any given time
Plenty of ports and connectivity options
Complete software package to manage the monitor on PCs
Cons
No Mac support for Dell Display Manager
Bottom Line
The Dell UltraSharp 34 Curved Monitor is specifically designed for multitaskers who can benefit from getting two monitor's worth of real estate in one sleek panel. The U3417W looks great while providing a comprehensive workspace for the most discerning of users.