Eaton has expanded their 9PX UPS line with another Lithium-ion offering. The new 9PX6K-L model is a 6 kVA addition to the Lithium-Ion offerings within the 9PX family. Previously, the Lithium-ion models within the 9PX family only went up to 3 kVA, but the new model delivers a capacity of 6 kVA.
Eaton has expanded their 9PX UPS line with another Lithium-ion offering. The new 9PX6K-L model is a 6 kVA addition to the Lithium-Ion offerings within the 9PX family. Previously, the Lithium-ion models within the 9PX family only went up to 3 kVA, but the new model delivers a capacity of 6 kVA.
Whether it's a small server room or a large data center, reliability is a huge consideration for any piece of equipment, and these Lithium UPSs do not disappoint. Lithium batteries tend to have up to a two to three times longer service life, allowing for peace of mind regarding battery replacements.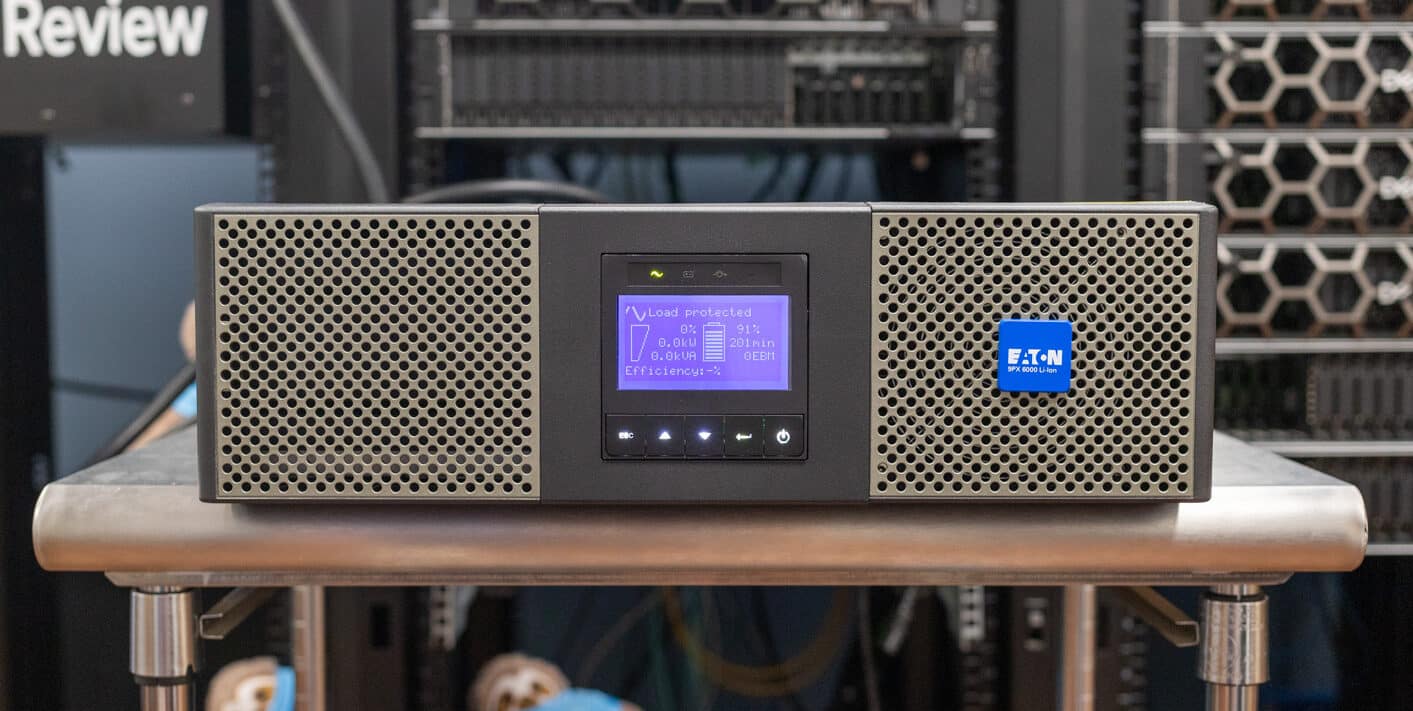 Lithium-ion vs Lead Acid Batteries
There is an in-depth explanation of the differences and the histories between the two battery chemistries on the 9PX family review, but we'll go over a Sparknotes version here. Lead acid batteries have been around for many years and are cheap to produce but can be pretty hefty while producing less power at higher loads. On the flip side, Lithium-ion batteries may come with a higher price tag but offer the same power in a smaller, lighter package and a faster charge. That solves the low power at high load issue and brings a longer lifespan.
Eaton 9PX 6 kVA Lithium-Ion UPS Specifications
Topology
Online, Double Conversion
Configuration
3U Rack/tower
Color
Black and silver
Diagnostics
Full system self-test at power-up
Warranty
5-year limited warranty covering both UPS and Batteries
Rail kit

4-post rail kit included; Max length:30.0in, Min length:17.4in Tower pedestals included
Optional 2-post rail kit available, part number: RK2PC(UPS) and RK2PA(EBM)

Remote power off
Remote On/Off (ROO) and Remote Power Off (RPO) rear terminal blocks
Electrical input
L6-30P
Nominal voltage
208V default (200/208/220/230/240V)
Input voltage range
200-240V
Frequency
50/60 Hz
Frequency range
60 Hz: 50–70 Hz, 50 Hz: 40–60 Hz
Input power factor
.99
Input current distortion
<5% (<10% frequency converter mode)
Circuit breaker
(2) 20A
Electrical output
Hardwire, (2) L6-30R, (2) L6-20R
Power ratings

200V: 5200VA / 4600W / 0.88
208V: 5400VA / 4800W / 0.89
220V: 5700VA / 5100W / 0.89
230V: 6000VA / 5300W / 0.88

Nominal voltage
208V default (200/208/220/230/240V)
Output voltage

regulation, steady state

±1% normal mode
Output Waveform
True Sine Wave
Output Power factor
0.9
Efficiency
93%
Battery
Optional extended battery module(EBM)
part # 9PXEBM192RT-L
Maximum number of EBMs
Add up to 4 EBMs
Battery description
Lithium Ion, LiFePO4 chemistry
Battery management
BMS: Advanced battery management with health monitoring and prediction features
Battery replacement
Hot-swappable internal batteries and EBMs
Communications
User interface
Graphical display, 5-button programmable menu
LEDs
4 status-indicating LEDs
Communication ports
RS-232 (RJ45) ports; USB port as standard (HID). 6-foot RS-232 and USB cables included
Communications card
NETWORK-M2 card
Power management software
Integrates with Eaton Intelligent Power Manager Software
Environmental & standards
RoHS compliance
Yes
Surge protection
Yes
EMC markings

EN 62040-2:2006
IEC 62040-2

Heat dissipation (BTU)
Online: 1233 BTU/hr, Battery: 1699 BTU/hr (100% load)
Audible noise
<45 dB at 1 meter
Operating temperature
0 to 40°C (32°F to 104°F)
Altitude operating temperature range
<1000m for nominal power, 10% power degrading every 1000m (up to 3000m)
Safety conformance
Relative humidity
0 to 95% non-condensing
The complete spec sheet can be found Here 
At the time of this review, the street price for the Eaton 9PX 6 kVA Lithium-Ion UPS on CDW runs $8,918. For comparison, the lead acid runs $5,196.
Design and Build
The 9PX6K-L fits in a 3U chassis sitting at about 81.2 Pounds (VS 106lbs from its Lead Acid counterpart) and measures 5.12″x 17.33″x 28.43″.  Eaton offers several options for mounting this unit—the Lithium 9PX ships with a 4-post rail kit and feet for a tower configuration. Eaton also offers a 2-post rail kit that is sold separately.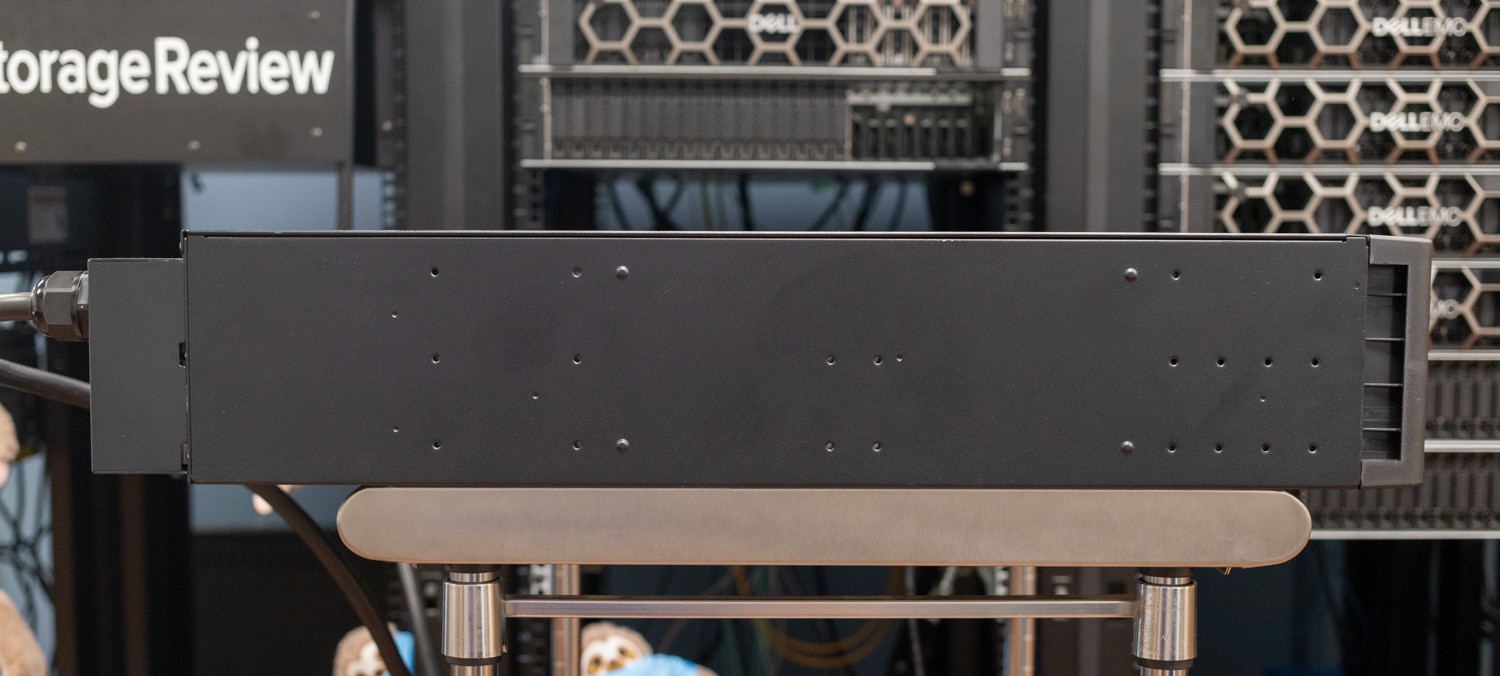 If we spin the unit around, we will see the different ports offered on this unit. The easiest to see here will be the two L6-30R and two L6-20R output ports and the knockout for the Hardwired output.

Zooming in on the rear of the unit, we have a better view of the smaller ports. Ports with the green highlight are terminal blocks for Remote Power Off, RPO-Left, and ROO-Right. The Network-M2 card right of center is for remote management via USB for the Eaton Environmental Monitoring Probe (EMP).
There is the RS-232 serial port, a USB port for configuration, and another DB-9 port for output relay dry contacts.  Connections for the EBMs highlighted in red link to extra batteries and pass communication to the other unit(s). The two 20-amp circuit breakers on the right protect the outputs.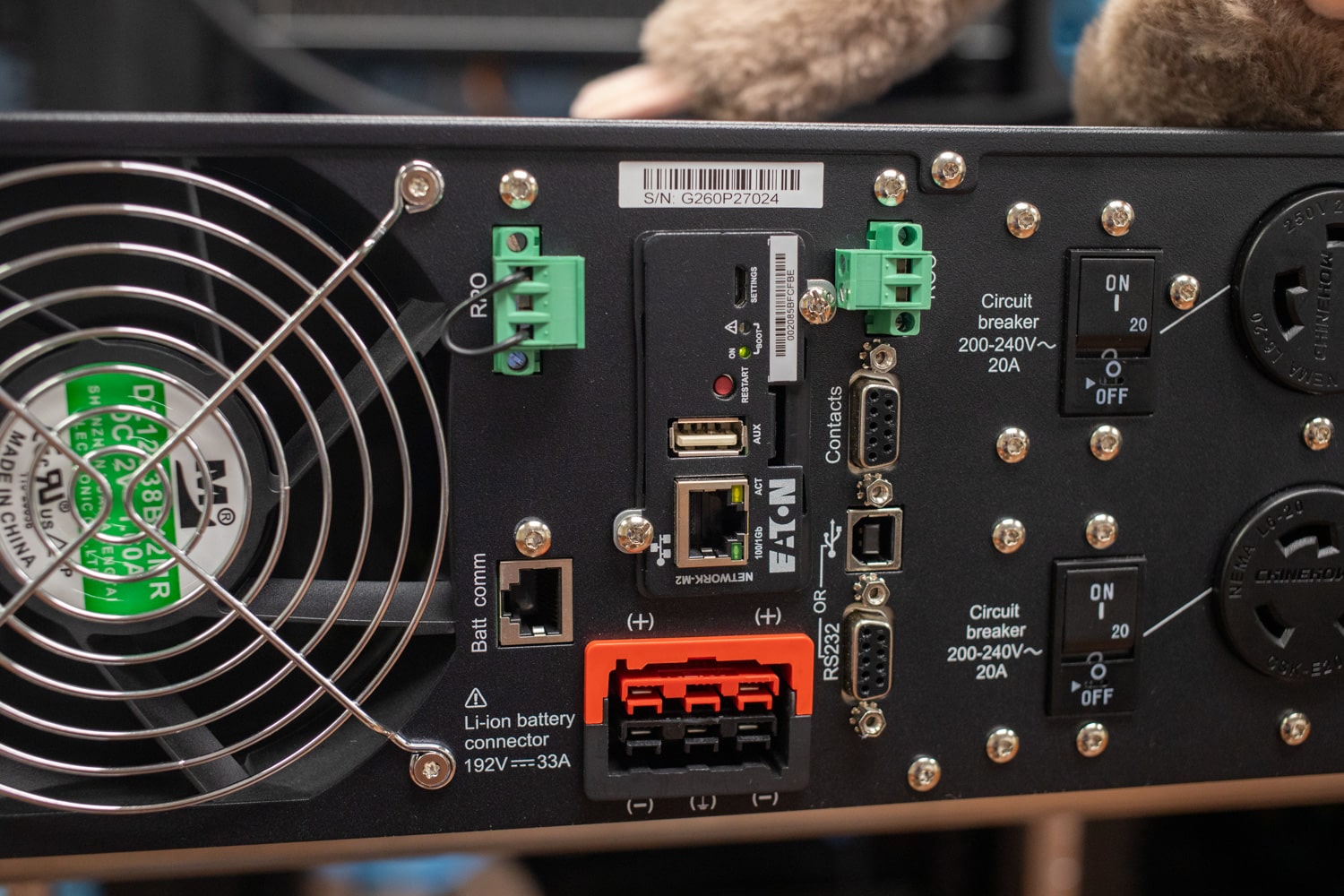 Eaton 9PX 6 kVA Lithium-Ion UPS Power Protection
While Eaton brings a lot of cool features to the new 9PX-L series units, one of the most important aspects is how the unit handles a power failure scenario. The 9PX series offers two modes of operation, the first is double-conversion and the second is a high-efficiency mode.
When operating in its double-conversion mode, there is no delay in power transfer as the unit switches from incoming AC power to AC power running off the internal battery pack. As the name implies, double-conversion has the UPS in a constant AC to DC to AC operation, so losing the incoming power has no impact on the power output.
When you switch the unit into high-efficiency mode though, the UPS is able to save a bit on power as it's not always flowing energy through the inverter. The tradeoff for these power-savings is you will need to handle some amount of switchover time. We used the Quarch IEC Mains Power Analysis Module to monitor the voltage output from the Eaton 9PX6K-L during a brief power interruption.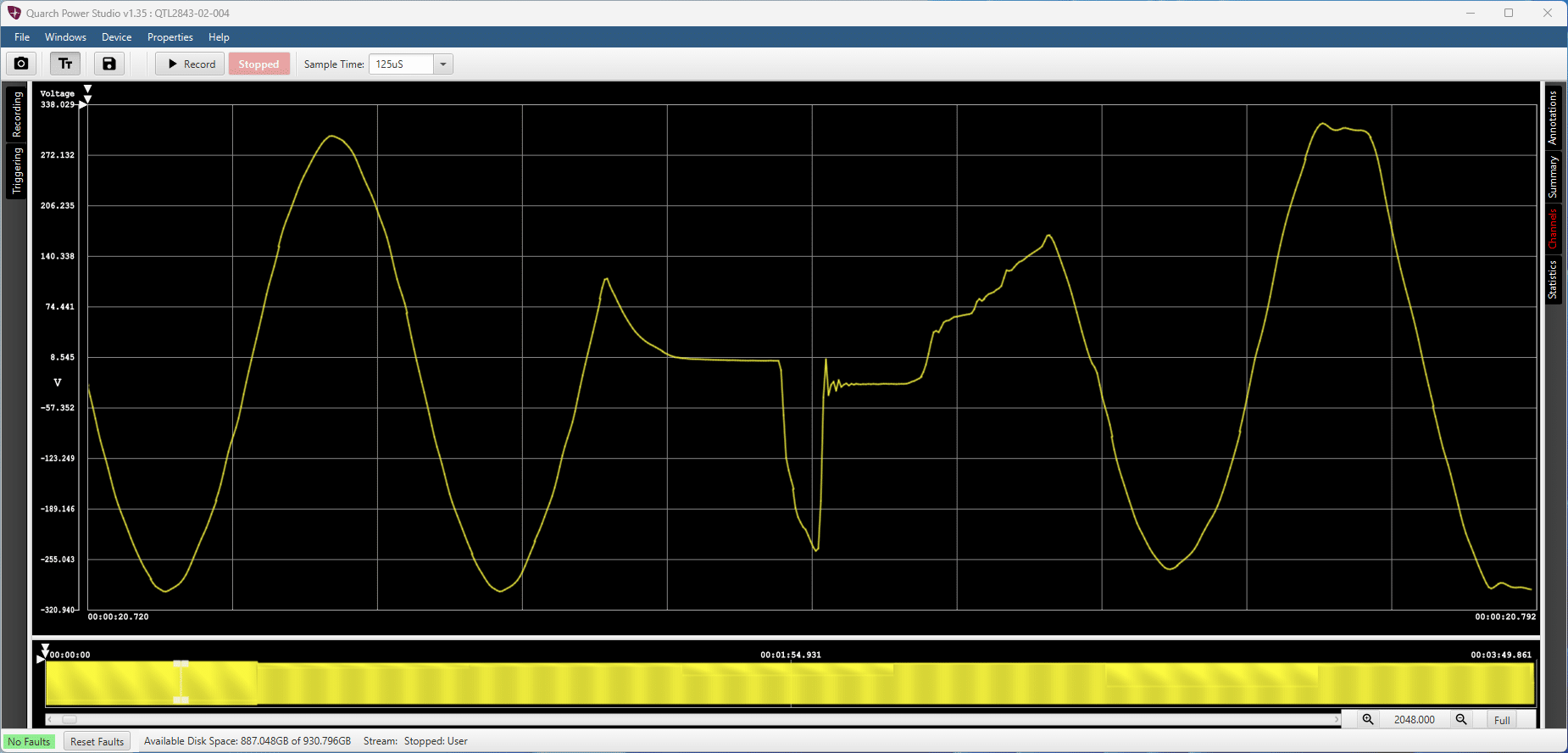 Looking at the output, from the drop in the waveform to resuming the waveform, we measured 22ms. If you measure the time between the cutoff and when the voltage starts to resume, it measures 11ms. When we performed the same test in double-conversion mode there was no measurable impact to power interruption.
Eaton 9PX 6 kVA Lithium-Ion UPS Monitoring and Management
This Unit allows users to utilize onboard and external management interfaces like IPM2, VPM, and PredictPulse Insight.
Upon logging in to the network card management interface, the landing screen displays EMP readings, outlet status, energy flow charts, power readings, and active alarms. The left panel provides access to the other management features.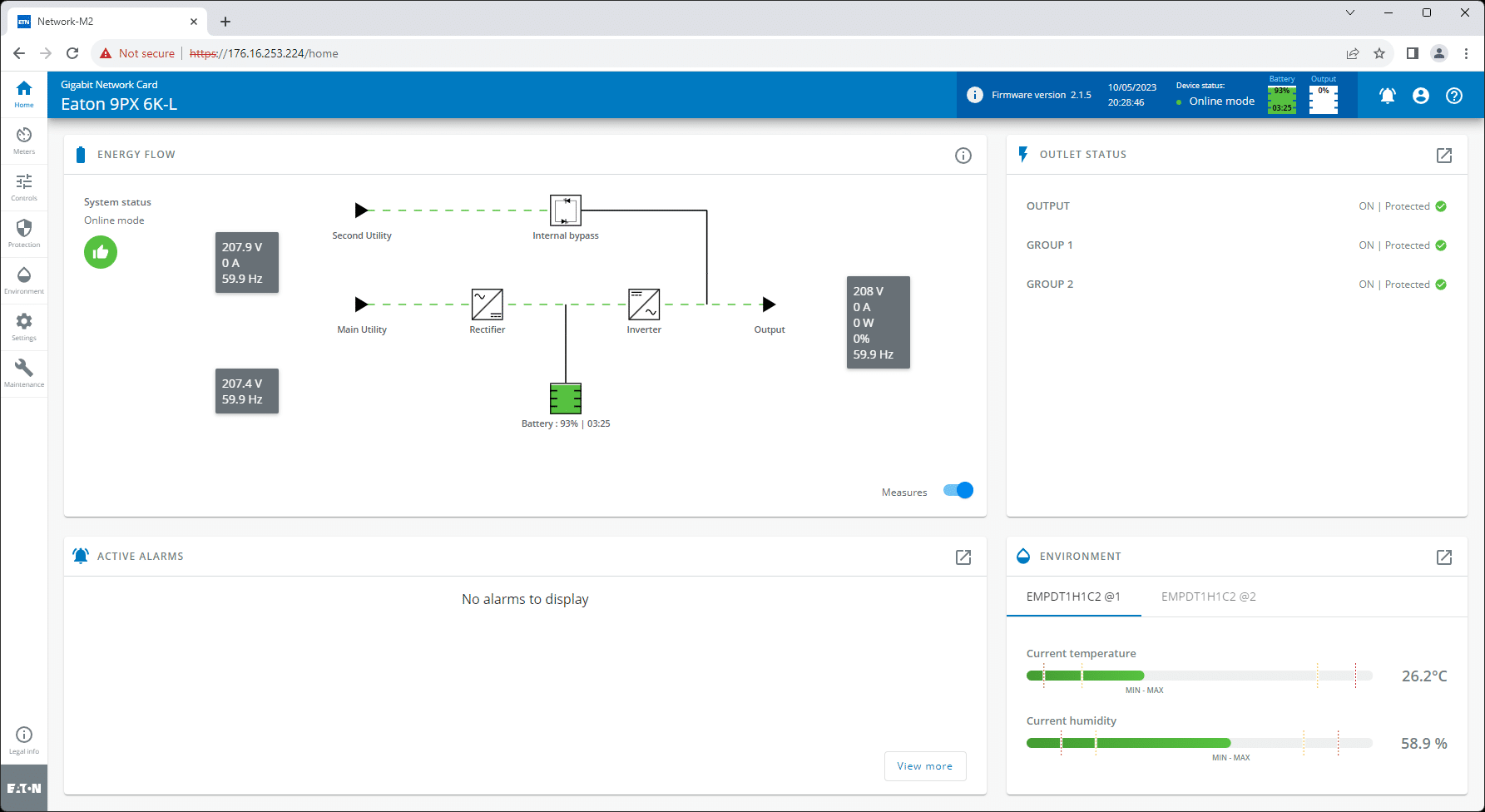 The Meters tab displays Utility current, voltage, and frequency metering. The Output meters display current, voltage, frequency, and battery status. The battery status pane shows the current battery status with overview stats like the nominal voltage and capacity, battery type, how many EBMs are connected, and expected replacement date.
The battery status pane also shows the Min and Max temperatures of the battery pack alongside the Min and Max Cell voltages. Battery Health tests can also be run and viewed from this pane next to the logs that can be viewed here as well.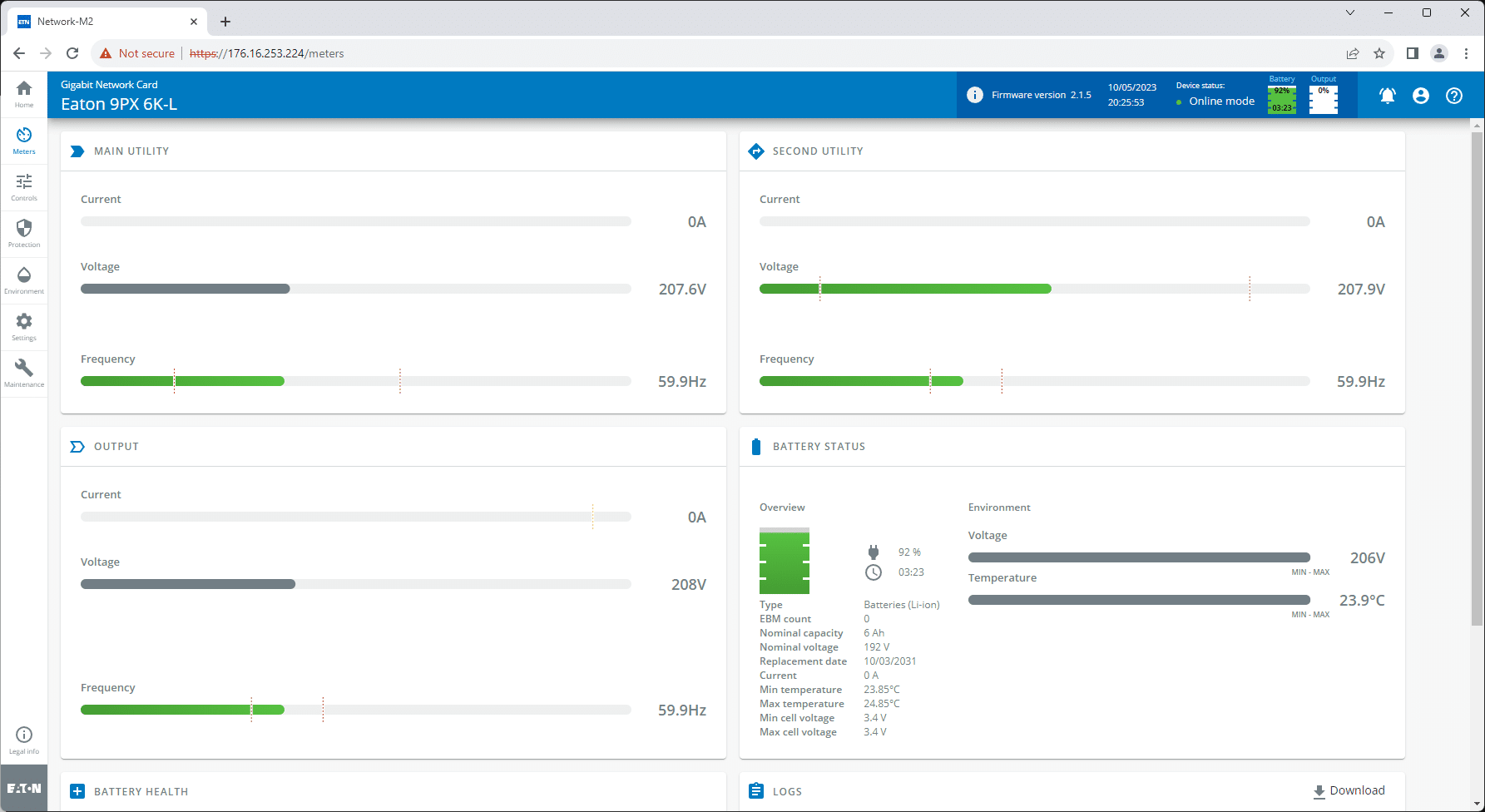 The Third tab down in the management interface is the controls tab. There is a little to see here, but you can control the power states of the entire UPS and each outlet group.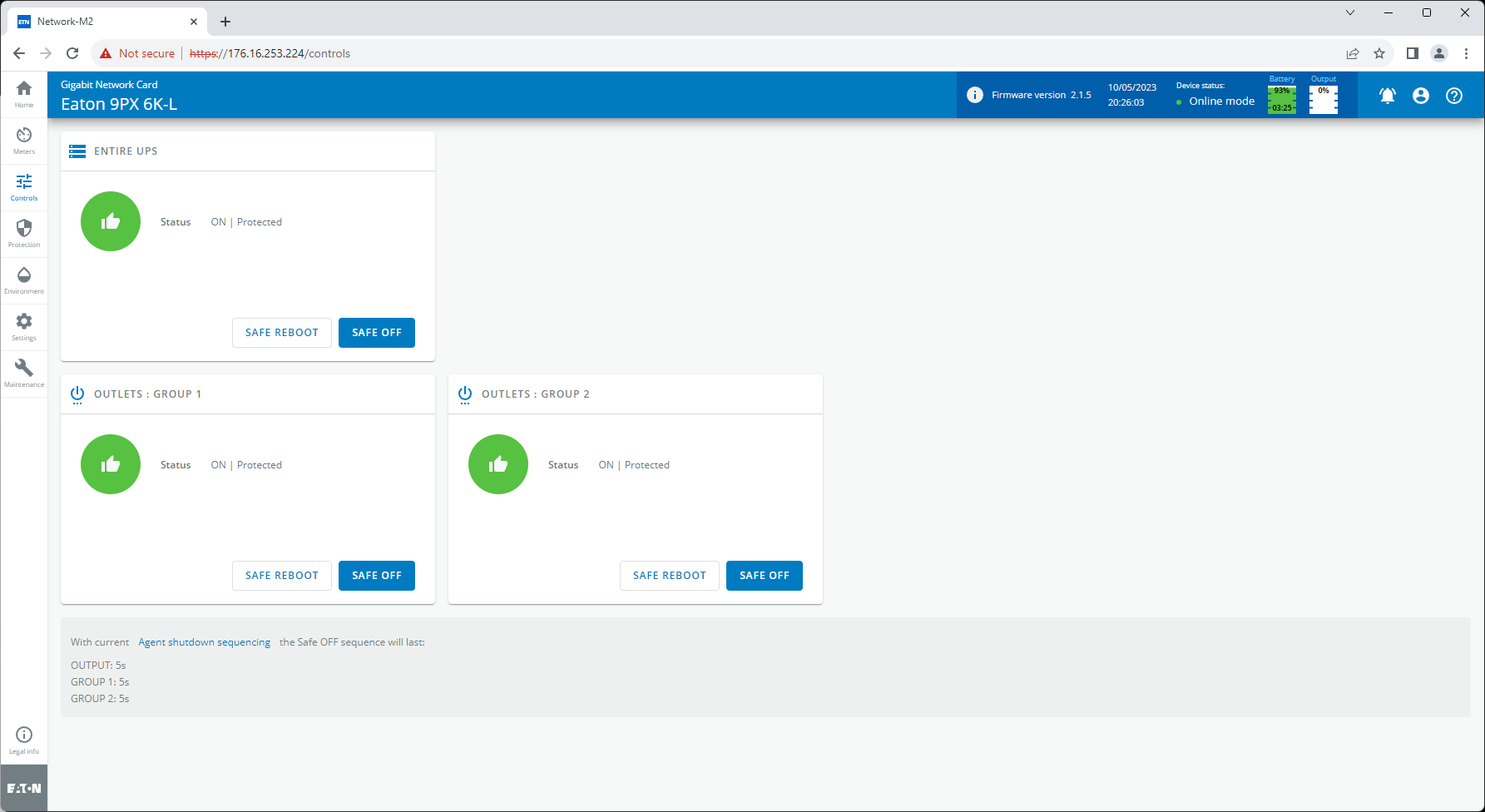 The Agents tab links the software agents of multiple devices to allow for a graceful shutdown over IP. In the event of a Power outage, Agents can automatically shut down non-critical equipment to extend battery runtime. Additionally, you can set agents to shut down all equipment as the battery is nearing the end of its runtime.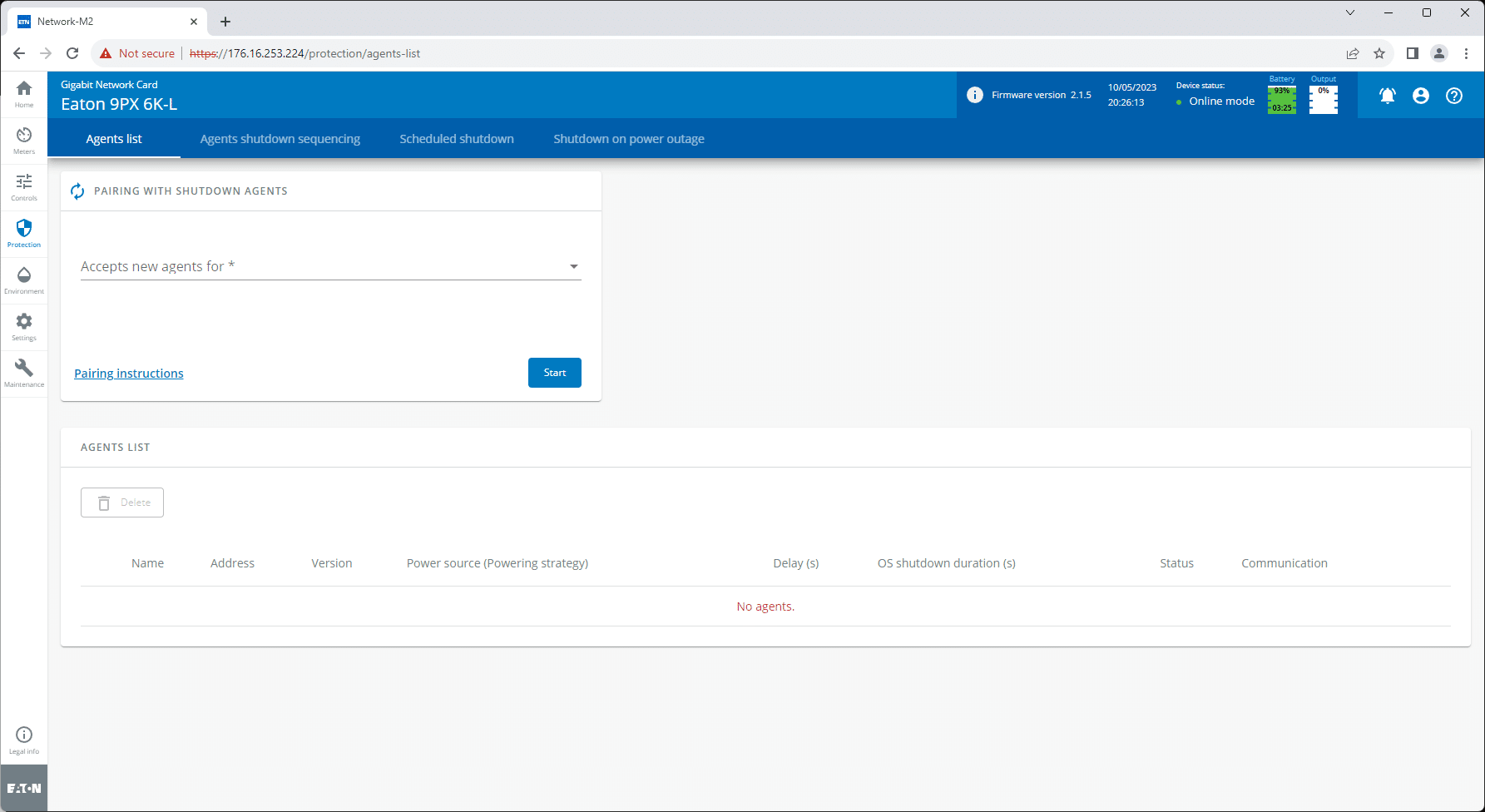 The Environment tab doesn't have a ton going on either, but you can see the status of your EMP(s). These will give your temperature and humidity readouts in addition to your dry contact statuses for multiple additional sensor types. These can also trigger alarms and set off different processes like toggling off outputs or shutting down agents.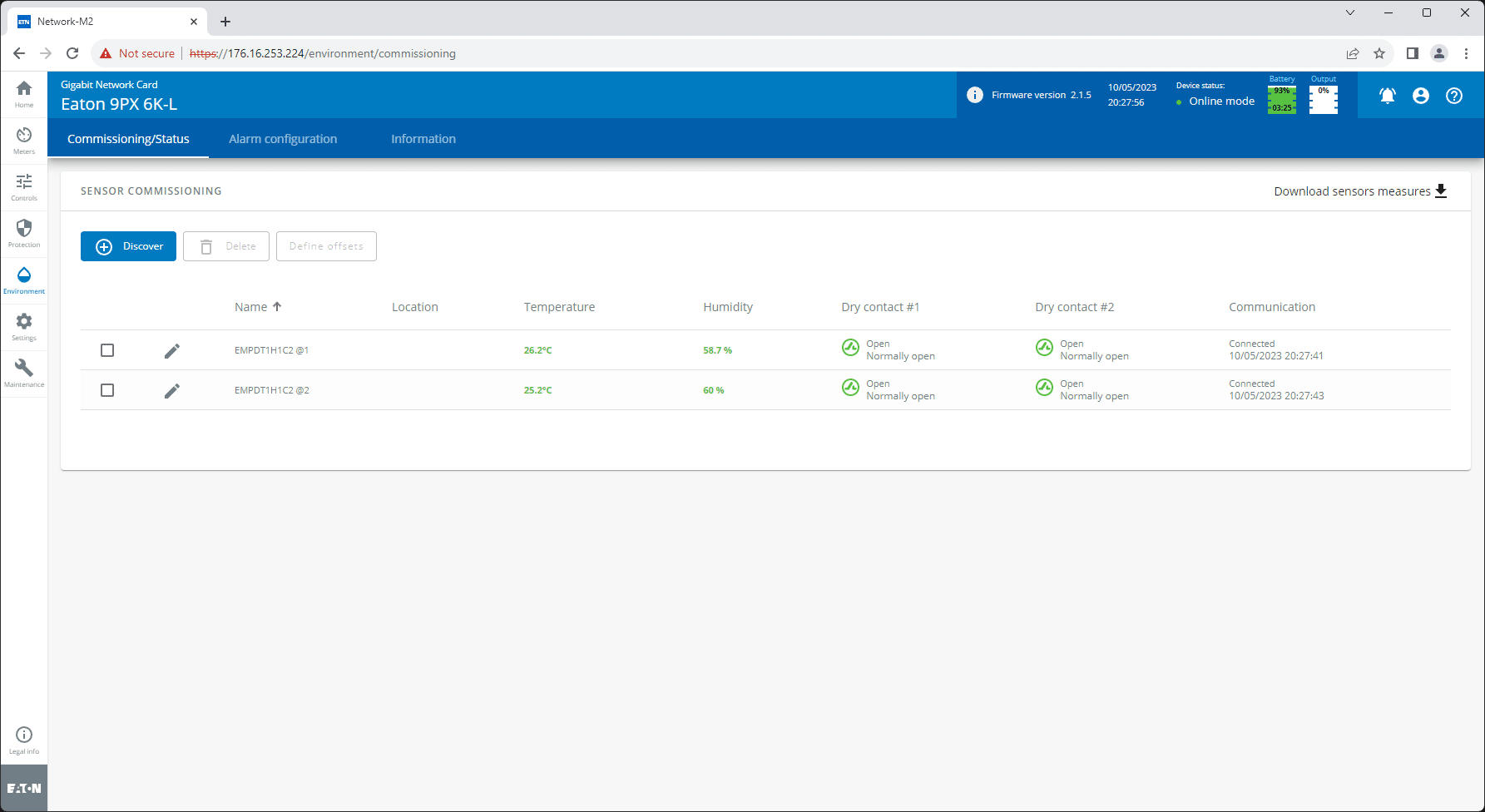 From the Settings tab, users can set up Email Notifications for alerts and insert the general details about the UPS. The other tabs in this menu allow you to configure IP addressing, User accounts and permissions, SMNP settings, and get certificates.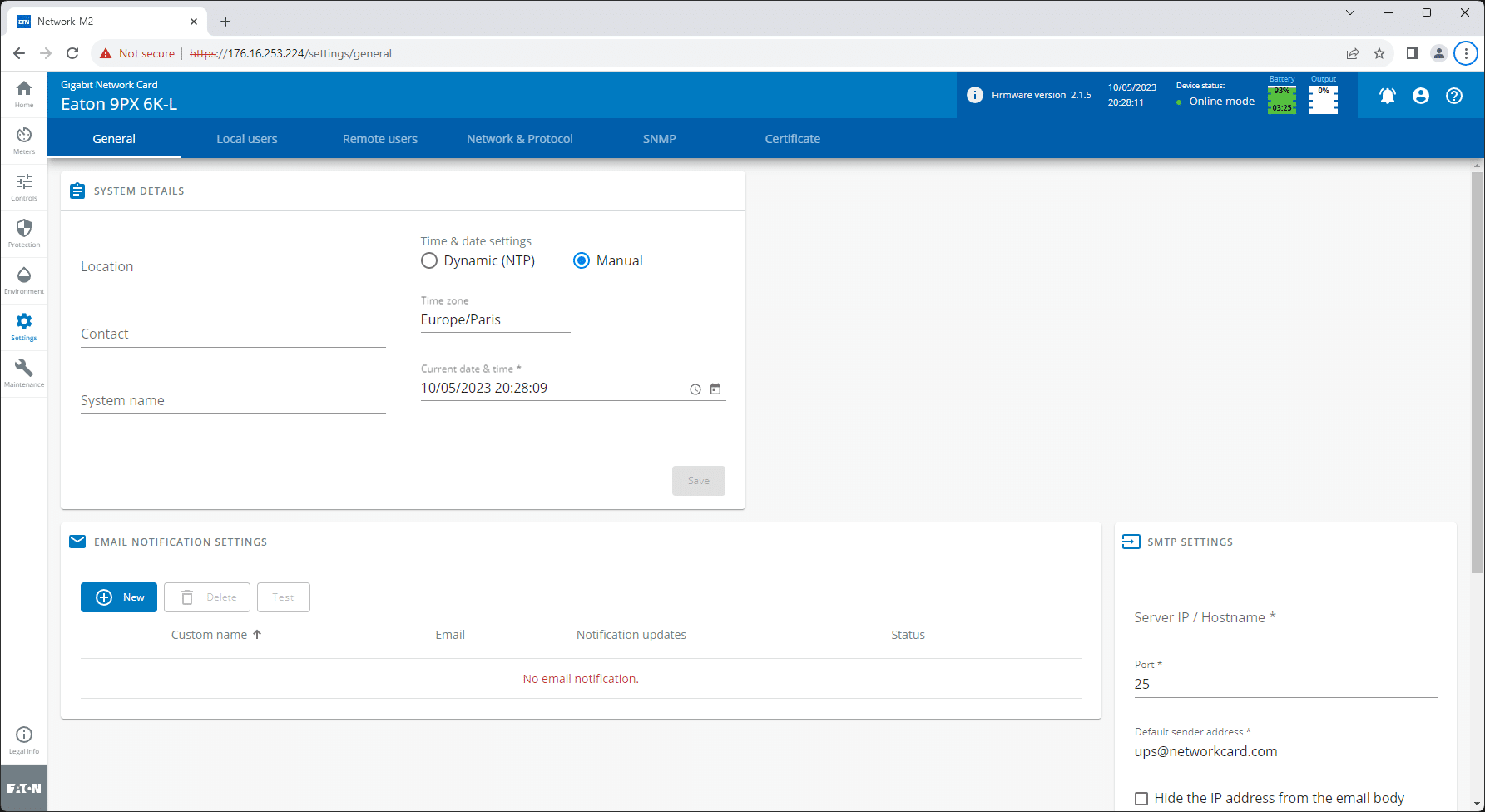 The Interface tab is somewhat underwhelming but essential nonetheless. The first option you will see in this tab is firmware update. You can also see what past firmware versions are on the UPS and when they were installed. The other tabs have options like factory reset, restart, backup, maintenance reports, Resource stats, Logs, and System Info.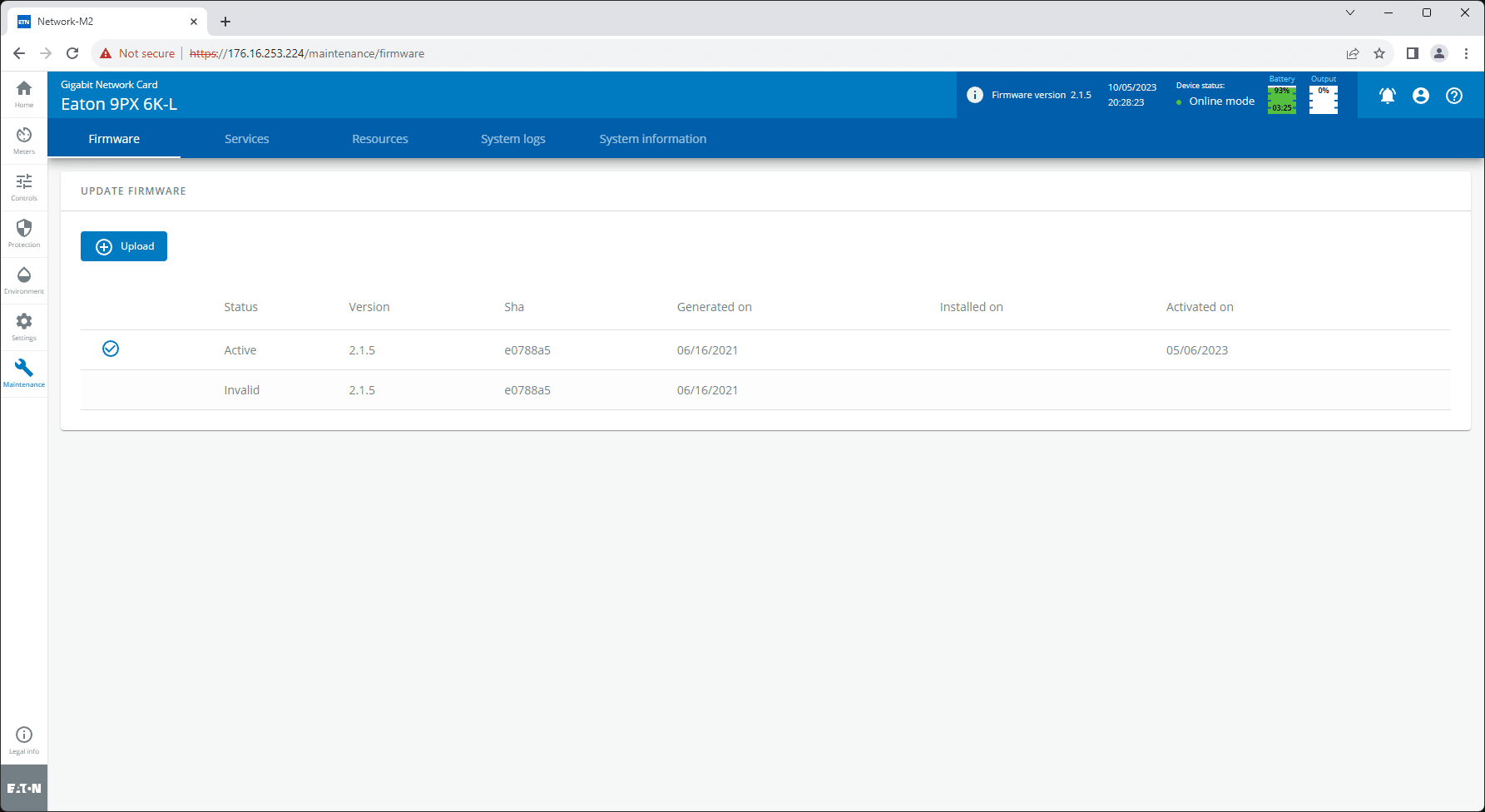 Conclusion
The Eaton 9PX 6 kVA Lithium-Ion UPS unit is an excellent addition to any rack, with superior reliability and lifespan over traditional Lead Acid UPSs. The management interface and onboard LCD give you granular control over the unit and allow easy setup and management. This isn't without cost though, the lithium-ion UPSs are substantially more expensive, 72% more at the time of this review, so buyers should do the math to see how this unit compares to the lead-acid alternative Eaton offers.
Overall though, this UPS does not disappoint with its reliability and ease of use. Setting it up out of the box is as easy as mounting the rails and throwing the unit onto them (or attaching the feet). After that, you just plug in the unit, and whatever devices need power, and other than management, you're ready to go.
Engage with StorageReview
Newsletter | YouTube | LinkedIn | Instagram | Twitter | Facebook | TikTok | RSS Feed