The EchoStreams eDrawer4048J is a 48-bay 4U JBOD. Though it is a 4U device, it is uniquely dense in that it can hold 48 3.5" 6G SAS drives and is only 21" deep. Using 8TB drives (such as HGST's He8 drives) would give the JBOD a maximum capacity of 384TB. The device also supports 8 SFF8644 ports giving it up to 96Gbps of SAS bandwidth to either host or expansion connections.
The EchoStreams eDrawer4048J is a 48-bay 4U JBOD. Though it is a 4U device, it is uniquely dense in that it can hold 48 3.5" 6G SAS drives and is only 21" deep. Using 8TB drives (such as HGST's He8 drives) would give the JBOD a maximum capacity of 384TB. The device also supports 8 SFF8644 ports giving it up to 96Gbps of SAS bandwidth to either host or expansion connections.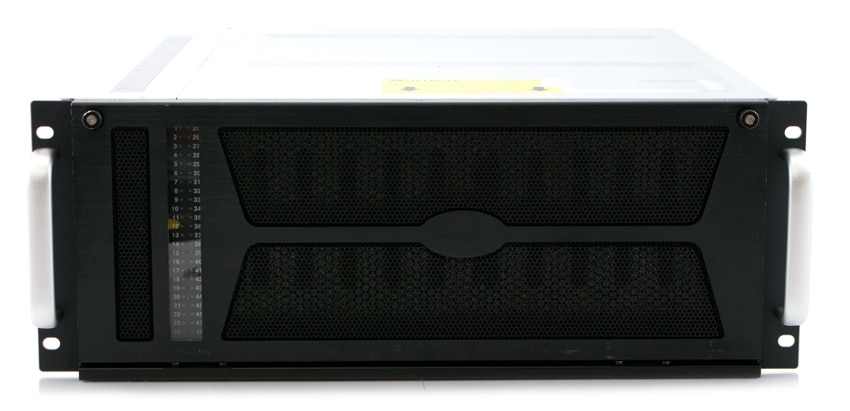 The concept of a storage shelf, or JBOD, is one of the more basic in storage architecture. The chassis essentially houses the drives, connecting to a host machine via SAS cable and HBA in the host. This type of arrangement continues to be popular where enterprise users want to keep the storage local to the host, but have perhaps grown out of available drive bays, or have other unique requirements and aren't in need of a full-on SAN with it's own storage controllers. In fact, looking forward, we'll be showing these same configurations of hard drives paired with caching solutions, to show how flash and software can benefit large arrays of hard drives in an enterprise environment. The use cases for JBOD continue to expand with new technology and powerful compute power on the host side.
EchoStreams' eDrawer4048J is a dense JBOD that is intentionally stubby and has been "ruggedized." This squat design combined with its sturdiness makes it suitable for mobile use in such use cases as military applications or for collecting geological data for industries such as oil and gas where conditions are unfriendly to traditional HDDs and data ingest and field analysis is of utmost concern. The eDrawer4048J can be combined with the FlacheSAN1 and be used as a cooler tier in tiered storage. Other use cases are in High Performance Computing, digital content or database archive, Infrastructure as a Service Cloud, or as a private Cloud.
The EchoStreams eDrawer4048J has a list price around $5,000 (unpopulated) and comes with a 1-year parts replacement warranty.
EchoStreams eDrawer4048J specifications:
Form Factor: 4U
Storage Capacity: 48 x 3.5" 6G Single-Port SAS/SATA HDD bays
I/O interfaces:

4x SFF8644 for Up Links
4x SFF8644 for Down Links

Expander: 4 x LSI SAS2x36 expanders
Environmental:

Operating Temperature: 0°C to 35°C
Non-Operating Temperature: -20°C to 70°C
Humidity: 5% to 95% non-condensing

Cooling: 6 x 80mm hot-swappable exhaust fan modules
Power: 1+1 1200W AC/DC or 1000W DC/DC high efficiency redundant power supplies
Dimensions (LxWxH): 21"x19"x7"
Weight (without disks): 60lbs.
Compliance: CE, FCC Class A, RoHS 6/6 compliant
Design and build
The EchoStreams eDrawer4048J is a 4U appliance with quite a bit of heft to it. Running across the front of the device is a black grill that adds to the ventilation with a glass window to see the LED indicator lights for the HDDs. At the top of both sides of the grill are top thumbscrews. Once these are unscrewed, the grill swings down and users have access to the power switch on the left hand side and one can better see the LED indicator lights for the HDDs. On both sides are metal ear handles for pulling the device out so it can be populated.

Once the device is pulled out, the front grill needs to be opened up. There are two more thumbscrews that need to be unscrewed and then the top panel can be taken off. This is how the drives are populated. Every other row faces the opposite way, with a hot-swappable drive one needs to keep this in consideration to not put the drive in incorrectly.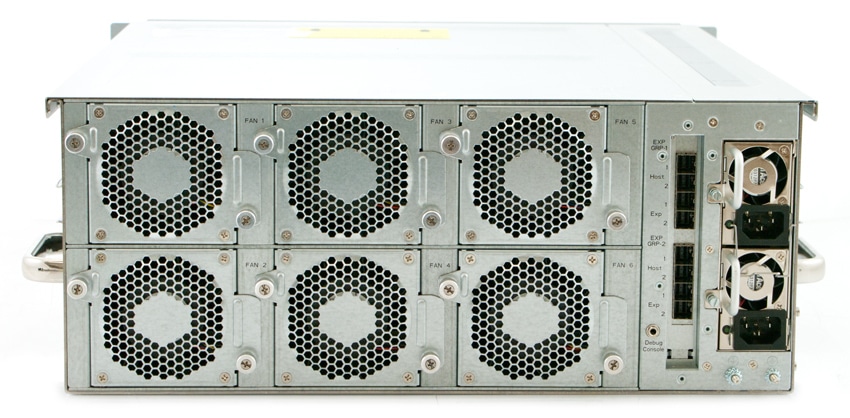 Moving around to the read of the device, there are six 80mm cooling fans that dominate the left hand side. On the right hand side are the two redundant power supplies. To the left of the power supplies are the 8 SFF8644 ports.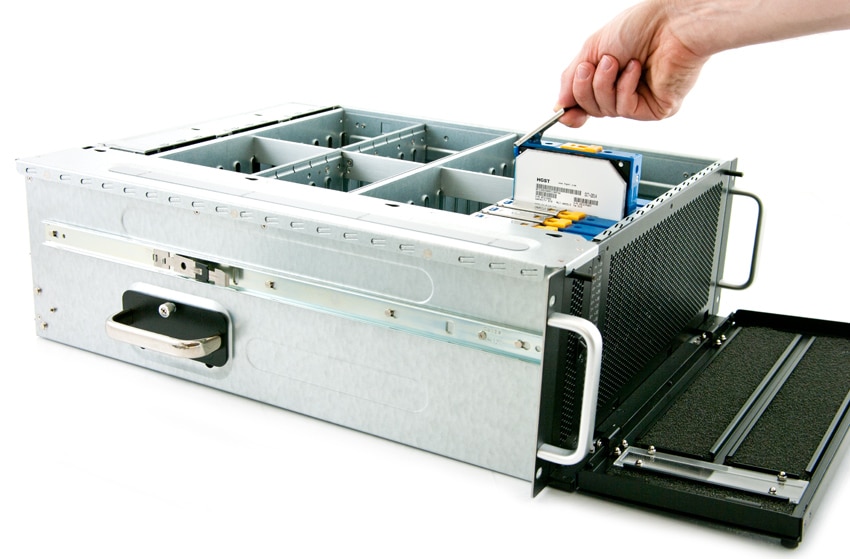 Visible on the sides of the chassis are removable handles that can be installed to assist with moving the JBOD between locations. With the sliding rails fully extended, you have enough space available to attach the handle. These are very helpful when carrying the chassis around, both empty and populated.
Testing Background and Comparables
The EchoStreams eDrawer4048J is the platform we used to test 16 HGST Ultrastar Helium He8 8TB drives. With 48 bays in its 21" depth, the JBOD offers incredible density for different applications. If you center around the 8TB He8 that we tested in it, at full capacity you have 384TB RAW for data collection or processing.
Application Performance Analysis
In the enterprise market, there is a huge difference between how products claim to perform on paper and how they perform in a live production environment. We understand the importance of evaluating storage as a component of larger systems, most importantly how responsive storage is when interacting with key enterprise applications. To this end, we've rolled out application tests including our proprietary MySQL performance via SysBench and SQL Server performance via Benchmark Factory.
The Percona MySQL database test via SysBench application test measures the performance of OLTP activity. In this testing configuration, we use a group of Lenovo ThinkServer RD630s and load a database environment onto a single SATA, SAS or PCIe drive or a group of HDDs using an LSI 9286-8e RAID card. This test measures average TPS (Transactions Per Second), average latency, as well as average 99th percentile latency over a range of 2 to 32 threads. Percona and MariaDB are using the Fusion-io flash-aware application APIs in the most recent releases of their databases, although for the purposes of this comparison we test each device in their "legacy" block-storage modes.
In our average transactions per second benchmark, the He8 started off behind the other and finished in the middle of the pack with 280.77 TPS while Seagate Enterprise Capacity hit 336.28 TPS.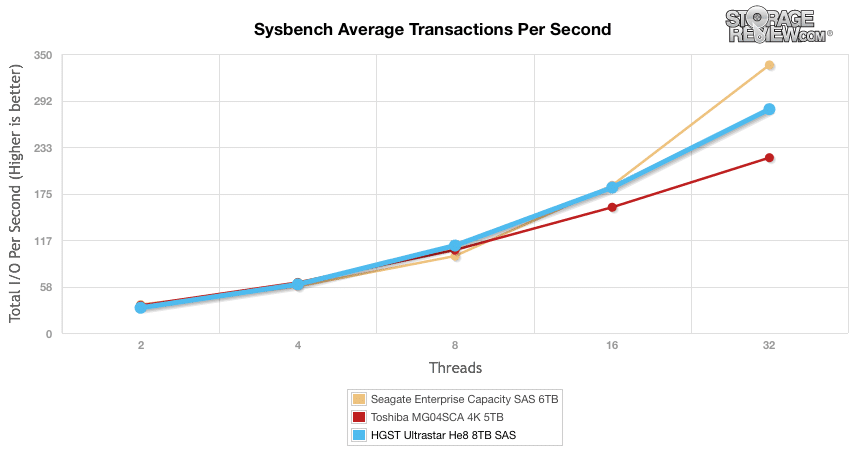 Measuring average latency in our Sysbench MySQL test told a similar story, with the He8 starting off behind only to wind up in the middle behind the Seagate Enterprise once again. The He8 topped out with an average latency of 113.97ms.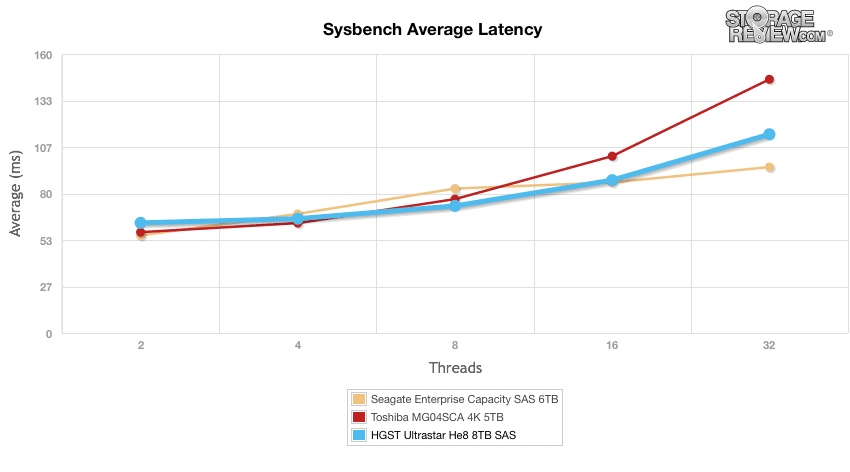 In terms of our worst-case MySQL latency scenario (99th percentile latency), the He8 again finished in the middle however it performed better than the MG04SCA throughout.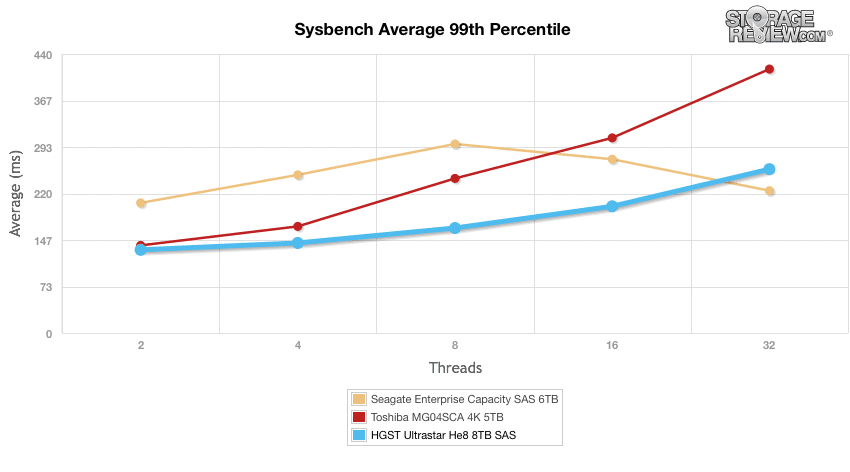 Our next database test covers performance in Microsoft's SQL Server environment that leverages a 333GB (1,500 scale) SQL Server database and measures the transactional performance and latency with a 15,000 VU Load.
As with the Sysbench test, the results were very similar as far as placement in performance. The He8 placed second again in transactions per second with a score of 2873.4 TPS. The Seagate Enterprise continued to be the top performer with 3001.5 TPS.

Latency showed us more of the same with the He8 trailing behind the Seagate a bit more with a latency of 477ms to Seagate's 255ms.
Conclusion
The EchoStreams eDrawer4048J is a 4U 48-bay JBOD that holds 3.5" 6G SAS HDDs in a chassis only 21" deep. The drives, fans and power supplies are all hot-swappable for easy maintenance. The platform is compact enough that is can be taken out into the field for military or geological applications, holding up to 384TB leveraging 8TB HDDs. The system can also be put into a rack for tiered storage, HPC, archiving, IaaS Cloud, or used as a private Cloud. The JBOD has eight SFF8644 ports that can give it up to 96Gbps of SAS bandwidth to either host or expansion connections.
Looking at performance, we used 16 slots populated with HGST Ultrastar He8 HDDs in a RAID10 configuration using an LSI MegaRAID SAS 9286-8e RAID card. We ran through two application performance scenarios consisting of our MySQL Sysbench and SQL TPC-C server tests. The HGST He8 HDDs in the Sysbench had a TPS of 280.77 and an average latency of 113.97ms. On the SQL server tests the drives gave us 2,873.4 TPS and an average latency of 477ms. With a message focused on its compact form factor, where many competing JBODs don't traditionally make use of their space very well, the EchoStreams eDrawer4048J offers excellent density in a short 21" chassis.
Pros
Compact enough for field use
Much denser than other JBODs while not using full depth
Removable handles for ease of loading into the rack
Cons
Not suitable for 2.5" drives without adapters
The Bottom Line
The EchoStreams eDrawer4048J is a uniquely dense and compact JBOD, making it an ideal fit for mobile use or it can be combined into traditional tiered storage.
EchoStreams eDrawer4048J product page