The EMC VNXe3200 unified hybrid array brings VNX engineering, functionality, and enterprise support services to SMBs and ROBOs with a starting price of $11,500. That combination makes the VNXe3200 array accessible for customers that may have been priced out of the VNX lineup in the past. Unlike most other VNX offerings, the VNXe3200 uses a compact 2U form factor that integrates controllers and storage making it more suitable than prior VNX offerings for hub and spoke deployments like retail point-of-sale storage and offsite replication.
The EMC VNXe3200 unified hybrid array brings VNX engineering, functionality, and enterprise support services to SMBs and ROBOs with a starting price of $11,500. That combination makes the VNXe3200 array accessible for customers that may have been priced out of the VNX lineup in the past. Unlike most other VNX offerings, the VNXe3200 uses a compact 2U form factor that integrates controllers and storage making it more suitable than prior VNX offerings for hub and spoke deployments like retail point-of-sale storage and offsite replication.

The VNXe3200 incorporates new MCx multicore processor optimizations and can be deployed with EMC FAST Cache SSD caching and FAST VP auto-tiering technology when used with a combination of hard drive and flash storage. According to EMC, the MCx architecture in conjunction with the VNXe3200's Sandy Bridge 2.2GHz processor and 48GB of RAM can achieve three times the performance of a VNXe3150. The VNXe3200 can be configured with both Fibre Channel and 10GbE interfaces, which is unusual among the arrays currently available for this market in this price band.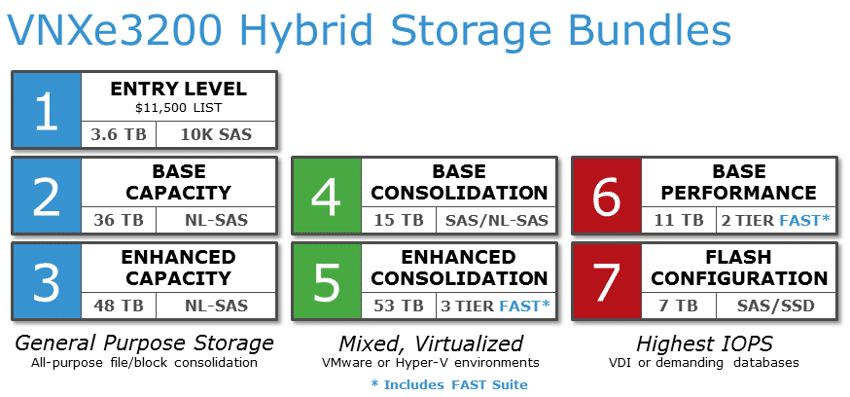 While this pricing and feature set does not compete pricewise with low-end block storage, it does put the VNXe3200 on good price-to-performance footing against mainstream unified storage offerings, especially considering its flash storage caching and autotiering abilities, as most other offerings will have one or the other. The flexibility of unified block and file support along with Fibre Channel and 10GbE connectivity also distinguishes the VNXe3200 against established hybrid offerings in the marketplace.
One of the other core highlights of the VNXe is flexibility in configuration. EMC offers seven pre-defined bundles to help customers and channel partners figure out the best solution. The flexibility in selecting chassis with 2.5" or 3.5" bays enables VNXe3200 configurations that can range from 7TB in an all-flash configuration to 48TB of HDD-only. The system is capable of supporting up to 150 drives in total. Our review configuration is a typical hybrid configuration that includes eight 600GB 15K SAS hard drives, two 200GB SLC SSDs, four integrated 10GbE ports, and two 4-port 8GB Fibre Channel interfaces. In addition to the base software package, our review unit includes licenses for the FAST performance suite. This unit as configured carries a list price of $25,310.
The VNXe3200 is offered with a standard three-year warranty that includes next business day parts replacement and 5×9 remote support. An enhanced warranty provides next business day onsite support and 24×7 remote support. Premium warranty options are available with four-hour onsite response as well as support options for post-warranty maintenance.
EMC VNXe3200 Specifications
Array Enclosure: 2U Disk Processor Enclosure
Drive Enclosure:

2.5" SAS/Flash (2U), 25 drives
3.5" SAS/Flash (2U), 12 drives

Min/Max Drives: 6/150
Storage Processors (SPs): 2 x Intel Xeon E5-2407 4-Core 2.2 GHz
CPU/Memory per Array: 48GB (24GB per SP)
RAID: 1/10/5/6 (Multicore RAID)
Interconnect: Ethernet (1/10GbE)
Optional Fibre Channel: (2/4/8Gb/s)
Max Total Ports per Array: 16
2/4/8Gbps FC Max Ports per Array: 8
10GbE iSCSI Max Total Ports per Array: 8
Max Raw Capacity: 500TB
Protocols:
Storage Type:
Maximum Usable Capacity: 450TB
Drive Support:

SSD
15K SAS
10K SAS
7.2K NL-SAS

Capacity Optimization:

Thin Provisioning
File-Level Deduplication and Compression

Performance Optimization:
Virtualization Support:

VMware vSphere
VMware Horizon View
Microsoft Hyper-V
Citrix XenDesktop

VMware Optimization:

VMware ESX Auto-Discovery
VMware VASA Integration
VAAI Copy Offload for Block

Microsoft Windows Support: Windows 2012 R2
Microsoft Optimization:

SMB3 Availability/Offload
ODX Block Copy Offload
Virtual FC NPIV Support
SMI-S Support (for SCVMM)
Build and Design
With the front bezel in place, the most visually striking feature of the VNXe3200 chassis is its distinctive illuminated blue bar underneath the EMC branding. Underneath that bezel though are the drive bays and drive activity LEDs, as well as mounting holes to attach the disk array to its mounting rails.

Our array has been configured with eight 600GB 15K SAS hard drives with two 200GB SLC SSDs for cache and tiering out of a total of 12 3.5-inch bays. The system supports SLC SSDs for caching as well as a new eMLC SSD option which can only be used for tiering and as part of the storage pool. The other VNXe3200 chassis option features 25 SFF bays.

The VNXe3200 makes use of a 32GB mSATA backup flash cache which stores in-flight data in the event of a power failure. This cache is located under each controller and is powered by a modular battery backup unit. The chassis uses a mirrored layout for the two controllers.

The rear of the chassis also has a mirrored layout reflecting the mirrored arrangement of the controllers. The rear provides access to its four integrated 10GbE ports. Optional 4-port 8Gb/s Fibre Channel interfaces are to the right of the 10GbE interfaces. The rear also features six fan modules and bays for two power supplies along with 1GbE management ports, USB, HDMI, and 6Gb/s SAS ports for expansion.
Management
The VNX and VNXe family of products use EMC's Unisphere management software which is designed for use by IT generalists as well as storage administrators. Unisphere uses a clean, well-organized interface that exposes the full functionality of the array without requiring much of a learning curve. In our lab picking up from no past experience with the system, it was fairly intuitive to build the array up from scratch.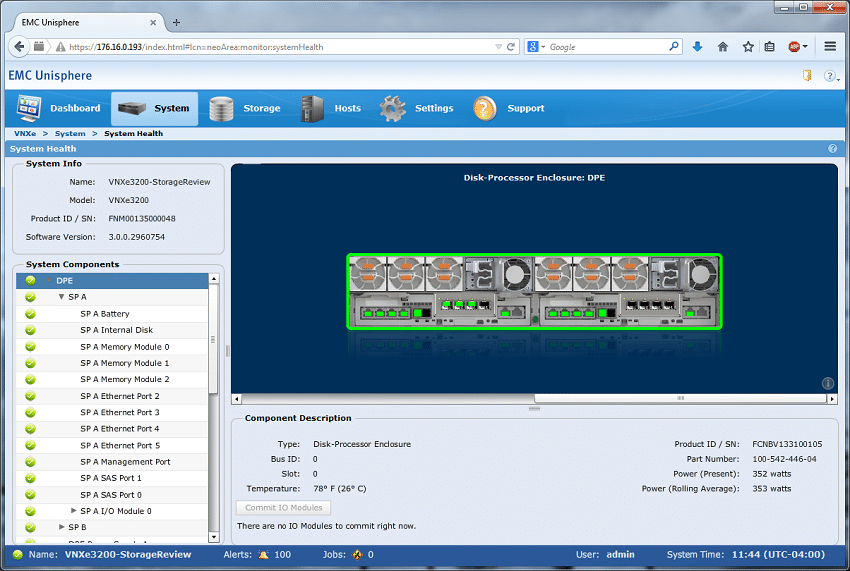 On top of the base functionality included with every VNXe3200, the array can also make use of a wide variety of other VNX software offerings and third-party integrations. The base VNXe3200 package includes licenses for the VNXe Operating Environment, Unisphere Web Console, Unisphere Central (multi-site management), Unified Snapshots, VNXe monitoring and reporting, support and dial-home services, file-based deduplication and compression, thin provisioning, Event Enabler anti-virus, and File-Level Retention (WORM).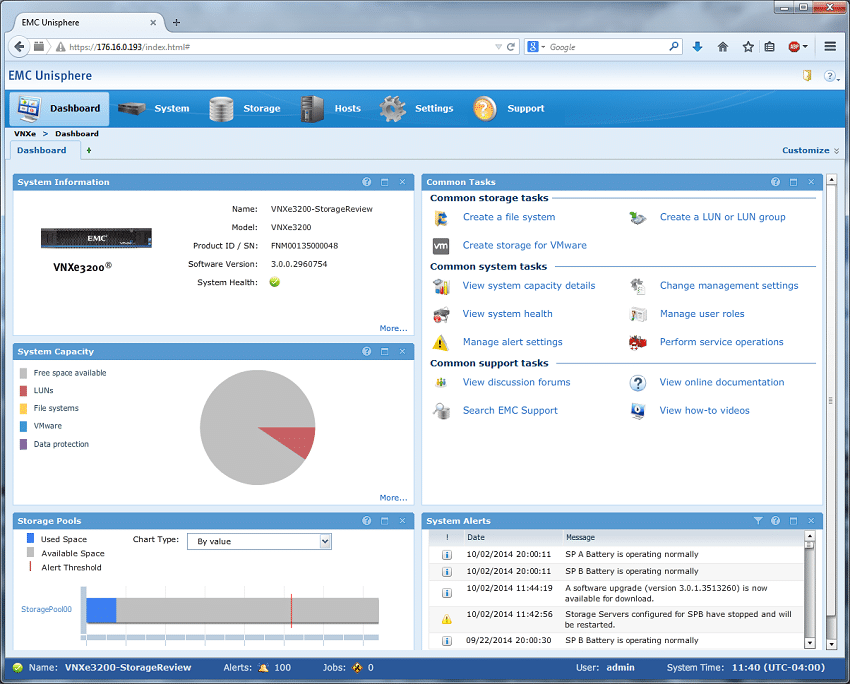 The VNXe3200 can make use of the new snapshot functionality added to Unisphere with features that include an auto-delete policy to delete snapshots after a certain time or once snapshot storage space exceeds a certain percentage of storage capacity. VNXe3200 snapshots make use of EMC's thin provisioning and copy on redirect technologies to improve the speed and reduce storage requirements for stored snapshots.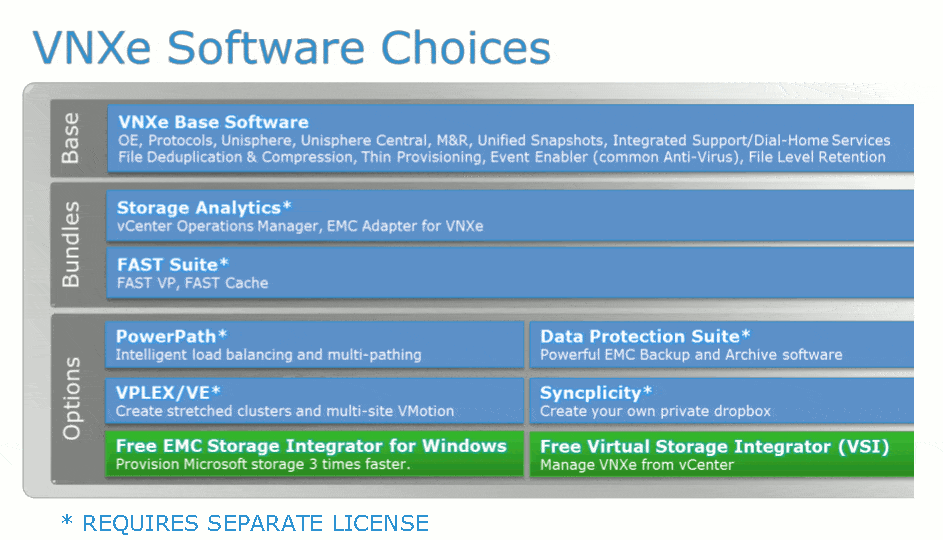 Our review unit is also licensed for use with EMC's FAST Suite in order to take advantage of two installed SSDs for increased performance.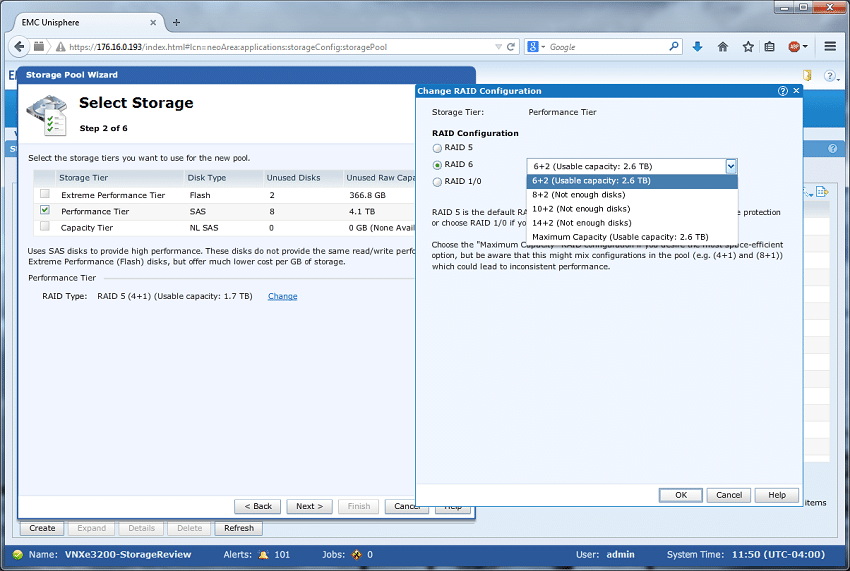 FAST VP is an auto-tiering technology that slices storage into 256MB pieces and performs regular analysis on data access patterns so that hot data can be moved to slices hosted by SSDs. Equally important, data on SSDs that eventually cools is moved to the lower-cost HDD tier. Administrators can configure policies that govern how and when data is tiered.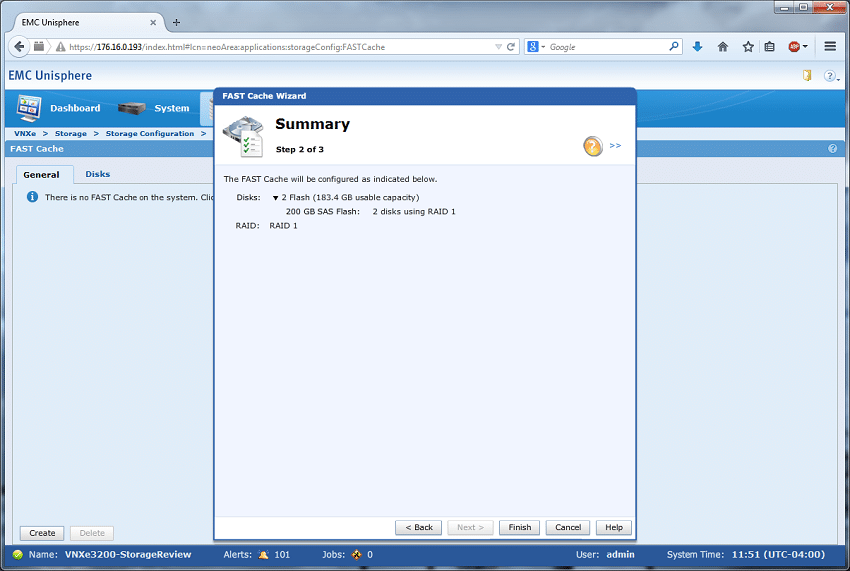 FAST Cache allows SLC SSDs to be utilized as an extension of the system cache. Once FAST Cache has been activated, it will be enabled by default on all new RAID group LUNs and storage pools. It can also be enabled or disabled manually from within Unisphere.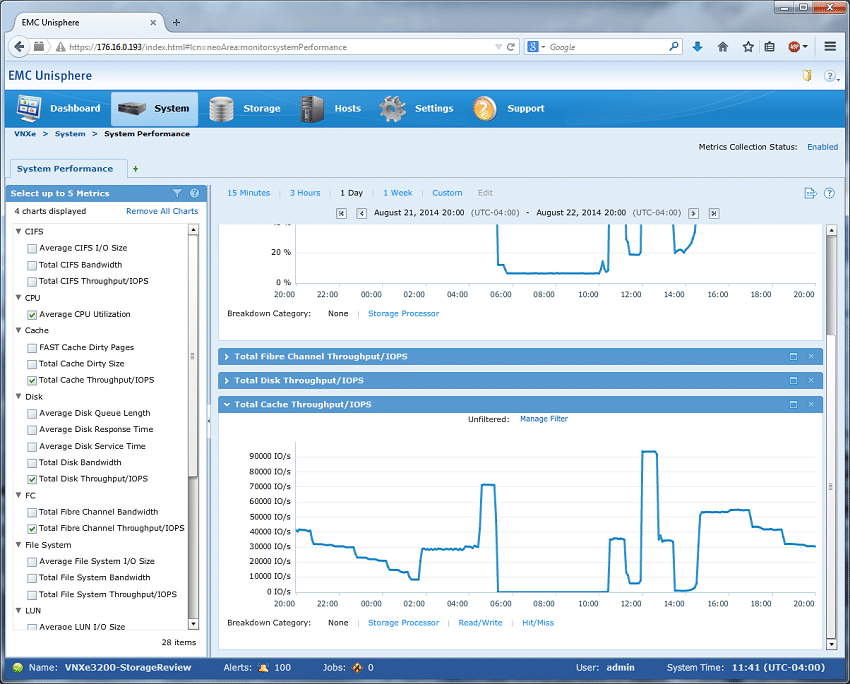 Each controller can manage up to 50 iSCSI interfaces, NAS servers, or a combination of both. Wizards and table-style management for iSCSI interfaces and NAS servers are both available through Unisphere.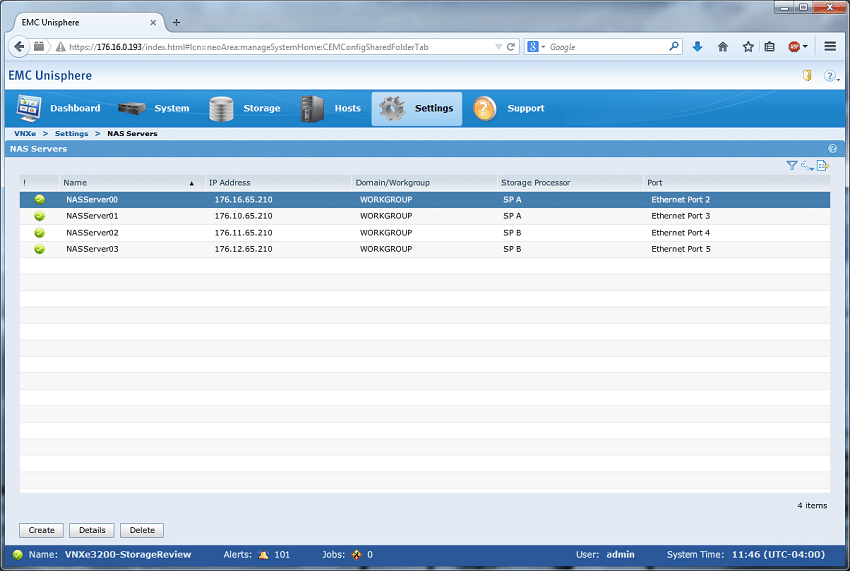 For a full dive into Unisphere, EMC provides a free simulator which is available on the VNXe3200 product page.
Testing Background and Comparables
We publish an inventory of our lab environment, an overview of the lab's networking capabilities, and other details about our testing protocols so that administrators and those responsible for equipment acquisition can fairly gauge the conditions under which we have achieved the published results. To maintain our independence, none of our reviews are paid for or managed by the manufacturer of equipment we are testing.
Our set of results will present the EMC VNXe3200 as shipped, with a RAID6 volume utilizing eight 15K 600GB SAS HDDs (6+2) as well as two 200GB SSDs in RAID1 for Fast Cache. This storage configuration will be tested via the Fibre Channel network interface as well as with both CIFS and iSCSI operations over the integrated 10GBase-T interfaces.
This array was benchmarked with our Lenovo ThinkServer RD630 Testbed:
2 x Intel Xeon E5-2690 (2.9GHz, 20MB Cache, 8-cores)
Intel C602 Chipset
Memory – 16GB (2 x 8GB) 1333Mhz DDR3 Registered RDIMMs
Windows Server 2012 Standard

Boot SSD: 100GB Micron RealSSD P400e

Emulex LightPulse LPe16202 Gen 5 Fibre Channel (8GFC, 16GFC or 10GbE FCoE) PCIe 3.0 Dual-Port CFA

Emulex OneConnect OCe11102-NT 10GBase-T (10GbE RJ45) PCIe 2.0 Dual-Port HBA
Aggregate bandwidth: 768Gb/s end-to-end full duplex
Netgear M7100 10GBase-T Switch
Aggregate Switching Fabric: 480Gb/s
Enterprise Synthetic Workload Analysis
Prior to initiating each of the fio synthetic benchmarks, our lab preconditions the device into steady-state under a heavy load of 16 threads with an outstanding queue of 16 per thread. Then the storage is tested in set intervals with multiple thread/queue depth profiles to show performance under light and heavy usage.
Preconditioning and Primary Steady-State Tests:
Throughput (Read+Write IOPS Aggregated)
Average Latency (Read+Write Latency Averaged Together)
Max Latency (Peak Read or Write Latency)
Latency Standard Deviation (Read+Write Standard Deviation Averaged Together)
This synthetic analysis incorporates four profiles which are widely used in manufacturer specifications and benchmarks:
4k – 100% Read and 100% Write
8k – 100% Read and 100% Write
8k – 70% Read/30% Write
128k – 100% Read and 100% Write
With workloads composed of random 4k operations, the EMC VNXe3200 reached its highest performance of 78,908IOPS for read operations and 31,097IOPS for write operations using the Fibre Channel interface. When accessed via the integrated 10GbE interface, read operations had a slight advantage with the VNXe3200 configured for CIFS while write operations fared better with the 10GbE interface when we used the array as an iSCSI target.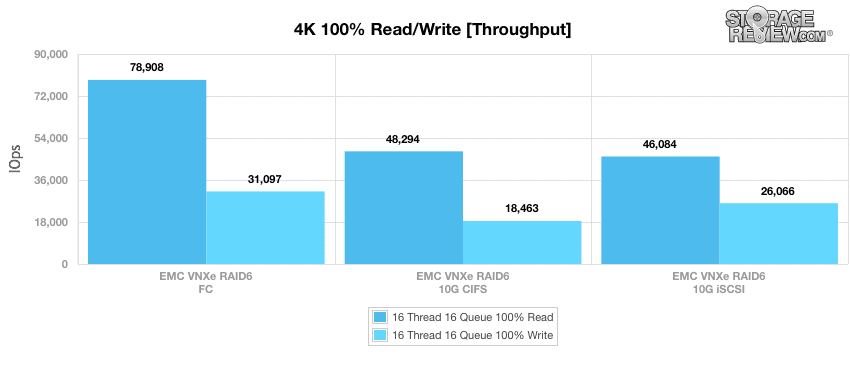 The Fibre Channel interface also achieved the lowest average latencies during the 4k benchmark, at 3.24ms for read operations and 8.23ms for write operations. Average latency for 4k read operations was similar for both configurations we tested with the 10GbE interface, but iSCSI outperformed CIFS by approximately 4ms for write operations.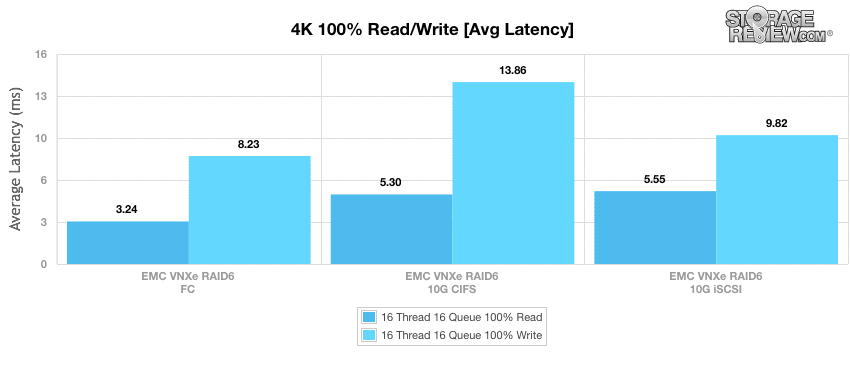 The maximum latency chart visualizes the largest latency spike experienced by each of the configuration during the 4k benchmark. The largest measured 4k latency for read operations took place during our test of the Fibre Channel interface, at 241.1ms. The largest write latency was measured with the 10GbE interface with a CIFS share, at 245.5ms.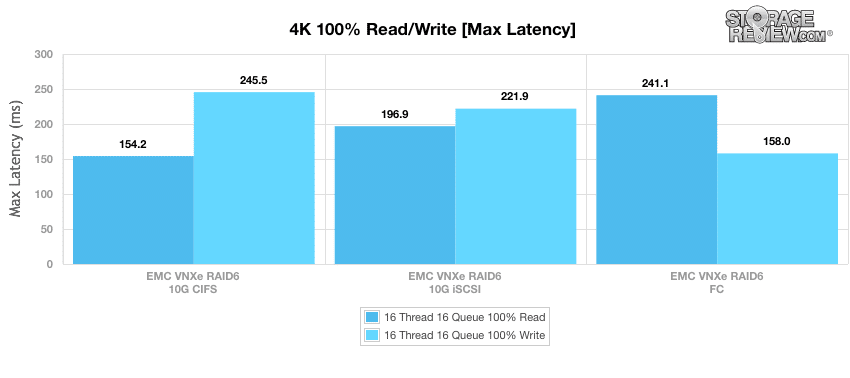 Standard deviation results reveal that the Fibre Channel experienced the most consistent latency results during the 4k benchmark. The 10GbE CIFS configuration had more consistent latencies than the iSCSI target for read operations, but had worse performance on the write side.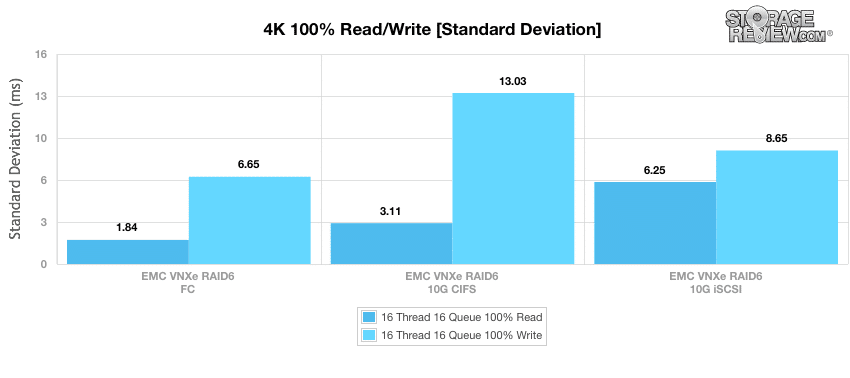 After reconditioning the array for sequential 8k transfers, we measured throughput with a load of 16 threads and a queue depth of 16 for 100% read and 100% write operations. The VNXe3200 experienced the greatest performance for read operations with the 10GbE network interface and the array configured with a CIFS share, at 73,522IOPS. We measured the greatest write performance with the Fibre Channel interface, at 93,508IOPS.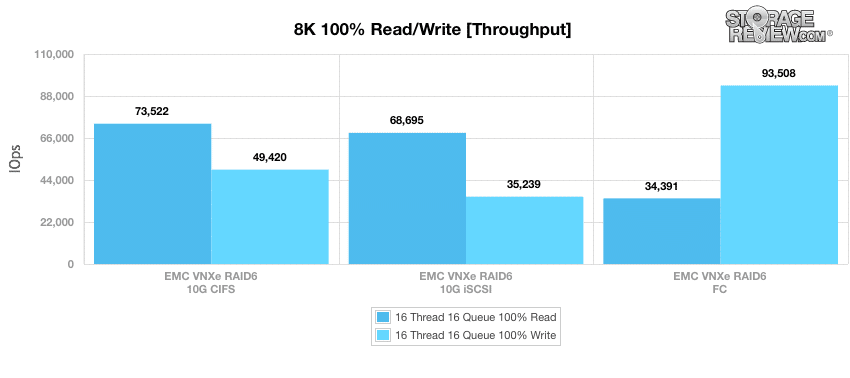 The next results are derived from a protocol composed of random 70% read operations and 30% write operations with an 8k workload across a range of thread and queue counts. The Fibre Channel interface posted the greatest overall throughput during 8k 70/30 protocol with no notable trouble spots across any of the configurations.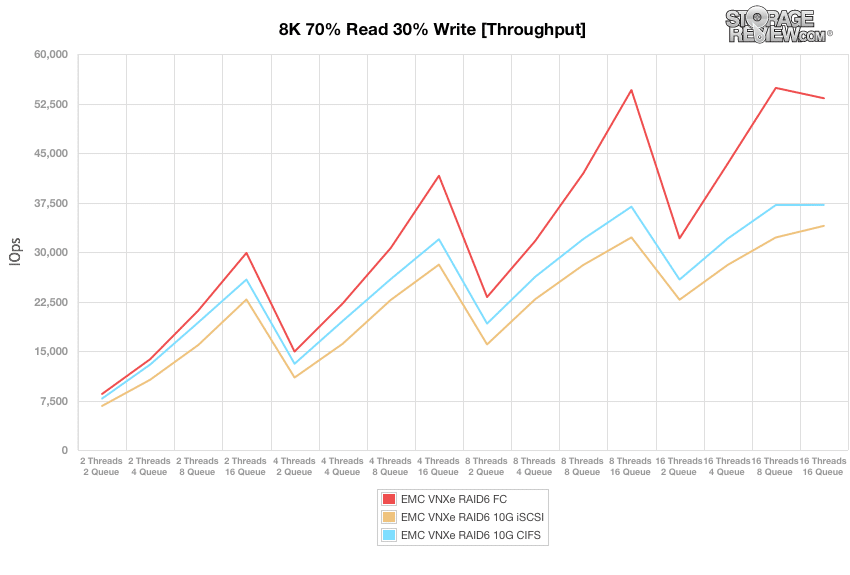 The Fibre Channel configuration also held the best position in terms of average latency throughout the 8k 70/30 protocol. As expected, all three configurations began to have trouble with the heaviest workload of 16 threads and a queue depth of 16. At that point the Fibre Channel configuration reached an average latency of 4.8ms and the 10GbE iSCSI volume reached an average latency of 7.53ms.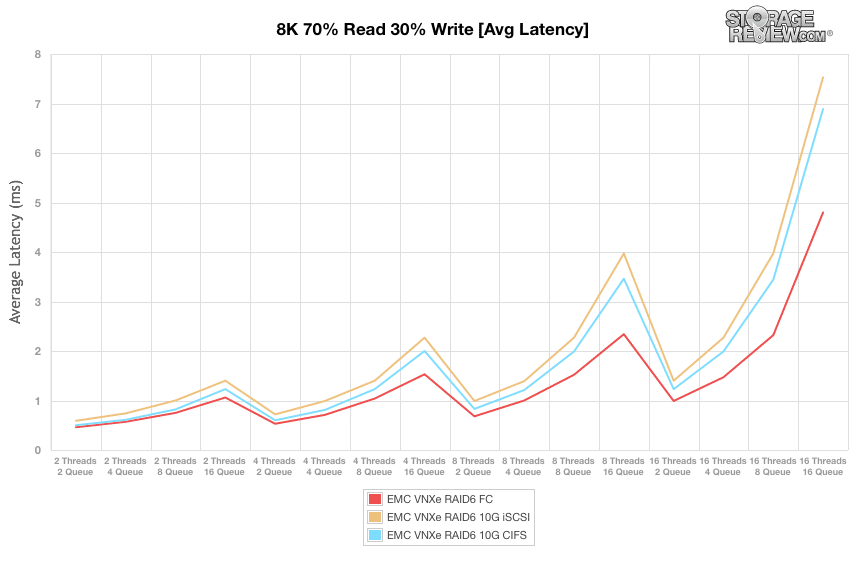 Maximum latency results from the 8k 70/30 benchmark reveal a spike in latency with the Fibre Channel configuration of 206.32ms at 8 threads and a queue depth of 16. The underlying issue was not significant enough to notably affect the average latency or latency standard deviation results for that configuration, however.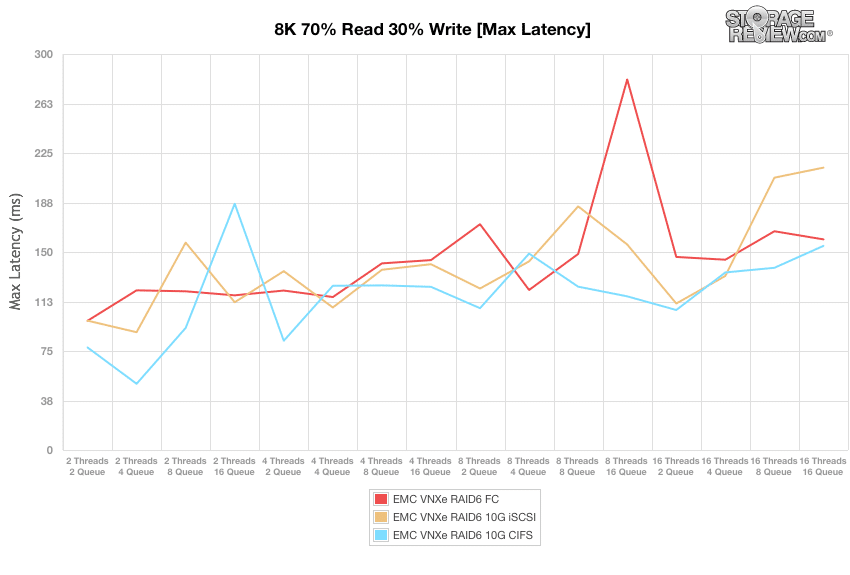 We discovered no problem points when we plotted the standard deviation calculations for the 8k 70/30 latency measurements. This chart does reflect the array's expected difficulty maintaining consistent latencies at the top end of the workloads.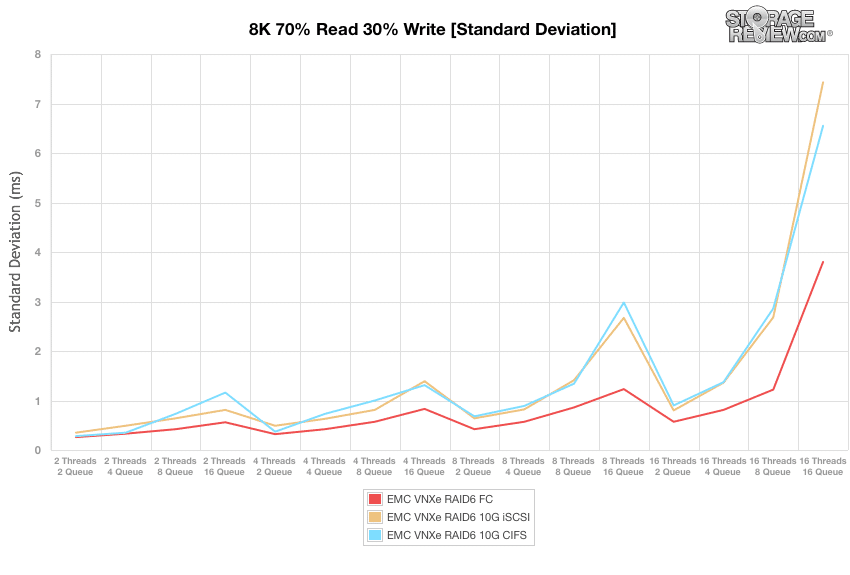 Our final synthetic benchmark is based on sequential 128k transfers with 100% read and 100% write operations. The 10GbE iSCSI configuration achieved greatest read performance during this benchmark, at 2,071,347KB/s. The Fibre Channel configuration took top position for write operations at 4,451,700KB/s.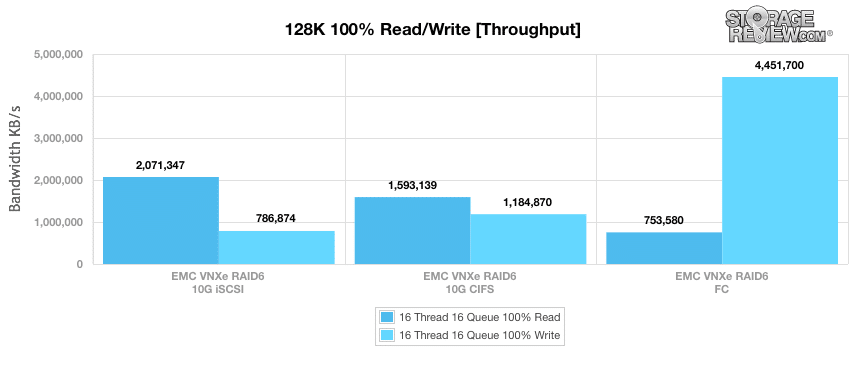 Conclusion
EMC is positioning the VNXe3200 as a powerful solution to integrate with larger VNX deployments while more notably also positioning it as a gateway to the VNX family for new customers by pricing it into a new market segment. The VNXe3200 can utilize the gamut of VNX technologies and integrations, particularly FAST Cache and FAST VP auto-tiering software, in order to deploy the VNXe3200 as a hybrid array. Despite its relatively small 2U footprint, compared to other VNX solutions, the VNXe3200 is engineered to support a wide variety of configurations and applications, including both Fibre Channel and 10GbE environments. The ability to configure the array for unified block and file storage adds another layer of value to the platform. While the VNXe3200 in the 10GbE iSCSI configuration is not able to equal its performance when accessed via Fibre Channel, EMC has advised us that they expect iSCSI performance to improve with future updates.
Internally EMC likes to refer to the VNXe3200 as the "little Swiss Army Knife of storage." On that point, they're absolutely right. The VNXe3200 is significantly more featured and better performing than the prior VNXe and their support for FC/10GbE and caching/tiering opens a lot of use cases for the system. Small businesses comparing systems in this price band are also looking at lower-tier hybrid arrays and potentially even rackmount NAS. If either comes close in price though, EMC has a tremendous engineering advantage in terms of depth of data services and support. For any large organizations that use VMAX or VNX in the main office, the VNXe3200 gives them a very simple drop in at remote/branch offices.
EMC is not historically a brand associated with low-cost systems and EMC has surely lost deals in the past because SMBs didn't even think to look at EMC and their VNXe family. Instead they may have gone to NAS or even an SDS solution to try to get most of the feature set the VNXe3200 offers, without a relatively large investment. The economics around the VNXe3200 completely change this perception though. Our configuration was roughly $25,000 list, and that includes SSDs and licensing for FAST. With an $11,500 entry-point, the rest of the market is going to have a difficult time waging war against the VNXe3200 in the sub $40k price bracket. As excited as IT admins for SMBs and those with ROBO responsibility will be to look at this unit, the EMC channel partners will also be thrilled to have a great option for the smaller deployment end of their portfolio. EMC is also pushing their Data Domain DD2200 into the same target market and can bundle them together for a compact primary and backup/recovery storage solution.
Pros
Very competitive pricing
EMC FAST does well leveraging a little bit of flash storage
Offers both 10GbE and Fibre Channel connectivity
Cons
10GbE performance lags 8Gb FC
Less granular control over storage pools and caching configuration than some arrays
The Bottom Line
The VNXe3200 marks a new phase in the evolution of EMC's VNX family, bringing a powerful combination of EMC storage, processing, and enterprise functionality to an entirely new market.